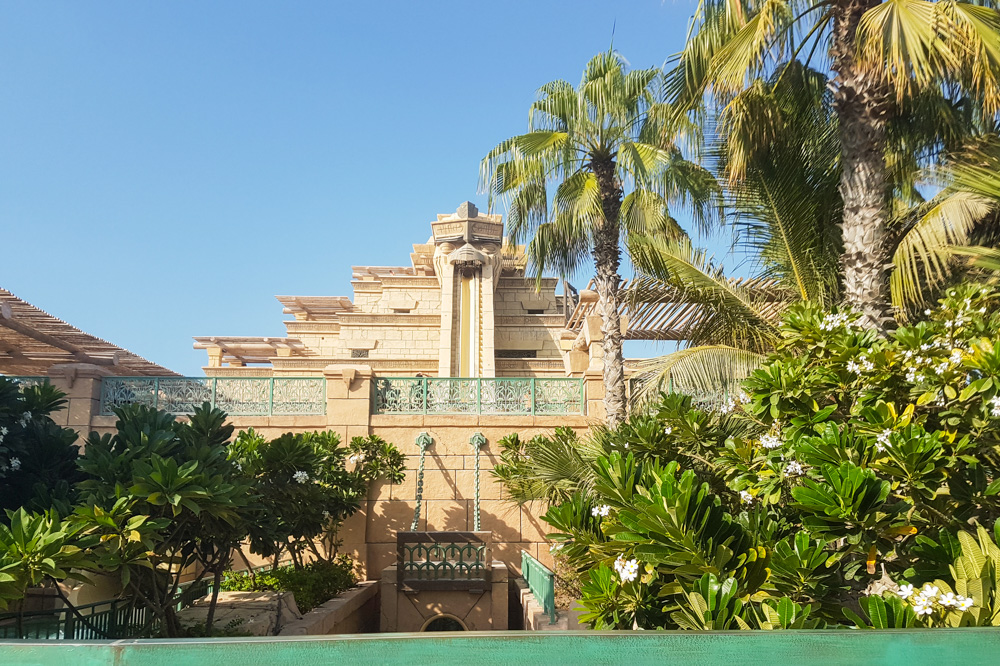 Save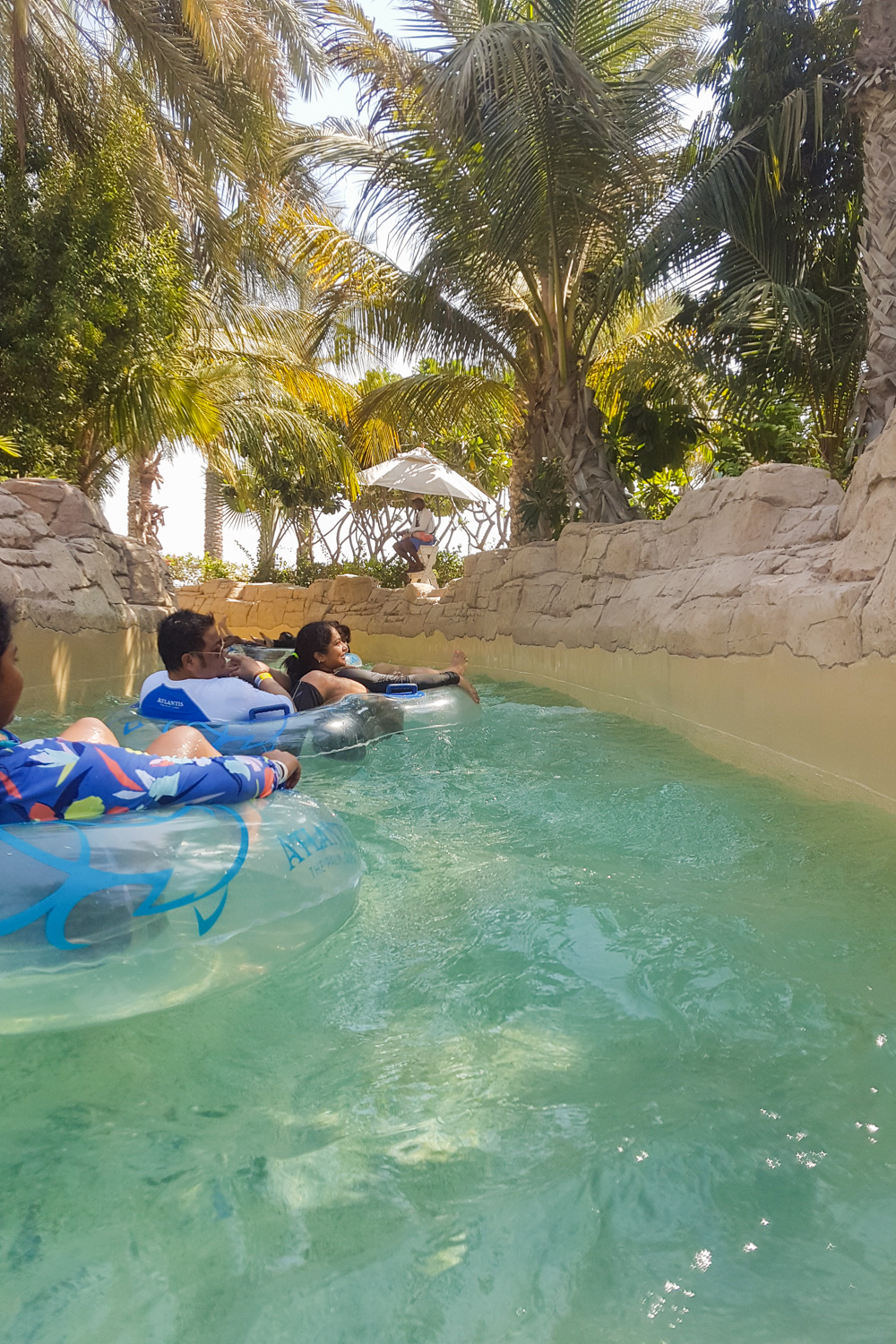 Save
Save
Save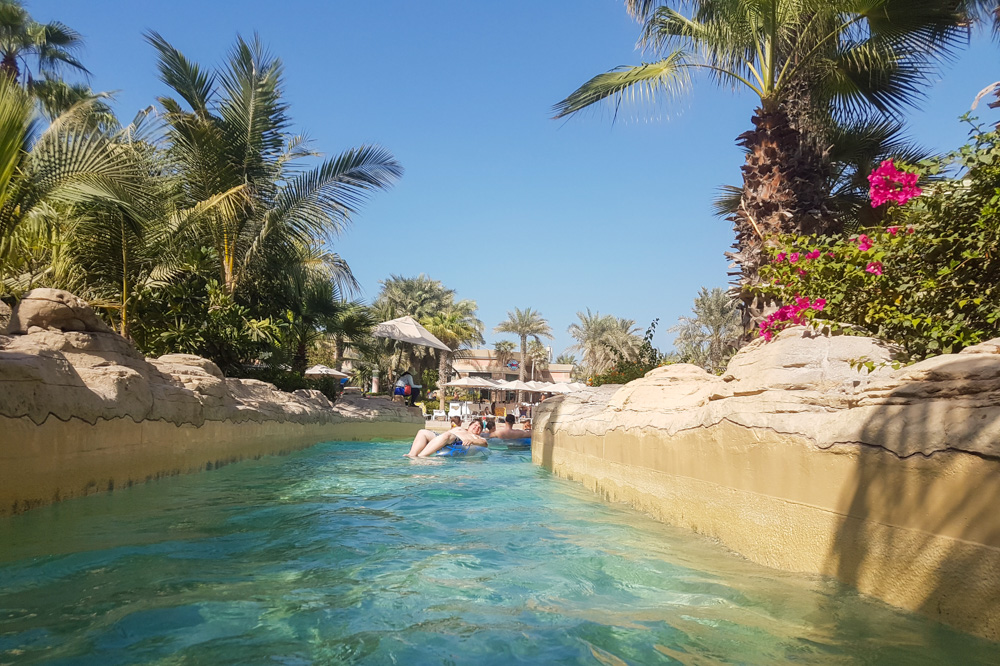 Save
Atlantis, The Palm
I knew even before we booked our trip to Dubai that we would 100% be going to the Aquaventure Waterpark at the Atlantis hotel on The Palm. I've been dreaming about it since I first heard that Atlantis was opening on The Palm. I was a huge fan of Mary-Kate and Ashley's film Holiday in the Sun that was based at the Atlantis hotel in the Bahamas, and I begged my parents to take us there each year so that I could experience it for myself.
Well, that never happened, but when I heard that another Atlantis was opening up on the famous Palm island in Dubai, I got my hopes up that we'd maybe get to visit that one instead and fulfill my childhood dreams? Nope. That never happened either!
So when Shane and I started talking about booking our trip to Dubai, that was the first thing that popped into my head! I can finally visit Atlantis' Aquaventure Waterpark!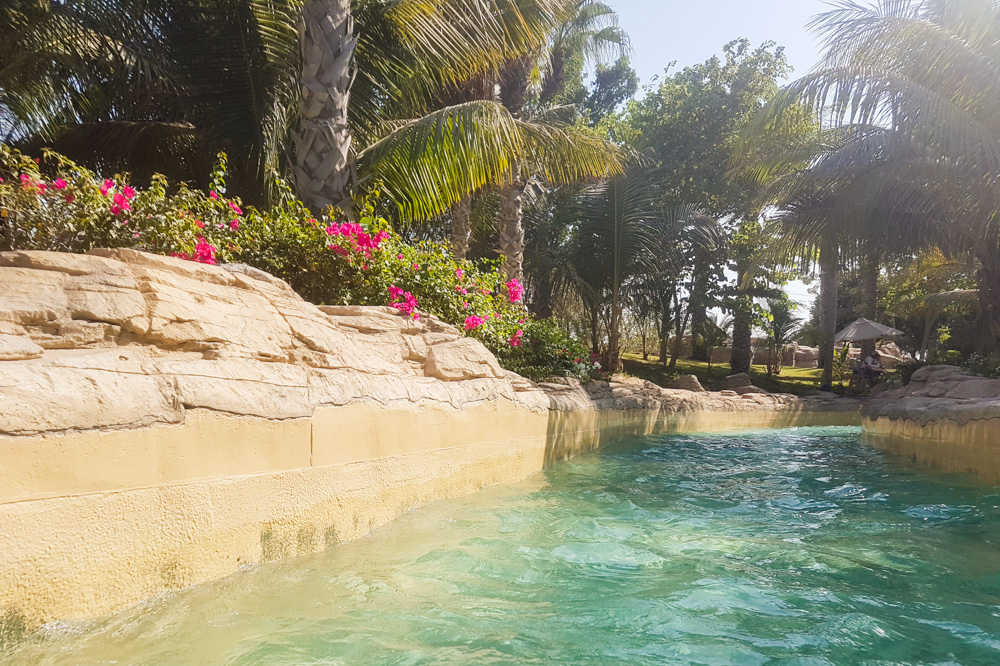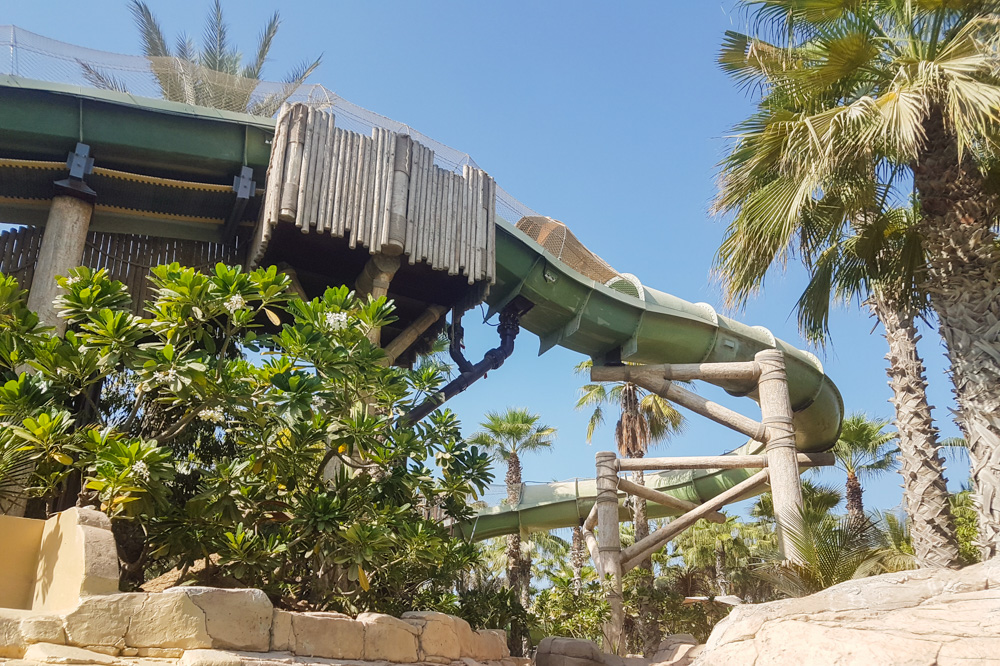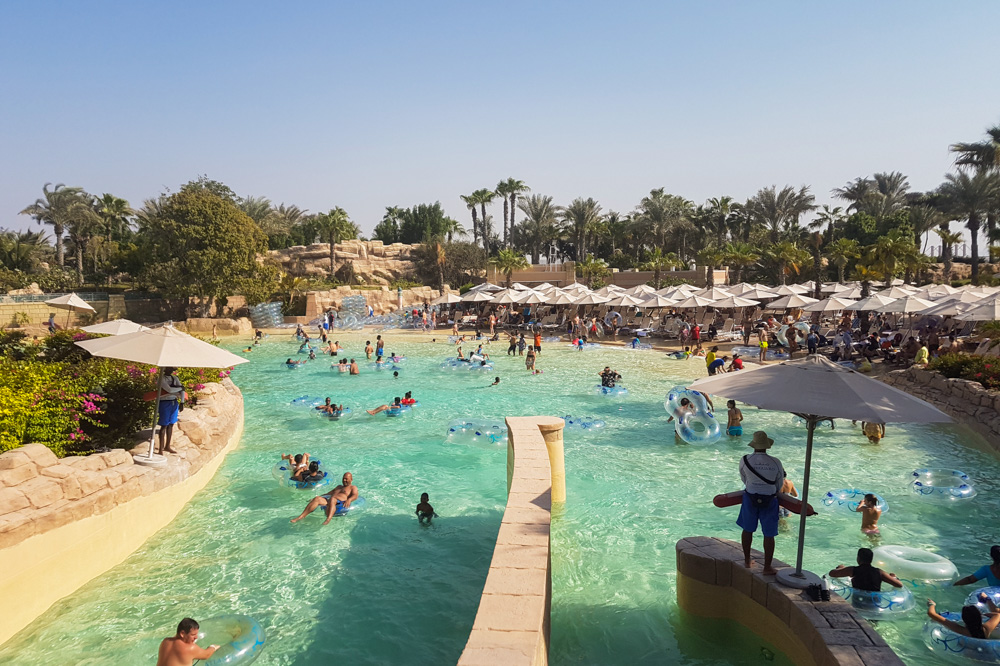 Aquaventure Waterpark
Aquaventure is the largest waterpark in the Middle East, and there's no doubt about how big it is! The 2km long lazy river & rapids takes a good 20 minutes or so to do a full circle around the outskirts of the park, containing the two towers where all the rides are. There's also a private man-made beach for the waterpark too, so there's plenty to keep you busy all day long. We actually thought that we'd get a little bored, but ended up not having enough time to do every ride in the end before the park shut!
We found some loungers and straight away grabbed some rubber rings for the lazy river/river rapids – Shane was such a party pooper and insisted we had individual ones, but I wanted to share haha! We visited the week before UK half term holidays and while it was busy, it wasn't as busy as we thought it would be. There was a little shortage of rubber rings around lunch time, but we found a load the other side of the park. We also didn't really wait more than about 20 minutes for a ride, which wasn't too bad (and they were all under cover from the sun too).
The thing that I loved most about Aquaventure, is that most of the rides are ring rides – I hate waterslides where you go without a ring as they hurt SO much. If you have a double ring you can go down in pairs too, which is great if you're a little terrified of rides like me hah!
There's two towers where all of the rides are located – Tower of Poseidon and Tower of Neptune, which are both inside the lazy river. We used the lazy river as our transport around the park all day, as the floor gets so hot throughout the day so it saved us walking across the park.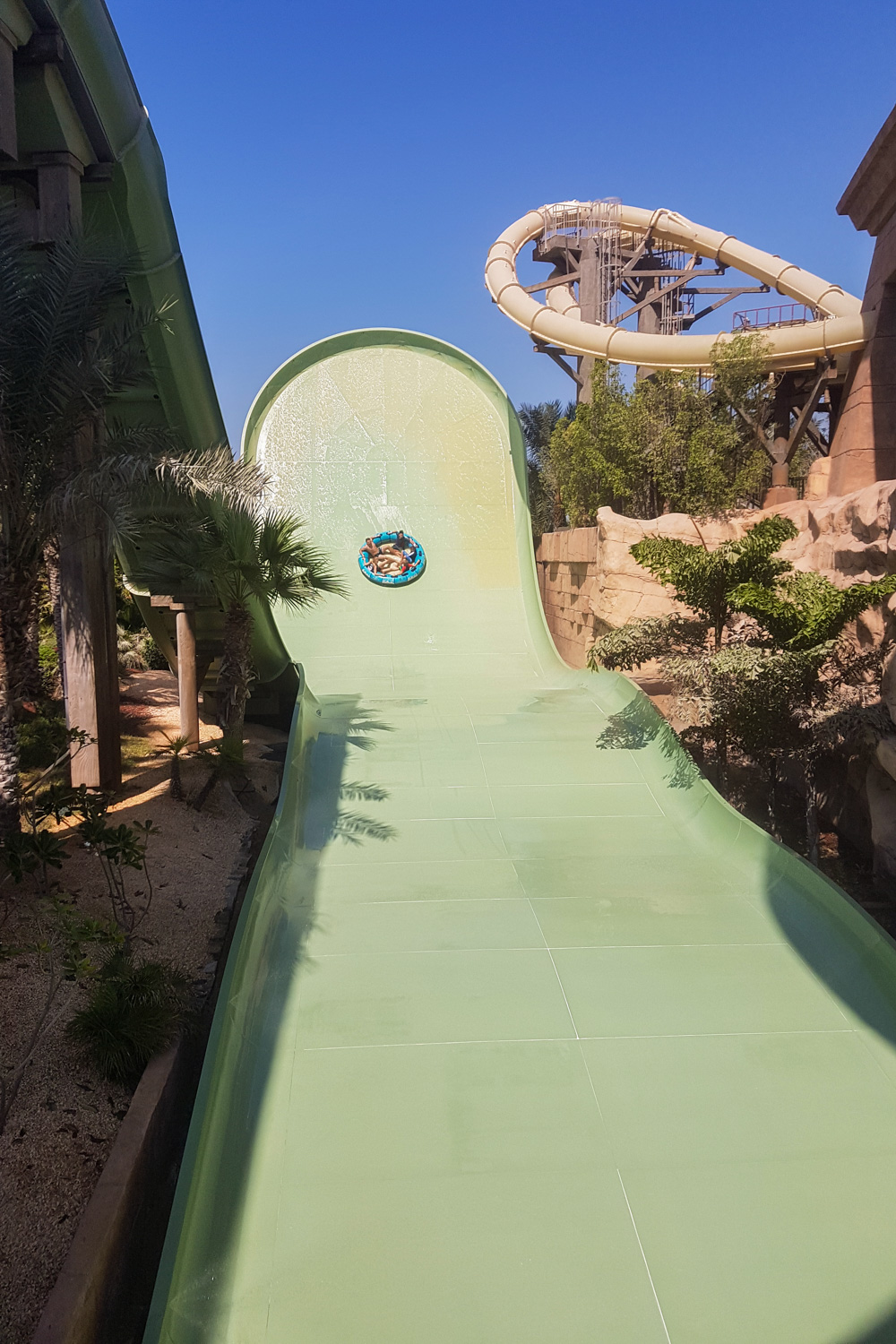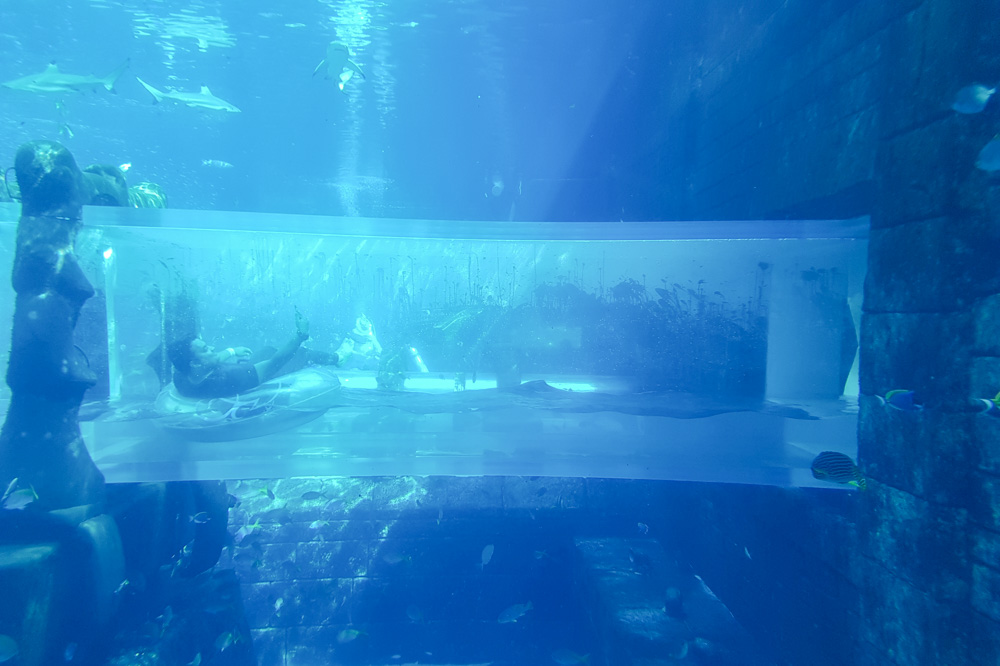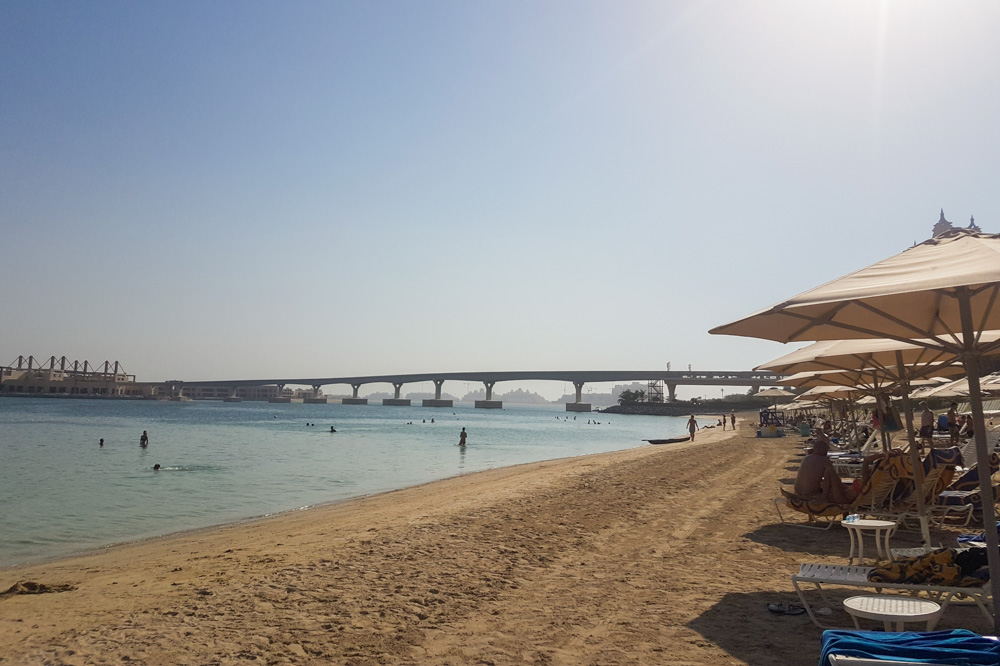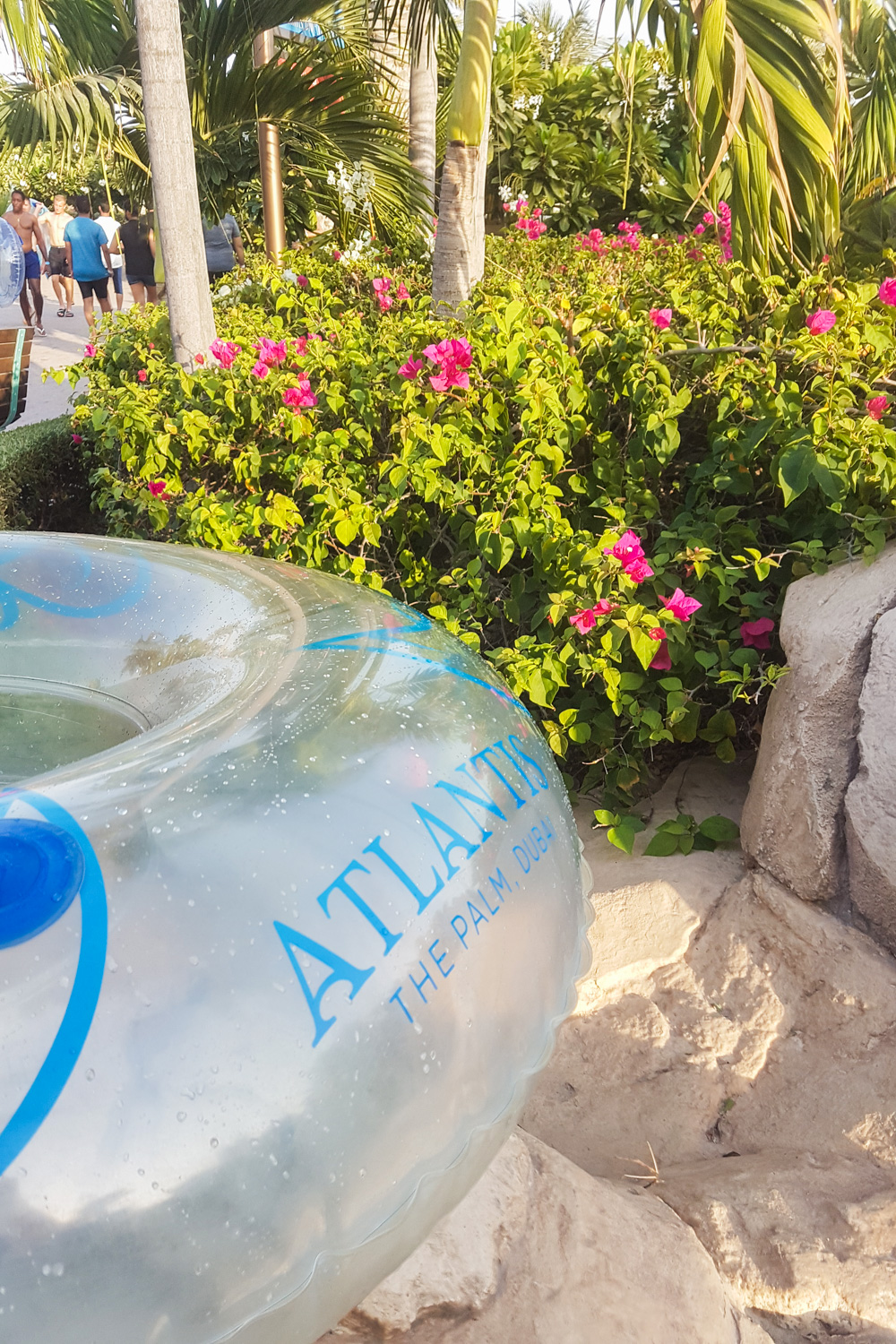 Save
Save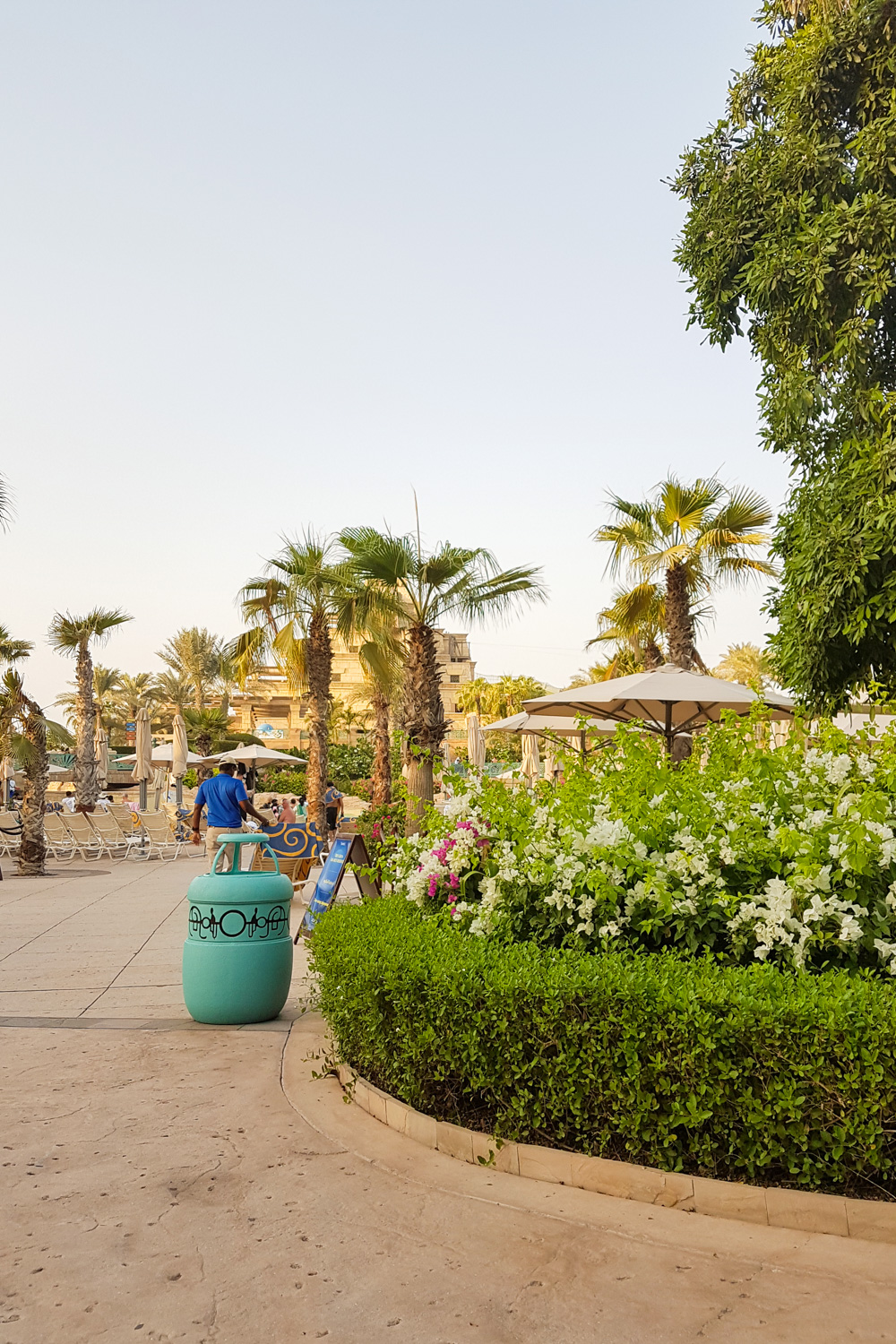 Save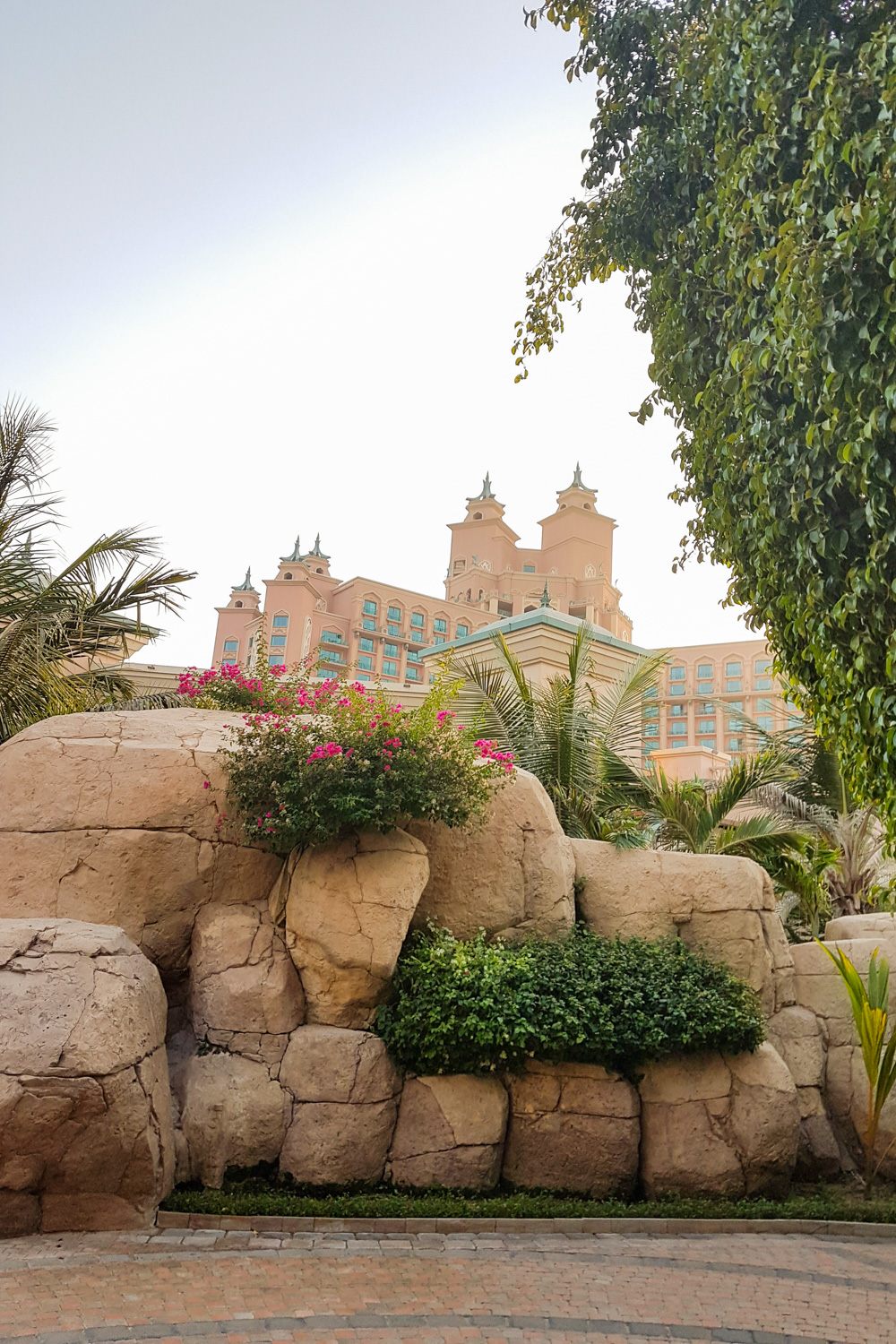 The Rides
The Tower of Poseidon is where the larger group rides are – Aquaconda was my favourite (you go through pitch black tunnels and get plummeted out into a fibreglass tube see a video here), and Zoomerango was absolutely terrifying (you get dropped almost vertically then go stright up a huge wall and down again watch here)! I wish we got it on video, because Shane said he's never heard me scream like that in the 8+ years that we've been together. I'm pretty sure the whole of Dubai heard me screaming!
There's also Poseidon's Revenge – the one where you stand in a capsule and the floor drops out from underneath you (obviously I didn't go on that one) and Slitherine, a dual waterslide (without rings) where you can race a friend to the bottom (we didn't go on this one either as we ran out of time).
The Tower of Neptune has more rides – including the famous Leap of Faith where you drop almost vertically down the pyramid through a tunnel in the shark tank. There's also Shark Attack, a calm ride through dark tunnels till you eventually make it to a huge tank filled with sharks and then Stinger, The Falls, The Plunge and The Surge, which are all ring rides set across the different levels of the tower. I wish we had more time as we only managed to tick off Shark Attack and one of the other ring rides (I can't remember which one).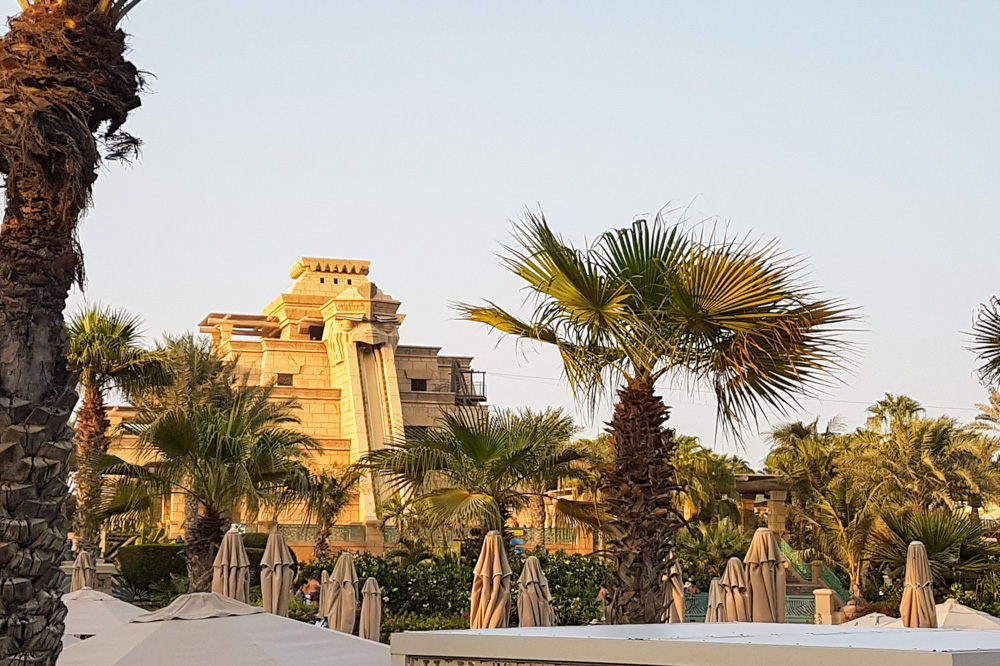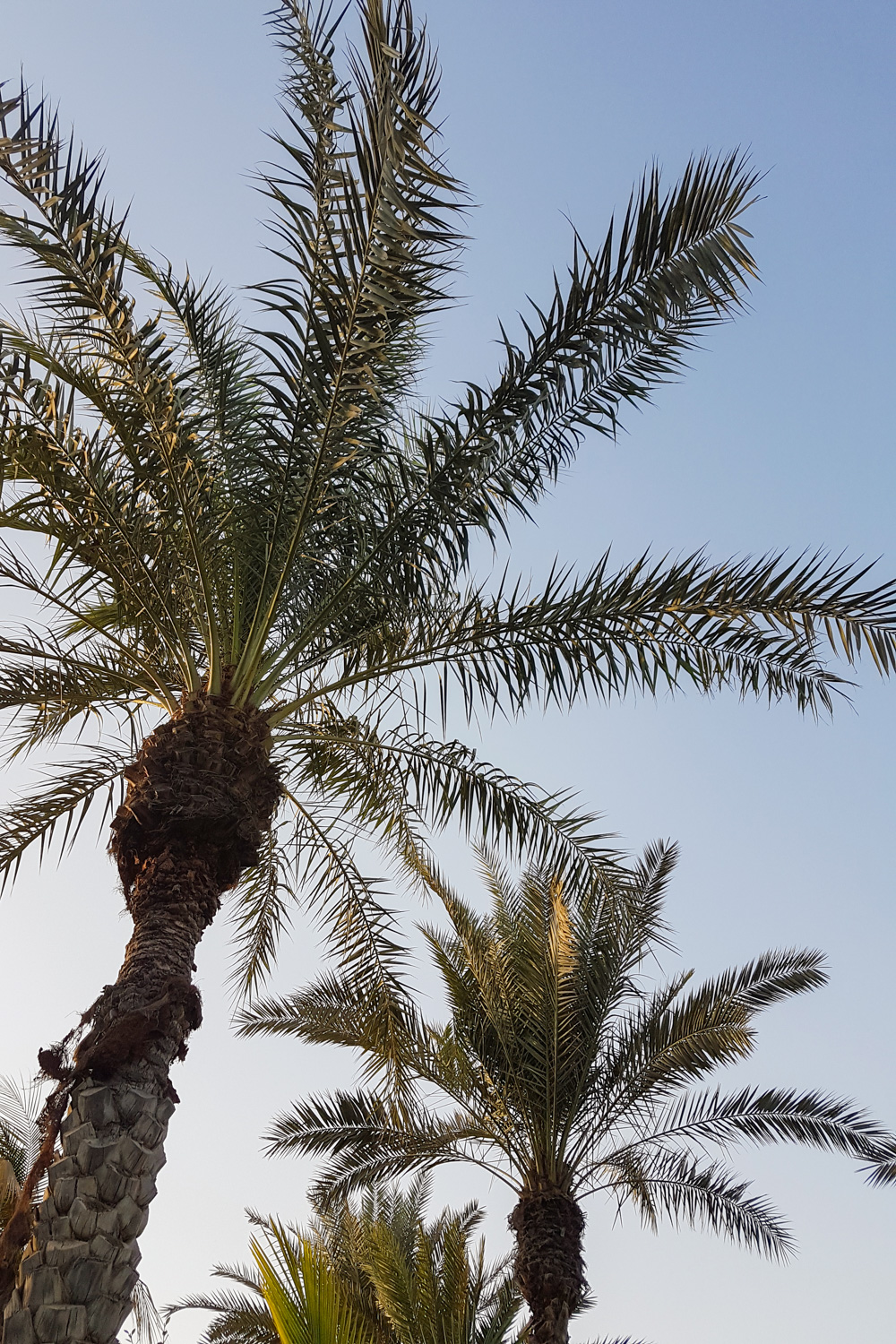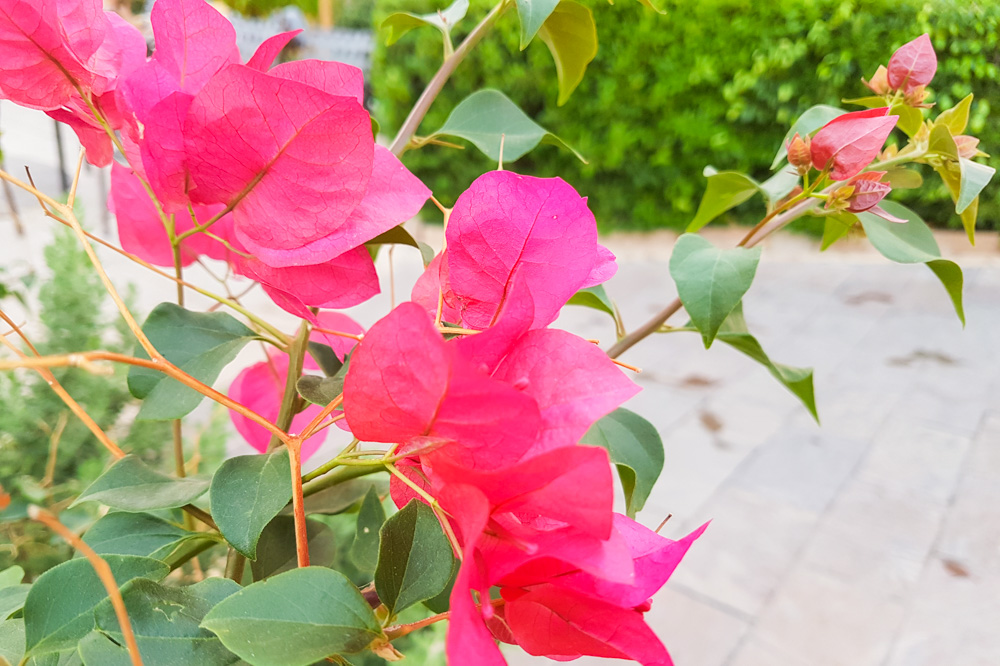 Save
Tips for Visiting The Waterpark
Get There Early and pre-book your tickets – We arrived at around 10.30am (it opens at 10am) and the park was already packed and lines for buying tickets was so long! Hotel guests get free entry to the park, so you can be sure they're some of the first to arrive. There's loads of seating at the far end of the park that everyone seems to miss (including us) when looking for loungers.
Renting a Locker – We rented a small locker between the two of us and it was plenty big enough for two backpacks filled with clothes. Also, if you share, you have to choose whether to have it in the male or female locker rooms (if you're a couple). There's lockers located at the entrance and also at the other end of the park by the Tower of Poseidon (they were a lot quieter)!
Glasses, Selfie Sticks & Go-Pro's – Glasses/Sunglasses aren't allowed to be worn on the rides, except the lazy river, but you can take them off once in the ring and ready to go and hold them in your hand. Selfie sticks aren't allowed, but go-pros and phones (in a waterproof lanyard) are allowed to be taken on the rides.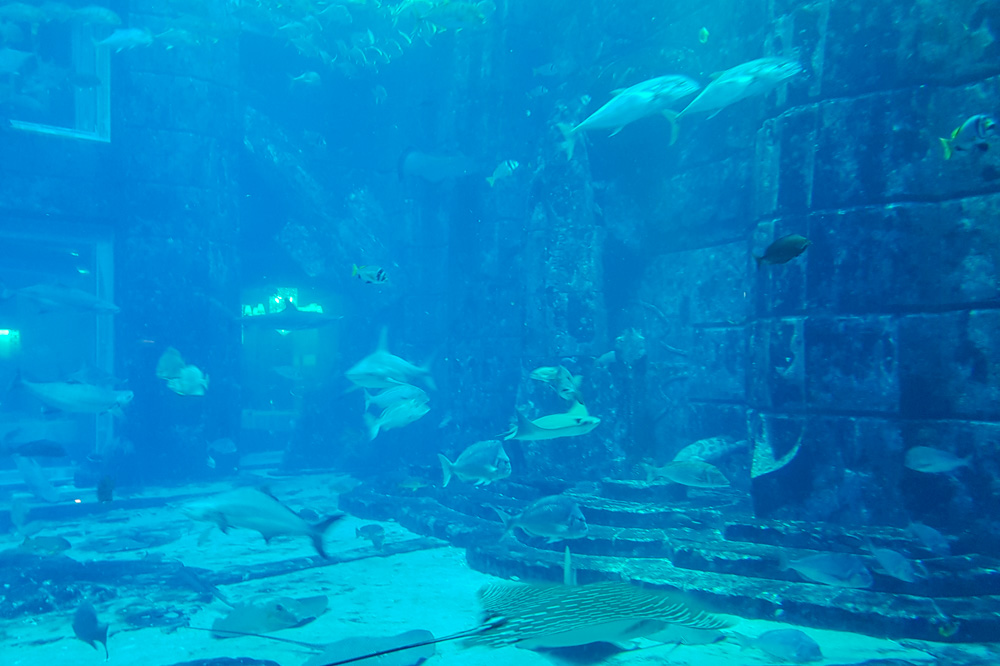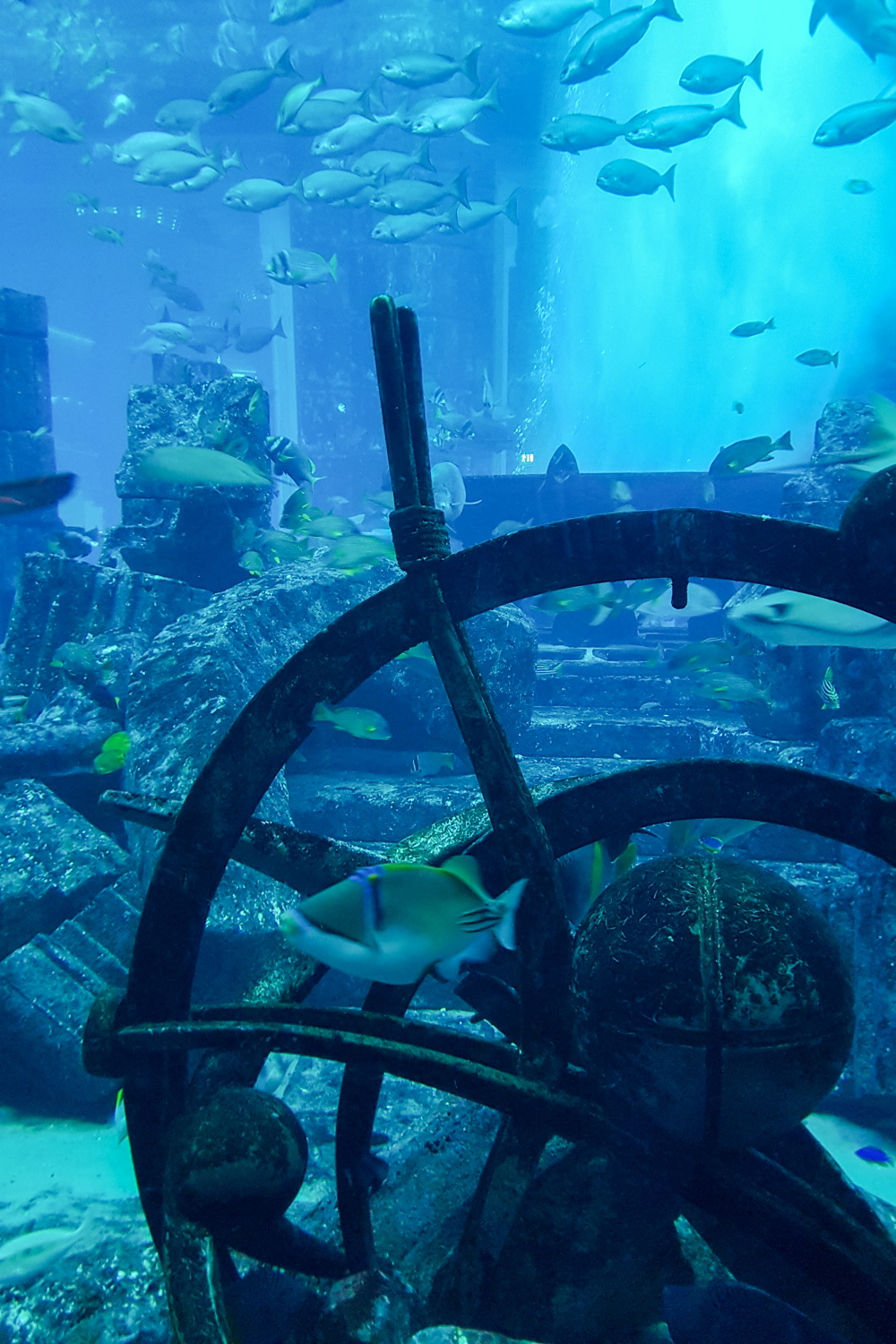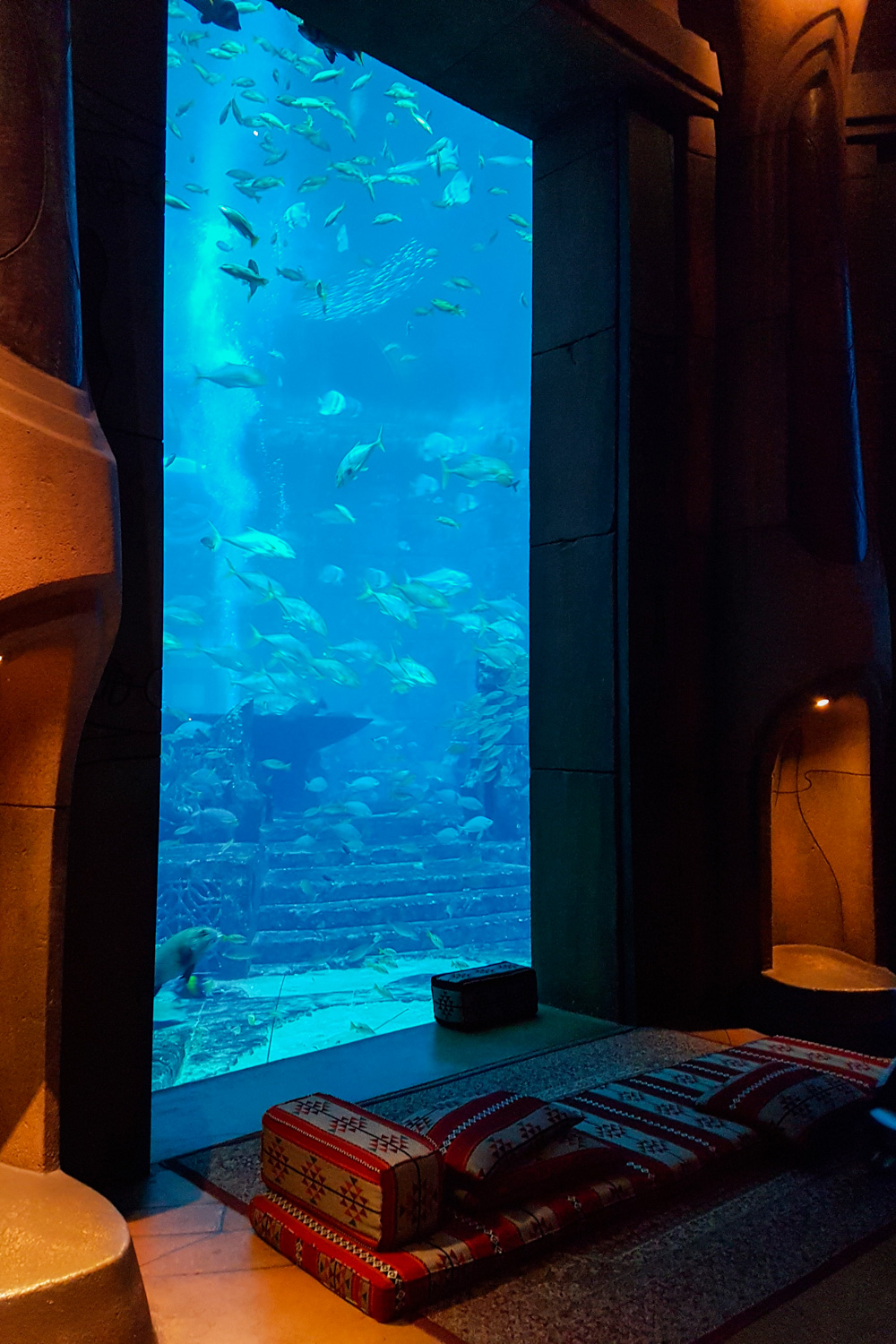 The Lost Chambers Aquarium
We bought the combo ticket that allowed us entry to both Aquaventure Waterpark and The Lost Chambers Aquarium. We stayed right till the waterpark closed, then headed over to the aquarium. Honestly, I wouldn't bother buying the combo ticket – we were done in about 10 minutes. I felt like the tanks were way too small for the number of fish in them, and I just wasn't a fan of it.
If you're wanting to visit Aquaventure Waterpark, it's open every day from 10am until sunset, so check before you go (in winter, this is 5.30pm). Entry for Adults is 260AED (£55) and for Kids under 1.2m it's 215AED (£45). There's free parking on site, or you can get there via taxi or monorail (connecting to the marina tram). We absolutely loved our day there, and it was so nice to have a day of relaxing and fun in the water, after dying from the heat all week!
So, that's a wrap on all of my Dubai posts! I'll have a little hotel review up for anyone looking for somewhere to stay, and I'll hopefully have a mini guide for visiting up soon too, but until then, you can check out all of my other posts from Dubai here!
Follow
Save