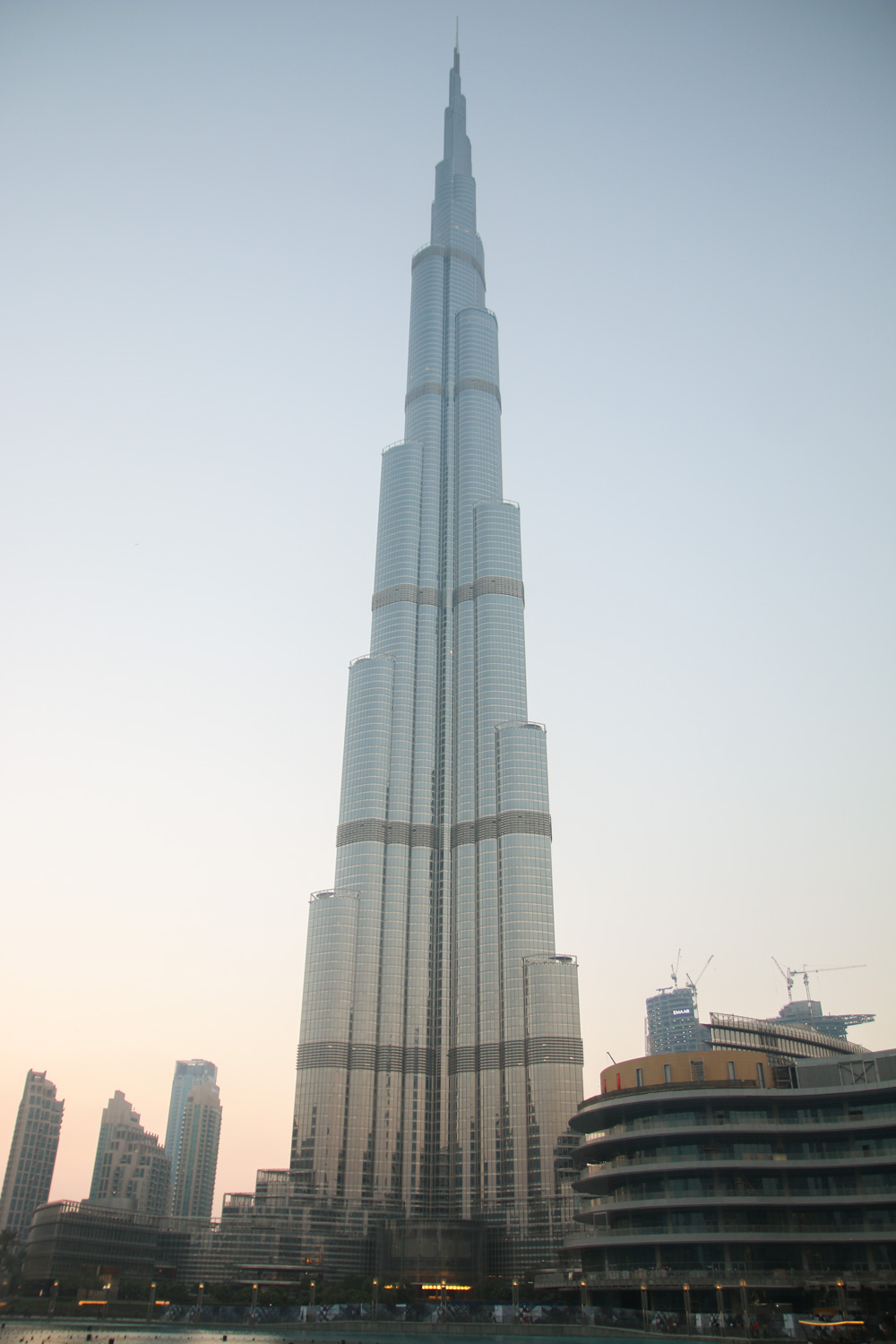 The Worlds Tallest Building
One of the highlights of our time in Dubai was definitely getting to see the worlds tallest building – the Burj Khalifa, in real life. I mean, when you've grown up hearing all about the worlds tallest building, you can't not go up it. It's funny, because while we were on our hop-on-hop-off bus tour and we could see it in the skyline, Shane and I both thought that it didn't look *that* tall. That's until we actually got up close to it. It's HUGE (so huge that I could only just fit it in the photos)!
At 828 meters tall, it towers over all of the surrounding skyscrapers in Downtown Dubai (and they're all pretty tall too). At The Top, the observation deck on floors 124 & 125 which is at a 452m (1,483 ft) of the Burj Khalifa was the tallest observation deck in the world until 2011 when the Cloud Top 488 opened in China. In 2014, SKY observation deck was opened on floor 148 of the Burj Khalifa which sits at 555 m (1,821 ft) which got knocked off top spot again by the Shanghai Tower in 2016 by 11meters!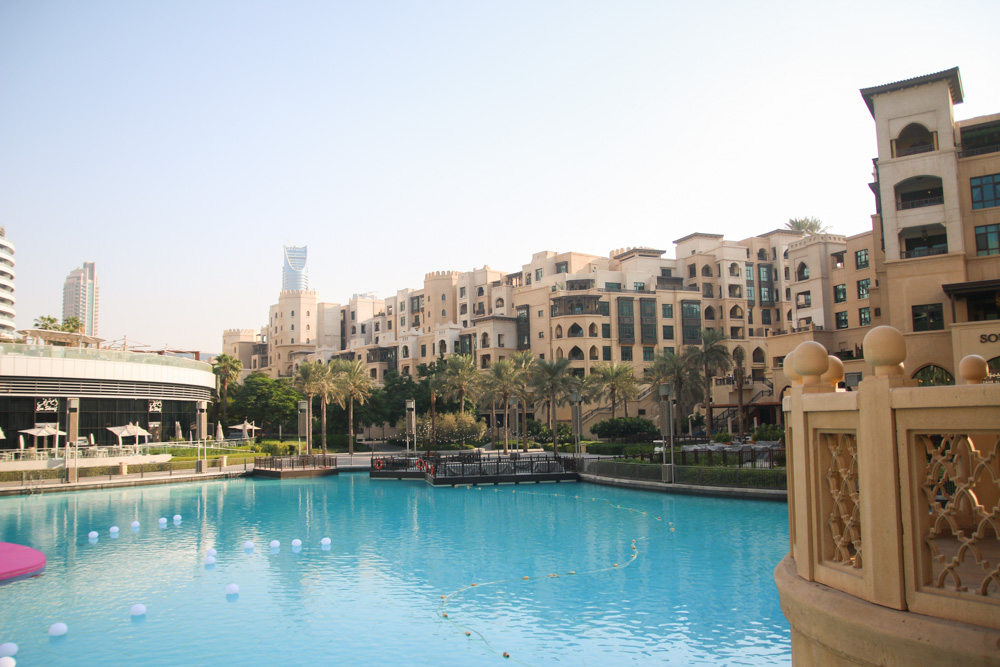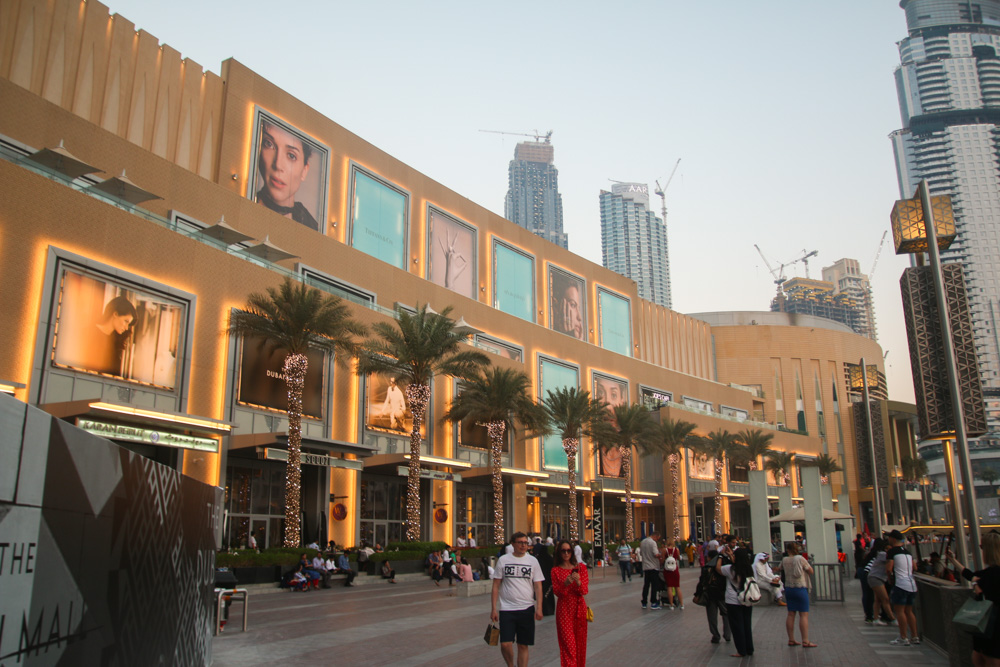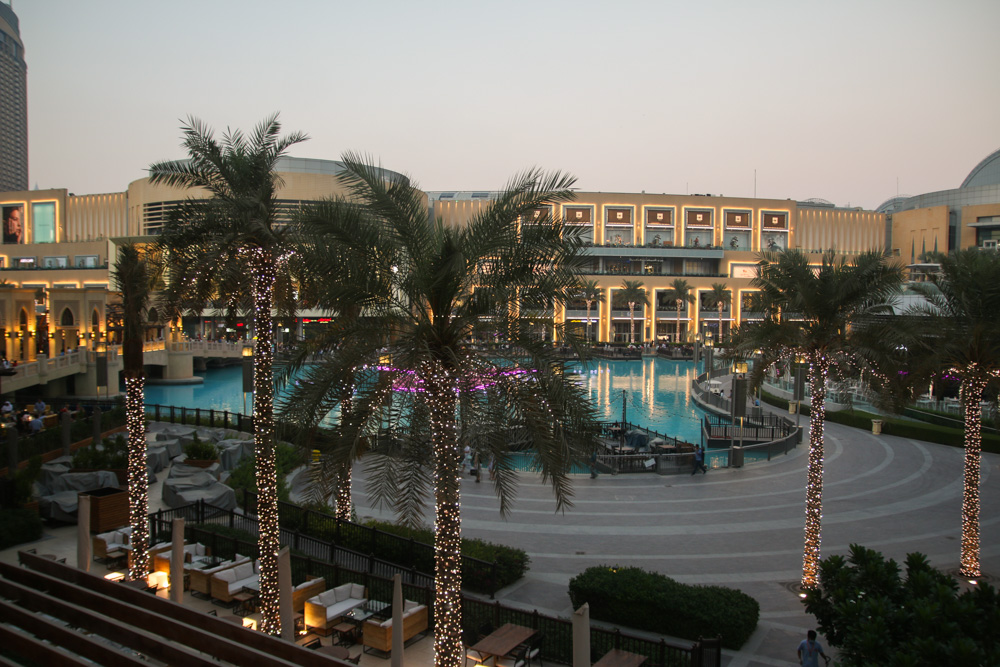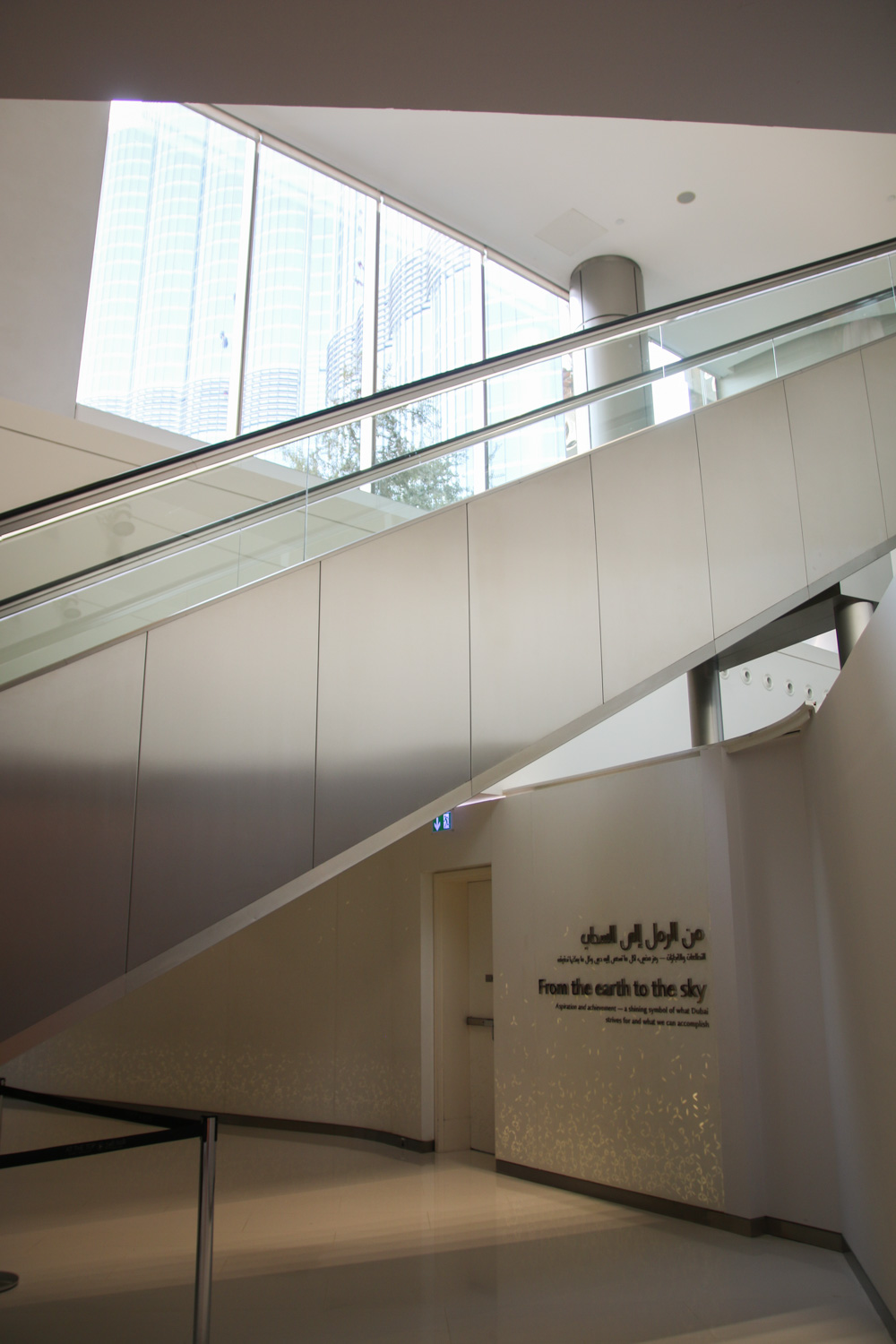 Save
We quickly ran outside to get some photos of the Burj Khalifa and the Dubai Fountain before the sun set before we collected our tickets for At The Top. The area outside around the fountain is so nice, lined with seating areas, loads of restaurants and a little dock for the Abra station where you can go on a boat trip around the fountain.
We booked our tickets for 4.30pm – the last time slot in the 'off-peak' prices which worked out to around £24pp, which I thought was pretty reasonable actually. If we'd have gone for the 5pm slot, it would have been almost double the price, which I was not prepared to pay, so I told Shane we'd have to hang around at the top and wait for the sunset instead. There's no time limit on the amount of time you spend up there, so it was definitely worth it booking the earlier slot.
Sunset time obviously varies throughout the year, so if you want to head up just before sunset check the time it's going to set before you book your tickets. It actually worked out perfectly for us, as by the time we'd got through security and the queue for the lifts it was just gone 5pm and sunset was at 5.50pm. We actually didn't stay up for that long and headed down about 5.40pm.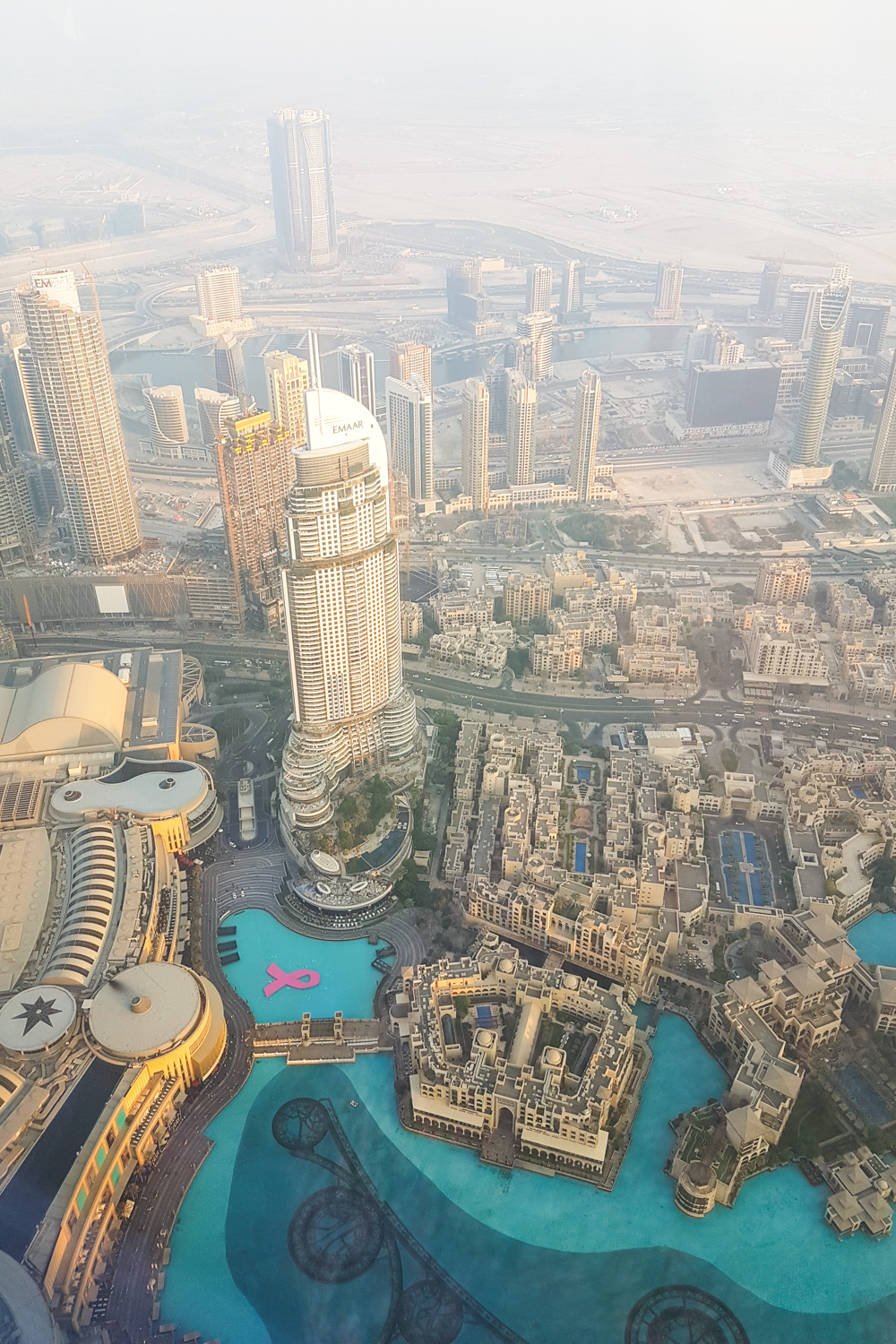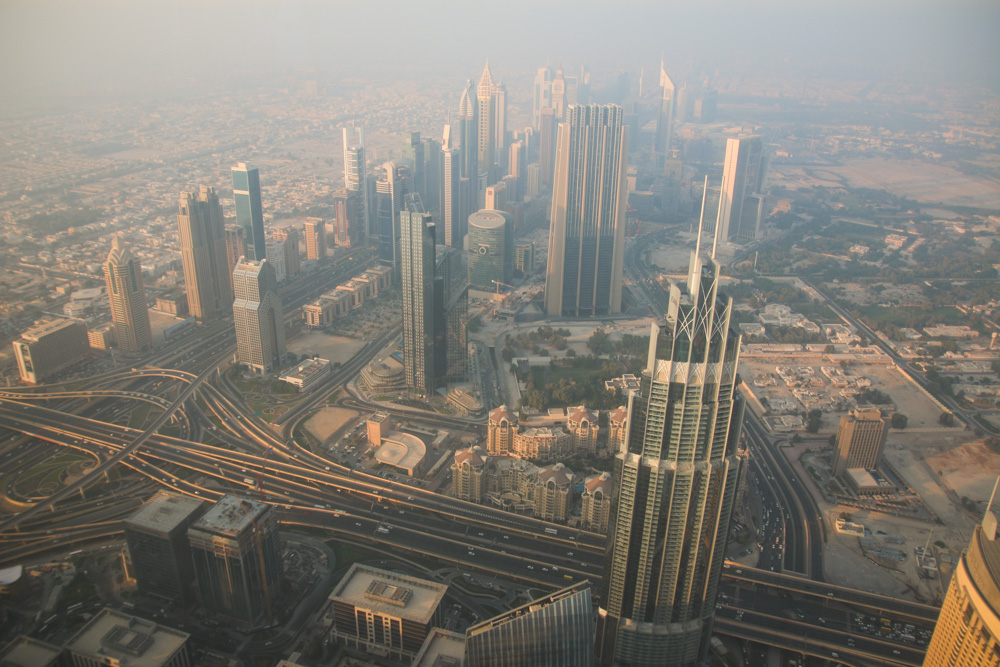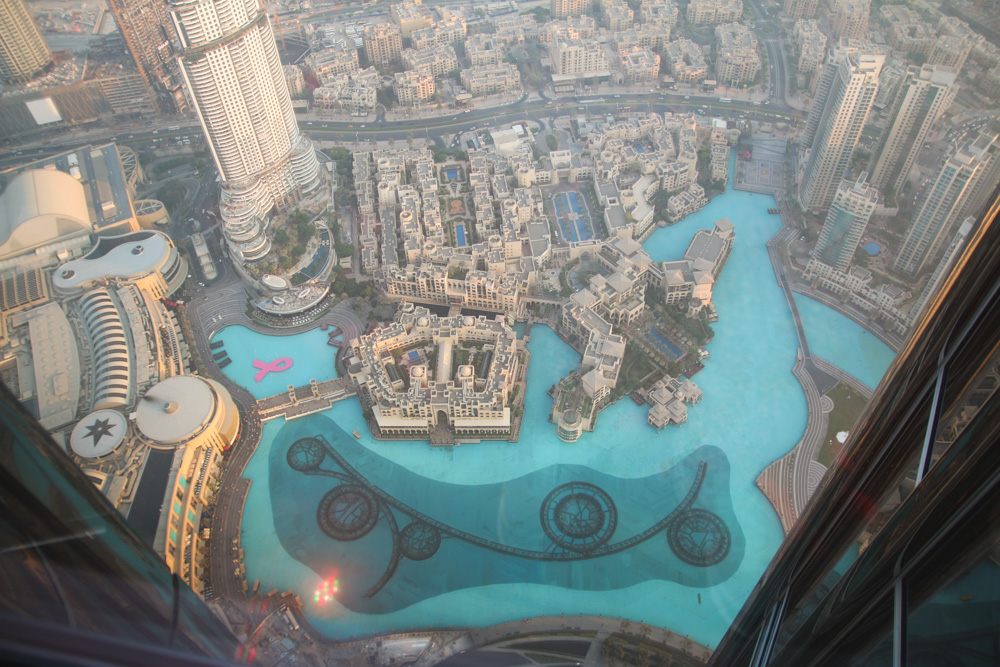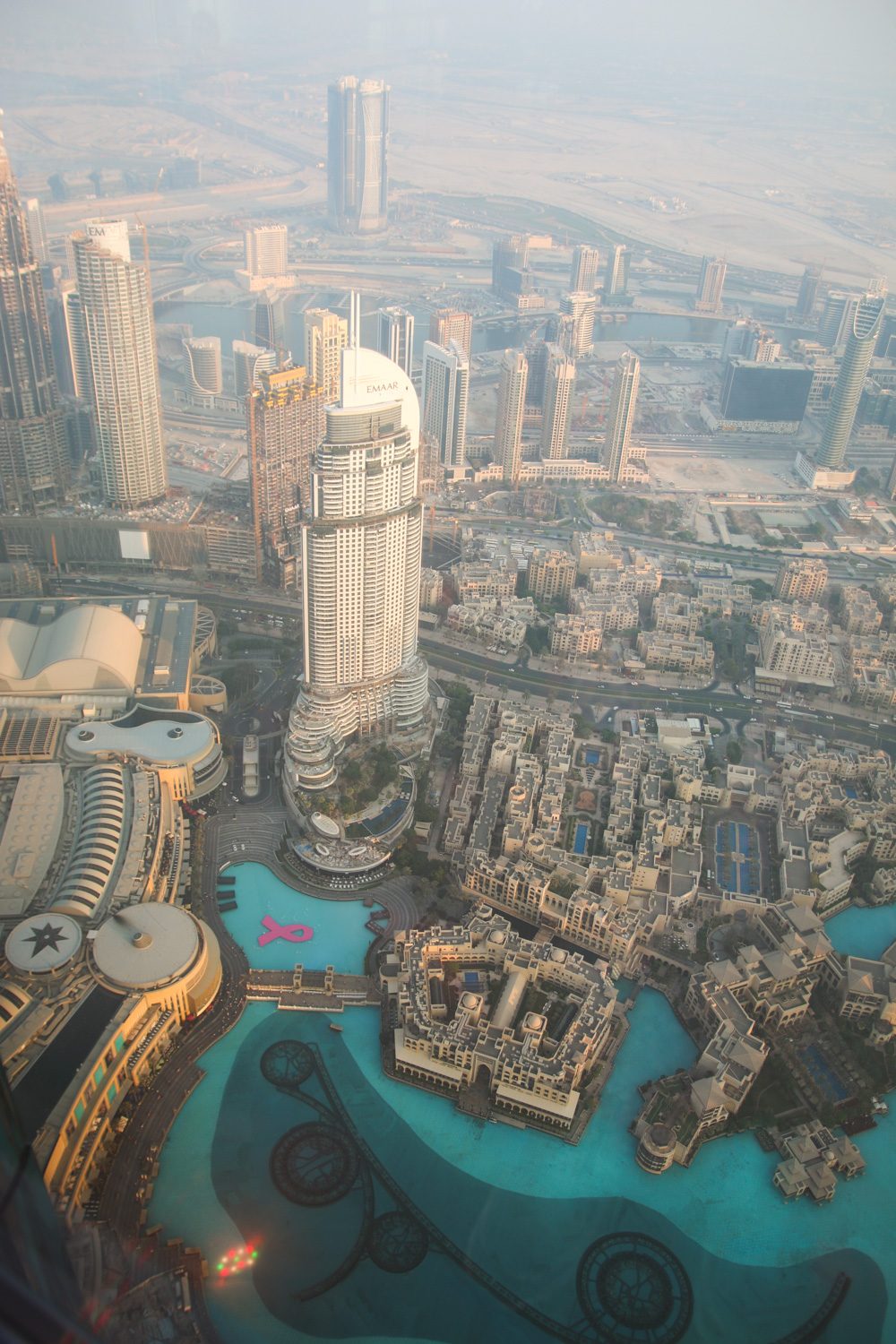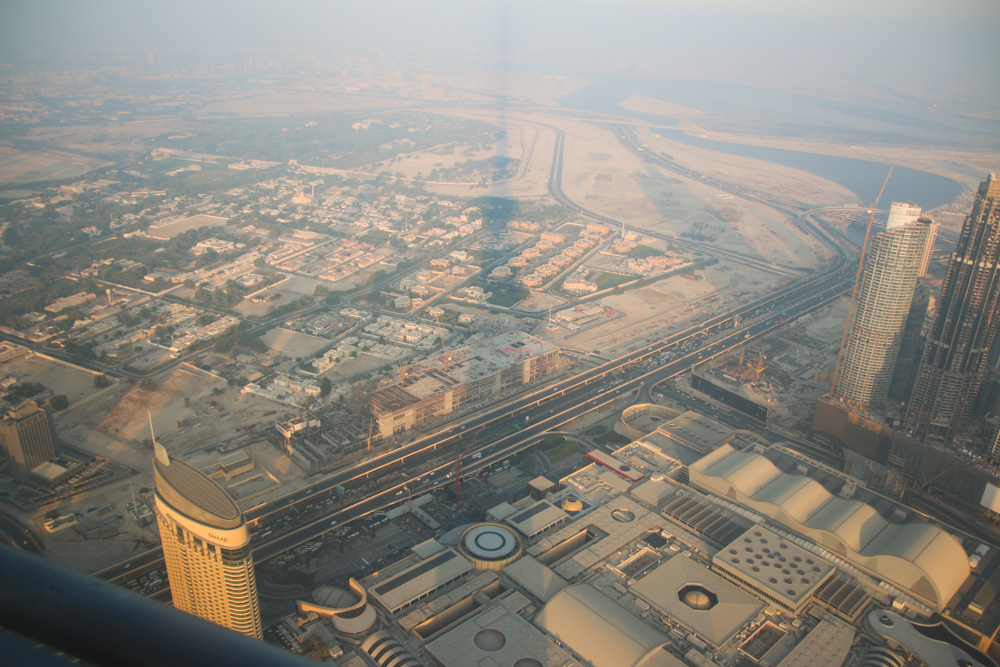 Save
Save
At The Top Burj Khalifa
There's a little exhibition showing you the building stages and facts about the tower as you go round to the lifts. I find stuff like this so fascinating! I'm all over those programmes likes Megastructures (fun fact- I actually used to want to be an Architect as a kid). I was a little nervous about the lifts as they shoot up 124 floors at a speed of 22mph taking around a minute to get there, but they were the smoothest lifts I've ever been in and you didn't even feel like you were going up or down, other than your ears popping!
I was a little gutted that while we were there, there seemed to be this weird mist/dust storm over the horizon the entire time, which made it look like it was sunset at all times of the day in photos. It actually created a really nice glow though at sunset, even if we didn't get to see as far. We went to the other side of the observation deck and the sun was just blinding through the weird mist and you literally couldn't see a thing, so my photos are only of 1 side of the deck.
We actually didn't stay as long as I thought we would, but I'm glad we didn't pay extra for the tickets to floor 148 – I just don't feel like it would be worth it, as when you're that high up, everything kind of looks the same, so floors 124 & 125 were fine for us! If you are planning on going to At The Top, don't forget to pre-book your tickets if you want to guarantee a specific time slot – and take some ID when you go to collect them (I was so lucky I had some on me).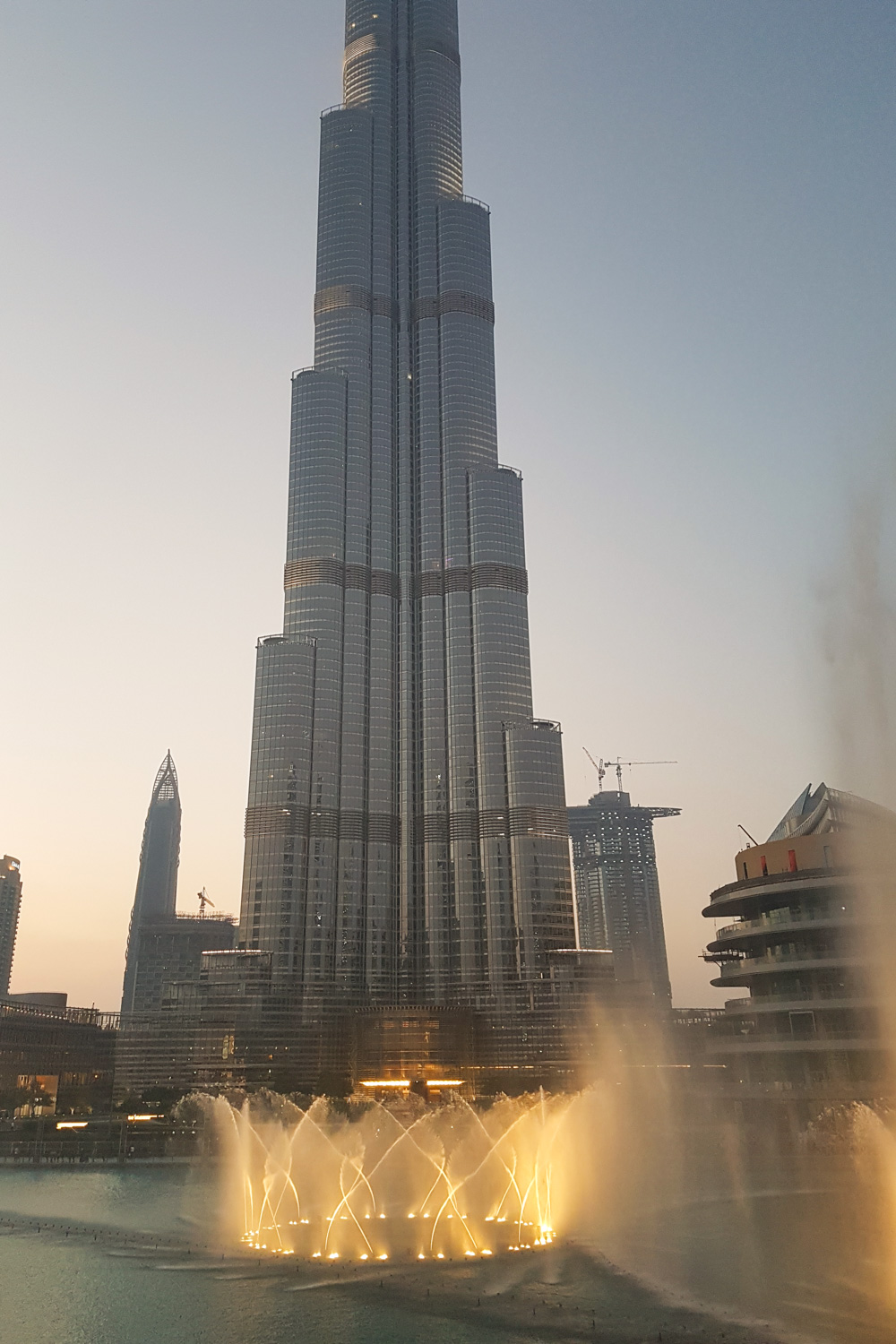 Save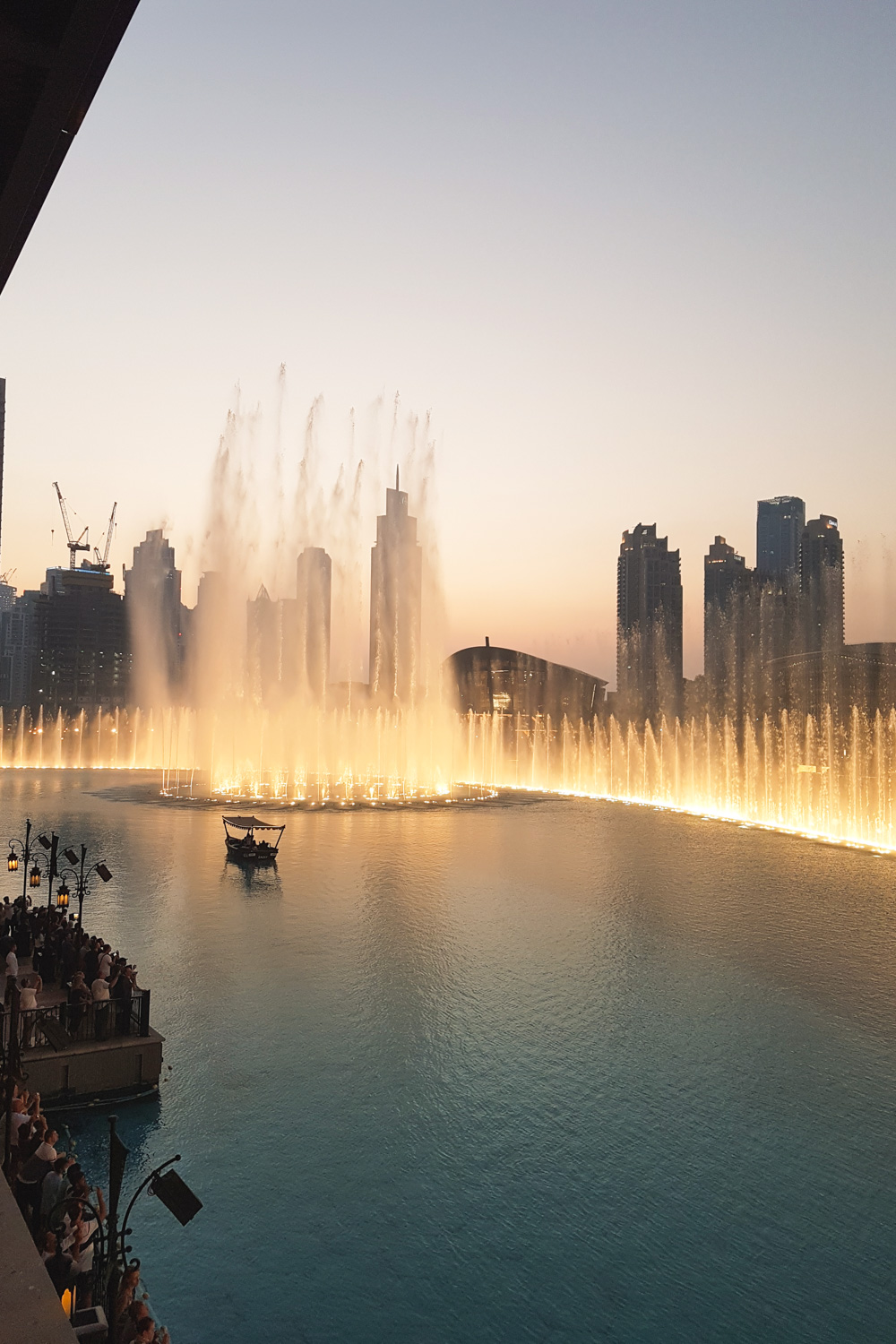 Save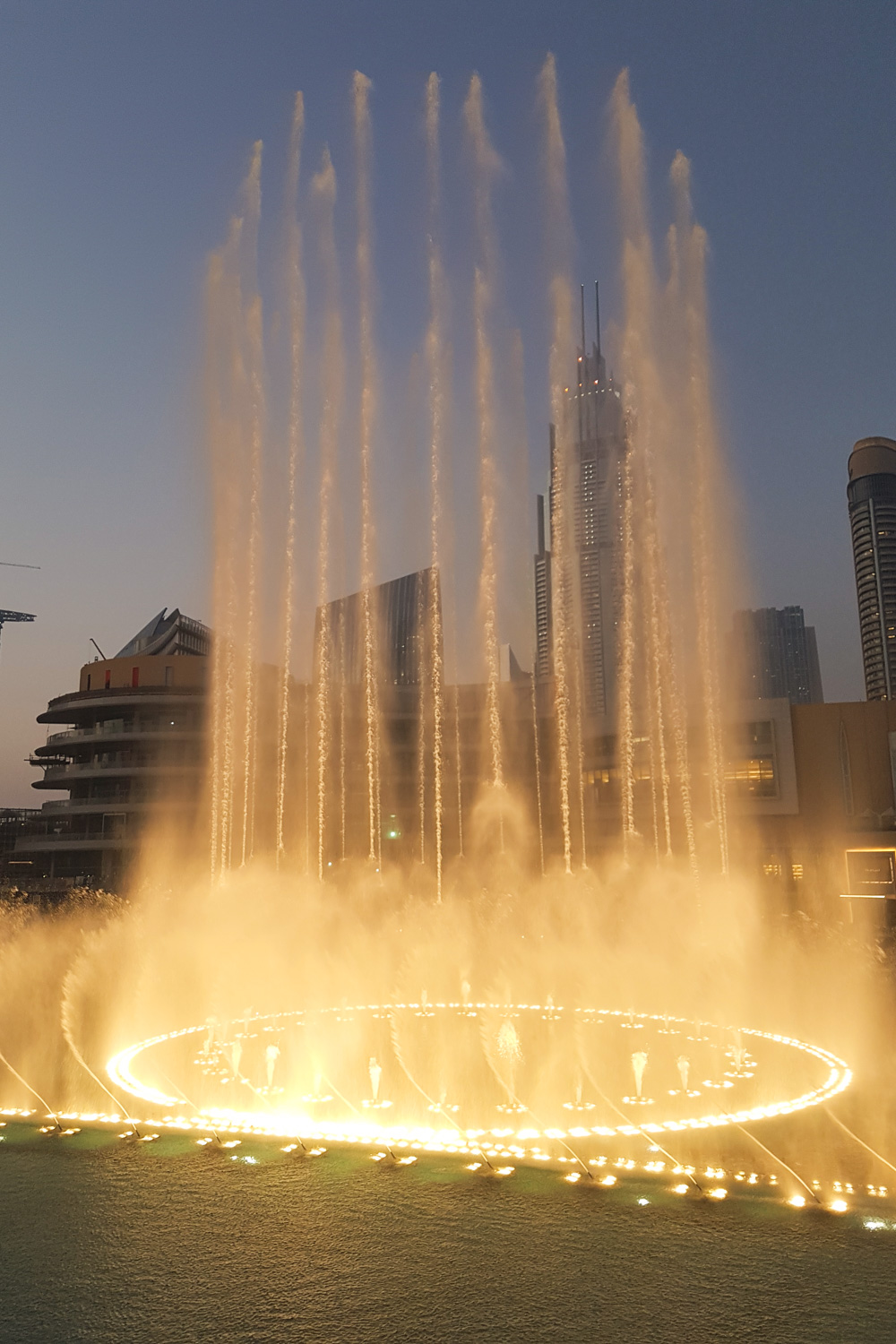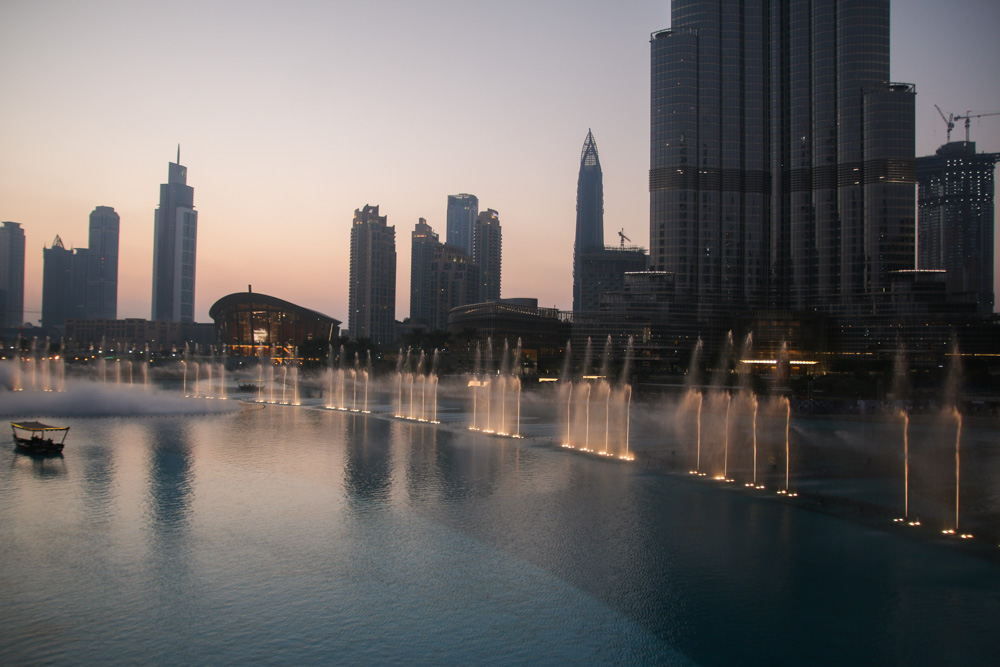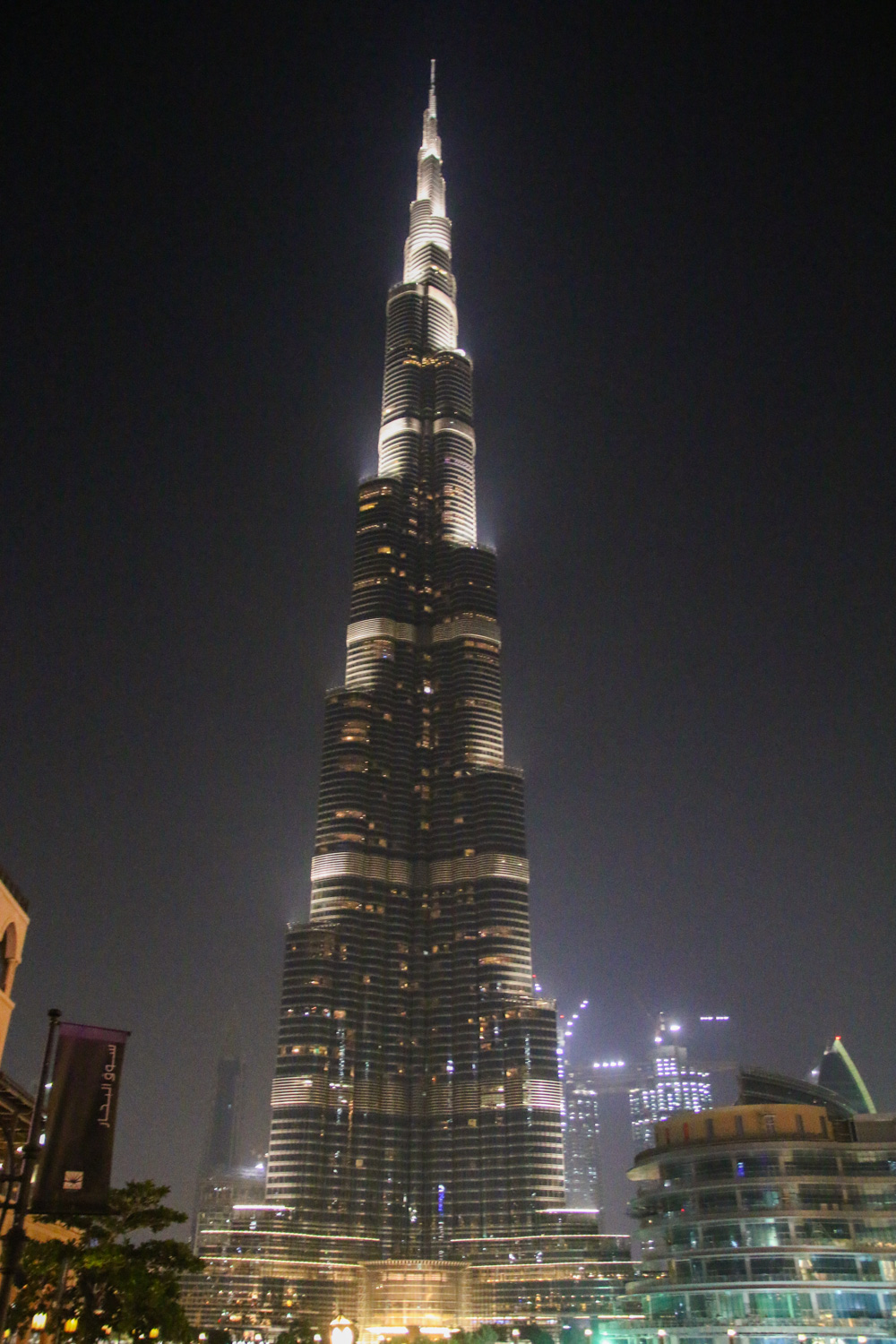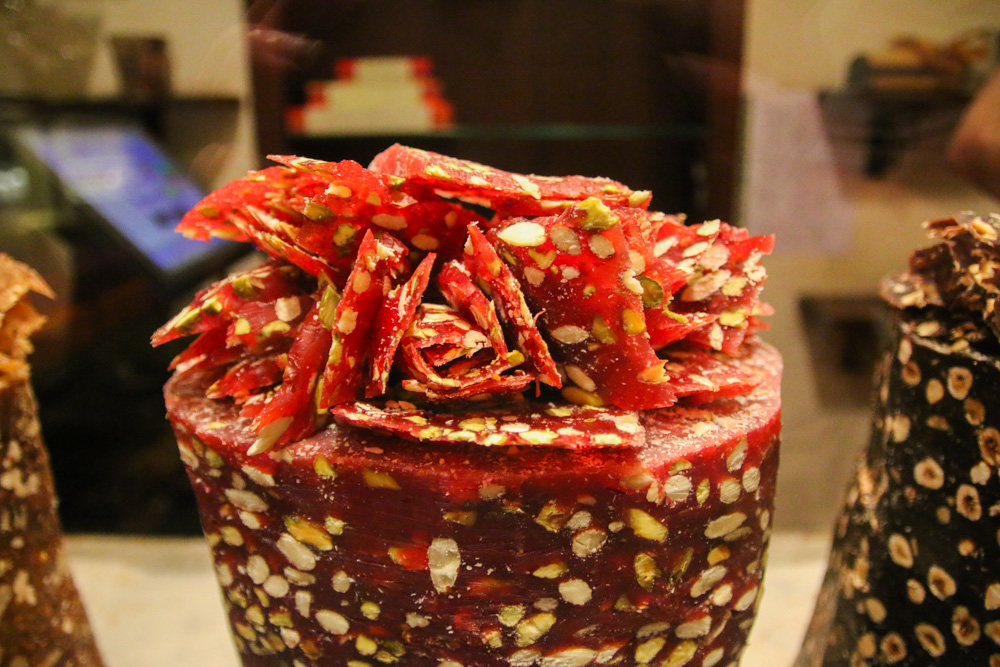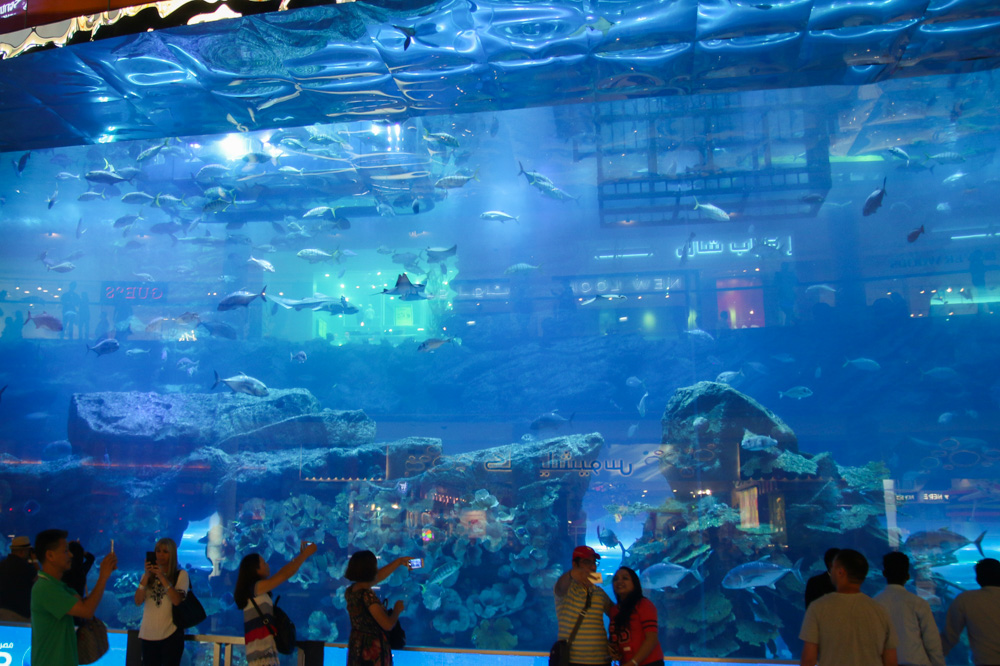 Save
Dubai Fountain
We had the most amazing dinner, on the balcony of a Lebanese restaurant called Abd El Wahab watching the Dubai Fountain. The fountain goes off every 30 minutes between 6pm and 11pm (and 1pm and 1.30pm during the day) and we arrived at the restaurant just in time to watch the first display. We had the best view and the food was amazing! It was expensive (the most expensive meal Shane and I have ever had), but it was the best Lebanese food we've eaten and it was so worth it as a nice little treat in Dubai.
After dinner, we went for a little walk through the Mall stocking up on loads of timbits (how amazing are they), some turkish delight and stopped for a while to watch the huge aquarium! I couldn't get over the size of it!
Have you been to Dubai before? Is the Burj Khalifa on your bucket list?
Follow
Save
Save
Save
Save