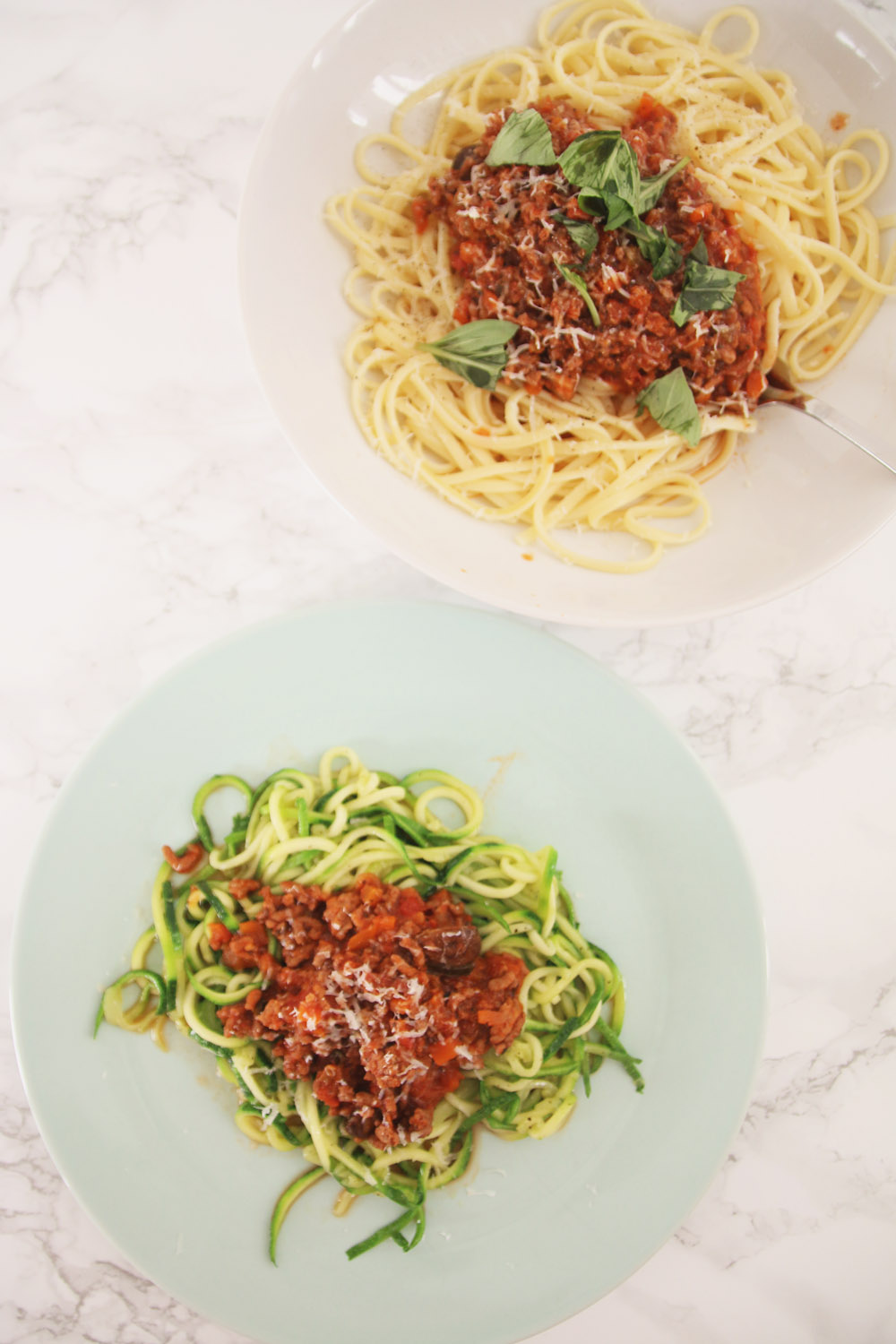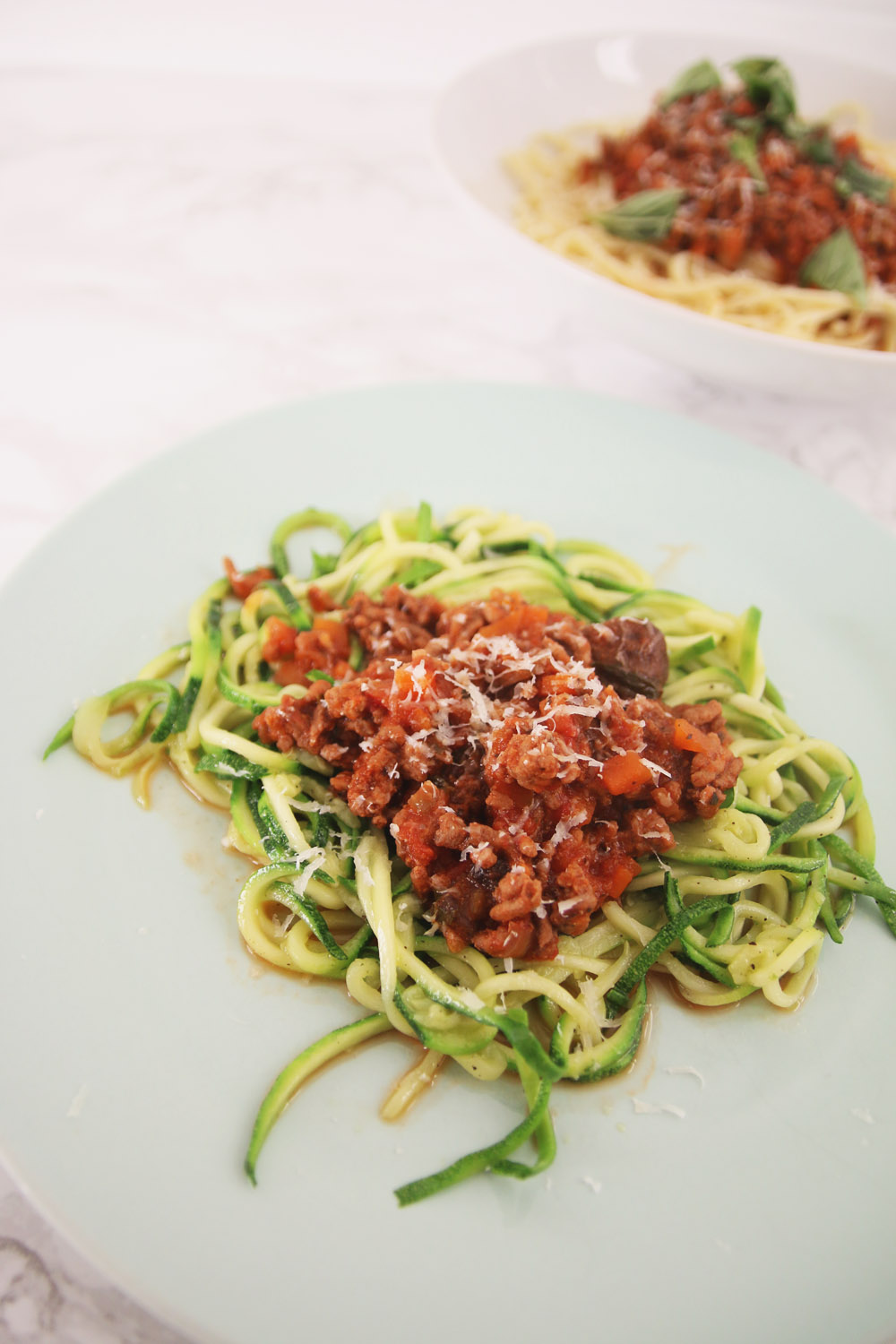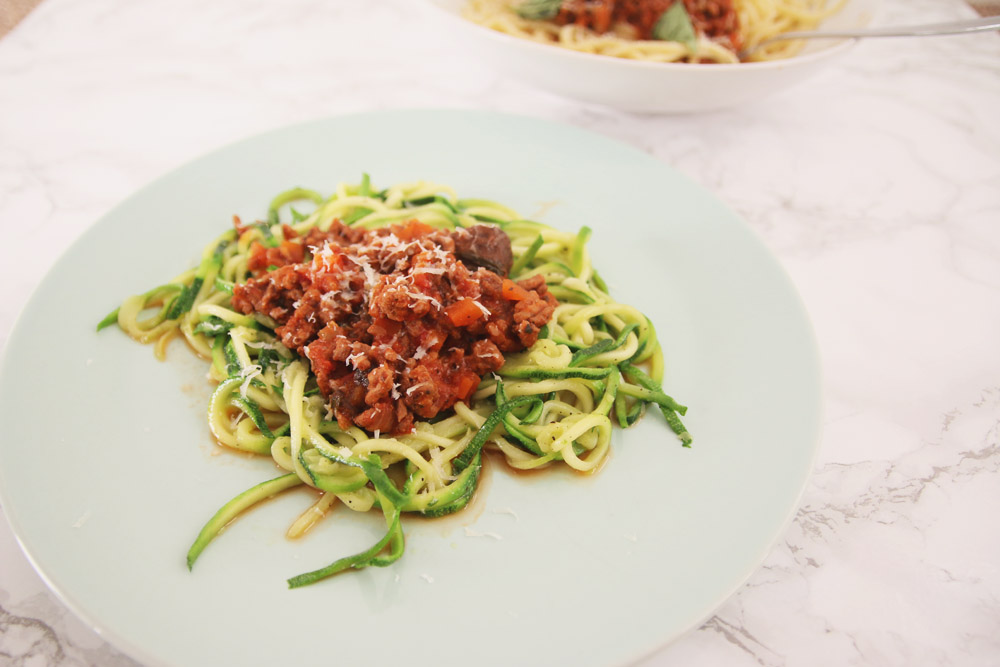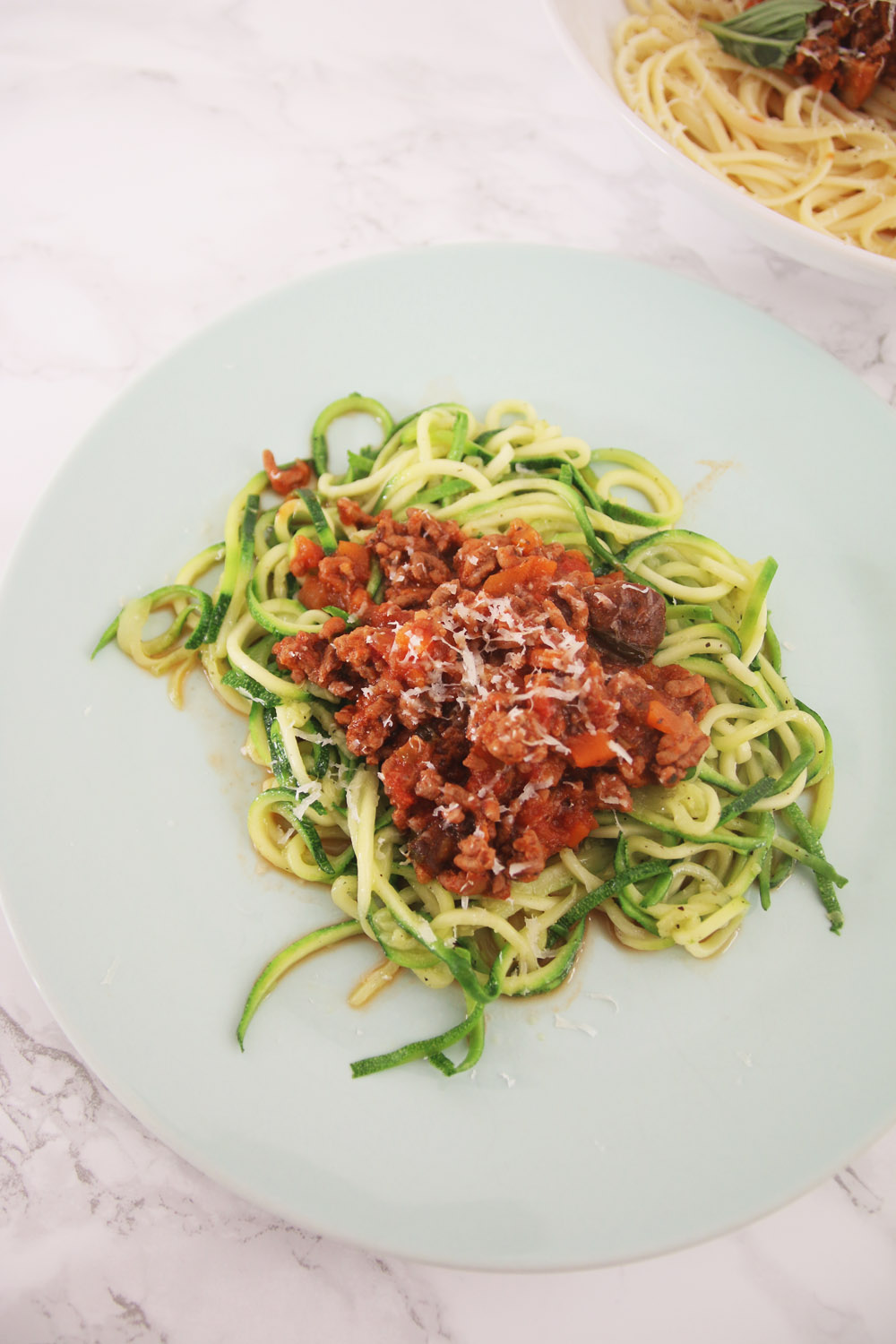 I LOVE Italian food! If I had to choose one cuisine to eat for the rest of my life, it would straight up be Italian! One of my favourite dishes is Spaghetti Bolognese. It's just so rich and flavourful that I can't resist a good bowl of it! So courgetti/zoodles has been popping up everywhere the past few years, which if you haven't heard of it yet, it's spiralized courgettes that looks like spaghetti.
I bought this spiralizer about a year ago, but I was actually too scared to make courgetti incase I didn't like it and my whole dinner would be ruined. Well the other week, I finally plucked up the courage to try it (I did have a mini portion with a backup of actual spaghetti bolognese just incase I didn't like it haha).
Well, turns out, it's actually pretty delicious! Like really good! I actually preferred it to the bowl of spaghetti that I had sitting there, and that's really big because I actually don't like courgettes! So, I made it again last week! Shane wasn't so much of a fan of it, but he said it was eatable haha! And if you're gluten free, it's a nice healthy alternative to pasta! My mum loves it!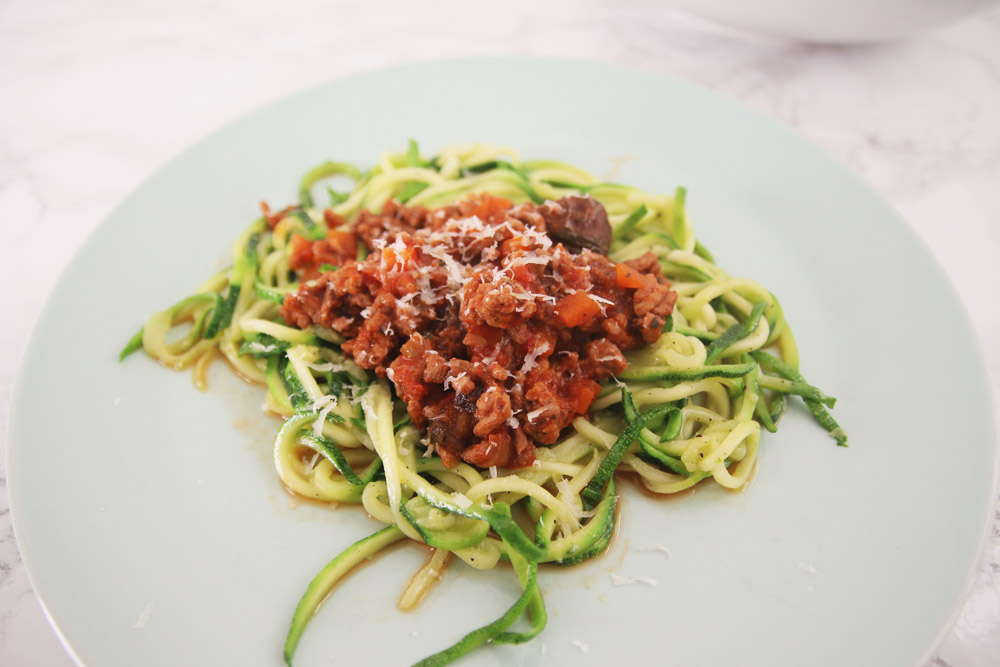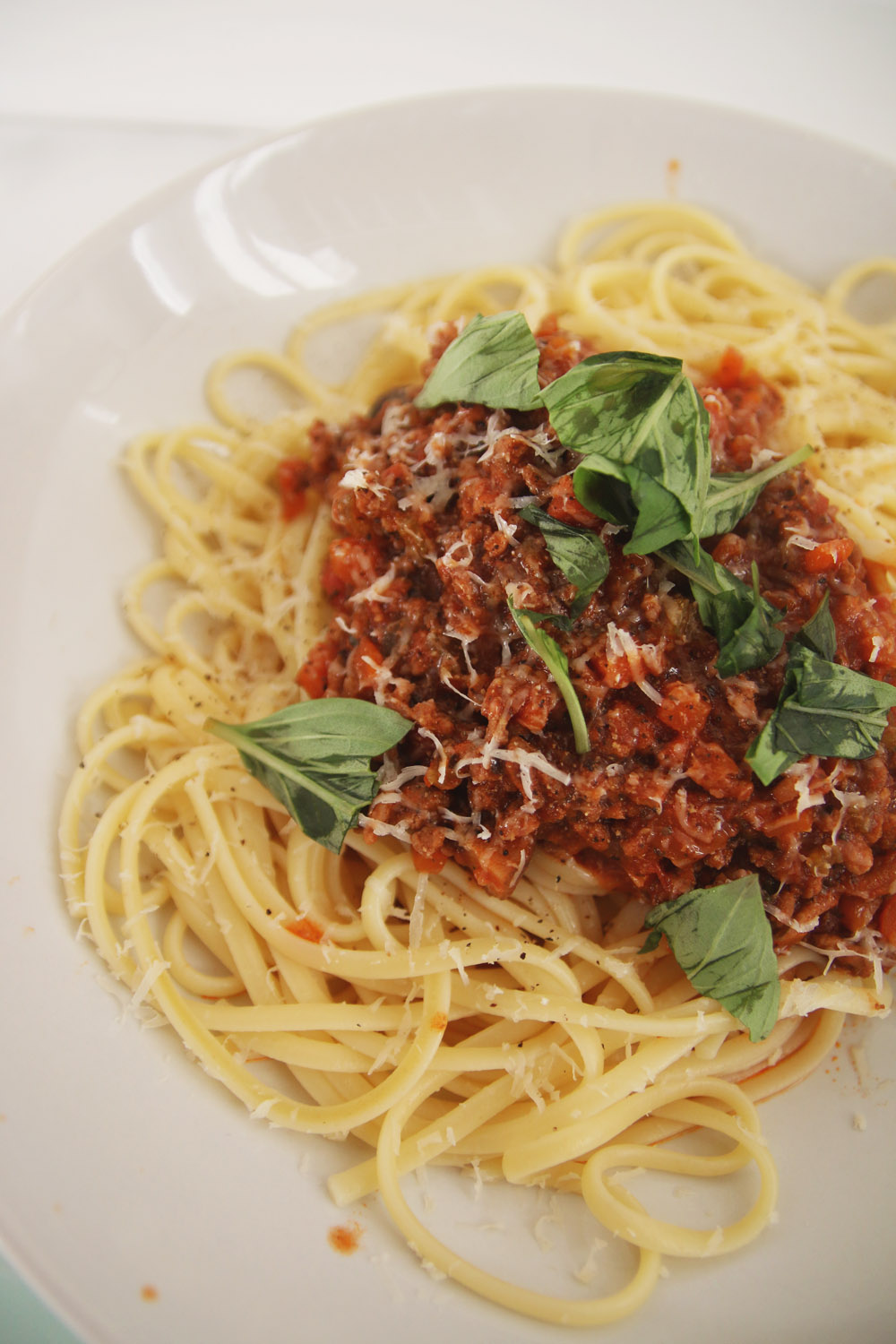 I've included the recipe for the bolognese, which you can use with whatever 'pasta' you'd like, whether that be courgetti or spaghetti. It's pretty delicious both ways! Ok so there are quite a lot of ingredients, but most of them are storecupboard ingredients, so please don't be put off by that! It's also really simple to make, as once everything is in the pan, you just leave it to do it's thing for about an hour! Oh, and it does make enough for 6-8 people, so we always have LOADS leftover to freeze for more dinners! YAY!
What you'll need
500g beef mince
500g pork mince
2 onions, finely chopped
2 small carrots, finely chopped
2 sticks celery, finely chopped
handful mushrooms, sliced
3 cloves garlic, finely chopped
3tbsp tomato puree
1tbsp balsamic vinegar
1tsp sugar
1tsp marmite
1-2tbsp dried basil
1-2tbsp dried oregano
1 bay leaf
splash of red wine
2 cans chopped tomatoes
500ml beef stock
salt & pepper, to taste
handful fresh basil, to taste
parmesan cheese (optional)
olive oil
How to make it
1. Fry the beef and pork mince together in a huge pan, stirring continuously to make sure it doesn't clump up into big chunks of mince for around 5-10 minutes, until it's browned. Empty the meat onto a plate and drain off any excess oil.
2. Add a little olive oil to the pan and fry the onions, carrots and celery & mushrooms until softened, then add in the garlic and fry for another minute or so.
3. Add the meat back to the mix and fry for a few minutes, stirring continuously to mix it all together.
4. Add in the tomato puree, balsamic vinegar, sugar and marmite and fry for another minute or so. Then add in the dried herbs and the wine. Fry again for another minute or so, to let the alcohol evaporate then add in the bay leaf, 2 cans of chopped tomatoes and beef stock.
5. Season with a little salt and pepper and leave to simmer on a low heat for about an hour, until the sauce has become nice and thick. Make sure you check on it every so often so that it doesn't stick.
6. Serve up with either the courgetti or spaghetti and grate over some parmesan, freshly ground black pepper and fresh basil. Enjoy!

To make the courgetti
Some people like to just spiralize the courgette and put it straight in the bowl and enjoy with the bolognese, but since I don't like courgette and didn't fancy crunchy vegetables, I cooked mine down for a little bit first in some butter.
Just heat the butter in a pan, add in the courgettes and a little salt and fry until it's softened to your liking. I liked mine quite soft. I would drain it off a little though, as it does produce some water. I'd recommend maybe 1 large courgette per person, as it does shrink down a lot as you cook it.
Let me know if you try this! Have you ever used courgetti before? What did you think? If you've got any other spiralizer suggestions, let me know as I really want to try more recipes out now!
Save
Save
Save
Save
Save