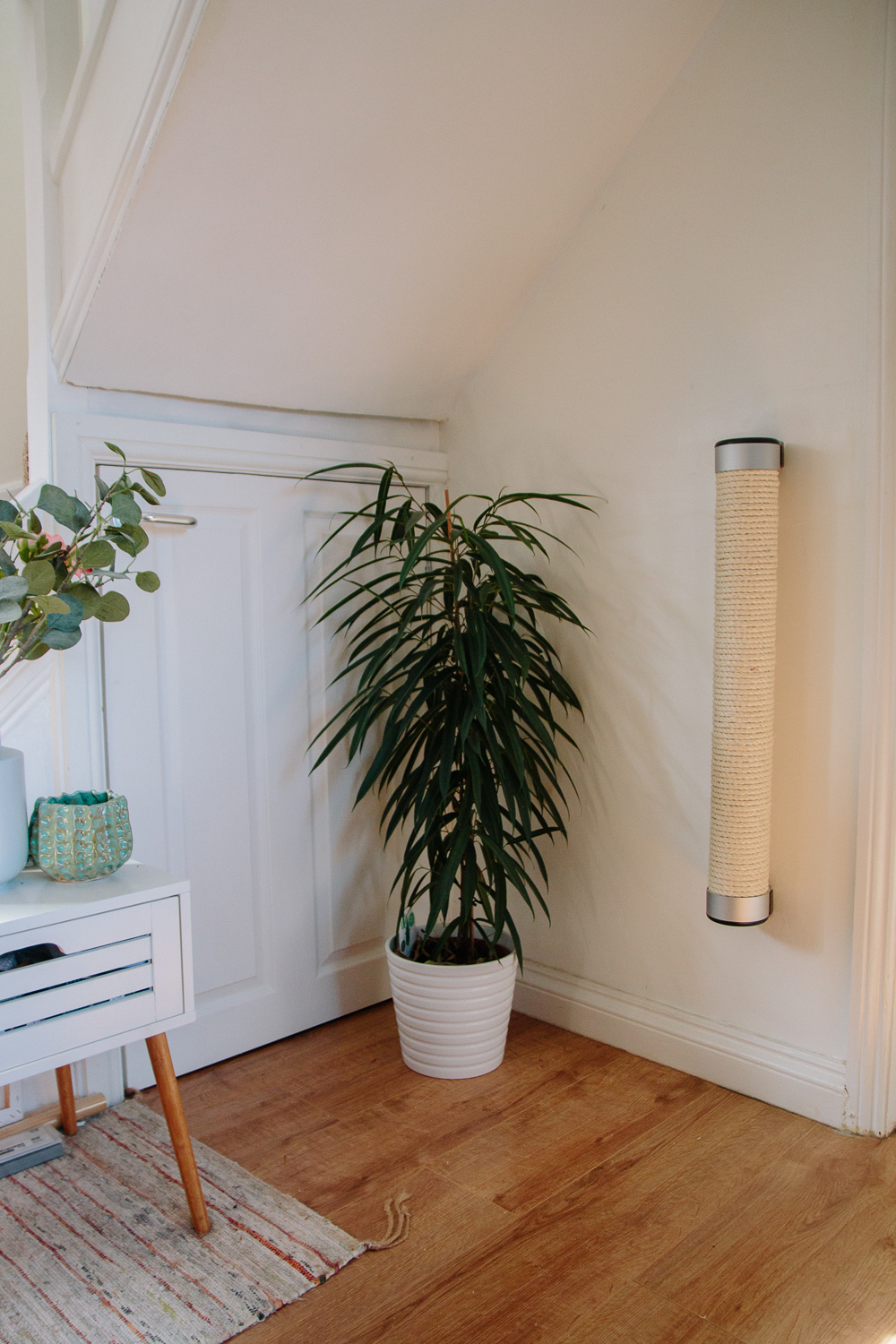 Catipilla Wall Mounted Cat Scratch Post
If you know me well, then you'll know that our cats are like our children and basically rule the house. We got rid of our dining room and turned that into a cat dining room for them, they've got beds in basically every room and a couple of scratch posts around the house. So when Catipilla reached out to offer us one of their wall mounted cat scratchers we couldn't say no. We've never really seen any cat scratchers that are wall mounted before and we loved the idea of it taking up less room while fitting in with our decor.
Catipilla offer a range of luxury wall mounted cat furniture, ranging from climbing systems, hammocks and cat scratchers for your cat that all blend in seamlessly with your furniture.  They offered us one of their Cat Scratchers in the size of our choice to review, so we chose the 75cm scratching post.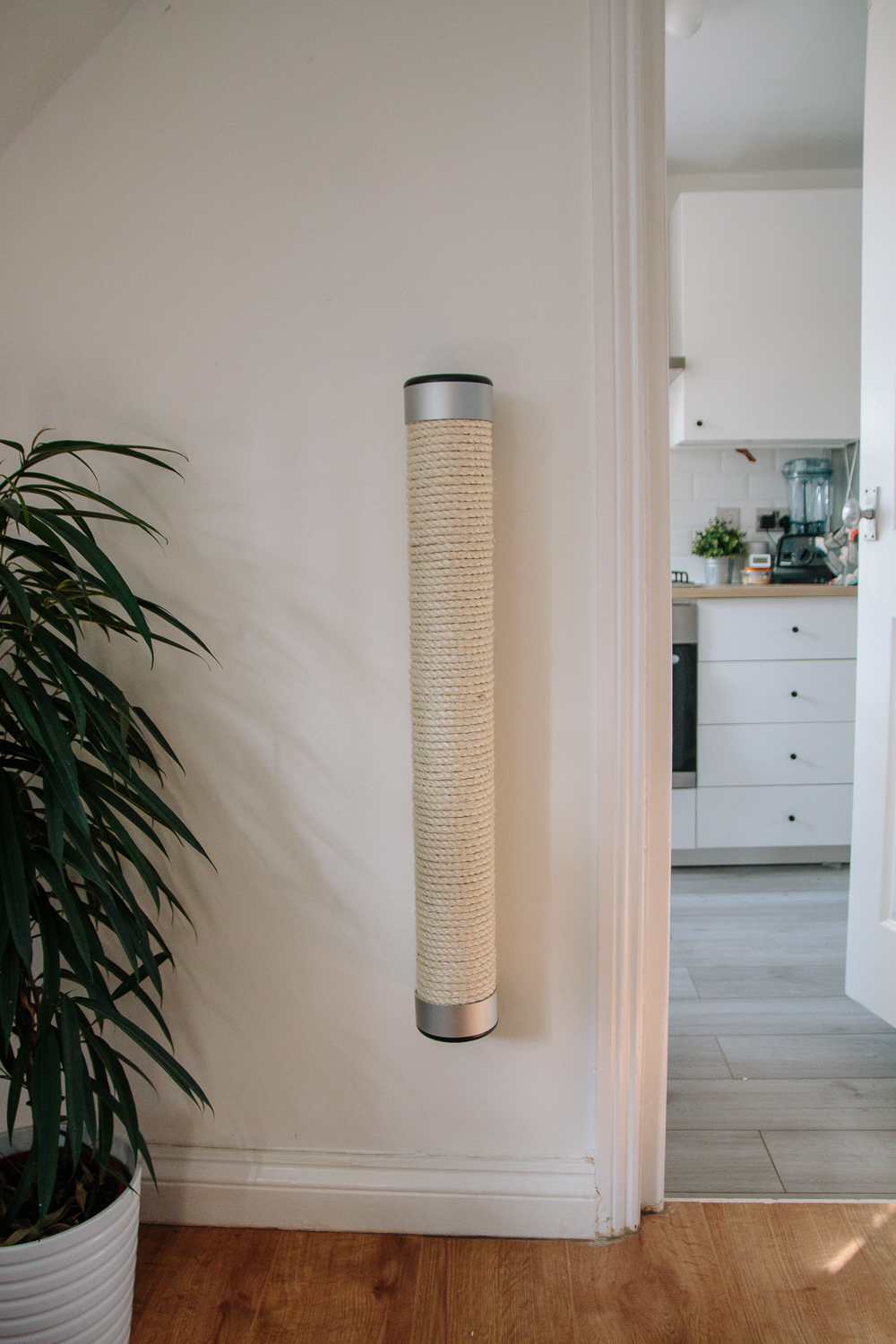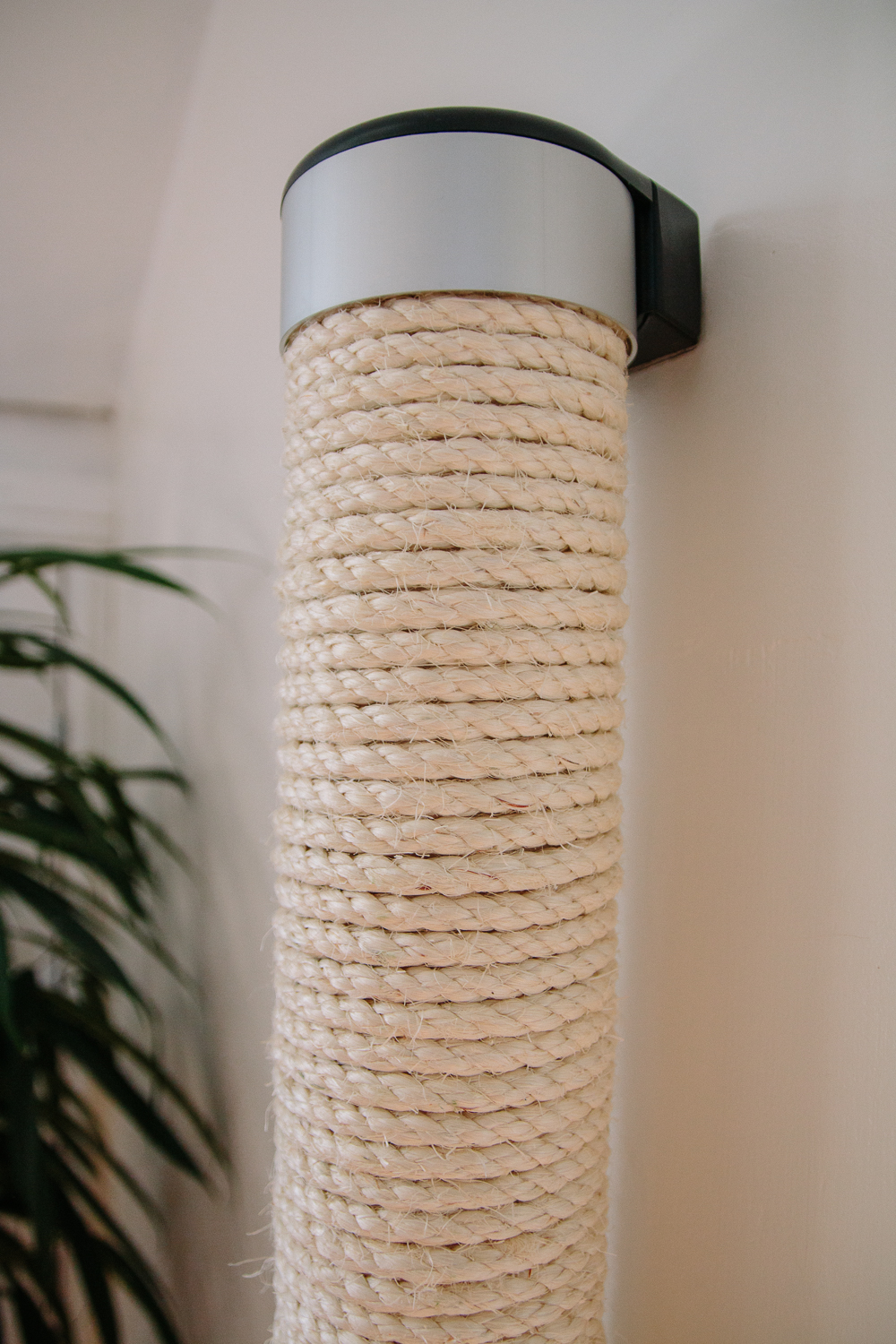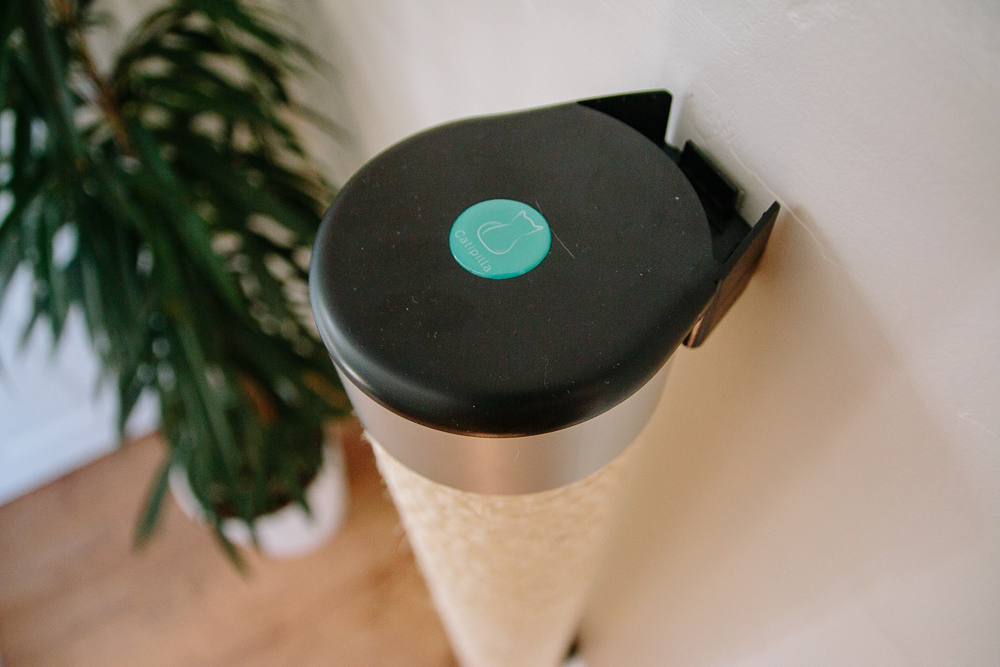 Installing the Scratch Post
It was actually really easy to install. There's easy to follow instructions inside the box, which involved drilling holes in the wall, attaching the holders to the wall and then clicking the scratcher in to place. I kind of wish we'd have installed it a tiny bit lower, but none of the cats were around when we were doing it to test the height out, so I definitely recommend having your cat there for the installation! We can always lower it a little and fill in the holes, but they seem fine with it at the moment.
It feels really sturdy and Keeko has climbed up it a few times for a scratch and it's not wobbled at all while she's been on it. I love the fact that it's attached to the wall, as it takes up way less floor space than all of our other ones which have the huge base for support, so it barely takes up any room just sitting there on the wall. The sisal rope is also really tightly wrapped so it feels very well made!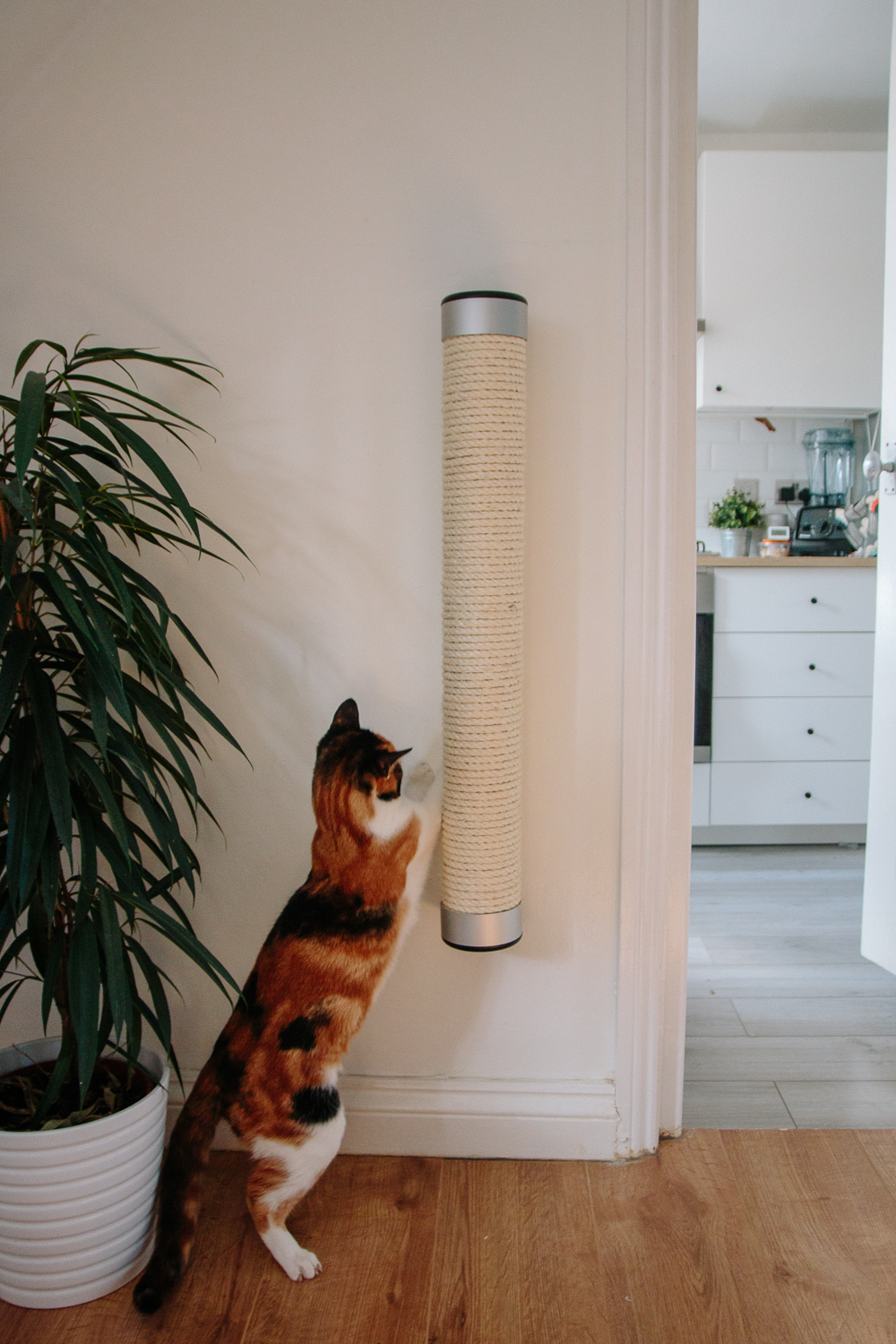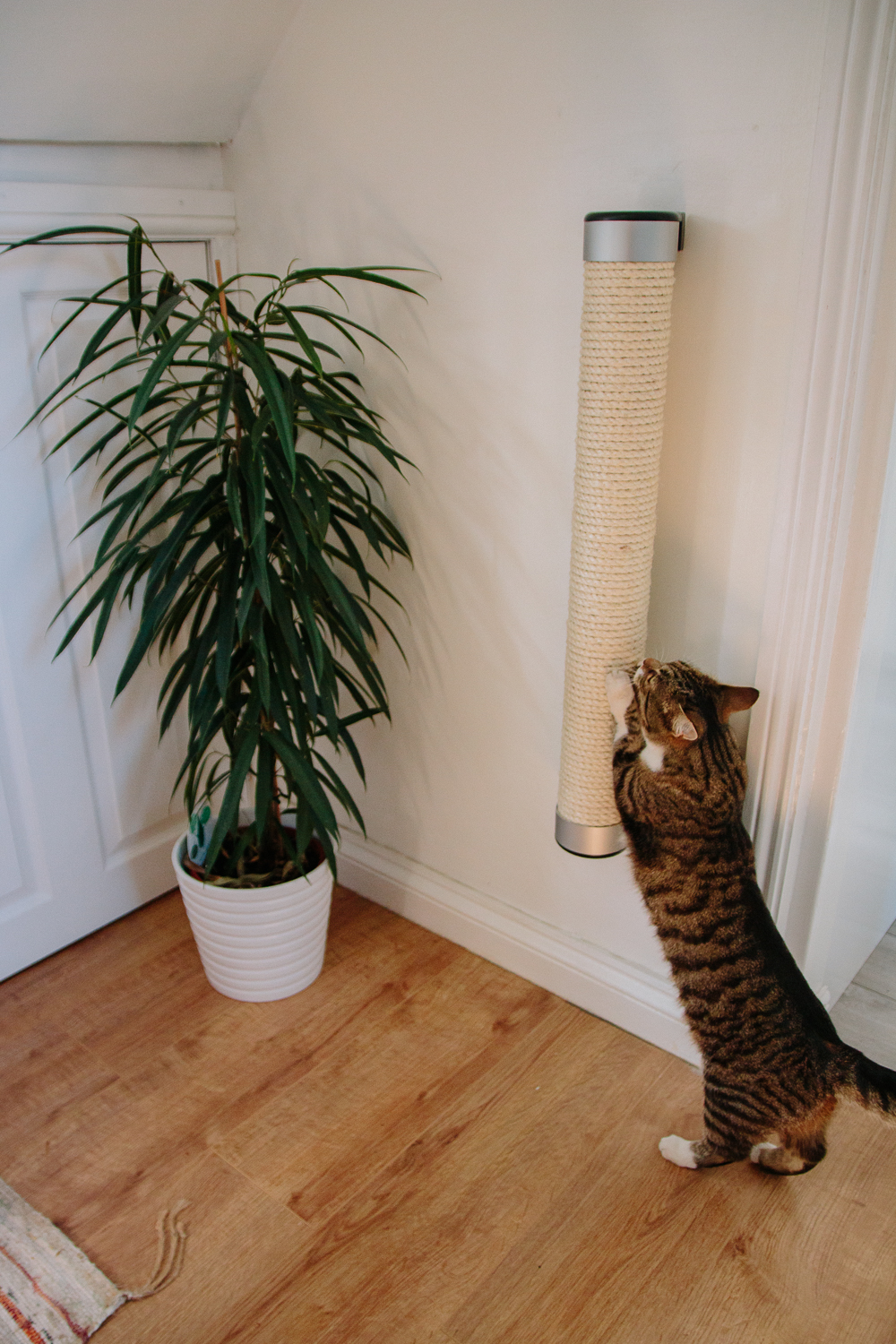 Details + What The Cats Think
The Catipilla Cat Scratchers come in a range of heights starting at 35cm which is perfect for kittens, to 50cm, 60cm, 75cm and 135cm. They also sell replacement scratchers at a cheaper price for when it becomes too worn – you just click out the current scratcher and click the replacement one in! I love that you could install them with other items in their range to make a whole cat wall climbing system. All of their products are also made from 85% recycled materials too which is amazing and they ship worldwide!
Keeko took to it straight away. We placed it our hall near to our kitchen, so she usually has a little scratch on her way in and out of the house or for food. Isla doesn't really like change, so she's intruigued by it, but I think it might take a while for her to fully commit to using it, but she loves a good scratch so I don't think it'll take her that long!
Overall we love it! I think it looks great in the little unused area under our stairs and we can make use of the area for the cats instead. I'd love to buy  some of their wall mounted things next – especially the hammock for Keeko as she loves being up high (mostly so that Isla can't get to her haha).
What do you think? Is it something that you'd buy for your cats?
Follow
Save