Eco Friendly Changes
Since the beginning of the year, I've been on a mission to reduce our plastic usage. I started following Mama Eats Plants on Instagram back in January (go give her a follow, she's always giving zero waste tips and her vegan recipes are delicious). Although I've not manged to cut out as much plastic as I wanted to (I find it's SO hard in the UK), just making a few little changes helps so much. These are some of the changes that I've been making over the past few months, so I thought I'd share for anyone else who's interested!
Reusable Water Bottles
I used to go through so many water bottles, but I've cut down a lot since taking my own bottle with me anywhere I go. I'm the first to admit that I still do use bottled water, but I buy bigger bottles now which is supposedly a lot better than lots of smaller ones! Of course you can buy any water bottle, but I love my Chilly's Water Bottle* (affilliate link) SO much, because it keeps cold drinks cold for up to 24hrs and hot drinks hot for up to 12hrs. During that heatwave we had this summer, this bottle was a lifesaver, having nice refreshingly cold drinks in that heat!
Reuseable Cutlery
One of the things that I always used to use, especially at work, was plastic cutlery. I used to have a drawer filled with spoons, forks and knives for my lunches. I'm really good at taking my own lunch in my own containers, but I used to be so so bad at just using single use cutlery to eat them with. I couldn't be bothered to take some cutlery to work and wash them each time (I hate washing up hah), so that was an easy option for me.
So, I decided to buy a cheap set of cutlery from IKEA and take whatever I need to work that day and then take them home to wash instead. I bought the IKEA OSTRON set, which contains 4 forks, 4 knives and 4 spoons and it was only £6! Yes, they are made of plastic, and yes, they came with the typical IKEA plastic sleeve, but it's a lot less plastic than throwing the cutlery away each day, and it's being resused! Having a set makes it so much easier, as if the dishwasher doesn't get put on that day, I've still got plenty of cutlery ready for the next day.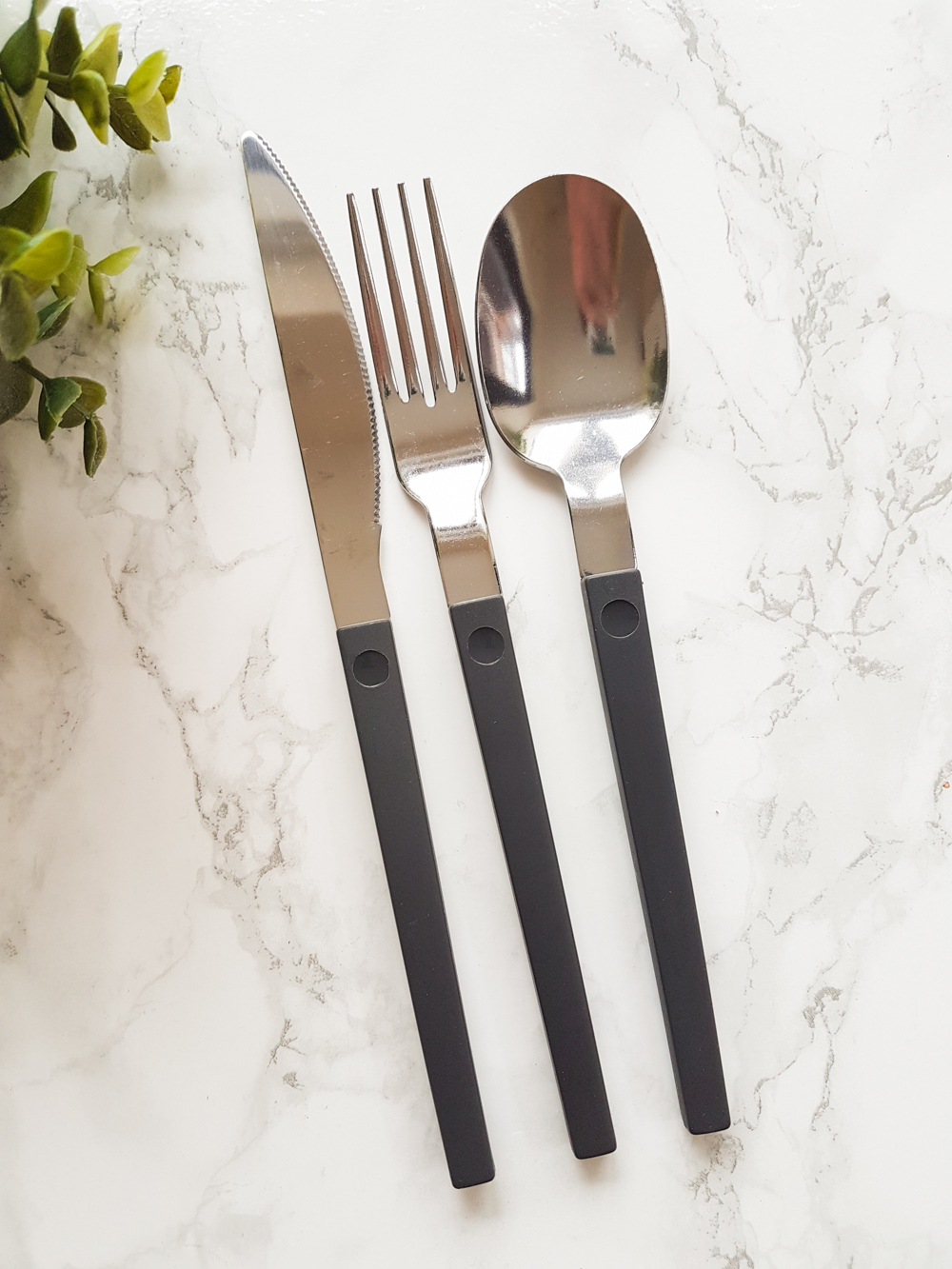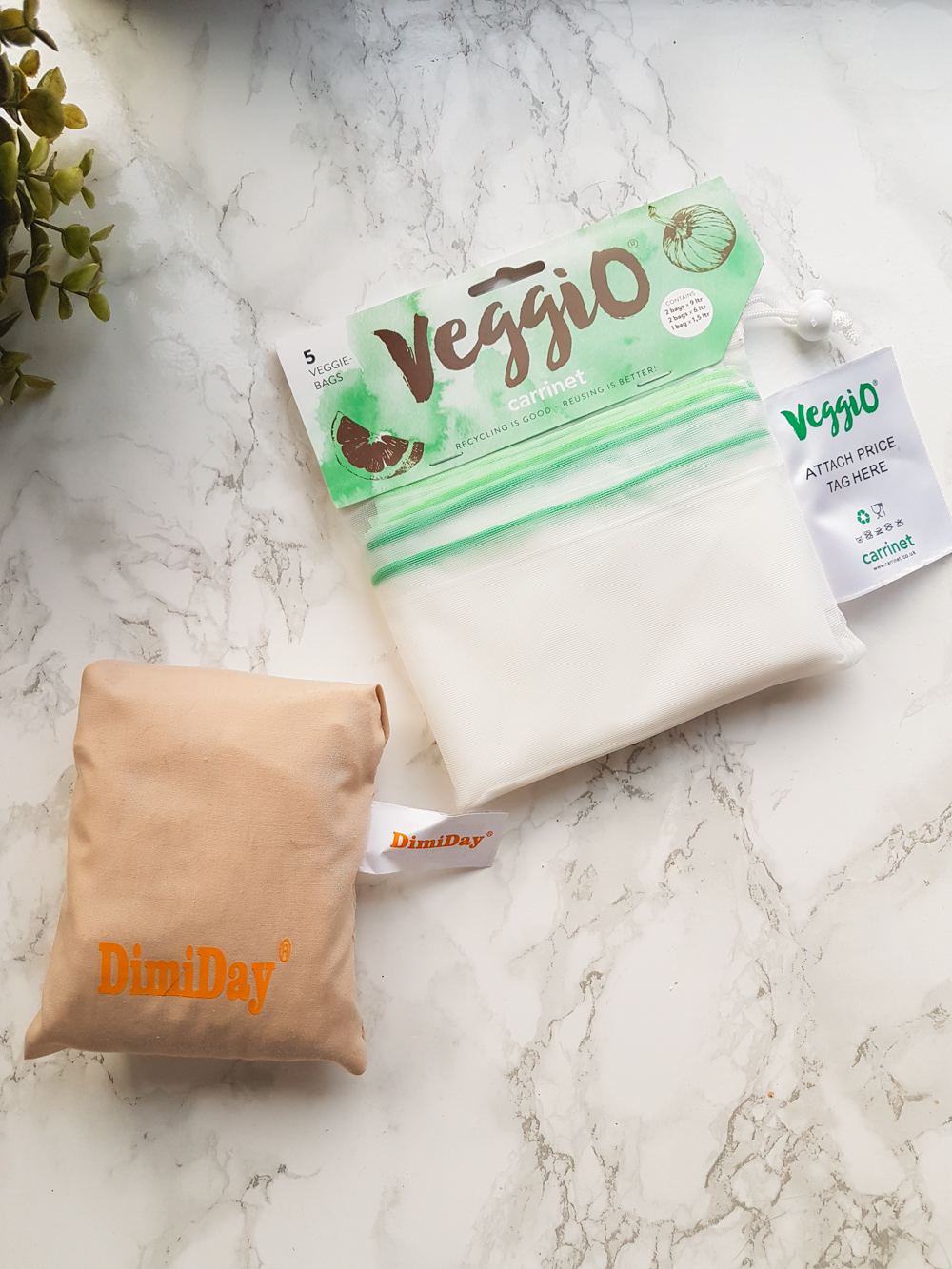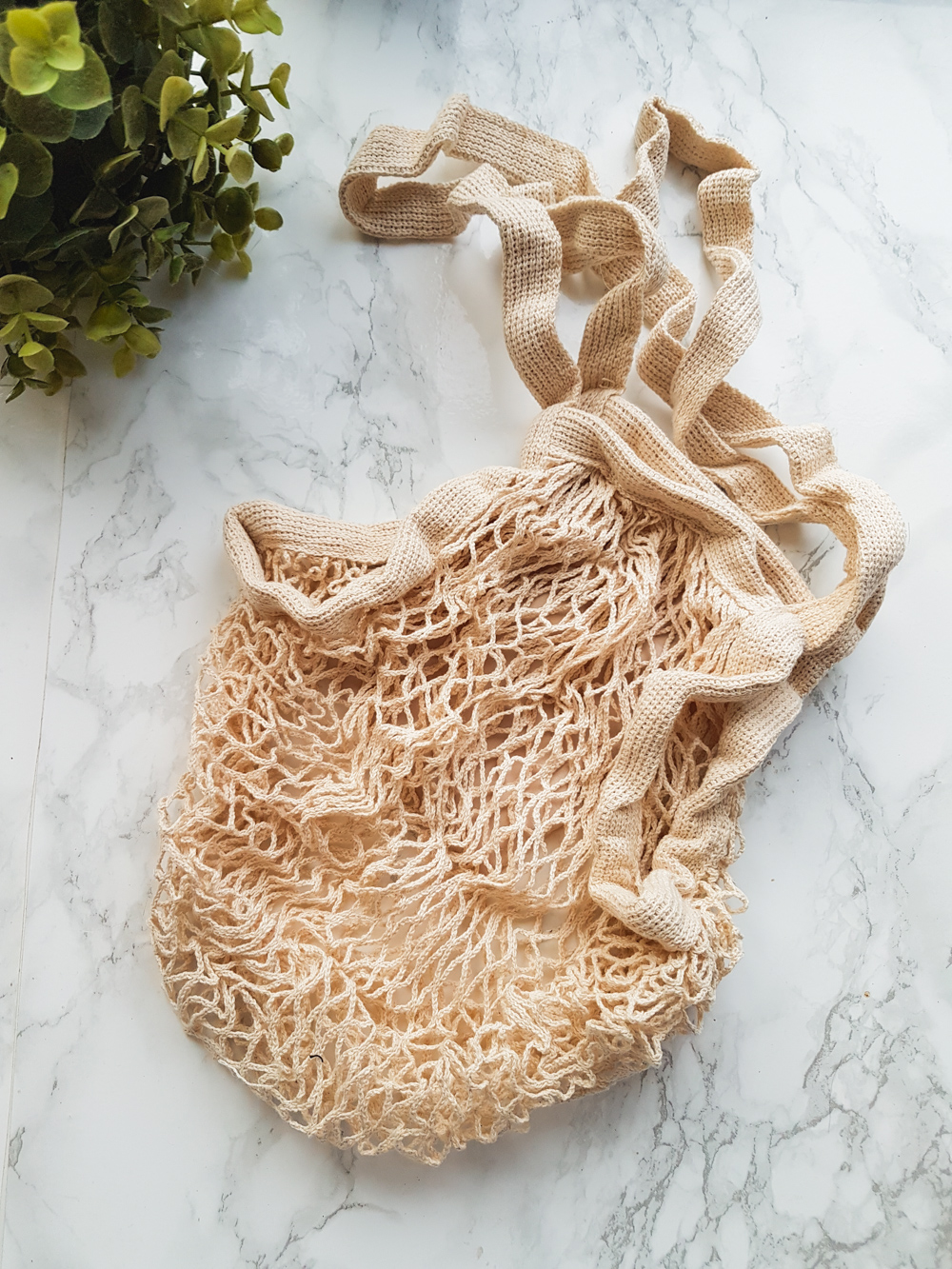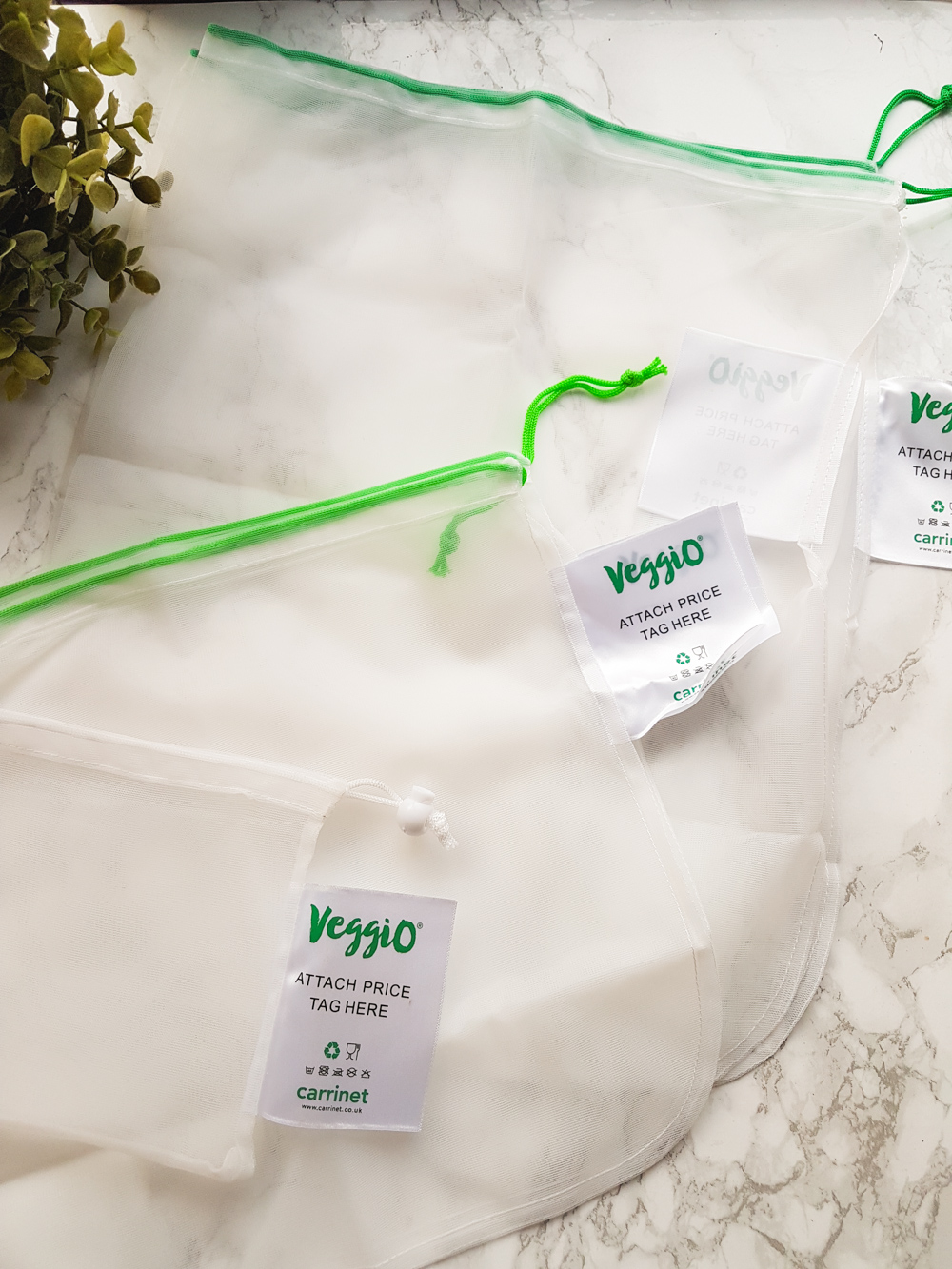 Shopping Bags
I know most people tend to take their own shopping bags these days since the bag charge came in but I thought I'd buy some extra little bags. We keep our bags in the house because we tend to go shopping in whatever car/van is easiest at the time, so leaving them in the car isn't practical for us. Whenever I used to pop to the shops for a few bits, I'd always forget to grab a bag. So I bought a little net one that can just fold up and live in my handbag for those moments. It looks tiny, but it expands SO much and can hold a lot more than you'd think. I bought this one* (affiliate link).
I still see so many people picking up those little plastic bags for loose fruit and veg, which obviously makes it easier than carrying a handful of loose onions around and dropping everywhere. Morrisons have started doing paper bags instead now, but I thought I'd take it a step further and buy my own little produce bags – I bought these ones* (affiliate link). You can buy so many different types, but as we do 'Scan-As-You-Shop' a lot, I loved that these have a little tab for sticking the little self scan labels on, and they come in 3 different sizes. They weigh barely anything, so if you do stick your produce in them and head to the tills, they don't really add anything to the price. The guy at the checkout in Tesco yesterday was so interested in them and loved the idea!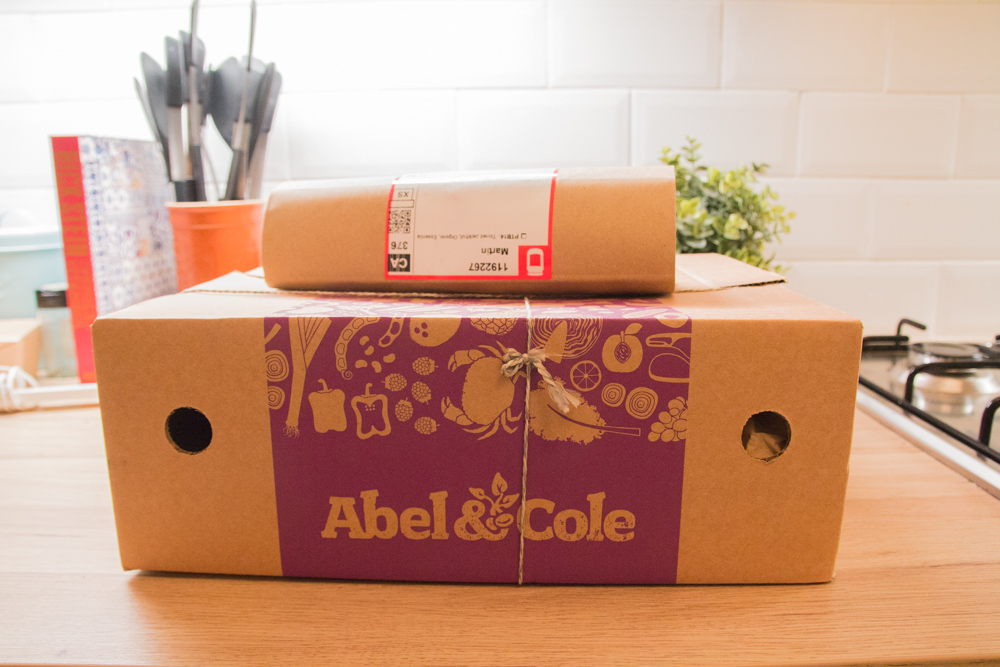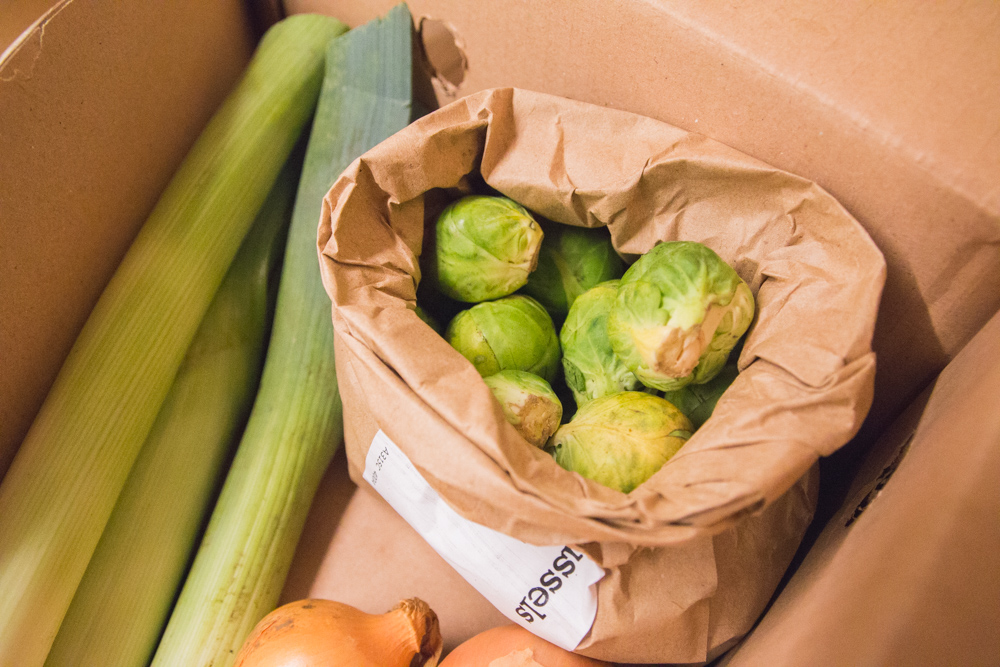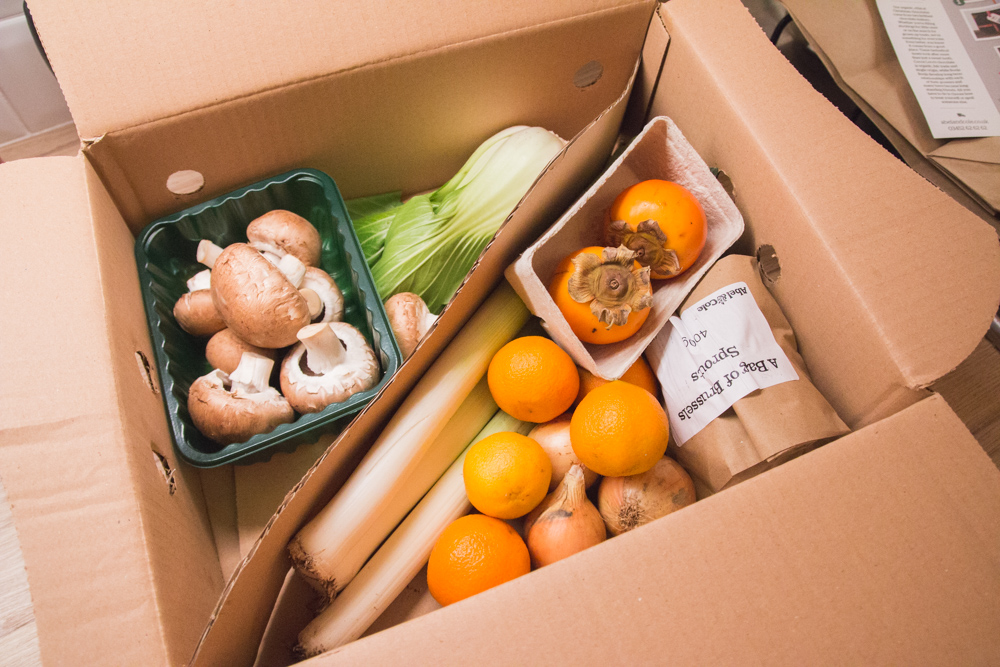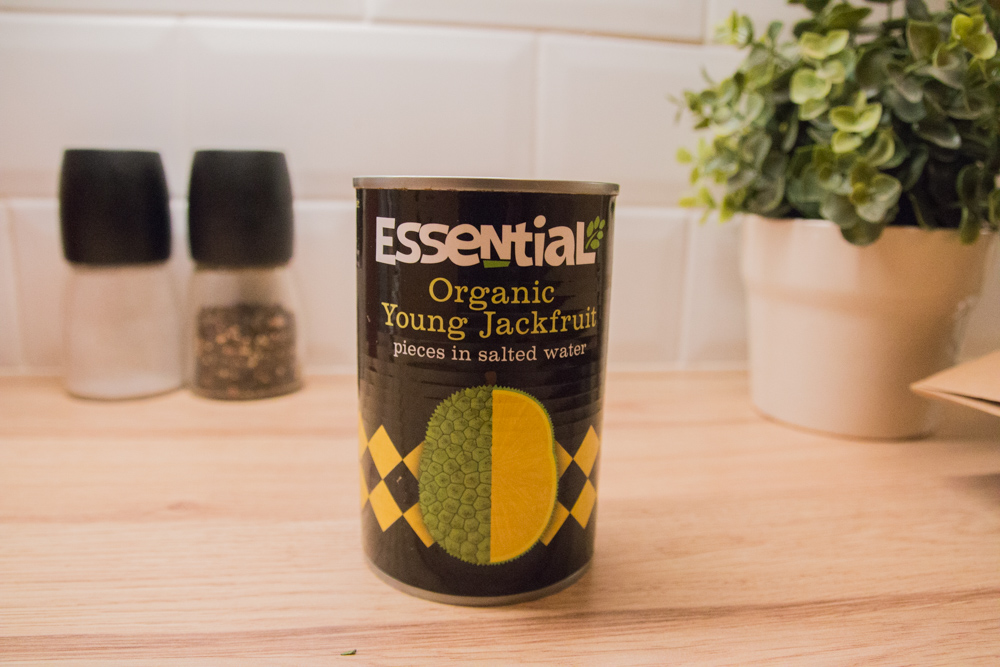 Veg Boxes
We've just started getting veg boxes delivered to try them out and see how we get on. I remember my mum used to get the ones from Riverford delievered when I was younger, but we didn't get on with them as back in the day, you didn't get a choice of the veg that was being delivered each week, so we cancelled it. These days, you can swap out any veg you don't like for veg you do!
We went to the Mind, Body, Spirit exhibition at the NEC a couple weeks ago, and Abel & Cole were there so i signed up for a box as they had an offer on. You just pick your box from the huge list – fruit, veg, mixed, jucing and they even do meat and fish boxes too. The mushroom containers are fully recyclable, but for anything else that comes in plastic (like our kale last week), you simply leave them in the box and pop it back outside on the day of your next delivery and the driver will take them back for you to be re-used! We also ordered a tin of Jackfruit as I've been craving some chicken shawarma lately, so I want to try re-create it with that! They even have a bakery, chilled and pantry section, so you could do your entire weeks shopping on there!
* This is not sponsored by Abel & Cole, I just wrote about them to provide more ideas to cut out the plastic!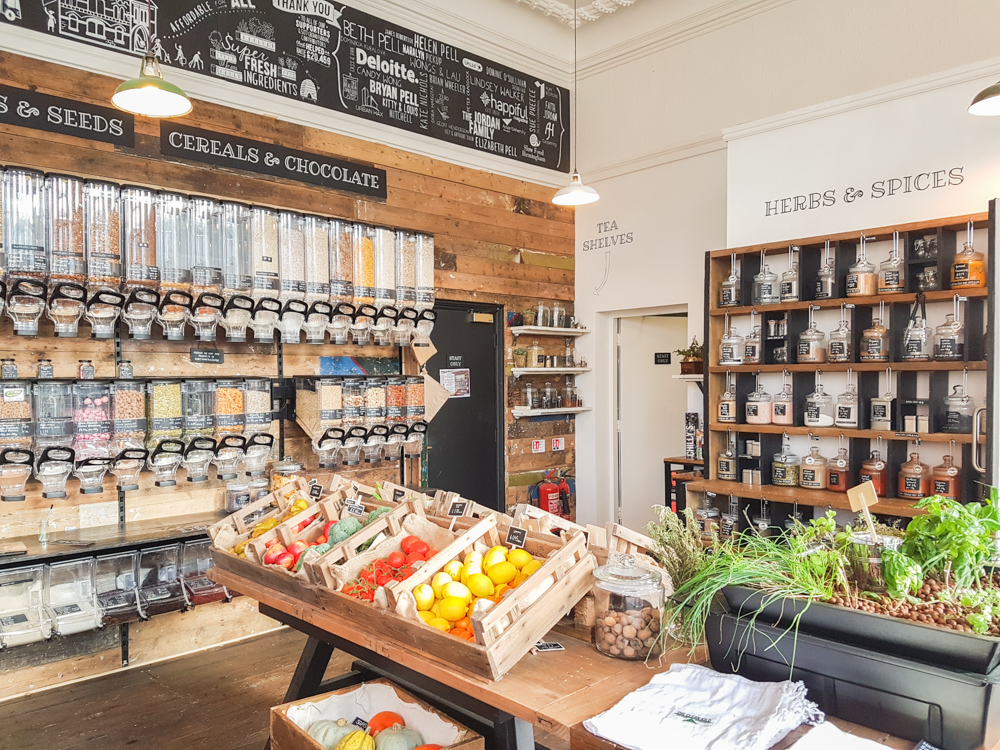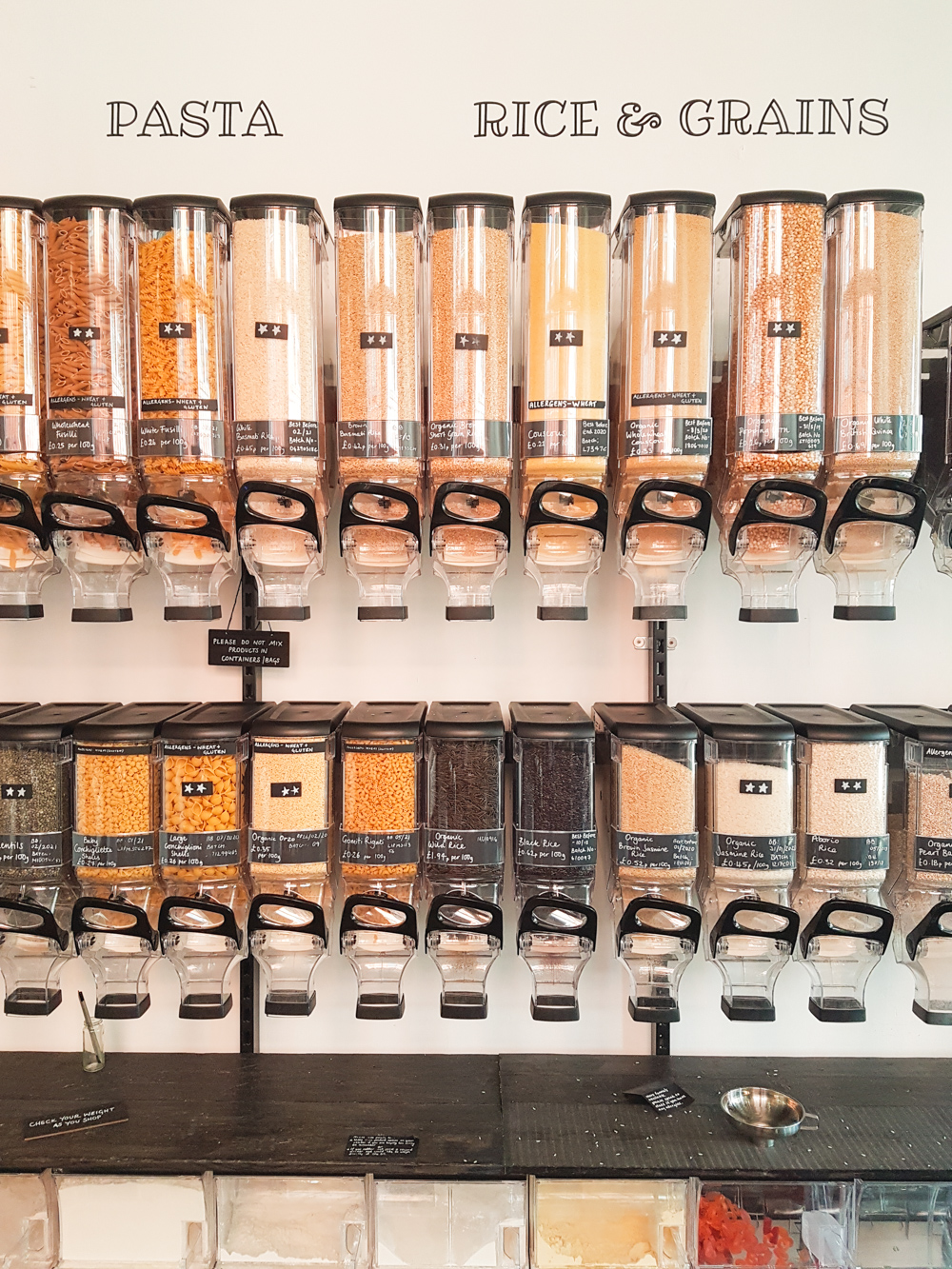 Zero Waste Shopping
This is something that seems to have been in the USA for quite a while, but it's just starting to take off in the UK. The idea is that you take your own containers, and fill them up with whatever items you need. From dried goods, to oils and vinegars, to washing up liquids. If you find a good zero waste shop, you could pretty much fill your store cupboard with zero waste items.
There's a few popping up around the country, but one of the ones that has received the most press lately is The Clean Kilo in Birmingham. Being only an hour from us, we decided to pop in one morning on the way to the NEC for an event.
The good thing is that you don't have to pay for the weight of the container – you weigh your container to find its tare weight and receive a barcode, fill it with whatever item you're buying e.g. chickpeas, then head back to the scales, select your item e.g. chickpeas, scan the original barcode with the tare weight and it gives you a new barcode with the weight of the chickpeas, which is the price you pay. It's super easy!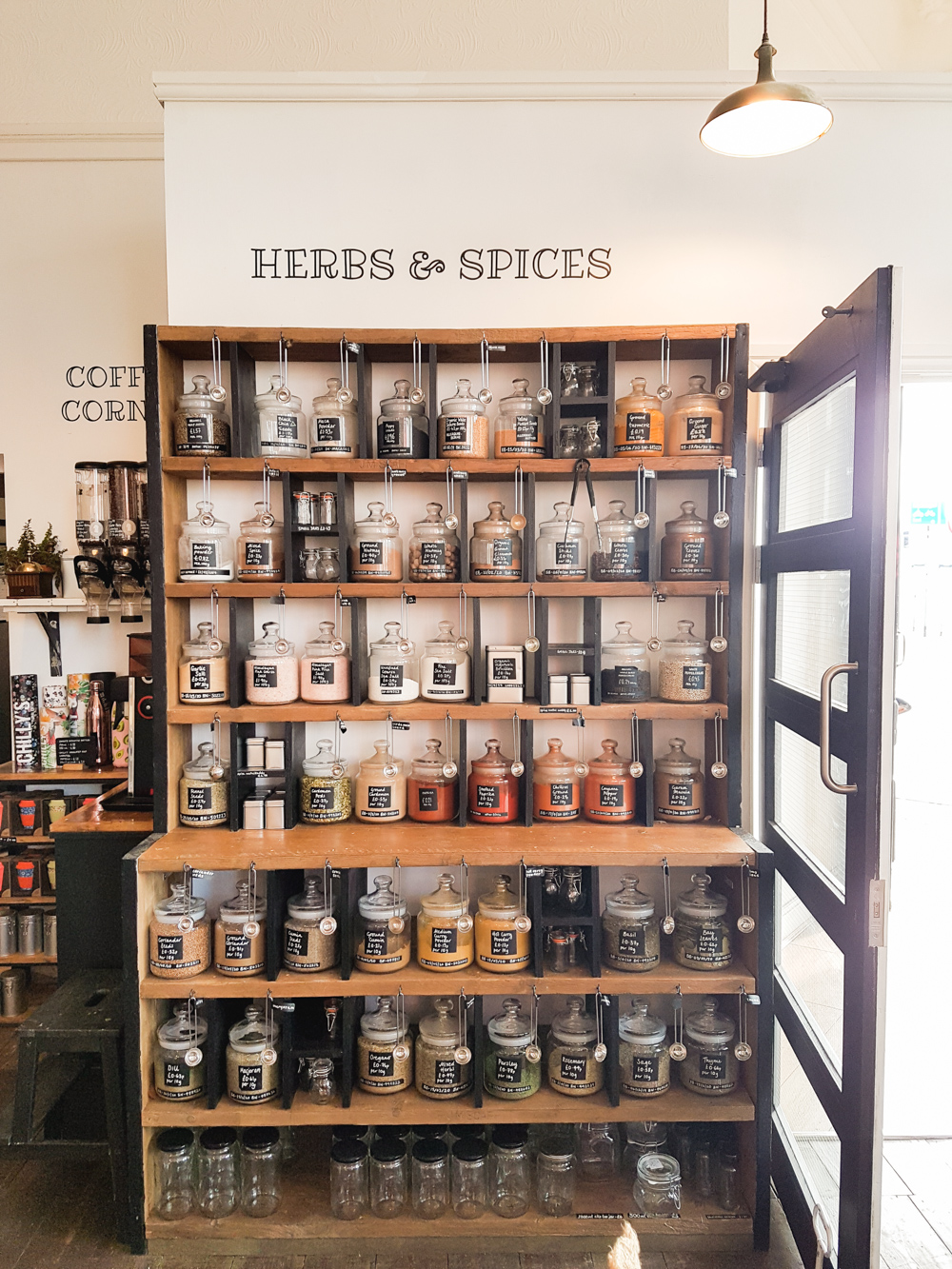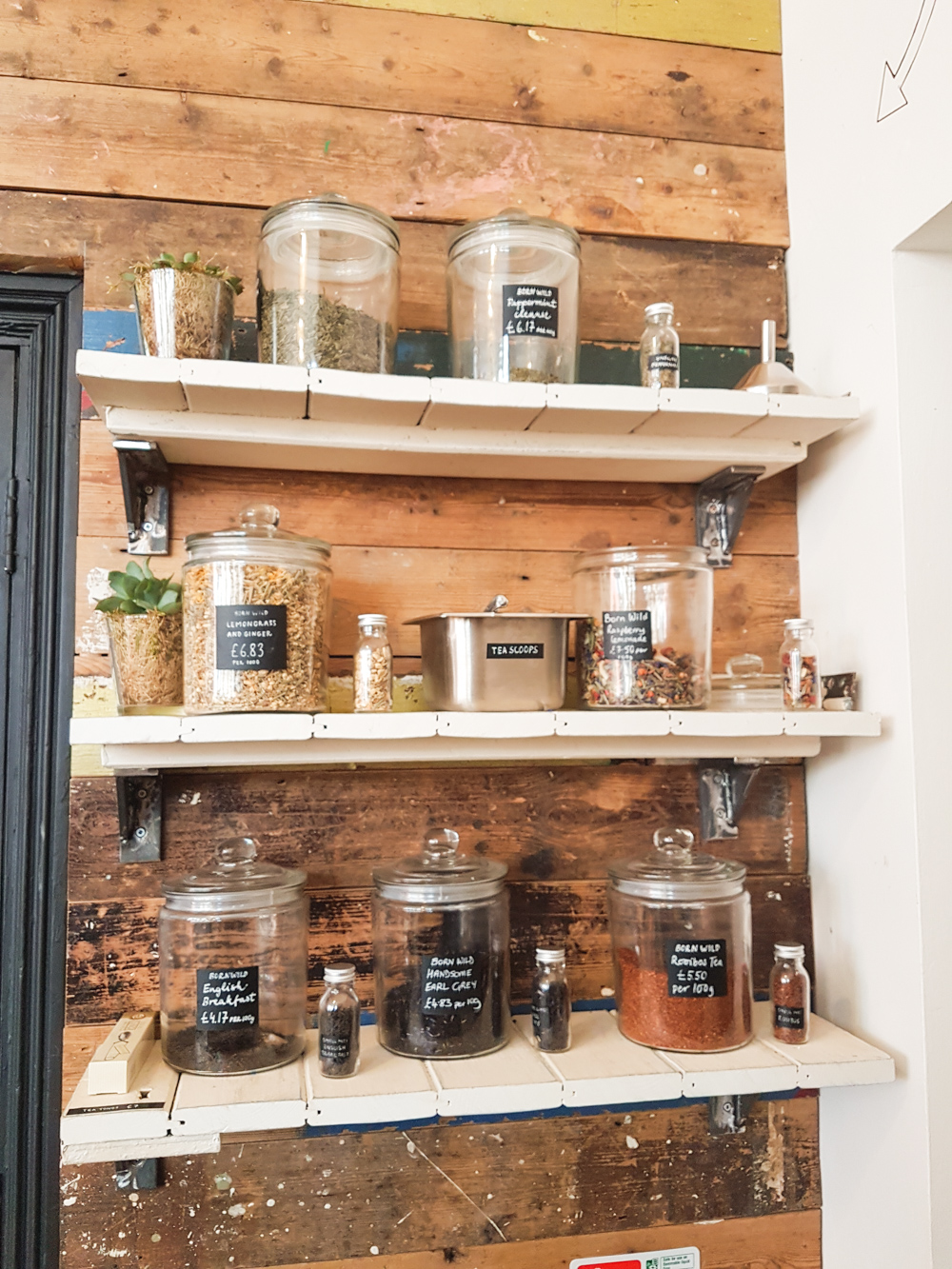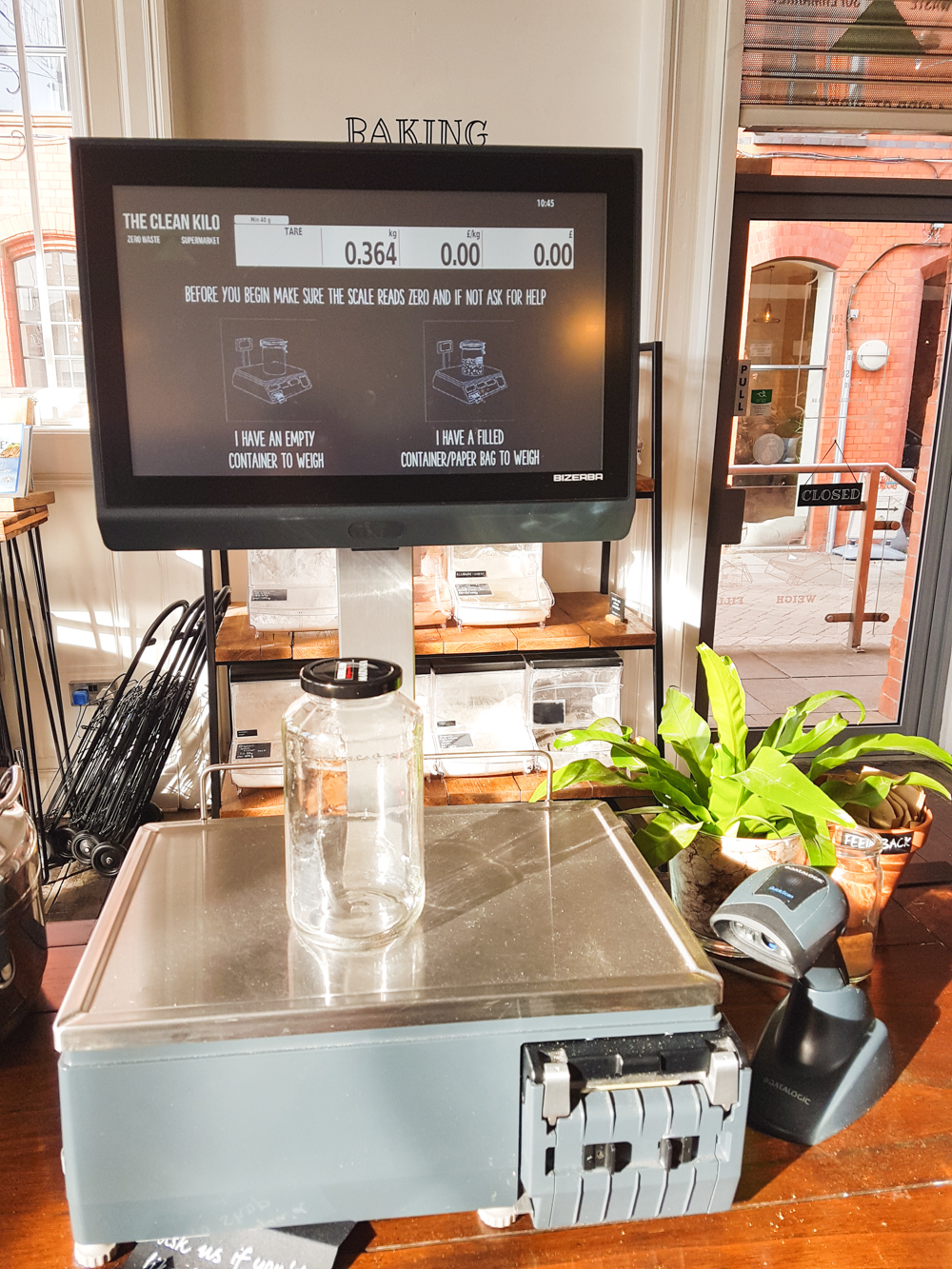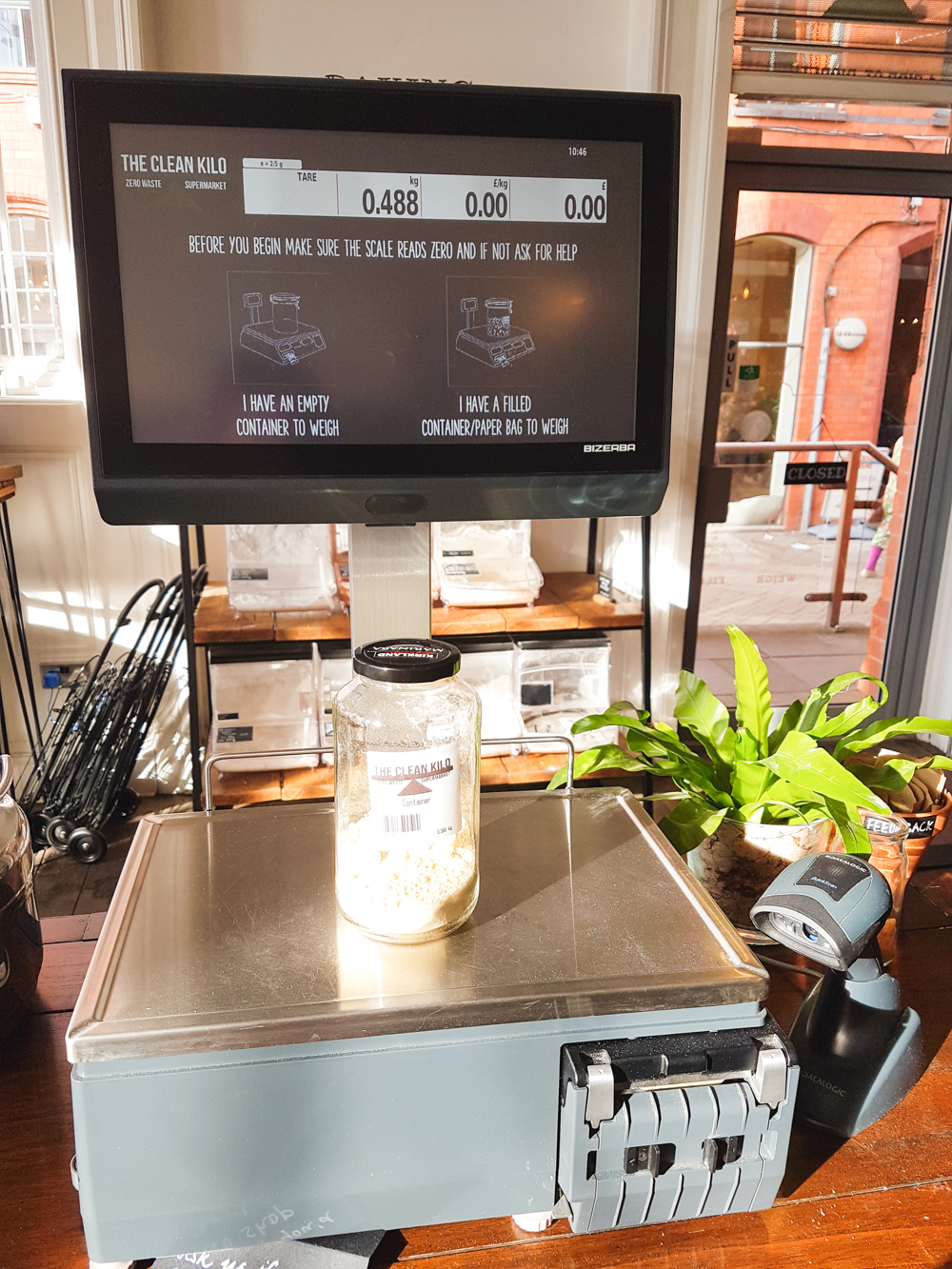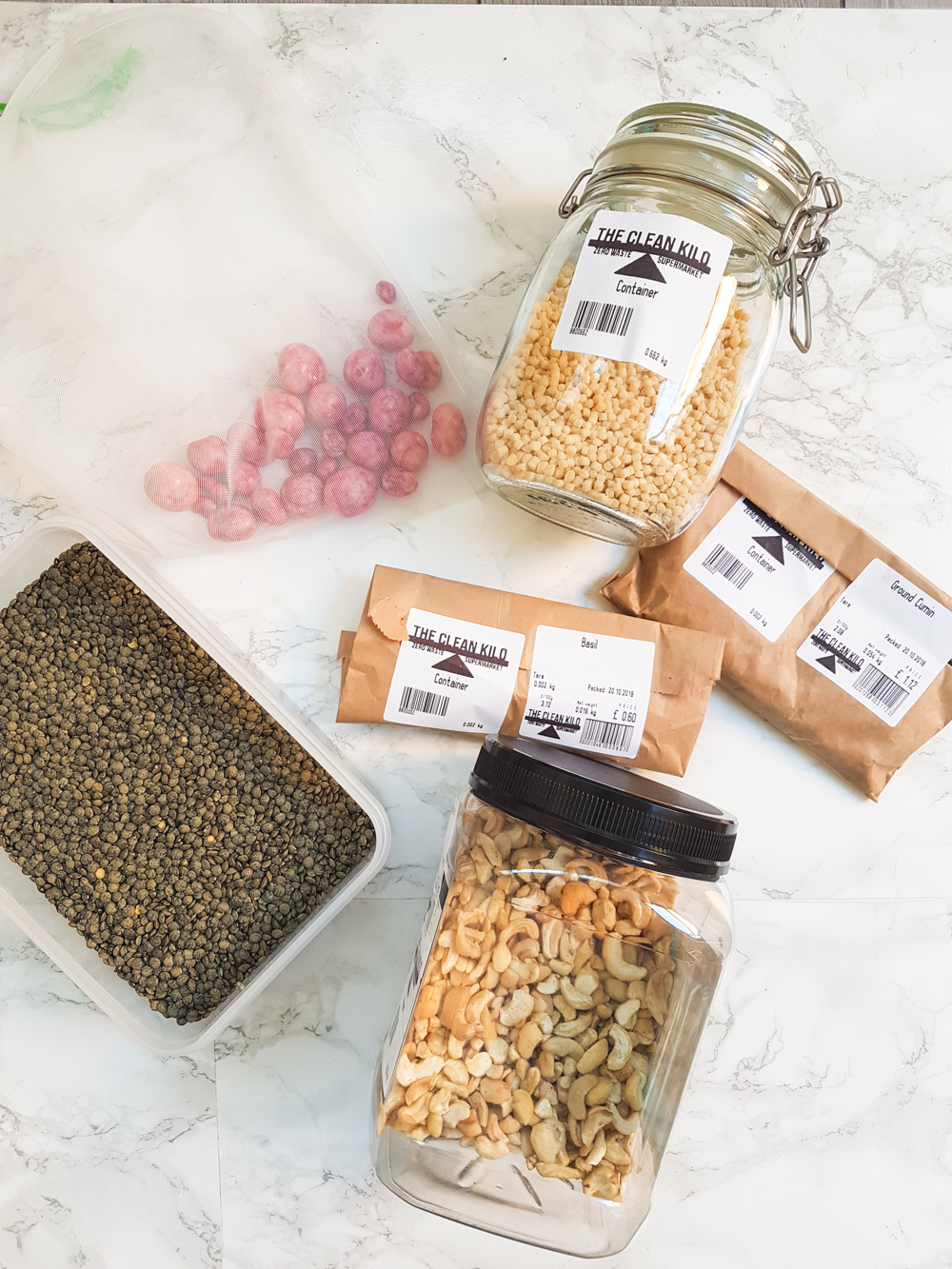 The store was so well stocked, even selling a few other bits and bobs like fresh fruit and veg, kombucha, fresh orange juice and homemade nut milks. The selection of herbs and spices was amazing, and you could even buy loose leaf tea and coffee beans too. There's also a small selection of household zero waste items like face cloths and metal straws. If you don't have any of your own containers, they also have plenty of different ones that you can buy too – from glass jars, to mesh bags and paper bags.
We didn't get too much, but we picked up plenty of puy lentils (french lentils) as I've been using them a lot in recipes lately and I keep running out. The whole container cost around £4 which I don't think is too bad at all, as a bag from the shops costs just over £1 for 500g. Shane loves cashews, so we bought some plain raw cashews for him costing a whopping £10 (but cashews are expensive), some cumin, basil, giant cous cous and we treated ourselves to some chocolate covered strawberries, which were also pretty expensive. I wish we could have stocked up on more things, but we were already fully stocked!
Do you have any tips on reducing plastic in everyday use? Is there anything that you want to cut down on?
Follow
Save