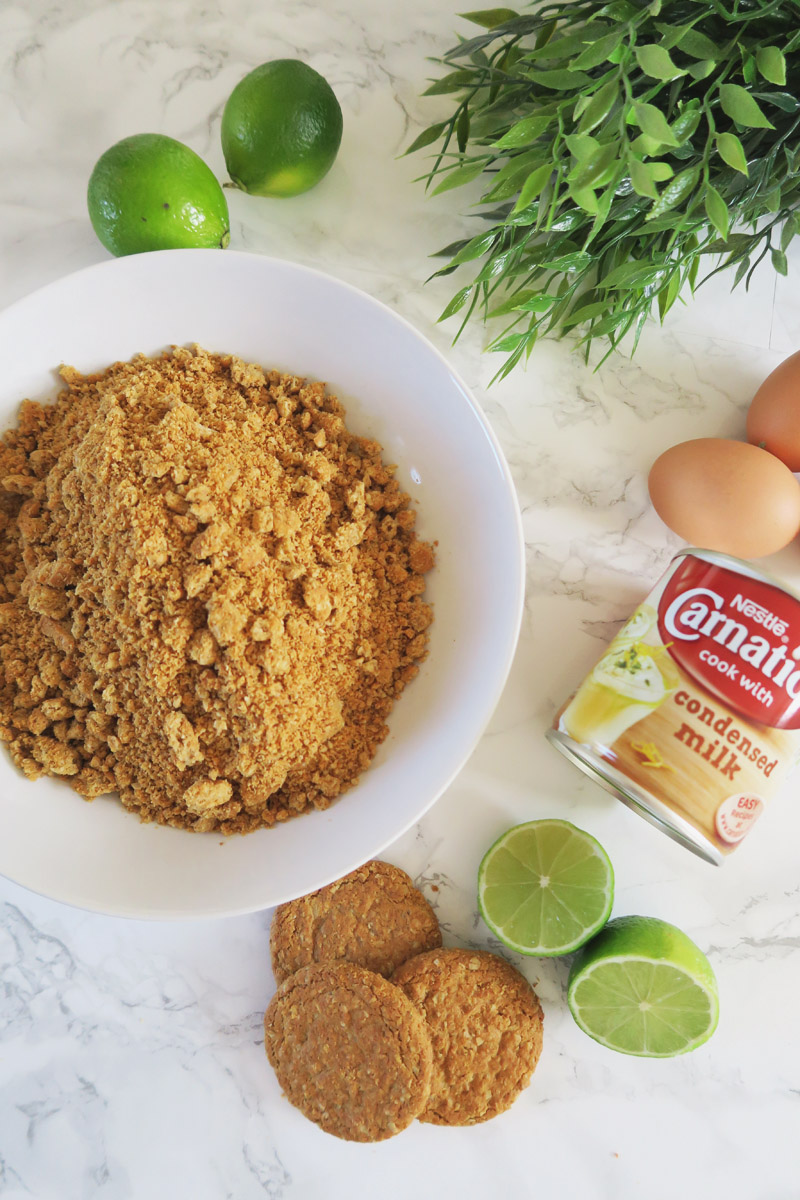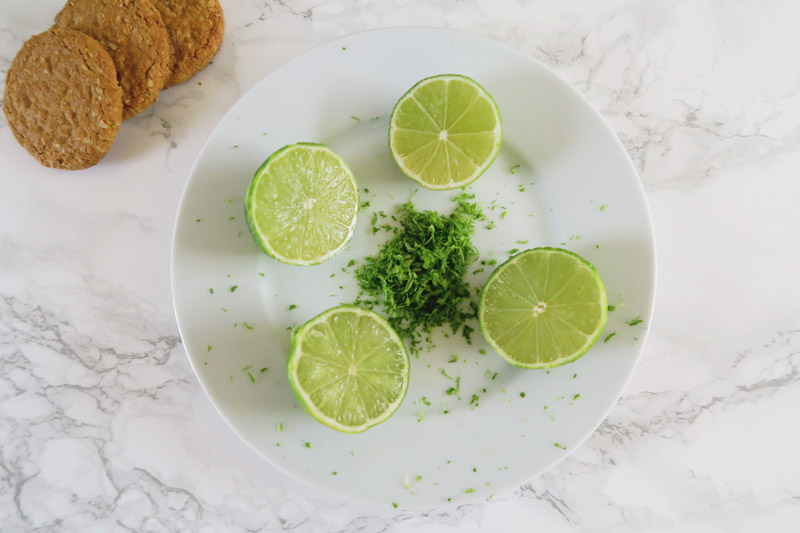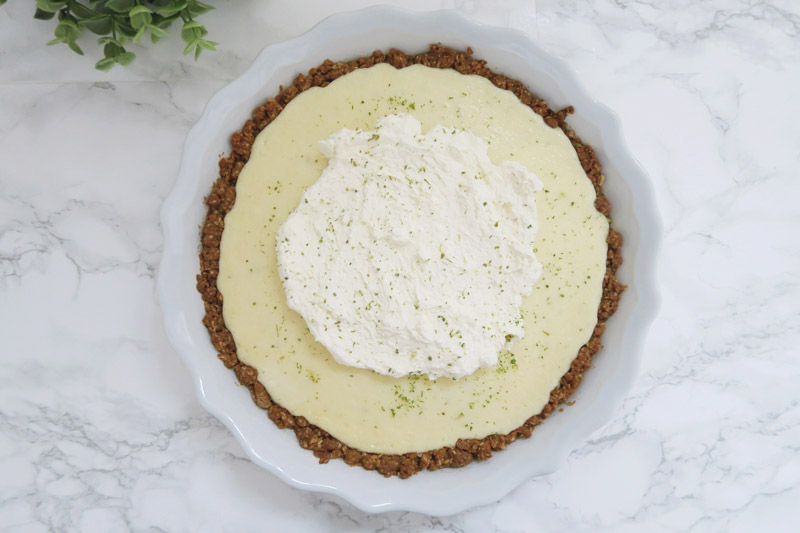 I've been on a Masterchef US binge lately as it just started airing in the UK and it is seriously addictive! It's way more dramatic than the UK version (I tried to watch the UK version last week as the new series has just started and I fell asleep it was that boring!) and it really inspired me to try bake again! I've never been much of a baker – when I was at catering college, bakery was my worst class – I actually made a victoria sponge that turned out like rubber and you could bend it! Seriously. I'm that bad!
Key Lime Pie
I decided to try give it another go the other week and bake a Key Lime Pie as it's pretty straightforward – I mean how wrong can you go with a biscuit crusted pie?! Anyway, apparently it's not technically a Key Lime pie without the Key Limes, which the UK doesn't stock, so I had to just use regular limes. The UK also doesn't sell graham crackers which is apparently what is usually used for the crust, so I had to use hobnobs for that instead. I also decided to play around with the recipe a little and added in a little dessicated coconut, as I love the flavour of coconut and lime! It actually didn't turn out too bad though (but to be fair, I don't actually know what a Key Lime Pie should taste like)!
I used this recipe and I thought it was a little limey and very sweet, so I could only eat a very small amount at a time, but I guess that's what a Key Lime Pie is, but Shane really enjoyed it!
What you'll need:
300g (1 pack) of hobnobs
150g butter, melted
1 tin (397g) condensed milk
3 medium egg yolks
4 limes, juiced and zested
1tbsp dessicated coconut
200ml double cream
1/2tbsp icing sugar
How to make it:
1. Heat the oven to 160°C. Put the biscuits in a food processer until crumbed, then mix with the melted butter and press into the base of a 22cm pie tin, then bake in the oven for 10 minutes and leave to cool.
2. Whisk the egg yolks in a bowl and whisk for a minute until they're light and fluffy, then add in the condensed milk and whisk for 3 minutes. Add in the juice and zest of the limes, leaving a little zest back for the end, and add in the coconut, then whisk for another 3 minutes.
3. Pour the filling into the pie tin once it has cooled and bake for 15 minutes, then chill for at least 3 hours or overnight.
4. Whip the cream until soft peaks form, then spoon onto the middle of the pie and decorate with the remaning zest. Enjoy!

Gluten, Dairy & Sugar Free Carrot Cake (Paleo)
So my mum is gluten, dairy & soy intolerant so I always joke that she is basically paleo. It was her birthday this past weekend, and I know she likes her cake so I decided to try bake her something that she could eat too! I've been craving carrot cake for so long now, so I found this recipe for a paleo carrot cake. I can't just follow a recipe and always have to tweak it a little, so I decided to add in a little banana to make it a little more moist as it looked a little dry in the pictures. It turned out more like a banana cake than a carrot cake (I only used 2/3 of a banana!) – you couldn't taste carrot at all! But it still turned out pretty good in the end and the whole thing was eaten! So if you want a banana carrot cake, then try this – if not, just leave out the banana! 🙂
What you'll need:
2 cups carrot, grated
3 large eggs,
1/2 cup maple syrup
1/2 cup coconut oil, melted
1tsp apple cider vinegar
1tsp vanilla extract
2.5 cups ground almonds
1ts ground ginger
2tsp cinnamon
1/4ts nutmeg
1tsp baking powder
1/2tsp baking soda (bicarbonate of soda)
1/2 cup pecans
1tbsp water
1/2tbsp vegetable oil
for the frosting/filling:
1 can full fat coconut milk, chilled overnight
2-3tbsp maple syrup
1tsp vanilla extract
2tbsp coconut oil
How to make it:
1. Preheat the oven to 180°C and line the base of two 8inch cake pans with greaseproof paper and grease lightly with a little coconut oil.
2. Mix the eggs, maple syrup, apple cider vinegar, vanilla extract and melted coconut oil in the food processor (if you want to add in the banana then this is where I added in mine – I used only 2/3 of a banana and it came out flavoured like banana bread), then mix in the almond flour, baking powder, baking soda, ginger, cinnamon and nutmeg.
3. Add in the pecans and whiz. Add in the carrots and pulse until mixed through evenly, then divide the mix between the two cake tins and bake for 20-22 minutes.
4. To make the topping/filling, scoop out the solid coconut cream from the can of coconut milk and discard the water (or save it for something else). Mix with the maple syrup, vanilla extract, and coconut oil, then refrigerate.
5. Once the cakes have cooled, spoon half of the topping onto one of one of the cakes, layer up the next layer then smooth the other half over the rest and garnish with a few pecans.
What are some of your favourite recipes to bake? I'm on the lookout for more things to experiment with as I'm actually really enjoying trying out these recipes! It's actually quite fun/relaxing!