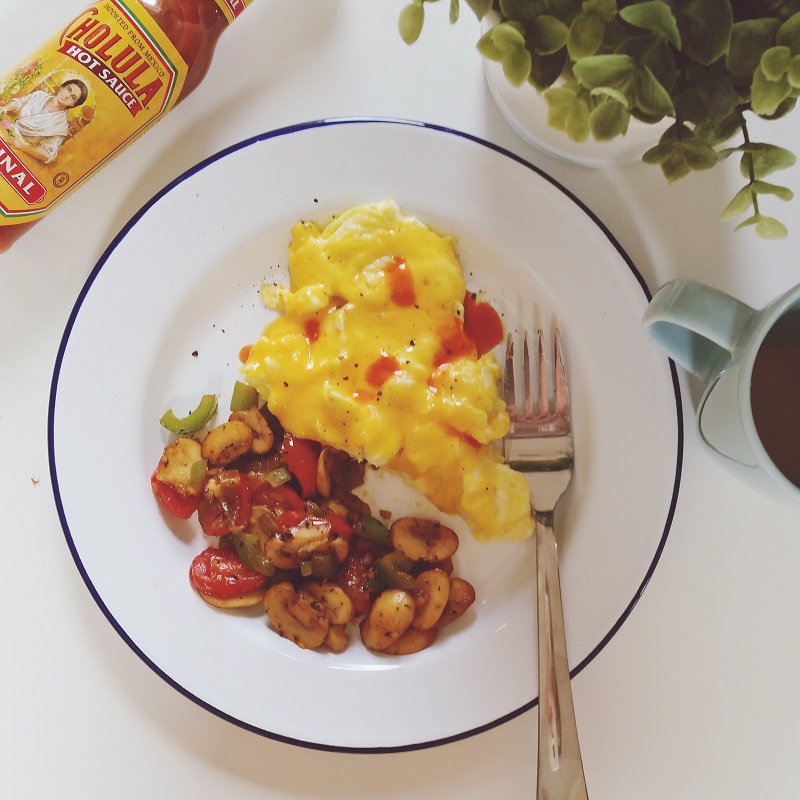 I thought I'd take a little break from posting about our trip to Weymouth last weekend to post a little recipe for one of my new favourite breakfasts. The other week, I was really craving a Denny's Breakfast Skillet, but obviously, living in the UK popping over to Denny's isn't an option, so I decided to try make my own instead. It turned out amazingly good, especially topped off with some Cholula Hot Sauce.
INGREDIENTS: (serves 2)
– 4 medium eggs
– handful mushrooms, sliced
– 1/2 red pepper, finely chopped
– 1/2 green pepper, finely chopped
– handful baby plum tomatoes, halved
– 1/4 onion, finely sliced
– 1 clove garlic, finely chopped
– 1/2 tsp cajun spice mix
– handful grated cheddar cheese
– butter
– salt & pepper
Start by heating your oven's grill to max temperature. In a frying pan, heat a little oil over a medium heat and add in the onions and mushrooms till the onions have softened and the mushrooms are cooked through. Add in the garlic, cajun spice mix, a little salt & pepper and all of the peppers and thoroughly stir through. Cook for a minute or two just until the peppers have softened a little, but not cooked through, then add in the tomatoes. Turn the heat down to low and leave to cook through for a minute or so.
In another pan on medium heat, add in a tablespoon or so of butter, then add in the 4 eggs, a little salt & pepper and stir continuously to scramble the eggs. When almost cooked, transfer to an ovenproof dish, top with the grated cheddar and grill until the cheese has melted and turned nice and gooey. When cooked, split the egg in two and plate up with the vegetable mix and enjoy! I enjoyed mine topped with a little Cholula hot sauce and a lovely cup of tea! So. Good!