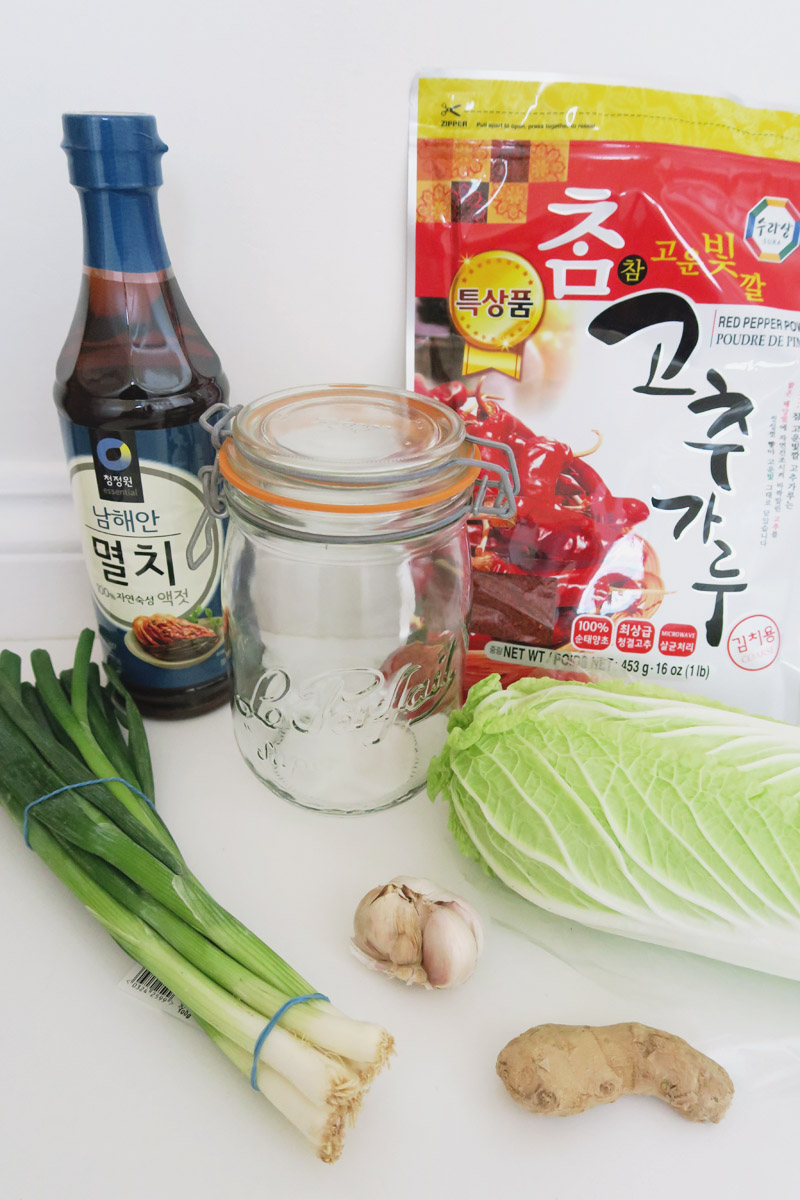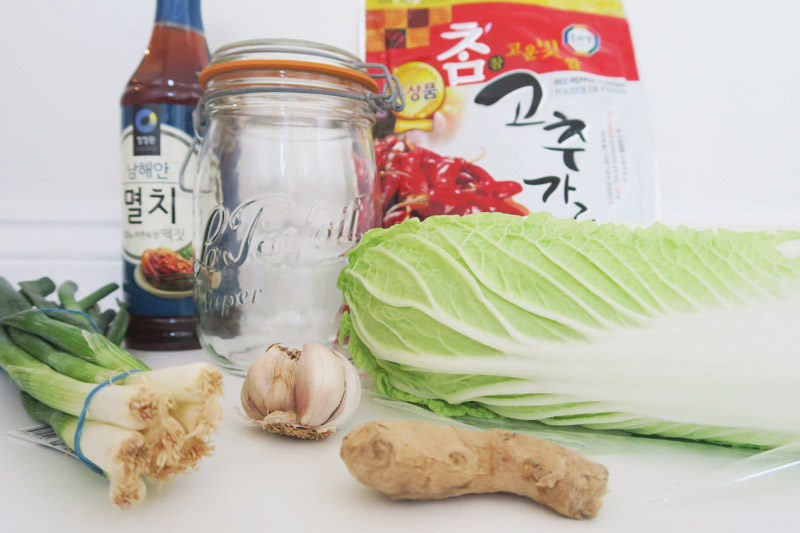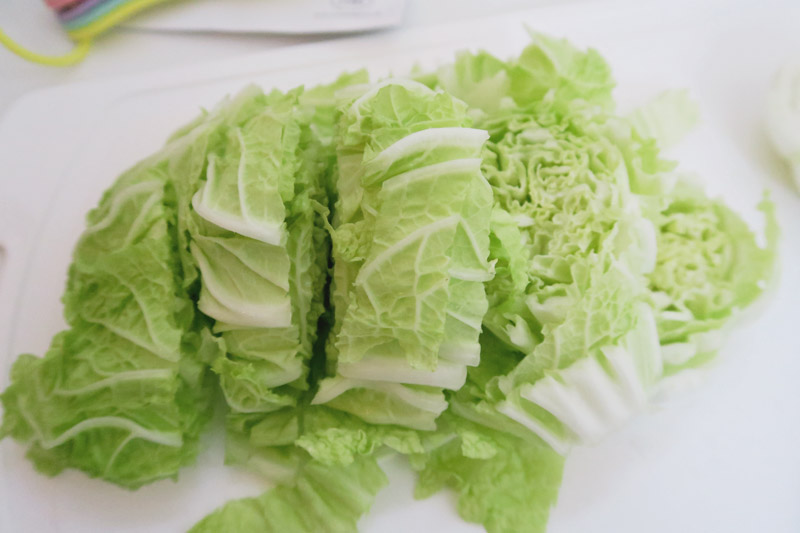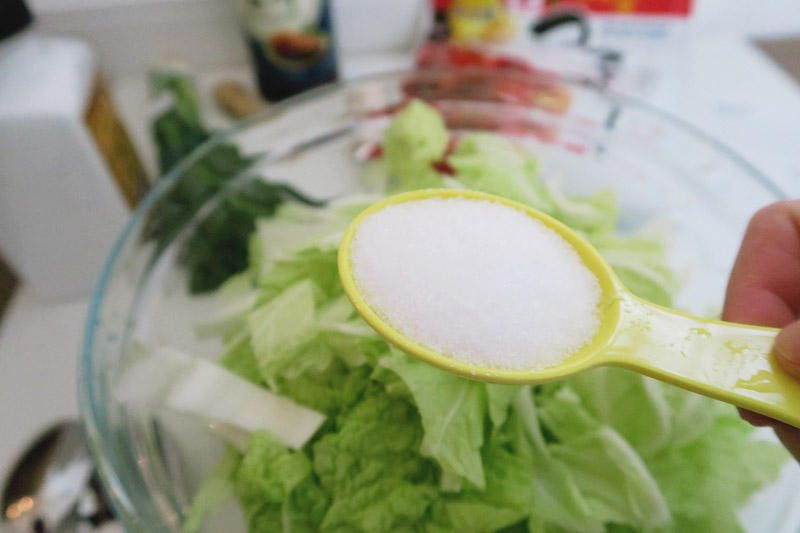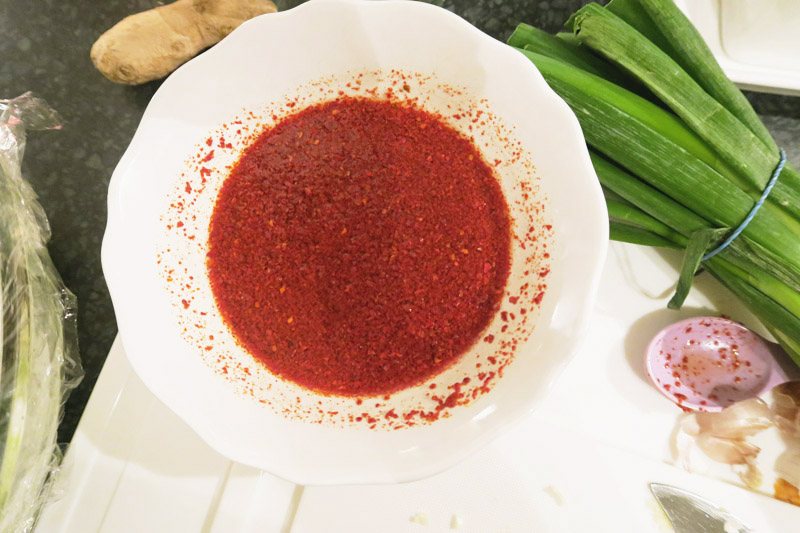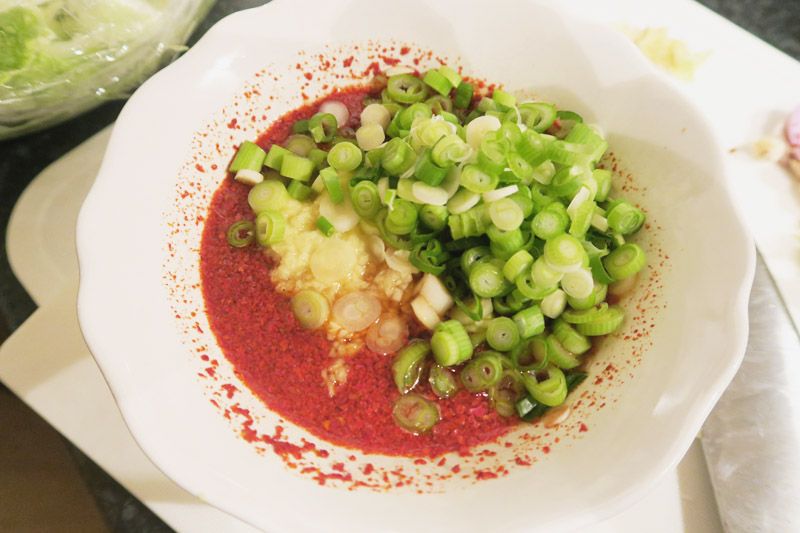 I'm not going to lie, but fermented foods used to freak me out so much! I really didn't like the idea of eating something that has been left to ferment and in a jar for a few days/weeks in only salted water to gain loads of good bacteria, but when my mum decided to make a jar of homemade sauerkraut and it turned out to be absolutely delicious (nothing like those jars you buy in the shop), I was converted. It did take me a while to come around to the idea of Kimchi though, Koreas national dish, which has a few more ingredients than cabbage and salt.
I saw it on the menu at Wagamama and for £1 decided it was worth a try. Oh. My. Gosh! It was SO good – like way better than sauerkraut good! It's the most perfect amount of spicy, tangy, garlicy and tasty! So for Christmas, Shane bought me a Kimchi making kit which included the red pepper powder for the spice and colour, the anchovy sauce for the salty and *hint* of fishyness, and a kilner jar to keep it in along with a little recipe card.
The basic recipe requires only a few ingredients and its so simple to make too. You can add extras in if you'd like, like finely sliced/grated carrots or radishes, but I like to keep mine pretty simple. When you make it, the main thing to note is that as the process involves fermentation, everything has to be crazy clean to prevent any bad bacteria getting in it and turning it mouldy. The salt in the kimchi preserves it, but it wont kill off all the bacteria, so make sure everything that you use, including your hands are extremely clean, otherwise you might end up with a mouldy batch of kimchi!
WHAT YOU'LL NEED
1 head of napa (chinese) cabbage (roughly 600g)
1tbsp fine salt
25g red pepper powder (affiliate link)
50ml anchovy/fish sauce (affiliate link)
50ml water
1tbsp ginger, grated
1tbsp garlic, grated
4 spring onions, finely sliced
a large kilner jar
HOW TO MAKE IT
1. Slice the cabbage into roughly 1 inch rounds along the length of the cabbage and separate the leaves. Place it in a large bowl and mix with the salt and leave it to sit, covered, at room temperature for roughly four hours, mixing it every so often. It should be almost sitting in a bowl of salted water by the end of the four hours.
2. Rinse the cabbage lightly in water to wash away the excess salt.
3. Mix the red pepper powder, anchovy sauce and water and mix it to a paste then add in the ginger, garlic and spring onions, pour it over the cabbage and mix it until the cabbage is thoroughly coated in the sauce.
4. Place the cabbage into the jar and squash it down until it is covered by a layer of sauce. If there isn't enough, add a tablespoon or two of water to top it up. Leave it on the side, with the lid on for a few days and then move it to the fridge. You might have to keep squashing the mix down every day to make sure it's all covered so it doesn't dry out!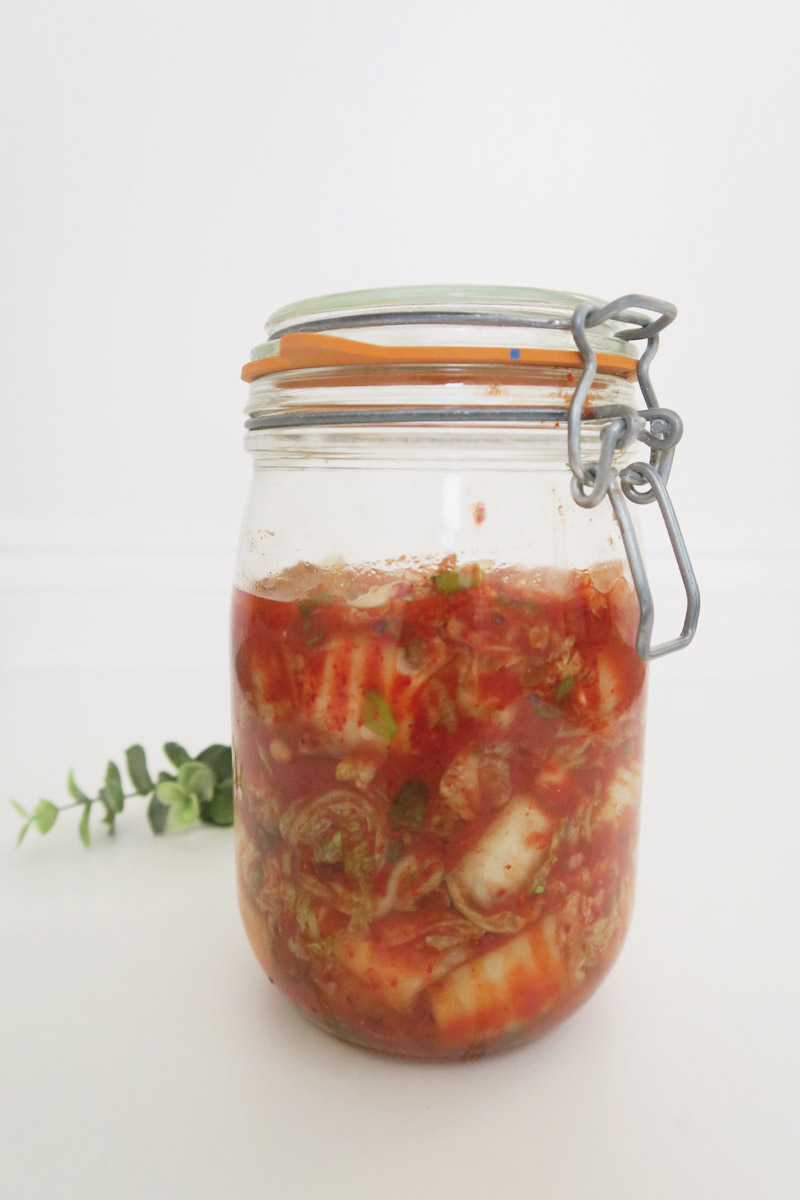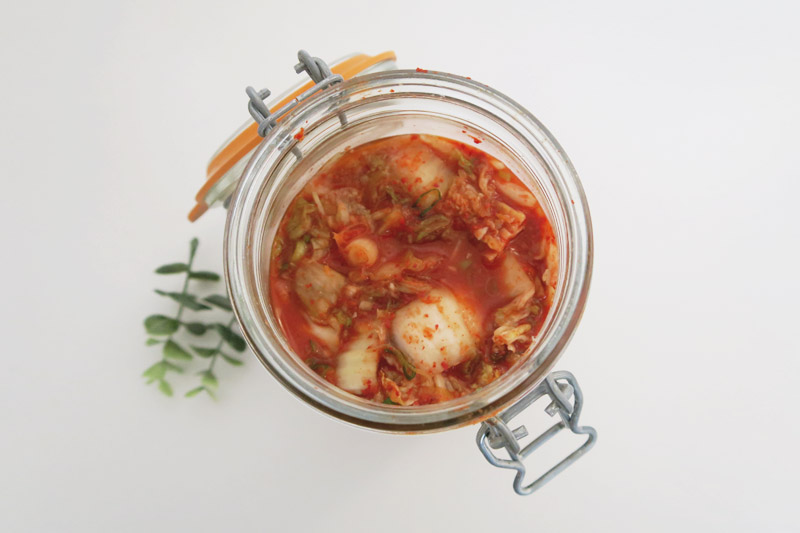 If you were to eat it straight away, the garlic, ginger and salt will be so strong. I left mine out on the side for around 4 days before putting it in the fridge, but it's best to try it each day till you find how you like it and then put it in the fridge – it will still continue to ferment, just at a slower rate. It will get to a point where it starts to taste almost fizzy, but after a week or two the fizz dissapears and it's absolutley delicious. Also, depending on how spicy you like things, you can adjust the amount of red pepper powder – I think the next time I make it, I'll probably use only 20g instead as it was a little spicy.
Kimchi is amazingly good for you, not only for your gut (fermented foods are amazing for your gut because of all the good bacteria), but it's full of loads of vitamins and minerals. Eating it regularly can aparently lower your cholesterol, cleans your intestines, it's full of antioxidants and the garlic and ginger are good for your immune system and heart health.
* This post contains some affiliate links which I make a small amount of commission on when you buy something, at no extra cost to you.