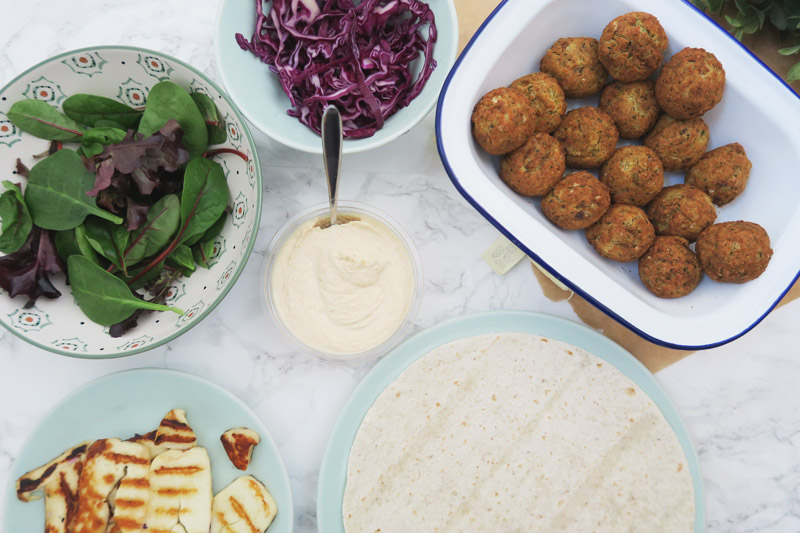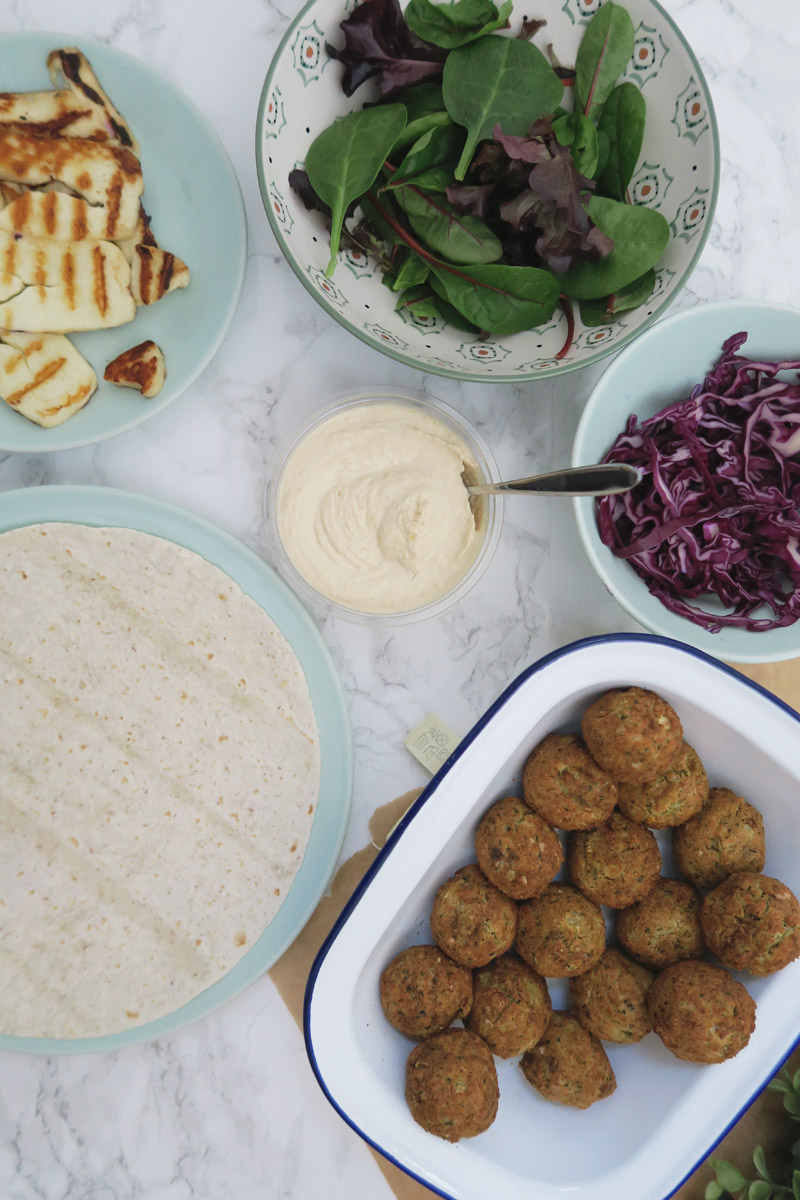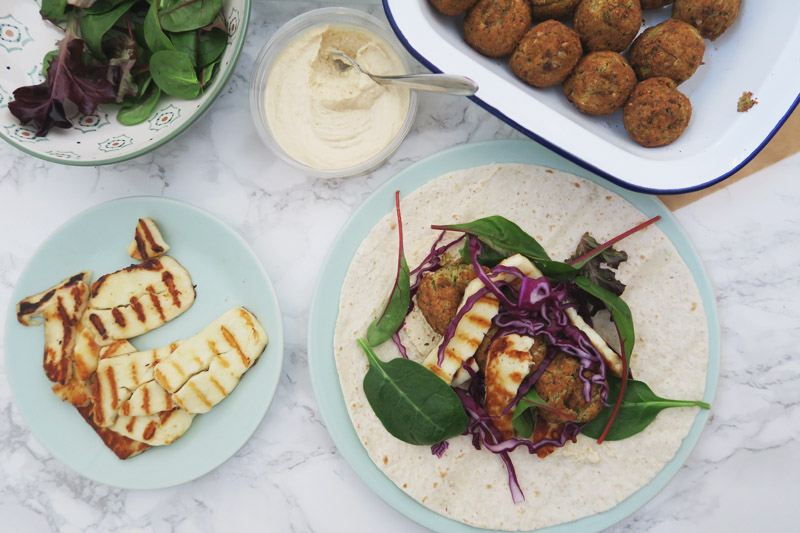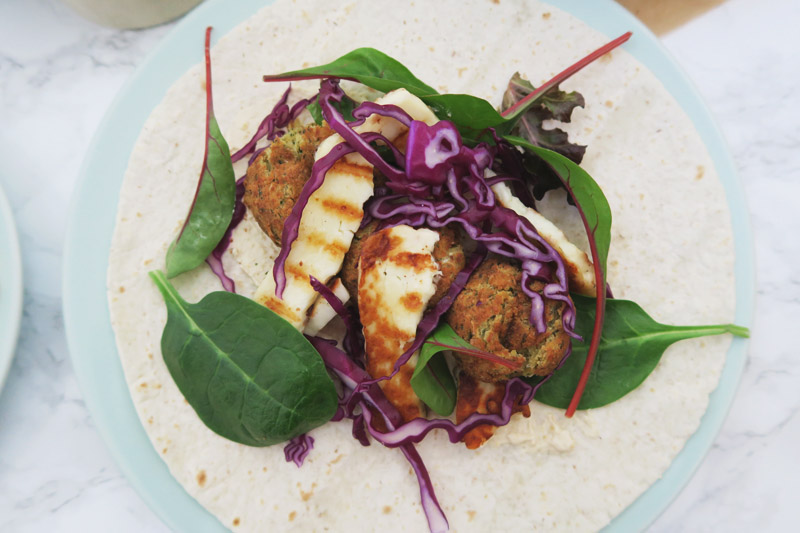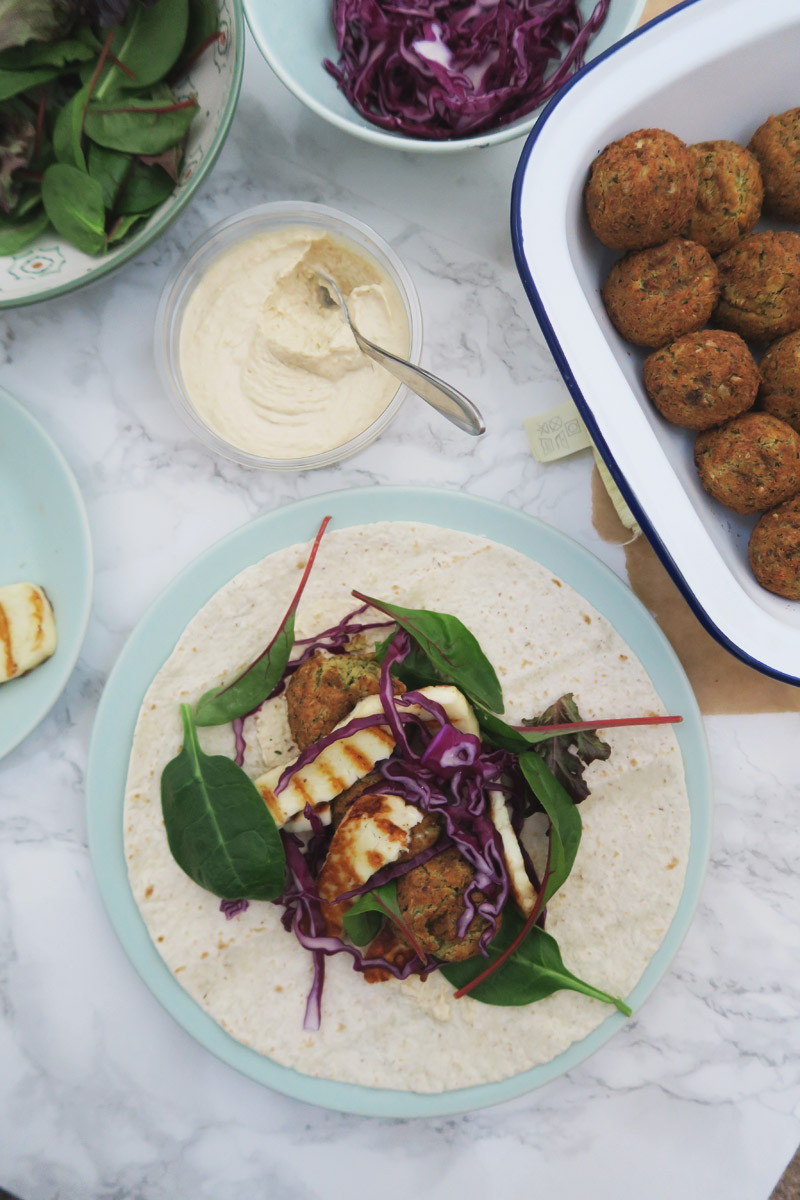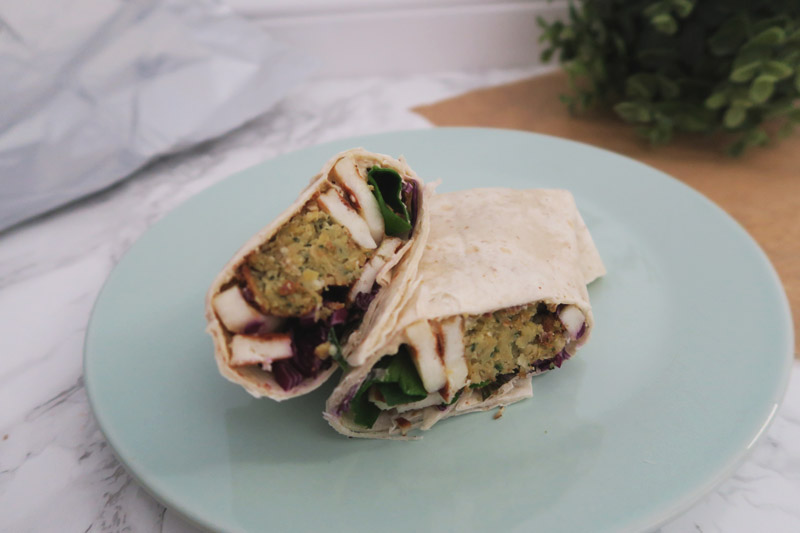 Each month, our local market town has a lovely farmers market which Shane and I go to. Though its pretty small, they have such an amazing variety of food on sale. One of our favourite stalls is a guy who sells all kinds of Moroccan & Indian stlye foods such as falafels, hummus, dhals and freshly made onion bhaji's. Recently, he's started making fresh hot falafel & halloumi wraps to take away and they are so good we couldn't wait till next month to get some more so we decided to make our own version of them instead.
This is a perfect idea for a midweek meal as it barely takes any time to cook and put together so it was quick and easy for us to make after work one night. We served everything in bowls so we could just pick out what we wanted in our wraps and make them as we were eating. It's a great idea for having a load of friends round too as you can just prepare and serve everything up and each person can make their own. This time we just used shop bought falafels, but we're definitely planning on buying some from the farmers market next month. (You can find my recipe for gluten-free carrot and coriander falafels here)
What you'll need:

Wraps
Falafels (recipe here)
Hummus (we were lazy and bought some from the shop)
Halloumi
Fresh Rocket
Tzatziki (recipe below)
For the Tzatziki:
1/2 Cucumber
200g Natural/Greek Yogurt
1 Small Clove of Garlic, very finely diced
Pinch of Salt
Juice of 1/4 Lemon
Bunch of Mint
How to make it:
1. Heat the falafels in the oven for the required time (ours took 12 minutes). Towards the end add in the wraps to warm them through.
2. While the falafels are cooking prepare the tzatziki: Thickly grate the cucumber in a bowl and add a pinch of salt, mix and leave to sit for a minute or two while preparing the other ingredients. After a minute, squeeze the grated cucumber over a sink (or keep it to make fresh juice), and then return to the bowl and add in all the other ingredients and stir well.
3. Slice the halloumi to about 1/2 cm thick and fry in a grill pan for about 30 seconds on each side till slightly melted.
4. Once the falafels are heated through, make up the wraps! We spread the hummus over the bottom of the wrap, then added the halloumi slices, falafels (which we squashed to make it a little easier), then topped it all off with the tzatziki and rocket then folded them up. Serve with the cous cous or side dish of your choice.
I love that you can mix and match ingredients too, depending on what you have available! I love to put cous cous in them too, but I didn't have any this time. Instead, I used some salted cabbage, just for a little extra flavour. Simply finely slice up some cabbage, sprinkle a little salt on and leave it while the rest of the ingredients are cooked/prepared. So delicious!
Let me know if you make these. I used up the leftovers for my lunch the next day in another wrap but added in some cous cous too which was lovely! Hope you enjoy them!