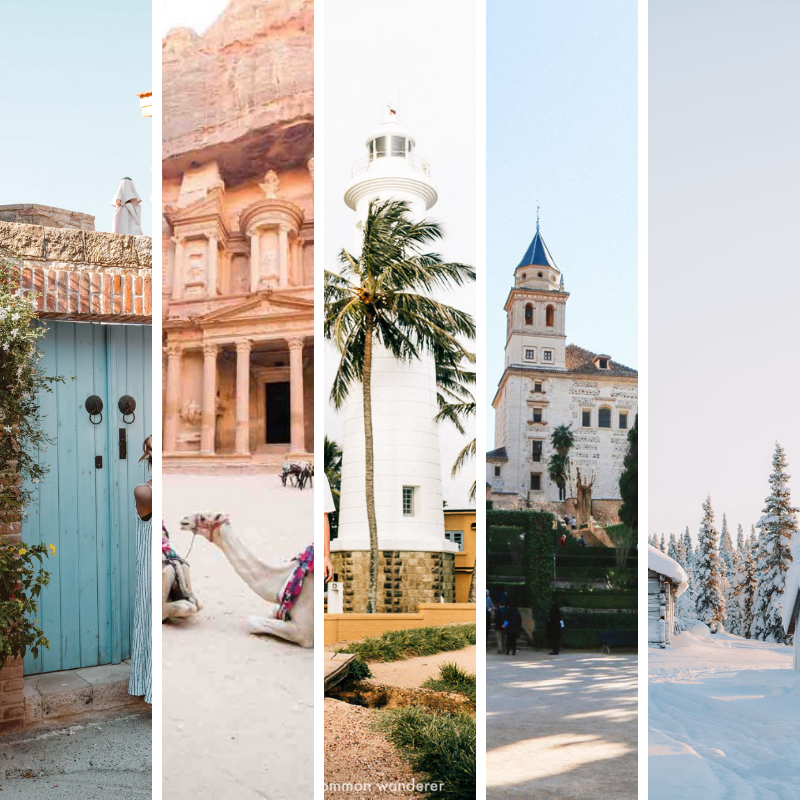 At the beginning of each year, I like to share my top 5 places that are on my travel bucket-list for that year. A lot of the times plans change and we don't get to visit all of the places, or some years (like in 2017) I was a little extravagent with my choices knowing that they weren't all going to happen. Well this is another year like that haha! There's some pretty big locations here, some of which I'd need a good week or two to explore and with my AL allowance, I just know I won't be able to fit it all in. But there's no harm in dreaming right?
There's actually a lot of places that I want to re-visit this year. Not specifically the exact same locations, but countries. I feel like there's just so much to explore, that one trip is never enough and you leave knowing that you'll make it back someday.
*Photo Sources For Above Image // Image 1 // Image 2 // Image 3 // Image 4 // Image 5
1. Cyprus
I visited Cyprus for the first time when I was maybe 8 or 9, so I don't remember much about the holiday, except this one time we drove on a tiny thin crumbling mountainous road that could literally fit one car (no exaggeration). It had a cliff on one side, and a sheer drop about 500ft to the other. We were headed down the hill and all I remember was my mum getting in a panic about the road, in tears (I get that from her for sure), and my dad trying to keep her calm as she was starting to get me and my brother in a panic too. Well we made it to the end after bumping into another car who had to reverse down this crazy steep hill to the town below, and it looked abandoned. So we quickly left and made it back to civilisation.
After that, I'm surprised I want to go back haha! But it looks absolutely stunning and I love the med, and mediterranean food is one of my absolute faves, so I want to go and eat all the amazing fresh food and see the sights (being sure to stay away from the crazy roads this time).
2. Jordan
I've wanted to visit Jordan since I first saw the amazing facade of Petra years ago. I was so jealous when my parents booked a cruise almost 10 years ago through Egypt and Jordan – they invited us along, but I couldn't make it work with my annual leave so we missed out. I really want to do this one on a group tour – I think it'd just be a whole lot easier to have someone else arrange it all for me as I'd also really like to visit Wadi Rum and the Dead Sea too.
Ideally, I'd love to do a multi-stop tour and combine it with a trip to Israel, because I've really wanted to visit Tel Aviv for the past year or so, but trips are SO expensive! Have you done a group tour? What companies have you gone with?
3. Sri Lanka
I've seen loads of Sri Lanka popping up over the past year, and with Lonely Planet announcing it as the top country to visit in 2019 this seems like the best time to visit before the crowds start heading there!
Now as you probably know by now, Shane and I are not beach people in the slightest – sure, we love to look at them, but we're not into laying on a beach all day and although it has the most amazing looking beaches lined with palm trees, it also looks like the perfect place with plenty of sights to see, from mountain ranges, lighthouses (we all know I love a lighthouse), and colourful towns.
4. Andalusia, Spain
The south of Spain has been growing on my bucket list every year! We're hoping to visit Seville on a day trip from Portugal, but we'll see if we have enough time because i feel like it'll need more than a day to properly explore the area – I feel like it needs a roadtrip! I'd love to do a food tour of the city and eat all the tapas, paella and sangria!
The Alhambra in Grenada has been on my bucket list for so long too! It's moorish influences and gardens look so good to explore for a few hours. We have friends who live near Malaga too, so it'd be the perfect time to pop in to visit them too! We haven't seen them in almost 10 years!
5. Lapland
I've been really wanting to head on a snowy winter getaway, and Lapland seems like the most beautiful place to visit in the winter. Though I'm not sure I could deal with the crazy temperatures hitting -20ºc! Rovaniemi in Finland has been so high on my bucket list for a few years and we almost booked a trip a couple years ago but it turned out to be super expensive (aren't all the Scandinavian countries).
Well no doubt I'll probably only get to tick off one of these places on the list (if that) this year, but a girl can dream right haha!? Where have you go on your bucket list for this year? Have you got anything booked yet?
Follow
Save