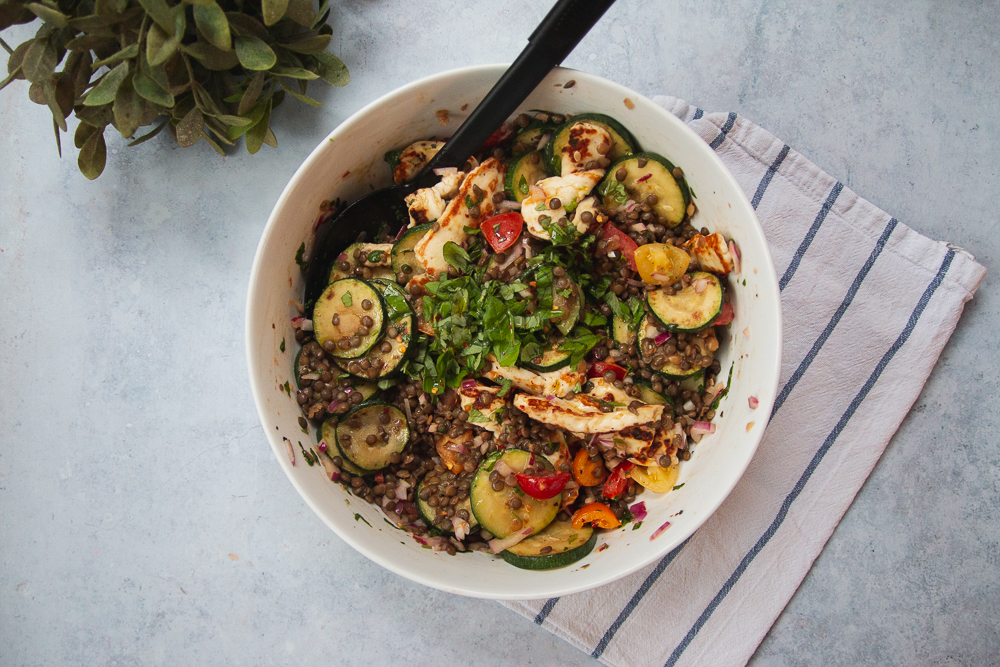 Quick + Easy Summer Salad
This courgette, lentil and halloumi salad is one of my fave salads to make in the summer. And if you grow your own veg, a way to use up some of your courgettes! You can add in any veg you like, but this is my fave combination, though it's also nice with some thinly sliced and grilled aubergine too, or some freshly picked runner beans or french (green) beans too. Just slice them up into smaller chunks and fry with the courgette to soften, though you might have to blanch the runner beans for a few minutes, depending on how you like them.
It works best with puy lentils, also known as lentilles vertes, in most supermarkets, but you can also use normal green lentils, but just be sure not to cook them for as long as the puy ones. I like the bite that the puy lentils have, so it's worth finding them (or lentilles vertes) if you can.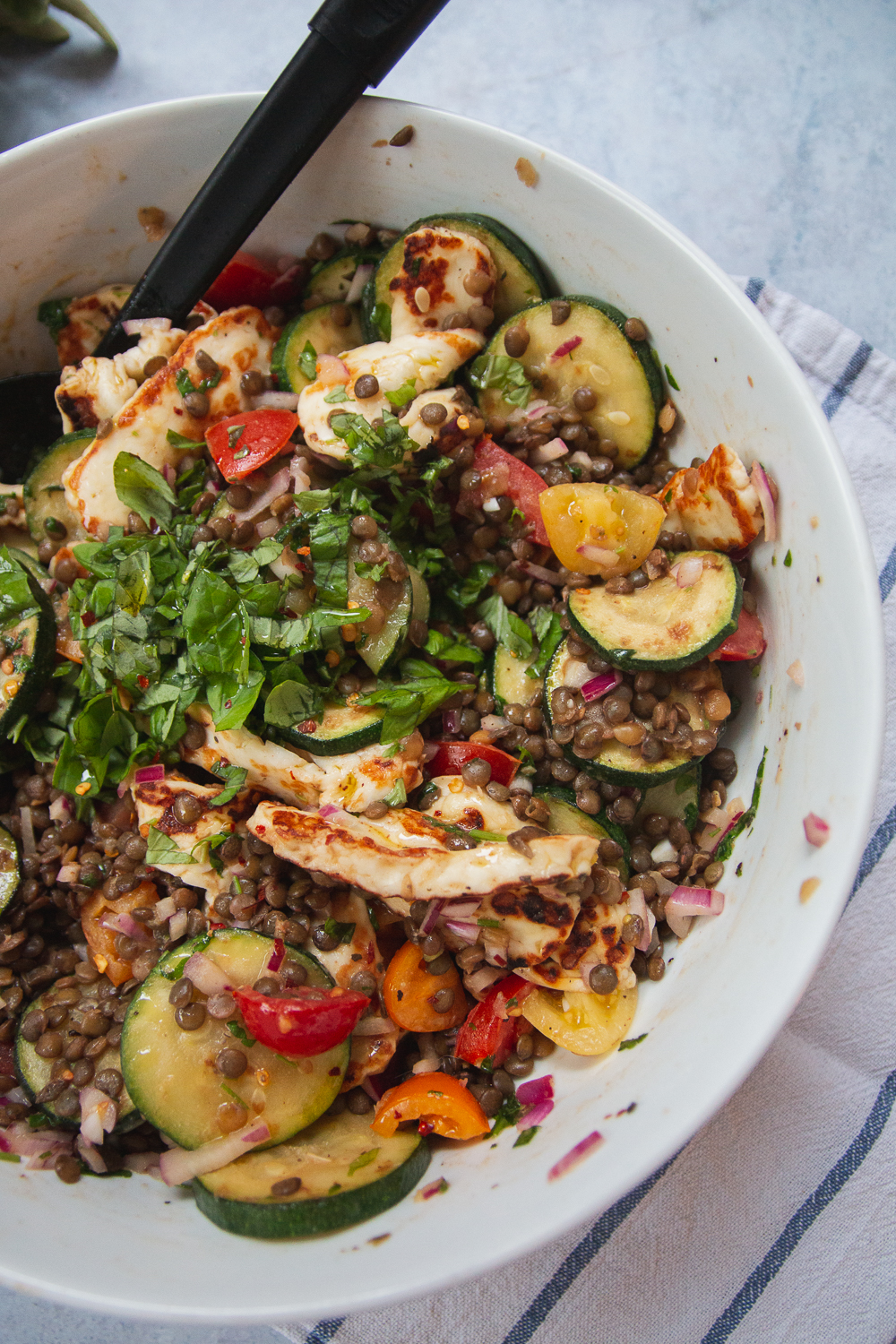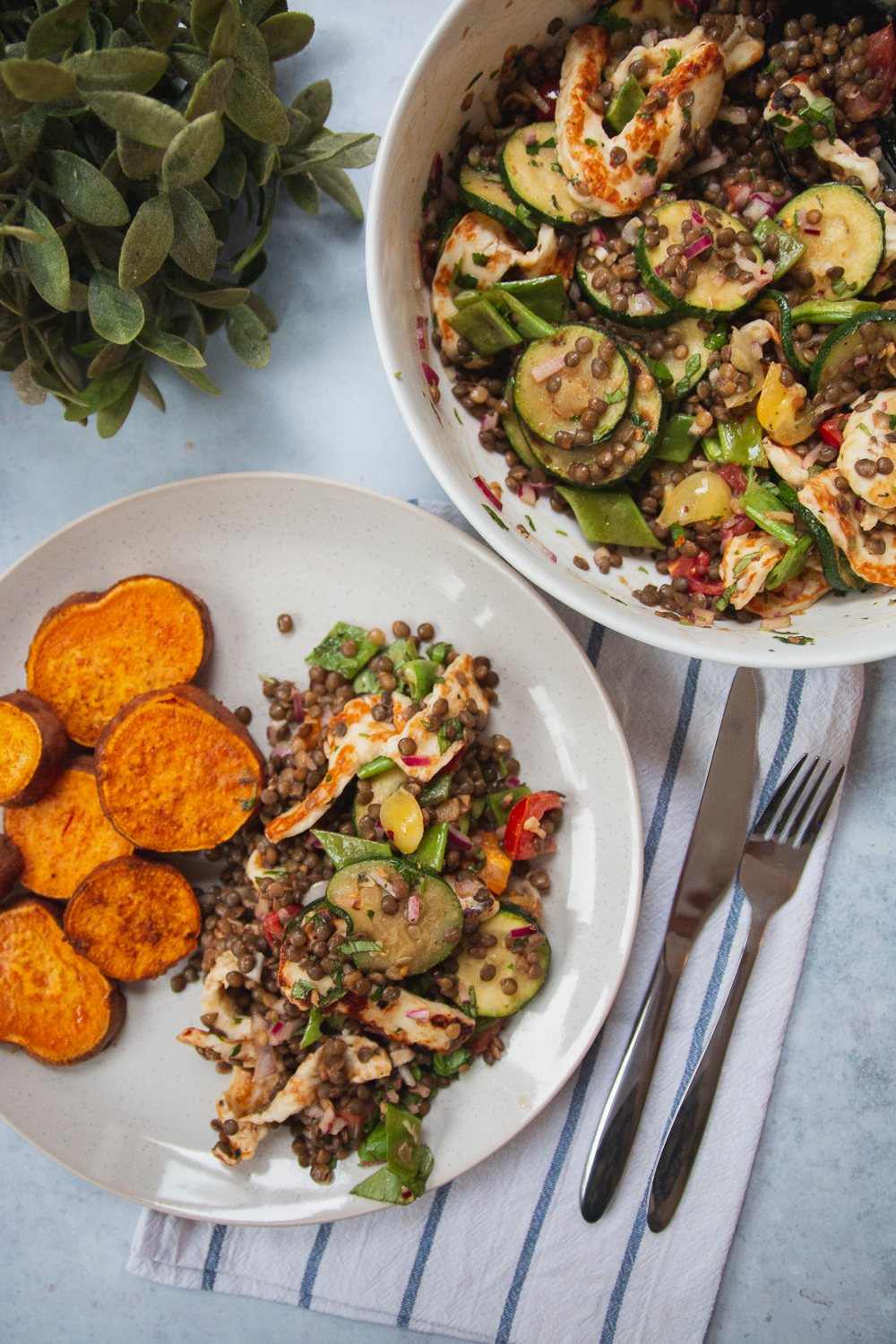 Ingredients
(serves 4-6)
* 1 cup puy lentils (green lentils will do)
* 1 tbsp red wine vinegar
* 1.5 tsp dijon mustard
* 1/2 tsp dried oregano
* 1 red onion, finely chopped
* 2 tbsp olive oil
* handful flat leaf parsley, chopped
* salt + pepper
* handful cherry tomatoes
* 1 courgette, sliced into thin rounds
* pinch chilli flakes
* 2 cloves garlic, minced
* handful basil, chopped
* halloumi, sliced into 1cm slices
How to Make it
1. Cover the lentils with plenty of water in a large saucepan with a lid and a pinch of salt. Bring to a boil then simmer until the lentils are al dente, about 25-35 minutes, depending on your lentils. You want them to be soft, but not mushy and falling apart, with just a hint of bite left in them.
2. In a large salad bowl, mix together the red wine vinegar, mustard, oregano, shallot/red onion, olive oil, parsley and a pinch of salt + pepper. Add in the sliced tomatoes.
3. Slice the courgette thinly, and fry on a medium low heat in a small amount of oil until golden (you may have to do this in 2-3 batches depending on the size of the frying pan), adding the garlic just before it's cooked for 2-3 mins. Add to the salad bowl with the dressing.
4. Fry the sliced halloumi on medium high heat until golden and crispy. Add to the salad bowl.
5. Drain the lentils and add to the salad bowl with the chilli flakes and sprinkle with the chopped basil.
6. Serve. It's best served warm, but is also good at room temperature.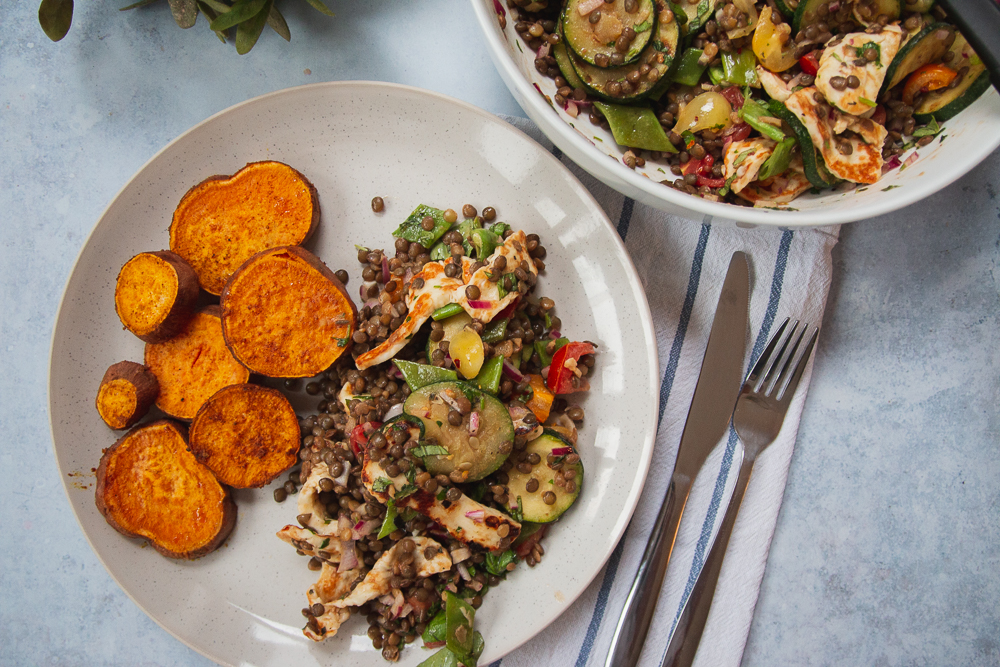 It's great as a main meal with some roasted sweet potato slices, but I've made it as a side with a BBQ too and it goes really well. I can imagine it being really nice with some grilled salmon too! I think it's pretty versatile to be honest! If you want to make it vegan, just be sure to leave out the halloumi, and it's honestly just as good!
If you're serving it with the sliced sweet potato as a main, simply cut the sweet potato (skin on, just give it a good scrub in the sink first) into 1-2cm thick slices and season with a dash of cumin, turmeric, garlic granuals, a good amount of paprika, salt, pepper and a tiny pinch of cinnamon and drizzle with some olive oil. It's so so good and goes really well with the zingy lentil salad! I used 2 large sweet potatoes or 4-5 small ones, which serves 2-3 people (i have the leftovers for my lunch) and probably 1/4 tsp each of the spices except for the pinch of cinnamon.
Let me know if you try it! It's one of my favourite summer meals and literally takes as long as the lentils take to cook to make, so it's nice and quick. See more of my veggie recipes here.
Recipe adapted from Mama Eats Plants Marinated Lentil Salad.
Follow
Save