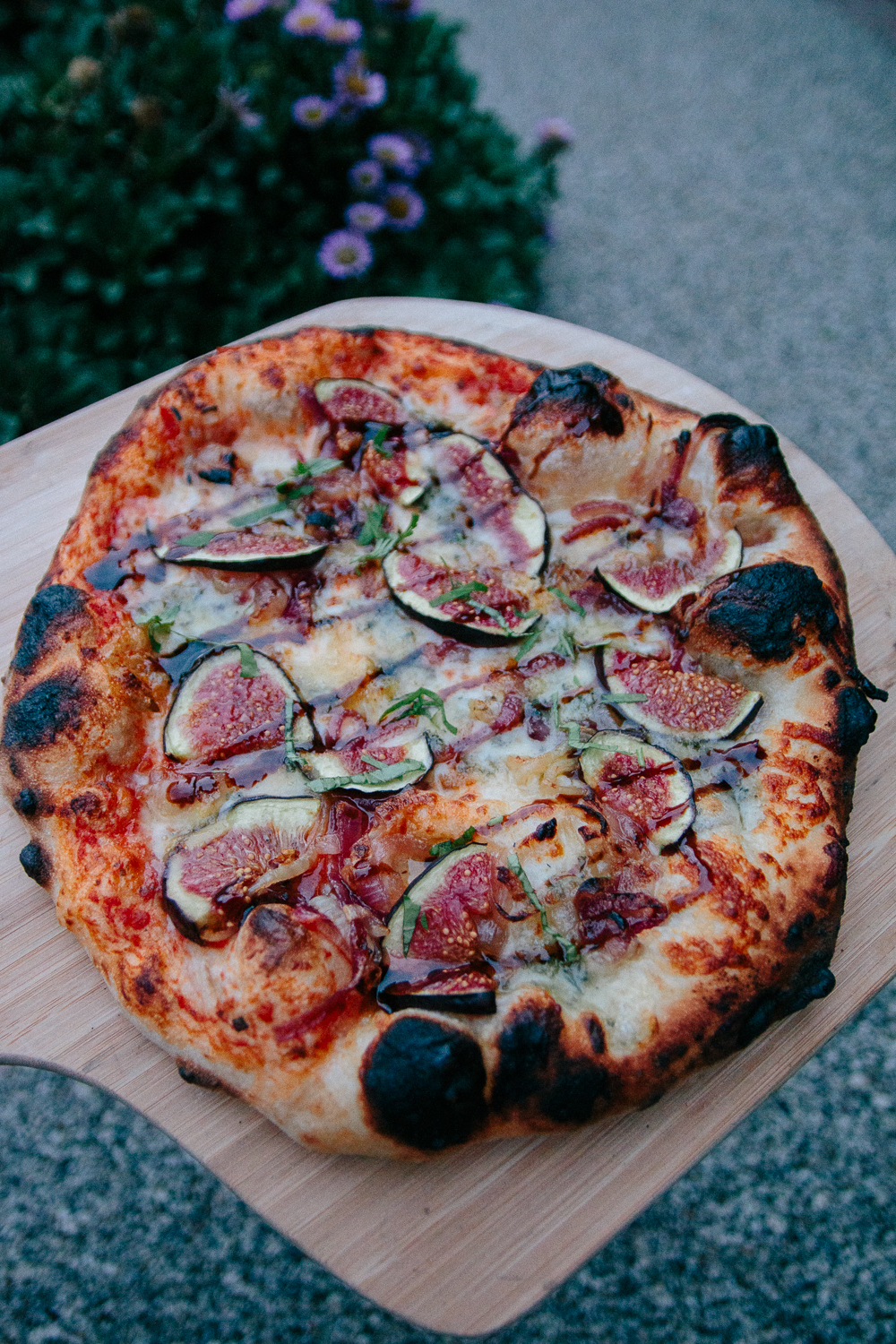 One of the best 'Lockdown' purchases we made was a pizza oven. We actually made our own DIY Plant Pot Pizza Oven a few years ago, and while it was good and worked that summer, after being left outside and it basically turning into a bug hotel for the winter, it wasn't too easy to clean out with all the layers and moisture seeping in to the terracotta. The last time we tried to use it, it actually cracked inside from being too wet, and we ended up cooking the pizza's in our van oven instead as it was the closest thing to a flame oven we have haha!
So we've spent the summer playing around with pizza toppings and this one has been everyone's absolute favourite topping, by miles! Even my dad loved it the best, and he usually just goes for seafood pizza's each time, so it's definitely a winner. You can do two variations, one with the tomato base, or one without – for the first attempt (and when these photos were taken), we opted to do half and half and see which we preferred and we all preferred it with no tomato base. So it's up to you if you want to add any or not.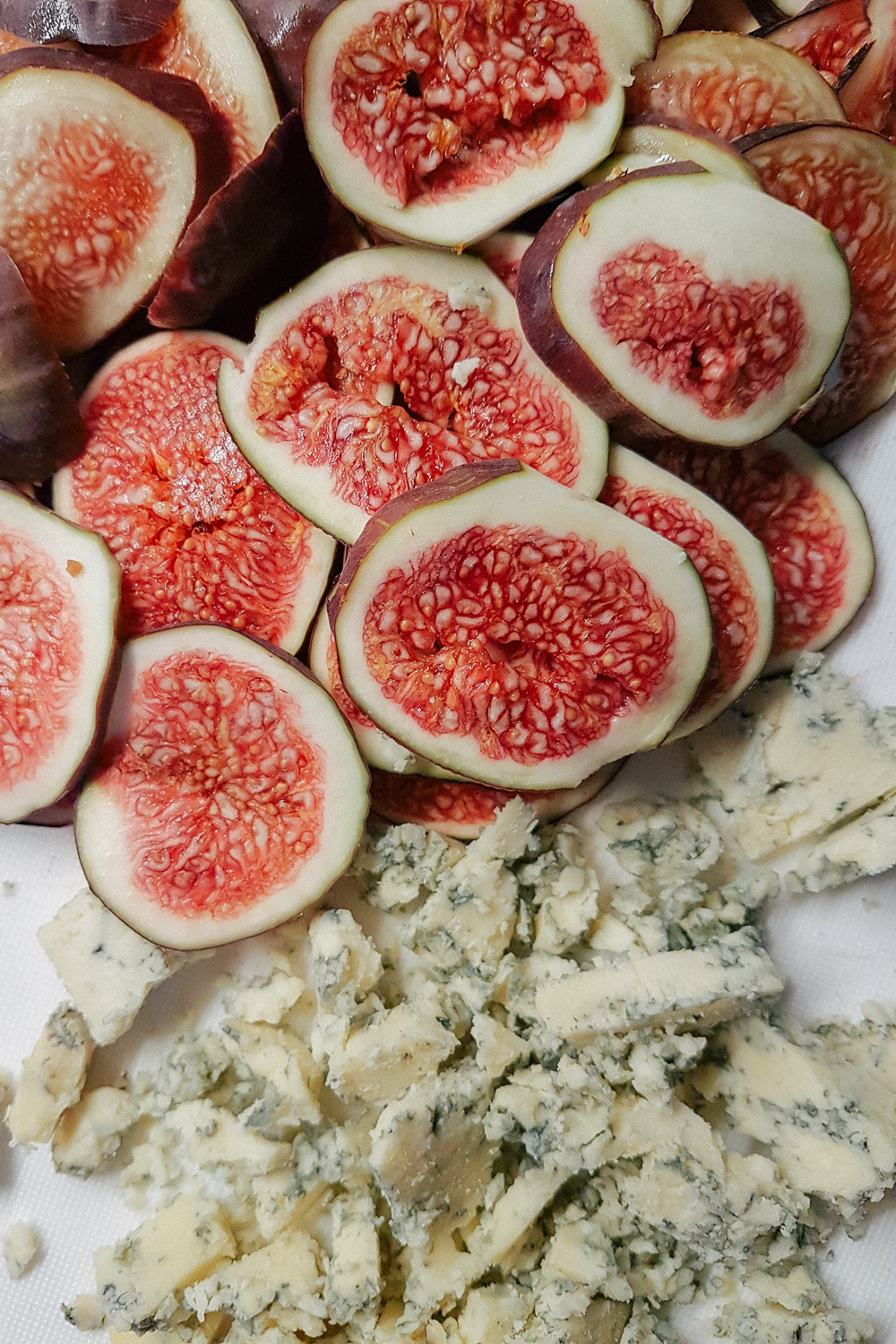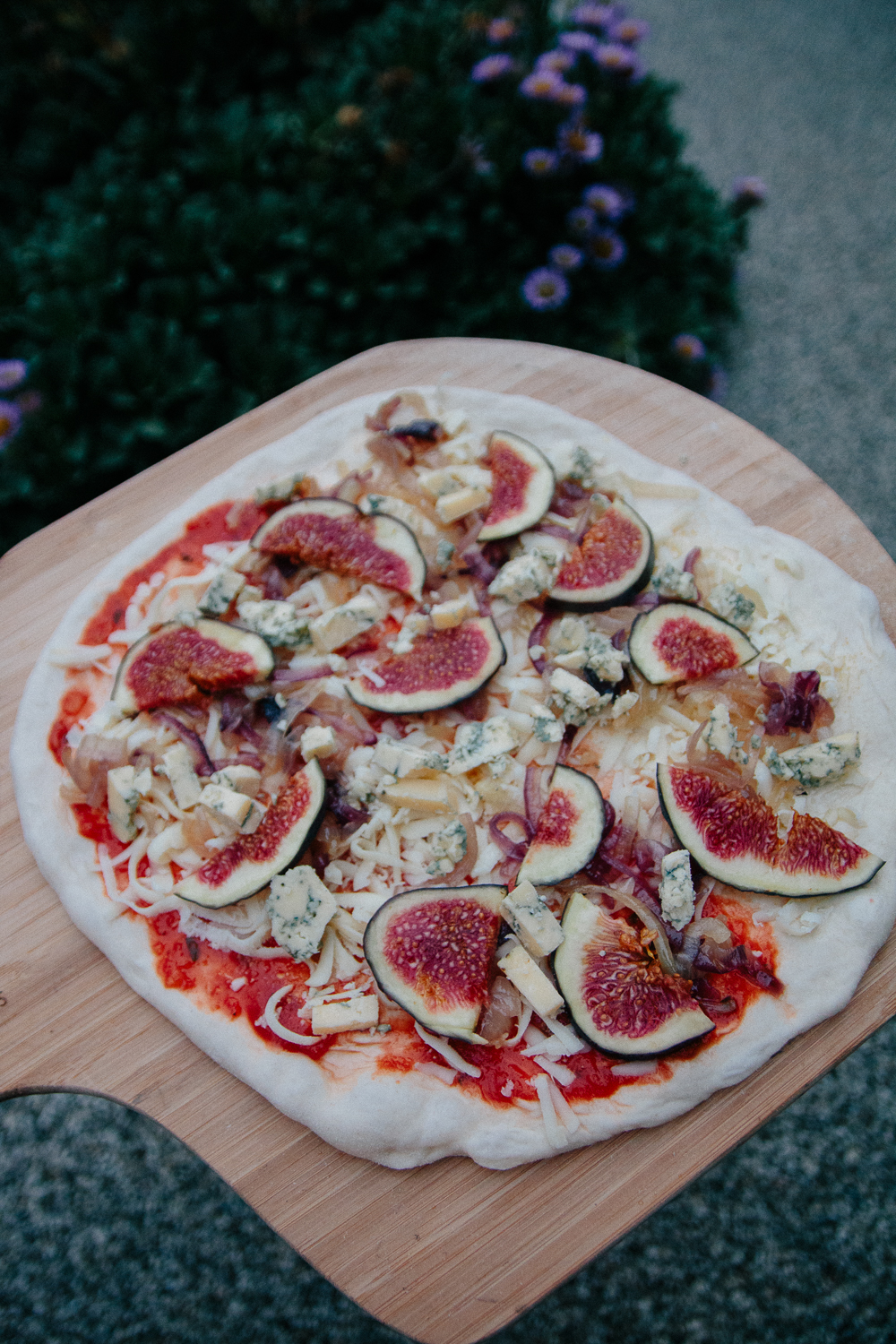 Ingredients:
* pizza dough
* figs (roughly 1.5 per person)
* caramelised onions
* blue cheese (we used Stilton)
* fresh rocket (or basil)
* balsamic glaze
* mozzarella cheese
For the Caramelised Onions:
* 1 red onion per person
* salt
* sugar
For the Garlic Oil Base:
* extra virgin olive oil
* garlic powder
How to Make It:
1. Start by preparing your caramelised onions as they take a while to cook. Thinly slice the onions and add to a frying pan with a pinch of salt. Keep the heat on medium-low and make sure they don't start browning. You'll want them to go translucent, and then just keep at it until they go super soft. This can take anywhere between 20-45 minutes, depending on how many onions you have. Once they're fully softened, sprinkle with a few pinches of sugar. Leave to cool slightly while you prepare the bases.
2. Prepare your pizza dough into rounds ready to top. If you're going for the tomato base, cover the base evenly and move to the next step. If you're going for the garlic oil base, then pour over roughly 1/4 tablespoon of olive oil and gently smoothe over the surface of the dough. Sprinkle with plenty of garlic powder.
3. Layer on your mozzarella cheese lightly, then top with the caramelised onions. You'll want to put these on first so that they don't burn in the oven, then layer on your figs (we sliced ours to about 2mm thick), then sprinkle over crumbed blue cheese. It depends on how much you like, but we use quite a lot as it goes really sweet as it cooks.
4. Put your pizza's in your oven – if you're using a house oven, follow the instructions as per the dough. Usually around 12-15 minutes on 200c or if you're using a pizza oven, roughly 2 minutes.
5. Once cooked, drizzle with balsamic glaze and top with rocket (or basil) and enjoy!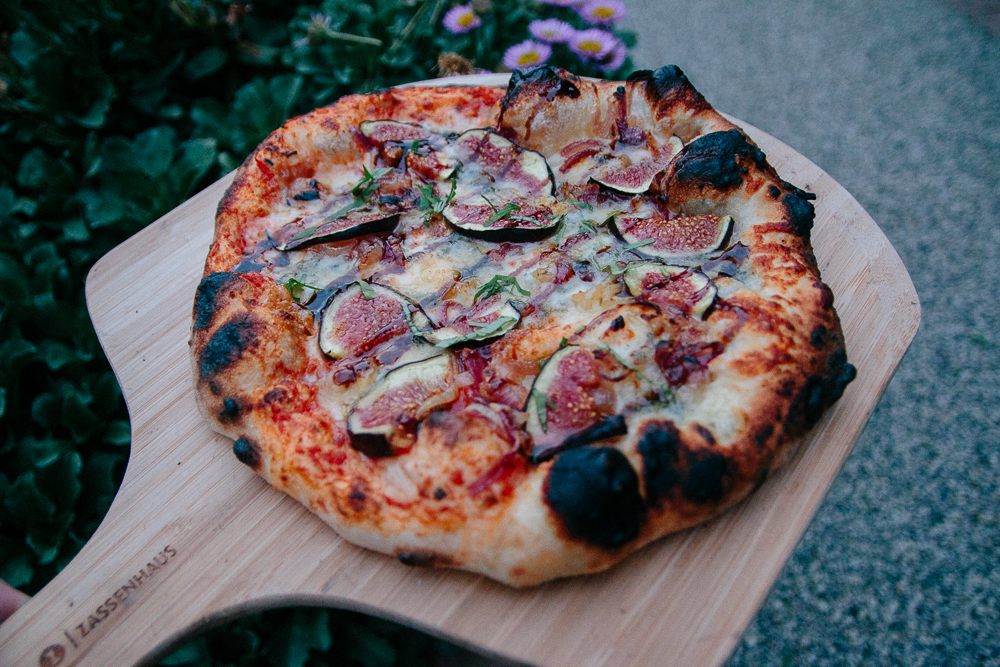 We love the sweet figs with the sweet and nutty Stilton and the caramelised onions. The balsamic vinegar just gives it that lovely sweet tang and then the rocket for a fresh peppery crisp. So so good! Obviously, it's hard to give quantities as there's 4 of us and we all like to prep our own pizza's with different amount of toppings, so just use what you think you'll like. My mum doesn't really like blue cheese, but she loves a tiny sprinkle on her pizza, whereas Shane and I LOVE blue cheese, so we put 1/4 of a block on each (maybe a slight exaggeration. Maybe not haha). So just do what looks good for your taste!
The first time we made it, we forgot to buy the rocket, so I subbed it for some fresh basil finely chopped which worked great, but rocket is so much nicer if you have it! Now I want pizza haha! Let me know if you make it! What's your favourite pizza topping?
Follow
Save