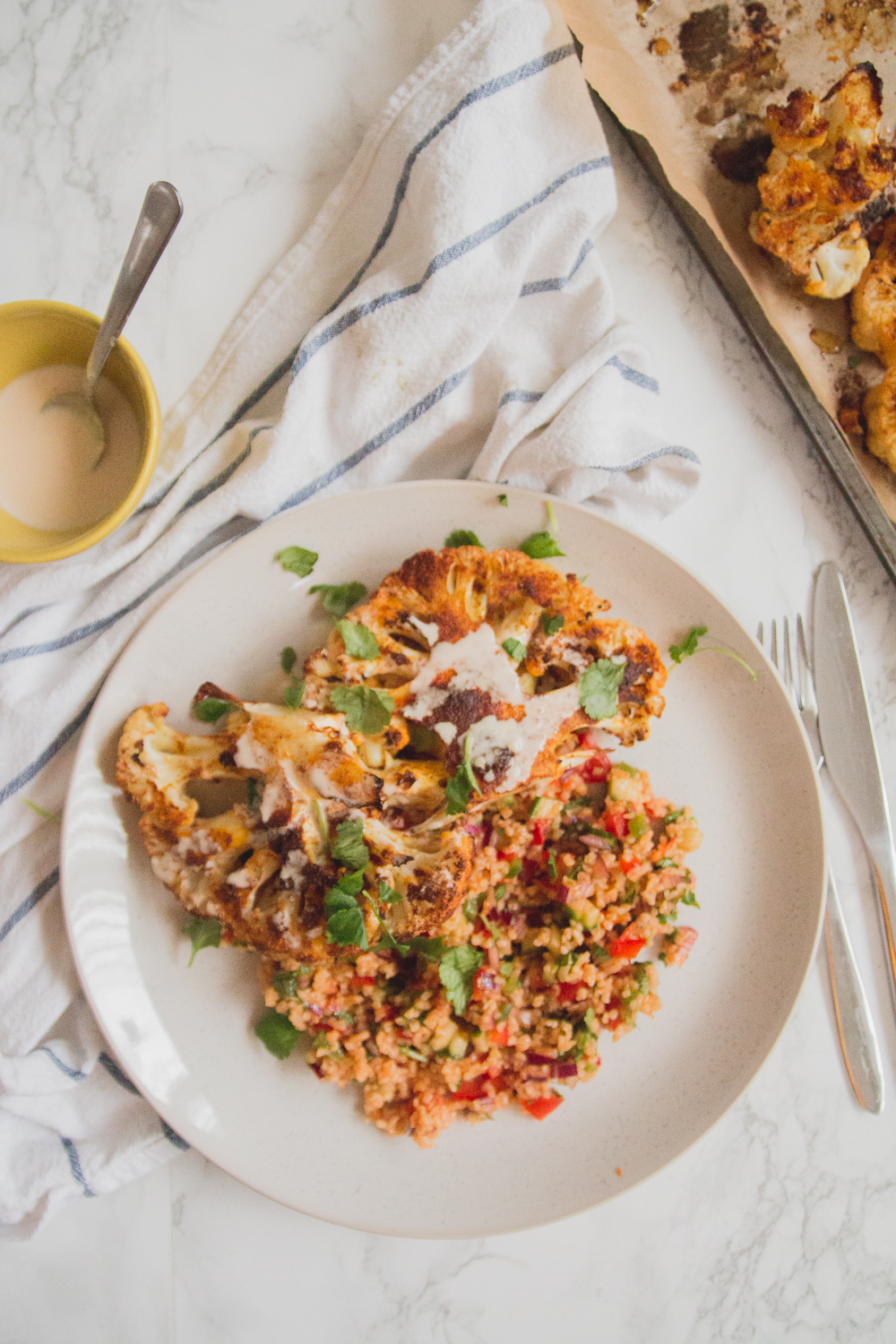 Roasted Cauliflower Shawarma
One of my favourite meals before we stopped eating meat used to be chicken shawarma. I loved the flavours of it, served in a wrap with salad – or sometimes served with rice. Lets face it, it's basically what a chicken kebab tastes like (and I'm a sucker for kebabs).
Middle eastern and turkish food are two of my absolute favourite cuisines, but a lot of it is meat, especially lamb and chicken, but they're also super easy to swap ingredients out to make them veggie friendly. I've been craving chicken shawarma so much lately, so a couple months ago I had some random ingredients left in my fridge so I decided to try recrate it with some cauliflower steaks.
I actually don't really like cauliflower, but when you cover it in spices and serve it up with a homemade kisir salad and a garlicky tahini dressing, it's actually not too bad! I've made it a few times since, and even Shane who doesn't like cauliflower either has eaten it for dinner and enjoyed it. If you're not vegan and want a little more 'meaty' flavour, then it's also great served with some grilled halloumi too.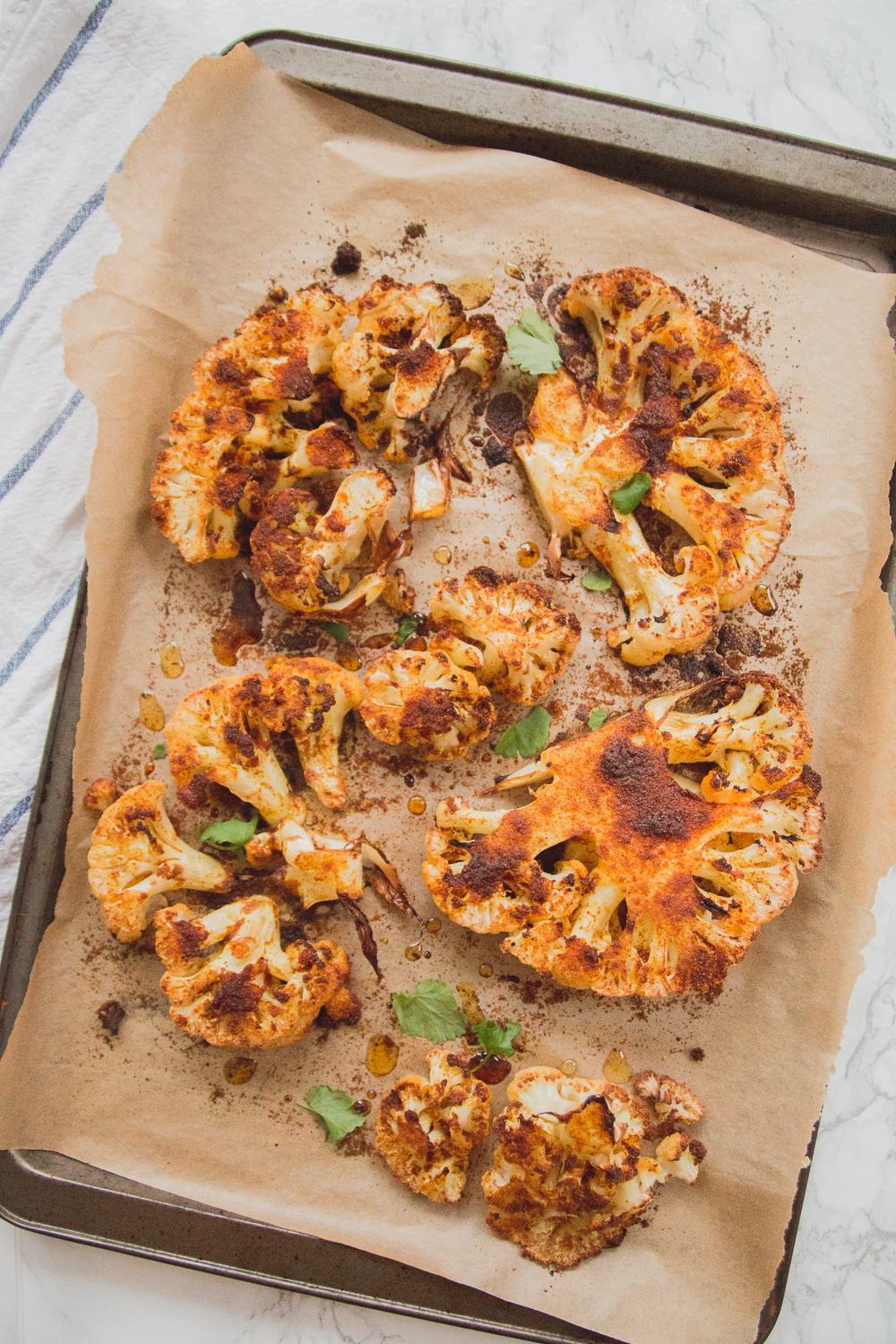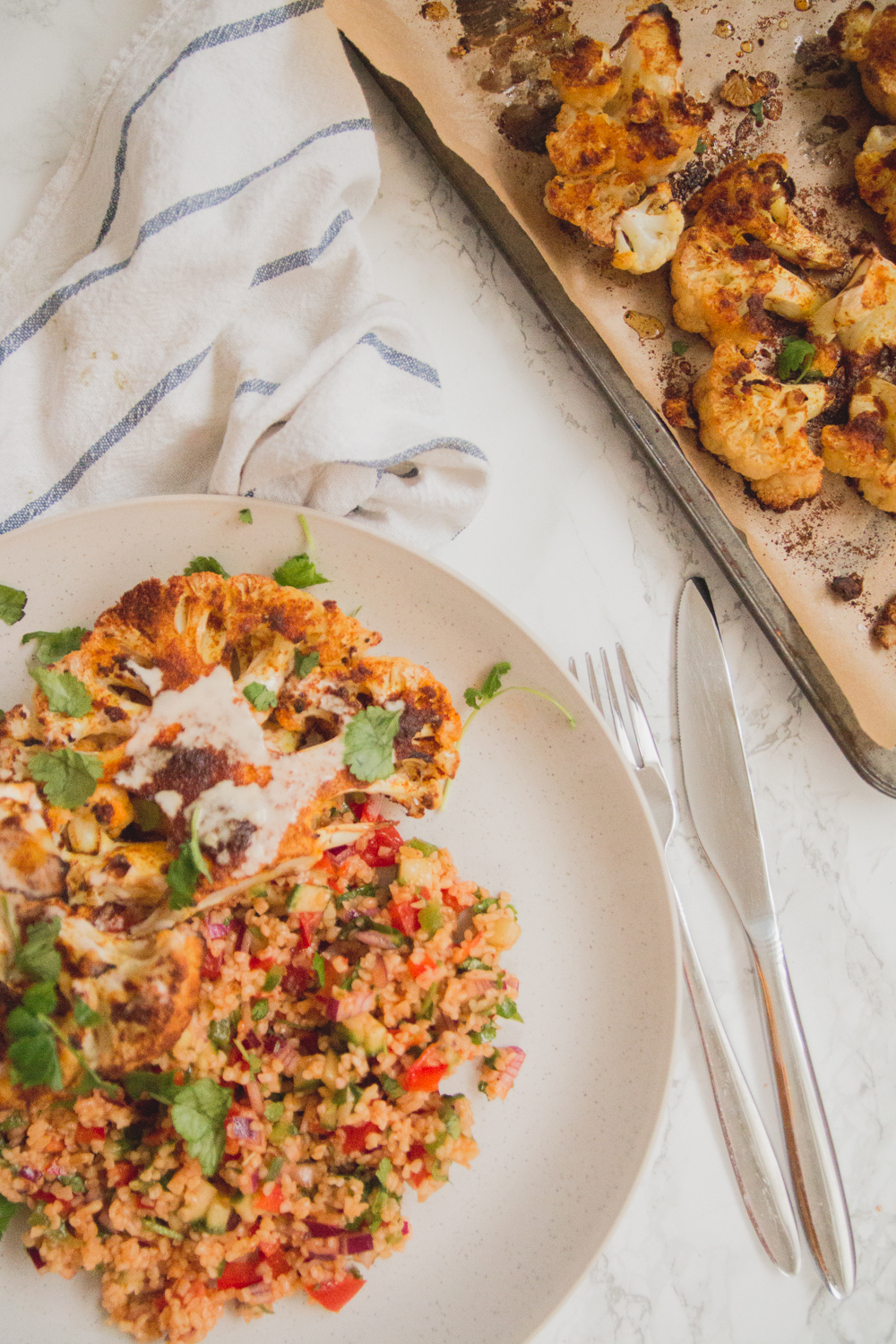 What You'll Need
For the Cauliflower:
1 head of cauliflower
2-3 tbsps shawarma spice mix:
–   1/2 tsp cumin
–   1/2 tsp paprika
–   1/4 tsp allspice
–   1/4 tsp turmeric
–   1/4 tsp garlic powder
–   1/4 tsp cinnamon
–   1/4 tsp sumac
–   pinch of cayenne
–   pinch of salt & pepper
olive oil
For the Tahini Dressing:
2 tbsp tahini
2 tbsp fresh lemon juice
1 tiny garlic clove
1/2 tsp agave syrup
a pinch of salt and pepper
2-3 tbsp water
How To Make It
1. You'll want to start by making the kisir salad to let the flavours marinade while the cauliflower cooks. This recipe is close to what I make myself. I use half a red onion instead of the spring onions, and 1/2 green pepper and 1/2 red pepper instead of the banana pepper, and I also add in a tiny bit of garlic paste (from the remainder of the tahini dressing) and a pinch of cumin for an earthy addition. I also use a regular cucumber, making sure to cut out all of the seeds in the centre, as this will make the salad really wet and soggy.
2. Pre-heat the oven to 180ºc. Line a baking tray with greaseproof paper and drizzle with olive oil and a sprinkling of the shawarma spice mix, to coat the underside of the cauliflower steaks.
3. Remove all of the outer leaves and slice the cauliflower head into slices 2 inches thick. Gently place on the baking tray and sprinkle over the remaining shawarma spice mix and drizzle with plenty of olive oil. Roast in the oven for 25 minutes.
4. Make the tahini dressing by grating or finely chopping the garlic into a paste (you should have some left over from the kisir, if using). and add to a bowl with the tahini and lemon juice. Mix until it forms a stiff paste, then add in the water, salt and pepper and agave syrup until it comes to a loose dressing. Add a small amount of water at a time until you've got the consistency you want.
5. Once the cauliflower is cooked, serve warm on a bed of kisir, drizzle with the tahini dressing and a sprinkle of coriander leaves and any leftover pomegranate seeds.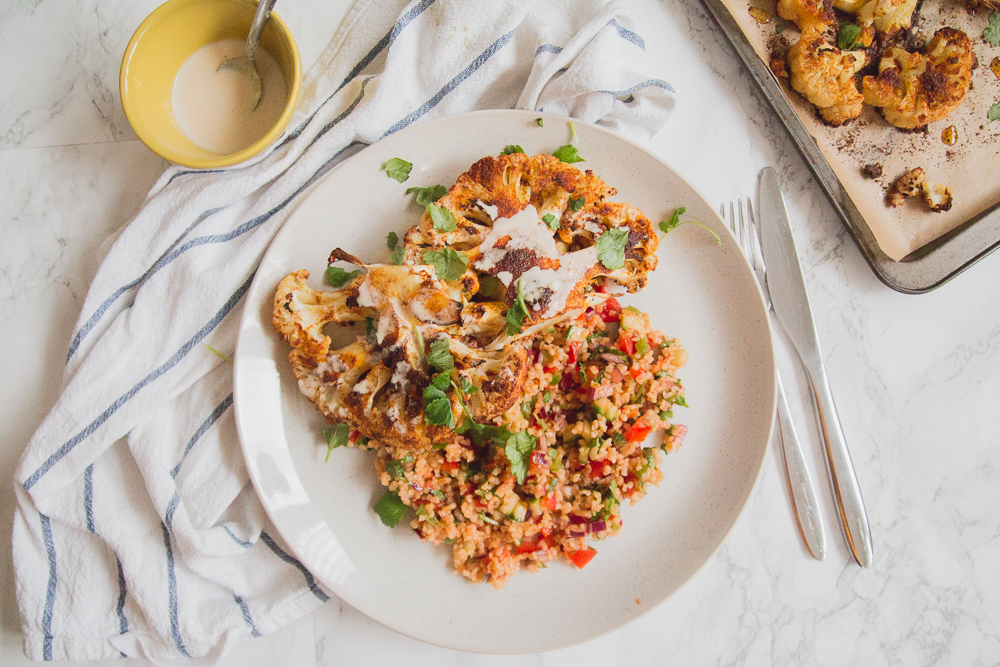 So that's it! It serves 2 people and takes about 10 minutes to prepare and 25 minutes to cook, so it's a nice easy one that's packed with flavour. It leaves a tiny bit leftover so I save the rest for my lunch, which you can eat hot or cold. The kisir is best cold though, so if you do reheat, be sure to keep the cauliflower separate.
I also want to try use the shawarma spice mix on some jackfruit and try make some wraps with that to see if I can get it to turn out similar to a kebab. I've got a couple tins of jackfruit in the cupboard, but I just keep putting it off as I'm not entirely sure how you actually cook it haha!
Follow
Save