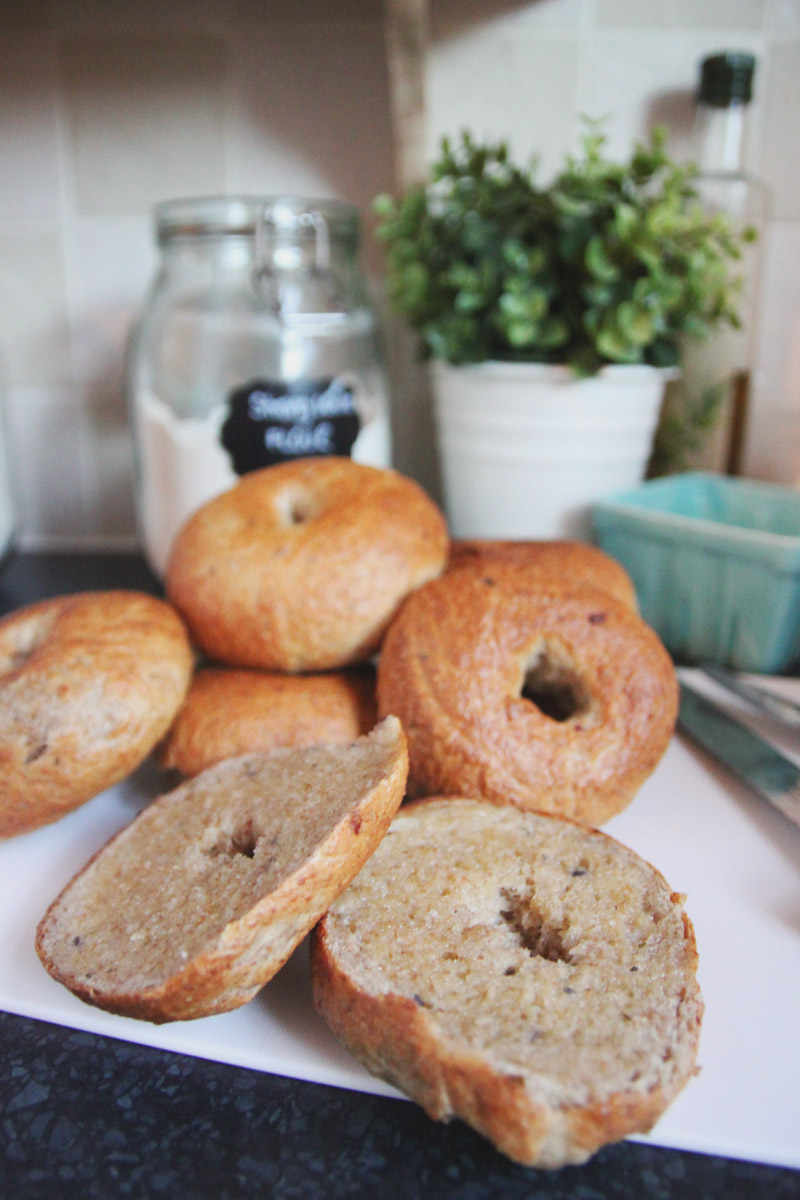 Today, I had such a craving for some bagels, but we don't tend to buy them ever. I started browsing pinterest for a recipe to see if it was something that was easy to make or not. Turns out, they're pretty easy and I had all the ingredients too! I didn't fancy just plain bagels, so decided to add to the base recipe with some red onion and fresh chives. They are seriously so good! I just wish I had some cream cheese to spread on them. I made mine a wholegrain mix, but you can just make plain white bagels by removing the wholegrain flour for strong white flour instead to make it up to 500g. *Recipe adapted from this one.
INGREDIENTS:
– 350g strong white flour
– 150g wholegrain flour
– 1 sachet (6g) dried yeast powder
– 1 ½ tablespoons granulated sugar
– 1 1/2 cups warm water
– 1 ½ teaspoons salt
– ½ red onion, very, very finely chopped
– 1 small handfull of fresh chives, very finely chopped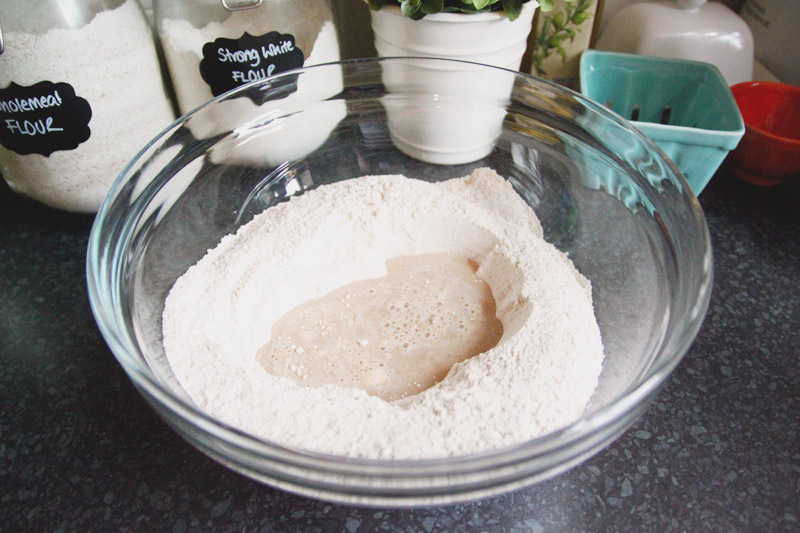 Use ½ cup of the warm water in a jug and add in the dried yeast and granulated sugar, but don't stir it. Leave it for 5 minutes, then stir the mixture to combine. Meanwhile, in a bowl mix together the two flours and the salt, then make a well in the middle and pour in the yeast mix.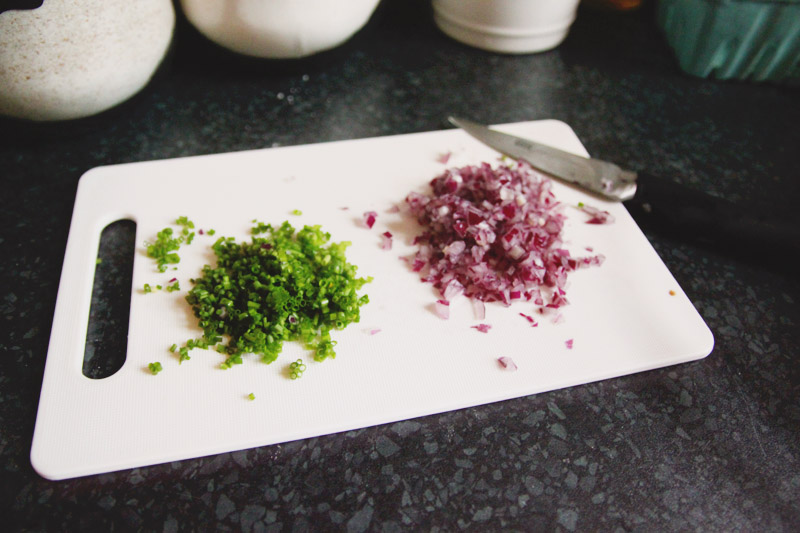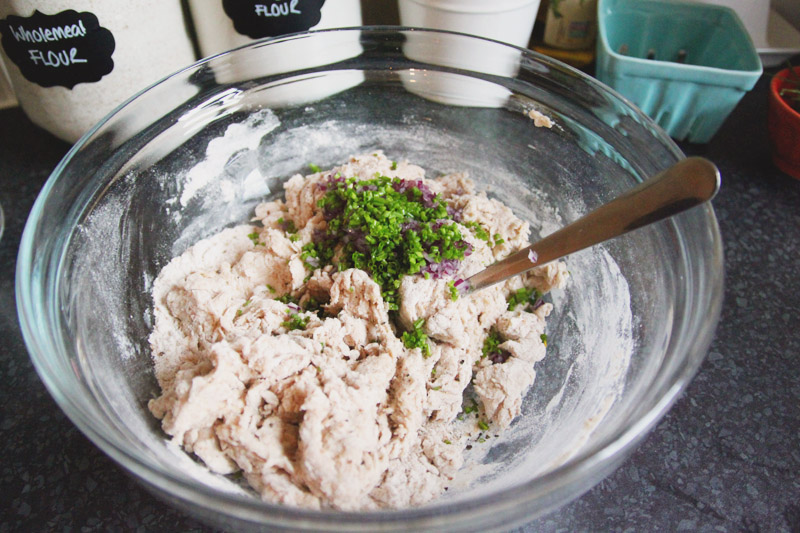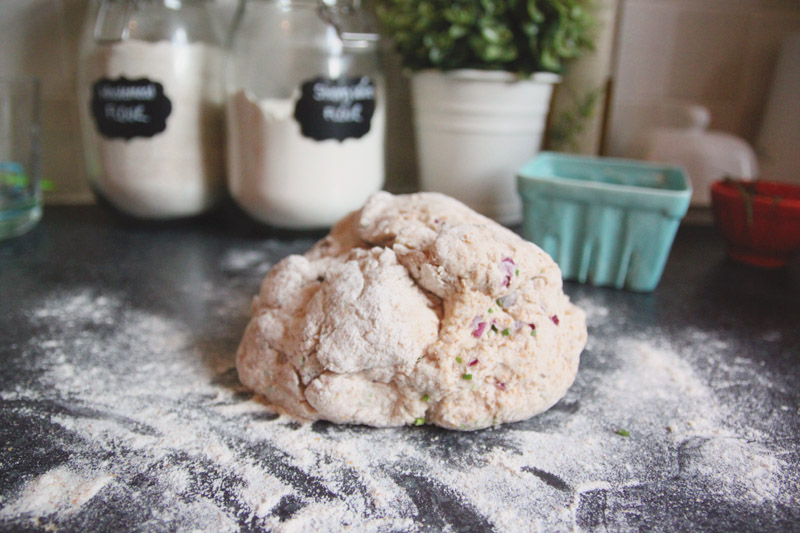 Mix in the red onion and chives then on a floured worktop, kneed the dough mix for roughly 10 minutes till it becomes nice and firm but elastic. You might need to add in a little more water or flour, but just see how you get on first.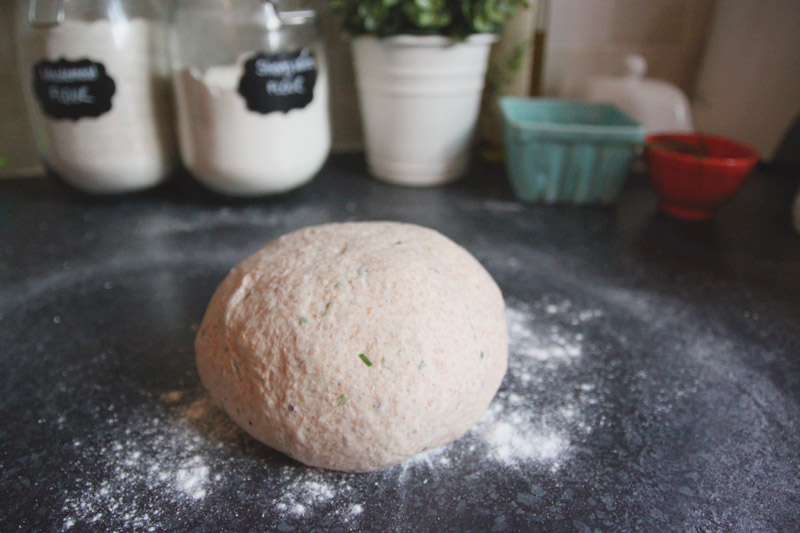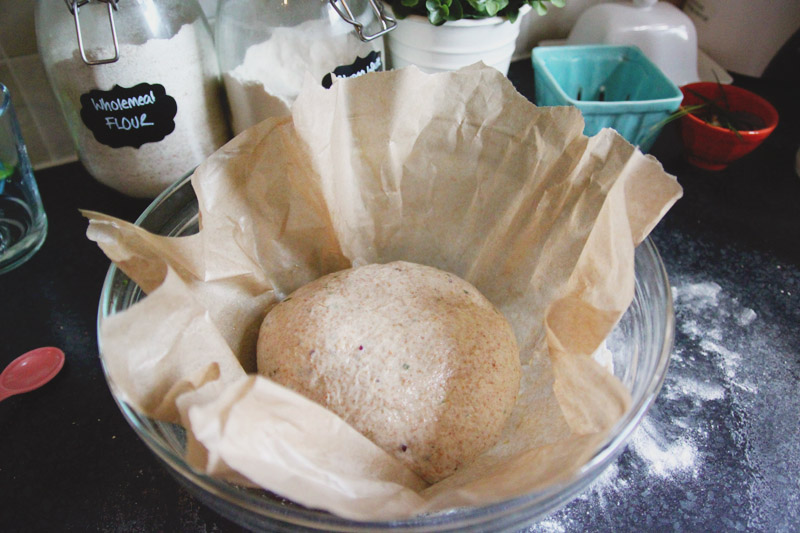 Place it in a large bowl to prove. I hate washing up, so I just lined the bowl I was using before and lined it with greaseproof paper. Oil the bowl or paper and coat the dough mix in it too. Leave it to prove in a warm place for approximately an hour to rise. Once risen, knock it back and leave it for another 10 minutes.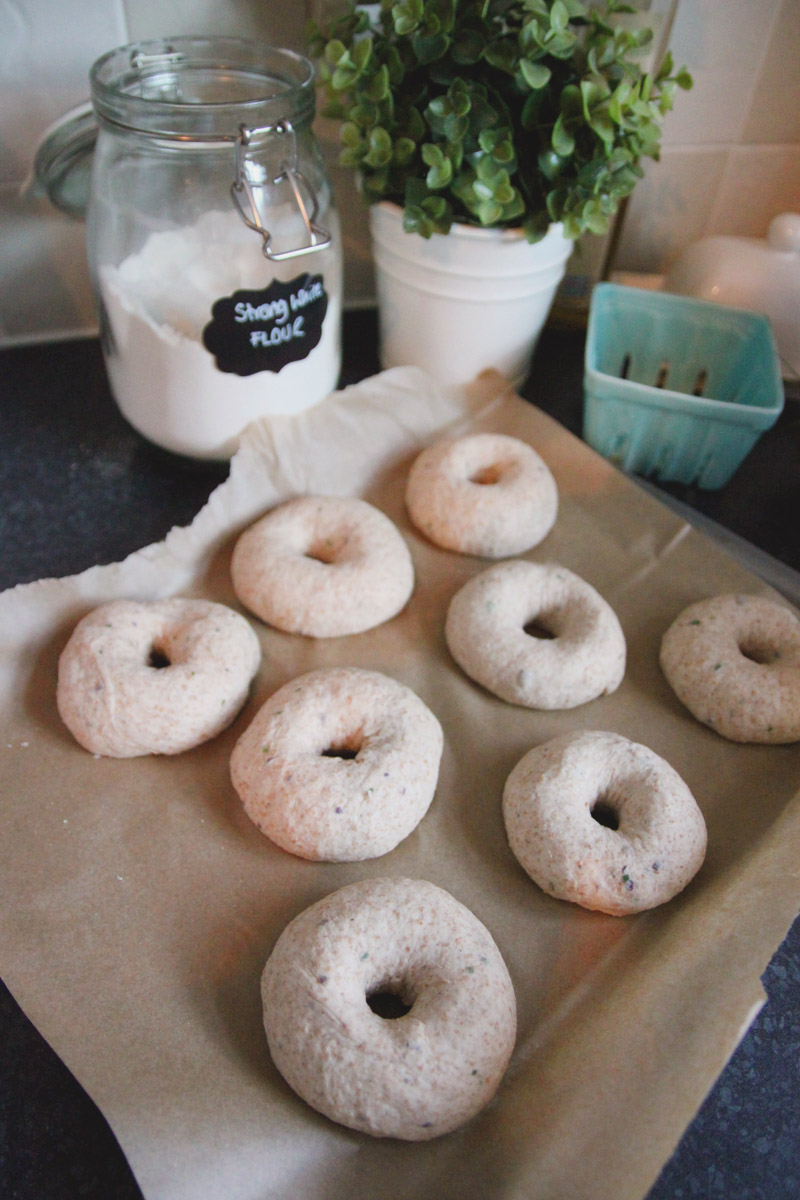 Divide the mix into 6 balls, then one at a time, place the ball on the worktop and in a circular motion roll it into a nice smoothe ball, then use your thumb to push a hole in the centre and stretch the dough out. I found it easier to swing the dough around my thumb a couple times to stretch it out (think like what they do with pizza dough, just around your thumb instead haha).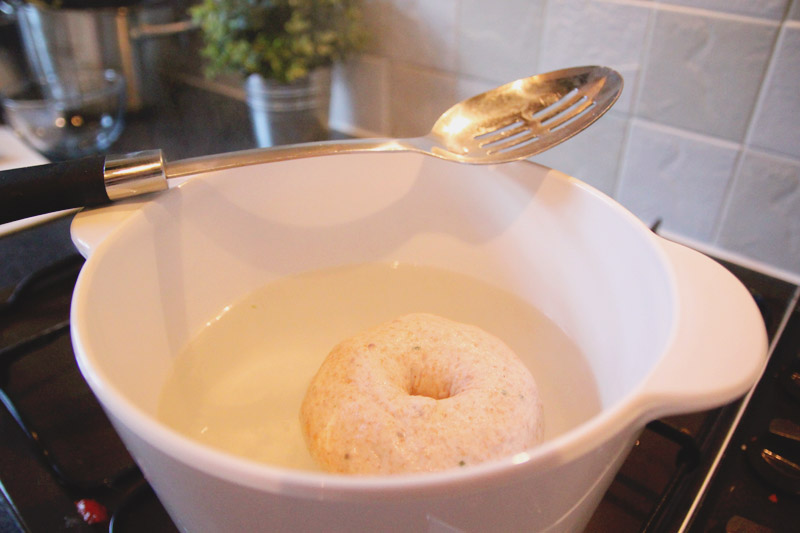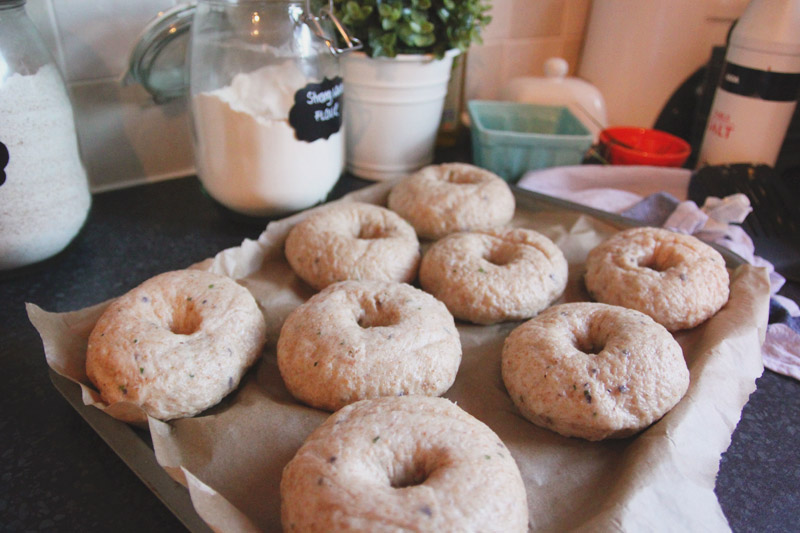 In a large pan, boil some water and preheat the oven to 220ºC. Once the water is boiled, place each dough ring in the water one at a time (I could only fit one dough ring in my pan at a time). Leave it to boil for roughly a minute, then flip it and do the same. Remove onto a lightly greased baking tray and repeat with each ring.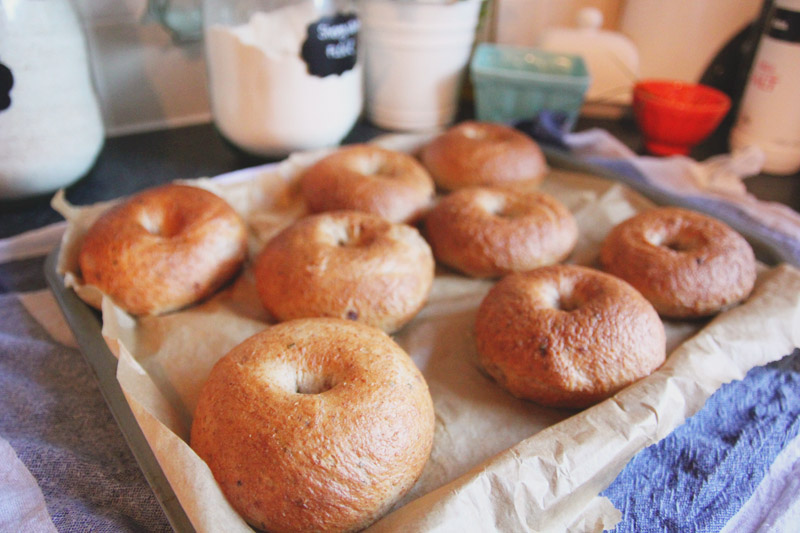 Place in the oven for 20 minutes then leave to cool! (or just cut one open straight away and spread it with some butter like we did – we're so impatient hah).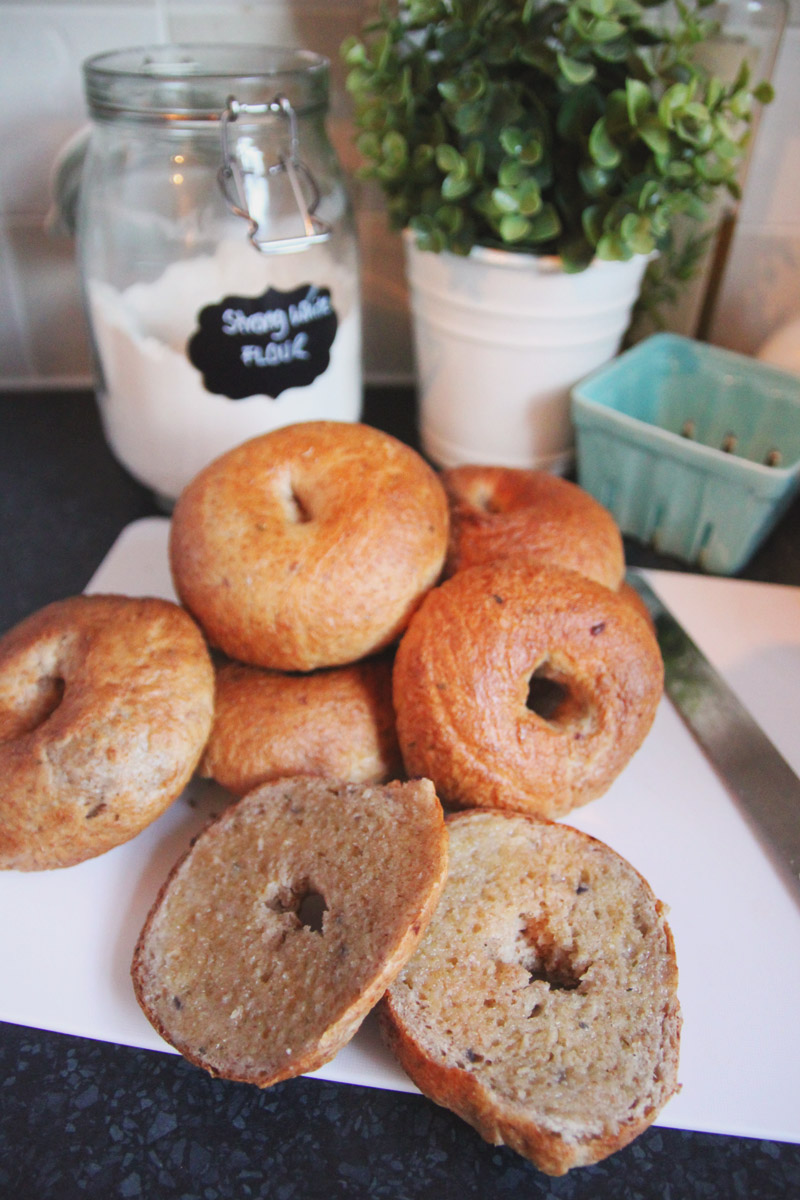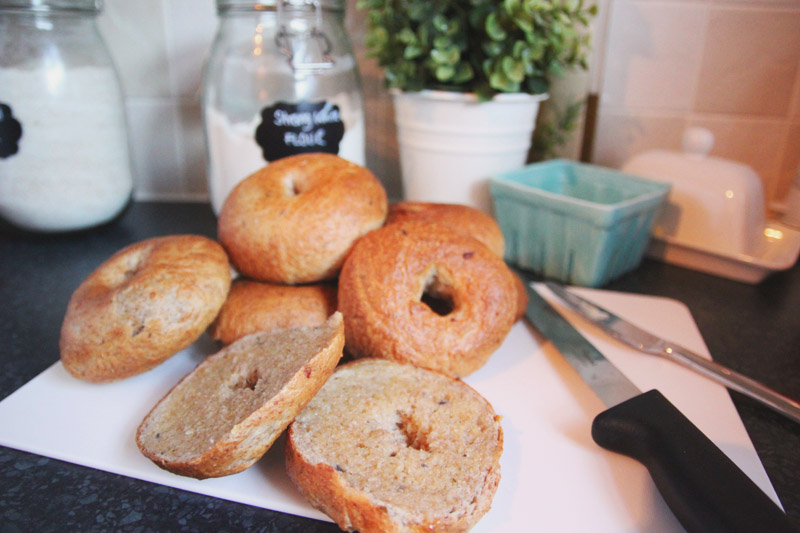 Look at that golden deliciousness. I can't wait to fill it with a ham salad tomorrow for my lunch. I love that the onion and chive flavour isn't too strong too. It's the perfect amount of onionyness haha 🙂 Enjoy!