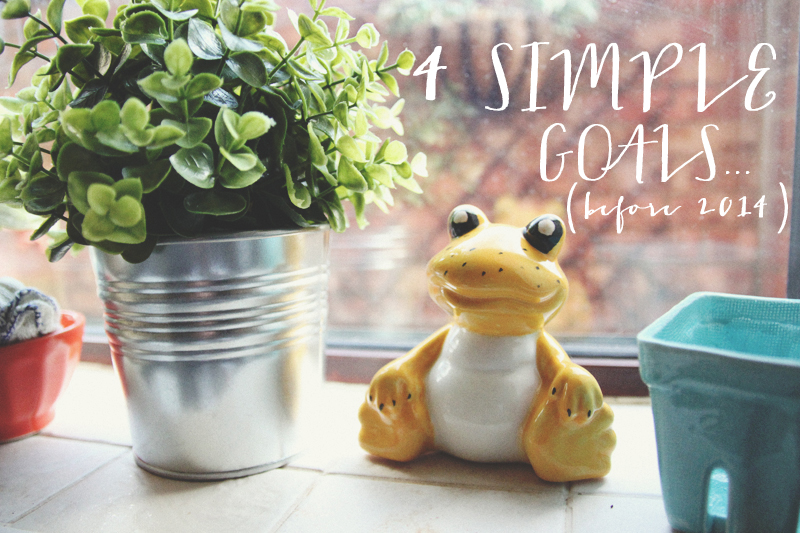 I was catching up on blog posts the other day when I came across this post over at A Beautiful Mess about four simple goals before 2014. Now I know there's only another 5 weeks left of 2013 (how crazy is that?!) but I thought it would still be fun to do it anyway to push me to accomplish more before the new year. So here are my goals:
1. MAKE PROGRESS ON OUR HOME
I'm such a dreamer when it comes to decorating our house. I have so many boards on Pinterest of inspiration of what I would love our home to look like, but when it actually comes down to doing it myself, I get lazy. We've just started decorating our bathroom this weekend, and knowing what we're like it won't ever get completely finished, but I'm challenging myself to make some real progress on it and hopefully to have it somewhere near finished by Christmas.
2. COOK HEALTHY MEALS MORE OFTEN
When it comes to cooking, I absolutely love it! But when I work 9-5 Monday to Friday and have to drive an almost 2 hour round trip commute to and from work each day, the last thing I can be bothered doing is cooking a nice meal when I get home. We've kind of gotten in a rut when it comes to dinner now where we have our favourite simple go to meals that aren't all that healthy (I'm talking pasta covered in cheese and cream haha), so I'd like to start eating more healthily, even if that means it might take a little longer than usual.
3. EXERCISE MORE
Before we went on holiday to America, I was determined to loose some weight, so I took 20 minutes out each morning before work to exercise rather than sitting on my laptop as I knew I wouldn't do it after work. I managed to loose around 8lbs which I was proud of, but since getting back I've stopped exercising completely. I'd love to get back into exercising, even if its just once or twice a week for now.
4. TAKE MORE PHOTOS
Whenever we go out anywhere, I always have my camera attached to me, but I'd love to start taking photos of our daily life more. When I look back through my Instagram feed, I can remember what we were doing and where we were when every photo was taken, even if they were of nothing significant, but I like that I can remember those things that I might not think of everyday. So I'd love to take more of our life to be able to look back on and remember.
I'll be sure to post a recap post at the end of the year to see how I got on with my goals. Have you done a post like this? If so, leave me the link in the comments and I'll check it out! It's always so exciting reading about everyone else's goals.
Save