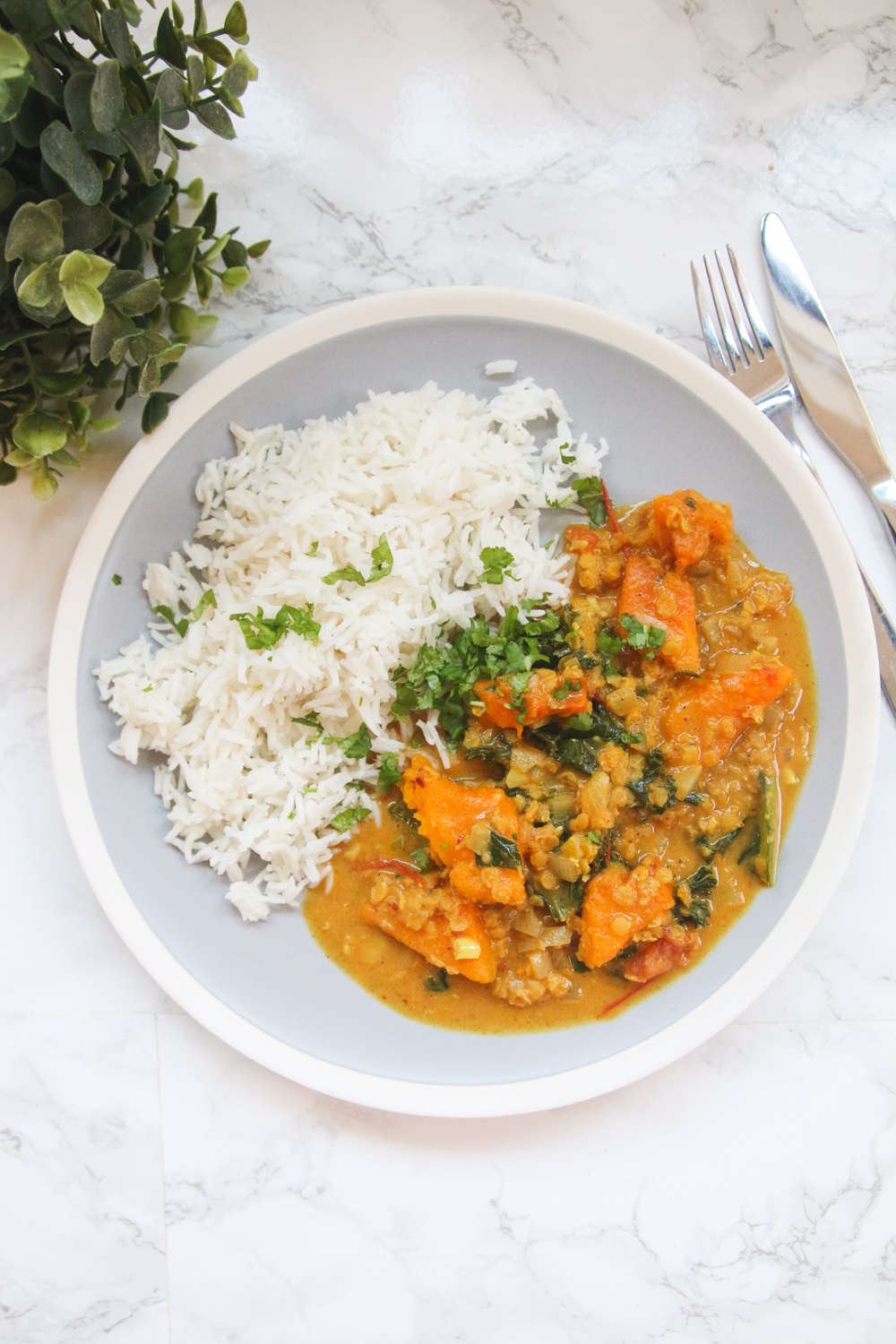 Pumpkin & Red Lentil Curry
I'm trying to eat a lot more seasonally lately, and I've got a stack of pumpkins waiting to be used. I thought it was a good idea to buy three a couple weeks ago, with no idea of what to make with them. Well, I finally got around to coming up with a nice quick and easy dinner to make use of half of a pumpkin. And that thing was SO hard to cut into! I got there in the end though, and I think this might be one of my new favourite recipes!
It kind of reminds me of a lentil dhal, but with a few extras. I LOVE lentil dhal (this recipe by Tania is my absolute favourite), and we usually serve it with coconutty kale, so I kind of did a little bit of a spin on that, incorporating the pumpkin in there too to make it a bit more wholesome. It's SO good! It makes a pretty big batch too, so if you're making it for just 2 people, you can freeze the leftovers for another time.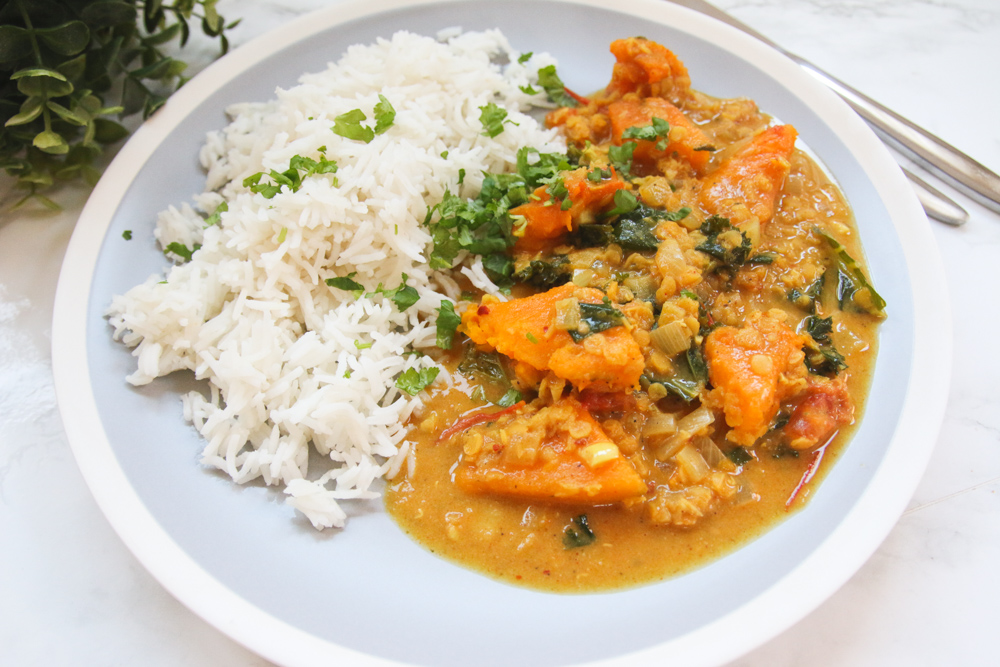 What You'll Need
1 onion, roughly chopped
3-4 garlic cloves, finely chopped
1/2 pumpkin or 1 butternut squash
3-4 stalks of curly kale, chopped
1 inch piece of ginger, finely chopped
1/2 cup red lentils, rinsed
2 tomatoes, roughly chopped
1tbsp medium curry powder
1tbsp garam masala
1/2 tsp paprika
1/2 tsp cumin
1/2 tsp turmeric
1/2 tsp chilli flakes
500ml veggie stock
1 can coconut milk
1 tbsp coconut aminos
salt & pepper
fresh coriander
olive oil
How To Make It
1. Pre-heat the oven to 180ºc. Cut the pumpkin/butternut squash into slices just over an inch thick. Leave the skin on, as it's easier to peel it when it's cooked. Sprinkle it with salt and pepper, a pinch of paprika and a drizzle of olive oil. Bake in the oven for 15-20 minutes.
2. Cook the onions and fry in the olive oil for 5-10 minutes on a low heat, until soft. Add in the garlic and ginger, and cook for a few more minutes, making sure the garlic doesn't burn.
3. Add in the tomatoes and all of the spices, and fry for another 5 minutes on a medium heat. Then add in the lentils and fry for another minute while stirring to cover in the spices.
4. Add in the vegetable stock and simmer on a low heat for 15 minutes. By now the pumpkin should be cooked. Leave it to cool on the side until you can touch it, and pull the skin off. If it doesn't pull off, just slice it off carefully, and cut the pumpkin into large 2-3 inch chunks.
5. Add in the can of coconut milk and the coconut aminos (you don't need this, but if you have it, I feel like it adds a little more depth to the curry), and cook for another 10 minutes or so. As the lentils are nearly cooked through, add in the kale for the last 5-10 minutes. The lentils should take around 30-40 minutes to fully cook, so just keep testing them.
6. Once the lentils are cooked through and the kale is nice and soft, gently stir in the pumpkin/squash, being careful not to mash it up too much. Give it a minute or so to warm back up, then serve with rice! It's lovely served with coconut yogurt, mango chutney and naan and a sprinkle of the fresh coriander.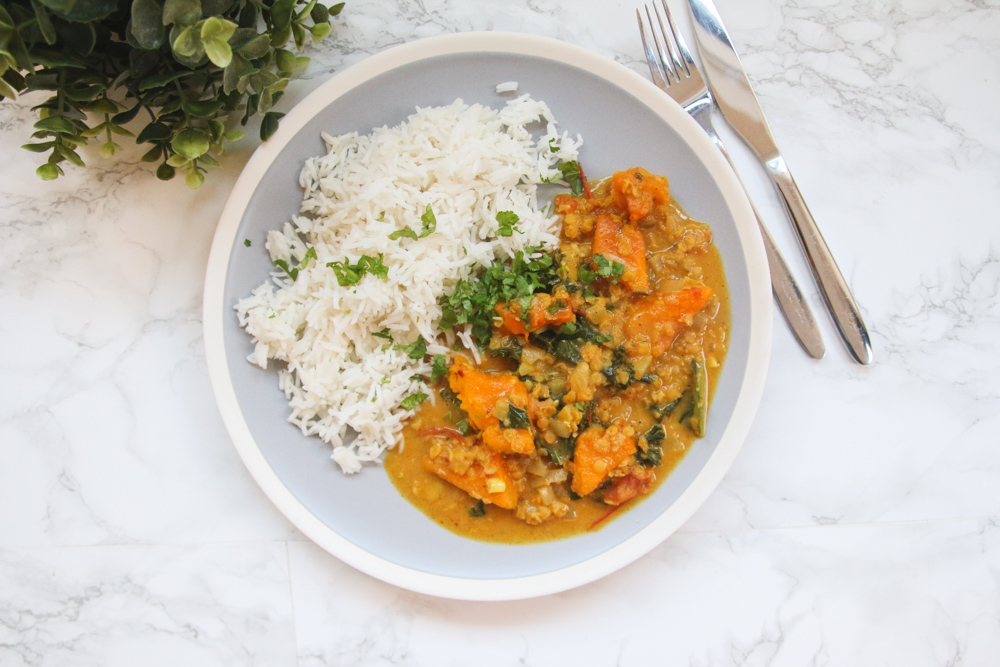 I think this is going to become one of our go-to meals now! And it's vegan! We've really cut down on our fish and dairy intake, with the only dairy we still consume being cheese – it's SO hard to give it up! I love a good curry in the winter though, and while this isn't too spicy, it's got that nice warmth of spices to it. You can give it more of a kick by adding in some fresh chillies or extra chilli flakes though if spice is your kind of thing.
Let me know if you make it!
Follow
Save