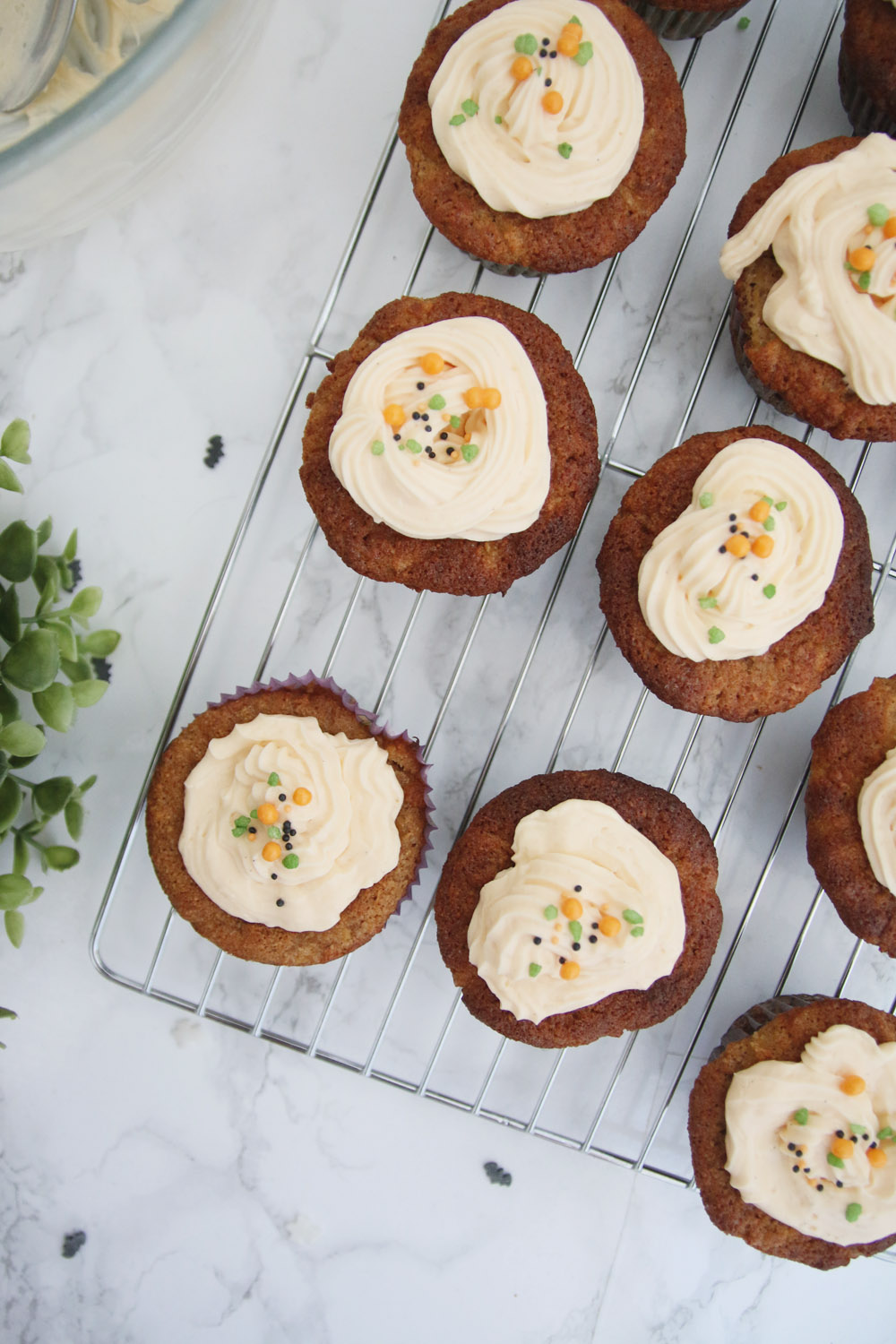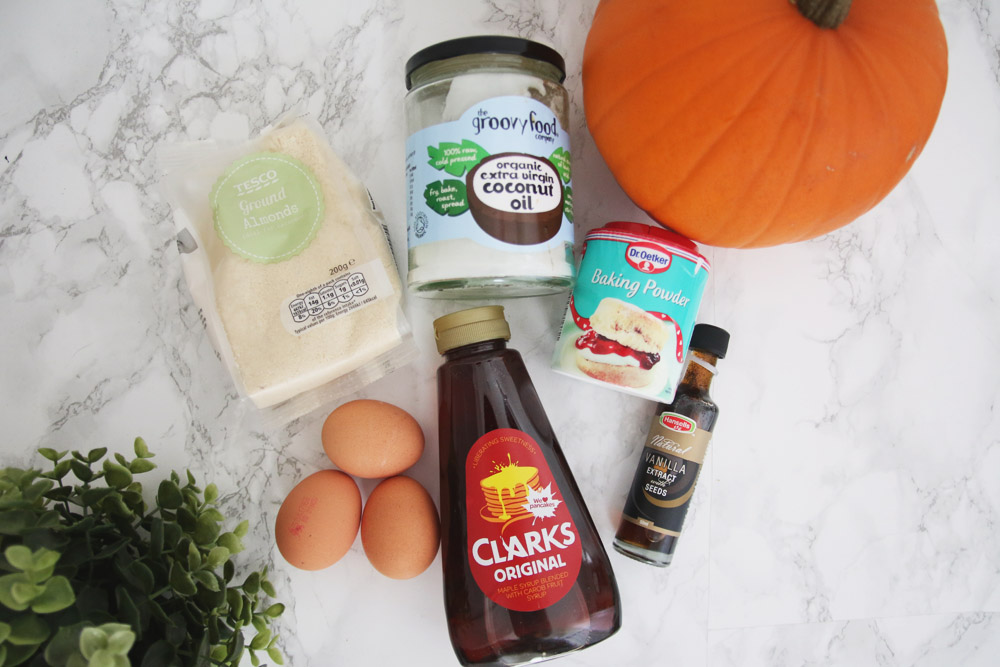 Pumpkin Spice Cupcakes
I've been wanting to make some pumpkin spice cupcakes for so long! Though I'm not exactly in the autumnal mood yet, I've been craving some cupcakes! When I was looking up recipes, they all contained flour (as most cupcakes do). I don't really like to eat much gluten, and we think Shane might have a gluten intolerance, so I decided to make some gluten, dairy, soy and sugar free cupcakes instead!
Back at the beginning of the year, I baked my mum a gluten, dairy, soy and sugar free carrot cake for her birthday, since she's gluten, dairy and soy intolerant, and everyone loved it. The components are pretty similar, so I thought I'd try swap out the carrot for the pumpkin and change up the spices to pumpkin spice flavours instead and they turned out amazing!
Sadly, my icing didn't work out well this time (I used the same icing I'd used for the carrot cake, but added some cinnamon and orange food colouring, but it curdled and was a complete fail). So I had to make some cream cheese frosting instead (I used the one in this recipe as a guide), though I didn't make the full recipe so I didn't have enough, so please don't laugh at my horrendously piped icing!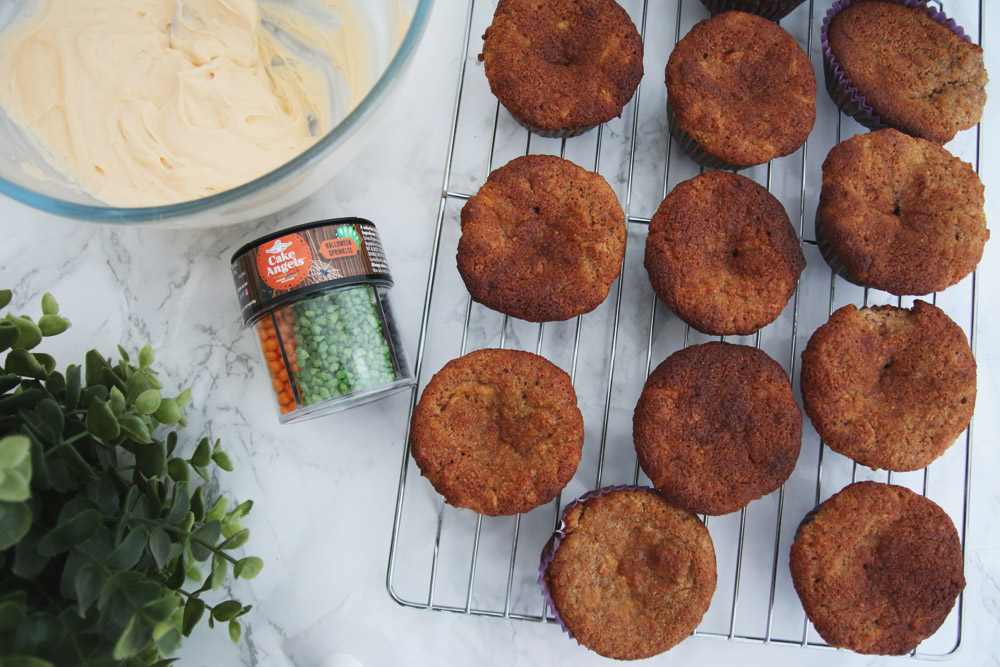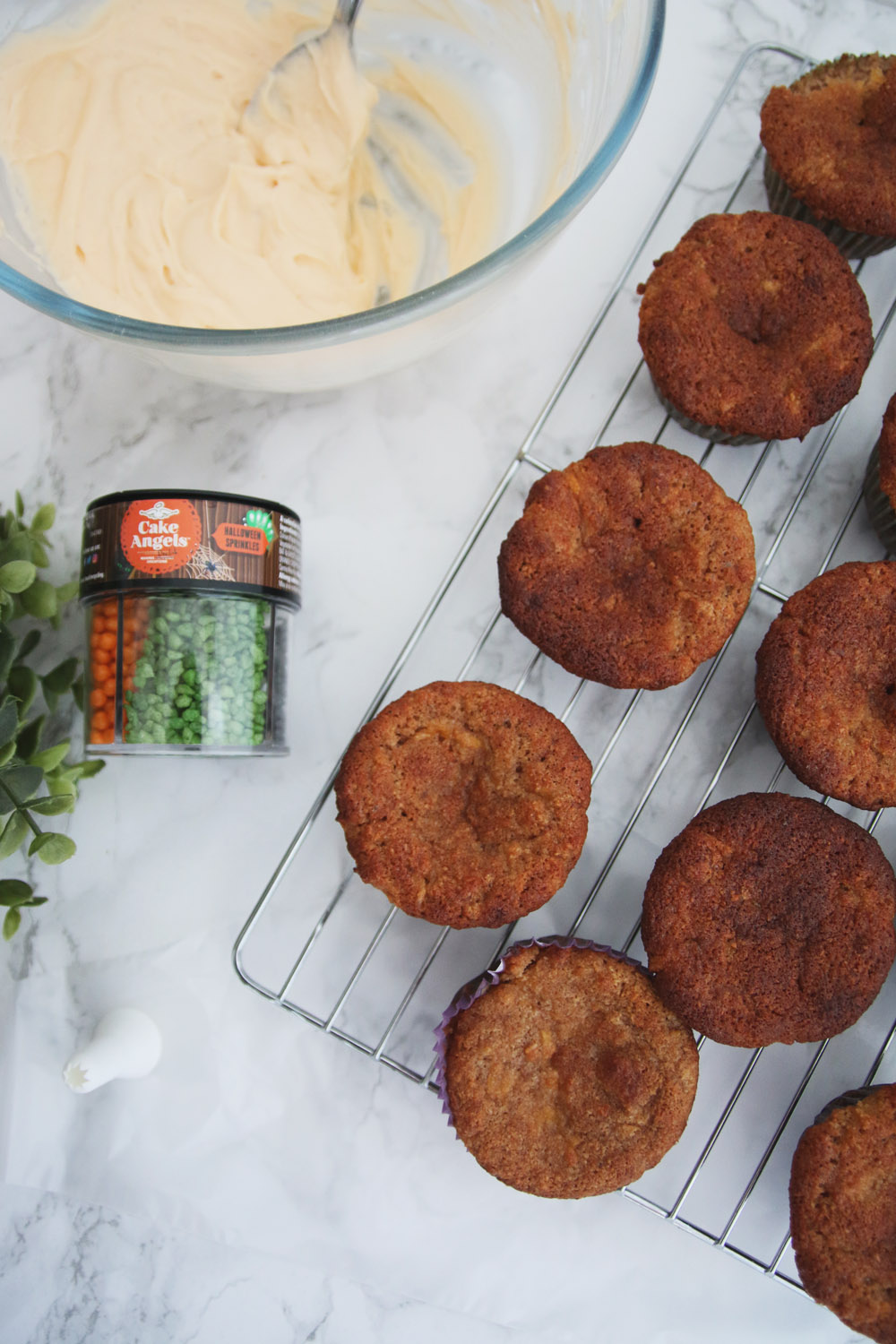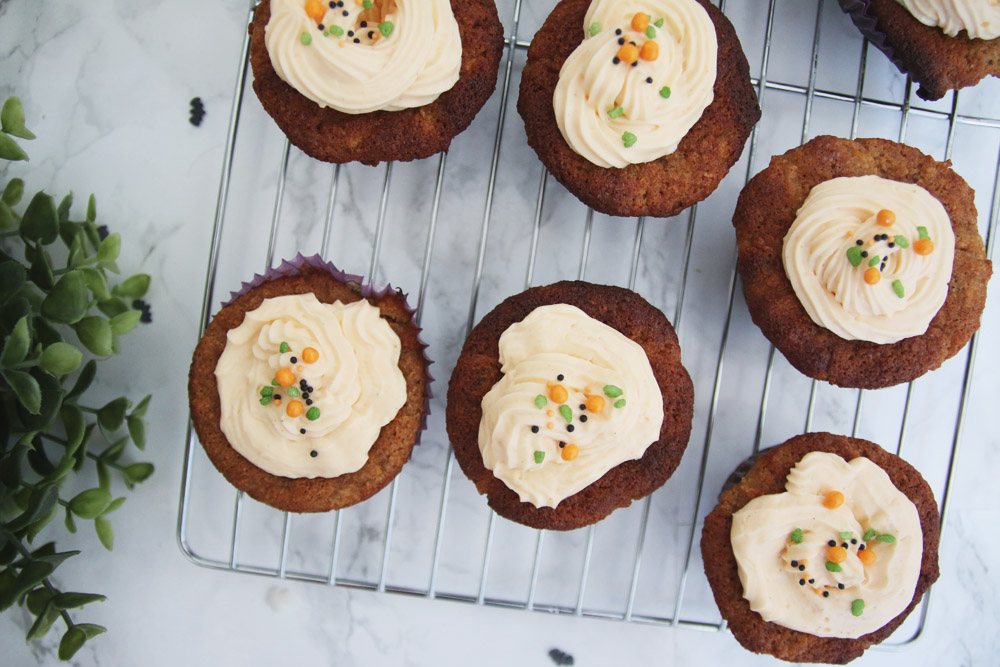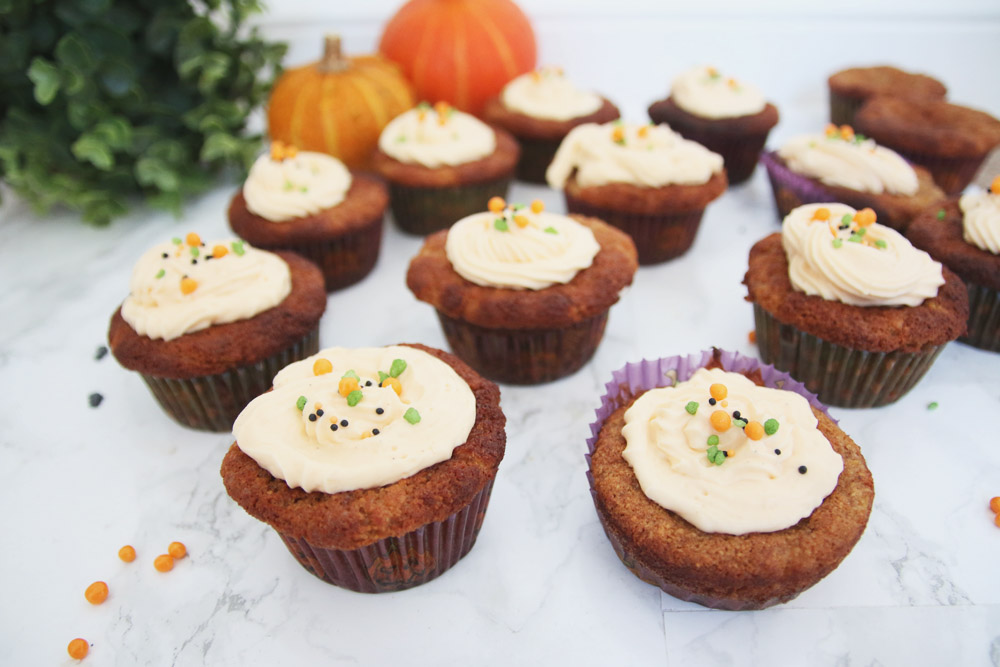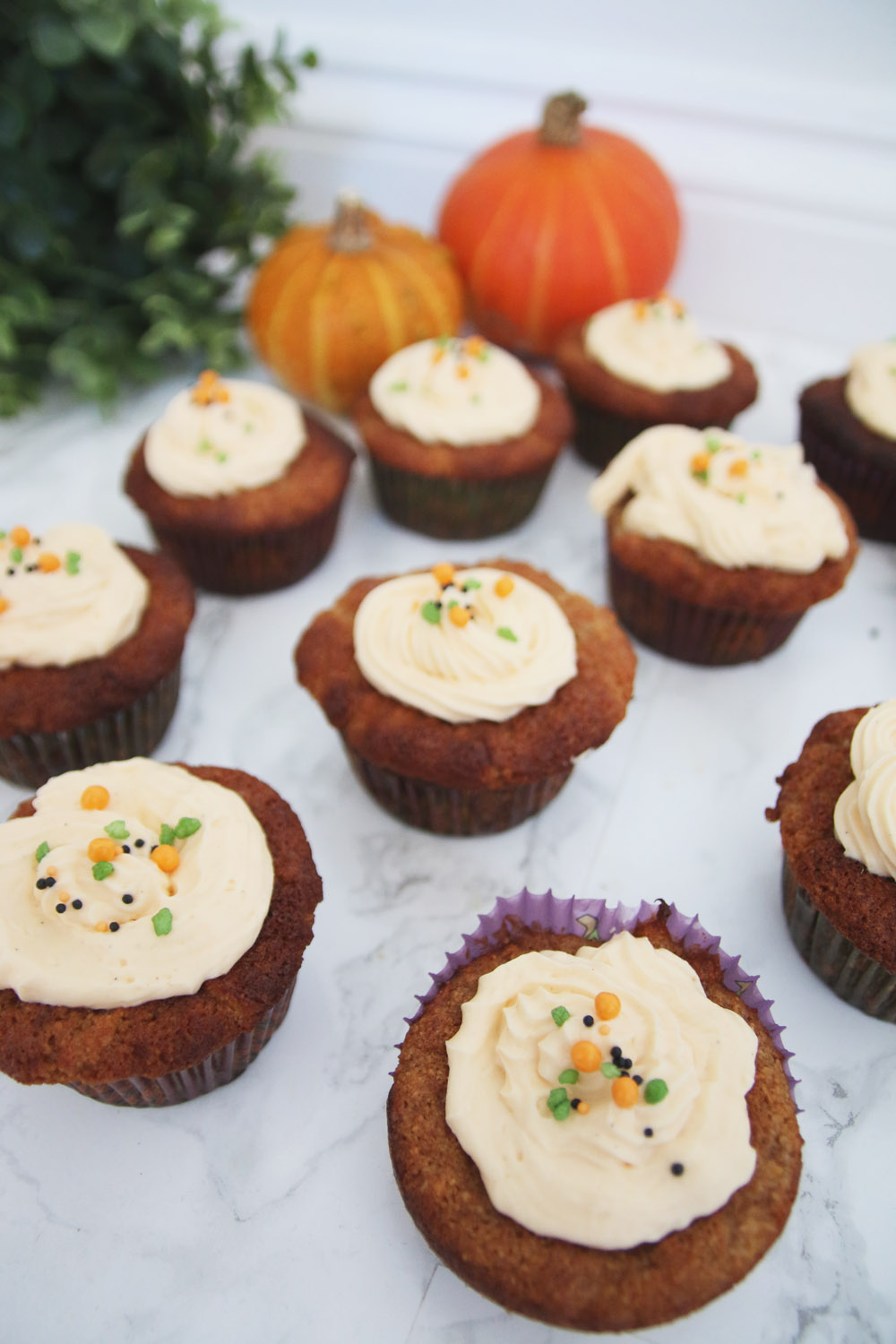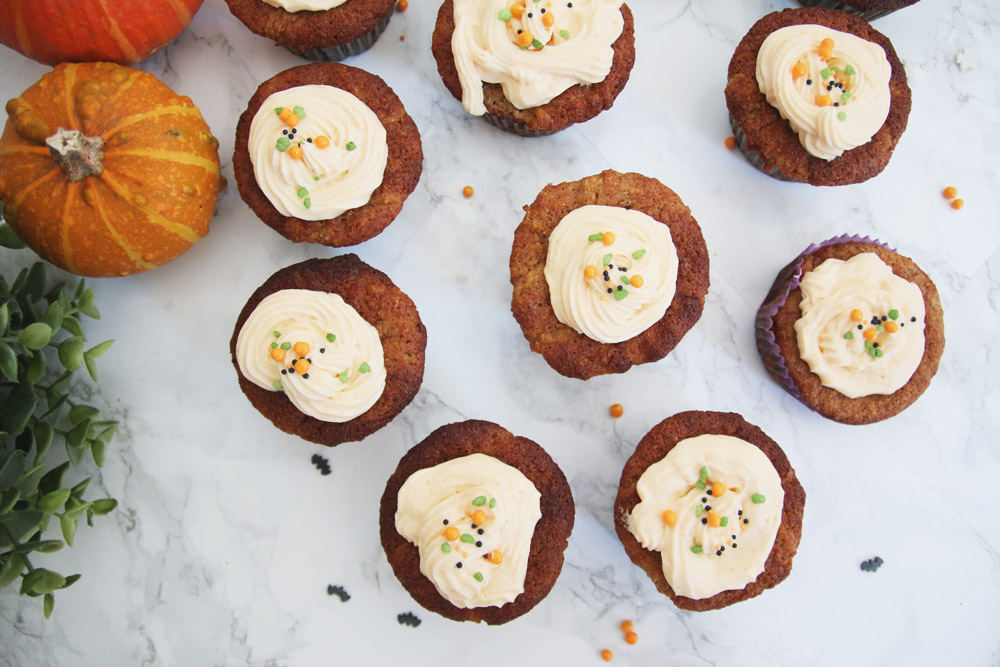 The recipe makes 14 cupcakes.
Ingredients:
2 cups pumpkin, grated
3 large eggs,
1/2 cup maple syrup
1/2 cup coconut oil, melted
1tsp apple cider vinegar
1tsp vanilla extract
2.5 cups ground almonds
1/2tsp ground ginger
2tsp cinnamon
1/2tsp nutmeg
1/4tsp cloves
1/4tsp allspice
1tsp baking powder
1/2tsp baking soda (bicarbonate of soda)
How to Make it:
1. Preheat the oven to 180°C and fill a muffin tin with cupcake cases.
2. Whisk the eggs, maple syrup, apple cider vinegar, vanilla extract and melted coconut oil in a large mixing bowl then mix in the ground almonds, baking powder, baking soda, ginger, cinnamon, nutmeg & cloves.
3. Then mix in the grated pumpkin and mix through evenly, then divide the mix between the cupcake cases.
4. Bake in the centre of the oven for 15 minutes, or until they're cooked through.
5. Once the cupcakes have cooled, pipe the frosting onto the cupcakes and add any garnishes you'd like! Since it's almost halloween, I just bought a little halloween topping set and sprinkled a few things on top!
Let me know if you make them! I'm so pleased with how they came out and you wouldn't know they don't contain any flour, dairy or refined sugar! They are definiely a little less solid than a regular cupcake, so do fall apart a little, but they're so moist so it kind of makes up for it!