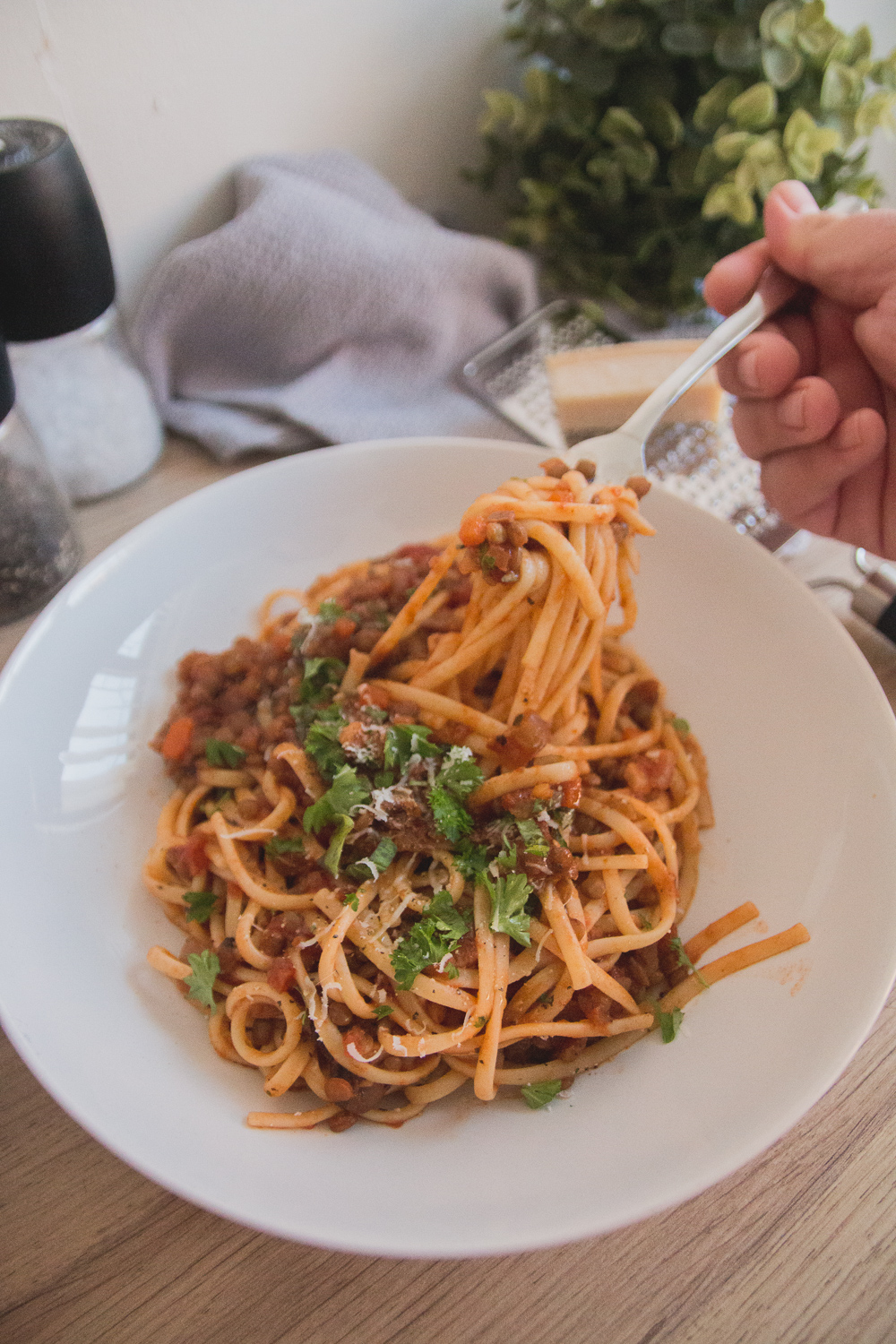 Vegan Lentil Bolognese
Before we stopped eating meat, bolognese was one of our favourite meals which we'd have about twice a month. When we stopped eating meat, I tried making it with both quorn and soy mince, but I can't stomach either of them. I'm not sure if it's the taste, or the texture, but they both literally make me gag (sorry if that's a bit tmi on a food post hah) when I eat it. It's funny, cause I can eat quorn burgers and things, though I still don't particularly enjoy them, but I don't have the same reaction as to the mince.
That's when I decided to come up with a lentil version, as I LOVE lentils. Especially French lentils (puy lentils) which are perfect for things like this as they hold their shape so well when they're cooked and have a really good texture. There are quite a few ingredients in this, but it tastes so much like a proper bolognese and has that really rich flavour you'd usually get.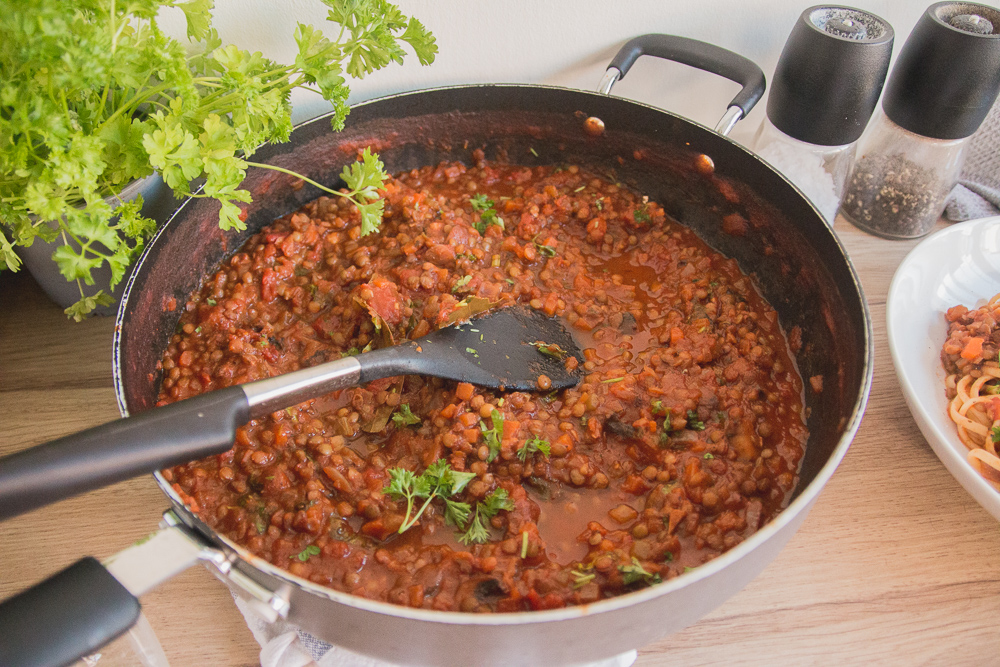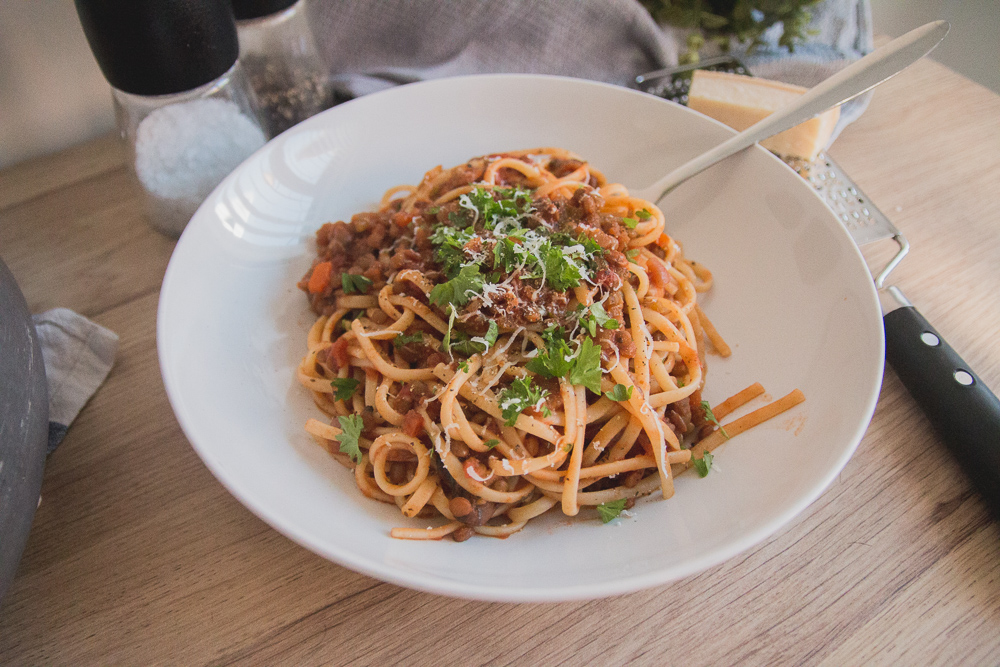 What You'll Need
3/4 cup puy lentils
olive oil
1 onion
1-2 sticks of celery
1 carrot
handful mushrooms
3-4 cloves of garlic
1 tbsp tomato puree
splash balsamic vinegar
1 tsp marmite
2 tbsp coconut aminos*
1 tsp liquid smoke*
1 veggie stock cube
1 tbsp dried oregano
1/2 tbsp dried basil
1 tsp dried thyme
2-3 bay leaves
splash of red wine
2 cans chopped tomatoes
salt & pepper
fresh basil & parsley
1-2 tbsp nutritional yeast*
vegan parmesan
Any items marked with a * are affiliate links.
How To Make It
1. Start by cooking the lentils in a pan of water and a little bit of salt. You'll want to cook them for about 20-25 minutes, so they've still got some bite left to them. You can leave these cooking while you prepare the bolognese sauce.
2. Finely chop all of the veggies, but leave the mushrooms a little chunky for a bit of texture. You can totally leave the mushrooms out if you want as I know a lot of people don't like mushrooms, so that's up to you. Start by frying the onion, carrot and celery in a large saucepan in the olive oil over a medium-low heat until translucent, usually around 10 minutes or so.
3. Add in the mushrooms and garlic and fry for a few more minutes. Then stir in the tomato puree being sure to cook this off for a few minutes. It'll become a really thick paste with all the veggies.
4. Add in the balsamic vinegar, marmite, coconut aminos and liquid smoke and stir. Then crumble in the veggie stock cube and add in the dried herbs and red wine. I'm not one for measurements if you didn't guess, so add in as much or as little as you want. I usually use around a 1/4ish cup. Let the wine cook off, then stir in the chopped tomatoes. Fill both tins wth water and mix this in, then leave to simmer on a low heat for a good hour or so for the flavours to develop.
5. About 10 minutes before the bolognese is ready, drain and add in the lentils, along with the nutritional yeast and season to taste with salt and pepper. Leave to simmer for another 10 minutes or so then sprinkle in some freshly chopped parsley and basil and serve up with your pasta of choice and a grating of parmesan.
6. Enjoy!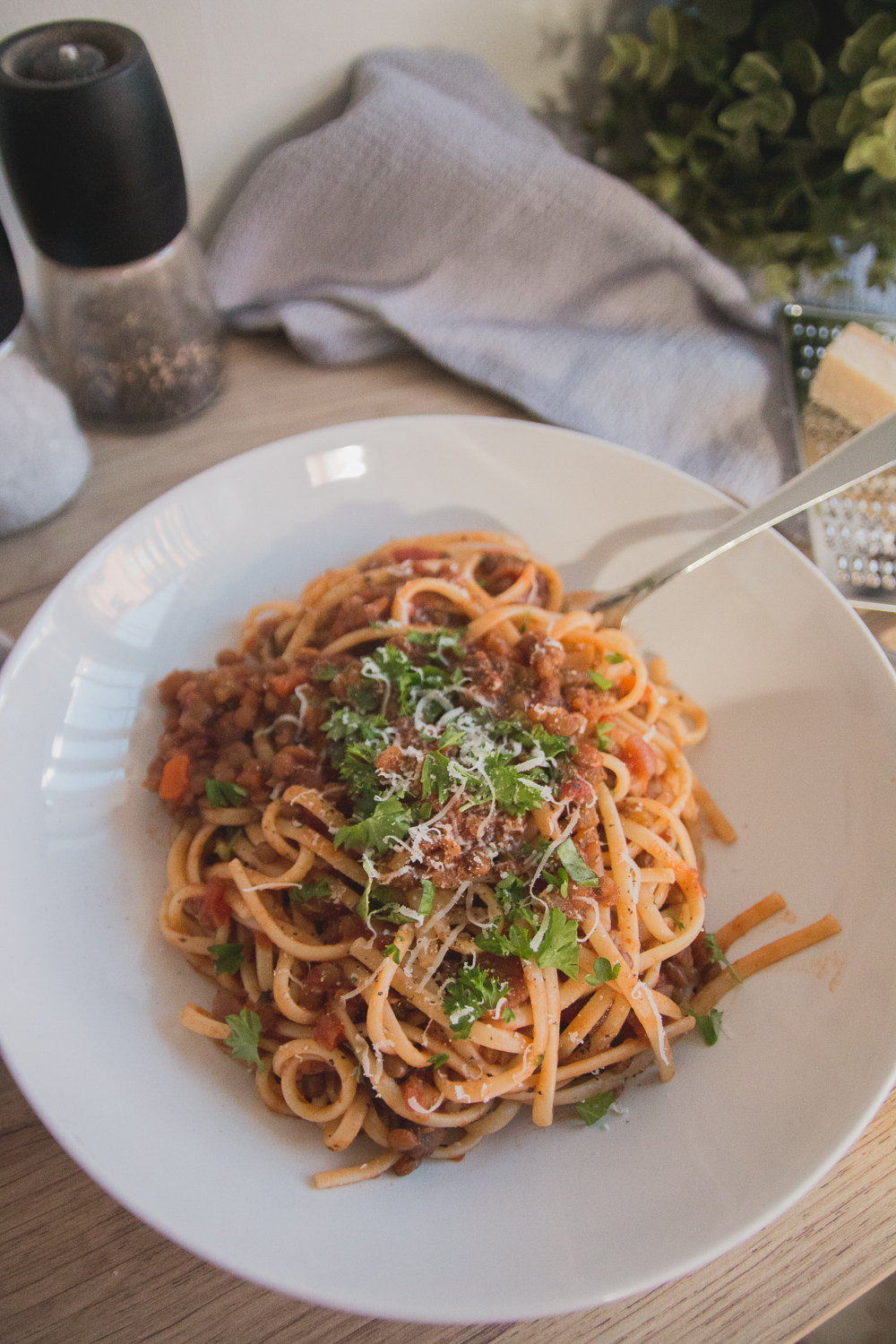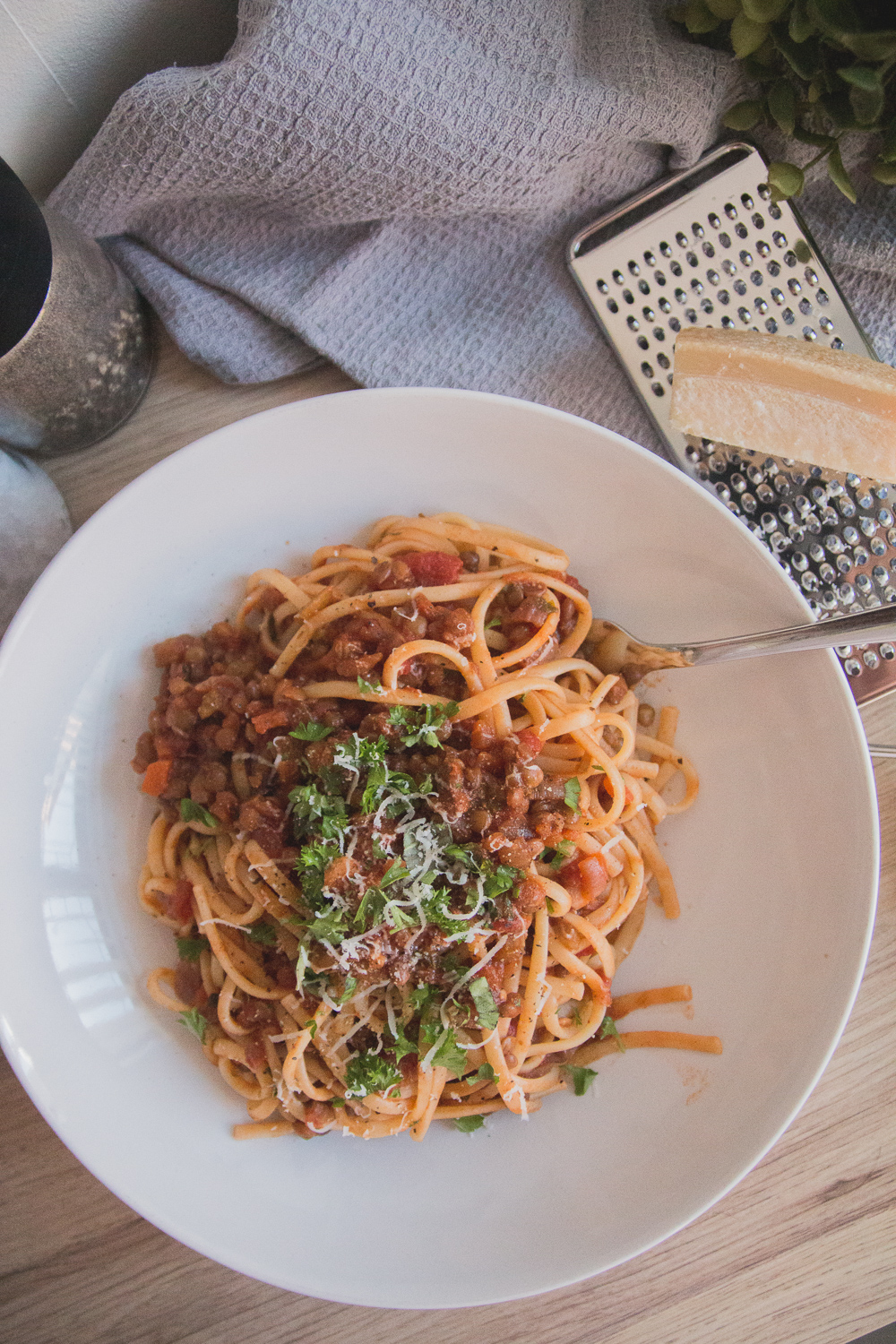 As you can see, there's a lot of ingredients, but it's so worth it for the taste. You can make it a lot quicker too if you turn the heat up and reduce the sauce down quicker, but I don't think that the flavour is as deep as when it cooks down for a longer amount of time to create that rich bolognese flavour like you get in a meat one, but again, that's entirely up to you if that's what you're trying to go for.
If you want to make it a little bit healthier, you can always swap out using pasta for courgetti, which I actually LOVE. I use a spiraliser like this one (affiliate link), and it's held up so well over the past 3 years or so and is super easy to use.
Let me know if you make it! This serves about 4-6 people and any leftovers can be put in the freezer and defrosted as needed.
Follow
Save
* This post contains some affiliate links at no extra cost to you, but I do make a small amount of commission on any purchases.