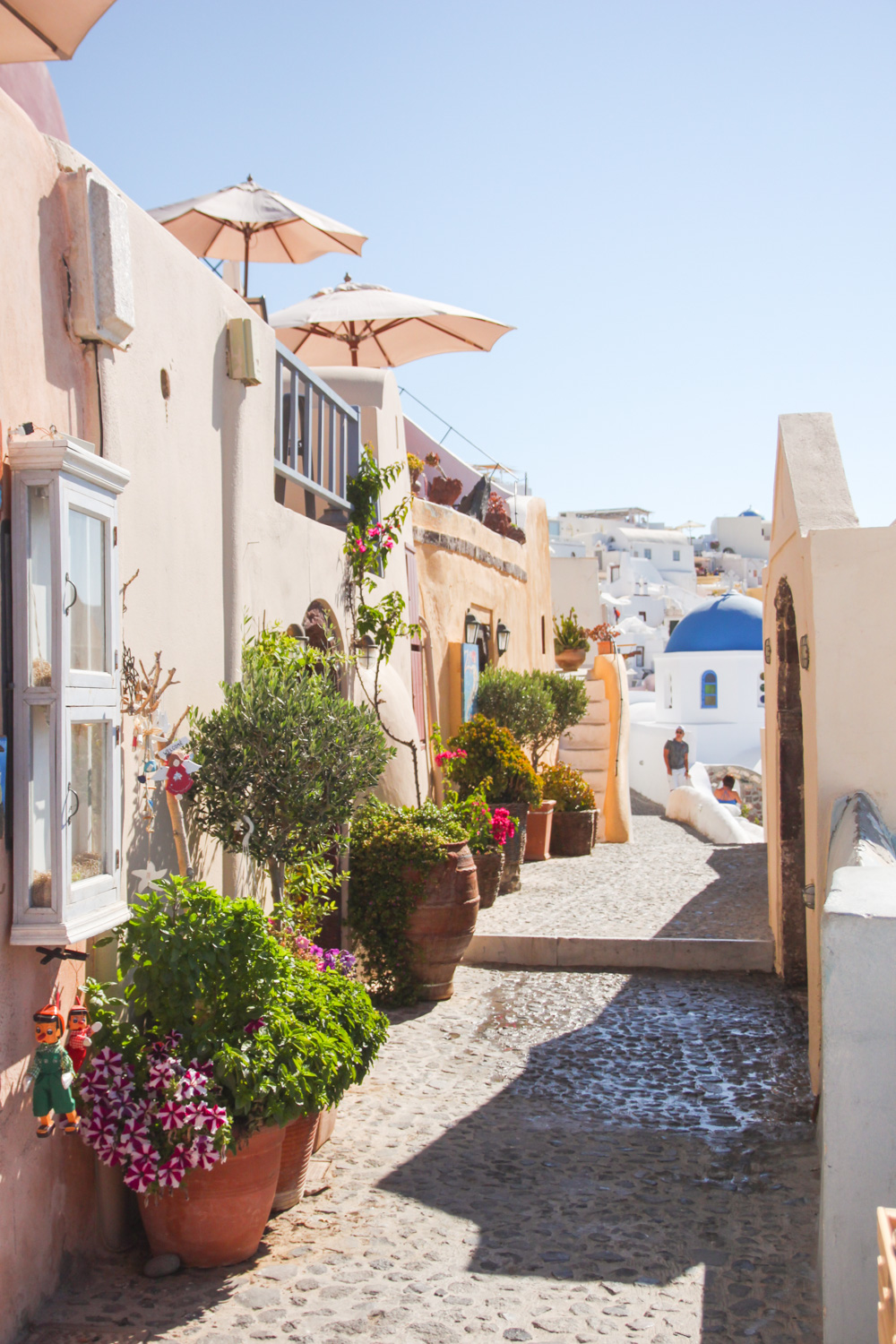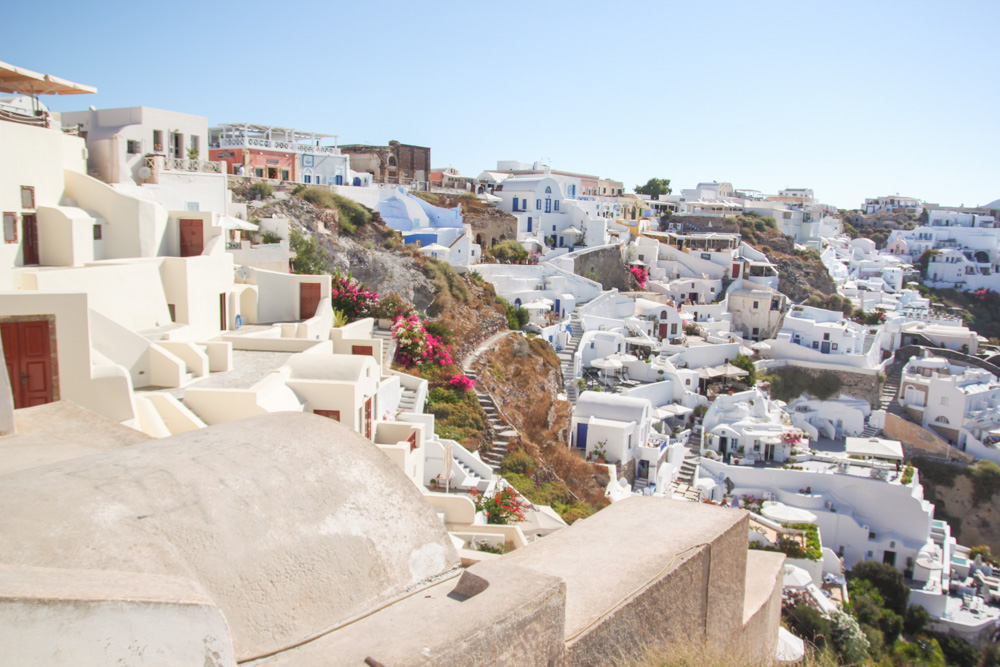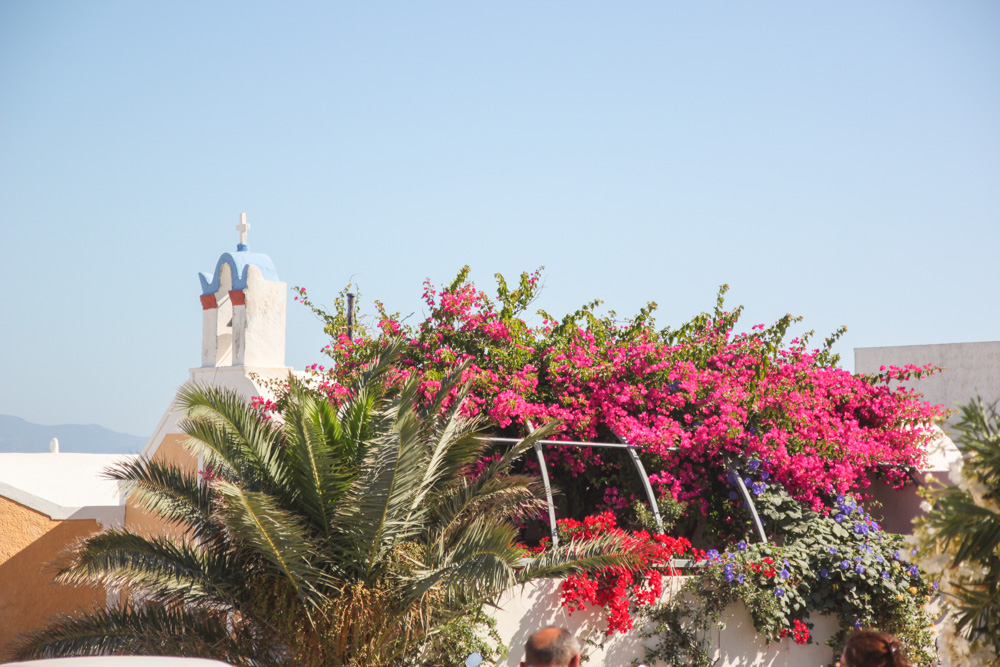 Our next day was spent exploring Santorini. We had an excursion booked which was a half day trip to Oia, then wine tasting at one of the wineries on the island and then finished off in Fira where we had free time before heading back to the ship.
Oia was one of the most beautiful places that we have been to so far. The white washed houses and villas draped down the cliffside, with the famous blue domed churches everywhere with stunning views over the caldera was just perfect. We arrived there early in the morning so it wasn't too busy for a little exploration.
I actually thought that the famous blue domed church that you see in so many Santorini photos was actually in Fira, not Oia so I didn't pay attention to the fact that we walked straight past it and barely got any photos at all. I was so annoyed when we got to Fira and found that it wasn't there but actually in Oia haha!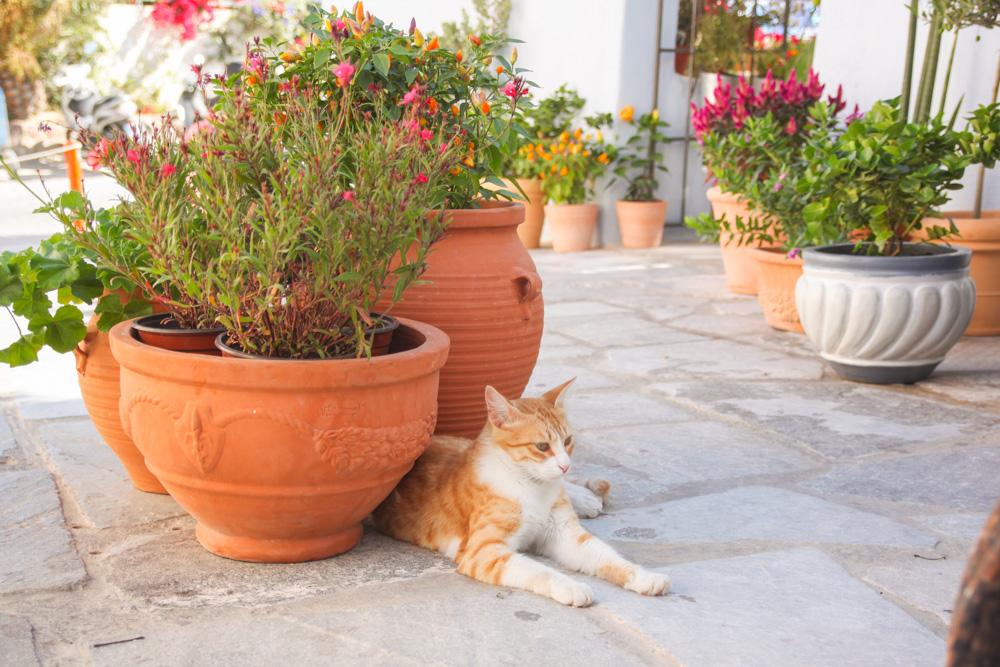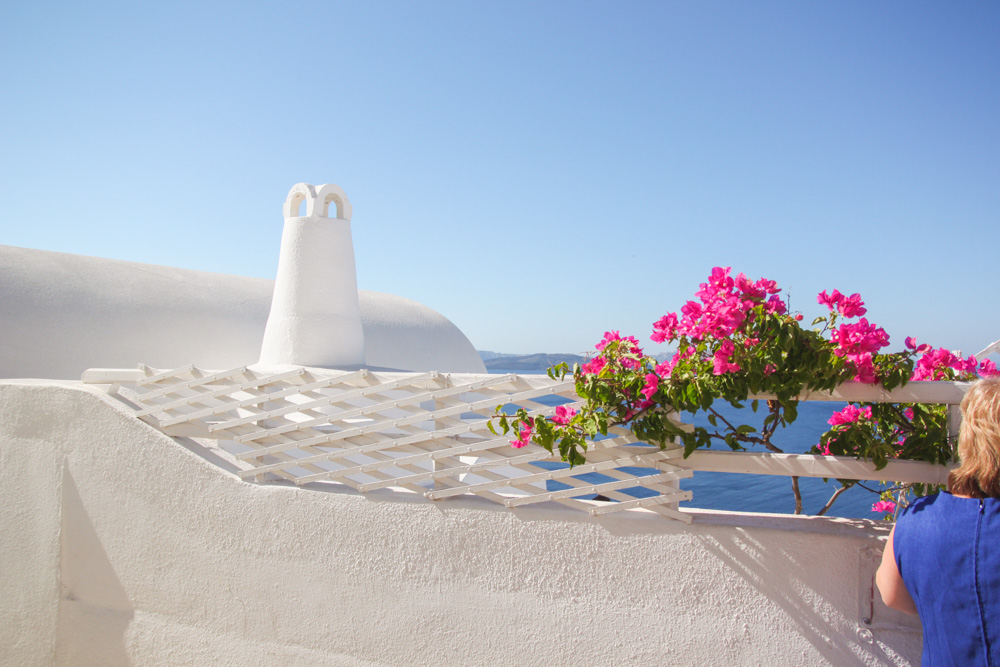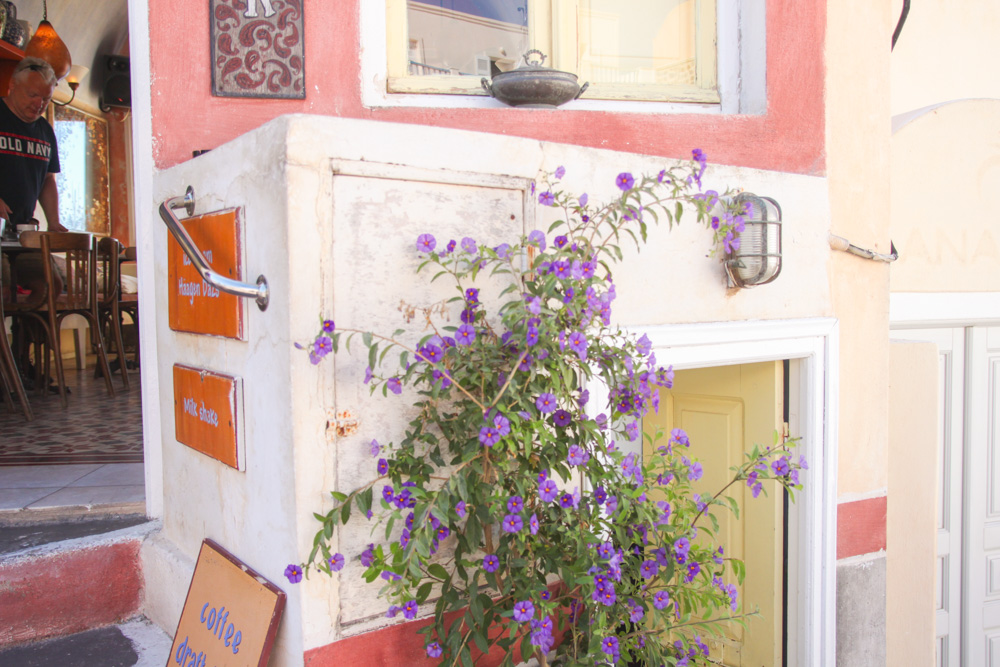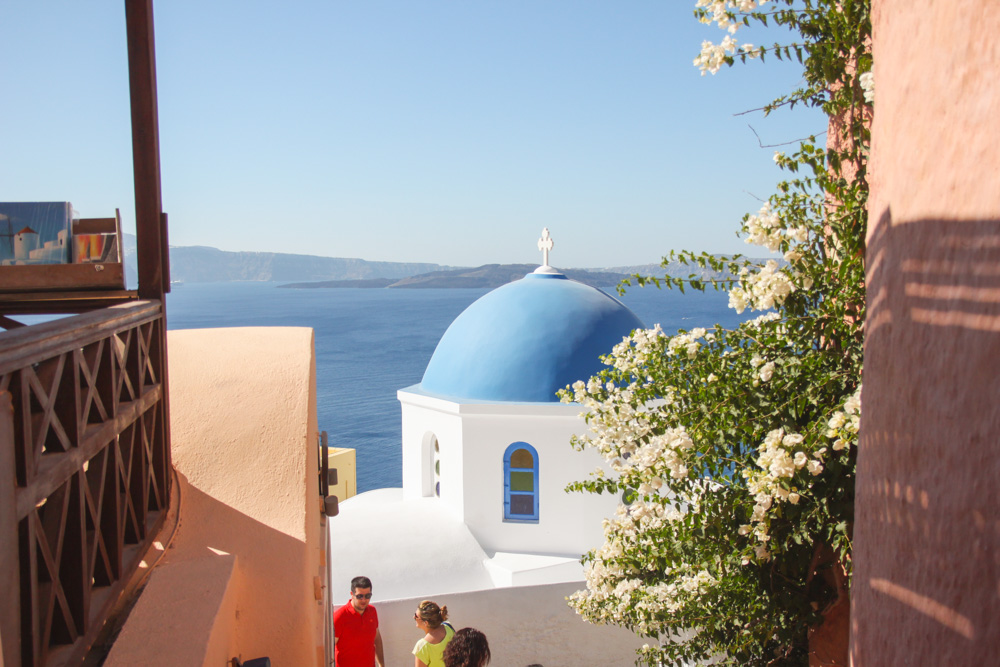 The trip to the winery was pretty short where there was a little cheese, bread and olive buffet waiting for us and the choice of three wines to taste. It wasn't that exciting but we were only there for around 30minutes or so before heading to Fira.
Fira is the capital of Santorini where you'll find most of the tourist shops, designer shops and so many restaurants lining the street with views over the sea/caldera. We walked around the shops for a while, bought some ice-cream then sat down for a snack of some traditional Santorini Tomatokeftedes – fritters made from Santorini tomatoes served with a yogurt dip (I'll have a recipe up for them soon).
As we were tendered in Santorini too, we had to either take a cable car down to the harbour for a ferry back to the ship, or walk down a steep, slippy, donkey path. We planned to go on the cable car, but the queue was huge and was moving so slow and I wasn't feeling too great (dehydration), so we decided to take our chances with the donkey path. Don't do it! It's covered with donkey poo, it stinks and you suddenly have a herd of donkeys charging towards you. Just wait for the cable car haha! (sadly, I didn't take any photos as I was just so determined to get down there alive haha!).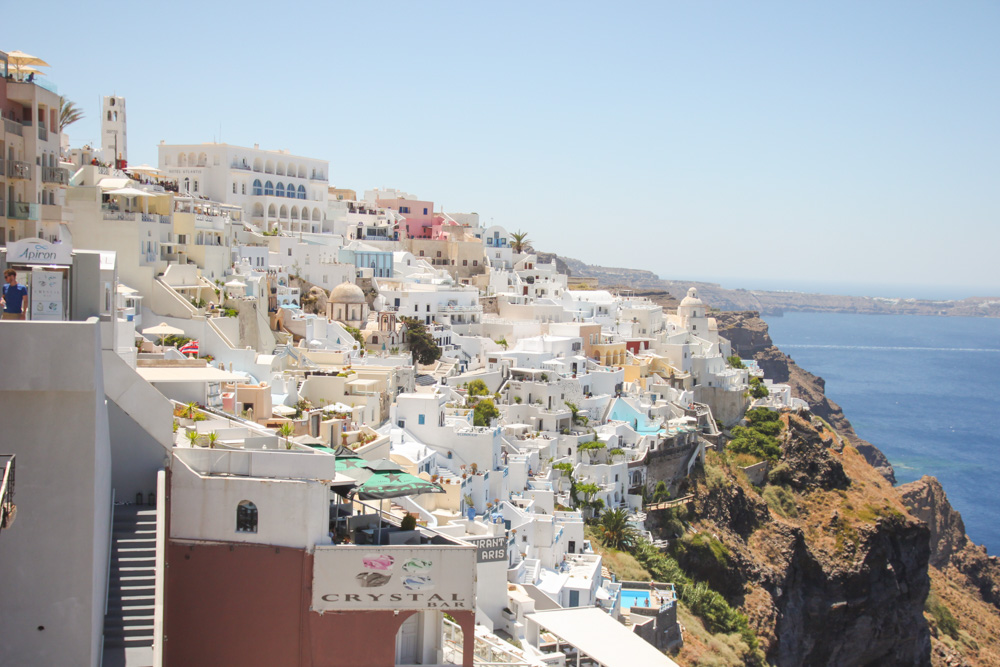 Santorini was our second favourite stop of the cruise, with Oia being our favourite town. Although I'd love to go back to both Mykonos and Santorini, I think we'd probably fly to one island, stay there a couple days then take the ferry across to the other as they're pretty close to each other.
Previous Stops – Istanbul, Thessaloníki & Mykonos. Next up – Athens! Or you can find all of our cruise posts here!
Save