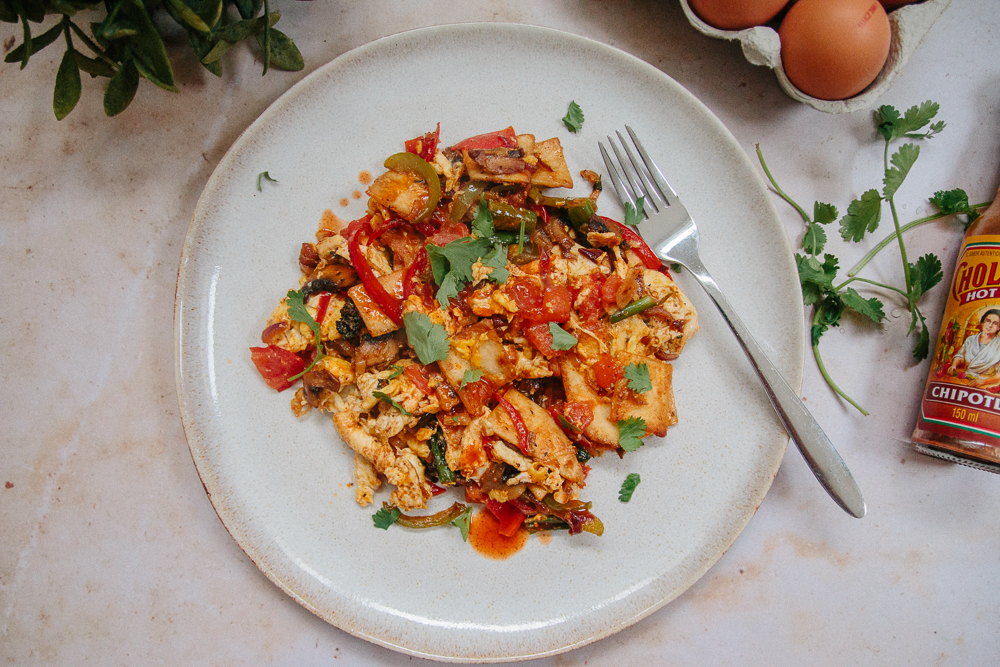 Scrambled Eggs
This is one of my favourite breakfasts to cook on a weekend. As much as I love a good British Fry-up, sometimes I just fancy something a little different, and that's where these Mexican inspired scrambled eggs come into it. Think a kind of deconstructed breakfast burrito! Back in the day, my mum bought the Nigella Lawson cookbook 'Nigella Express' and she had a recipe for Mexican Scrambled Eggs in there. Well, these are inspired by that recipe.
It's really good for using up any leftover veg that you have sitting around in your fridge, so don't get worked up on the ingredients. I make it different each time, but you can use whatever you have going. Just be sure to have the key vegetables though – tortillas, onion, garlic and tomatoes. If you eat meat, I can imagine it being quite nice with some crispy bacon or sausage in there too (or as a side).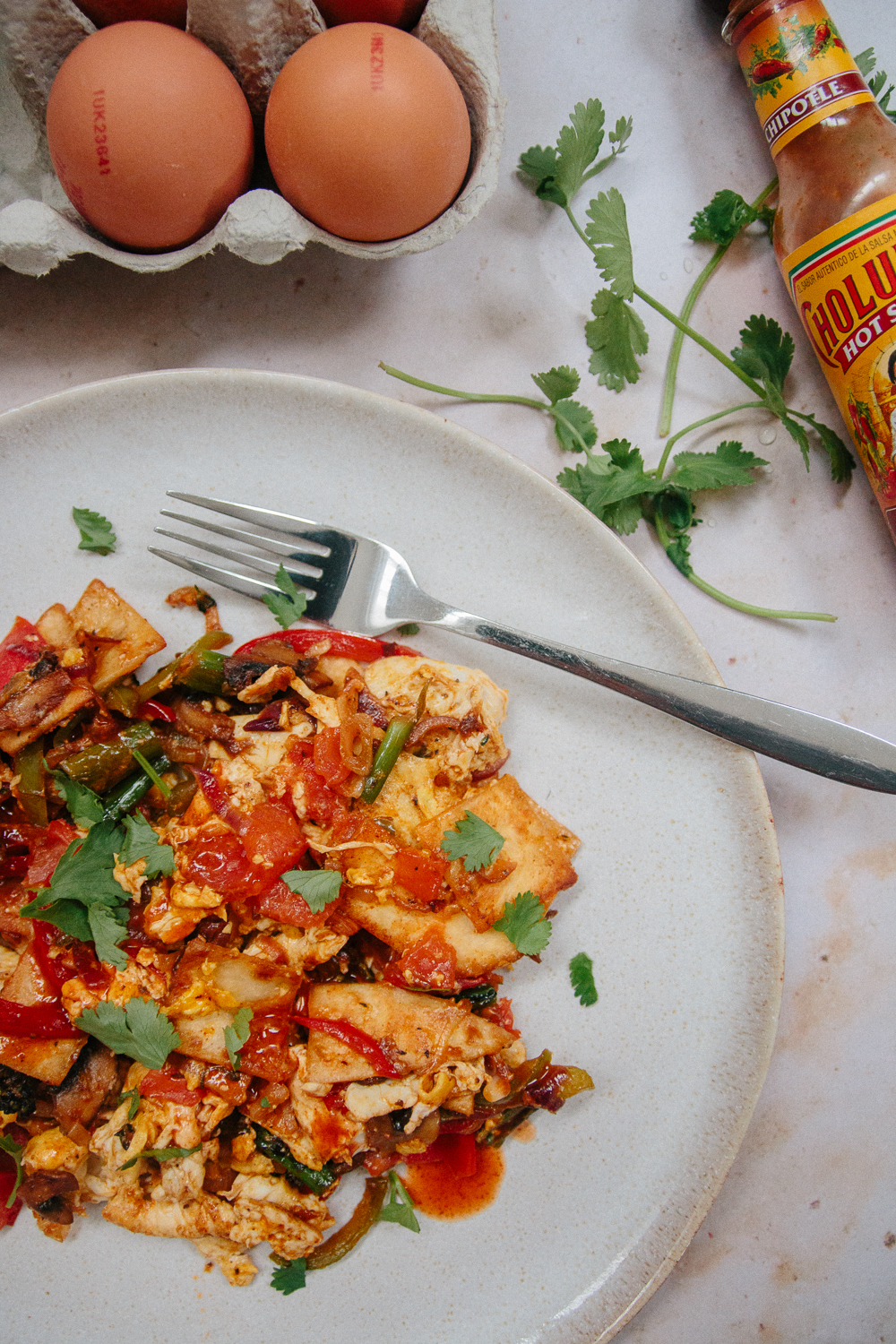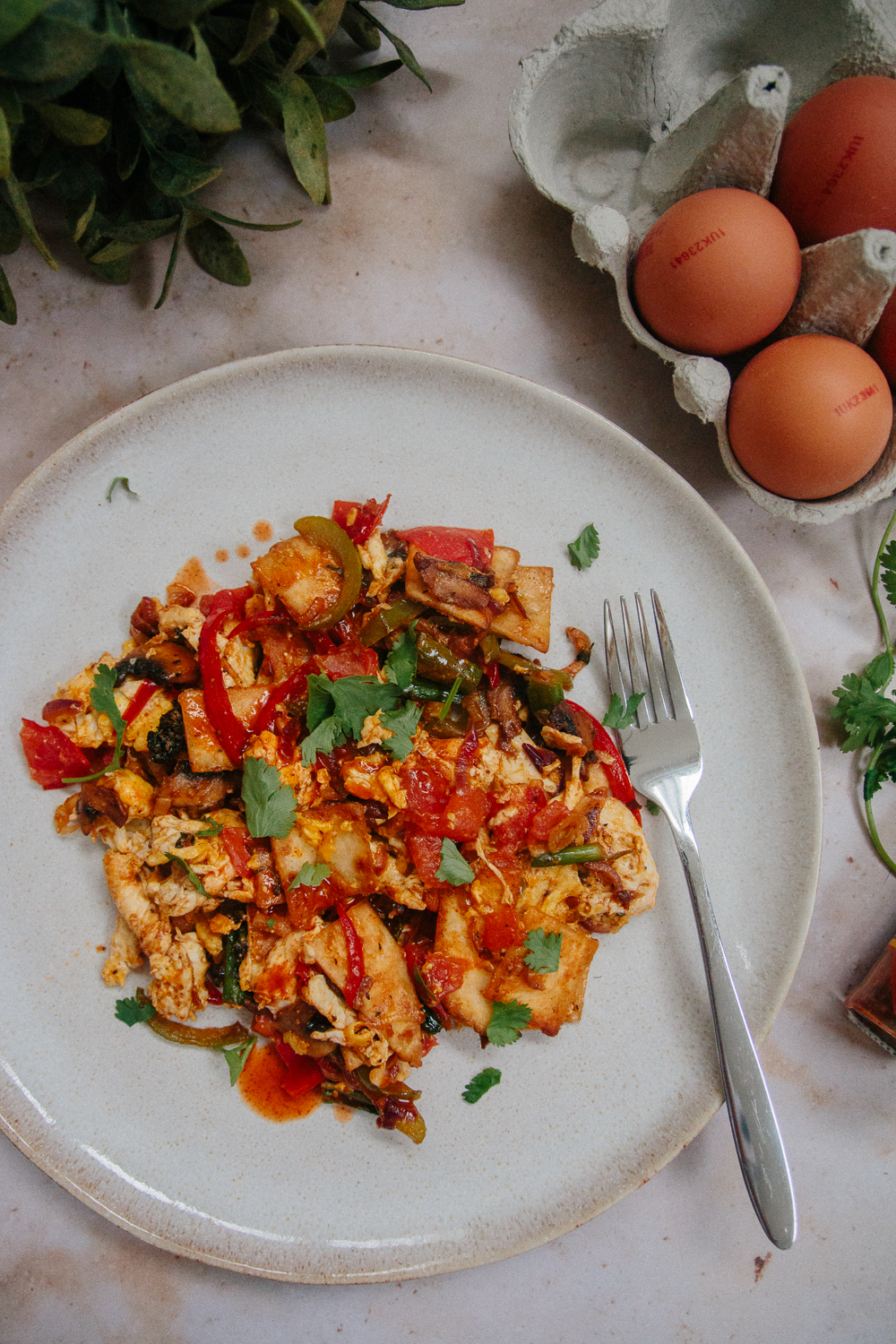 What You'll Need
(serves 2)
* 2 tortillas
* 4 eggs
* 1 onion, finely sliced
* 1-2 cloves garlic finely chopped, depending on your preference
* 2 tomatoes, finely chopped
* ½ tsp cajun spice
* ¼ tsp paprika
* salt + pepper to taste
* 20g cheese (i used red leicester)
* olive oil
As for the rest, this is what I used, but you can use whatever you have available
* ½ green pepper, finely sliced
* handful mushrooms, thinly sliced
* few stalks of tenderstem broccoli, chopped into 2-3cm chunks
* Cholula chipotle hot sauce (affiliate link)
* fresh coriander
How To Make It
1. Roughly chop your tortillas into small chunks. I tend to fold it in half, then half again, and half again, slice it through the middle and cut it 2 or 3 times across. In a large saucepan, fry the tortillas in about a tablespoon of oil till crispy. You can also do it in the oven – preheat to around 200c and heat until crispy, around 5 minutes. Remove and keep to the side.
2. In the same frying pan, add a splash of olive oil and all of your vegetables to the pan except the tomatoes + garlic, and sprinkle in the cajun spice, paprika, salt + pepper. Cook for 5-10 minutes on a medium heat until softened.
3. Add in the garlic, fry for another minute or so, then add in the tomatoes and cook for another couple of minutes until softened.
4. In the same pan, push all of the vegetables to the side of the pan leaving space to cook the eggs. Crack the eggs into the pan, leave for a moment and then start scrambling. I like my eggs quite chunky to I tend to give them a swirl around every 20-30 seconds. Once mostly cooked through, grate the cheese into the eggs, then combine with the rest of the vegetable mix and add in the tortillas.
5. Once all combined and cooked through, serve up and enjoy! I like to serve mine with a little bit of extra grated cheese, a few splashes of chipotle sauce and some fresh coriander.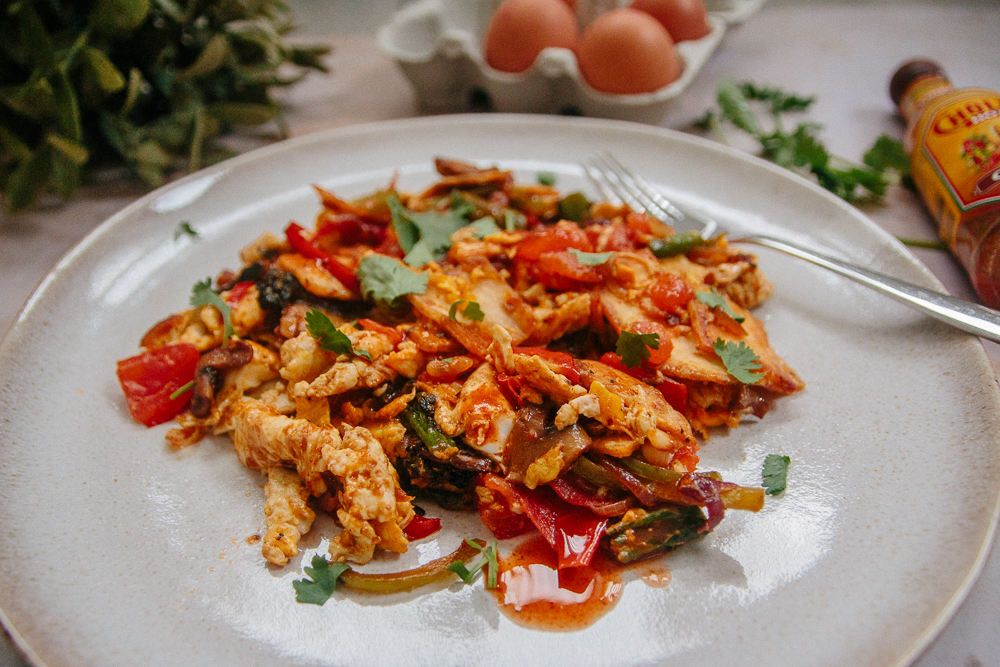 It's such a warming breakfast and I love the texture of the crispy tortillas which soak up all of the flavour of the eggs. It also involves minimal washing up as you cook it all in the same pan, so I think it's also perfect for a camping trip – we've cooked it in our campervan a few times too!
If you want it extra spicy, you could add in a little extra cajun spice or even some chilli flakes, or if you don't like it as spicy, just don't put in as much cajun spice – you'll know what seems right to you when you make it. It also works really well as a breakfast burrito – just leave out the first step of cutting and frying the tortillas, cook the rest of it as normal and fill the tortilla wraps with the scrambled egg mixture. When we have it as breakfast burritos, we like to add in some guacamole (or just plain avocado if we're feeling lazy) and a little bit of soured cream. It's SO good!
Follow
Save