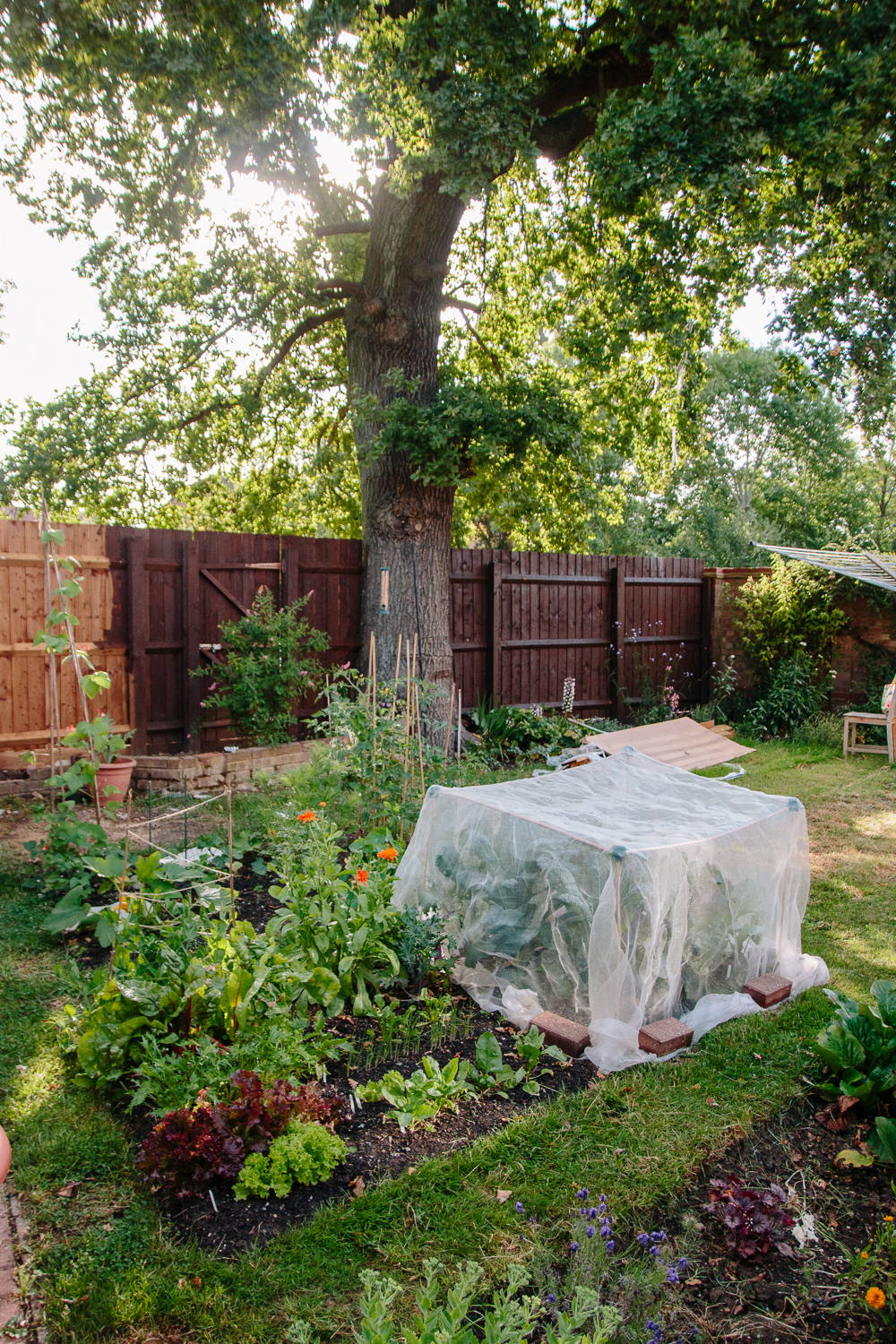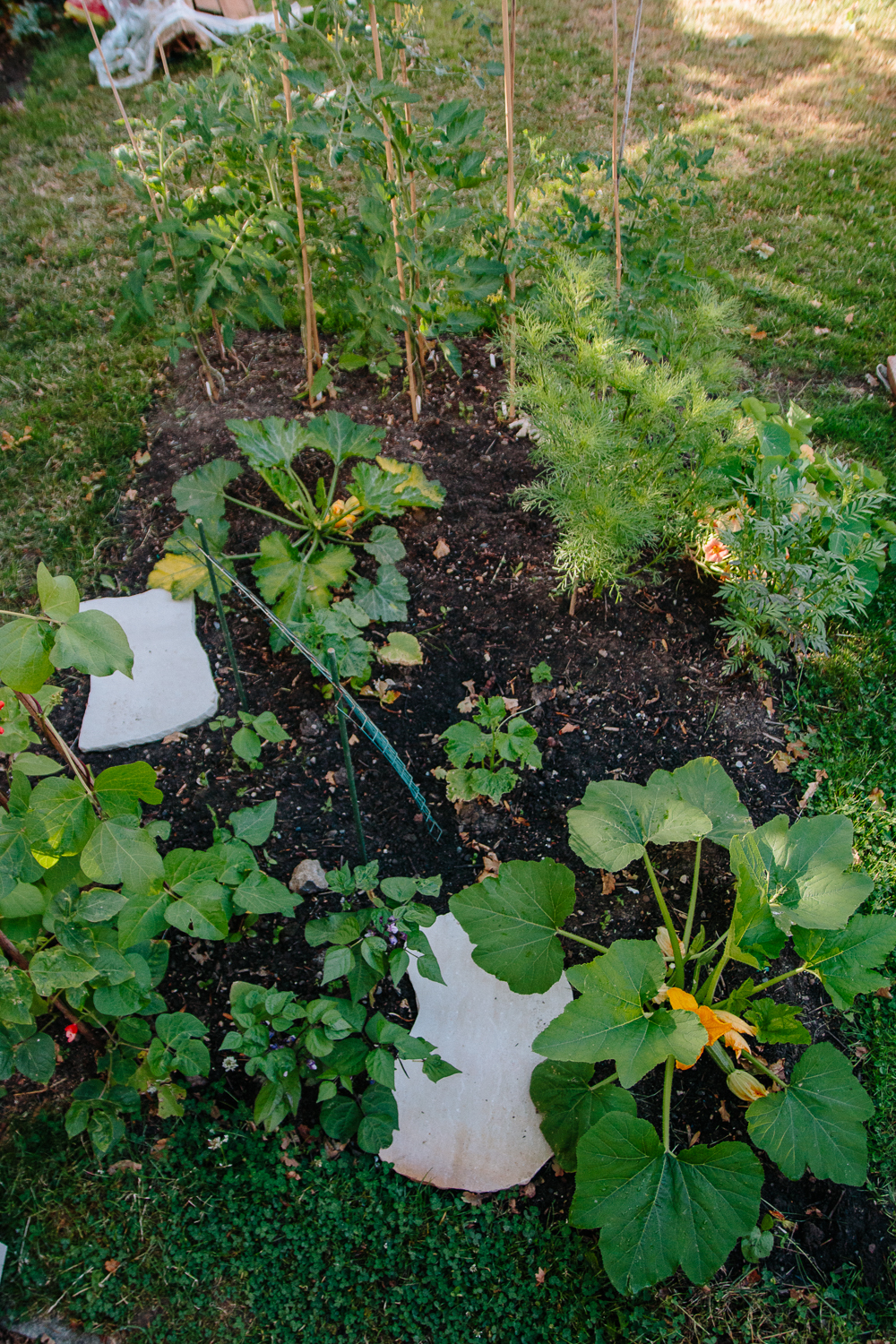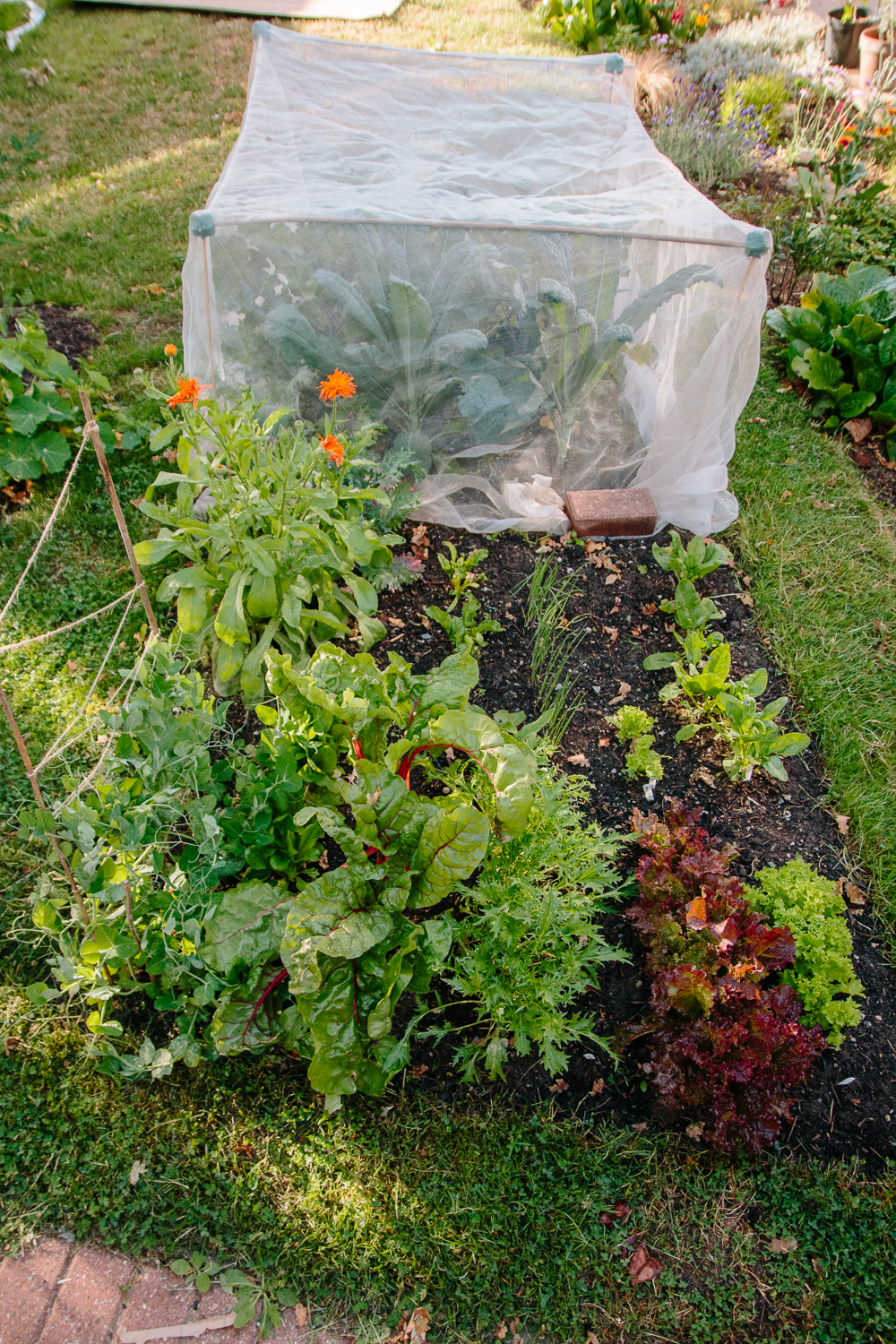 Grow Your Own – June
Wow! I can't believe how much the vegetable garden has shot up during June. You can see the difference between these photos that were taken at the end of June, and these ones from the end of May. We had a really warm and wet beginning of the month to June, and then days of rain, so I think all of that has helped everything along so much.
I've had my first few harvests from it – nothing major yet, but it's all coming soon! I'm so excited to fill my little veg trug with goodies that I've grown from seed – everything in here has been grown from seeds with the garden centres being shut during the first 2 months of lockdown. I do usually grow most of it from seed anyway, but sometimes I'll pick up some lettuce or courgettes or tomatoes from the garden centre, but everything has done so well this year that I didn't need to anyway!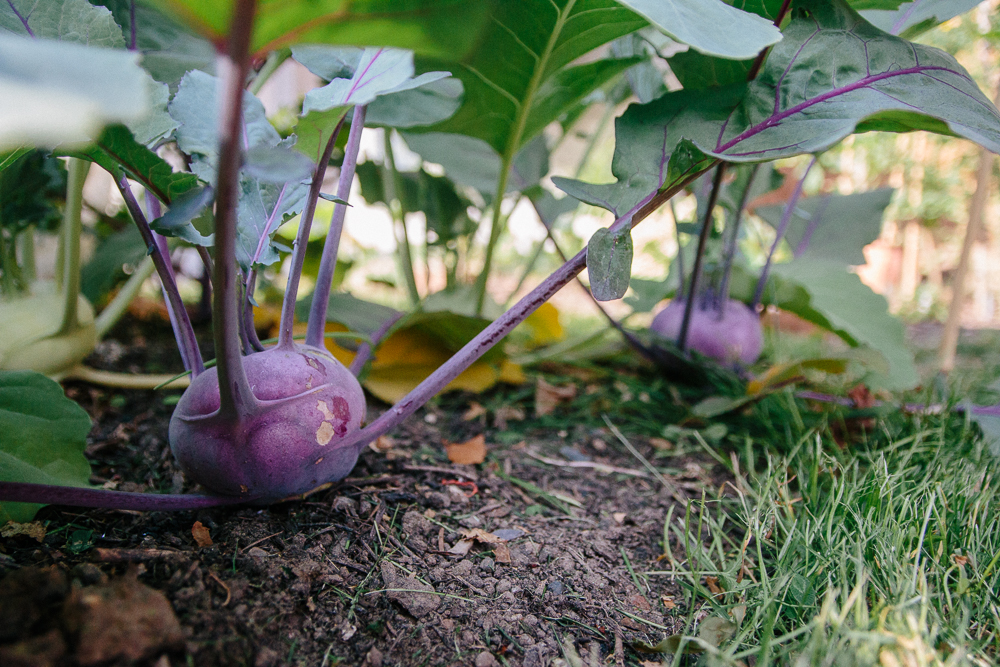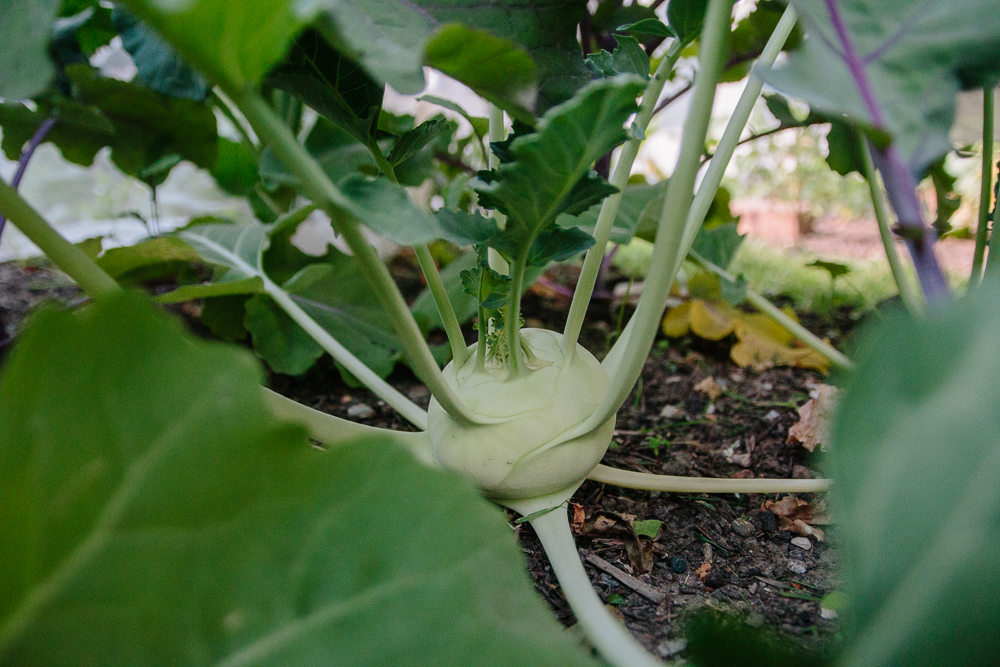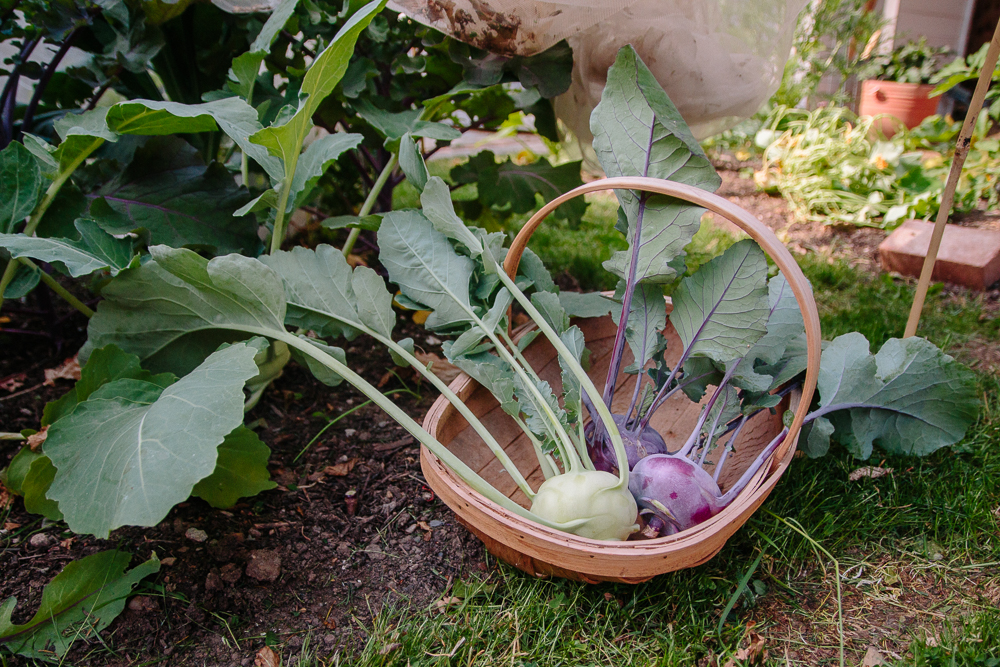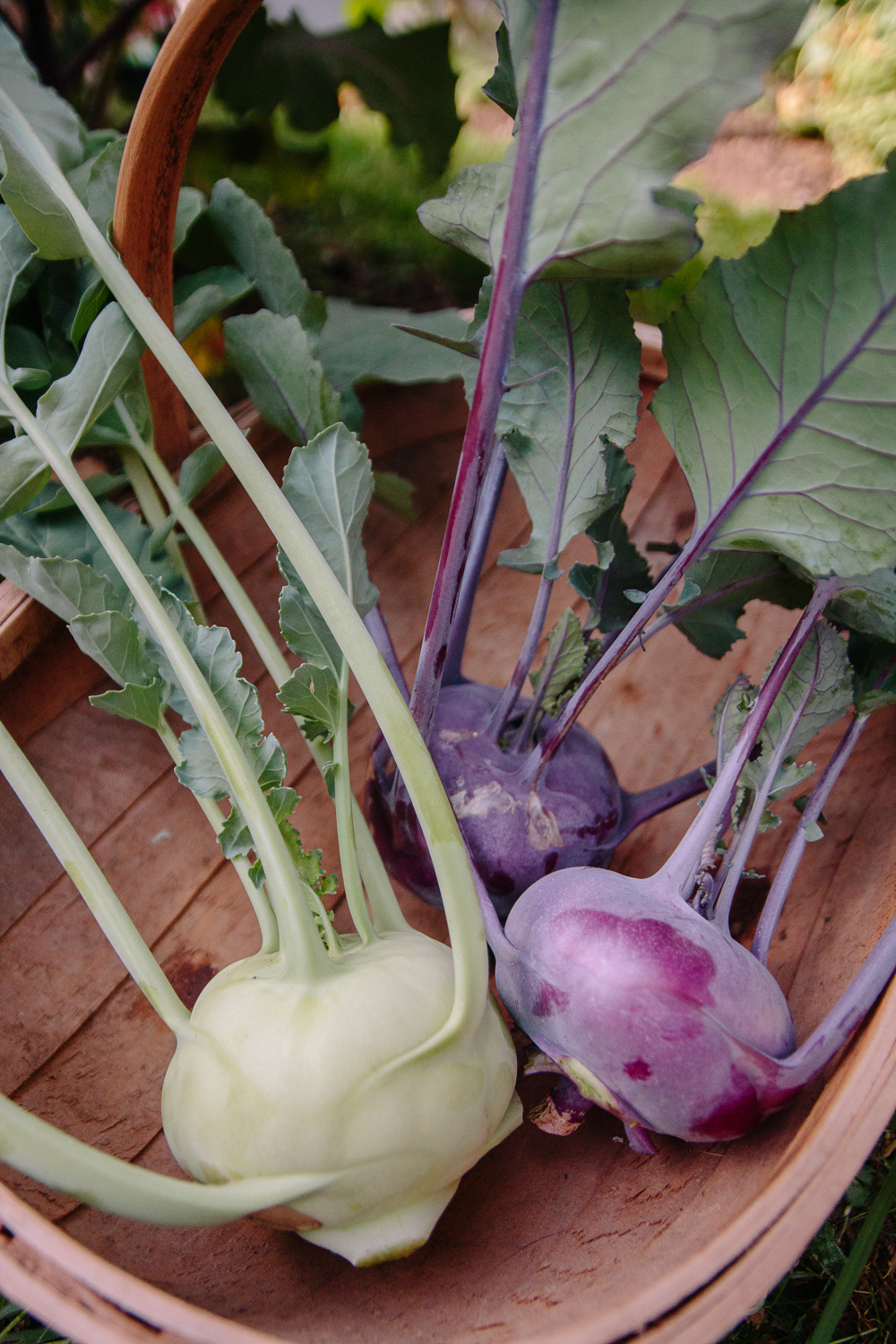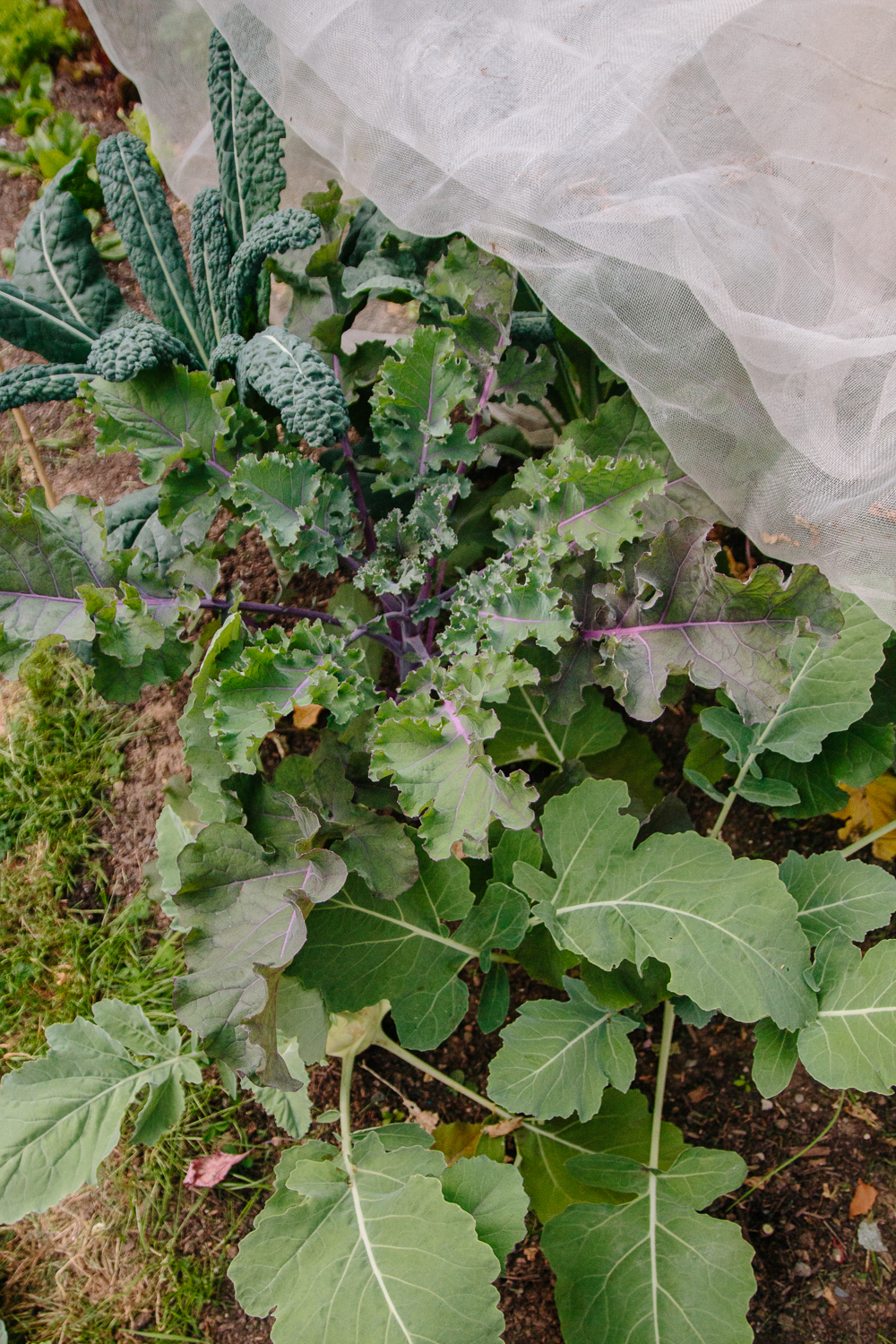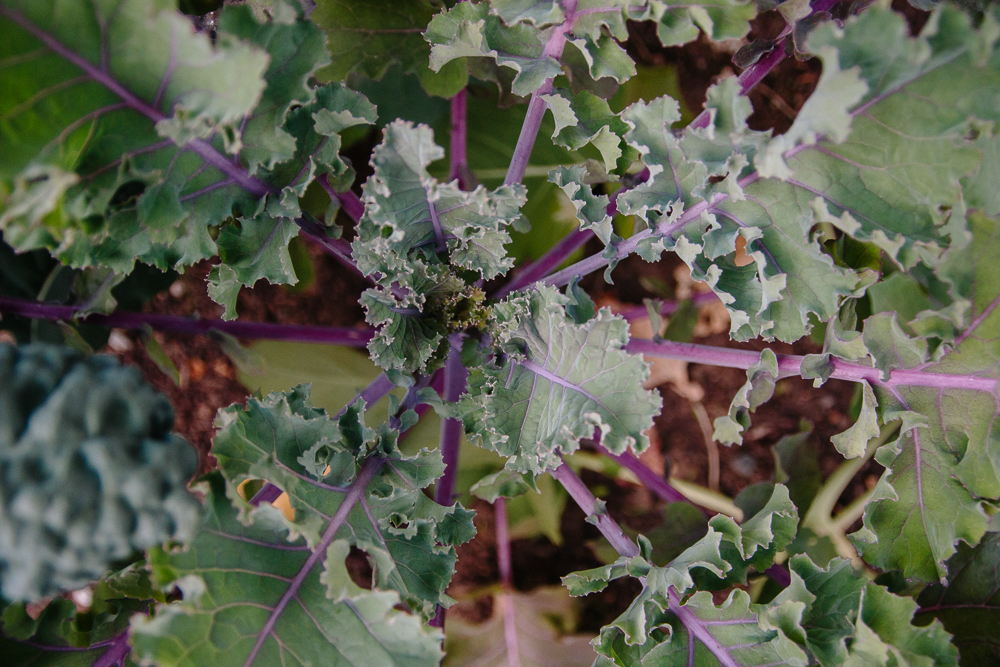 Brassicas
The first thing to be harvested from the little veg patch was my kohl rabi's! I grew 3 green kohl rabi, and 3 purple kohl rabi and harvested them last weekend. We had never tried them before until we went to Slovakia last autumn, and were looking for some broccoli in the shops. We couldn't find any, but they had SO many of these weird veggies, so I googled to see what you do with them. People described them as a mix between a radish and a broccoli stem, so we bought them. They were so tasty! Shane doesn't like broccoli, but he loves these which surprised me. You can use them raw in salads – most people seem to make coleslaw out of them, or we quickly boil them, then fry them in garlic and butter and they are so tasty! I find they're a little more radishy raw, but like a very very mild radish taste.
Other than that, the kale is doing SO well – we have so much to eat! We've got 2 varieties – cavelo nero and red russian. I love cavelo nero, but I've still not tried the red russian yet. And then there's also some kalettes growing in there, though they won't be ready till the autumn. I also sowed some purple cauliflower to replace the kohl rabi at the beginning of June and that's coming along nicely and can be planted out later this month.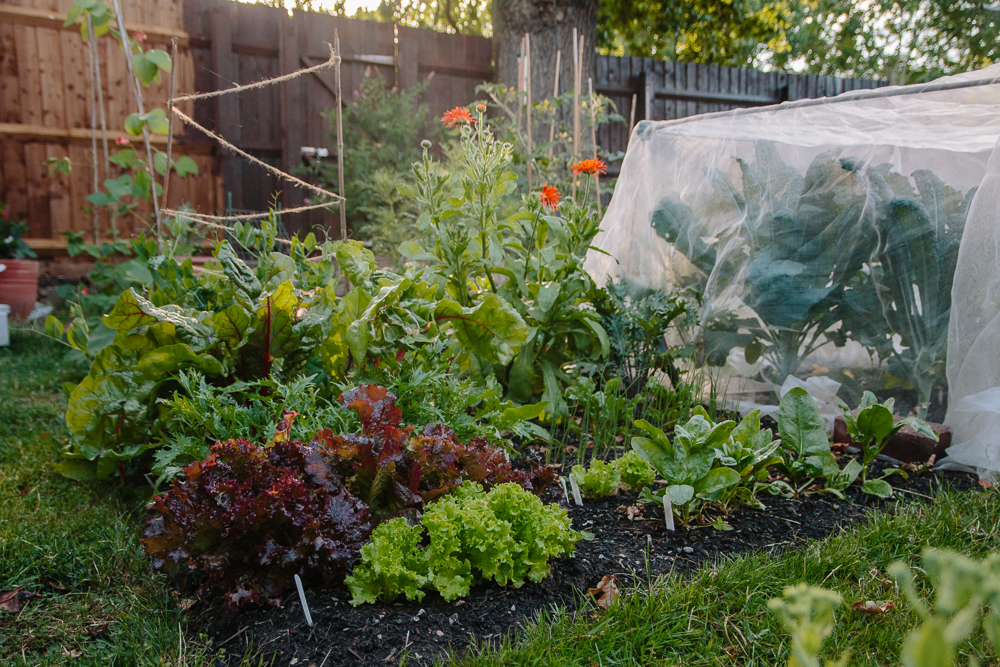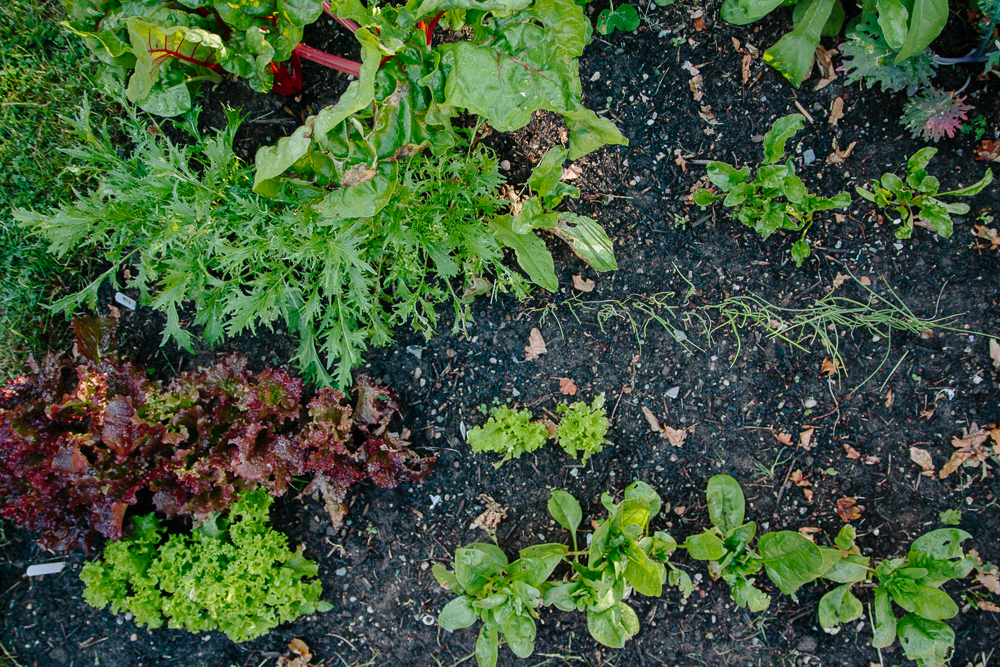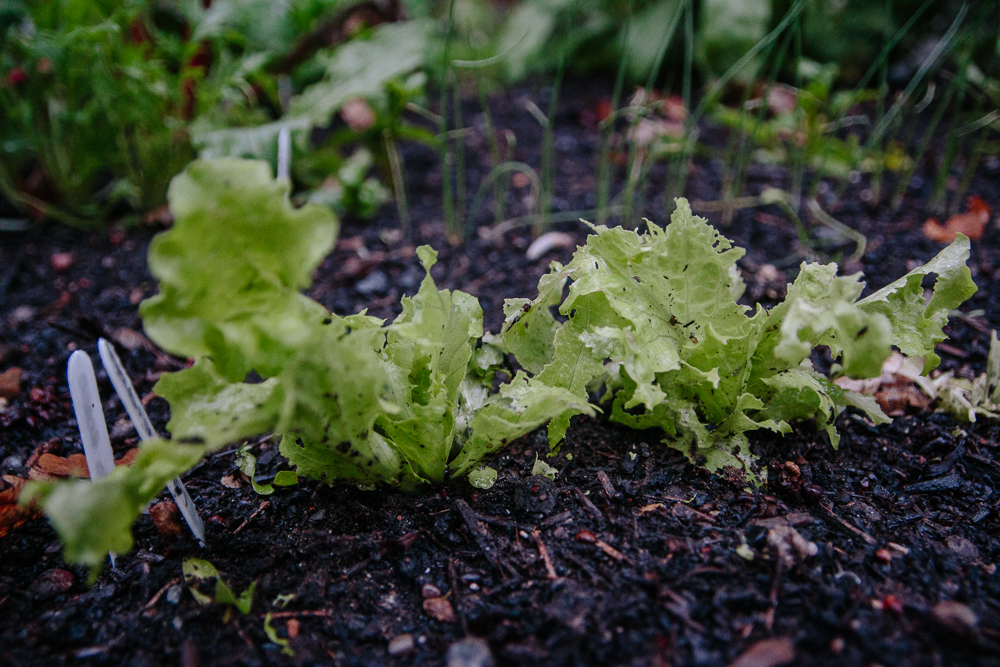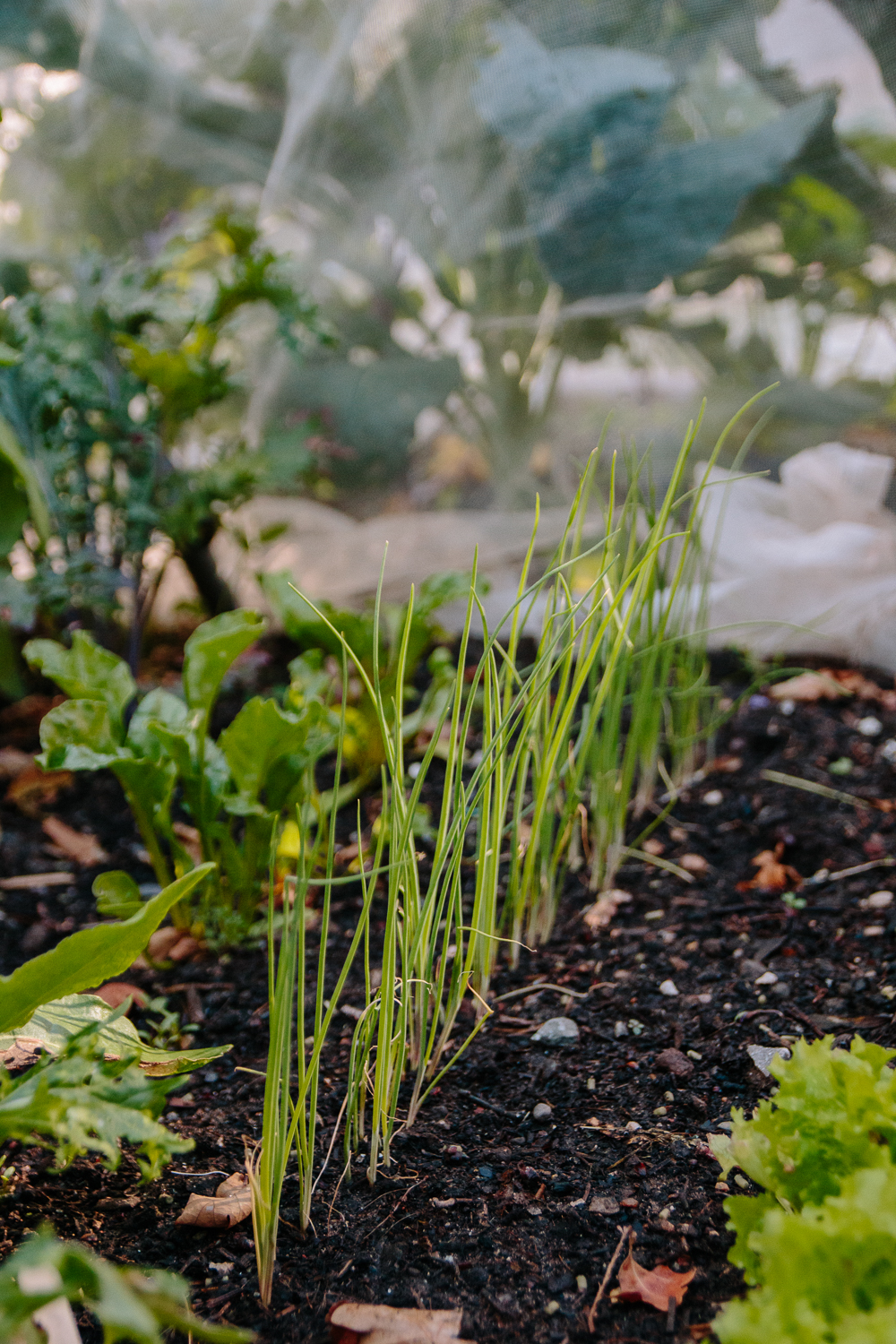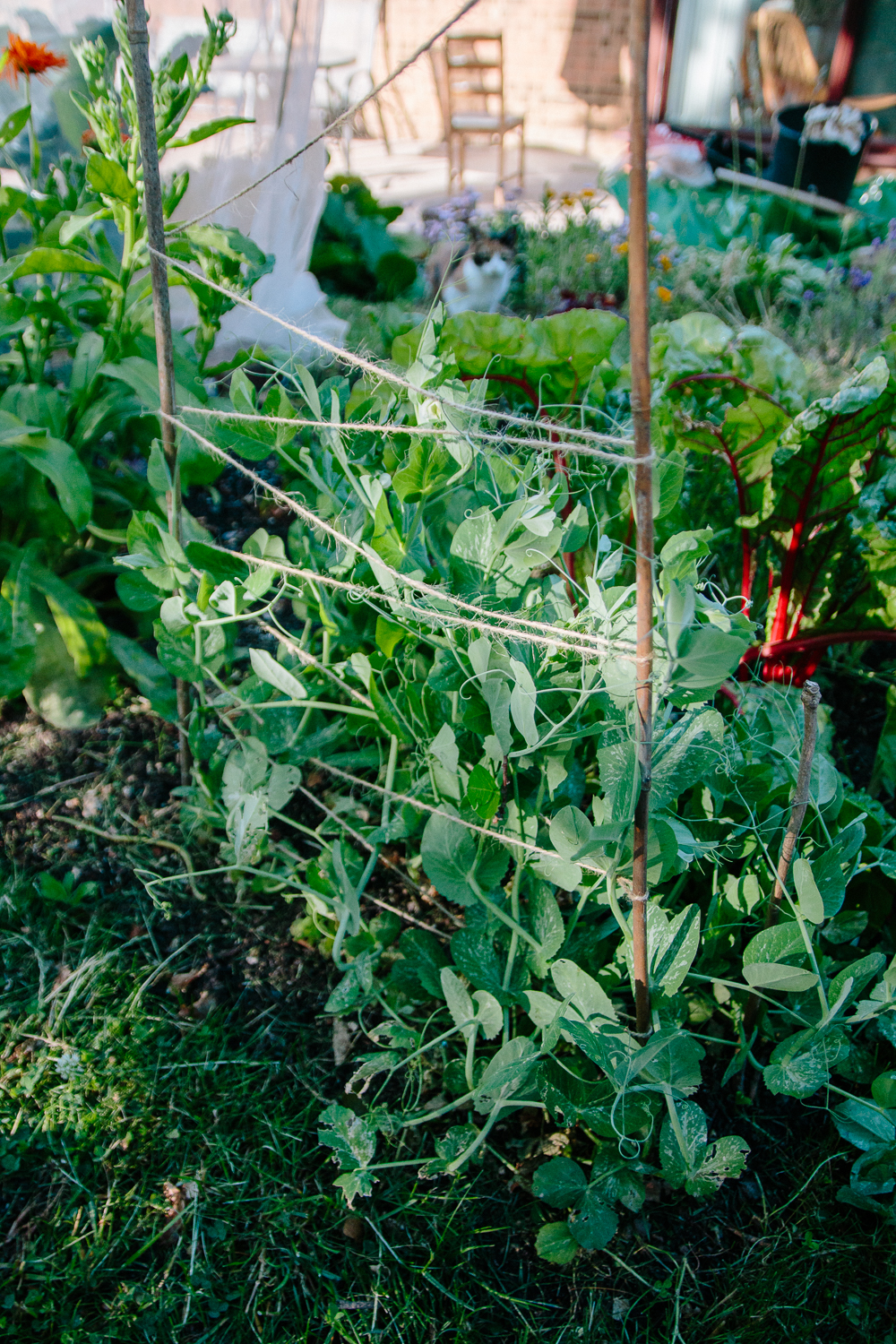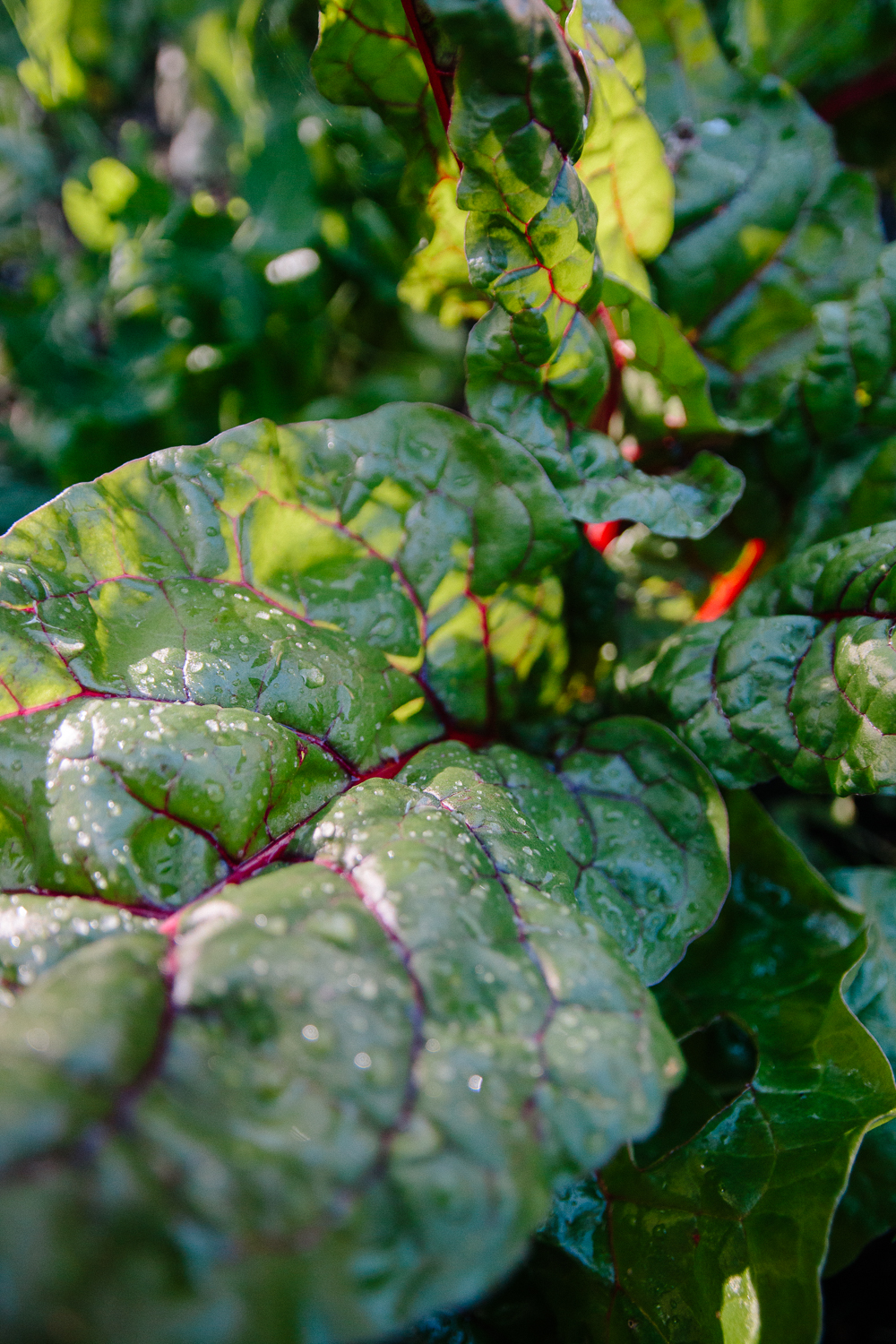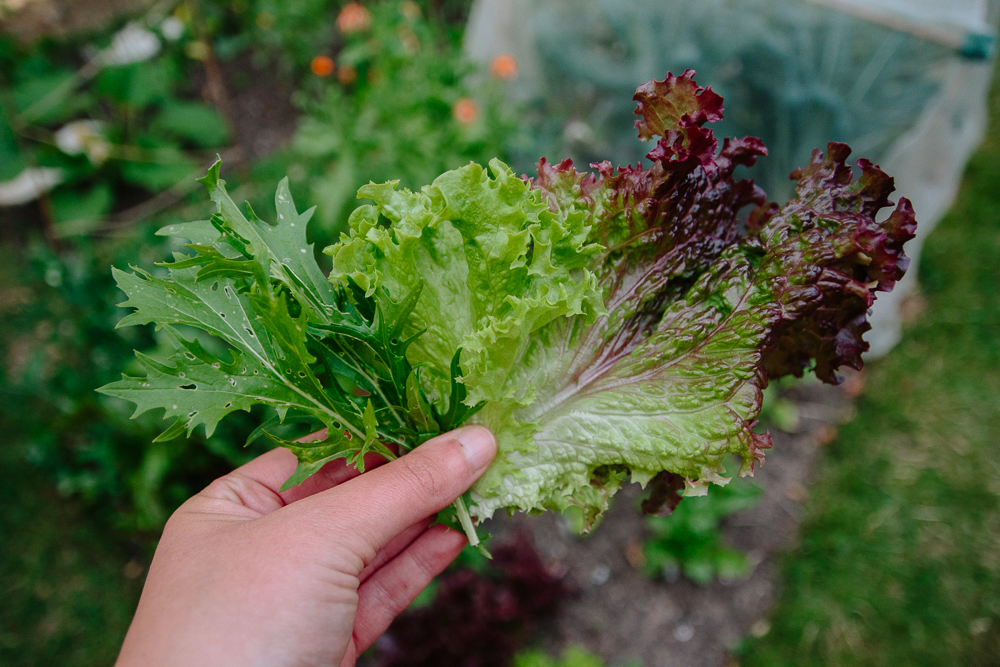 The Salad Bed
So the other side of the brassica 'cage' is all the salad things – a few varieties of lettuce, chard, spinach, peas, spring onions, and beetroot, along with some flowers. It's coming along really well, but sadly about halfway through the month when we had really warm wet weather, the slugs and snails came out and decimated one of my lettuce rows. I was so upset, because they were just starting to really grow, and I've never grown that variety before (Lollo Bionda), and they were almost entirely eaten. So I put my slug traps down and everything is fine again, and luckily, I still have 2 plants left of that variety that are slowly returning to life! I had to sow some more seeds though.
Everything else in the bed is doing good! The peas have just started to flower and the beetroots and onions are coming along really nice. I'm growing a red onion which has a shape similar to a shallot (long and thin, rather than a round onion), which I'll harvest early as spring onions. The chard is really starting to get big now, so I'm going to have to harvest some of that soon. I'll probably put it into a quiche or stirfry or something.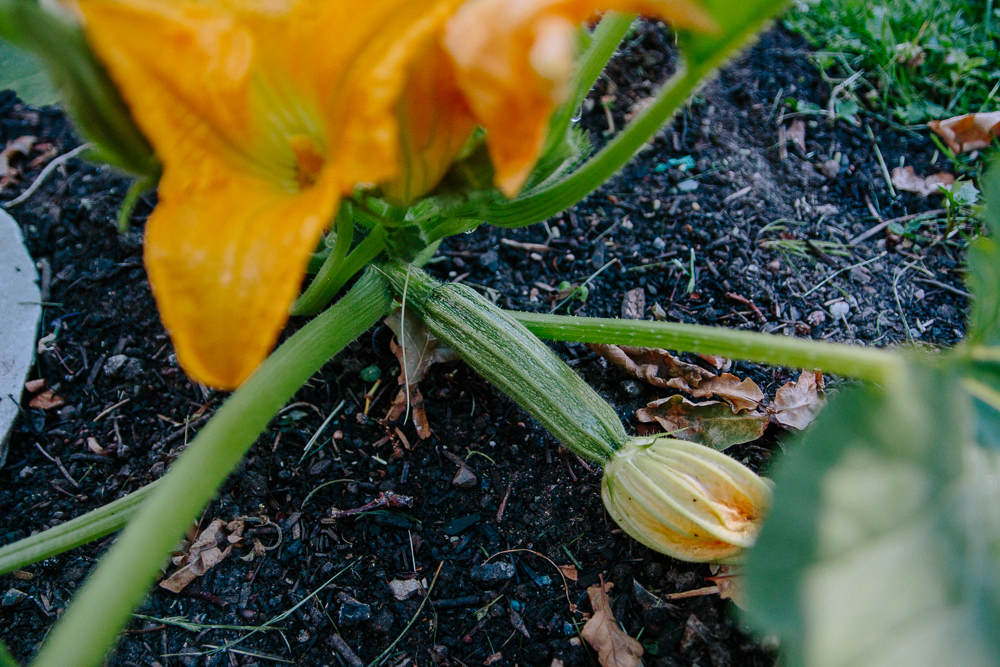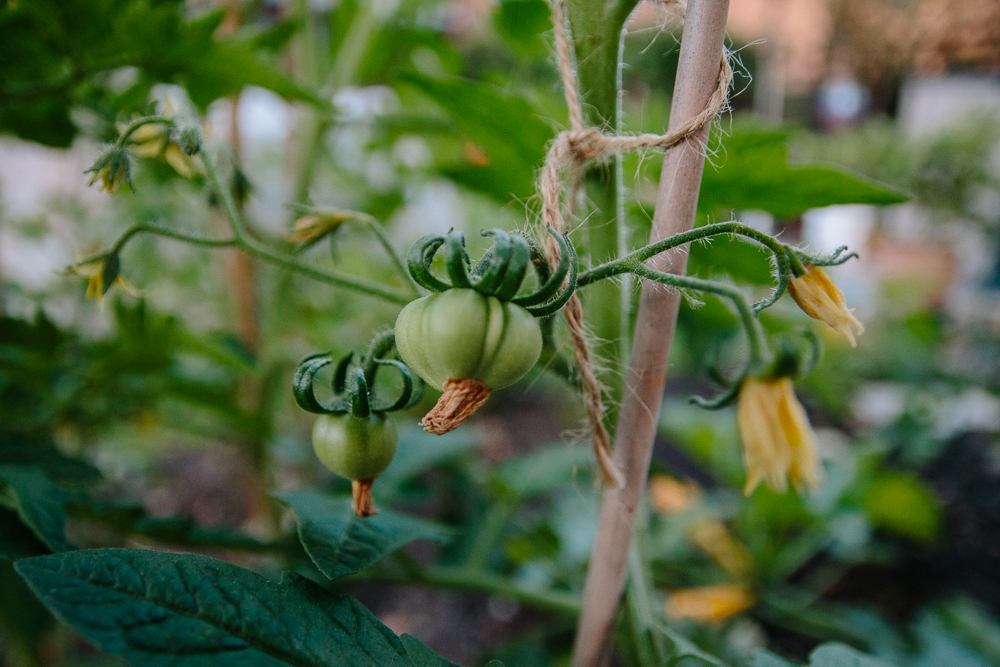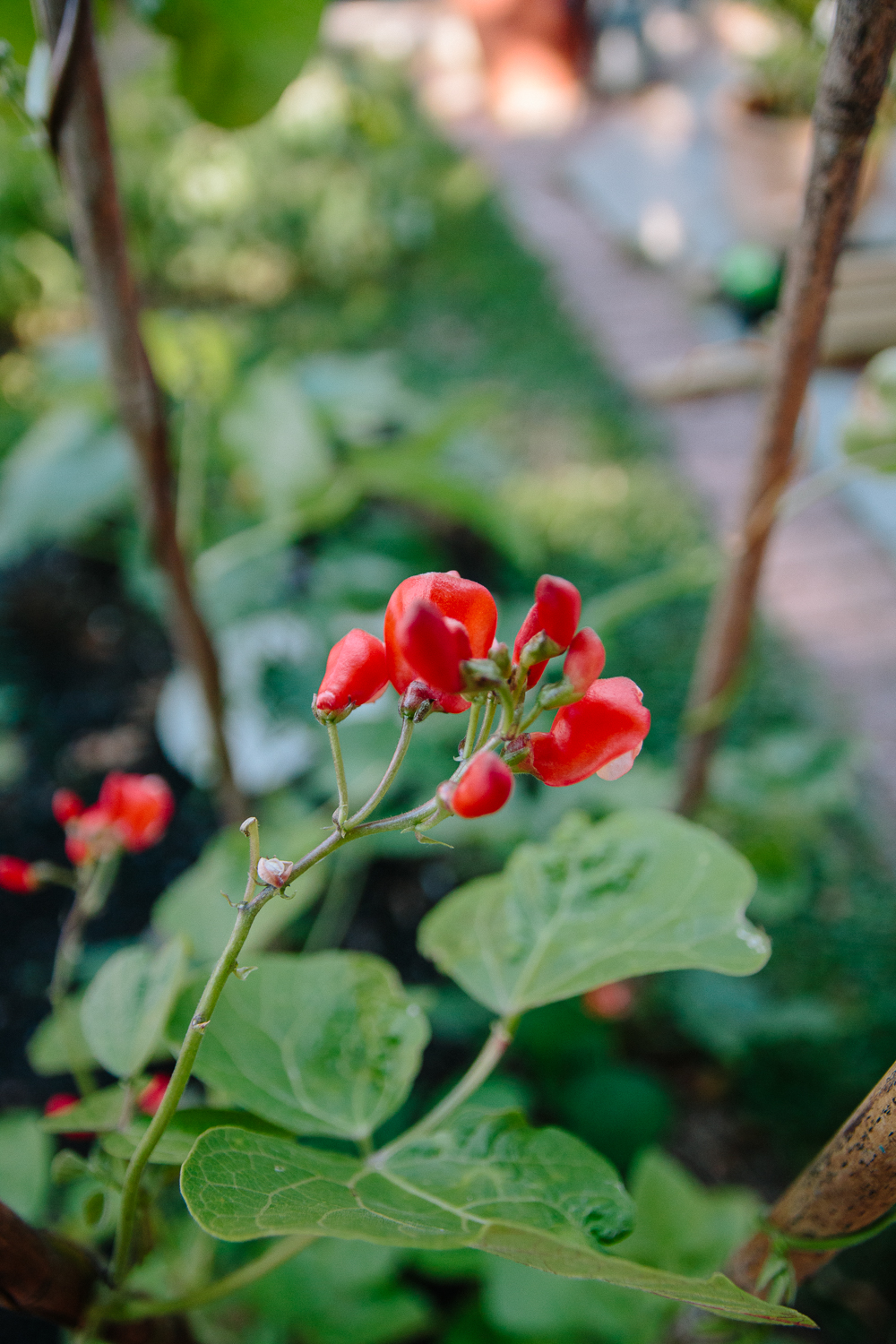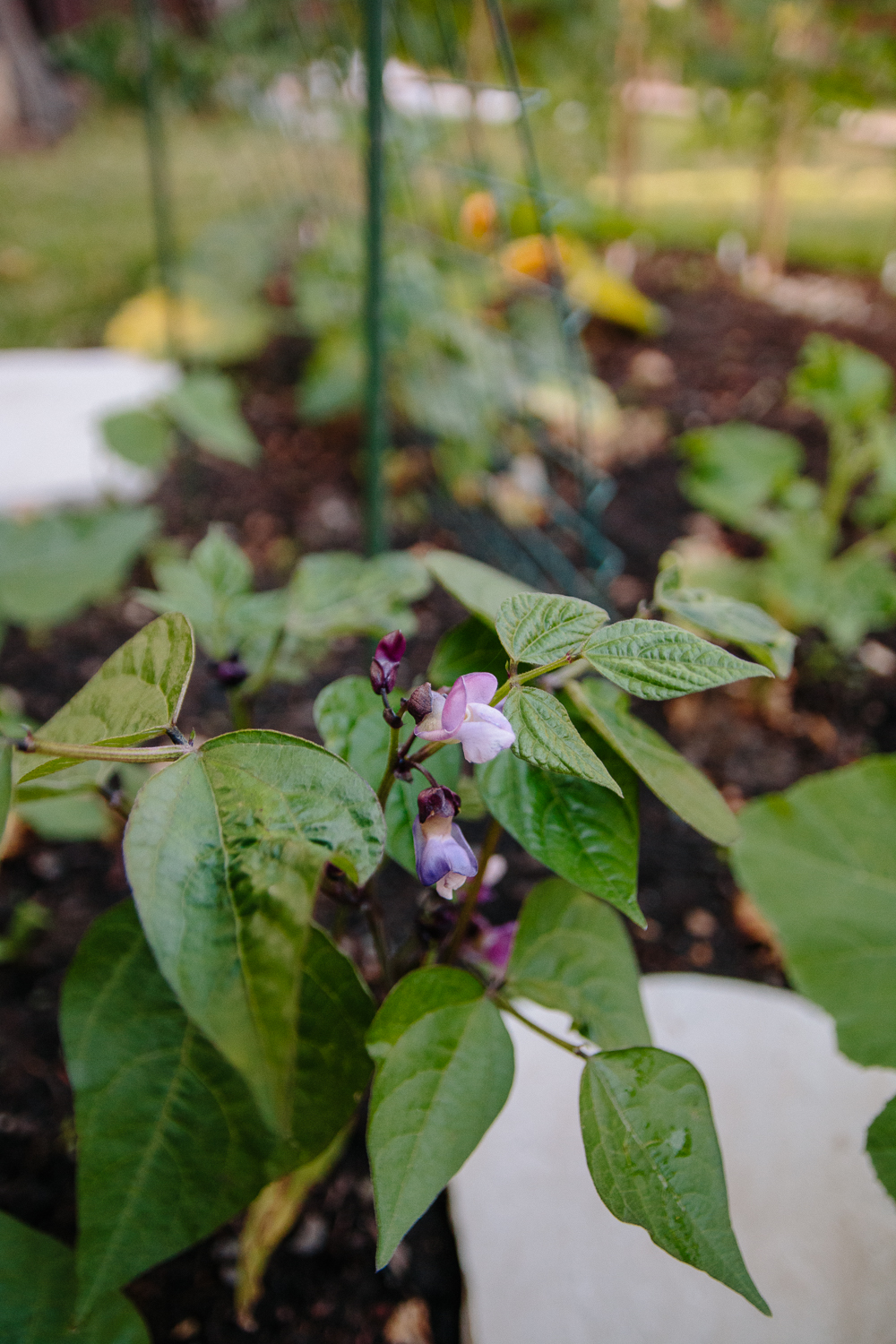 The Larger Veggie Bed
And then the other big bed is for all of the bigger vegetables – the tomatoes, courgettes, cucumbers, runner beans, french beans and a few flowers to encourage the polinators (though nothing is flowering yet haha). The courgettes are coming along really well, though I'm just hoping I can actually harvest some this year because I always struggle to actually get courgettes, while everyone is harvesting more than they can eat! They just never seem to grow into anything, no matter what I do – I've tried hand pollinating and still, they just go mouldy and die. Hence the flowers to try encourage polinators to them instead. It looks as though I might have a yellow courgette coming soon though!
The tomatoes are doing really well this year. Usually I don't get any till around September time, but I've already got quite a few full trusses of tomatoes which are getting quite big so hopefully they'll start ripening in the next few weeks! I'm growing 6 different varieties on 10 plants – a beef tomato, a plum tomato, a regular salad tomato, golden cherry tomatoes, a purple tomato, yellow baby tomatoes and a green tomato. I like to grow stuff that we can't buy in the shops! The runner and french beans are coming along really well too, though I'm having a bit of an issue with ants eating all the flowers off on the runner beans so I've got nice big plants, but no runner beans so far and I spotted quite a few very tiny cucumbers growing!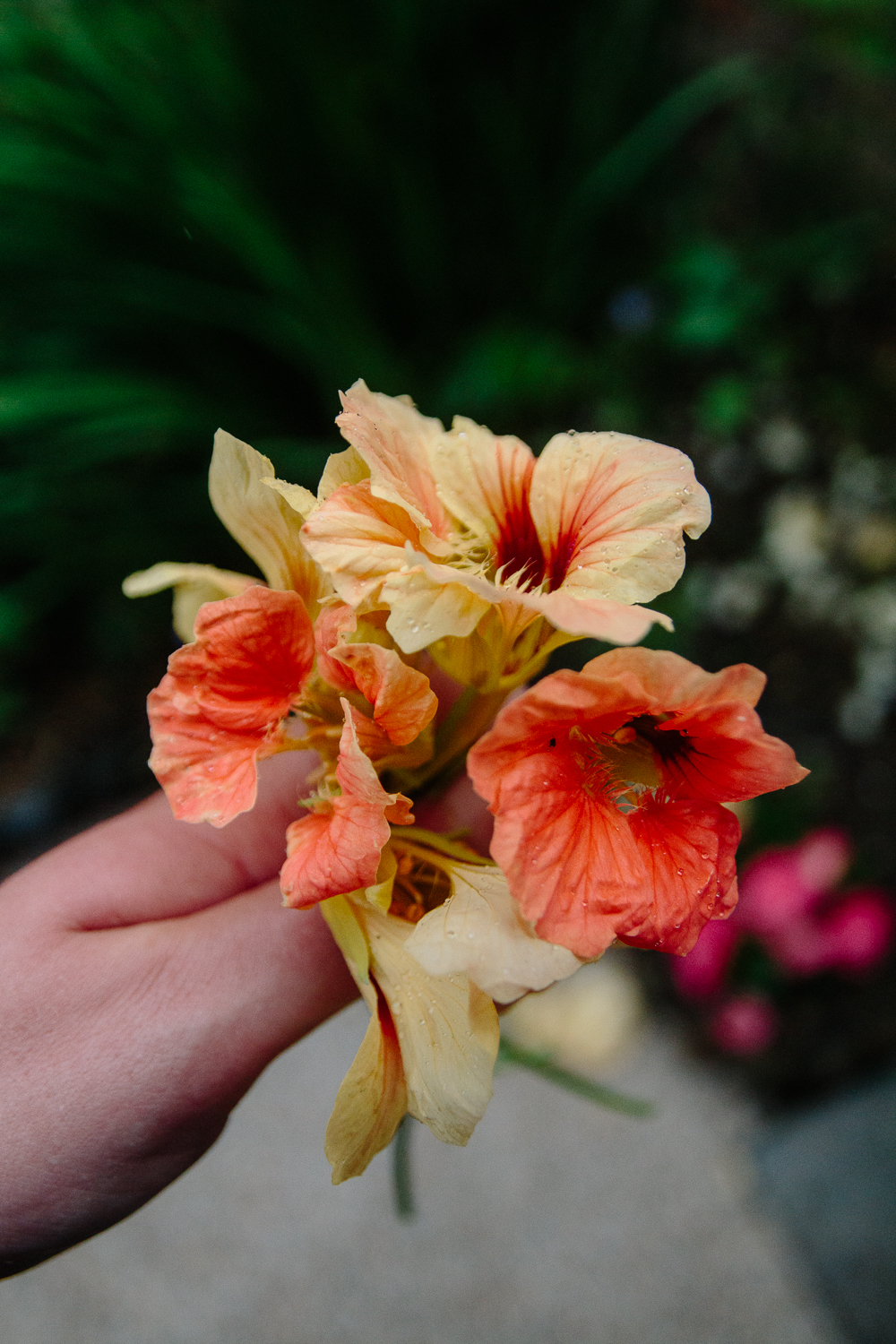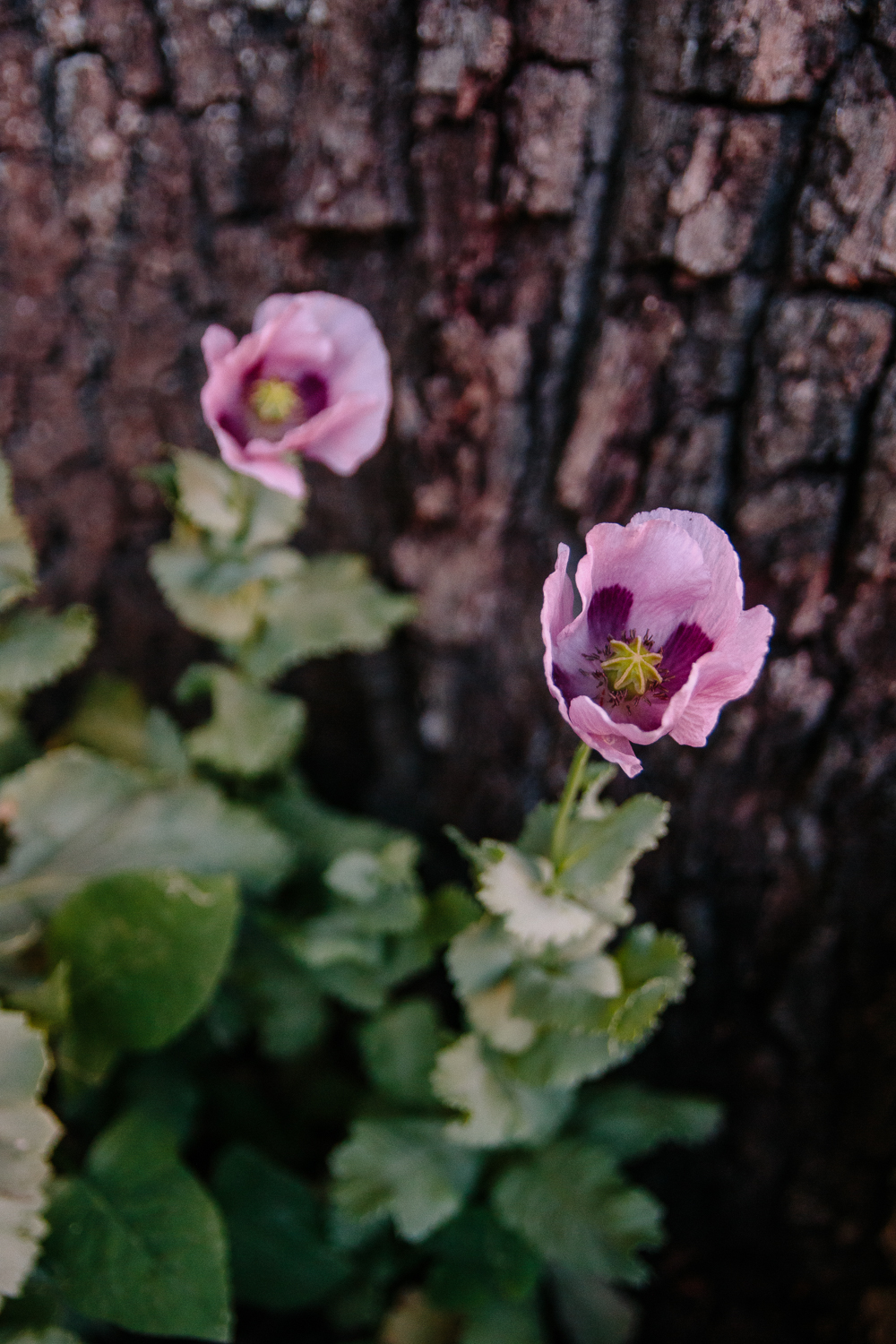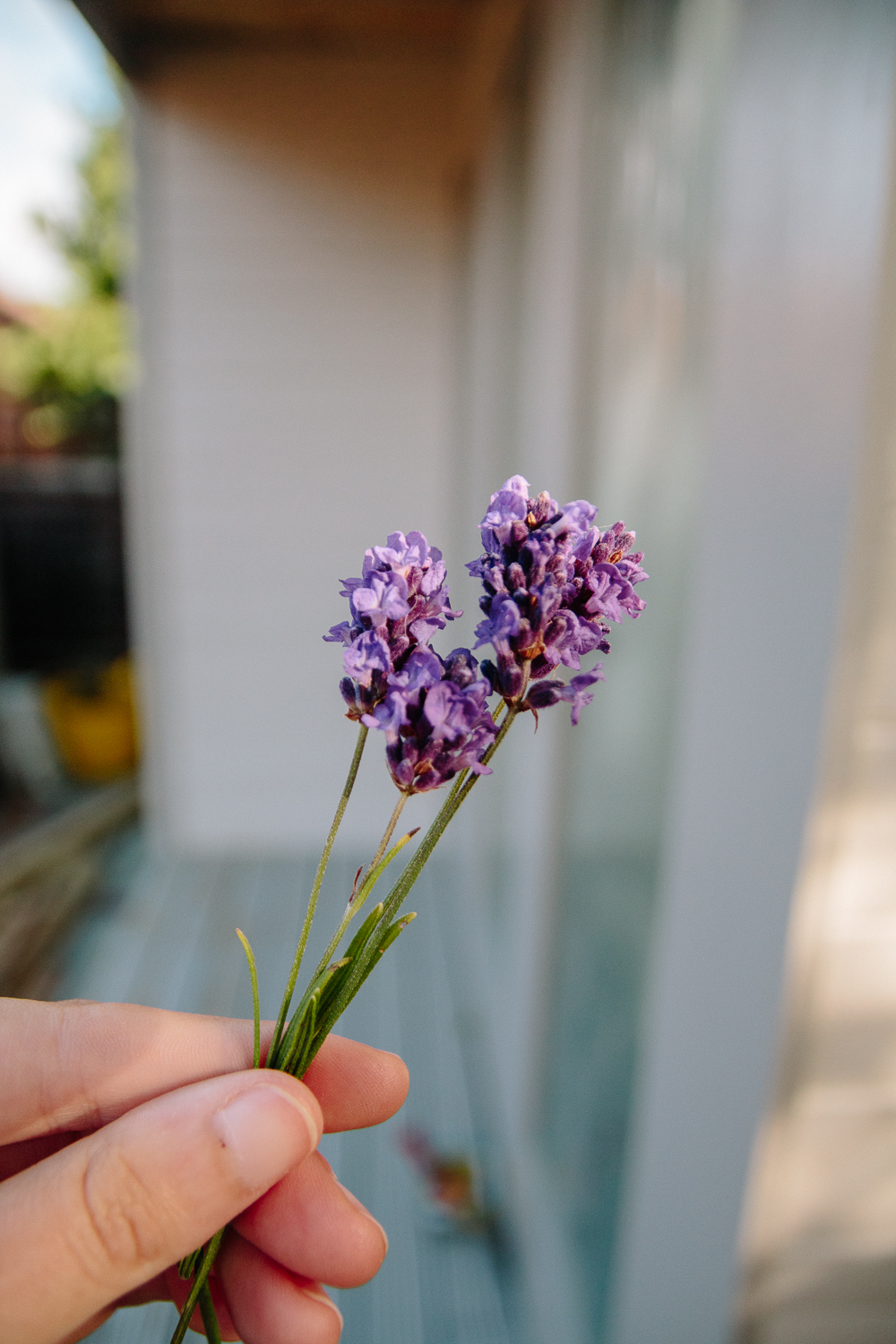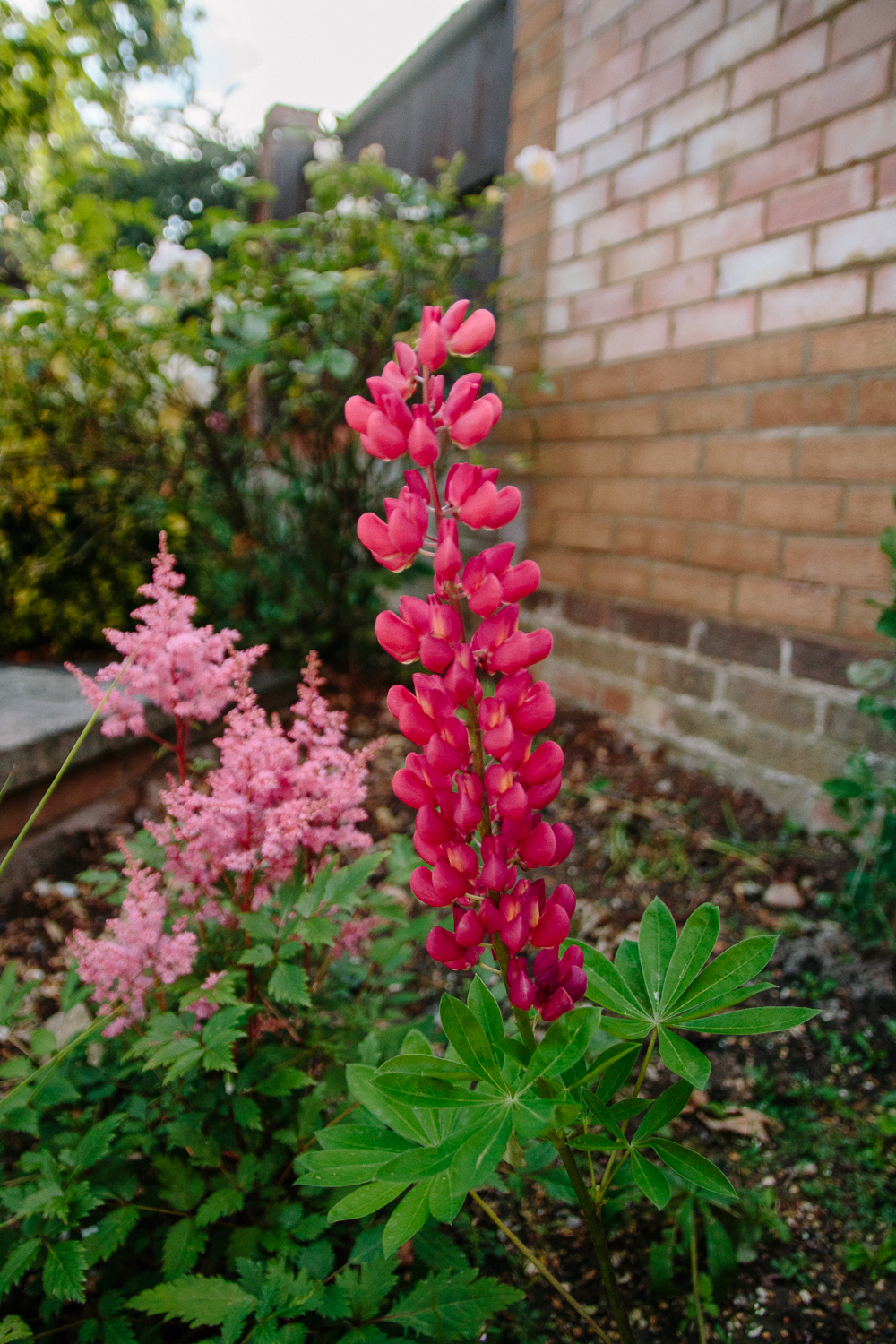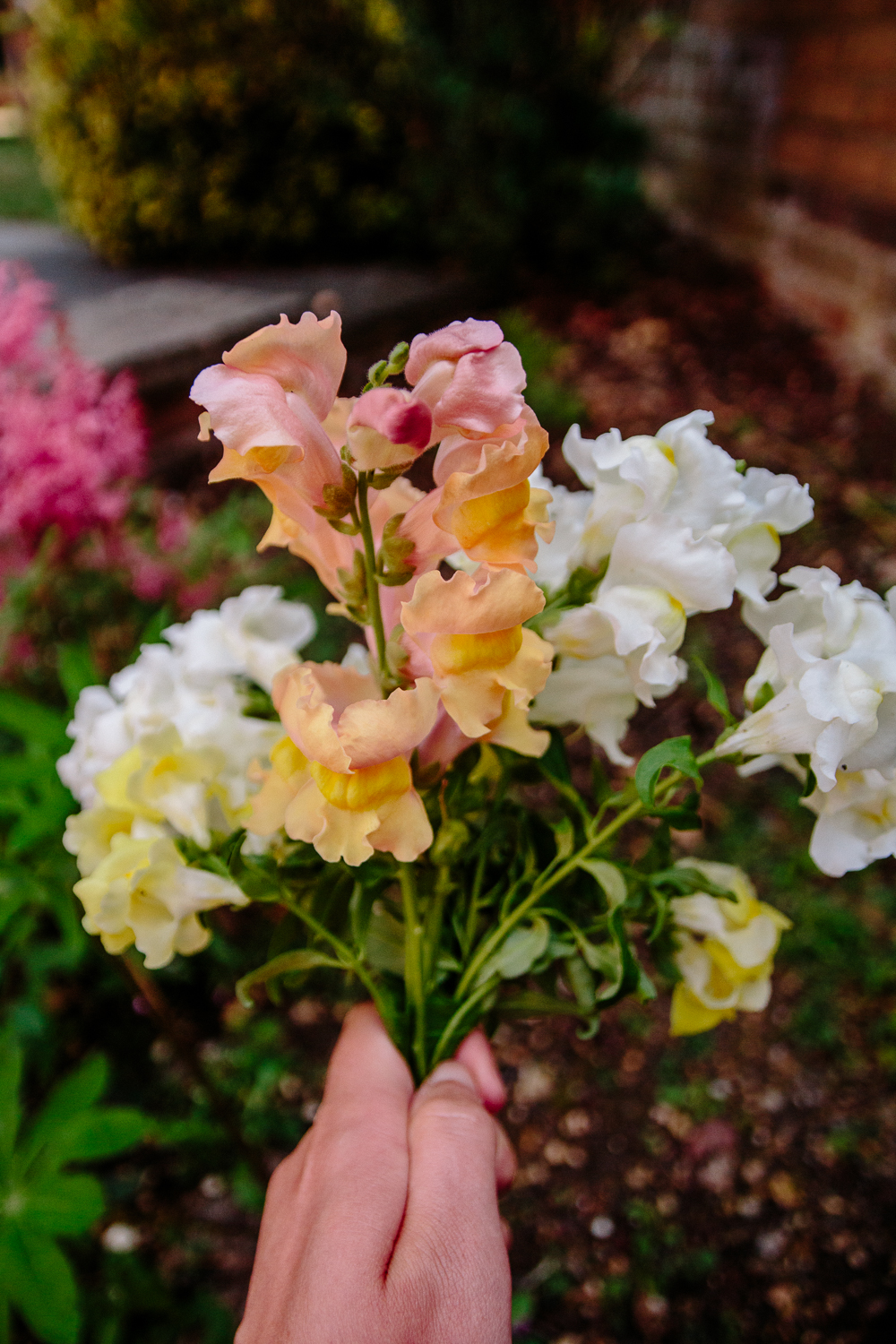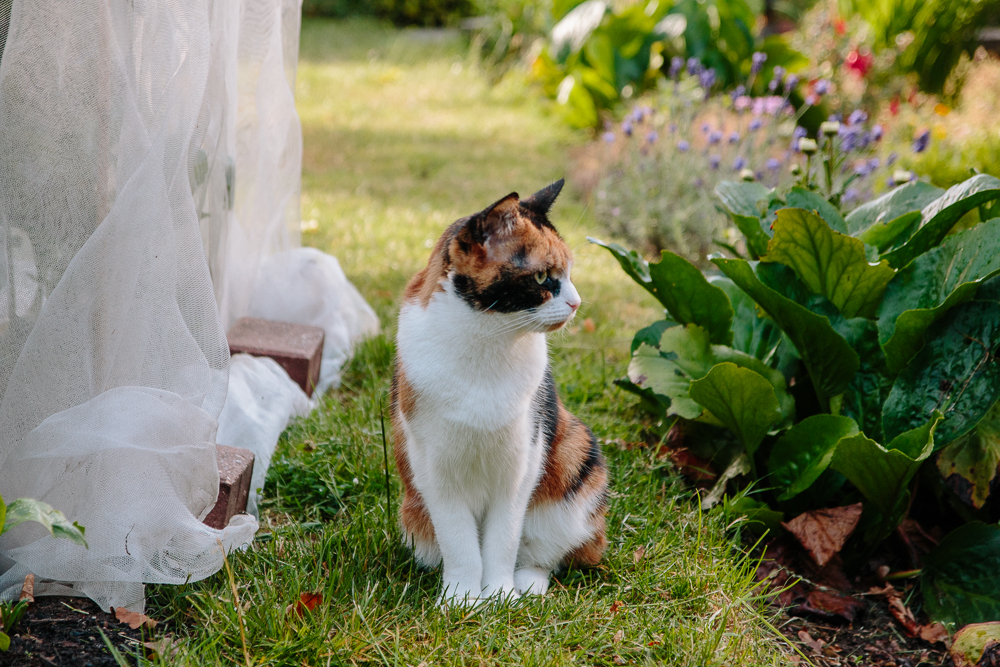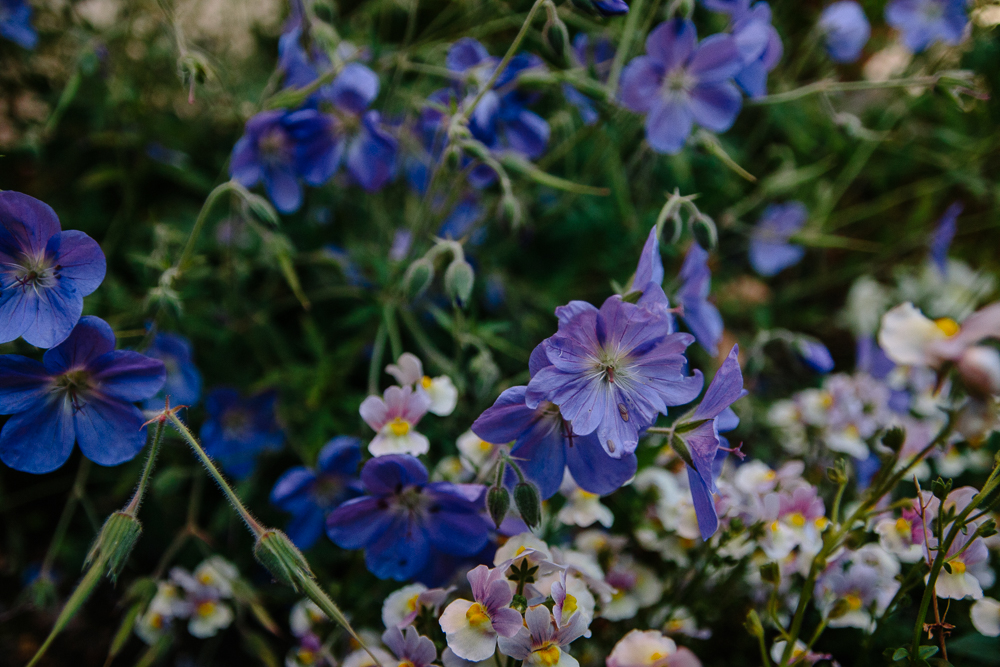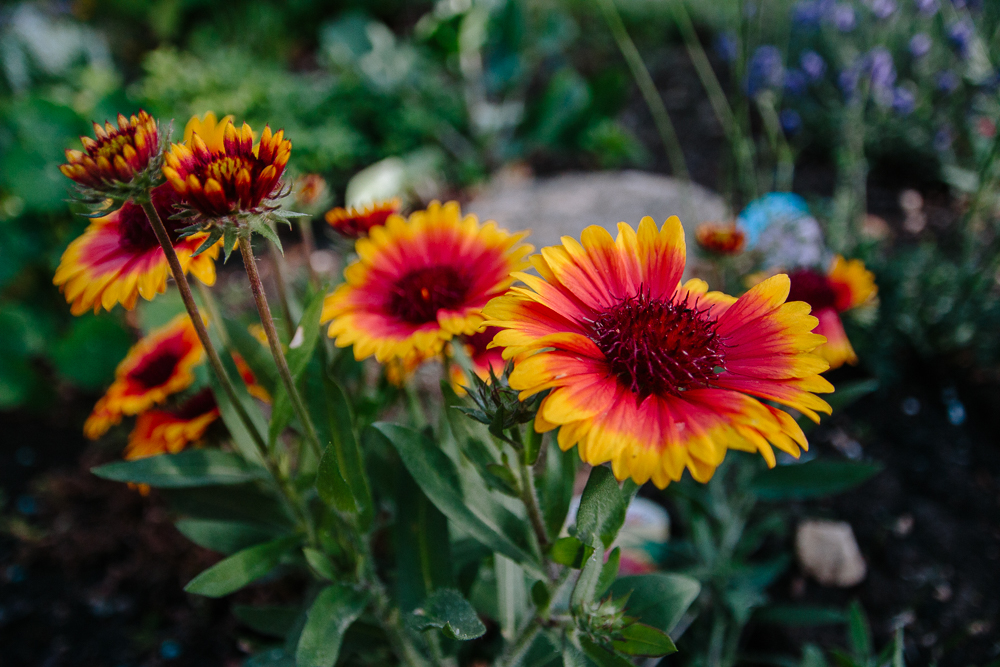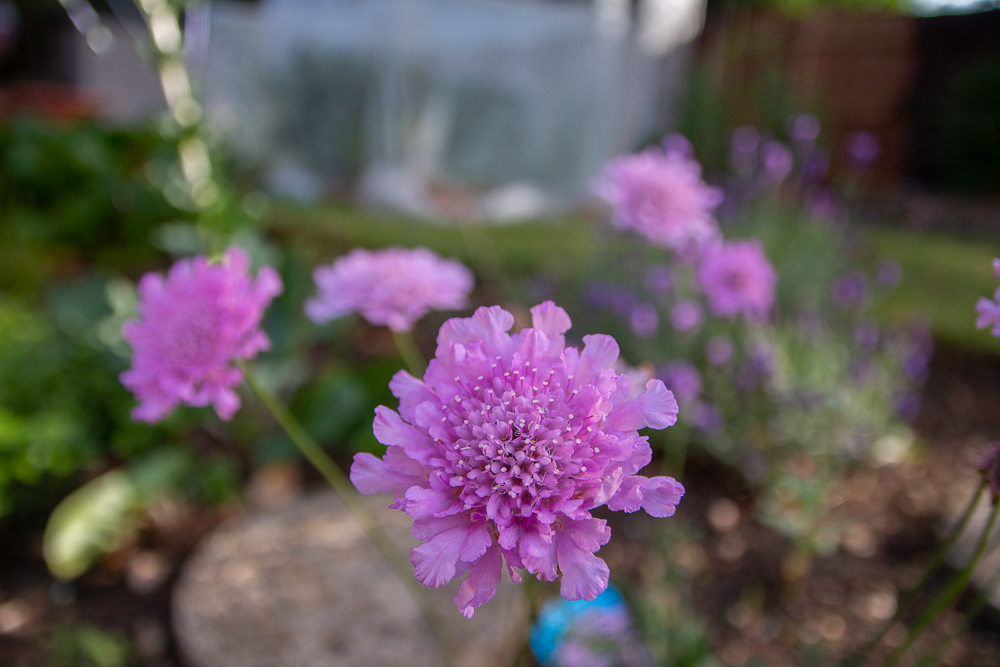 Flowers
The garden has bloomed this month and I love it so much! This year, I'm trying to pick flowers to bring into the house too, but it's hard because we don't actually have many flowers in the garden, so picking some makes it go from in bloom to waiting for the next flowers to appear. Each year, we keep buying more and more flowers so it's getting better, but it's still not a lot.
I'm loving the colour of these salmon nasturtiums I'm growing in the veg bed this year, and I love how there's different shades of salmon in there too. We've got so many self seeded snapdragons aswell and I'm loving them! I've actually grown some from seed this year too (I got a free packet with one of my orders earlier in the year, so I thought why not).
My dad also decided to build a summerhouse/shed last month (which is why the garden is looking a bit of a mess in some of the photos – the half painted fence (we got a new fence too), and remnants of the wood on the grass haha! It's only just finished inside, so I haven't got any photos of it just yet, but I might share some in next months garden post!
Are you growing anything this year? How is your garden coming along?
Follow
Save