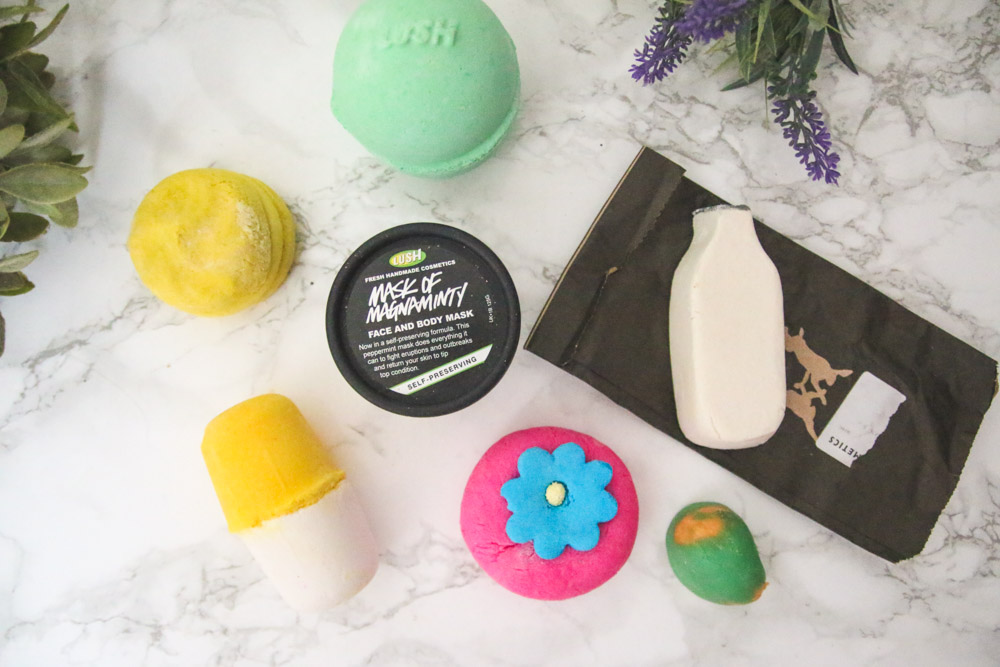 Since we got a new bath installed a few months ago, I've been going crazy with LUSH bathbombs and bubble bars! They're my favourite bath products to use and the bubble bars are my absolute favourites! Why does LUSH stuff smell so amazing?! I thought I'd share my little favourites haul with you and a couple other things that I thought I'd try out too!
Face Masks
I usually buy a face mask whenever I pop into store or make an order online as it's always nice to treat yourself to a little pamper time. I don't usually like the smell of the lush face masks, but I've found two that I absolutely love.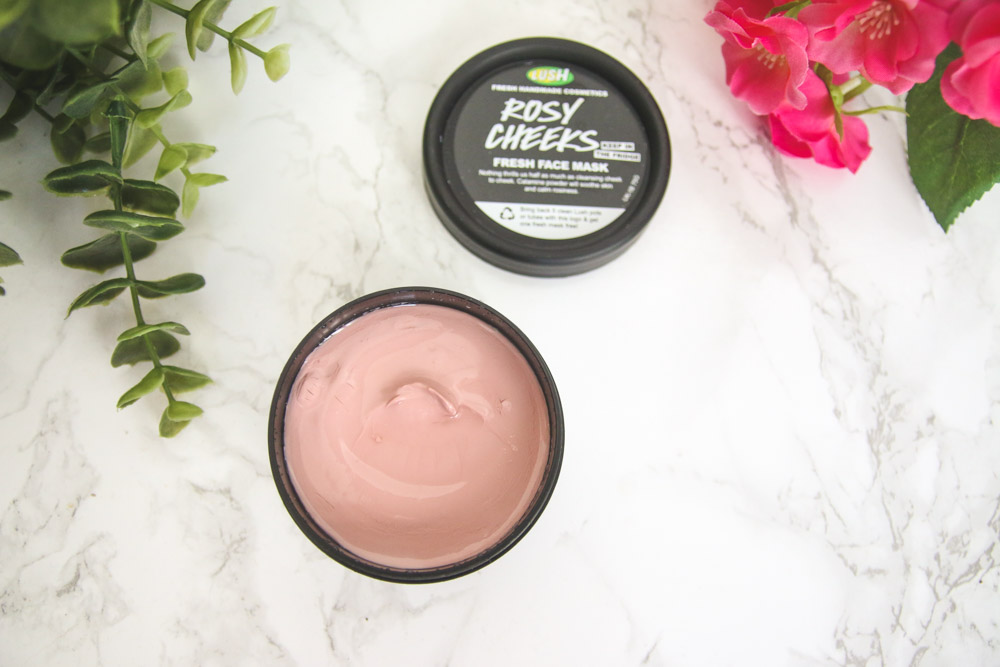 Rosy Cheeks Face Mask
I love the Rosy Cheeks face mask! It contains rose oil, calamine powder and kaolin to clean, calm and tone your face. It smells so nice and fresh with a hint of roses and leaves my skin feeling SO soft. It's really good for sensitive skin as it's not too strong and doesn't dry it out once you've removed it. You simply smoothe it all over your face, leave it for 10 minutes then wash it off.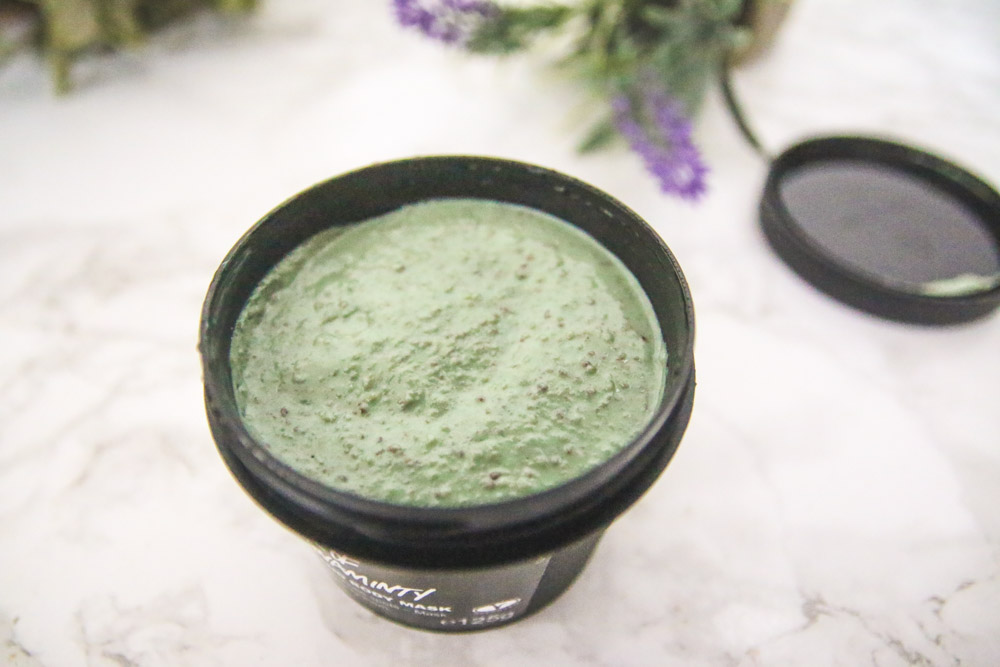 Mask of Magnaminty
The Mask of Magnaminty is probably my all time favourite mask from LUSH. It's a minty multi-purpose mask that cleans, exfoliates, nourishes and refreshes the skin. As it contains mint, it does feel a little tingly on the skin so I don't tend to keep it on for too long, usually only about 5 minutes before washing it off.
It comes in both an original mask form (which like all of LUSH's face masks need to be stored in the fridge) or a self-preserving one which is my favourite! It lasts a few months in comparison to a few weeks and can just be stored on a shelf in your bathroom instead so you don't forget about it (like I tend to do).
Bath Bombs
I love bath bombs! It's so fun to stand and watch them fizzing into the bath and seeing the little surprises that they give you like balls of glitter or like the Big Blue bath bomb, a bath full of seaweed (which I jumped out of the bath in a complete screaming panic as it terrified me haha). I prefer to have my baths with bubbles so I usually use a bath bomb with a little bit of a bubble bar too!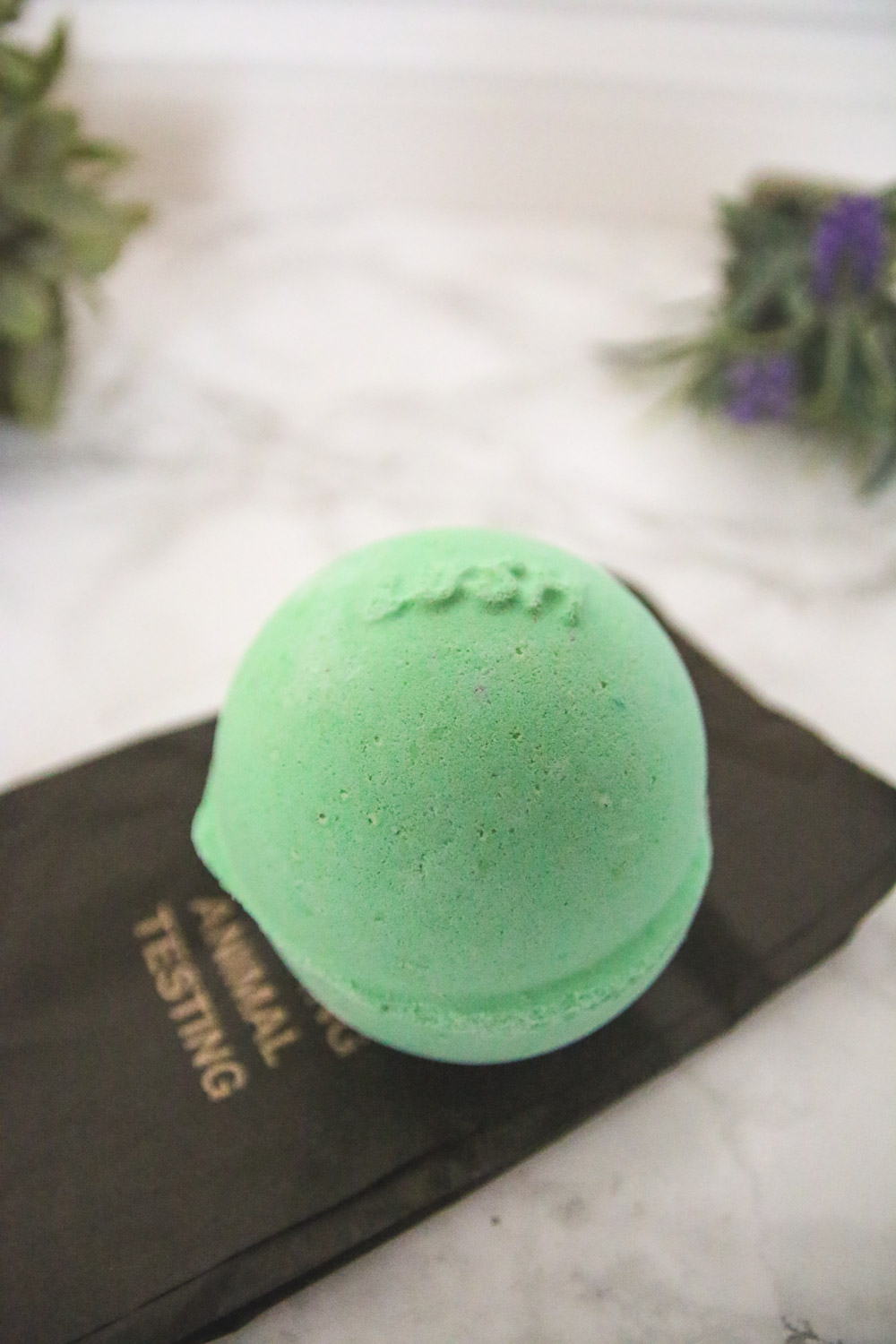 Avobath Bath Bomb
Avobath is probaby my favourite bath bomb that LUSH do. Although I absolutely love Dragons Egg, I don't like the amount of glitter that is left in my bath, so this one wins. I tend to go for the citrussy smells as they're my favourite and this one doesn't dissapoint. It's got lemongrass and bergamot oils to give you that lovely scent and wake you up, and then olive oil and avocado oils for nice moisturised skin! It does have a little bit of shimmer in it, but nothing like Dragons Egg!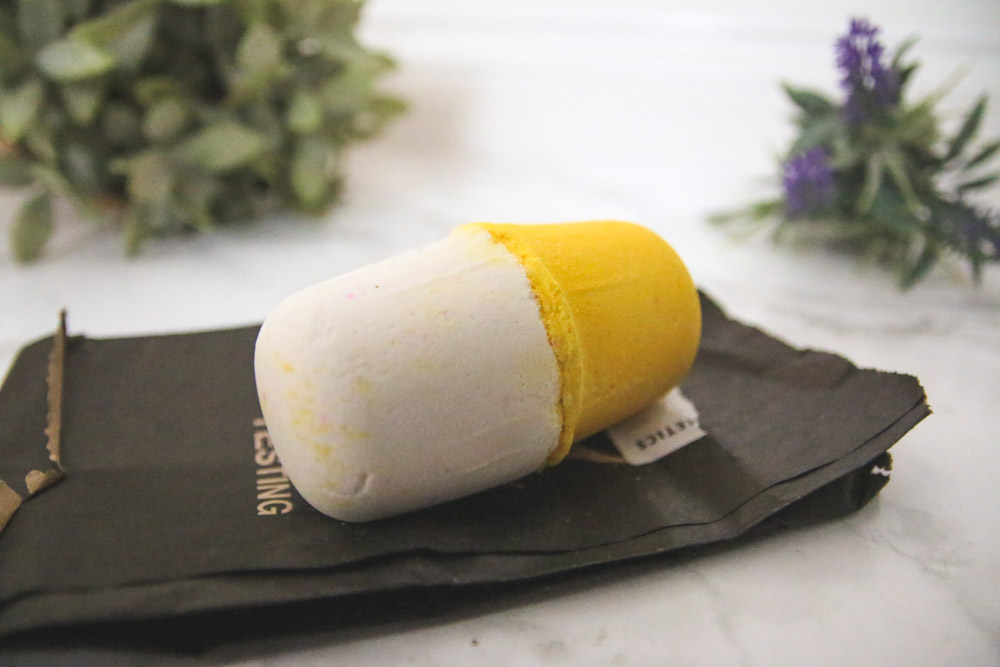 Cyanide Pill Bath Bomb
I bought this Cyanide Pill bath bomb to try out as I saw it on their website and couldn't resisit. I haven't got around to using it yet though, but it has such a werid (but nice I think) smell to it. It smells almost like marzipan because of the almond oils with a slight mix of citrus from the lemon oil. It's got popping candy in it too so that's exciting! I can't wait to try it.
Bubble Bars
Bubble bars are my favourite! I love being in a bath surrounded by bubbles and I love how long the LUSH ones last in the bath. I love to get my laptop stick netflix on and just sit there for an hour or so binge watching shows, so I love that they last that long! You just crumble them up under the running water and watch the bubbles multiply as the bath fills up.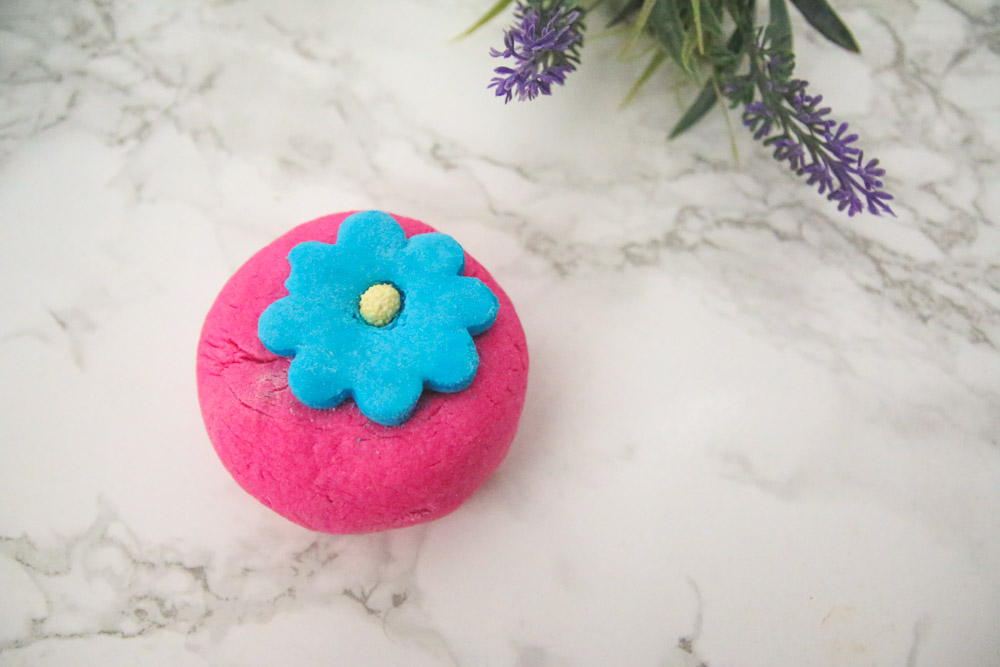 Pop in the Bath Bubble Bar
Pop in the Bath is probably my favourite bubble bar! It comes in two colours too – pink with a blue flower or blue with a pink flower, so you can either a blue or a pink bath depending on the colour you choose! It's one of the most citrussy bubble bars as it's filled with bergamot, mandarin and lemon oils, so it's SO refreshing and clean scented!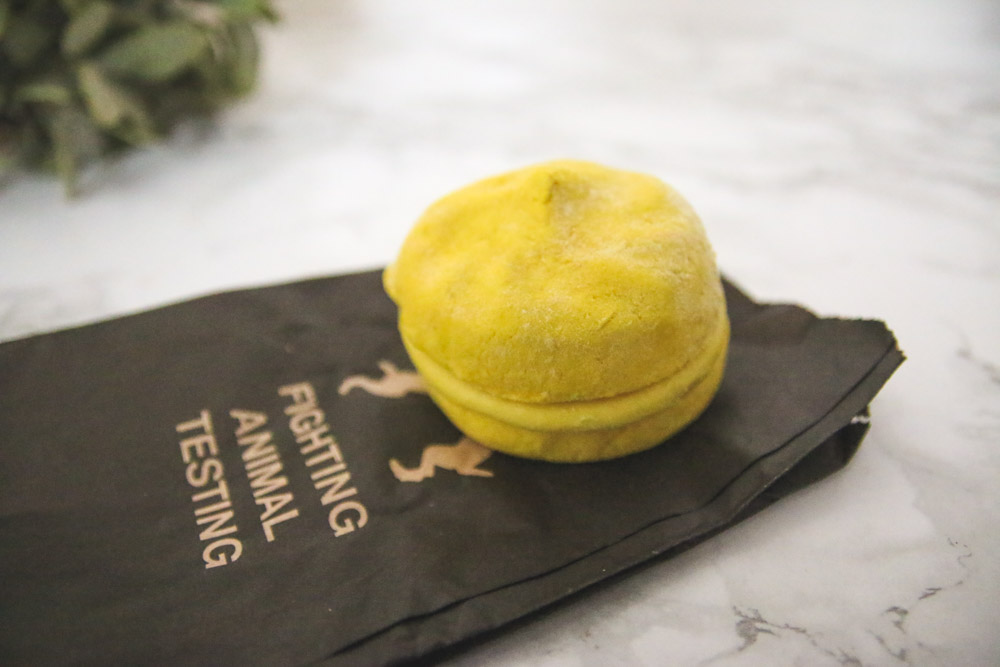 Yuzu and Cocoa Bubbleroon
I don't usually like the buttery or chocolately scents, but I actually really like the Yuzu and Cocoa bubbleroon, probably because it's got that little bit of citrus in it. It's got shea butter, avocado oil, grapefruit oil, banana and cocoa so it's a lovely calm scent perfect for evenings. I love how it's shaped like a macaron, so you can easily split it into two and make it last that little bit longer!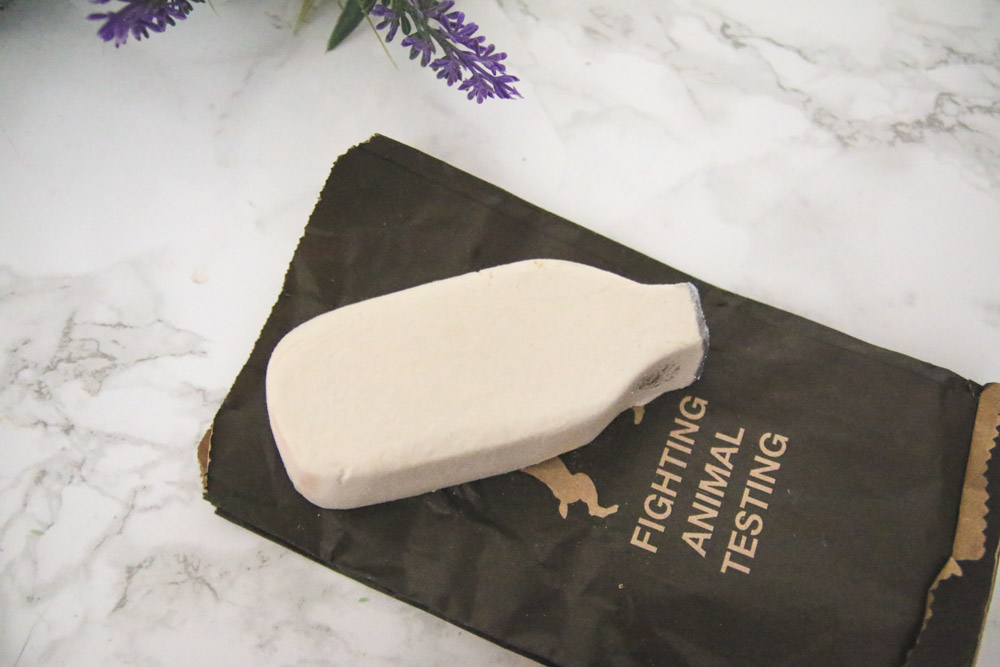 Milky Bath Bubble Bar
I bought this Milky Bath bubble bar on a whim the other week too because it sounded so nice and relaxing! It literally smells like a nice cup of hot milk, though I haven't used this one yet either so I can't wait to see what it's like when it's in the bath! It's got a little cocoa butter bottle top too for a nice moisturising bath filled with soya milk, orange oil and patchouli! I can't wait to use this one!
What are some of your favourite lush bath products? I'm always looking for more to add to the collection!