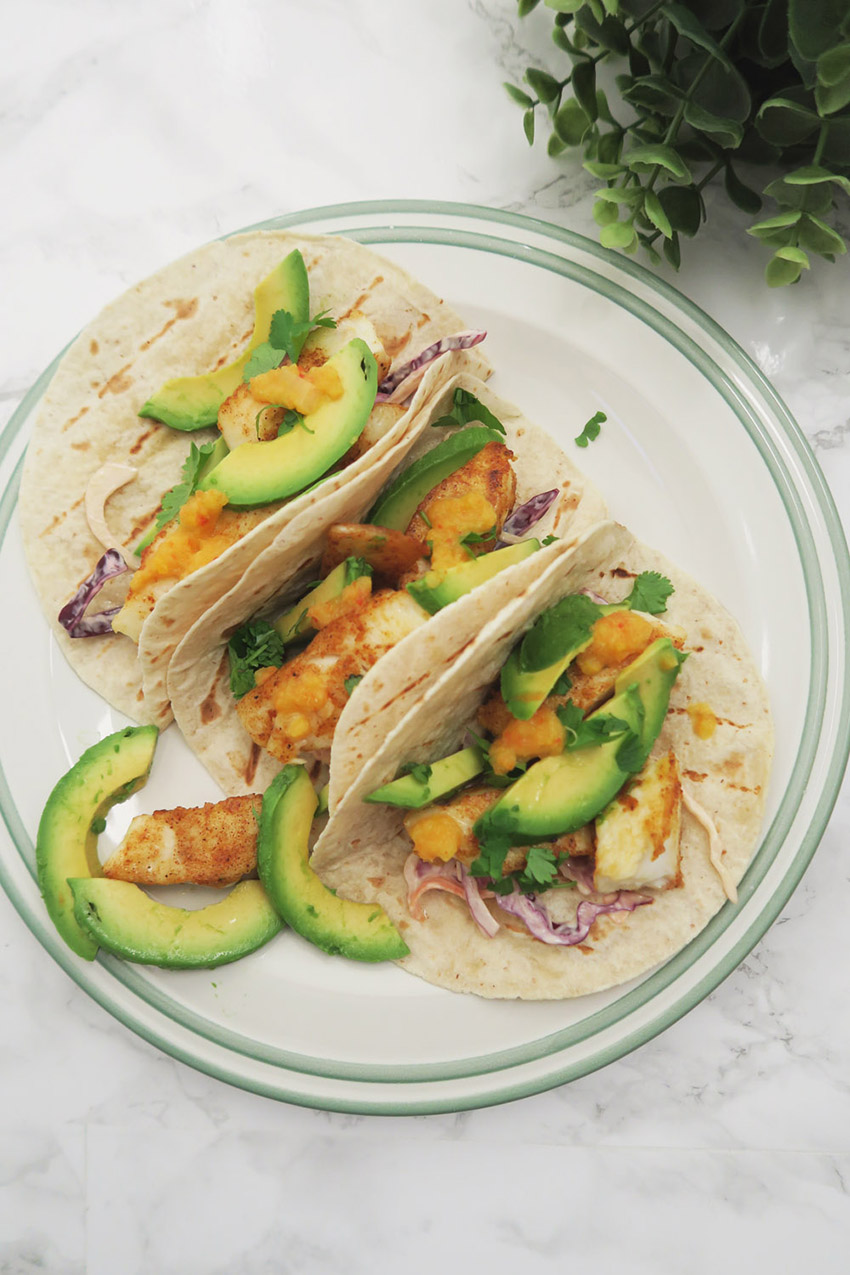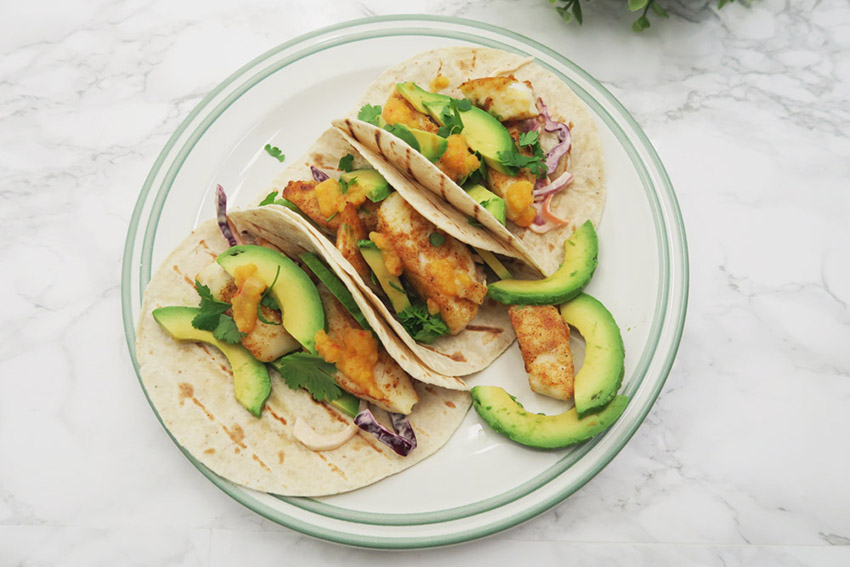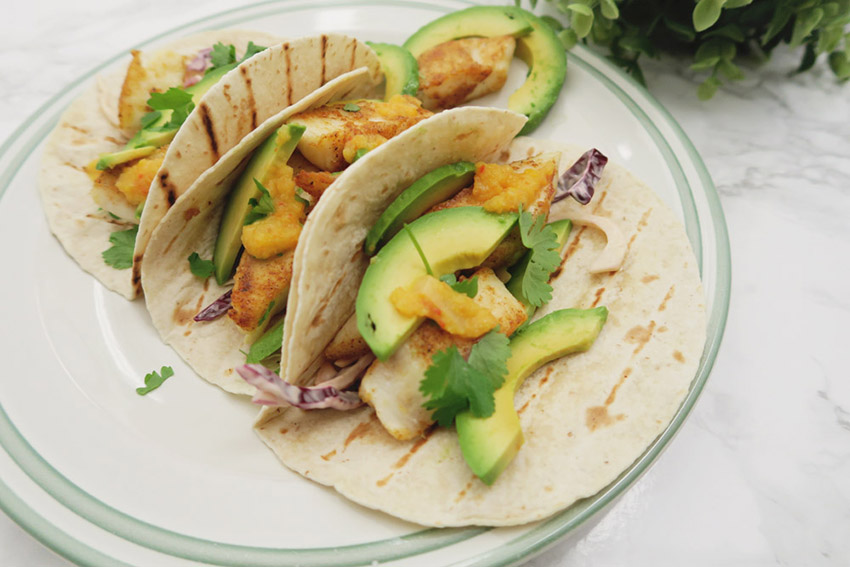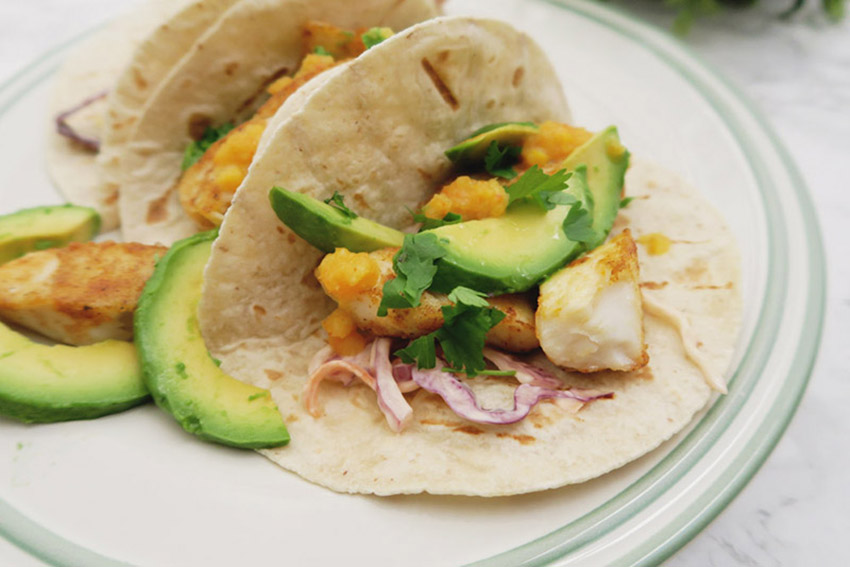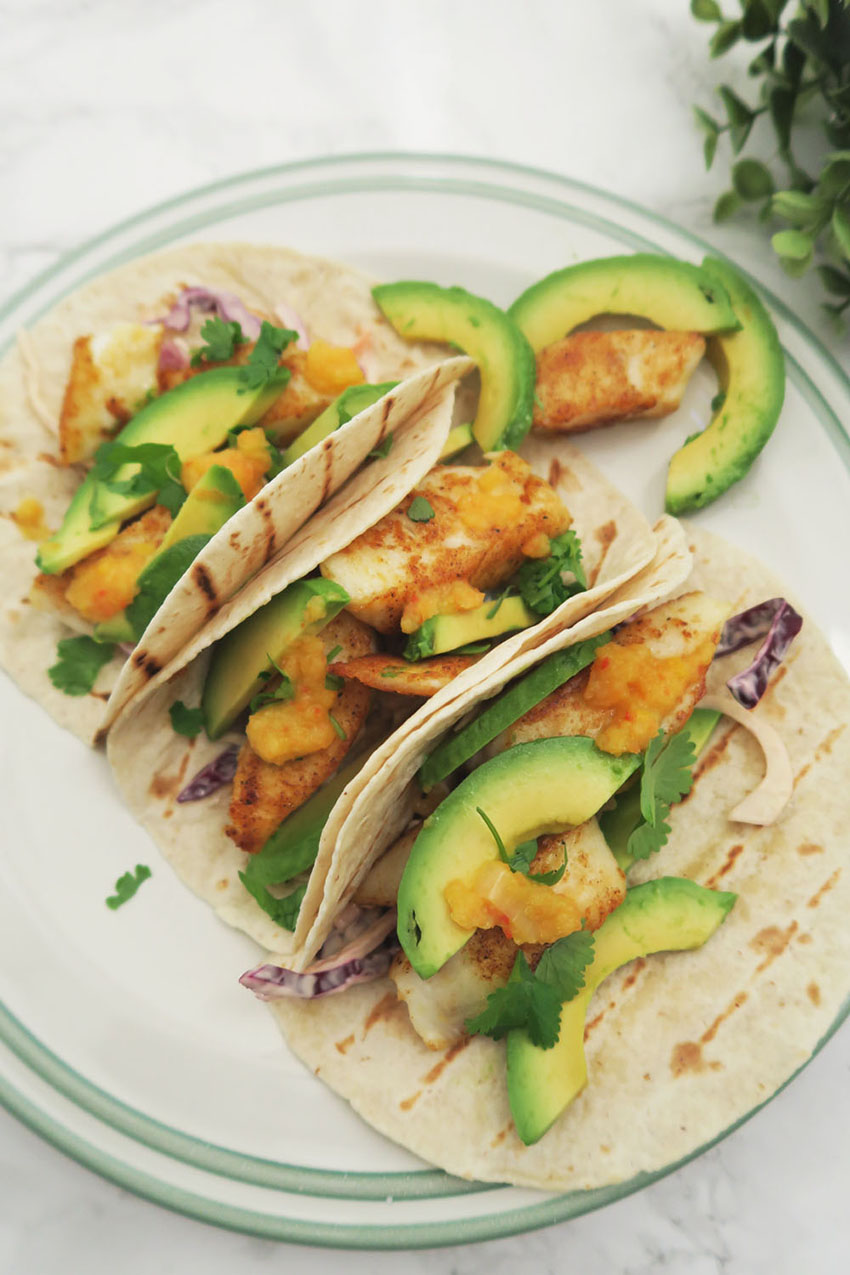 I've been dying to make fish tacos for a while now since seeing them on an episode of Masterchef US. The tacos we have in england are more like huge dry u-shaped tortilla chips, that we fill with minced beef, some spices and salad. Such a big difference to the soft tacos and amazing flavours that America uses!
Shane has been away this weekend, so I thought it was the perfect time to try some recipe testing and these turned out SO good! I was a little nervous about the pineapple chilli sauce, as I was literally just making it up as I went along thinking back to a few recipes I'd read and combining them all into one recipe. I'd seen some tacos that had mango and fruit sauces, and some that had creamy sauces, but since I was adding homemade coleslaw to mine and sliced avocado, which is quite creamy, I decided to go for the fruit style sauce.
These were so simple to make, and overall took about 3o minutes, including the time to make the sauce. If you've got that pre-made from a huge batch, they'd literally take about 10 minutes! Such an easy afterwork, healthy meal! This is for 2 servings (of 3 tacos each)
What you'll need
6 mini flour tortillas
2 fish fillets (I used tilapia), thickly sliced
2tbsp plain flour
1tsp paprika
garlic powder
salt & pepper
avocado, finely sliced
olive oil
fresh coriander
For the homemade coleslaw:
cabbage (i judged this by eye)
1 carrot
1/2 red onion
mayonnaise
For the pineapple chilli sauce:
1 onion
1 carrot
1/2 yellow pepper
salt & pepper
1 clove garlic
1 red chilli (add more if you like more spice)
3 pineapple rings + a little juice (tinned)
water
How to cook it
1. Start by preparing the chilli sauce, so this can be reducing down while the rest of the tacos are being prepared. Soften the onion, carrots, peppers and chilli in a pan with some olive oil, then add in the garlic, salt & pepper. Cook for a few minutes, then add the pineapple slices and some of the juice, then add some water to loosen the mix a little and blend until smooth. If it's too thick, add a little more water, if too watery, reduce it down on the heat a little longer.
2. On a plate, mix the flour, paprika, garlic powder and salt & pepper on a plate, ready to dust the sliced fish fillets in. Make sure the fish is evenly coated, then fry on a medium heat till the fish is cooked through.
3. While the fish is cooking, finely slice the onion and cabbage, then grate in the carrot. Mix in a bowl with some mayonnaise, I used roughly a tablespoon.
4. Grill the tortilla wraps on a griddle pan, or if you don't have one, warm them over the gas flame on the cooker. Fill with the homemade coleslaw, crispy fish, sliced avocado, then drizzle over the pineapple sauce and sprinkle over some fresh coriander leaves and serve!
I was really nervous about trying the fish with the pineapple sauce and coleslaw, but they actually turned out really nice. I think the pineapple sauce could have done with a little more chilli, but since I don't really like spicy food I thought I'd try it a little mild to start off with. The sauce made quite a big batch, so I've bagged some of the rest of it and frozen it for any future tacos I'll make!
What are your favourite taco fillings? I'd love to try some more!