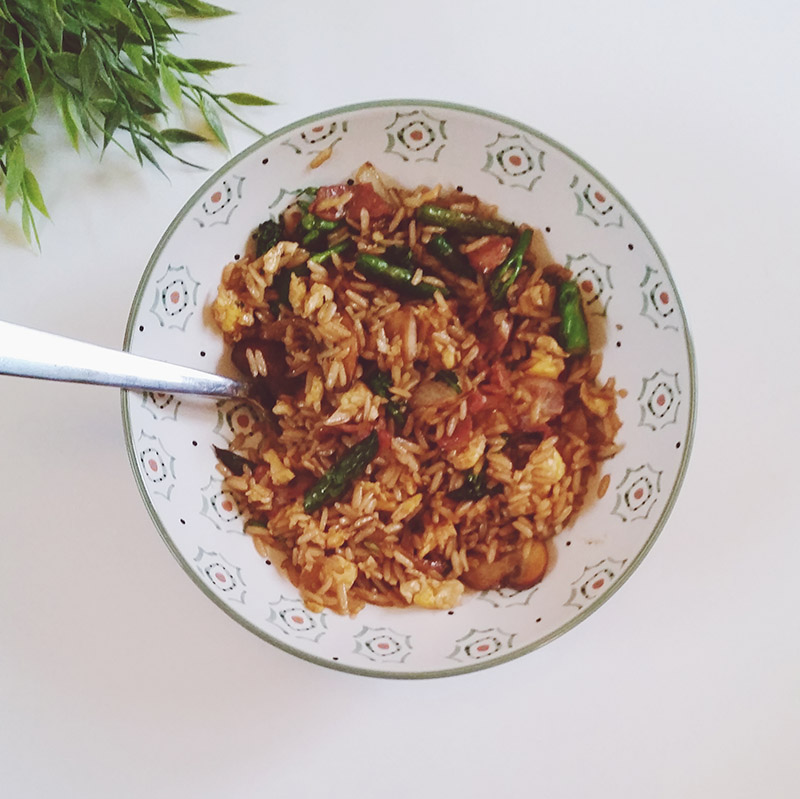 After a month long blogging haitus, I'm finally back with a recipe (sorry for the crappy phone quality photo)! I honestly can't believe it was a month ago that I last posted, but life has been so busy this last month and to be honest, we haven't really done anything exciting enough to blog about, but I thought I'd pop back in to share one of my favourite dinner recipes.
It really is such a quick recipe – I made this for lunch for Shane and I in about 10 minutes yesterday which most of that was just the chopping of the vegetables. I find that using a packet of pre-coooked microwavable rice works much better for frying, as freshly cooked rice tends to go really soggy and sticky once it's fried as it still contains a lot of water from cooking (and it takes a whole lot longer to cook too).
You really don't need many ingredients for this, just some rice, whatever vegetables you have on hand (and chicken if you want to add that in too), and then just fry it all up and theres a meal for two! So quick and simple for a nice healthy dinner after work when you're short on time.
INGREDIENTS
– 1 packet (250g) pre-cooked microwave rice
– handful tenderstem broccoli, roughly chopped
– handful asparagus tips, roughly chopped
– handful mushrooms
– ½ onion, finely sliced
– 1 clove garlic, finely chopped
– 1 medium egg
– 1 tbsp oyster sauce
– 1 tbsp dark soy sauce
– 1 tbsp shaoshing rice wine (optional)
– 1tbsp light soy sauce
– sesame oil to serve
– 1 tbsp cooking oil (i used olive oil)
Start by preparing all of the vegetables beforehand and mixing all the sauce ingredients together in a bowl. If adding chicken to the recipe, start by cooking that first on a high heat till almost done. Microwave the rice as stated on the packet (ours took 2 minutes), then leave to cool slightly while cooking the rest of the ingredients (you don't want too much steam or it may go a little soggy).
Add to the pan the onions, broccoli, asparagus and mushrooms and cook on a high heat till softened slightly. Add in the garlic and cook for a minute or so making sure it doesn't start to burn. Push all the ingredients to one side of the wok/frying pan then add in the egg and scramble. Once cooked through combine it with the veg. Pour in the sauce then add in the rice, stiring it up thoroughly. Finish it off with a little drizzle of sesame oil then serve it up!