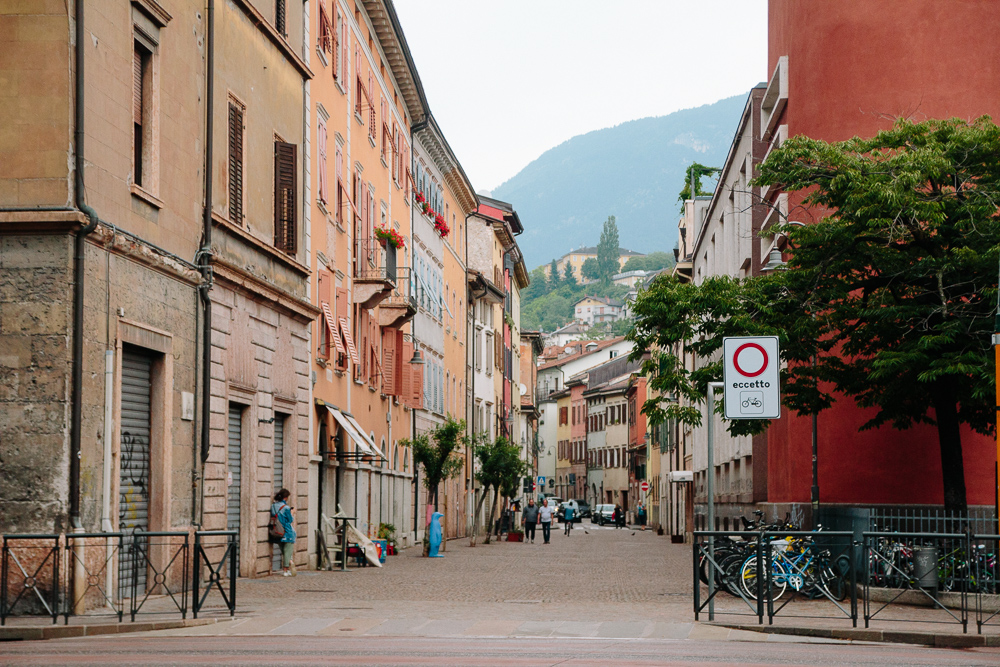 Trento – A Quaint City in the Italian Alps
When Traverse announced that they were holding Traverse19 in Trento, it sounded weirdly familiar. I looked on a map and realised that we drove straight through it on our roadtrip earlier that year on our drive between Sirmione at Lake Garda and our stay in The Dolomites, with no intention of stopping for a visit.
It wasn't until I visited last month for the conference that I realised what we'd missed out on! It's such a lovely little city, perfectly based to explore the region of Trentino over a long weekend, and with so much to see and do in the area you'll never be bored! I only wish I had a few more days to explore more of the region too!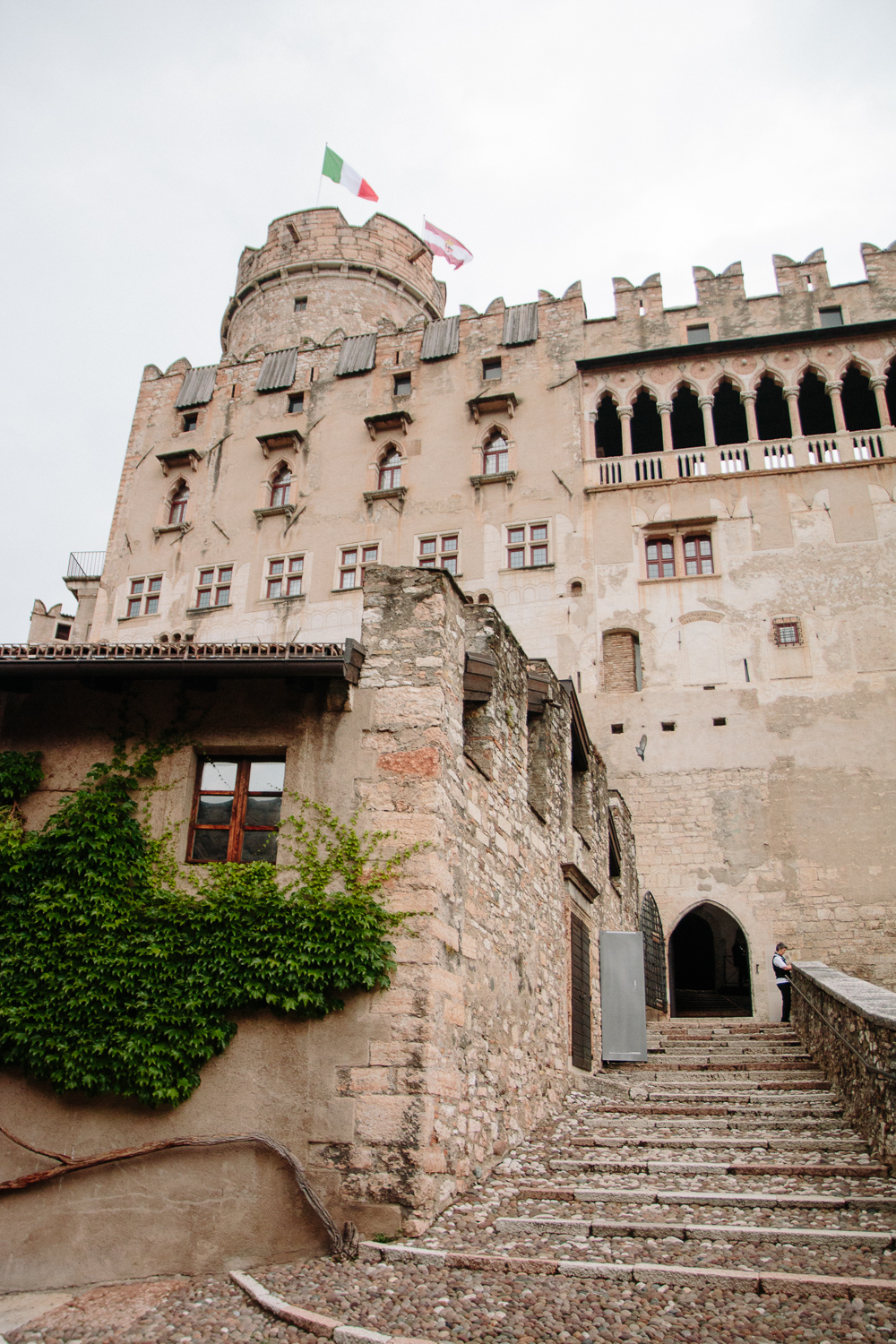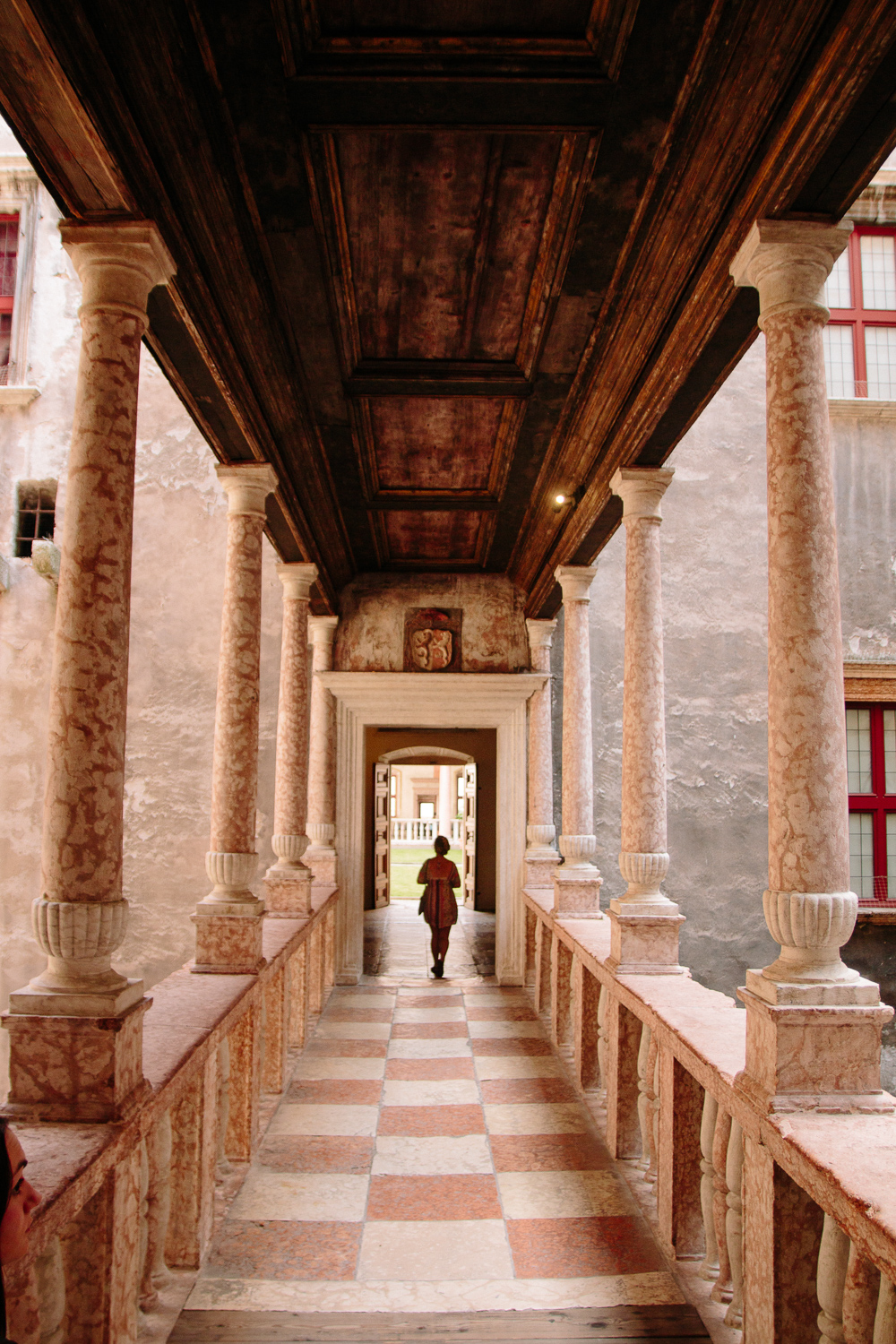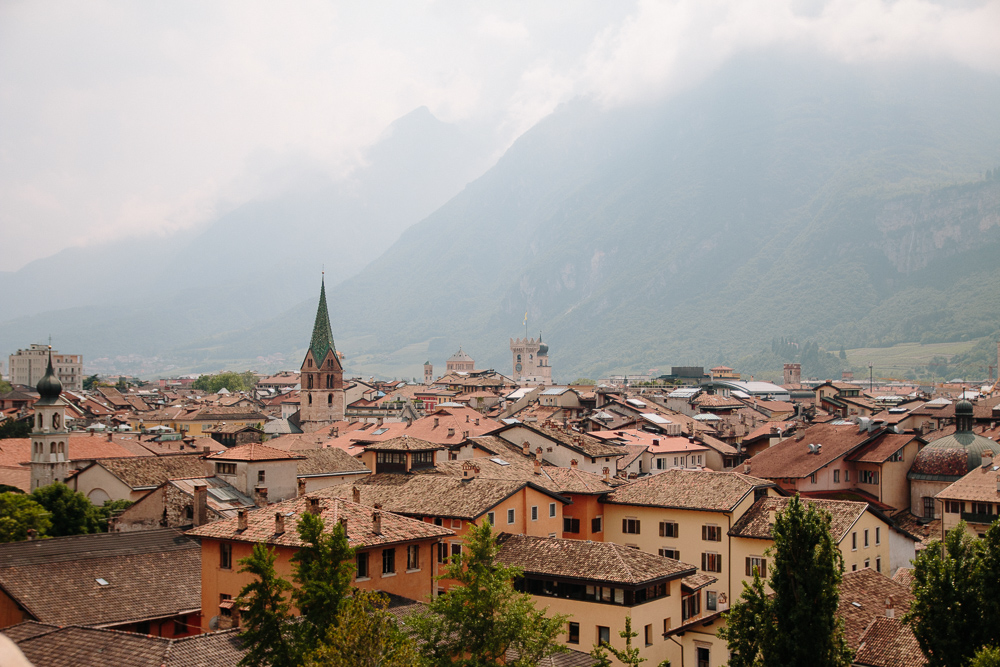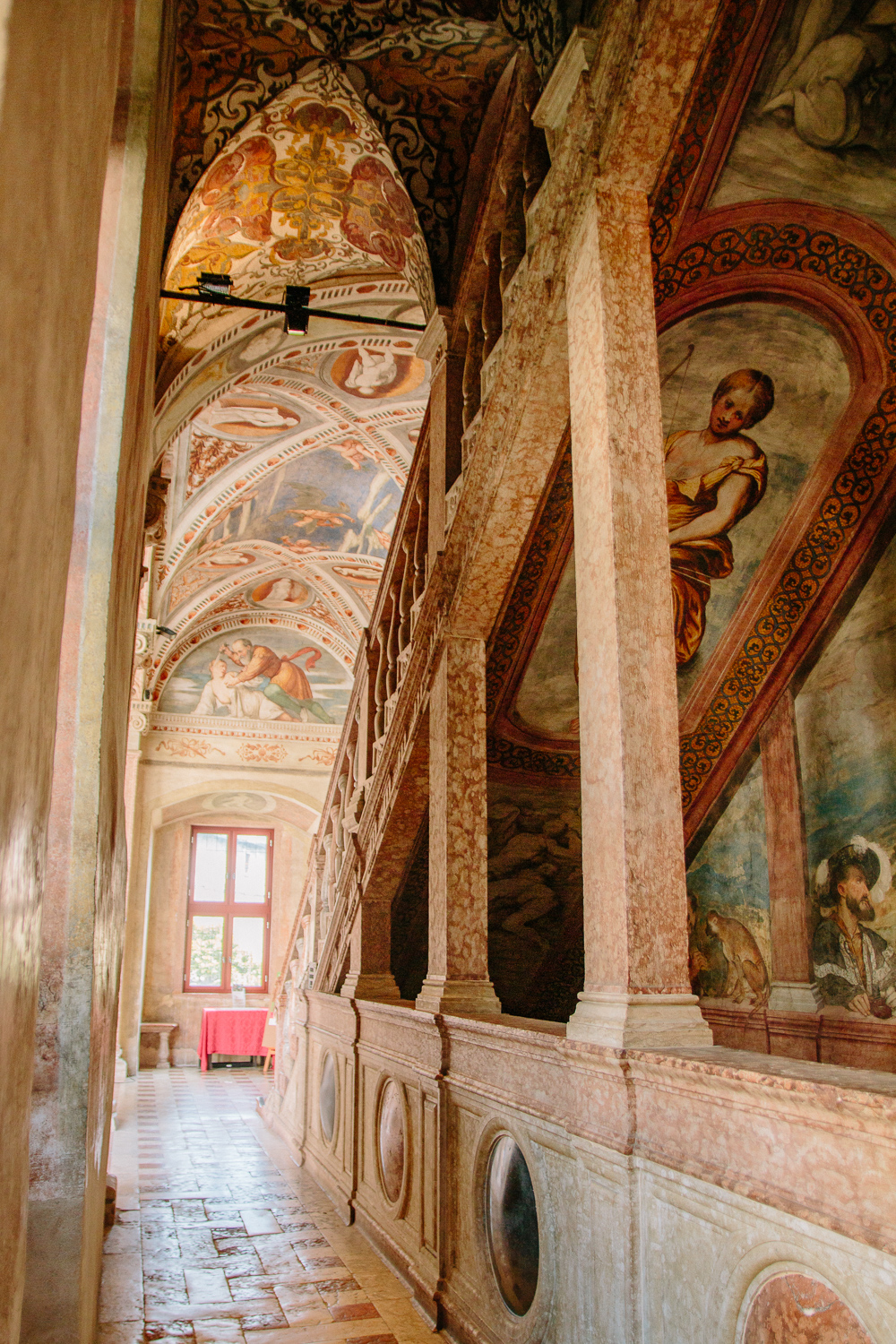 Castello del Buonconsiglio
One of the main sights in Trento is the Castello del Buonconsiglio – the former residence of the Prince Bishops and the largest and most important castle in the Trentino region. It was originally built in the 13th Century, and has been extended throughout the years in different era's which you can see as you walk through.
There's Castelvecchio which includes the tower and gothic fresco's, another section was added during the Renaissance and again during the Baroque ages.
My favourite was the huge viewpoint over the city surrounded by a courtyard with balconies looking down from each floor, the views were amazing. We arrived in the pouring rain, and the clouds were just starting to clear as we arrived to the viewpoint. Afterwards, we walked through to another huge grassy courtyard where the main fresco's are which were just stunning! From the outside the castle looks quite plain, so I loved that I wasn't expecting anything like this inside!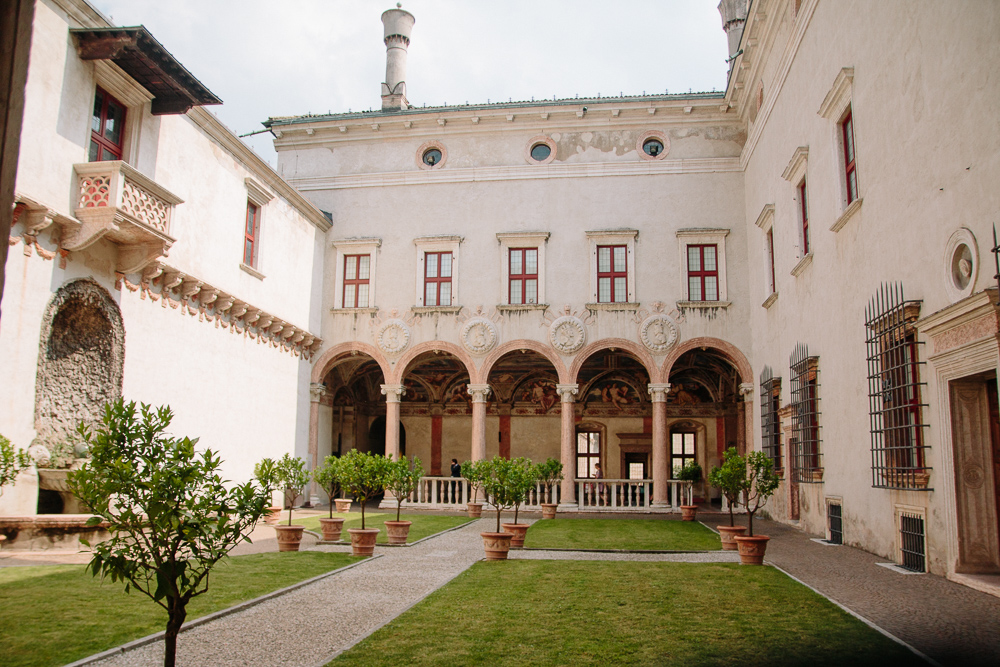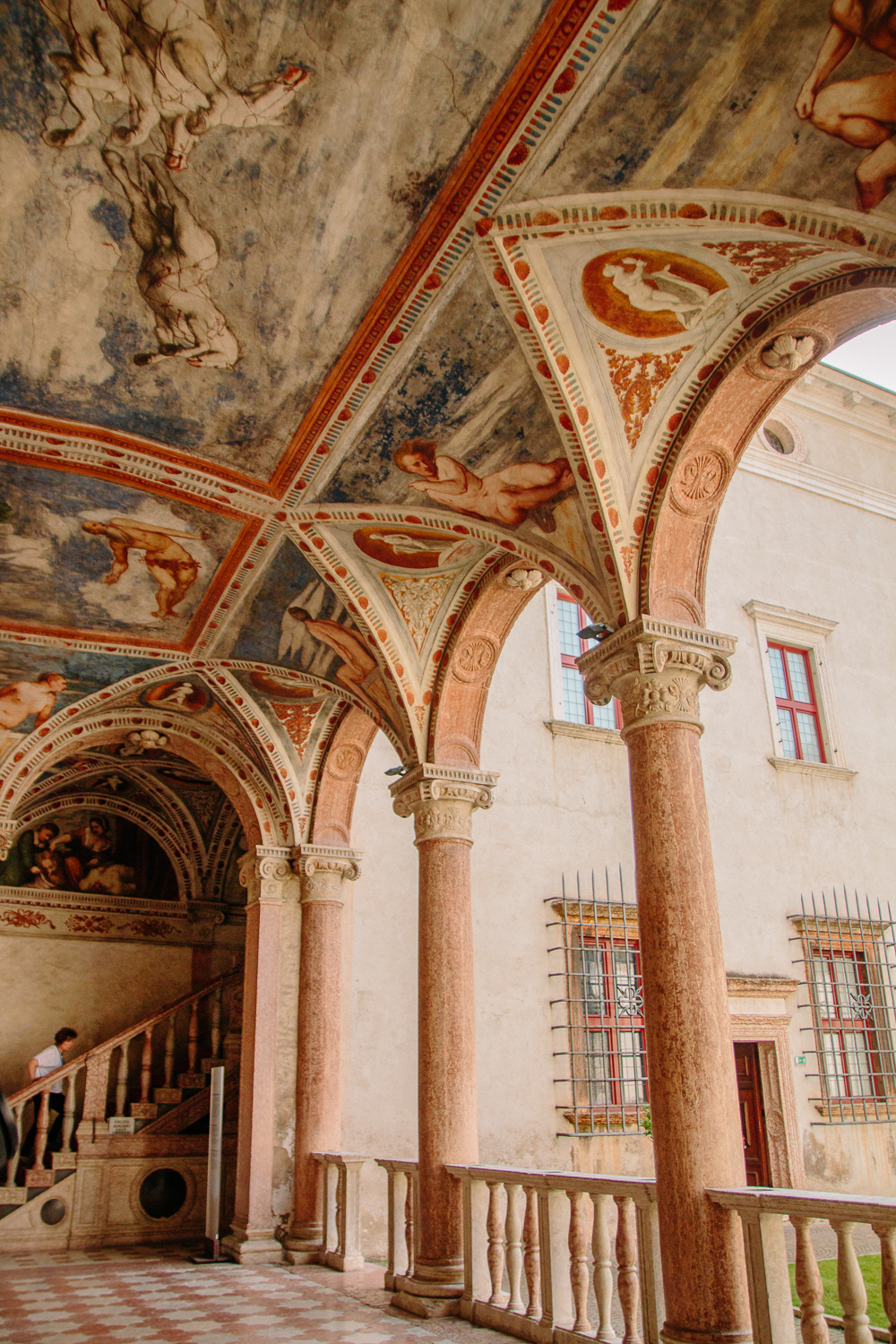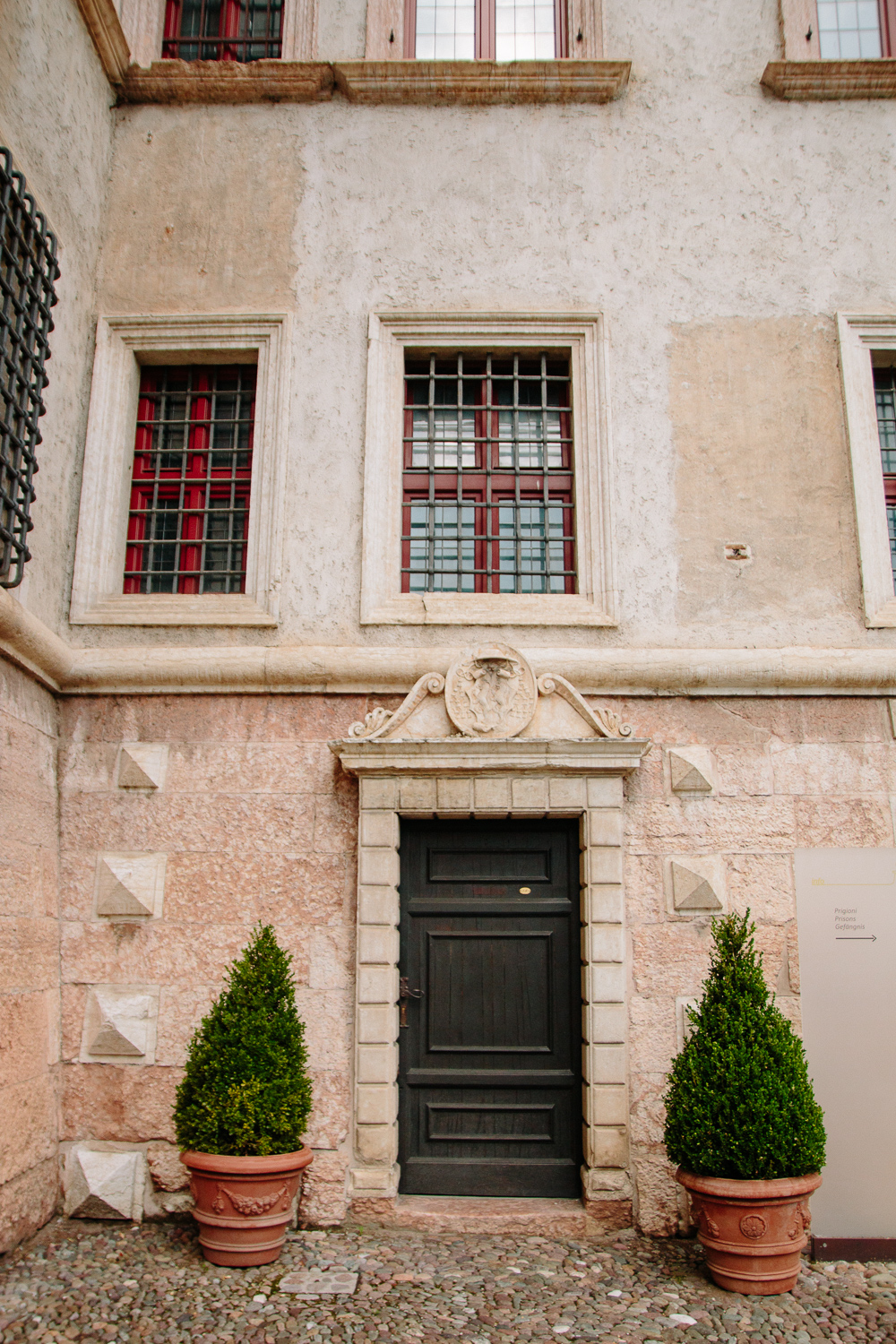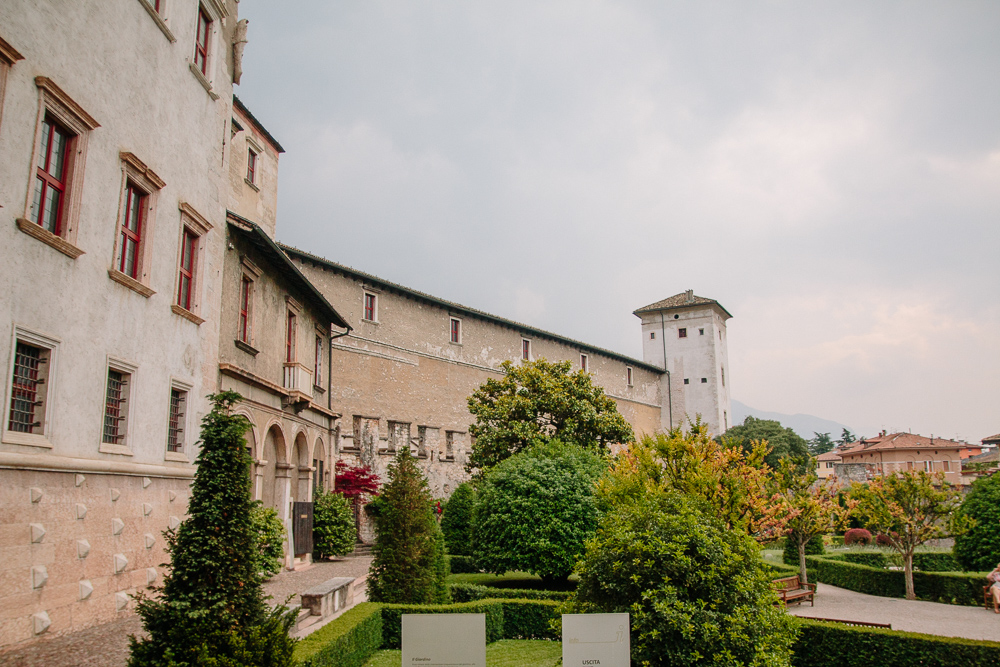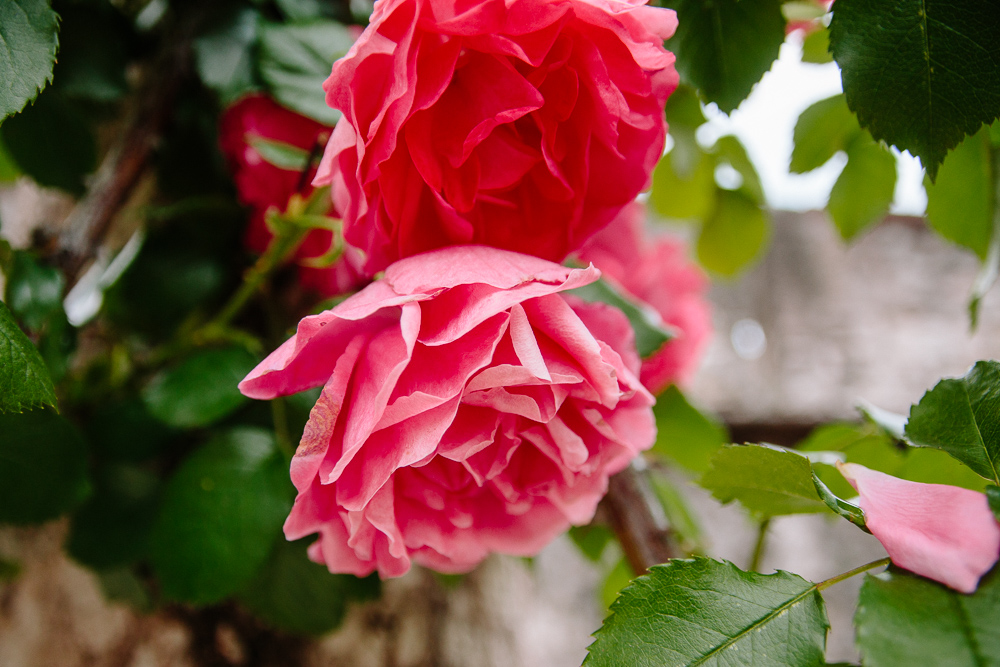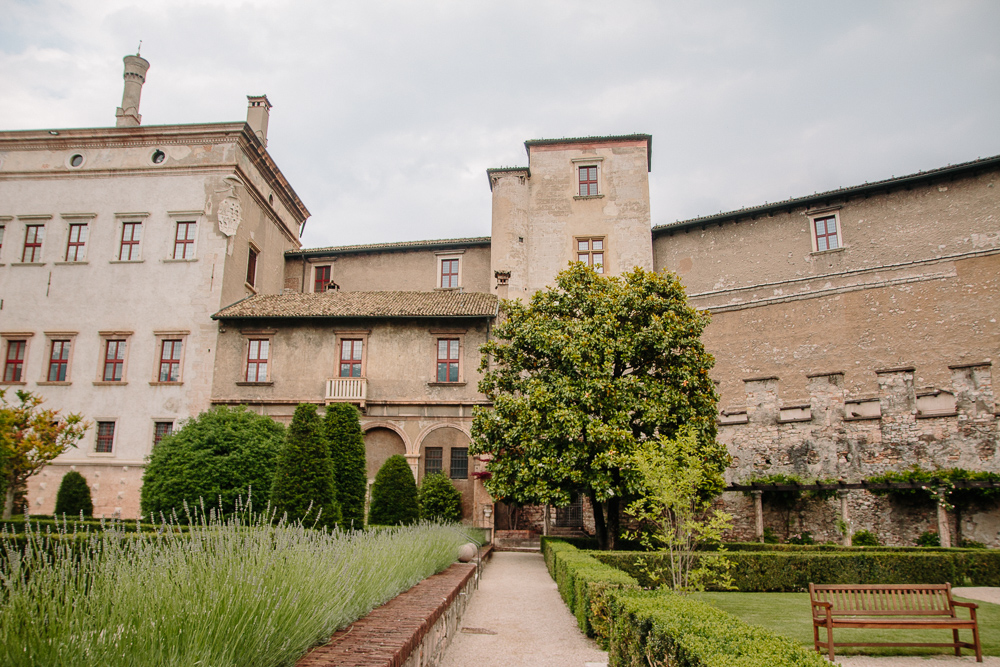 You could spend a good hour or two exploring all of the rooms in the castle, but as we were on a 2hr photo tour of the city, we sadly didn't have enough time, but what we did see was stunning and I'd defnitely recommend a stop there if you visit. The gardens are also really lovely, but small, but there's plenty of seating where you can just chill and admire the views for a while.
The castle is open 10am-6pm Tuesday-Sunday and costs €10pp for anyone over the age of 26, 15-26 yrs old is €6pp and children between 0-14 are free of charge. Entry to the Tower is an extra €2pp with guided tours every 45 minutes. You can find up to date info on their website here. With Trento being such a small city, it's an easy walk from most parts – and about 10 minutes walk from the train station.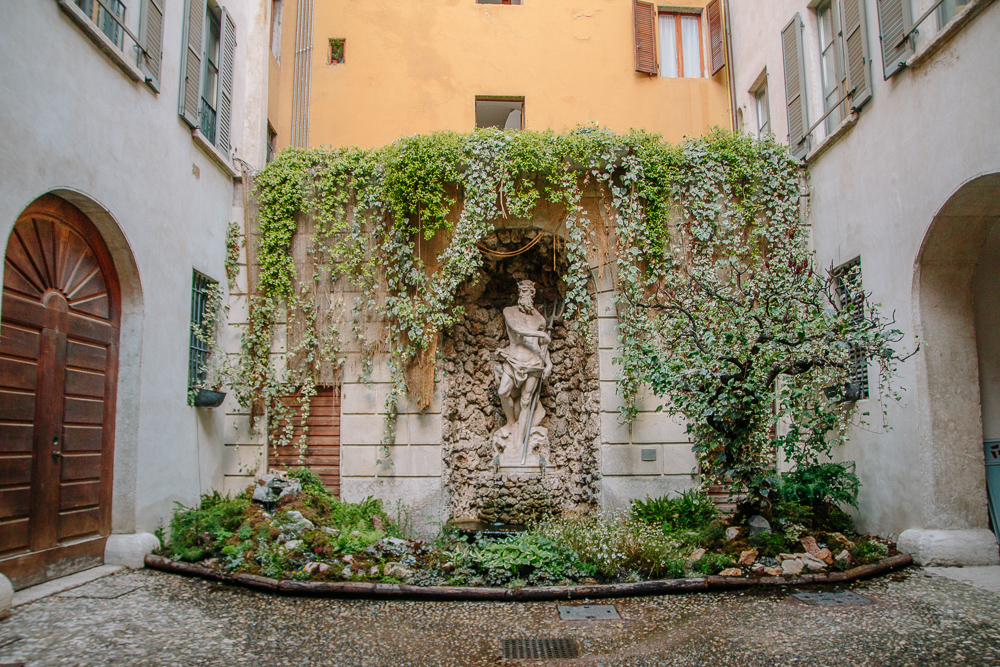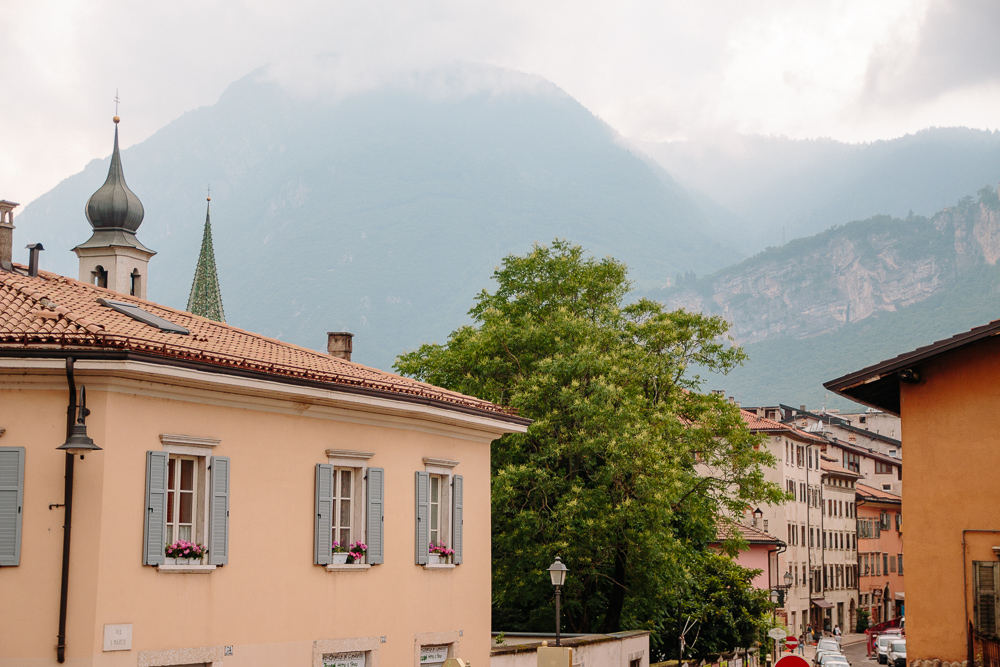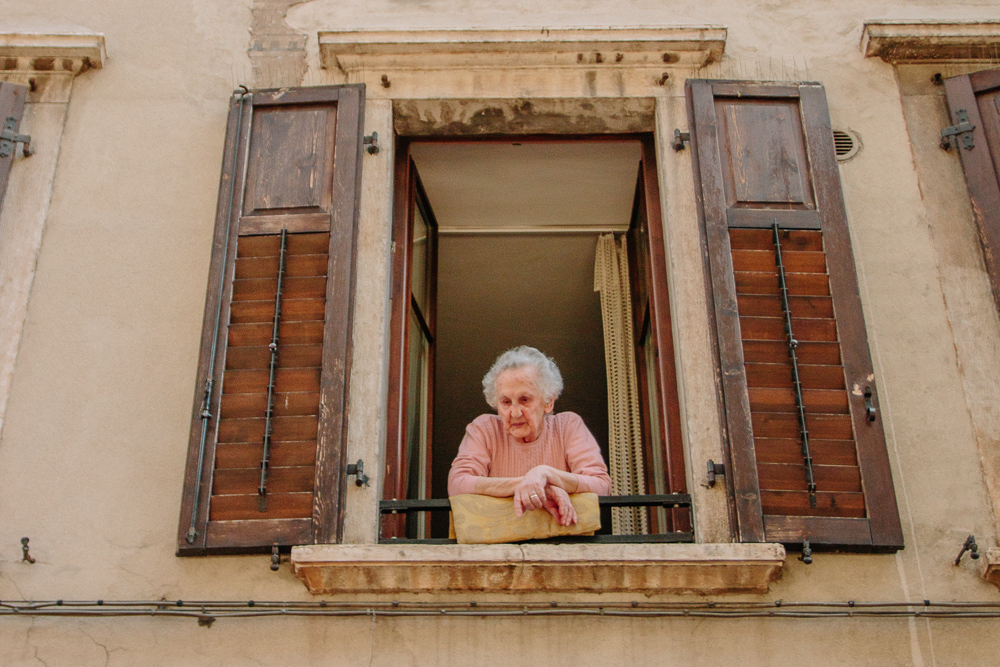 Get Lost in the Streets of Trento
I'm not a city lover – I much prefer to be by the sea or up in the mountains at least Trento has the mountains), so the idea of exploring a city doesn't interest me. But, Trento is such a small city surrounded by mountains that I loved getting lost in the streets. The old town was by far my fave, obviously, with its colourful buildings with their shuttered windows and pretty flowerboxes, but also wandering down random streets and finding fountains in the middle of nowhere.
The people are also really friendly! As we walked along snapping photos of old buildings, we saw an old lady looking out from her window – one of the girls knew Italian so we got chatting to her and found out that she was 93 years old! She was so friendly and LOVED posing for the camera! Such a difference to being down in Rome where in my experience, everyone was so grumpy!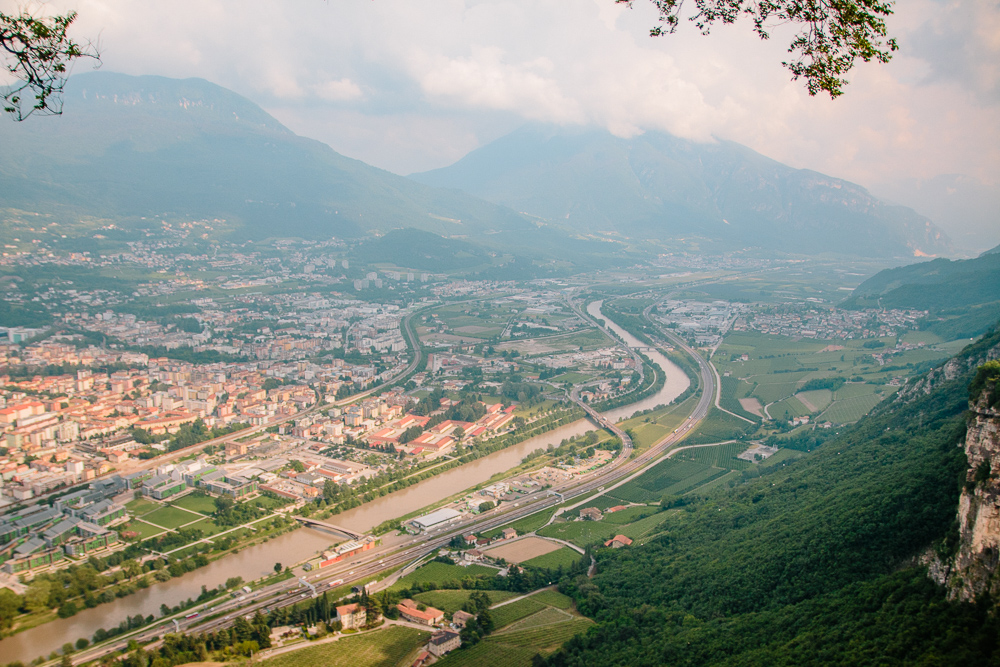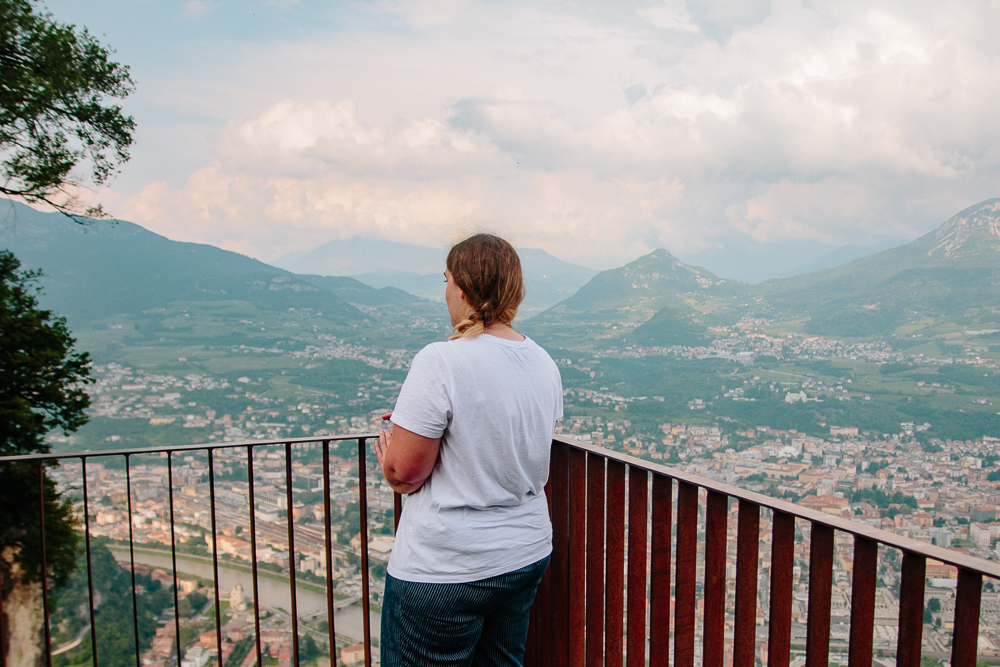 Take the Cable Car to
Sardagna
If you visit Trento, another thing that you just have to do is hop on the cable car up to the village of Sardagna – though we never actually made it to the village itself, as it's a few minutes walk from the cable car station. The views from the top are amazing! We didn't think we were going to make it up there, as the whole afternoon we were on our photography tour, the clouds were clearing from heavy rain and you couldn't even see the top station, but just as we finished the clouds had started to clear. It's well worth a trip up there – there's a whole viewing platform that you can sit and take in the views, and a bar just outside the cable car station.
The cable car is open everyday from 7am-10:30pm (so you can even get those sunset views) and costs €3pp one way or €5pp return. You can also take bikes on board at certain times. The Trento cable car station is over the river from the main city area, but I would say it's only a 5-10 minute walk from the train + bus station. You can find up to date info on their website here.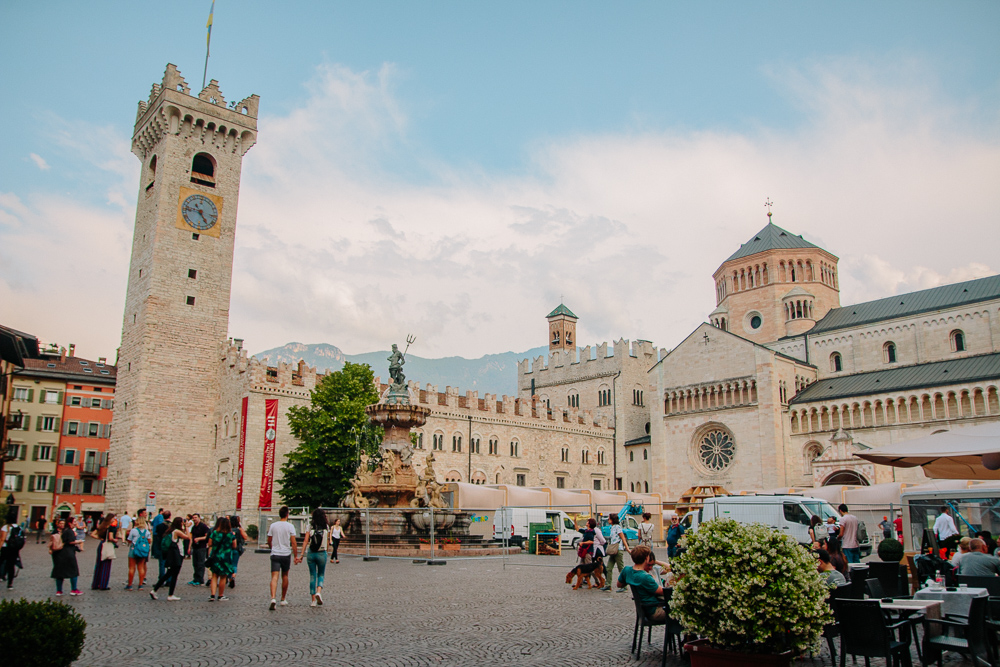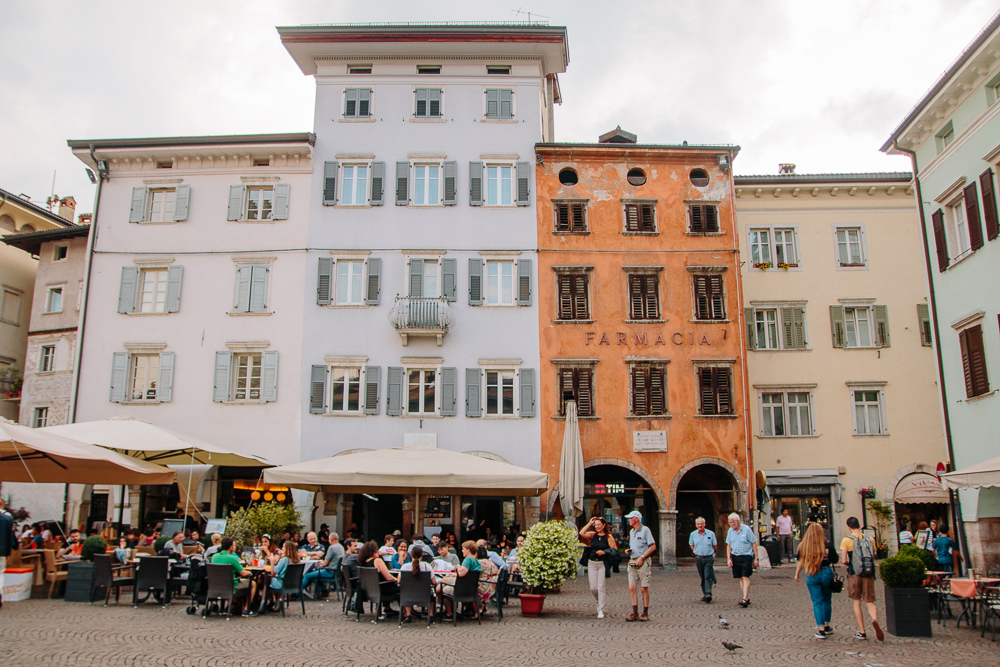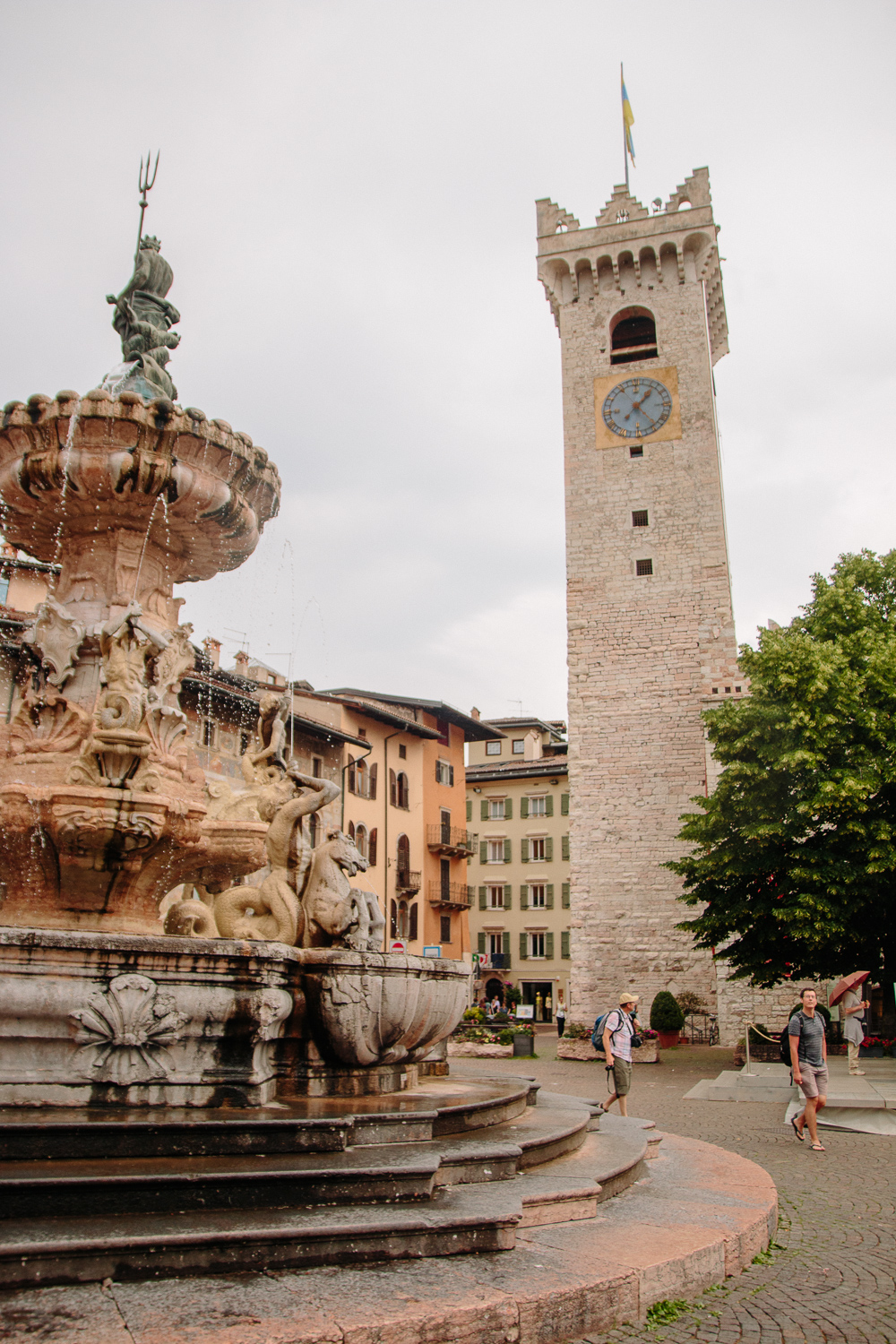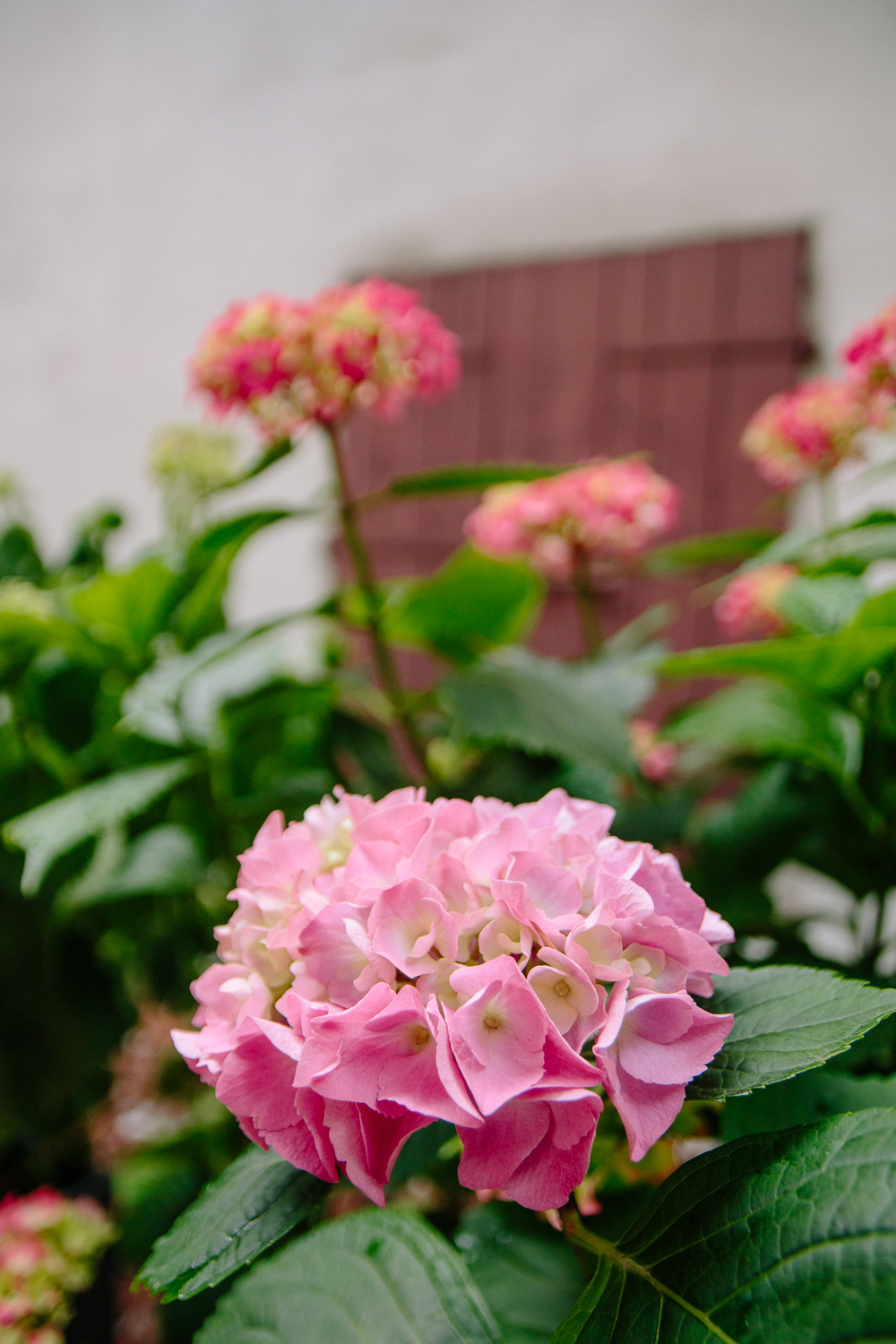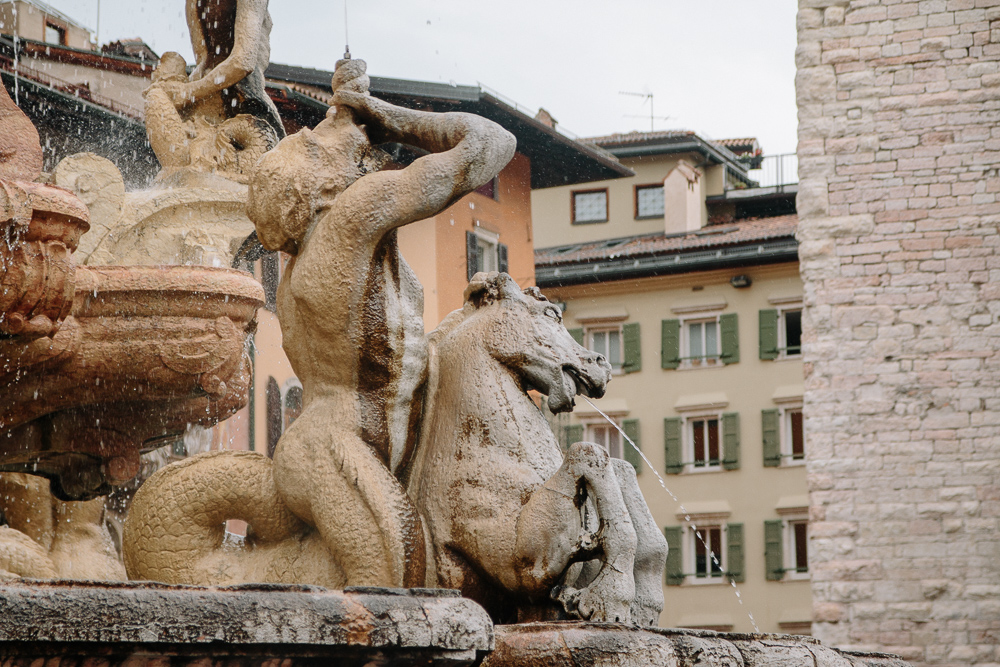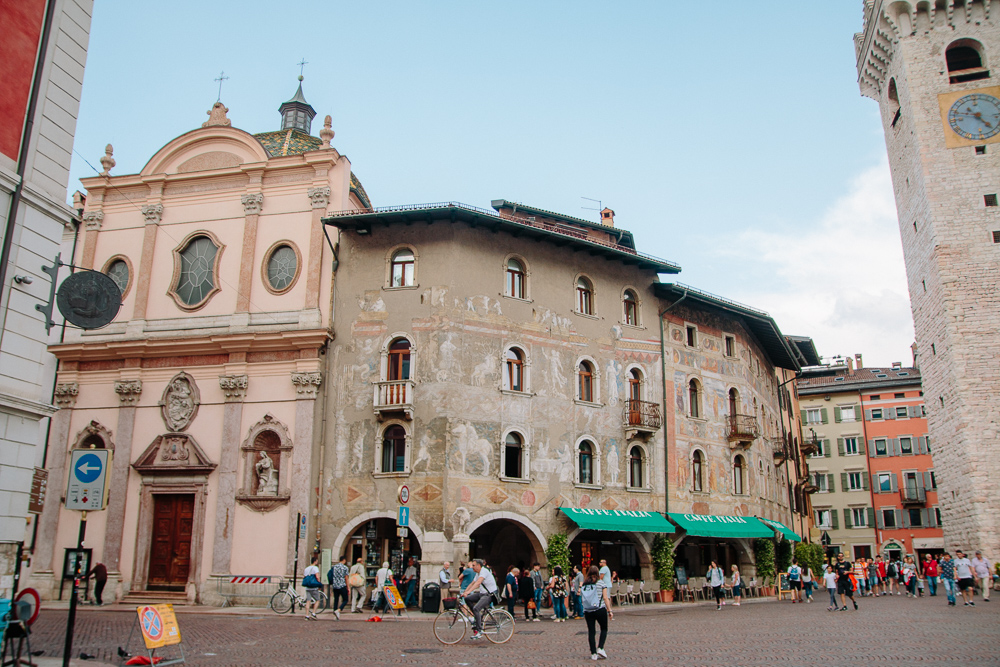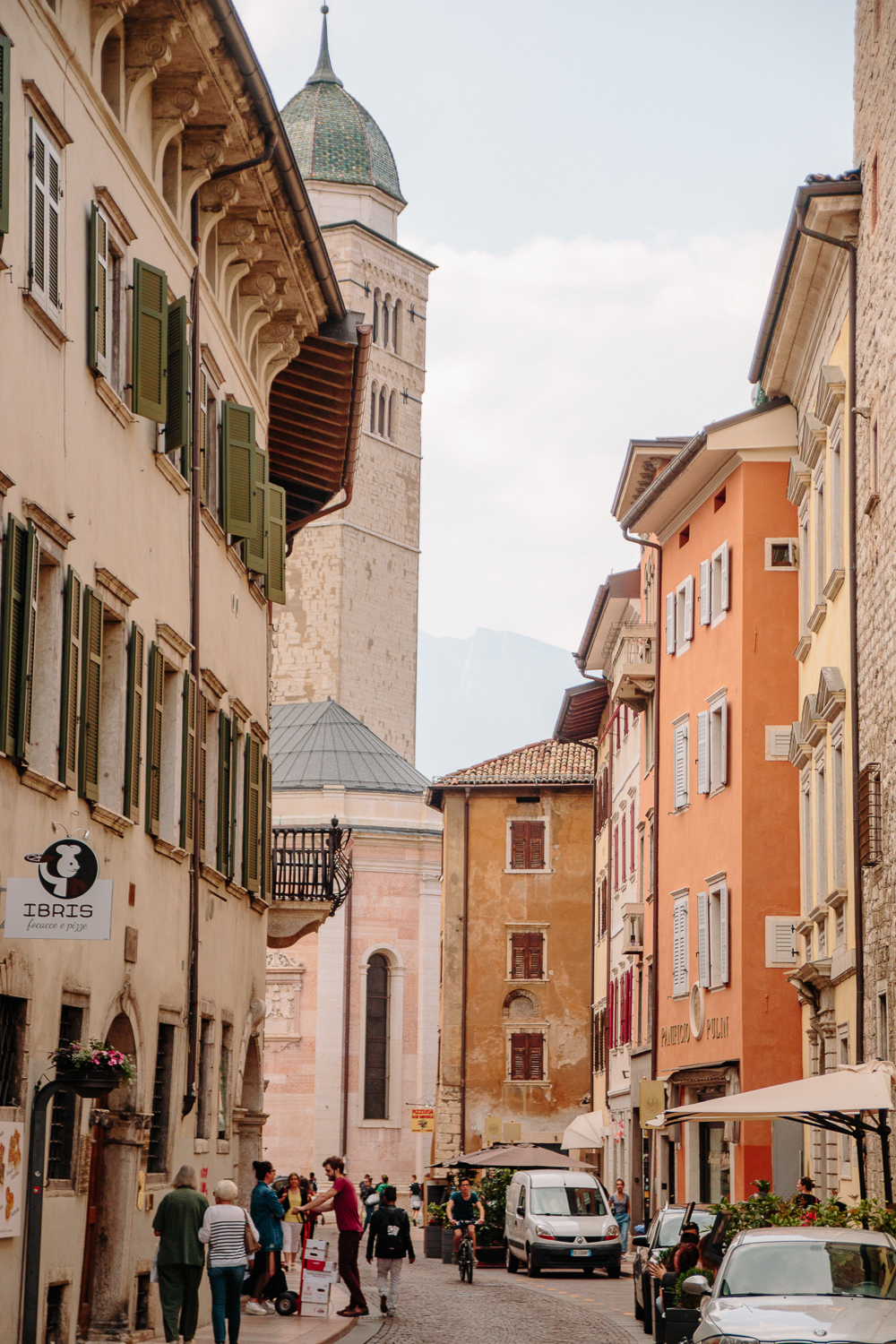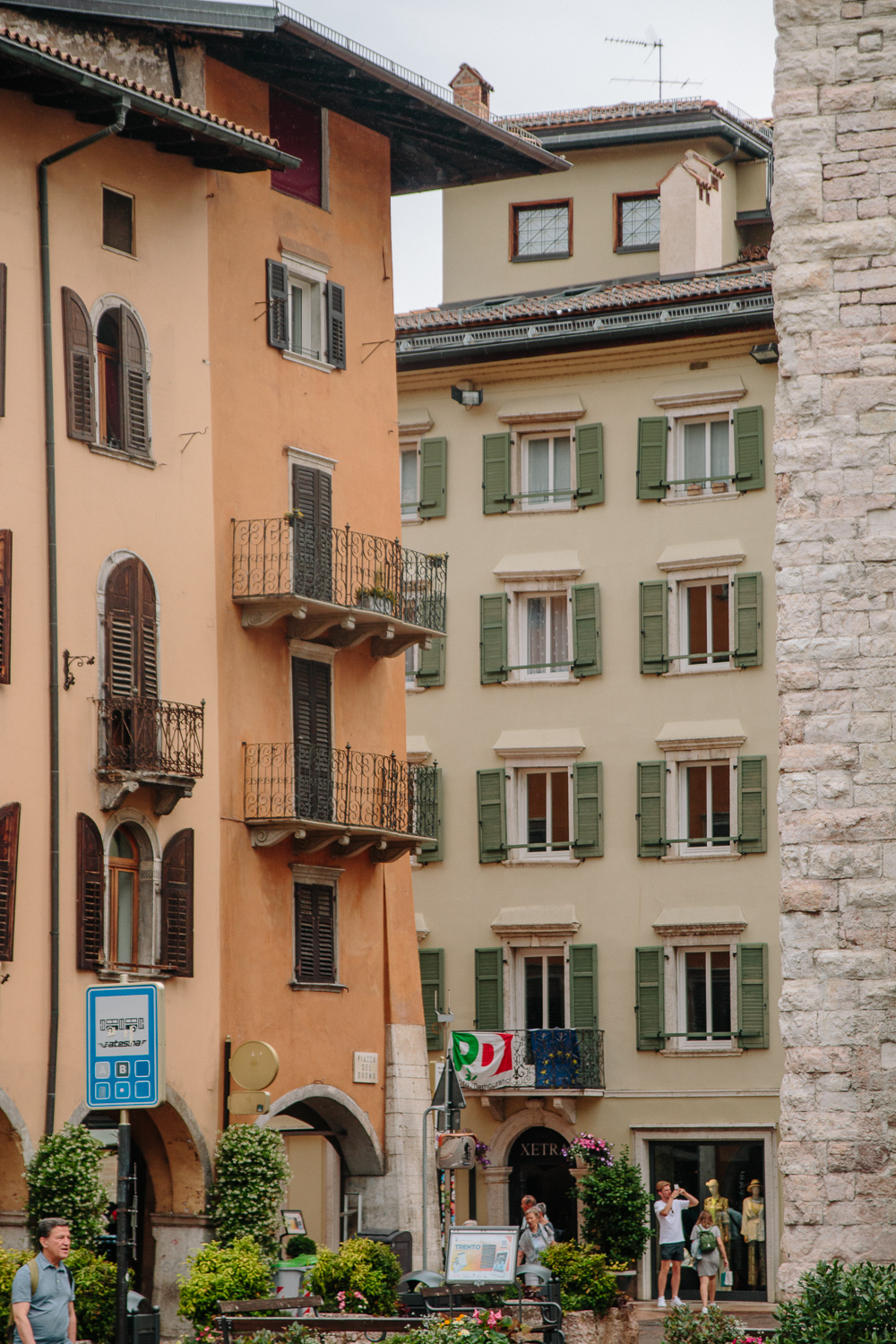 Piazza Duomo
Piazza Duomo is the main square in the city of Trento and is somewhere you'll probably end up coming back to more than once. It's absolutely stunning, lined with so many restaurants and shops, little alleyways leading to more restaurants, shops and colourful buildings and of course, the main Cathedral – Cathedral San Vigilio. While we didn't go inside it's absolutely stunning to look at from the outside. We were there for the Traverse conference so they'd actually set up the tents right infront of it, but it still towered above everything else. The cathedral was built in 1212, but there's been a number of churches on the site previous to that.
There's actually quite a lot to see in the main piazza – there's also the Cazuffi-Rella houses – two 16th century houses painted in amazing fresco's. There's also the Palazzo Pretorio which was built in 1220 as a residence for the Bishop-Princes before the castle was built. There's also the huge fountain – The Fontana del Nettuno (Neptunes fountain) which was sculpted in the 1760's but over time was damaged. It was replaced in 1945 by the one standing today. There was actually an order when the first fountain was built banning people from cleaning things or polluting the water supply from the fountain as it was the main water source for the city!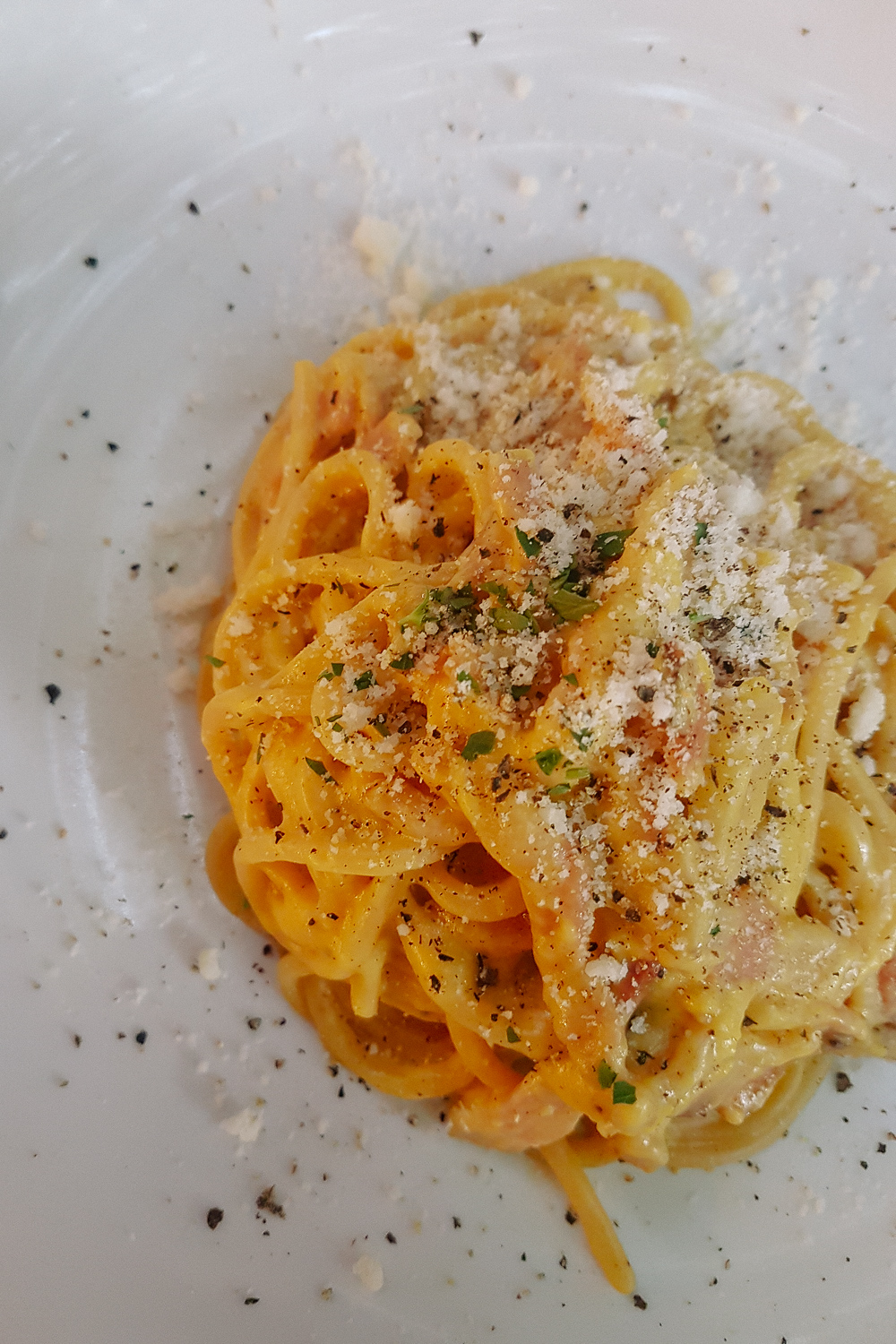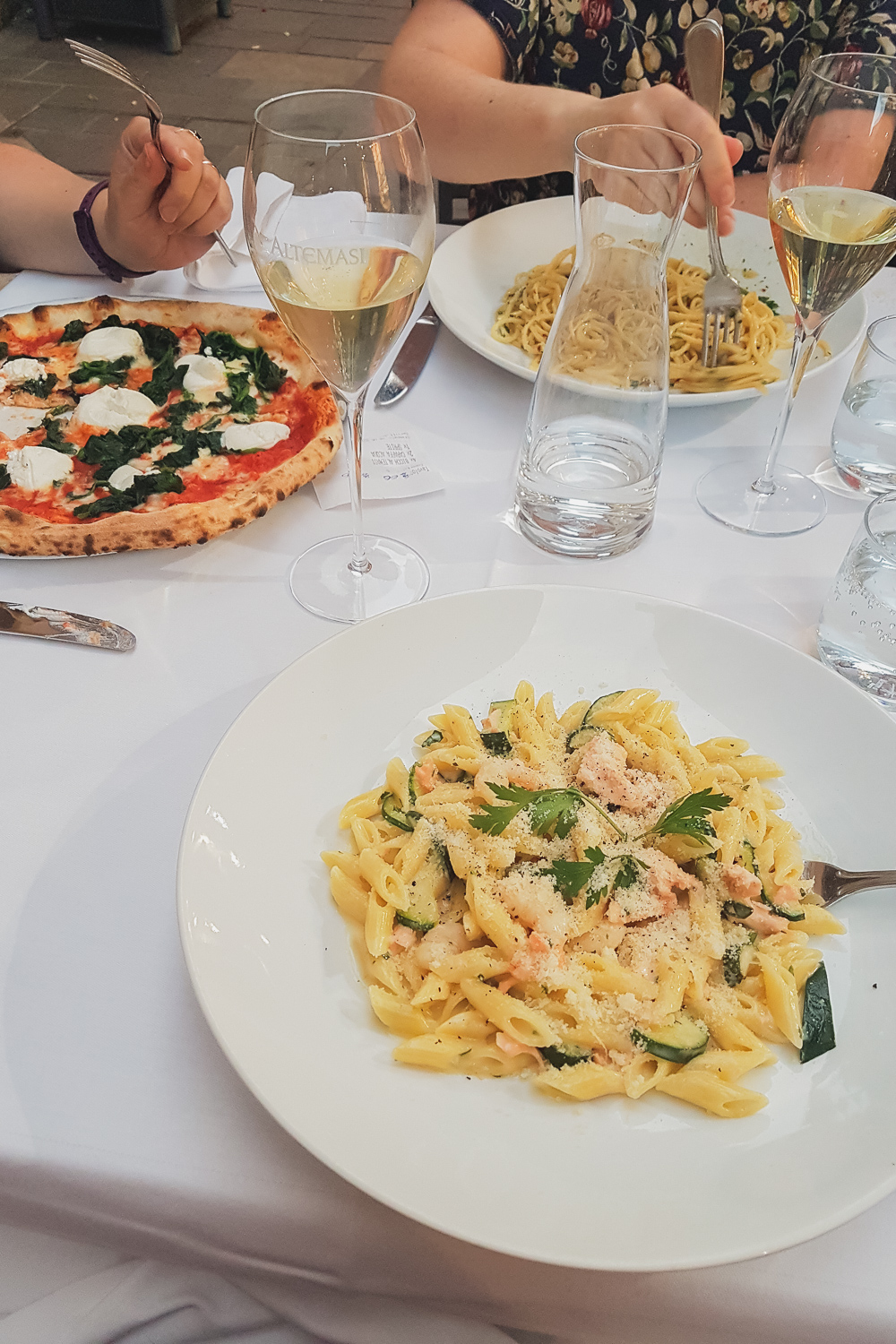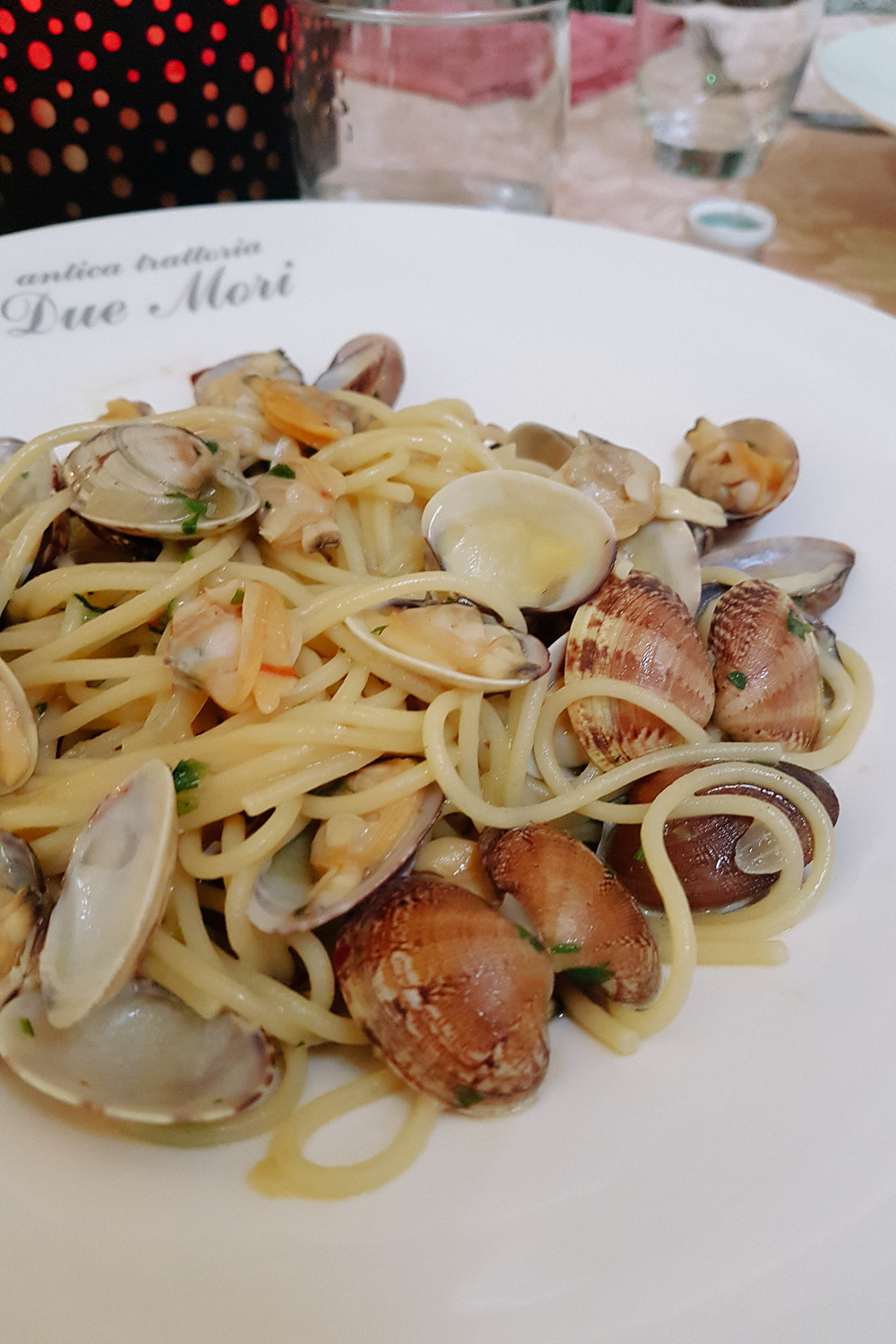 Where To Eat in Trento
When you think of places to go for amazing food in Italy, you don't think 'Trento'. Well I can say that the food here was the best I've ever eaten in Italy and I've been a fair few times! We didn't have a bad meal the 5 days we were there and of course I literally lived on pasta (sometimes even for lunch AND dinner). I think because the city doesn't have too much tourism at the moment, pretty much all the restaurants are geared towards the locals, so they're all so good! Here's some of my favourites.
The Green Tower – Right opposite the Green Tower of Trento, this restaurant specialises in pizza and has a good selection of pastas and grilled seafood and meats. I went for their carbonara and it was honestly the best I've ever eaten I could have ordered it again! Find their menu here.
Ristorante Pizzeria Chistè – I had the penne with salmon and courgettes here and it was so so good! Some of the girls ordered pizza and it looked amazing! It was the most expensive meal I had while there, but we all really enjoyed the food there.
Ristorante Antica Trattoria Due Mori – This seemed to be very popular with the locals! Danielle did a quick search on our first evening for a nice restaurant and this came up as one of the top – listed as #13 in Trento. We were expecting a big price tag, but it was actually one of the cheapest meals we had out! I got the spaghetti with clams and it was SO good!
Ristorante al Vo – I was assigned this restaurant as my lunch option on the first day of the conference and the food was SO good! It's a tiny family run Italian restaurant where they make everything from scratch themselves and they do a lot of vegan and veggie dishes too! You can find their menu here.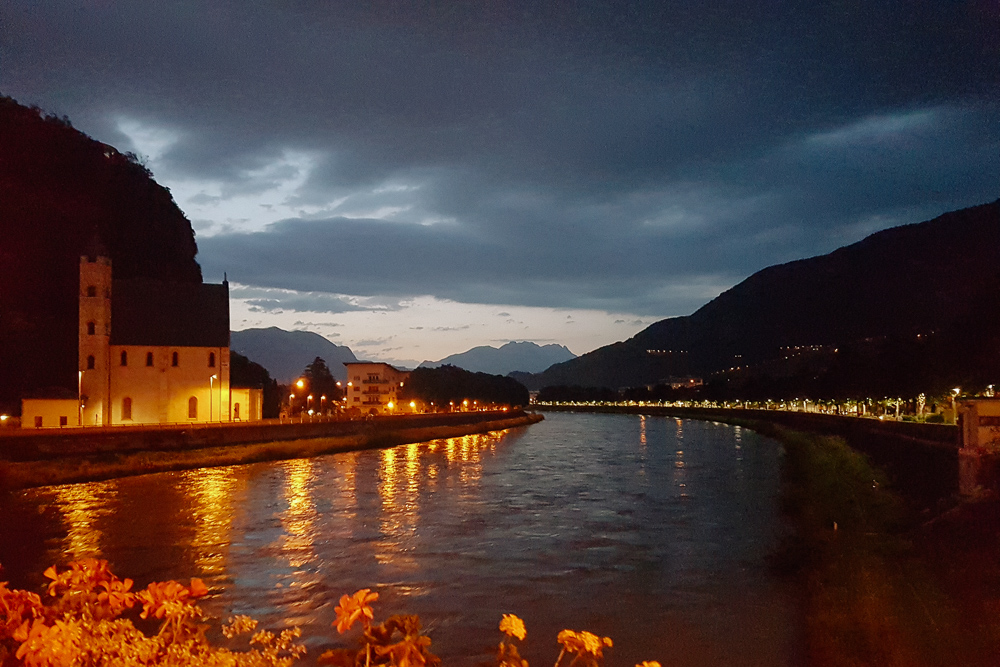 Visit Trento
So there's my not so quick guide to Trento! It's such a lovely city and I'd recommend it to anyone as a quick weekend break, especially if you want to head to a few other places too!
How to Get There
Trento is just over an hour by train from Verona, with trains leaving between 30-60 minutes. It's easy to get to from the airport too – just take the shuttle bus from the airport to Verona train station, then hop straight on a train to Trento!
Where to Stay
$$ – The Albermonaco Hotel (affiliate link) – This is where we stayed in a quad room. They have so many rooms available in different setups – single, twin, double, triple, quad, two doubles – you name it! It was basic, but had everything we needed for the few days we were there. Breakfast was a very basic continental spread and it was about 10 minutes walk from the train station and old town.
$$$ – NH Trento (affiliate link)– This was my second option for hotel – slightly higher in price and a bit fancier. It's about 15 minutes walk from the train station and old town with views over to the river.
Discover Trentino
There's SO much to do in the region – from exploring Trento itself, to heading to Riva del Garda on the northern side of Lake Garda, or exploring some of the 300 lakes, there's literally plenty of things to do for everyone, from relaxing spa weekends to adventure and adrenaline filled days of rock climbing and canyoning, exploring waterfalls or going wine tasting.
Have you been to Trento before? Is it somewhere that you want to visit now?
Follow
Save