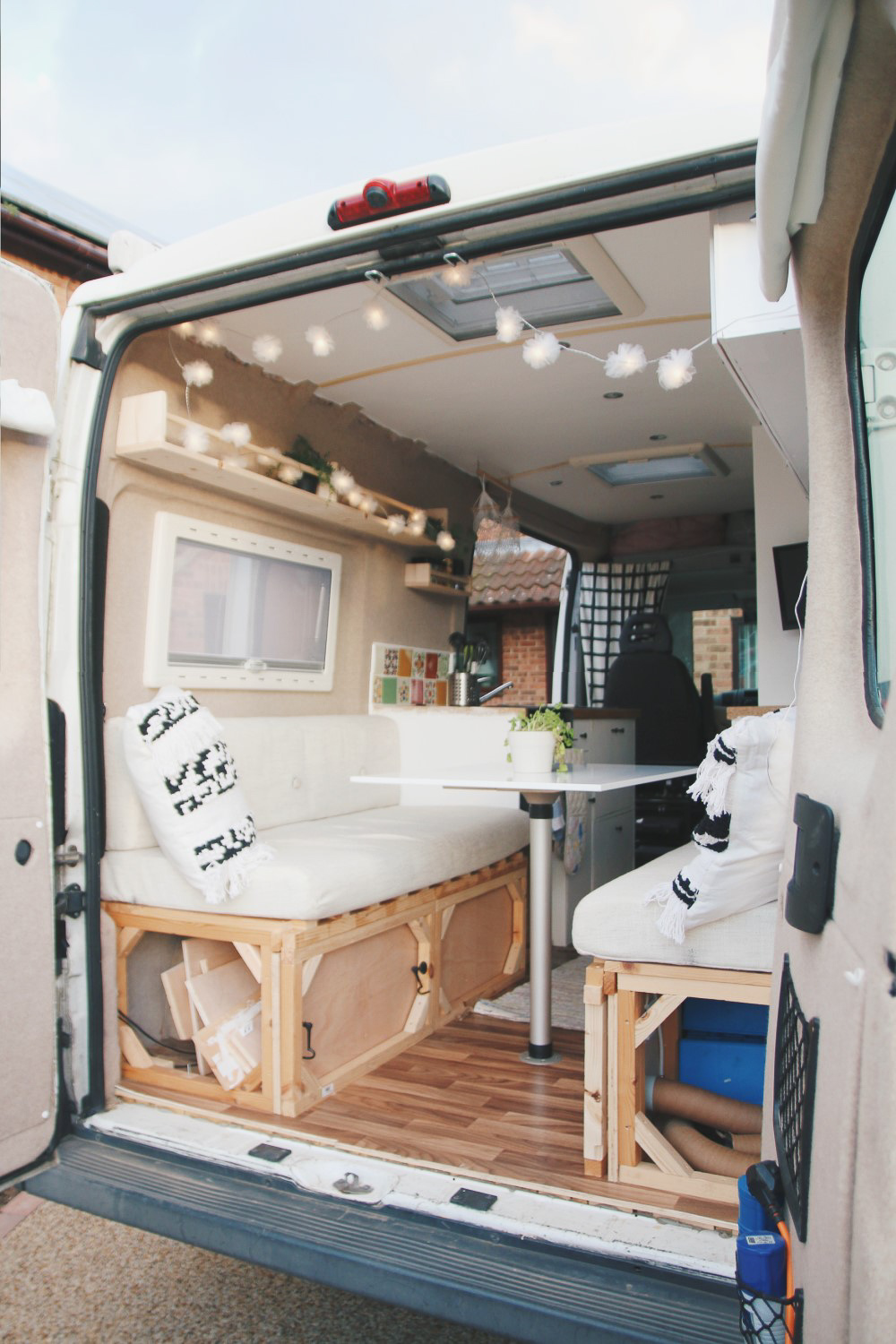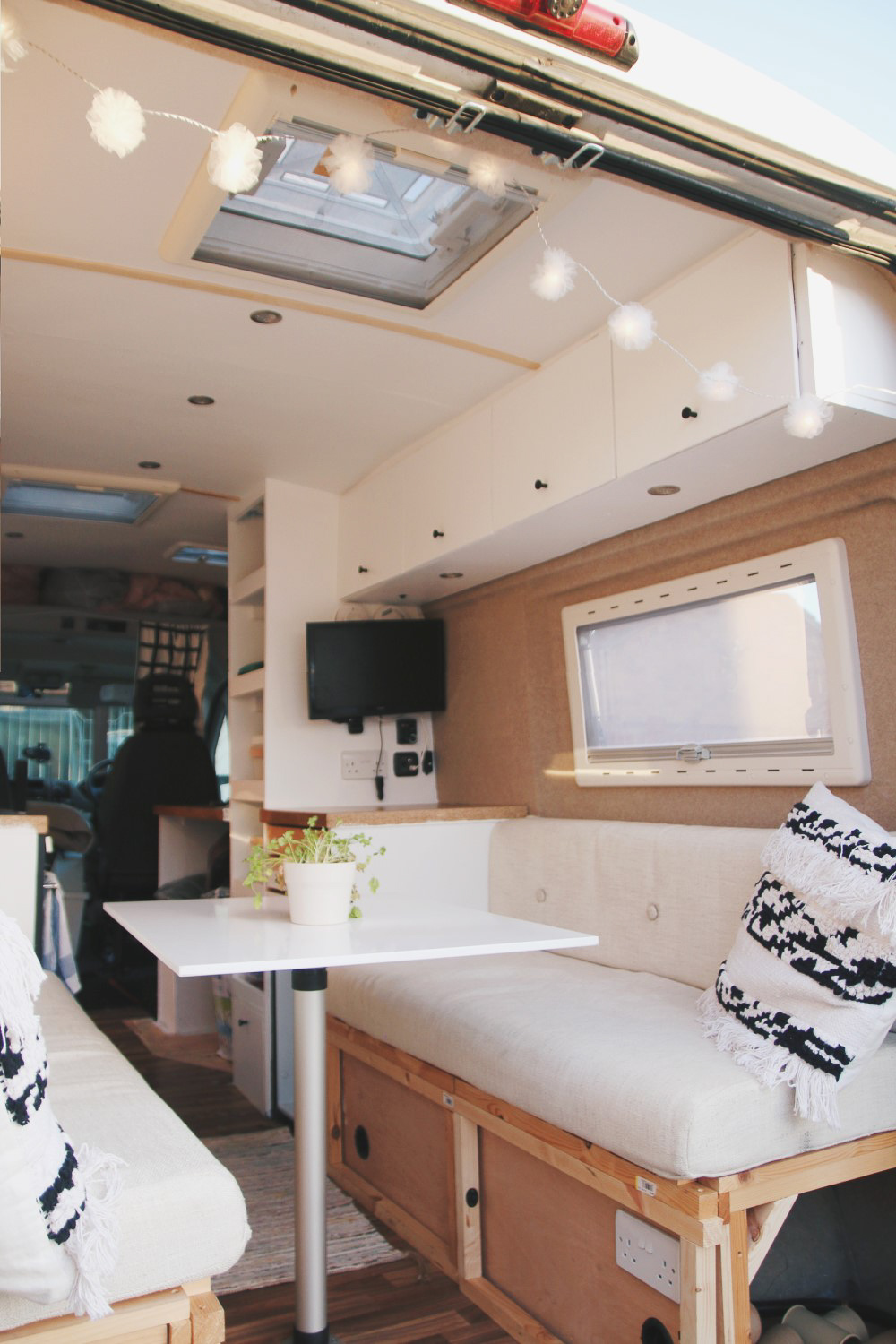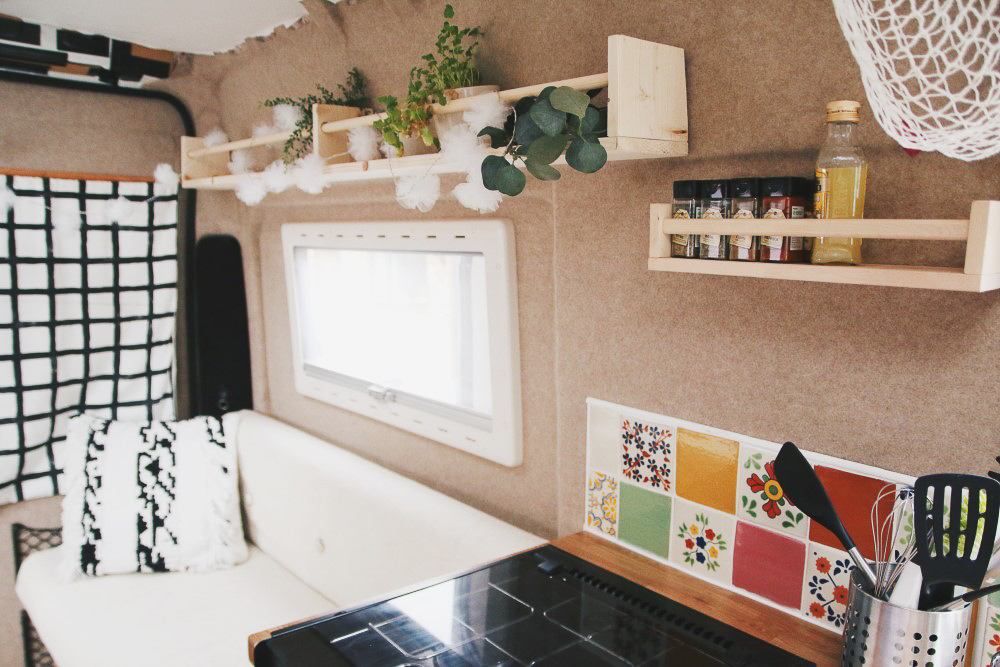 Progress
I love looking back at how much progress we've made over the months of our conversion – the last post I shared was back in February, and looking at the photos it doesn't *look* like much has changed, but then when you really look at them, you can see how many little things have been done since.
It's funny, cause when you build all of the cabinets etc, it feels like you fly through the conversion, but when you get down to the little odd jobs, like painting all of the cupboards and bedframe which take forever, you feel like you've not got anywhere. Like the fact that the two odd drawers in the kitchen have finally been painted, the overhead cabinets were finished and we now have a proper home for our toilet, rather than under the oven haha!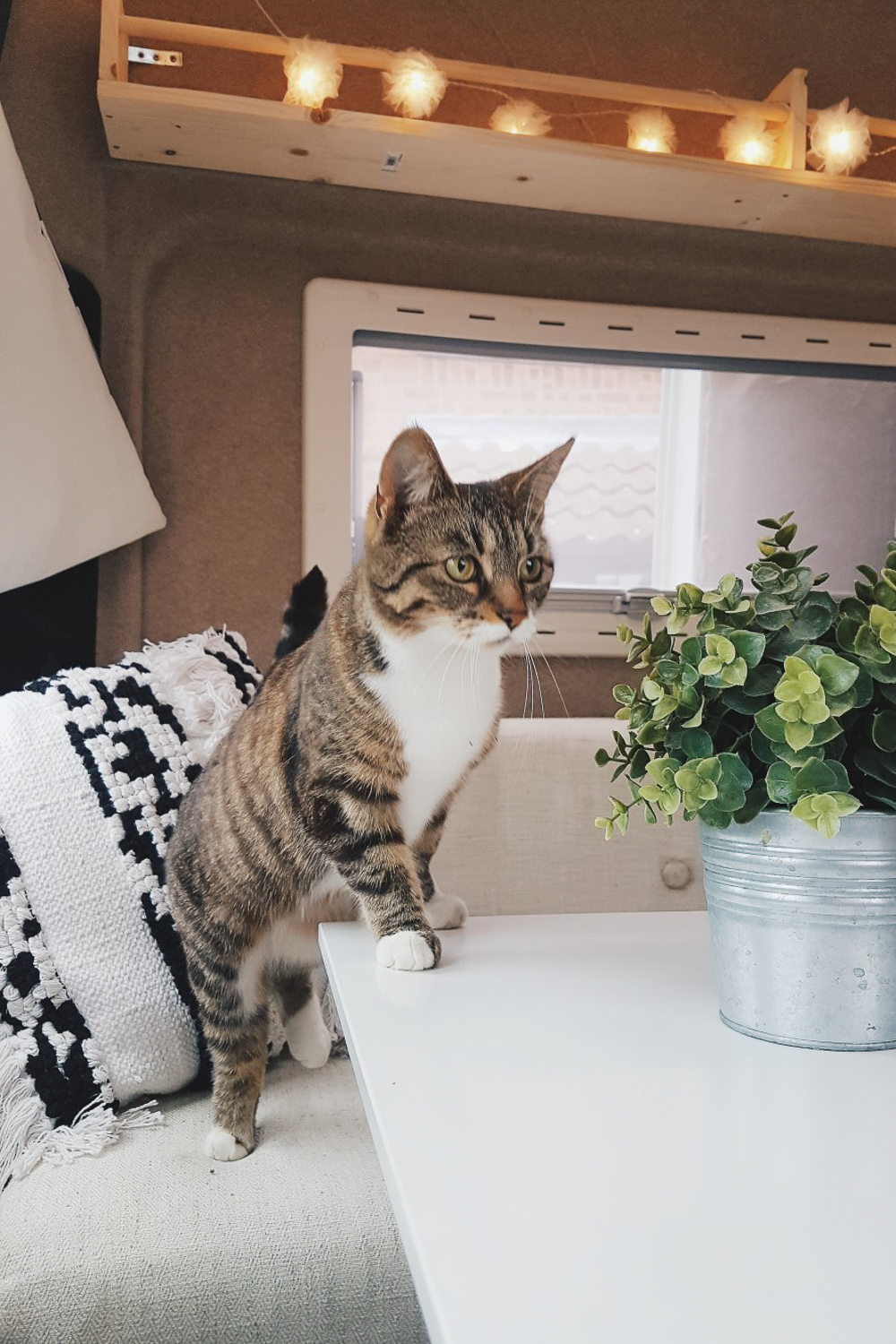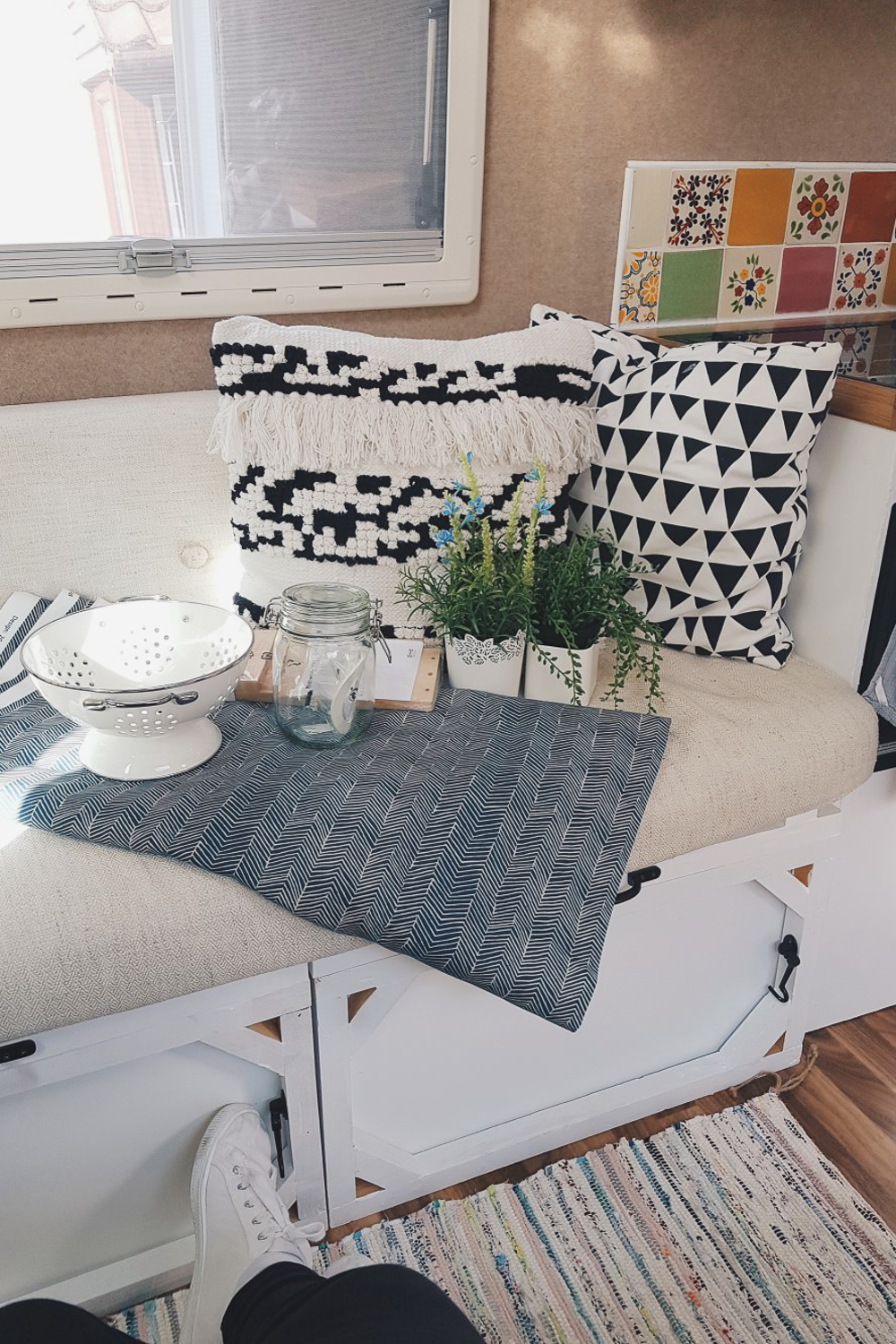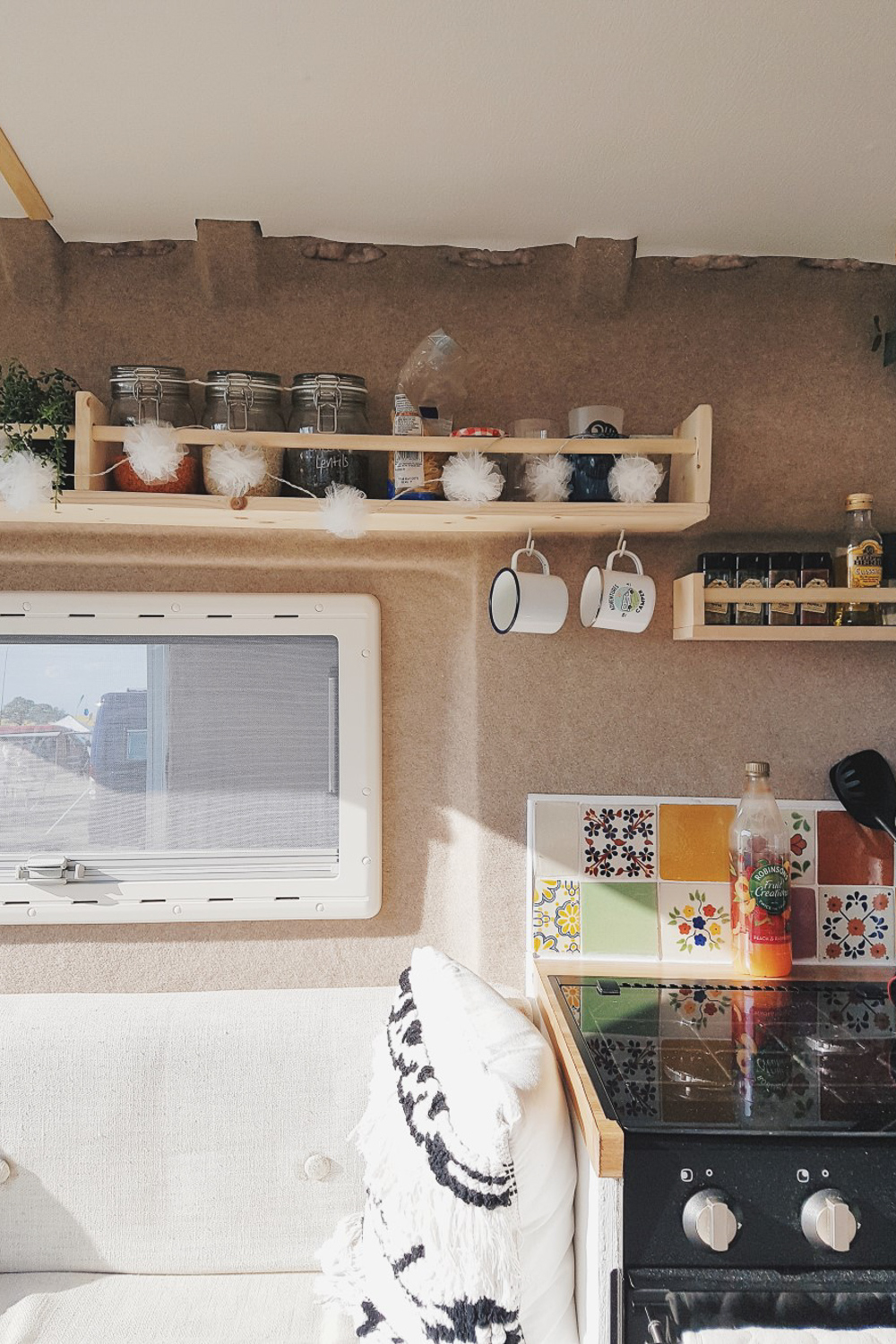 IKEA Haul
Since the van is *almost* complete, we headed back to IKEA for a few bits and bobs to make the van a bit more homely. We got quite a few bits, but most importantly, the new fabric for the curtains! I made the original curtains last spring as a quick fix for our Europe roadtrip – the fabric was also from IKEA since it's so cheap. I've always hated the pattern and have no idea what posessed us to choose that one in the first place (Shane calls it prison cell fabric haha), so I was so happy to finally get new fabric and make some proper curtains.
We also got a few other bits and bobs, like fake plants (obvs), another spice rack and loads of storage jars for our dried foods like pasta, rice and lentils for our open shelving unit. It's made such a big change in the van already! Also, how cute is Keeko having a little explore of the van – the cats aren't usually allowed in, but she was being too cute to tell her off. I'd love to take them on trips with us and have them as little van cats, but I'd be terrified to loose them. I mean, Keeko already went missing for a year and that was bad enough!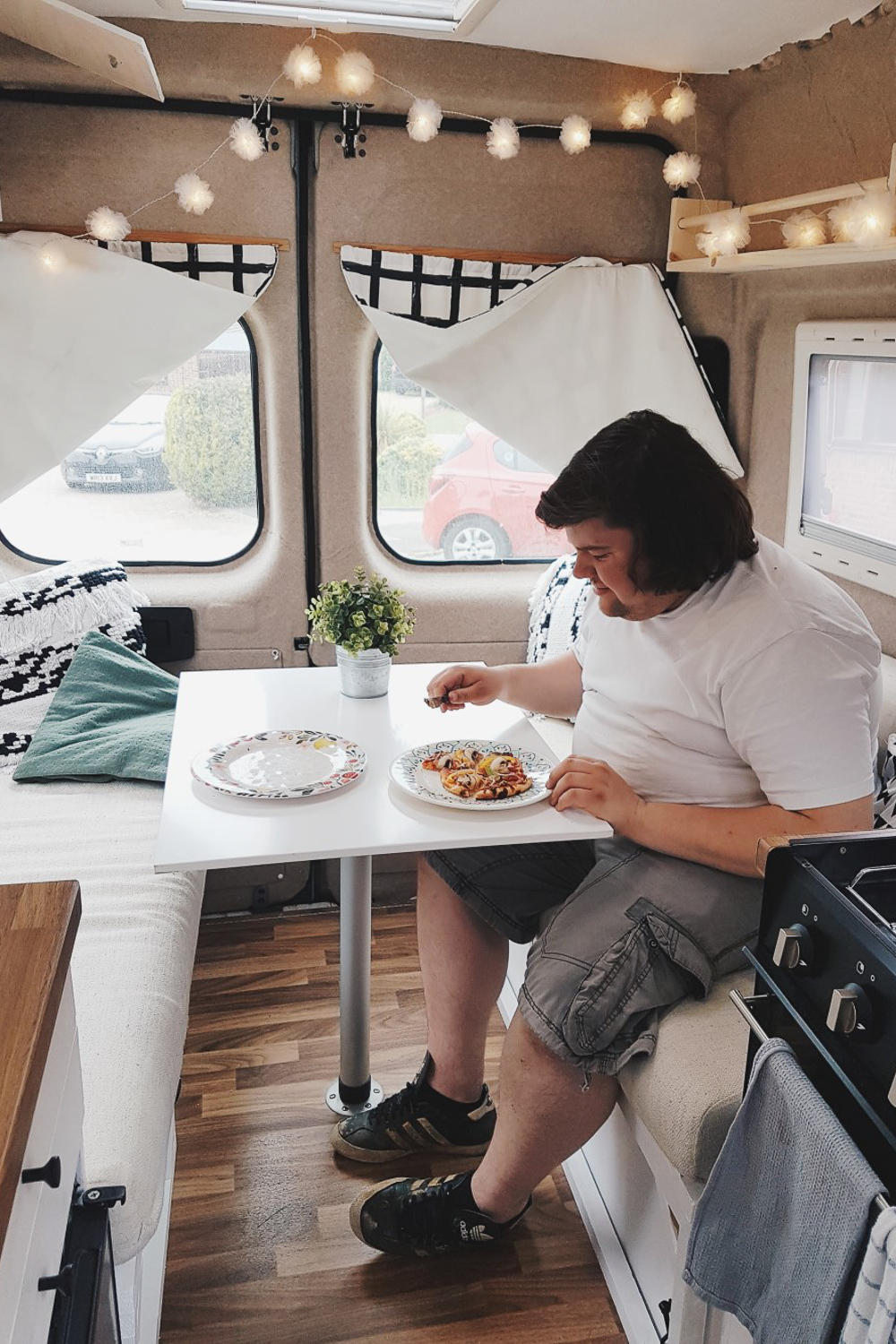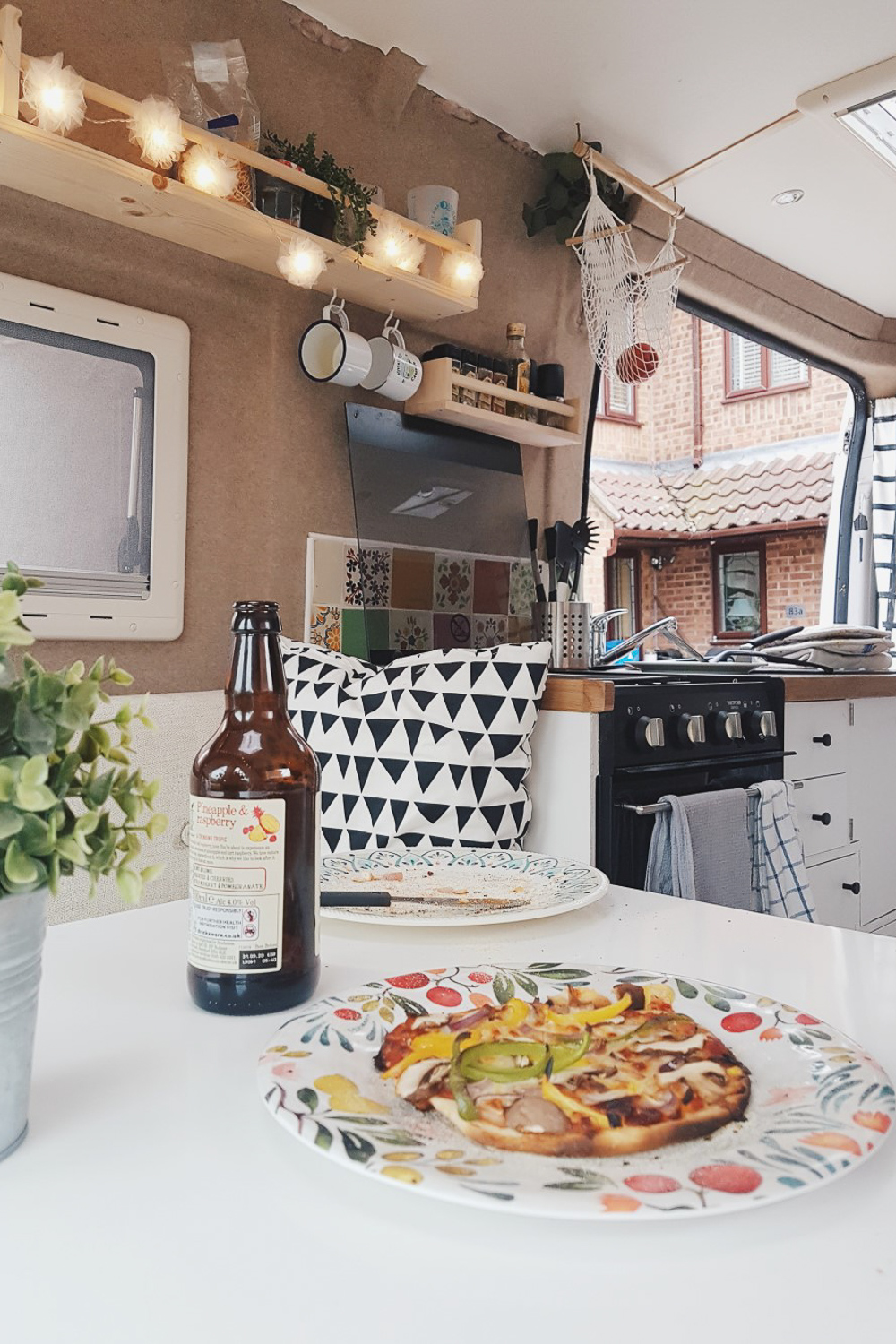 The Kitchen + Seating Area
I don't think I've ever showed the van with the seating area out! We actually only just found a table top (it's leftover from our home kitchen renovation), as before we just had a makeshift plank of wood which was way too big and wobbly, but it did us for our roadtrip at least. Now we've got somewhere proper to sit and eat breakfast and dinner and I love it! It's so much easier now!
I absolutely love having an oven in the van! We made pizzas from scratch a few months ago, and baked them in the oven and they were SO good! It's funny cause we don't actually cook much food in the oven at home, but it's so handy for simple and quick meals in the evening while we're away, and we can make chips and pizza!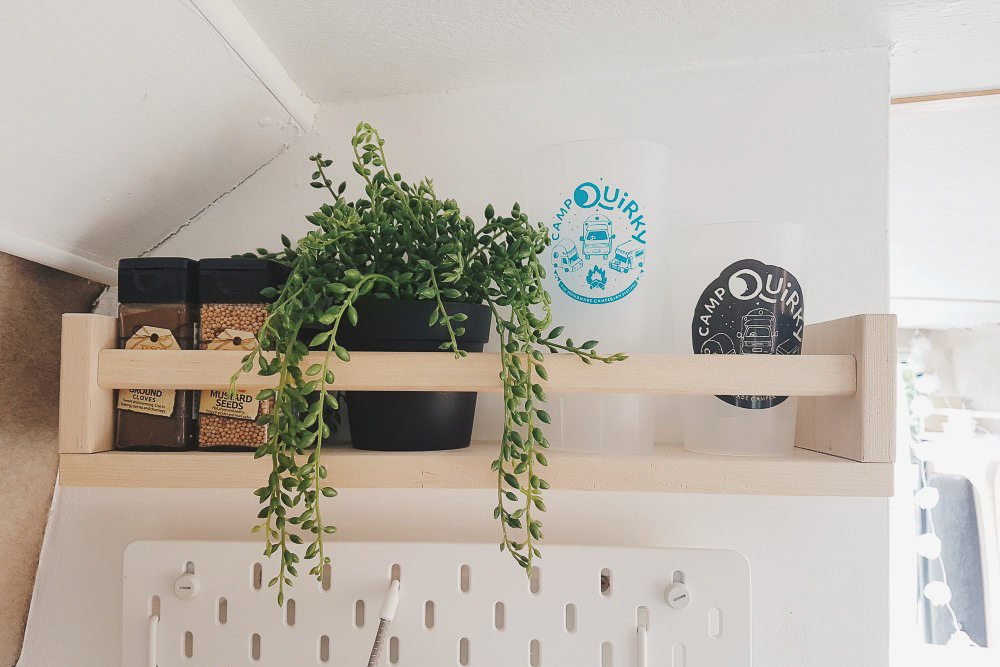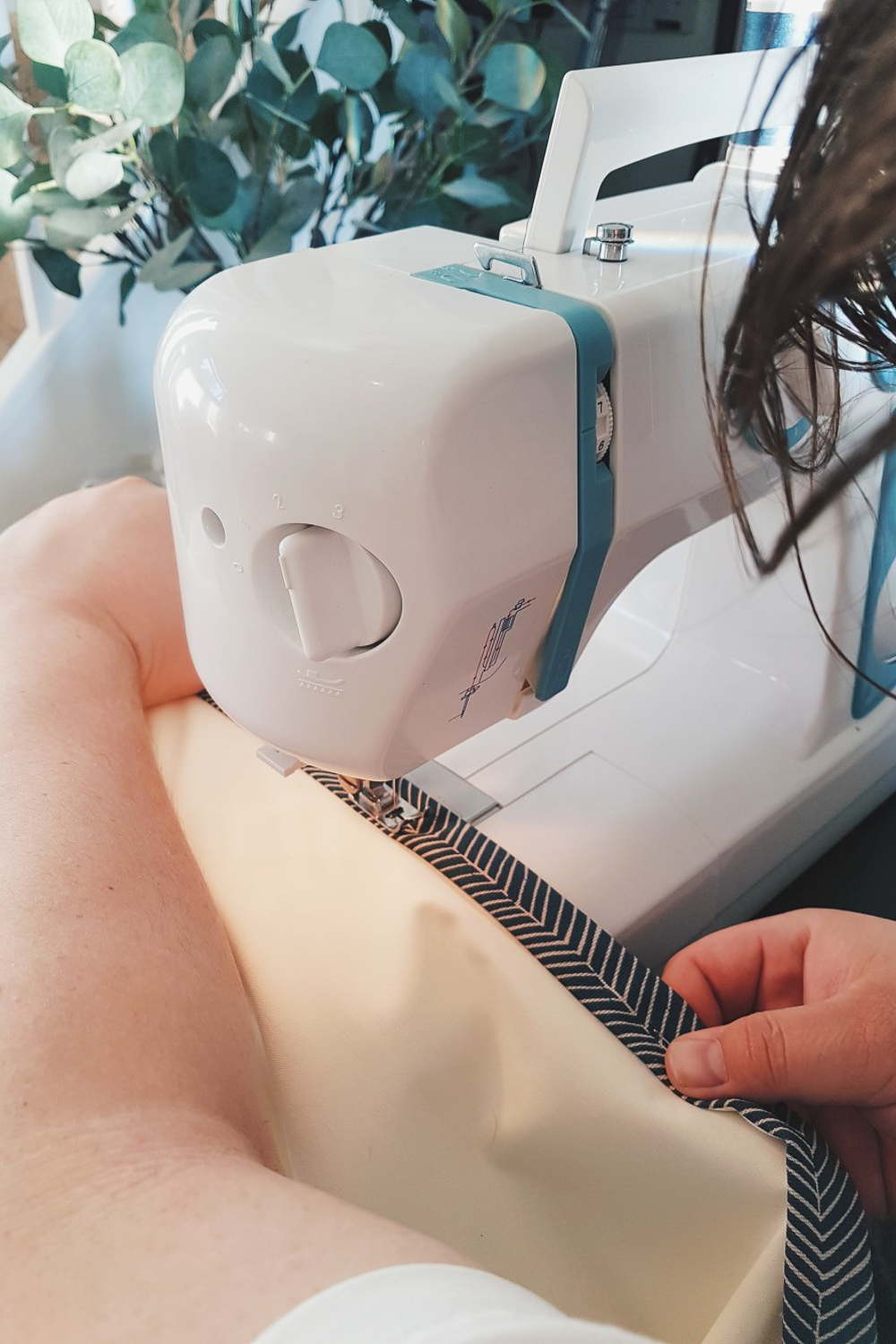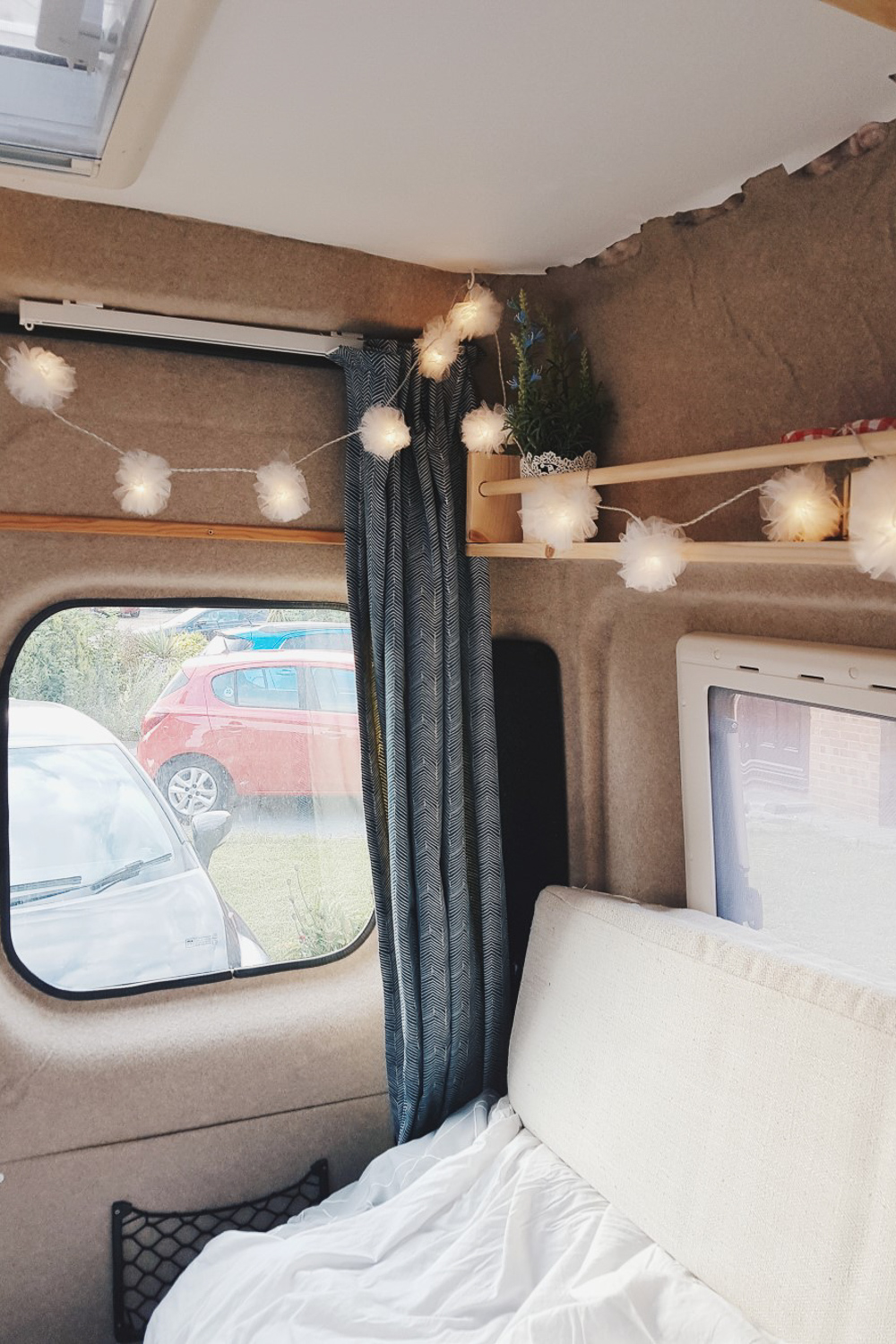 New Curtains + Decor Bits
So here's the new curtains! These ones actually go the entire width and height of the van, and they're also thermal lined (the old ones were too), but they keep in so much more heat now. I can't wait till the winter to try them out, because the van gets SO cold at night with all the drafts, so this will be really good.
Shane did such a good job making them himself – I refused this time around and said we should ask his mum as she did the upholstery on the seating area and did an amazing job, but he was determined to do them himself. Honestly, you'd think we bought them from a shop!
I love our little collection of cups from Camp Quirky – one from last year and one from this year. And some of our fave games to play in the van.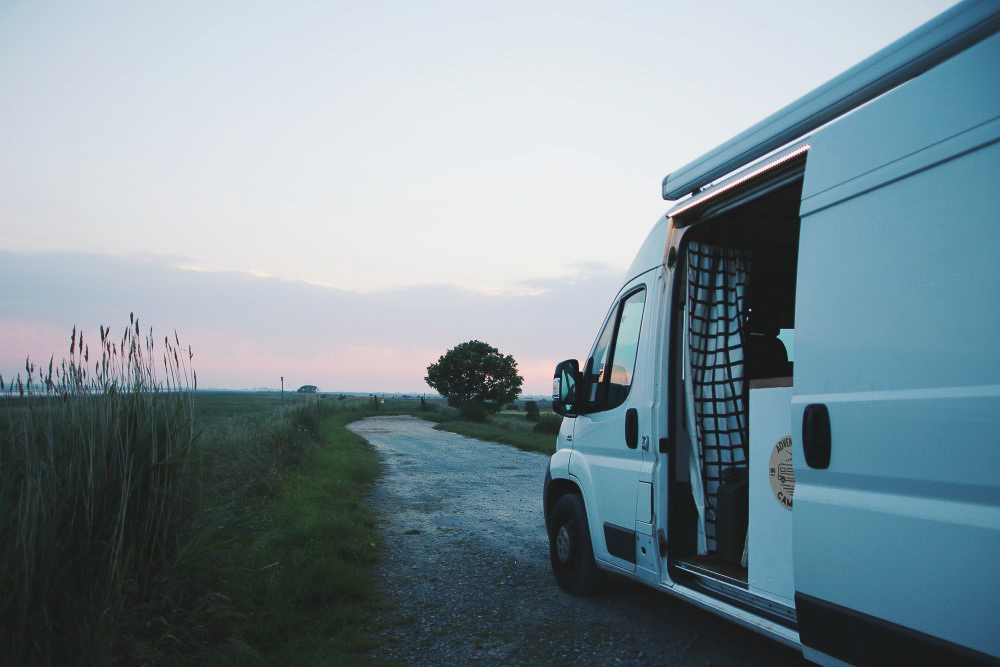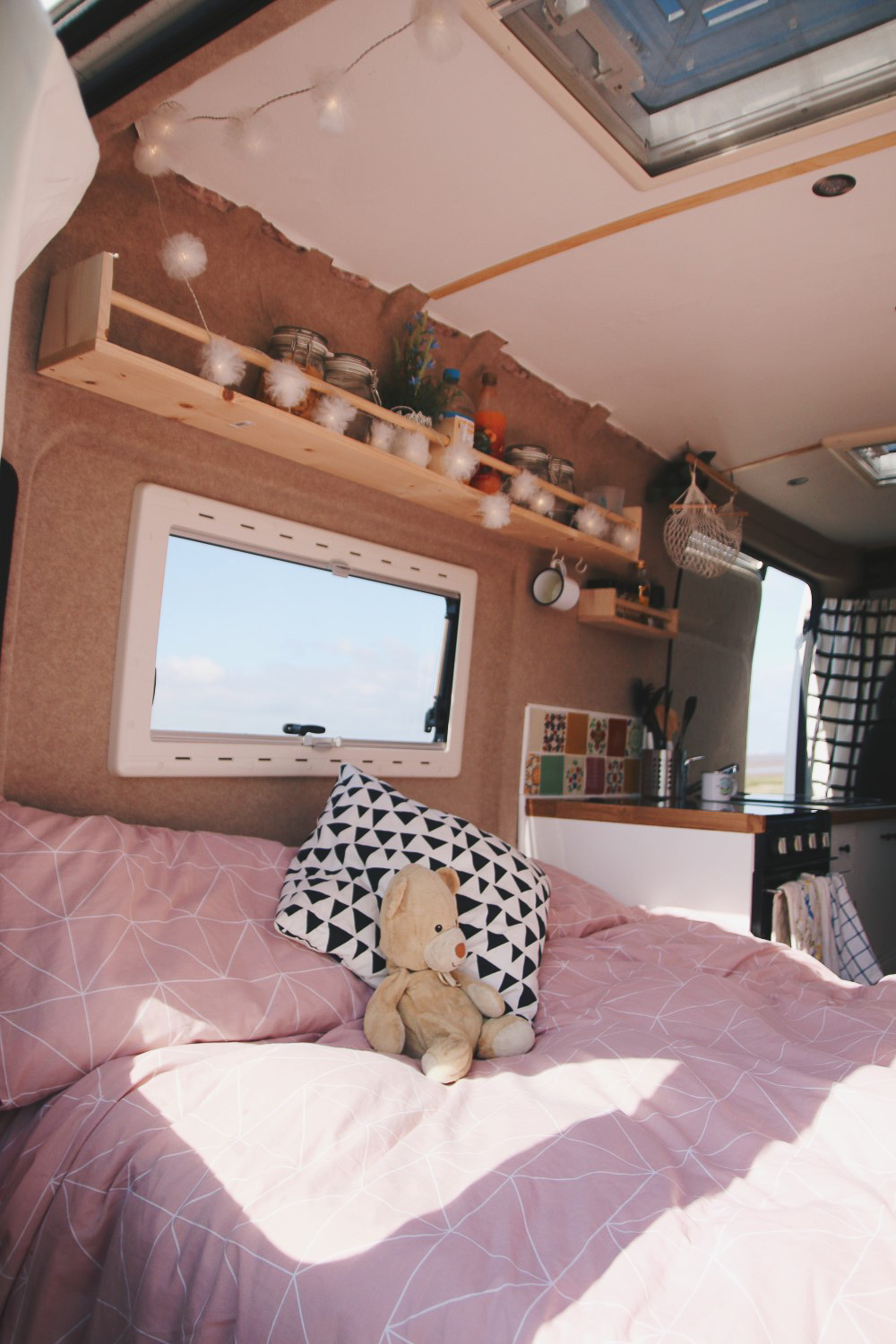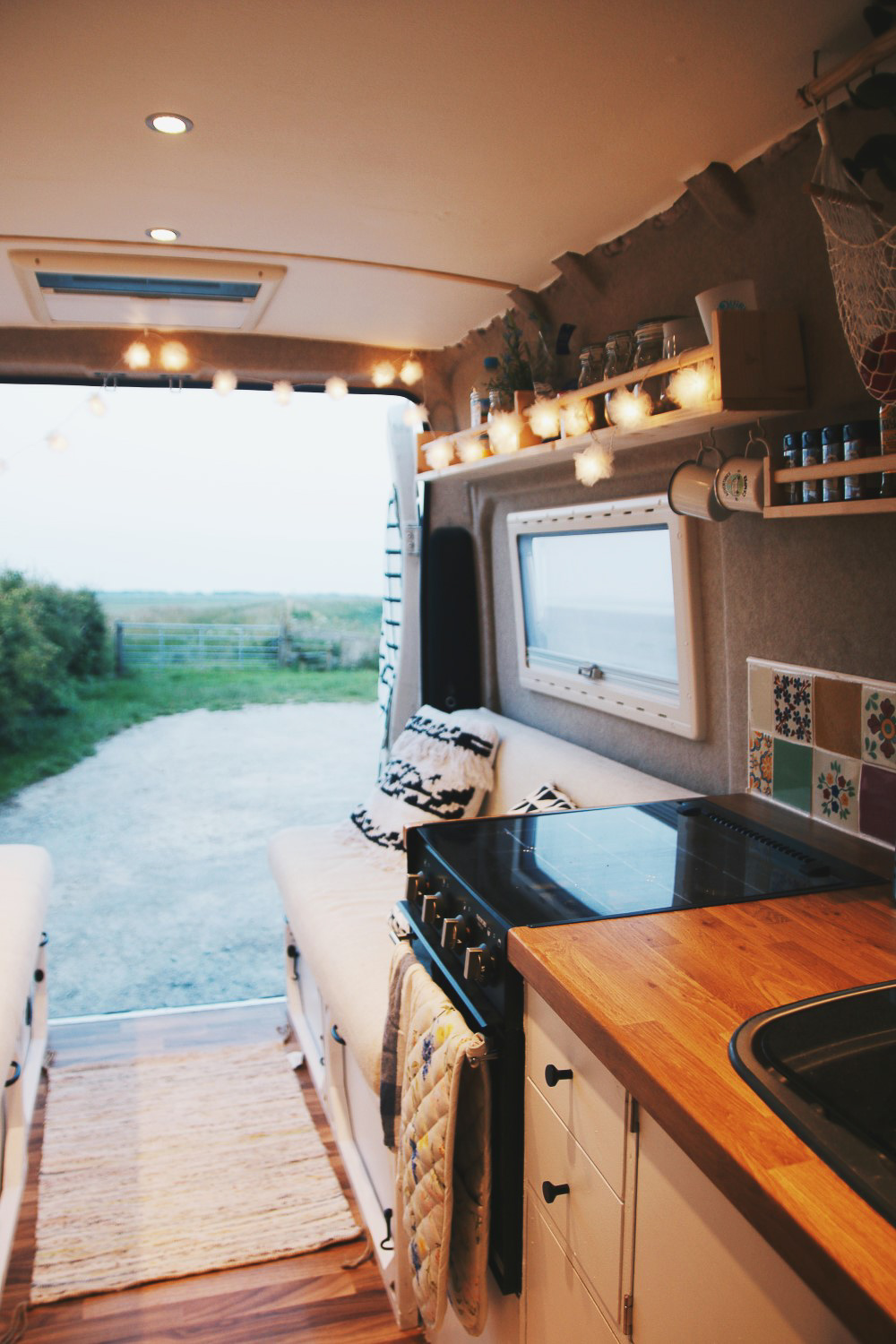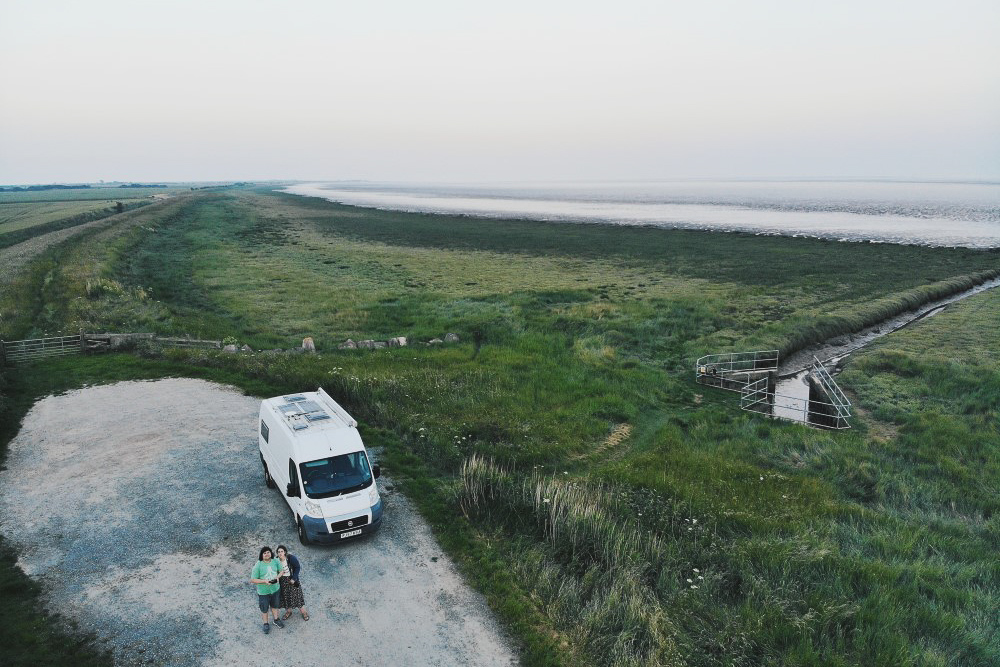 Evenings in the Van
I love the time when we just park up and start to get settled down for the evening. This was one of our fave parkups, and the weather was lovely and warm so we could actually keep the doors open and get those lovely views. We also had the entire place to ourselves, and it was really out of the way of everything, so we managed to finally get the drone up for some van shots too! I think this is the first time we've got it up with the van!
We're actually planning on buying another van to convert and either rent out, or sell, and we'll be doing a fixed bed for that (if we go with the same sized van as ours). I do love having the seating area during the day and the extra space it gives us – so many people we met at Camp Quirky said they loved how spacious our van felt, but I literally hate having to put the bed out at night and pack it away in the mornings, especially as we're SO tired at that point. And when I get tired, I get really grumpy haha!
So that's it for now! Hopefully the van will be completely finished in the next few months, which will be SO good! We've got to re-lay a new floor as we have a massive cutout at the front from where the bathroom used to be, so we had to buy the entire roll of floor again for it, and we've still got a few cupboards to finish at the front and then it's mostly just the finishing touches from there. It's so exciting!
Oh and don't forget to follow along on instagram @adventuresinacamper
Follow
Save