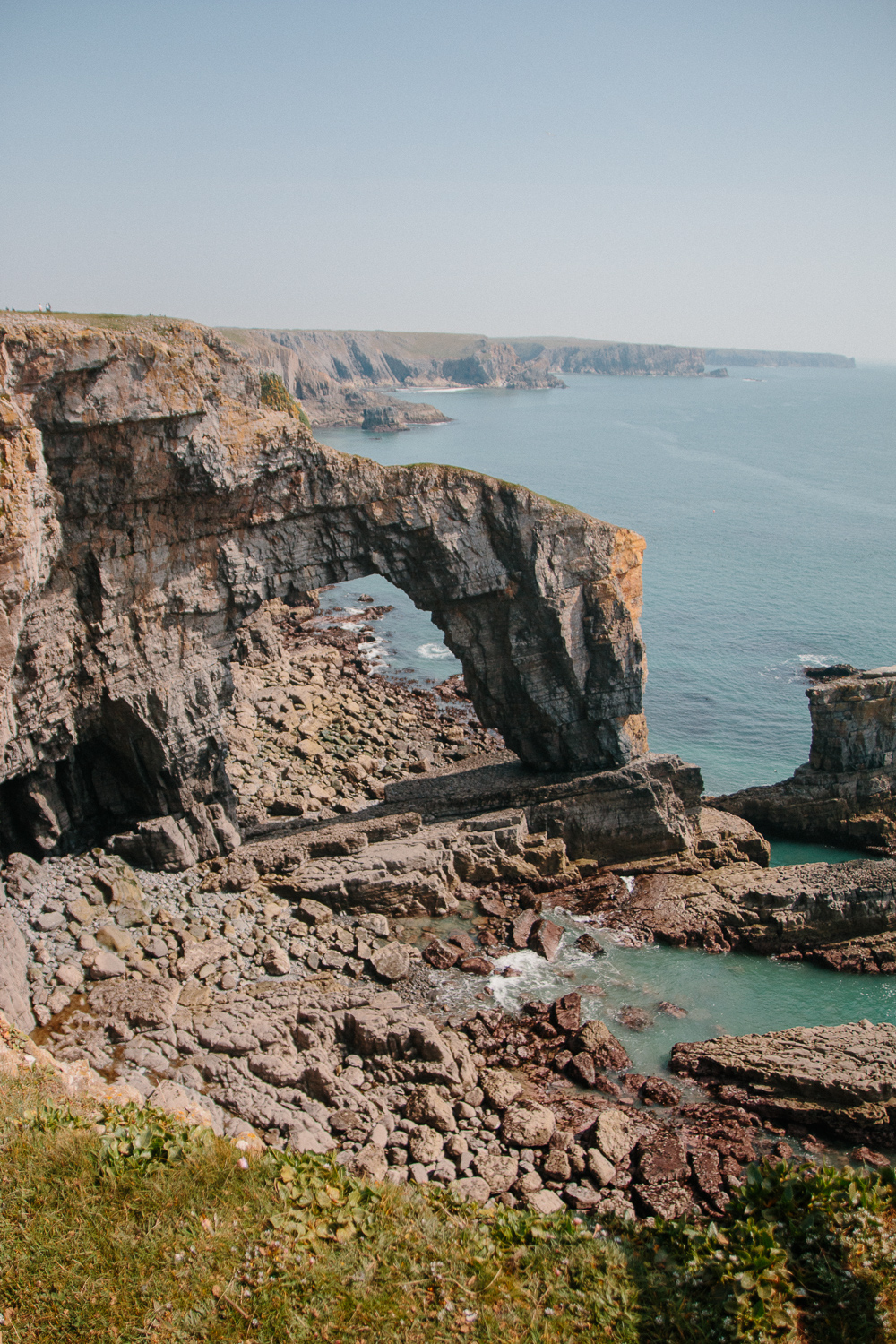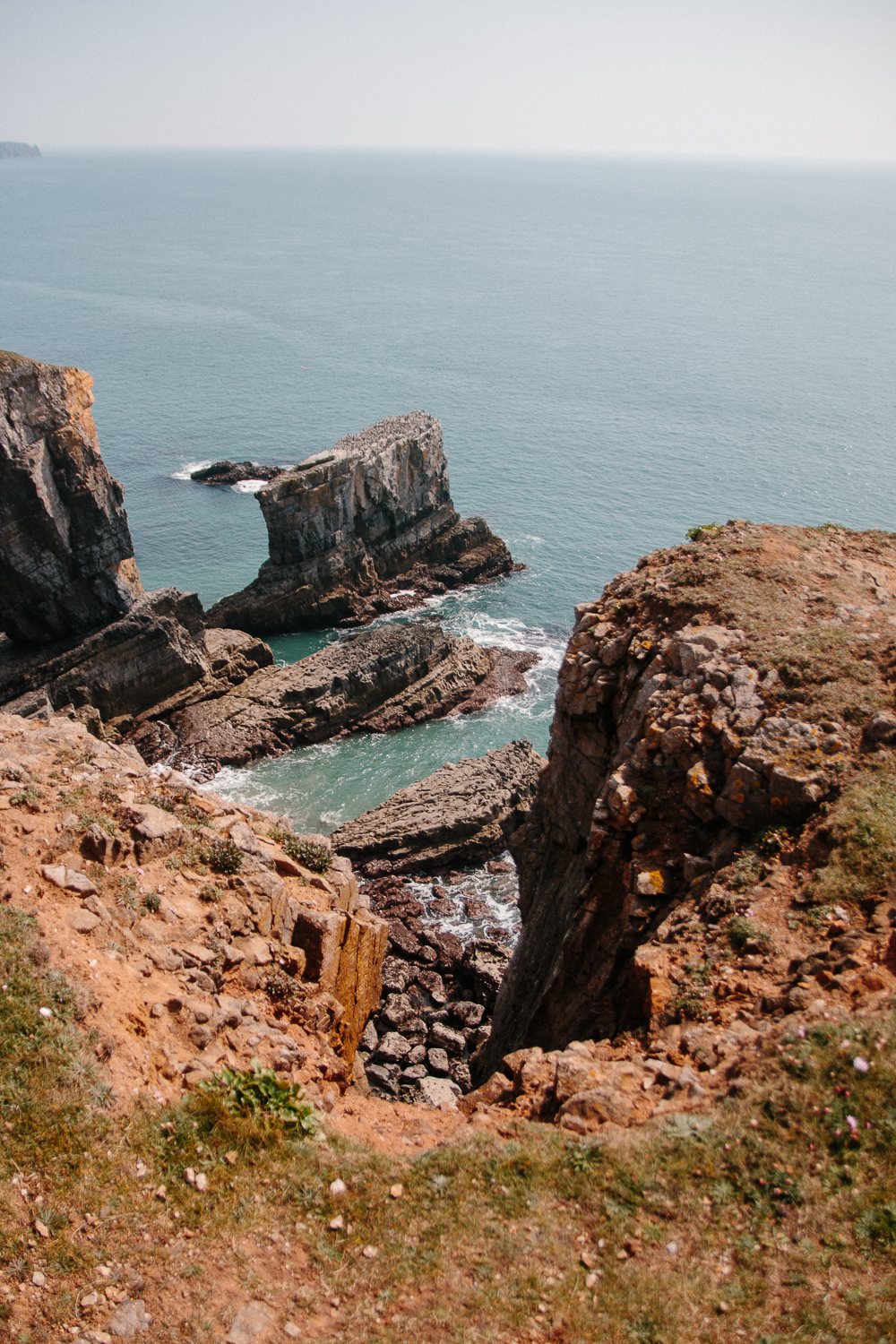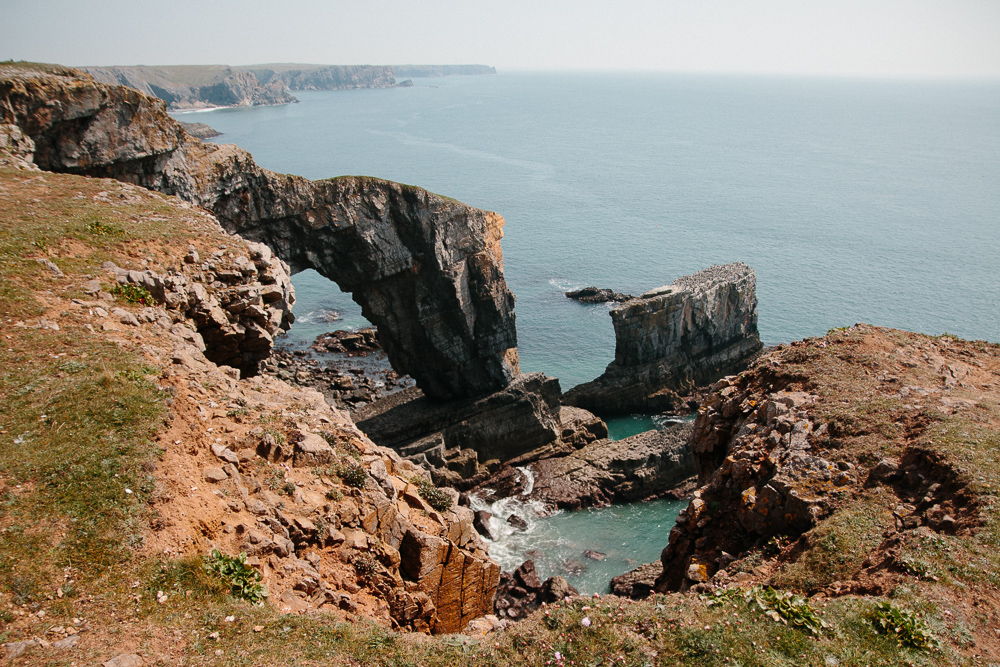 The Green Bridge of Wales
If you haven't seen the first part of our trip then click here. We started the day by watching one of the most amazing sunrises parked up in the van in a field of wild horses and cows before setting off on our drive to Pembrokeshre – somewhere I've wanted to visit for so long! We had quite a long list of places to visit but only managed to get to a few of them so I think we'll definitely be heading back to see the rest one day!
First up was The Green Bridge of Wales. I first saw this on Lucy's instagram and added it to my growing list of places that we should visit in the van. It's like the Durdle Door of Wales as Shane described it haha! There's honestly not much to do around the area unless you like walking or rock climbing, but it's nice to pop in for a while, go for a short walk along the cliffs and stop for a picnic though!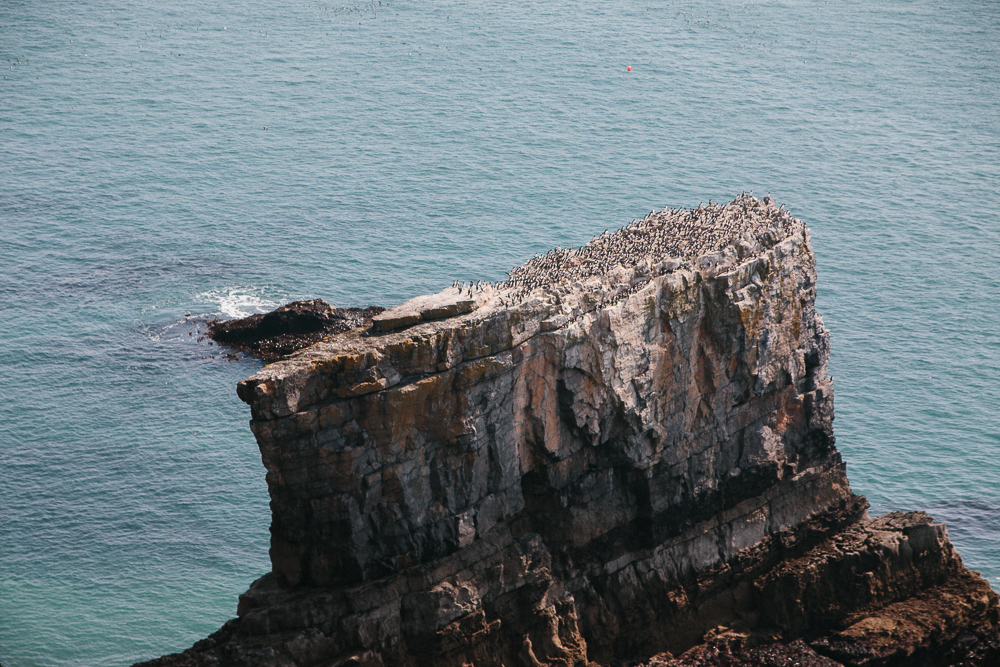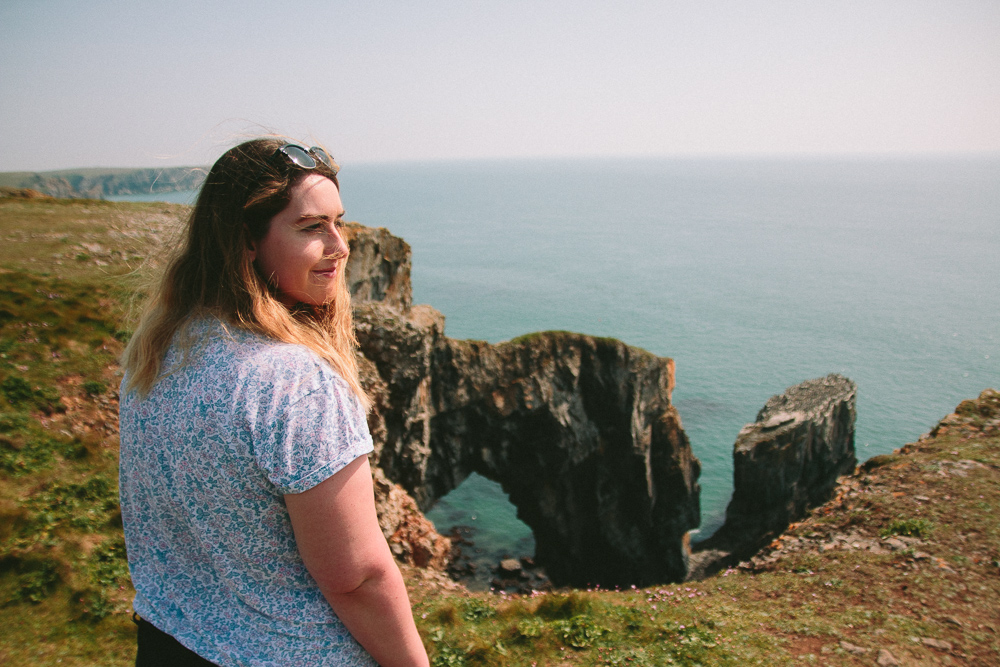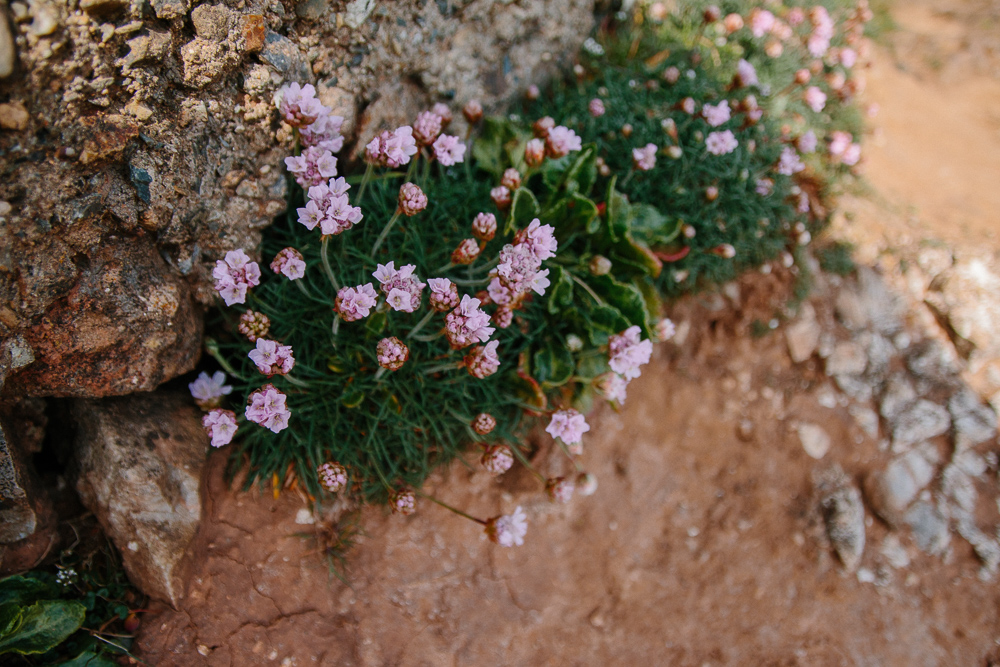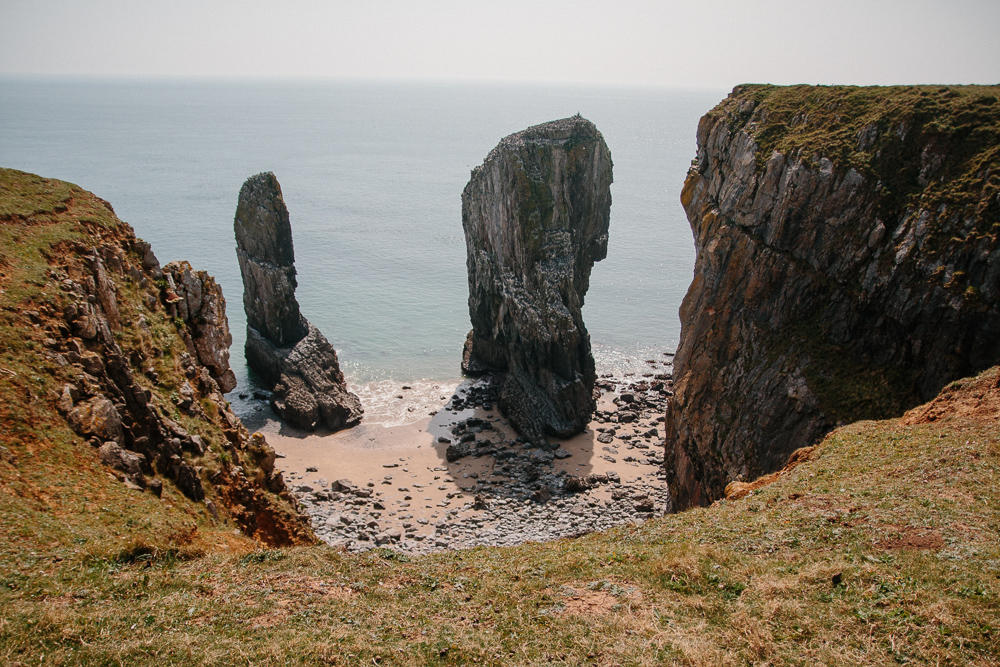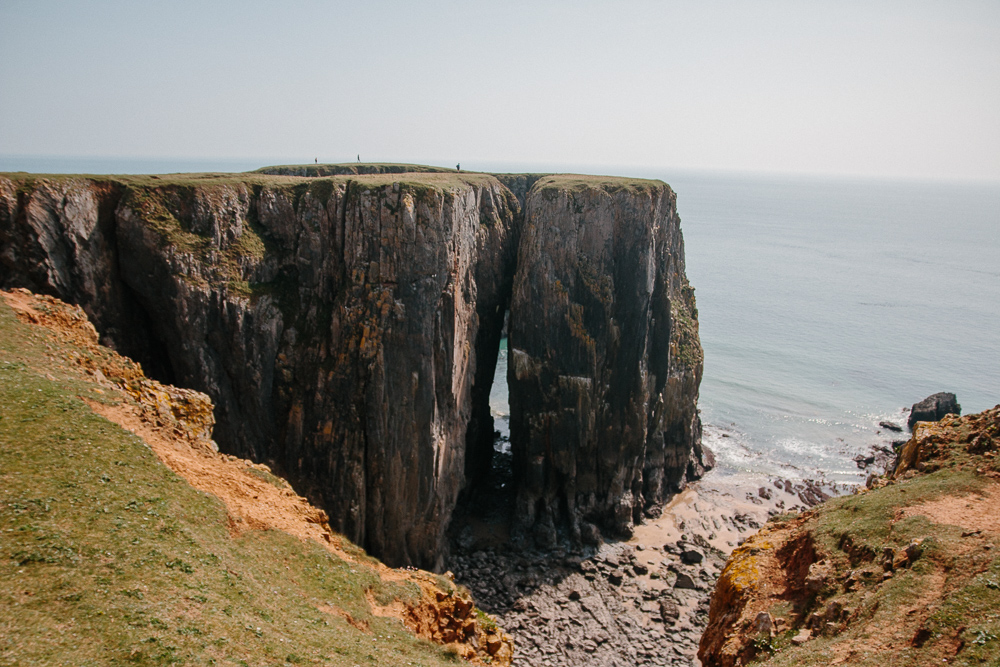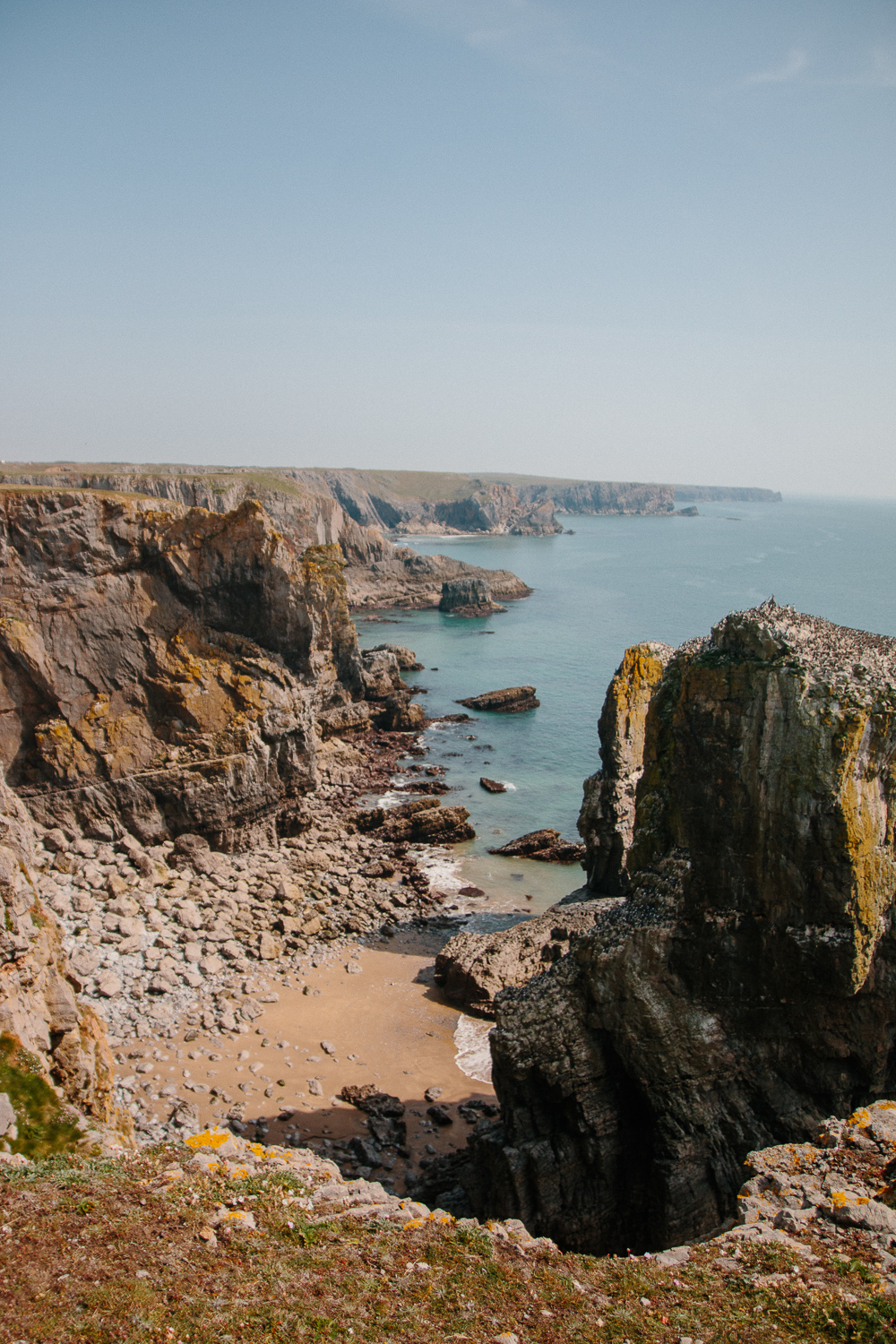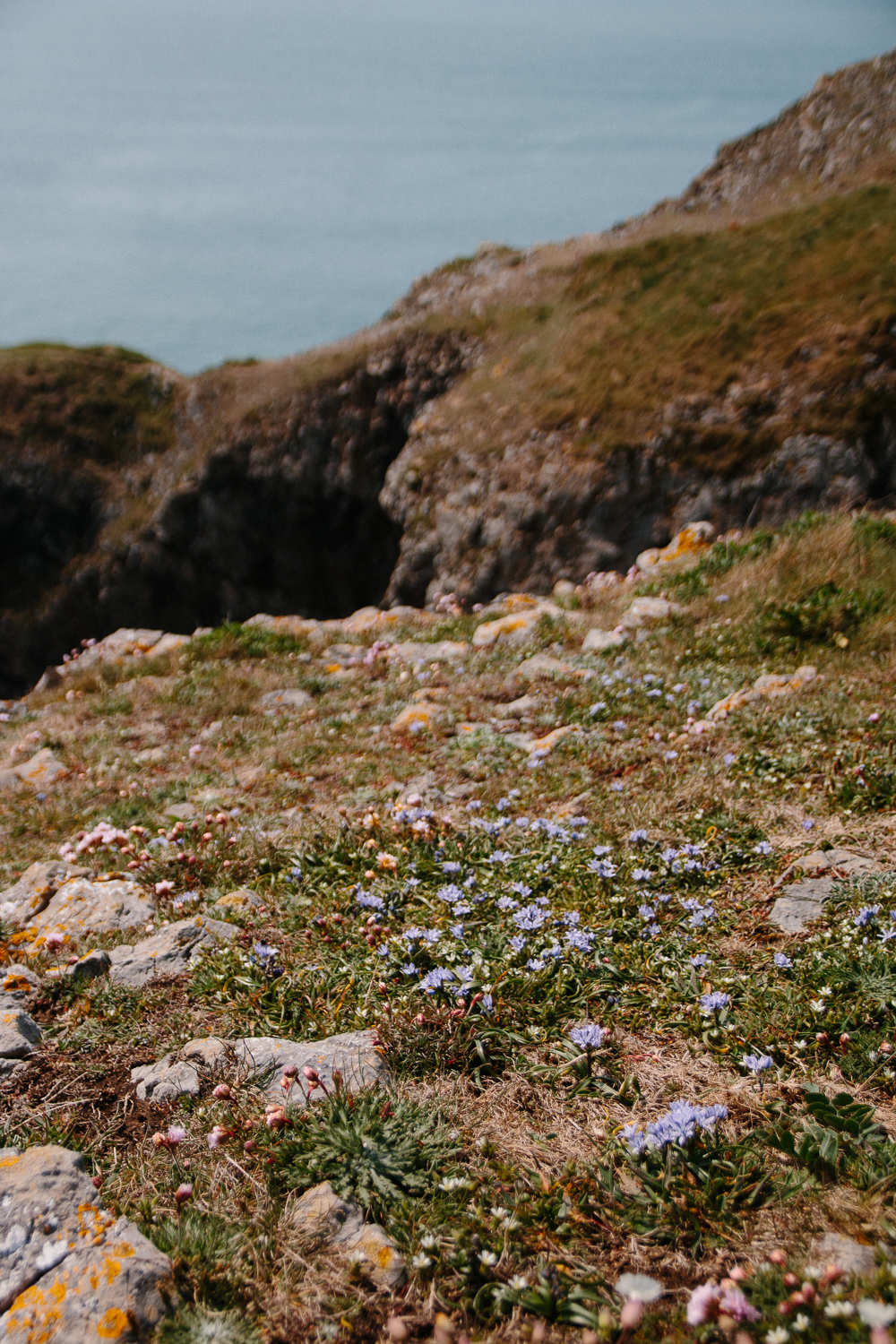 How to Get to the Green Bridge of Wales
Getting to the Green Bridge can be a bit tricky – it's actually located the other side of an active military tank firing range, so you do need to check before you go if it's open to visitors as the road to the carpark goes right through it! We didn't check, but there's also a sign on the entrance road that says if it's open or not.
It's located just off the B4319 after Merrion village at the entrance to the firing range. It's best to not follow the satnav when you're nearby as it doesn't take you to the right road, which looks like you're not supposed to go down it, but you can when it states that it's open. There's a huge carpark only a short walk from the Green Bridge.
How amazing are some of the formations though?! I kept saying to Shane that it felt like I was in Avatar with all the stacks, just not as tropical haha. They were all covered in nesting birds and you could actually hear them echoing through the air. I'm not sure if they were guillemots or puffins as they look quite similar (and I'm no bird expert), but during the nesting stages access is limited to the green bridge itself – yeah, we were surprised to find that you can actually walk onto the bridge – though I'm not sure that I'd want to really!
The coastal walk is really nice though, and there's plenty of places for picnics if you take a blanket with you. You can also walk along to 'the cauldron' which is an area with a huge blow hole in the centre, but I was terrified and had to turn back because it was just so dark down there!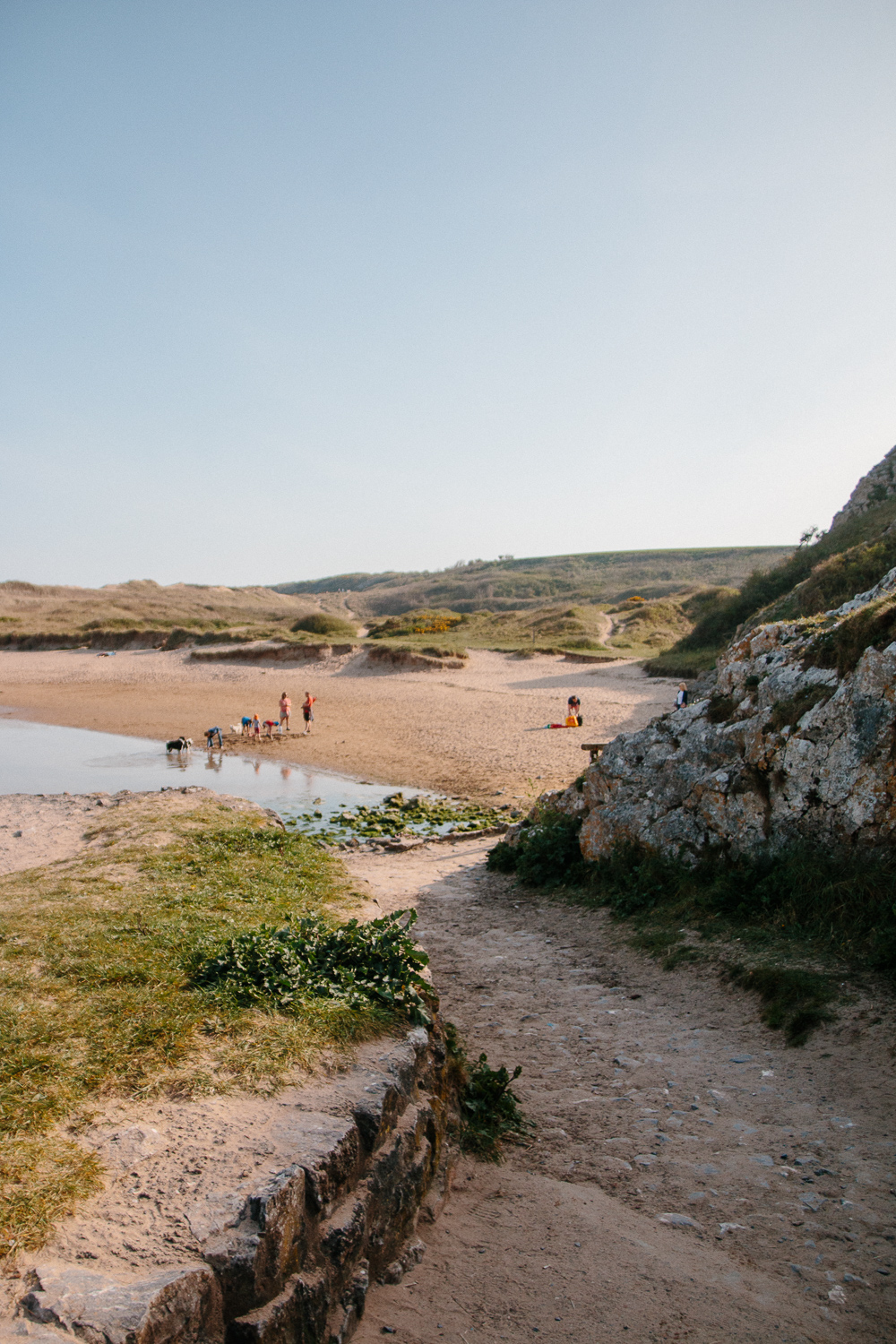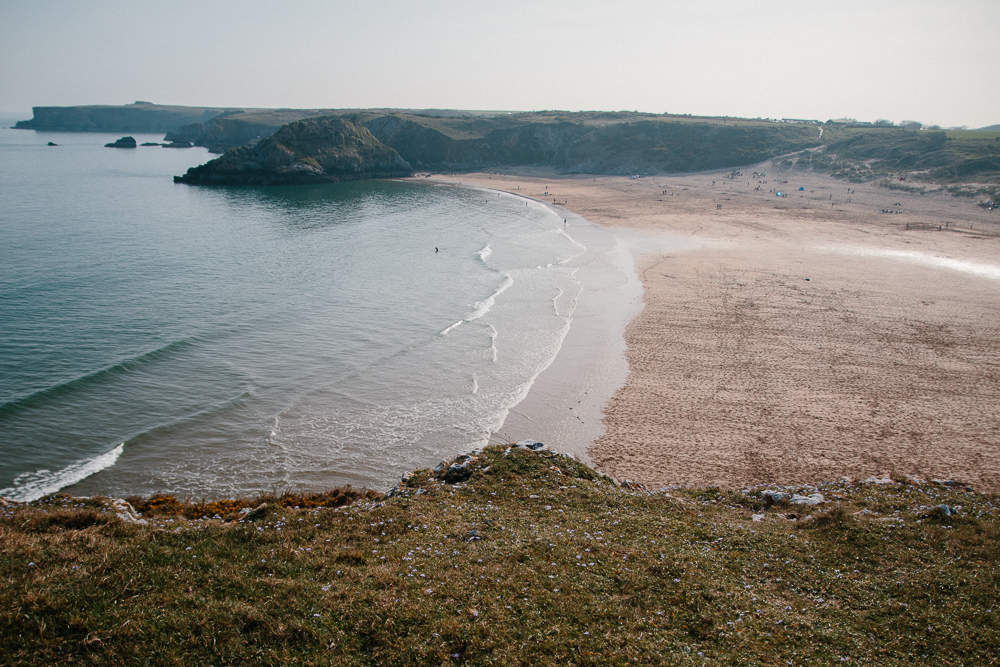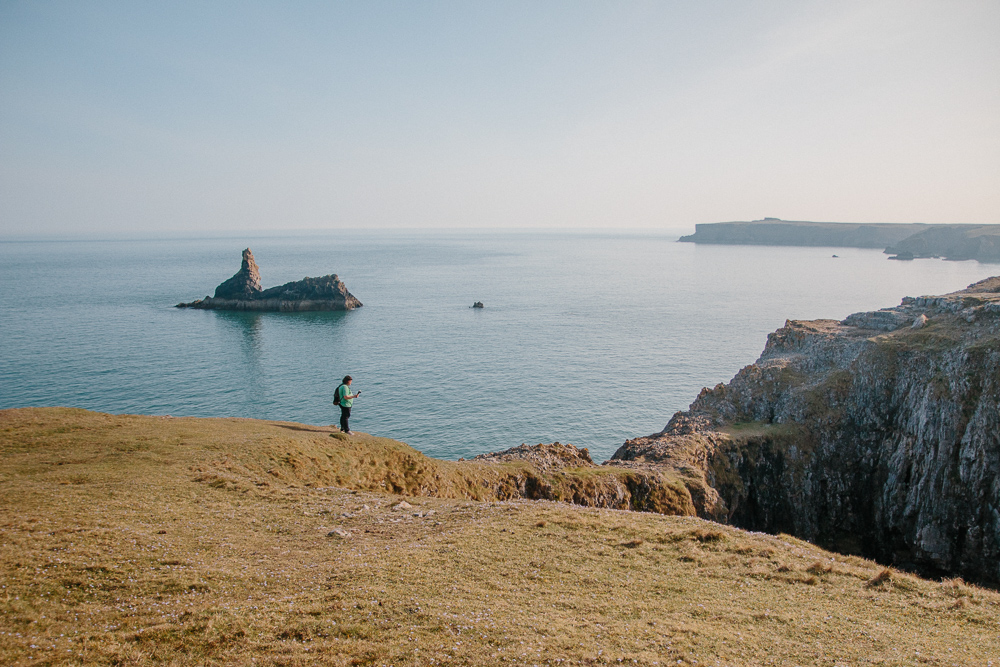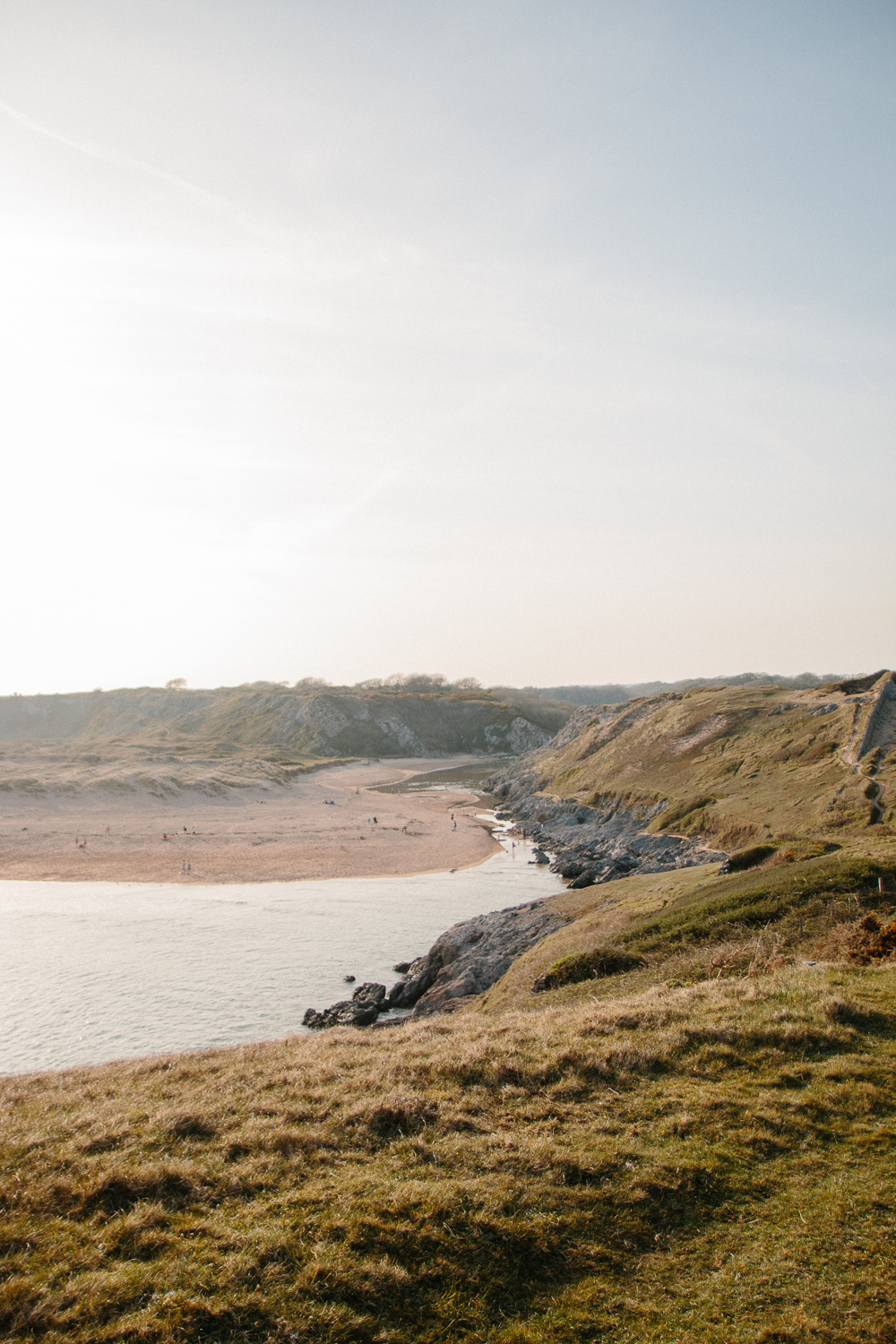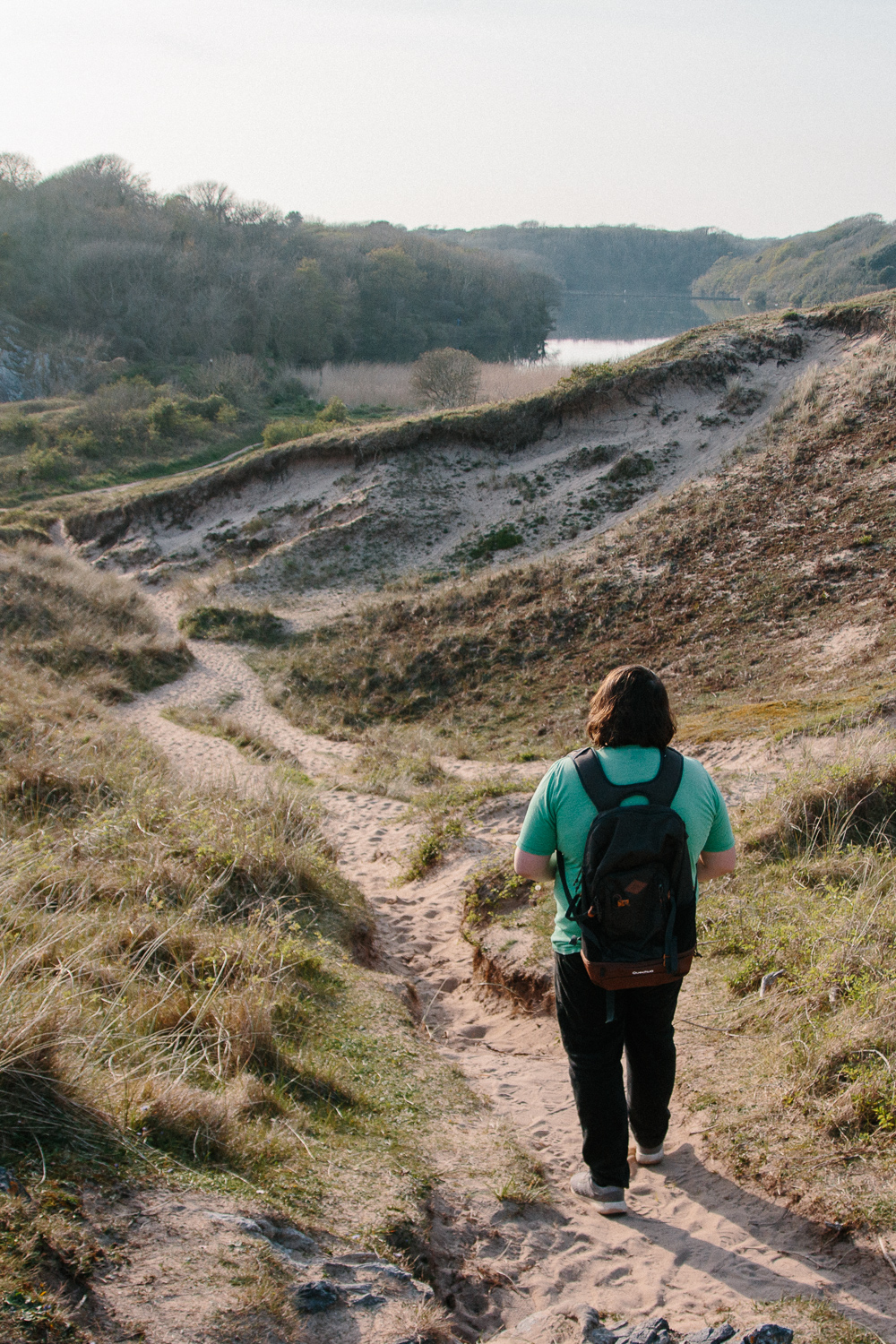 Broadhaven Beach at Bosherton
Afterwards, we headed just down the road to Broadhaven Beach. To confuse things, there's another Broad Haven beach in Pembrokeshire, but this one is the one at Bosherton. We wanted to go see this blowhole, but it turns out to actually see anything of it you need a drone, which we left in the van, so we walked the whole way through dunes to look at a dark hole in the ground haha!
It actually turned out really nice though as we just sat at the clifftop, watching kayakers and sailboats float by, chatting for a good hour or so before heading back. The beach there is actually quite nice (though really busy during the day) and there's a small paddling area where a stream meets the beach when the tide is out.
If you're in a campervan or tent, there's a really nice basic campsite in Bosherton which cost £4pp per night, which is basically a farmers field which he opens up. You just drive in, pick a spot and he comes round in the evening/morning to take payment (cash only). There's basic washing facilities and portaloo's on site too, so we stayed here the night!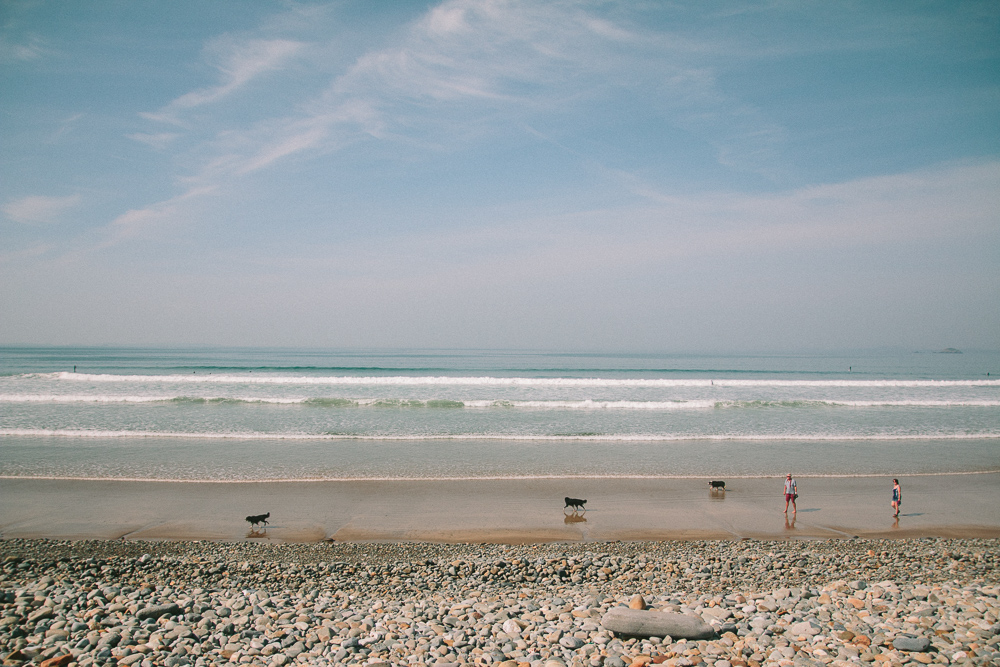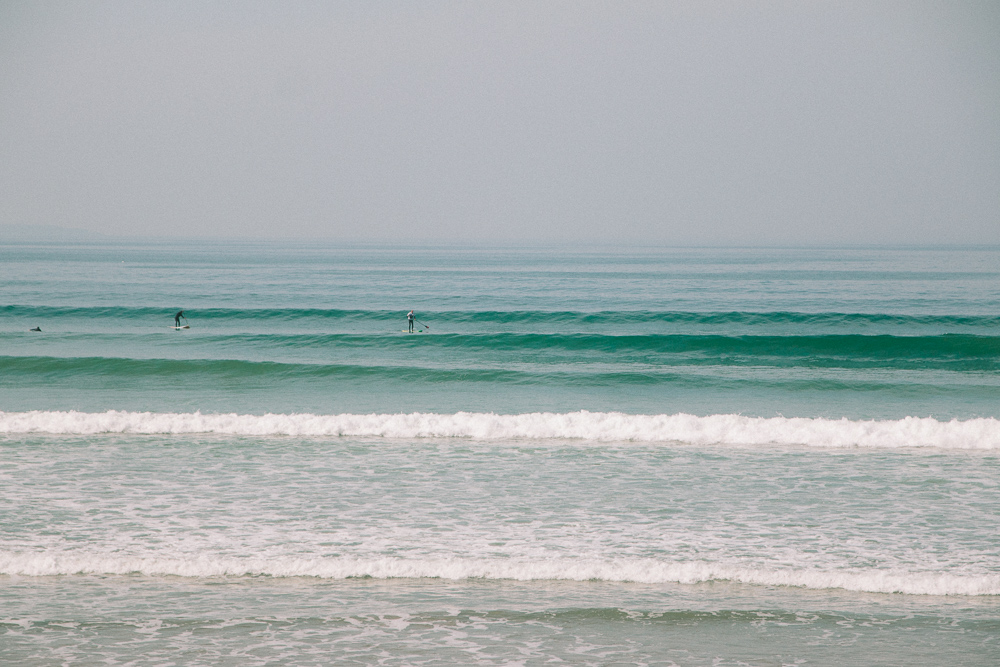 Newgale Beach
The next morning we decided to head home a day early so that we could have a BBQ with family since the weather was SO nice and to avoid all of the Bank Holiday Monday traffic with everyone heading home. But before we did, we stopped off at Newgale beach for a few hours. I LOVE watching surfers and people out on SUP's and the beach was full of them when we arrived.
It's not the best beach for kids to swim in my opinion, as the waves are quite big and it's known as a surfing beach, but we noticed that as it went into midday the surfers left and the kids came out with their bodyboards. It's also mostly stones, with the sandy area of the beach available once the tide has gone out, so it's still a bit wet to sit on. We enjoyed it though, and afterwards we started our journey home!
Where's some of your favourite places in Pembrokeshire?
Follow
Save