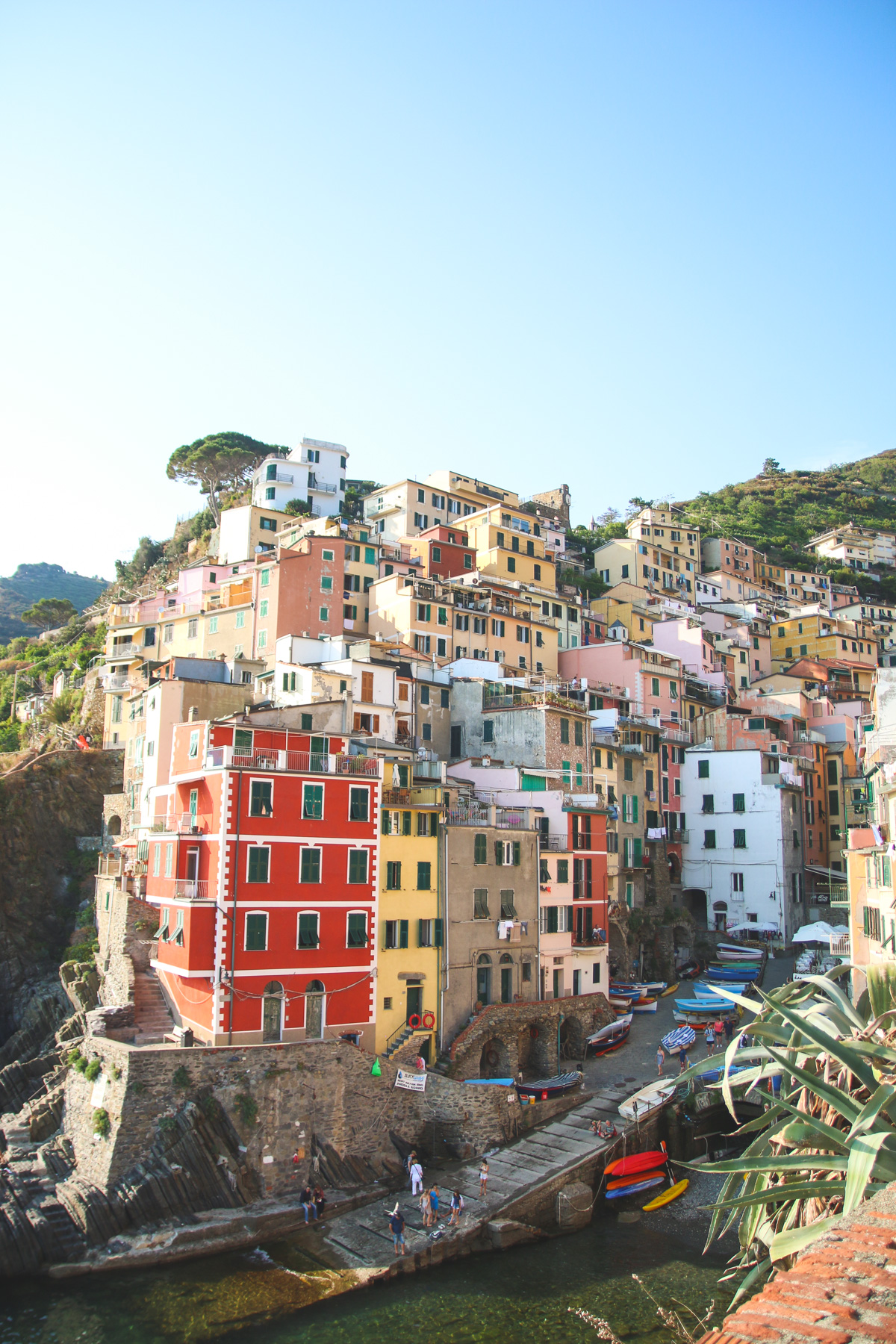 How to See Cinque Terre in A Day
When my mum and I visited Cinque Terre last June, we booked a 3 day trip to La Spezia – a great base for seeing Cinque Terre. But since there's so much around the area that we wanted to see; Portovenere, The Leaning Tower of Pisa, Positano and Santa Margherita, we actually only had enough time to see Cinque Terre in a day. Is it do-able? Totally!
I mean, I'm going to be totally honest here – unless you walk at 1000mph and aren't bothered by ridiculous amounts of heat, humidity and tourists (assuming you're visiting in the summer), you probably won't get to go on the hikes between the villages, go cliff jumping into the crystal clear sea in Manarola or chill by the beach in Monterosso. BUT, you will get to see all five villages in a day, enjoy a lush lunch and take in the stunning views. Perfect if you're on a day trip from Pisa, Florence or a cruise stop in La Spezia!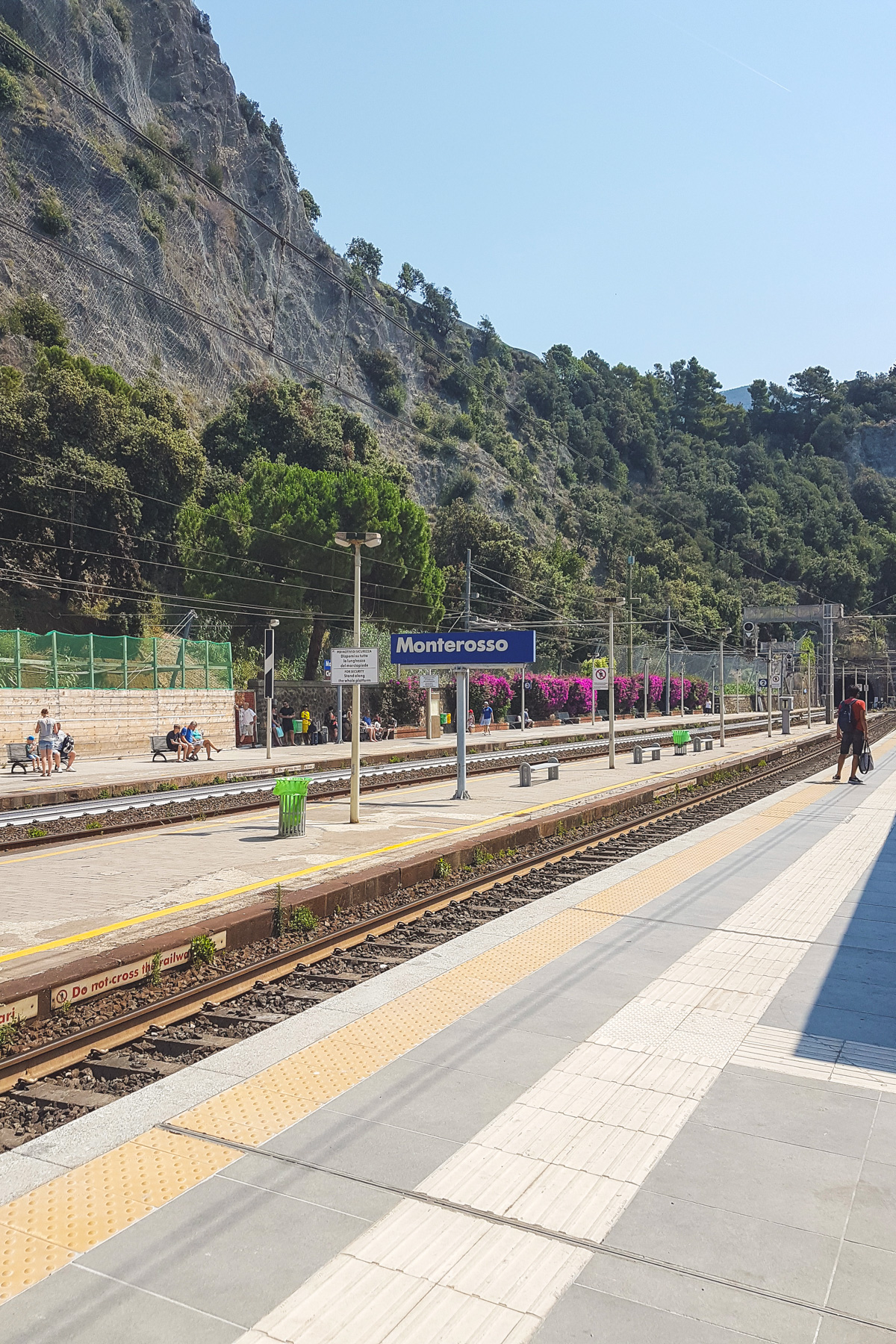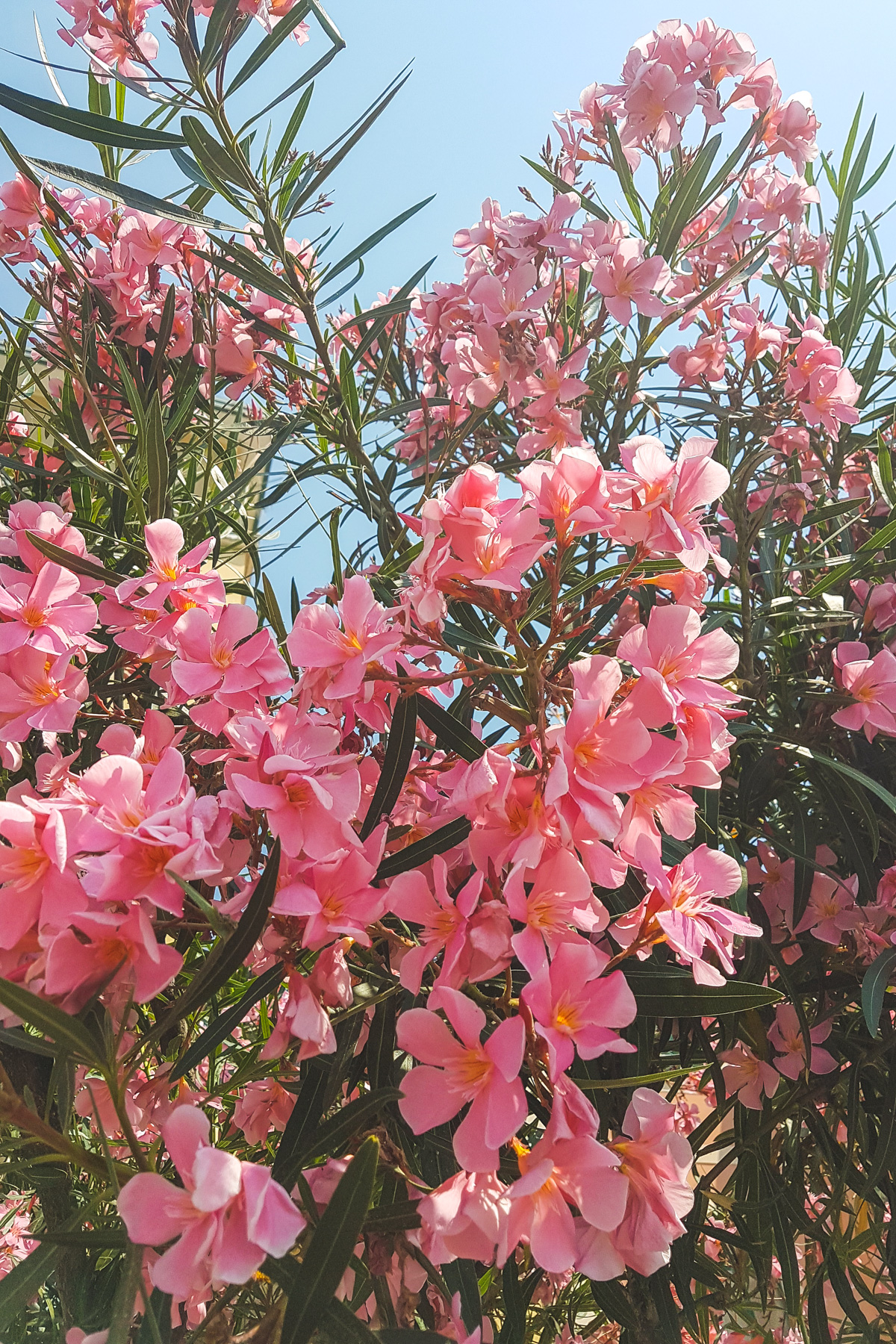 Transport
Use the Train! We were based in La Spezia and the best and easiest way to get to and around Cinque Terre is by train. The trains run on average about every 15 minutes from Levanto/La Spezia to Cinque Terre and cost about €6 each, with the train from La Spezia to Riomaggiore taking 10 minutes. To take the train from village to village is no longer than 5 minutes each. They're so close! You can find up to date train timetables here.
The Cinque Terre Card
I'd definitely recommend you get yourself a Cinque Terre Card – you save so so much money! There's two options available:
The Cinque Terre Card – this allows you train travel between all 5 villages, use of the ecological park shuttle bus (which also takes you between the villages), access to all of the hiking trails and free wifi on board the trains. You can buy one in any Cinque Terre village train station. They cost €7.50/4.50 adult/child for a 1 day pass, or €14.50/7.20 for a 2 day pass.
The Cinque Terre Train Card – this allows all the same uses as the Cinque Terre Card, but also allows unlimited train travel on the Levanto – Cinque Terre – La Spezia line! This costs €16/10 adult/child for 1 day pass and €29 adult for 2 day pass. I think you can buy one of these in the train stations at Levanto/La Spezia.
Just be sure to validate your tickets! Train conductors in Italy are on the ball, so make sure you don't incur any fines and validate your tickets in one of the green validation machines in the stations!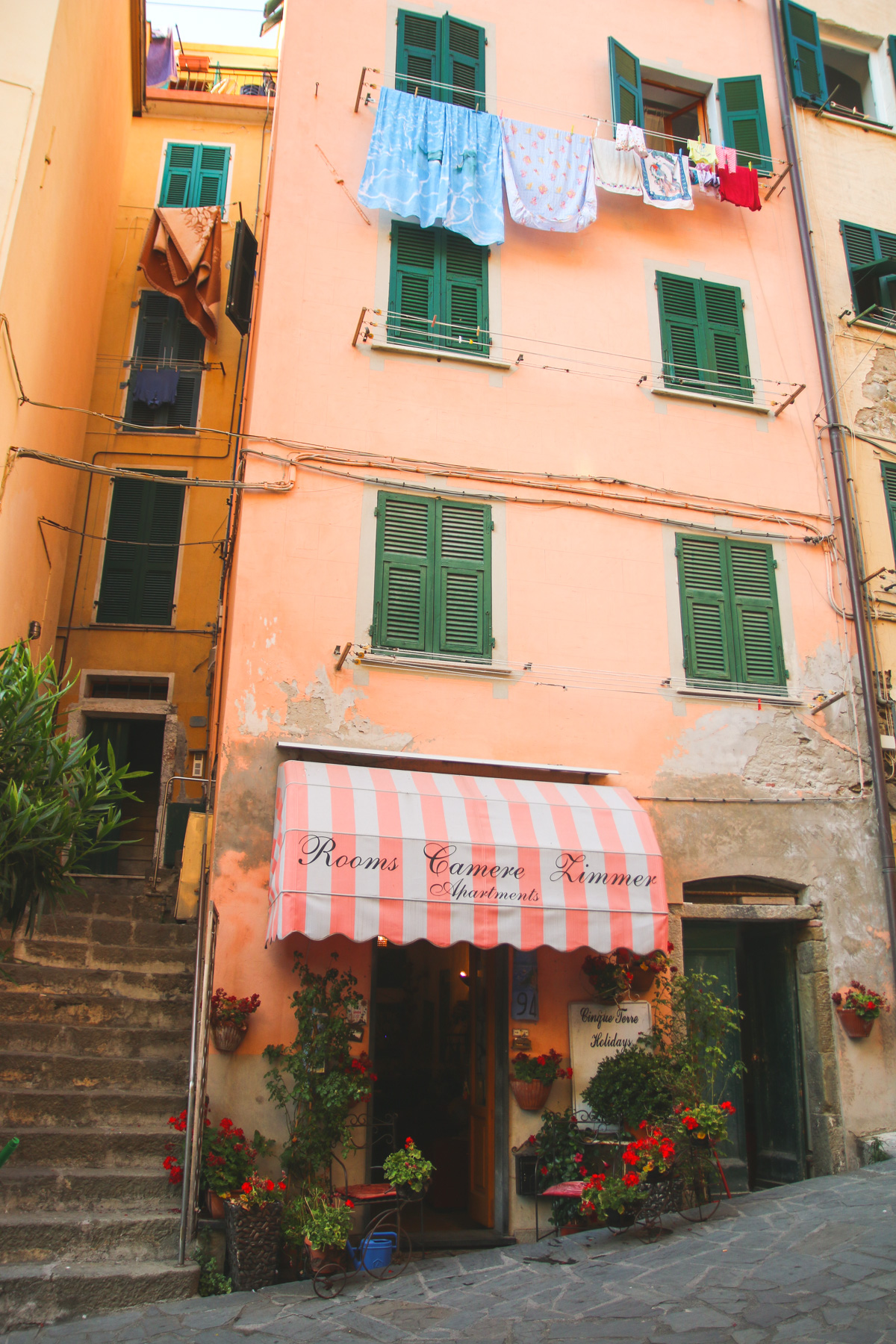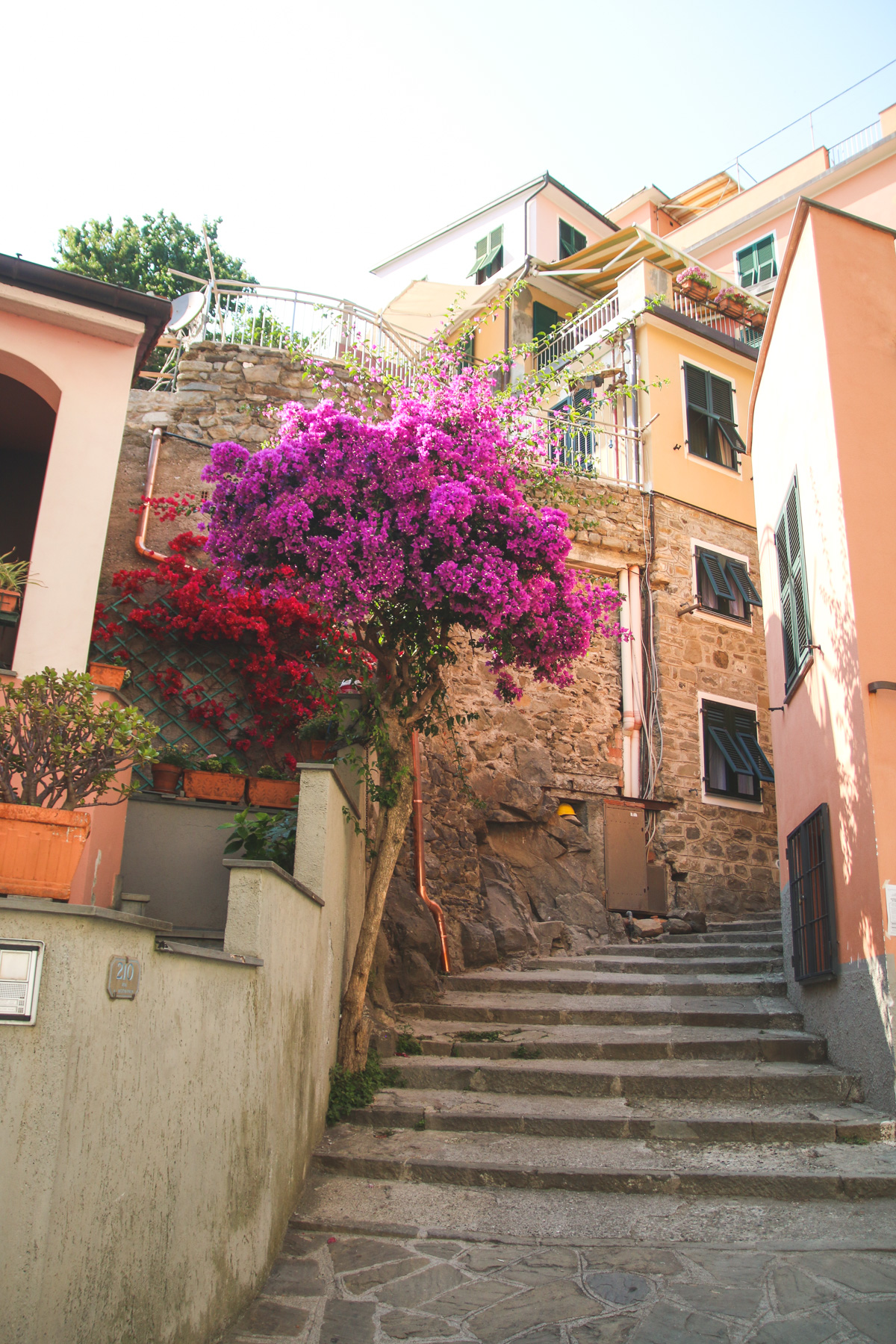 Make the Most of the Day
To get the best experience of seeing Cinque Terre in a day, if you're staying nearby, get up and out of your accommodation early. Trains to the villages start at 5am, and obviously you might not want to be out at that time, but I'd recommend getting there for around 8.30am – the villages are SO quiet before 9am, so you pretty much have them to yourself.
This way, you can spend a good few hours in each village before heading on to the next and stay until the sun sets to really make the most out of your day. Yes, it'll be so tiring, but it's so worth it! If you're visiting on a cruise of coming in from Pisa/Florence, that's fine – just make the most of the time that you do have in the villages!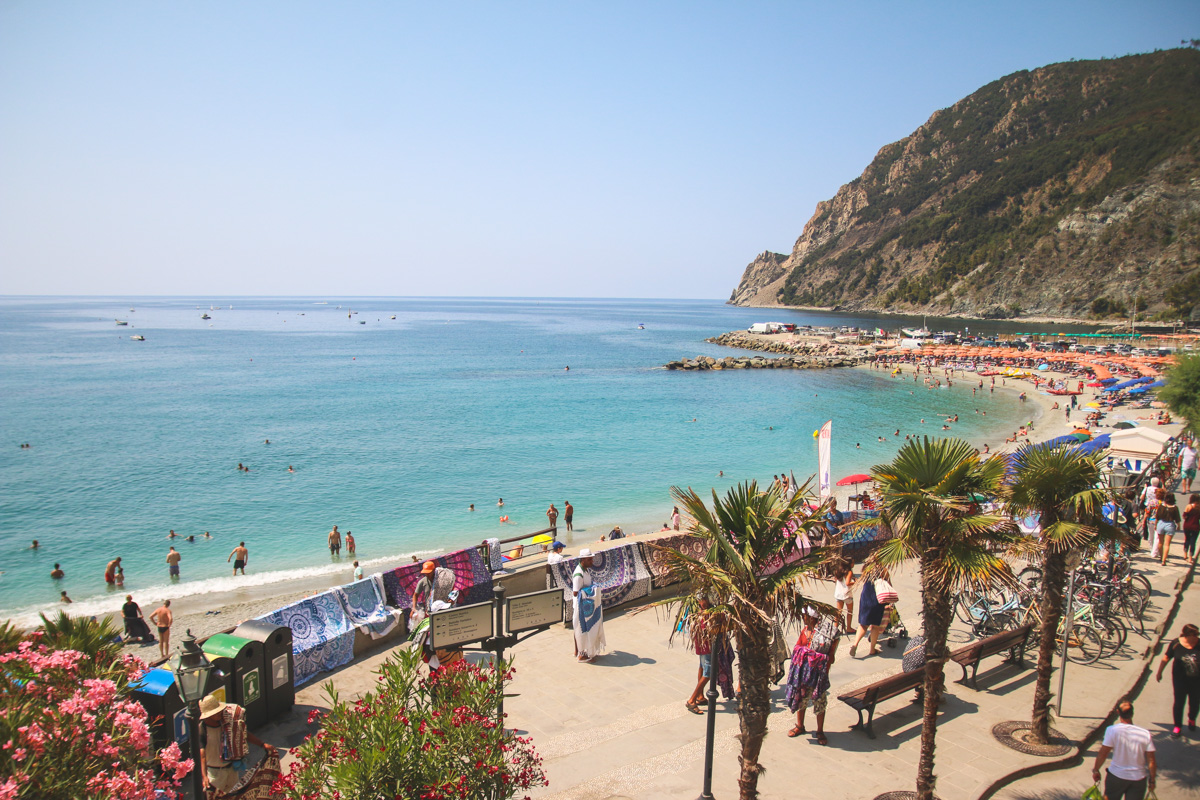 Where to Start
We worked our way from top to bottom and it worked out really nicely. It all depends on what you want to do with your day though. We weren't too fussed on a swim in the sea, so we started our day at Monterosso al Mare and worked our way through Vernazza, Corniglia, Manarola and finished up the day in Riomaggiore. I'd say that if you want to finish your day with a swim, then flip it around and start in Riomaggiore and end in Monterosso, but obviously, it's entirely up to you!
There's also a ferry that takes you between the villages. We actually used this to take us between Vernazza and Manarola, as I was struggling with pretty bad heat stroke and wasn't too fussed on seeing Corniglia at the time as I definitely wanted to see the other two villages, so we paid for the ferry to get a view of it from the sea instead! It's not included in the Cinque Terre card, but it was a nice little trip to see the villages from another perspective! Prices vary between each village, so check at the ticket booths in the villages.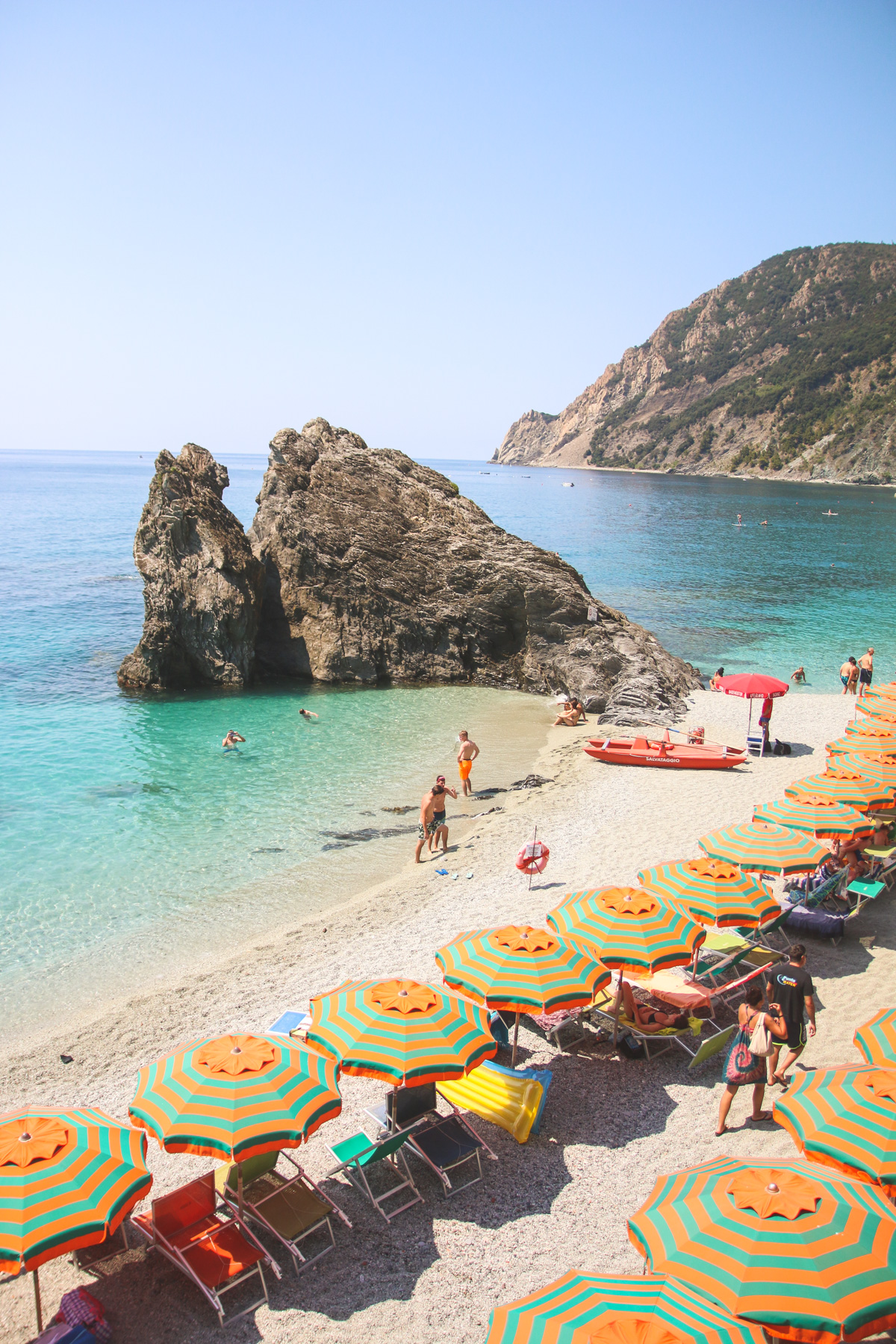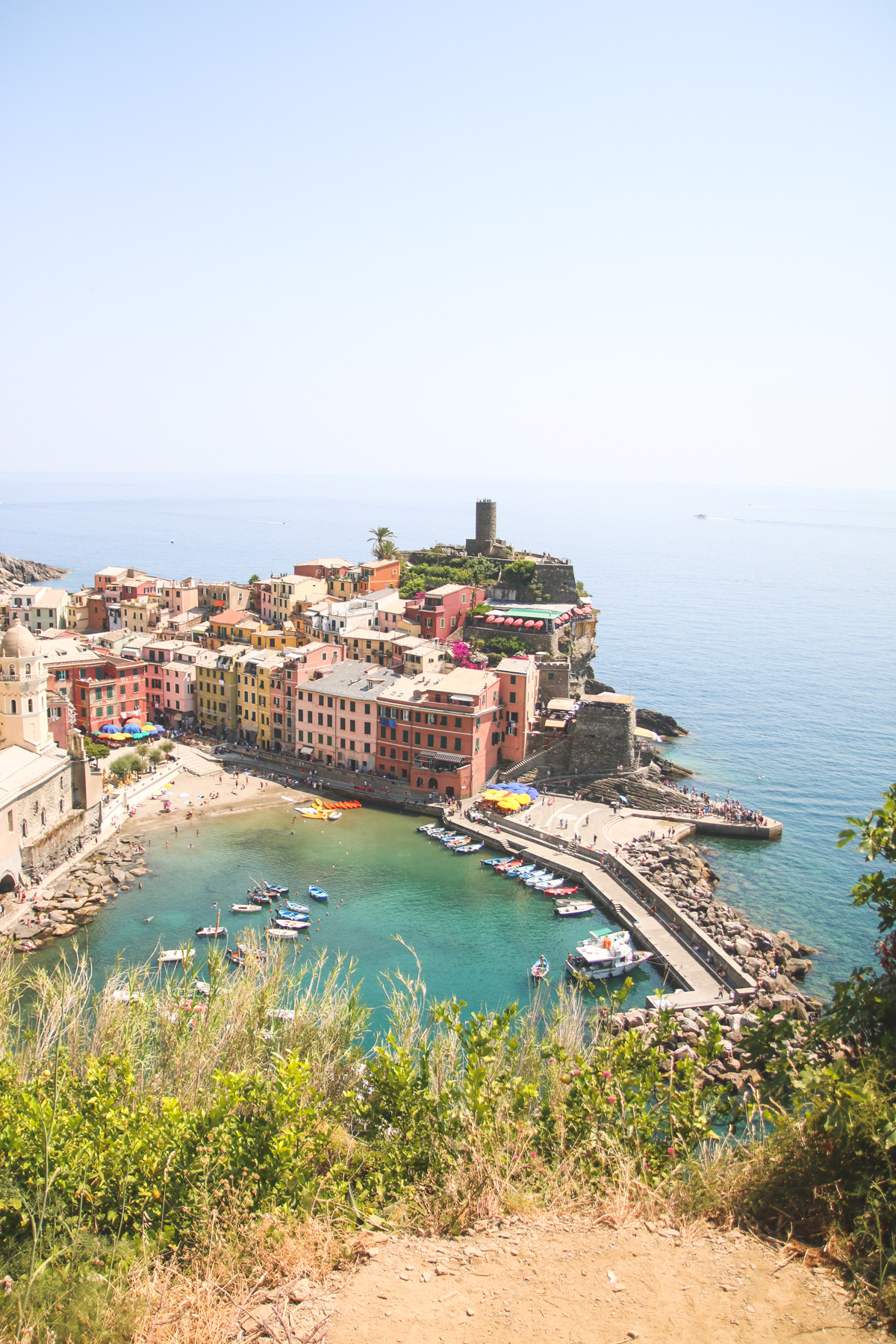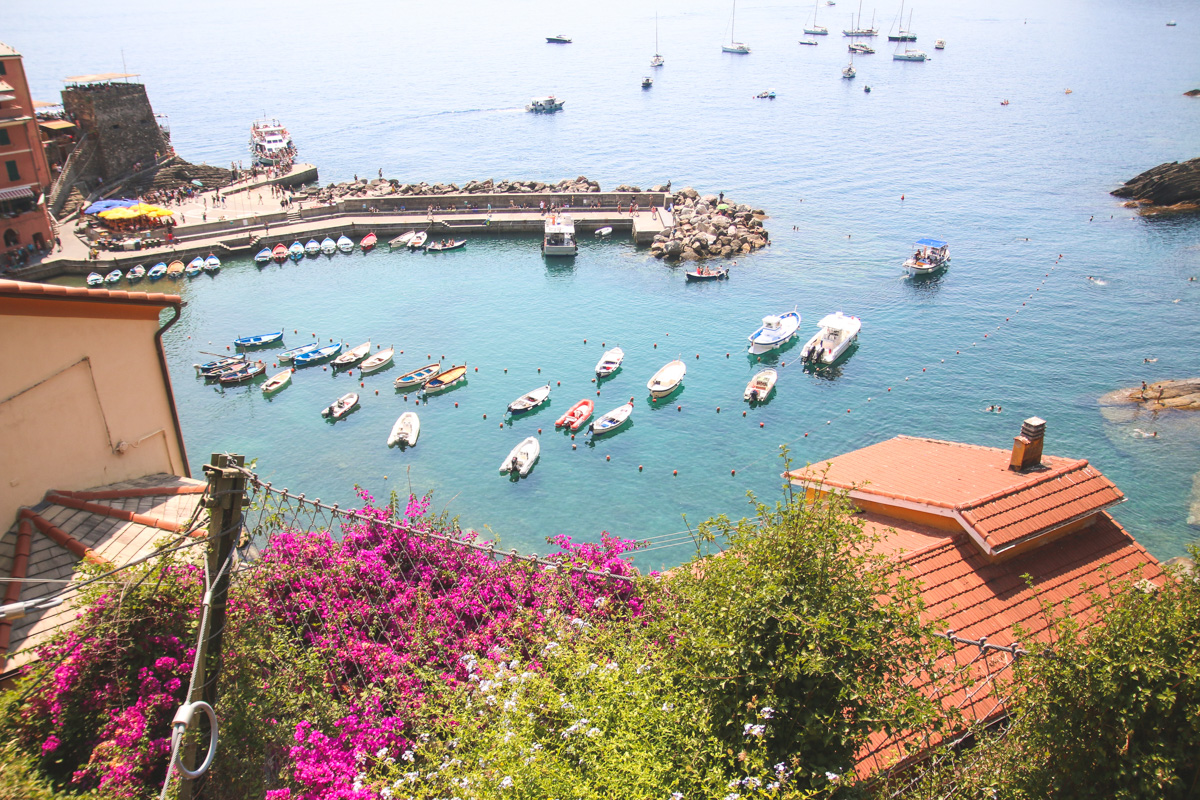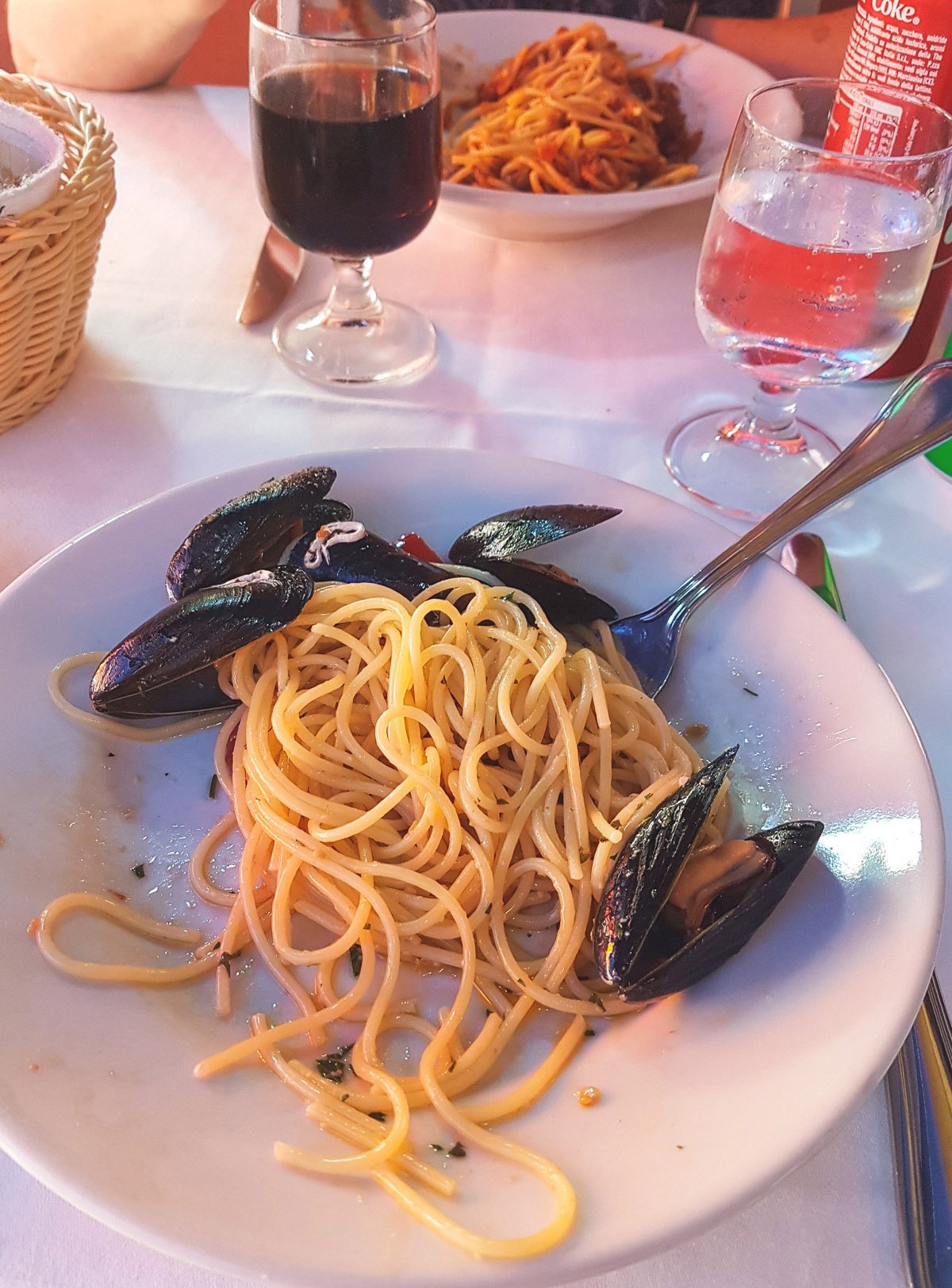 Top Sights in Cinque Terre
Monterosso Al Mare
Monterosso is the biggest village in Cinque Terre and the only one with a beach! The famous colourful umbrellas line the beach, though they do cost to hire them. The beaches there are private, but do include changing rooms and toilet facilities!
If you're wanting to fit in a hike, one of the most famous hikes is the one between Monterosso and Vernazza. There's actually two trails – the easier one goes along the seafront, and the second, longer one is through the mountains. I'd give them both an hour or two to complete. The easy one was closed while we were there, so we just took the train instead!
Vernazza
If you don't hike from Monterosso, definitely take the short walk up from the village to the hiking trail to get those famous shots (the Cinque Terre Card gives you access to the trail or you can purchase a ticket at the booth). It's only a short walk to get the 'famous' view, but it's so worth it! We stopped for lunch here and ate at Bar Gianni Franzi overlooking the port and the seafood pasta was the best I've ever tried! Vernazza seemed to have the most options for food out of the villages.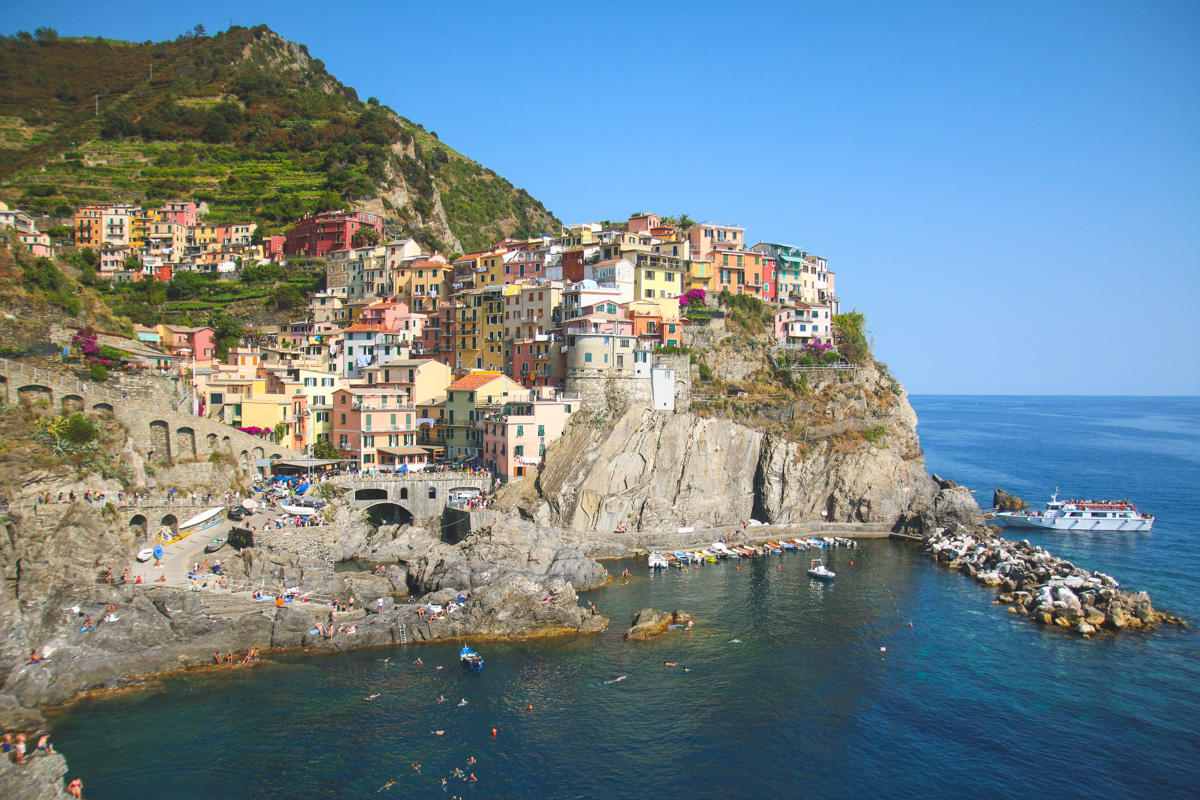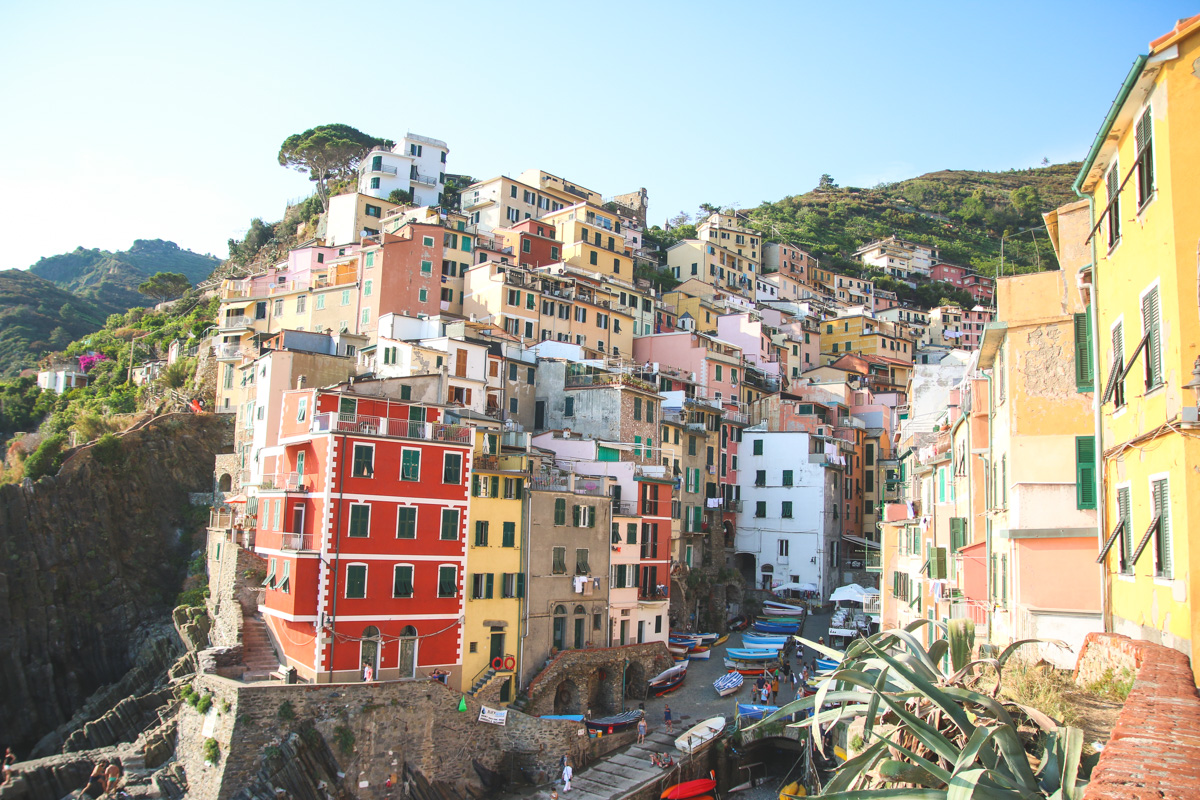 Corniglia
Corniglia is the only village that doesn't have access to the sea, but you can get here via train and shuttle bus. We didn't stop here, but you can definitely fit it in on a one day trip.
Manarola
Manarola is great for cliff jumping! It's probably one of the most famous villages that you see on every website and postcard for Cinque Terre, though it was one of the most hilly ones too. There's a pathway that takes you right along to the famous viewpoint to get the shot of the village, which is stunning towards sunset as it really brings the colours out!
Riomaggiore
Riomaggiore is famed for it's hotels. If you're planning on staying in Cinque Terre, then you'll most likely end up here. It's also known for it's more upbeat vibe after sunset, as there's plenty of bars and restaurants to choose from. It weaves up into the mountainside, so it's set on a hill, with towering colourful buildings. We didn't get to spend too much time here, as at this point, I was almost throwing up with heat stroke, so we ran down to the water, got a few photos and a gelato and headed back to the hotel in La Spezia. We were there just before the sun set though, and the light was stunning!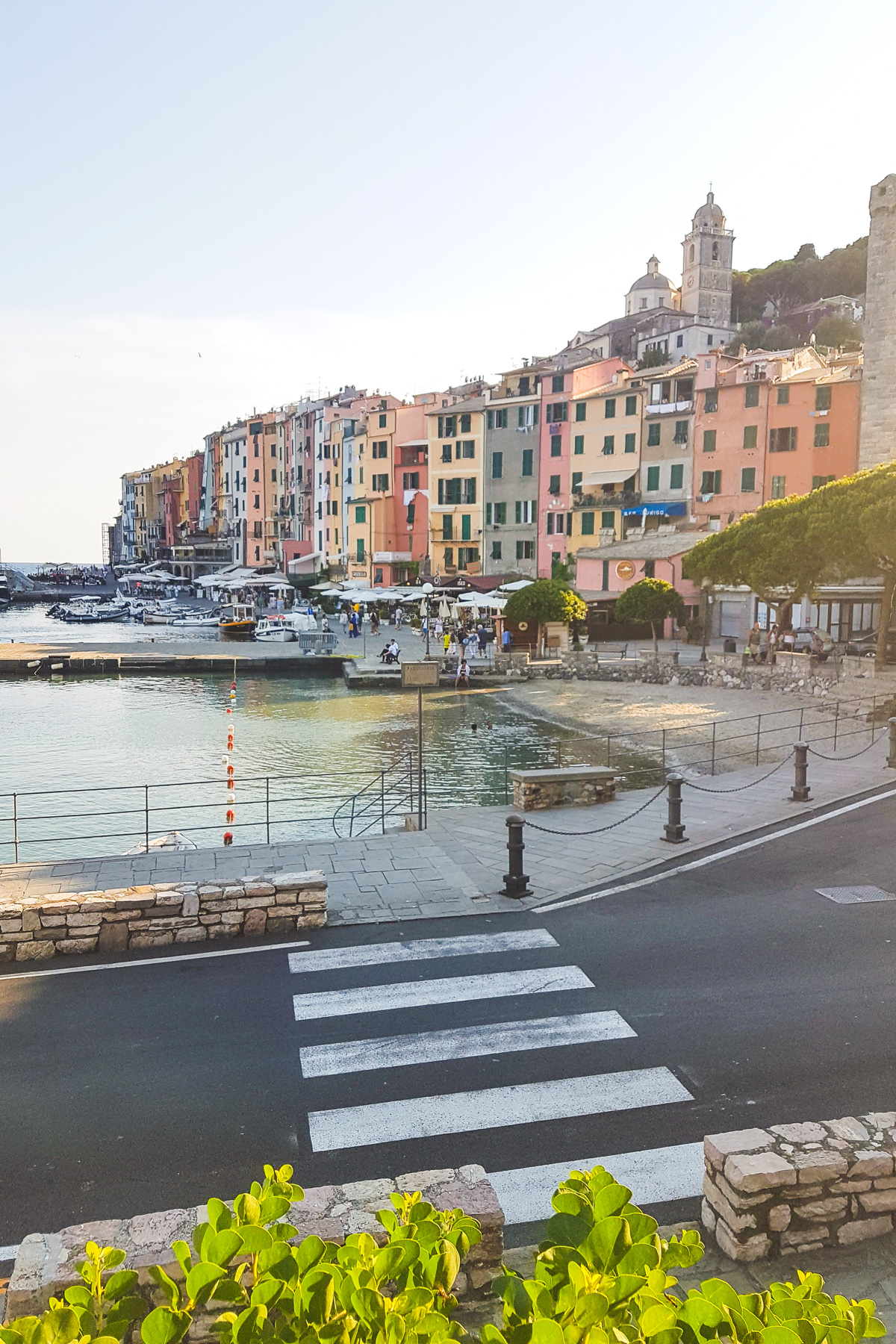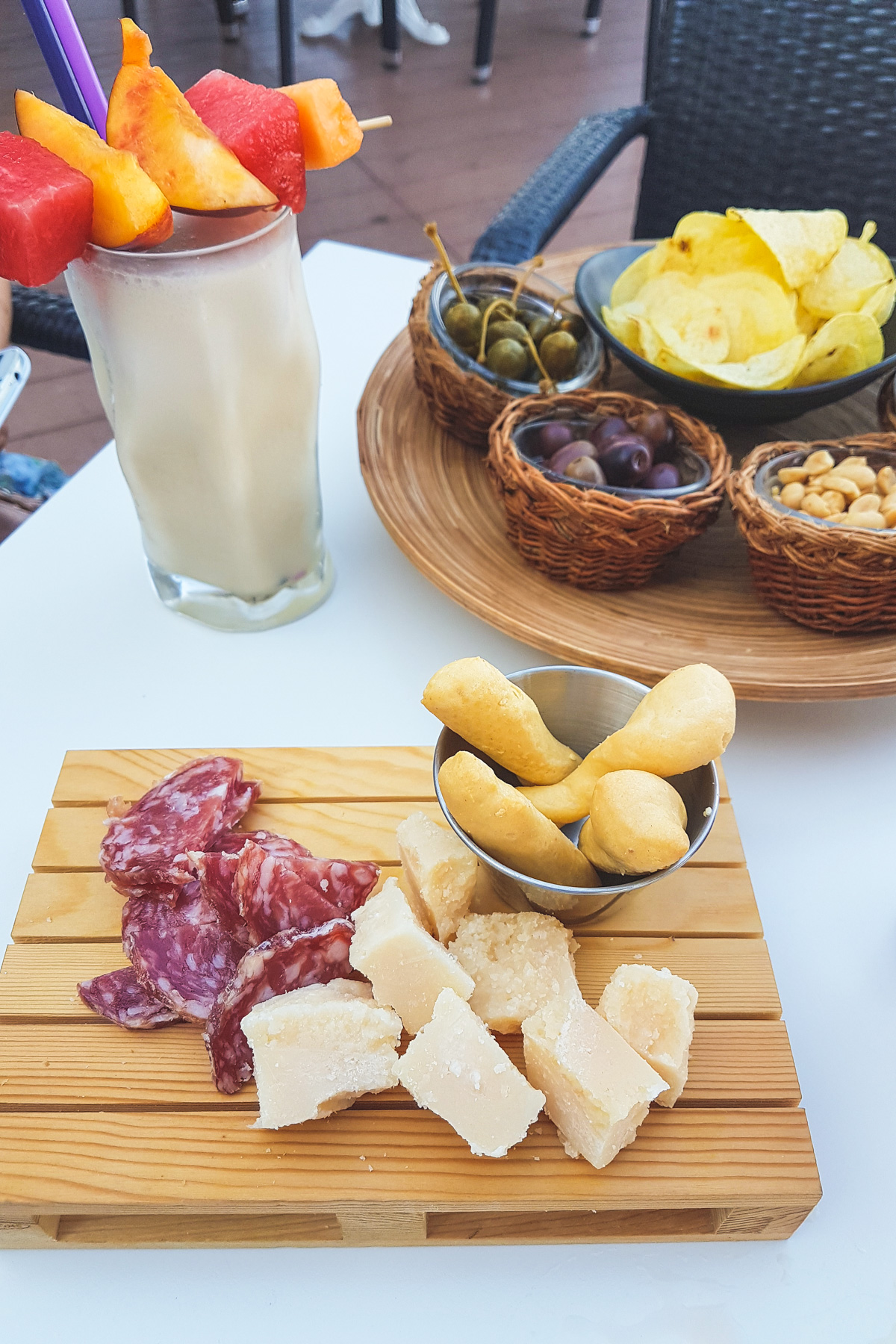 So there you go! A complete guide to seeing Cinque Terre in one day! Ultimately, I'd recommend spending two days here if you can, so that you can spend a bit of time relaxing on the beach in Monterosso, cliff jumping in Manarola and hiking some trails between the towns in between.
If you're in the area I also highly recommend a trip to Portovenere – there's no train station here, so the only way to get here is either ferry or a bus from La Spezia, but it was one of our favourite stops for sunset antipasto and cocktails by the sea and we actually ended up here twice! It's often classed as the 6th village, so it's worth visiting in the evening if you can fit it in.
Have you been to Cinque Terre? Are you planning a trip? Let me know! If you have any questions or need any more tips, just leave a comment or tweet me and I'll reply!
Follow
Save