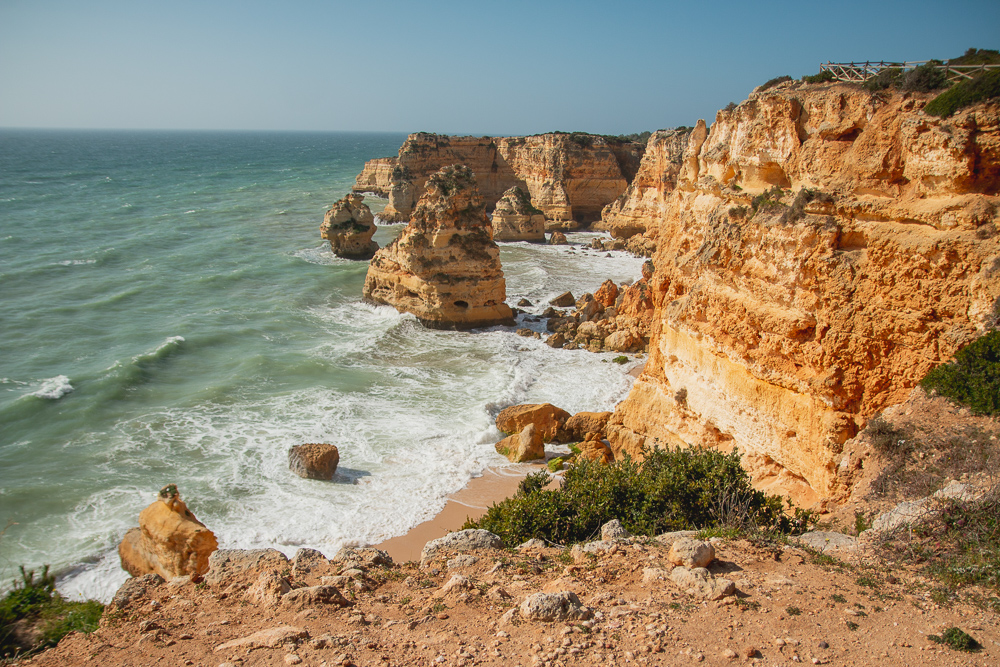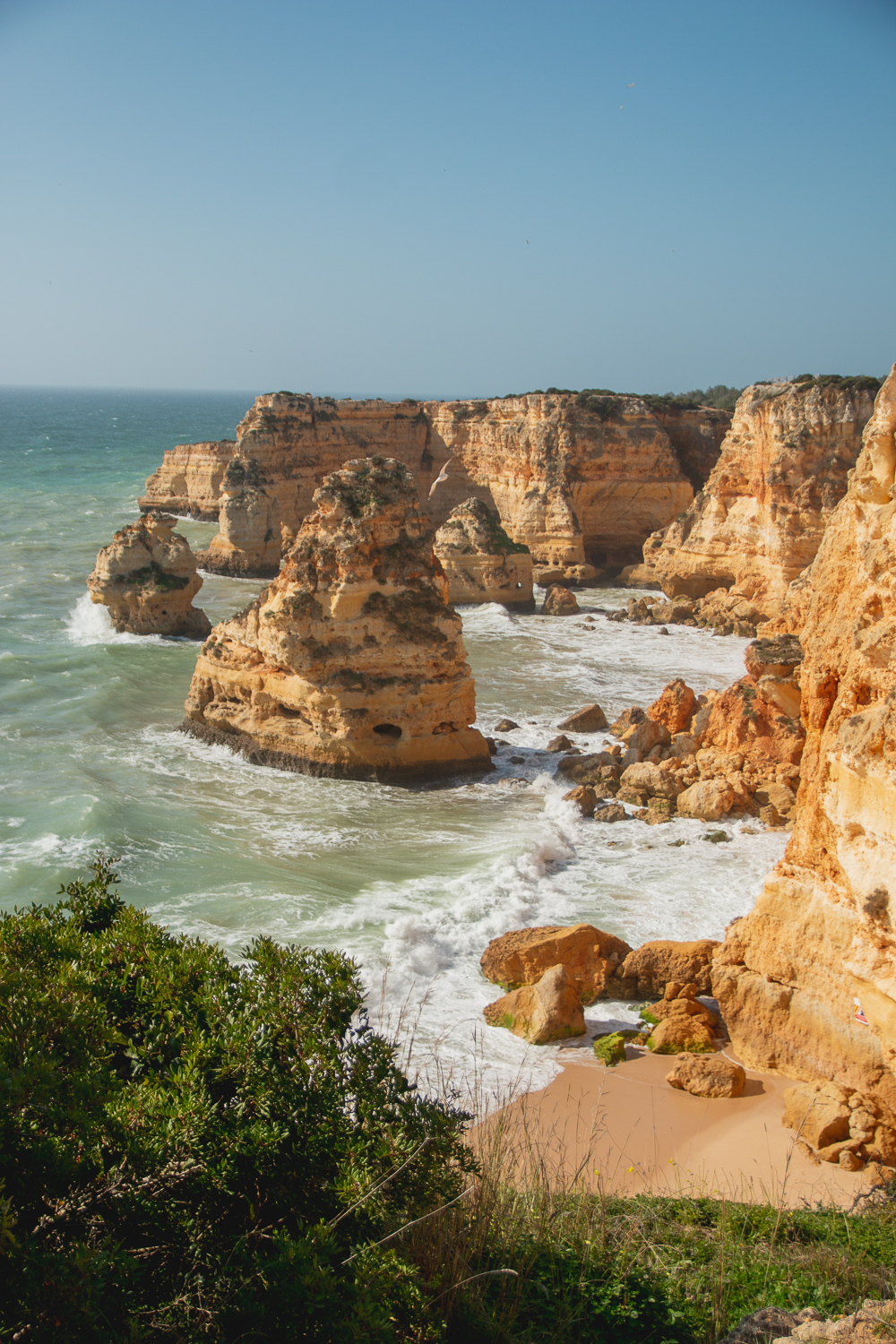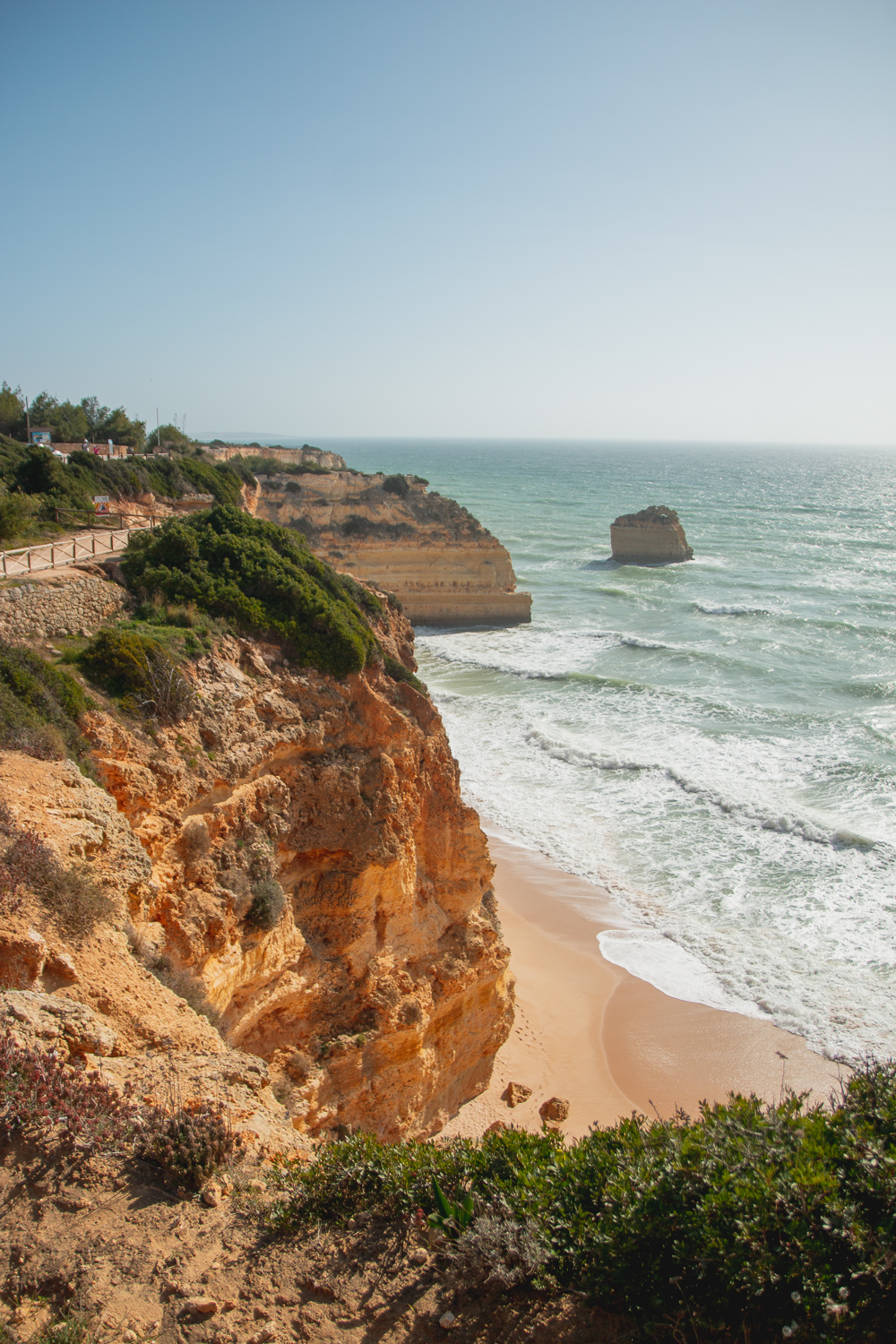 Praia da Marinha
If you've ever seen any photos of the Algarve beaches, no doubt you'll have seen some of the famous Praia da Marinha beach – it's constantly awarded best beach awards, not only for Europe, but the world too and you can see why! We visited on a day (more like week tbh) with crazy wind. There wasn't a day that we didn't have any wind, so the photos aren't quite the picture perfect 'tranquil blue sea' shots that you'd usually see of the beach, perfect for swimming in during the summer.
We wanted to visit this beach on our last trip to the Algarve, back in December 2017 but we just didn't have time to fit it in with all of the other things we wanted to see aswell, so I'm glad we finally got to tick it off this time around because it's well worth a visit if you ever visit the Algarve.
If you want to visit Praia da Marinha beach, it's located about halfway between Portimao and Albufeira and can only be accessed if you have a car. Apparently during the summer months, there's a bus that runs weekdays twice a day from Lagoa (not to be confused with Lagos) but it's not very frequent. There's a large carpark but I can assume during the summer months it'll get quite busy, as it was almost full when we left and that was at midday in February.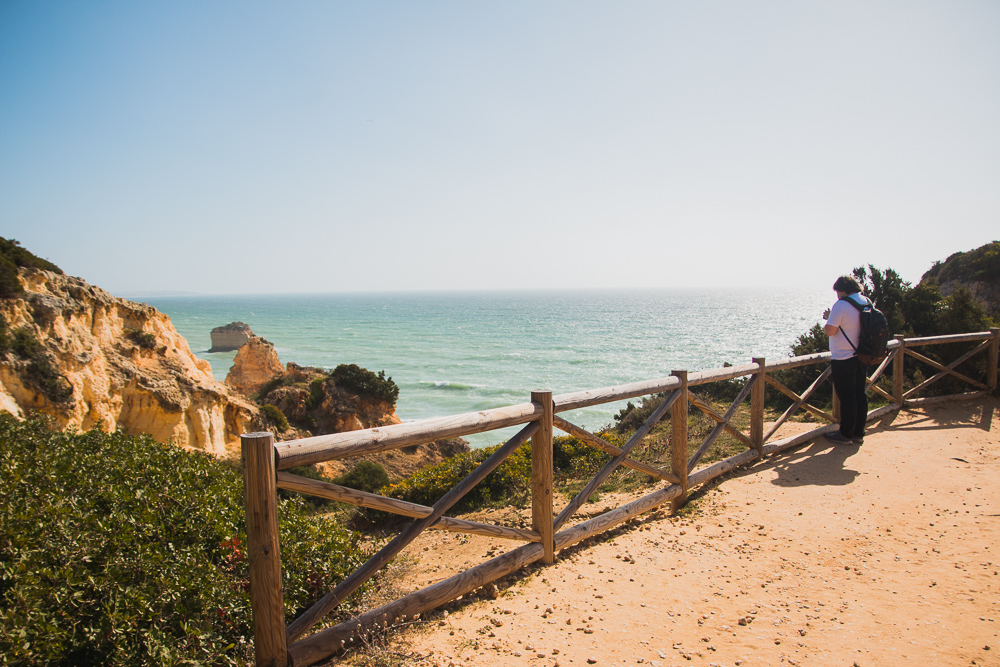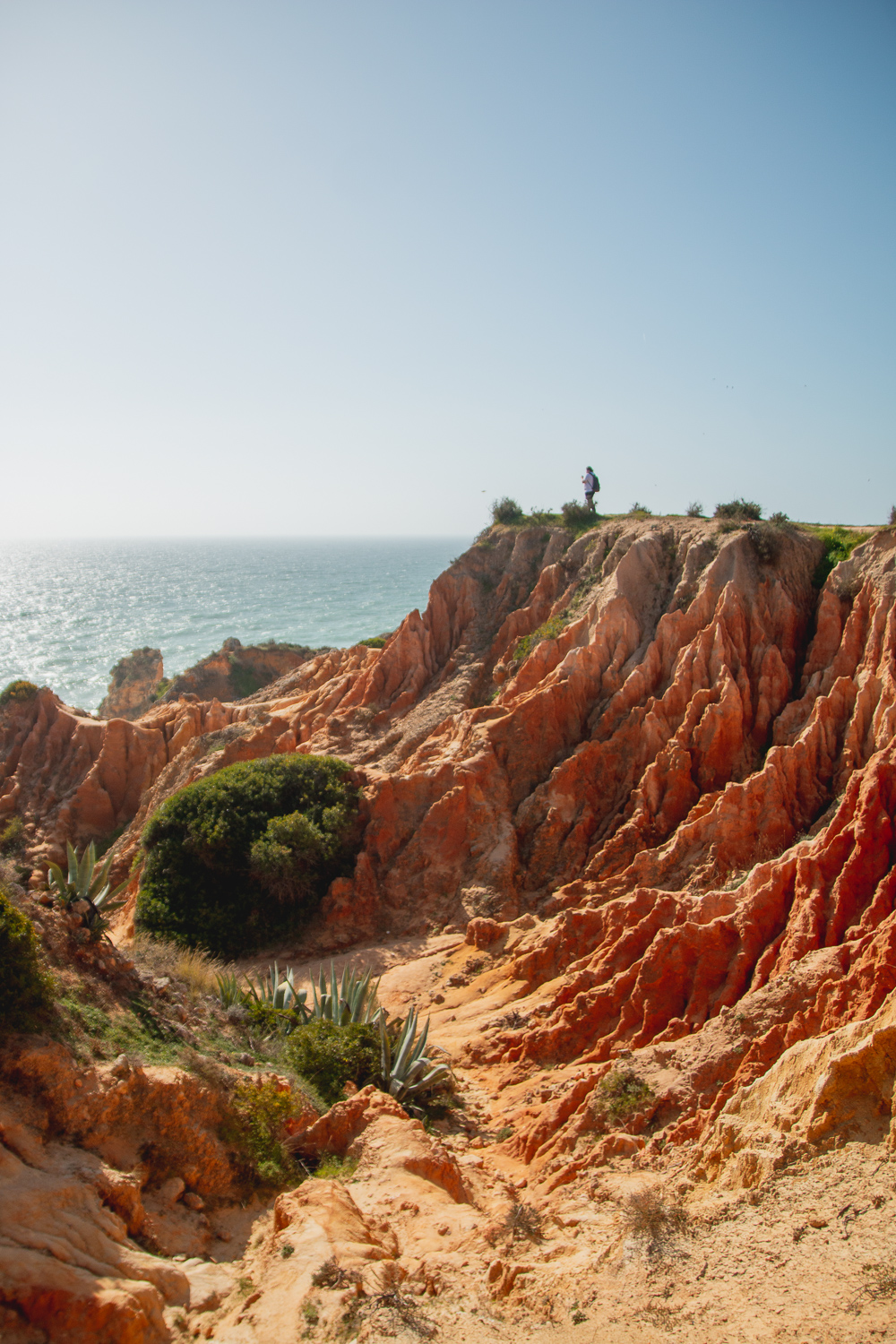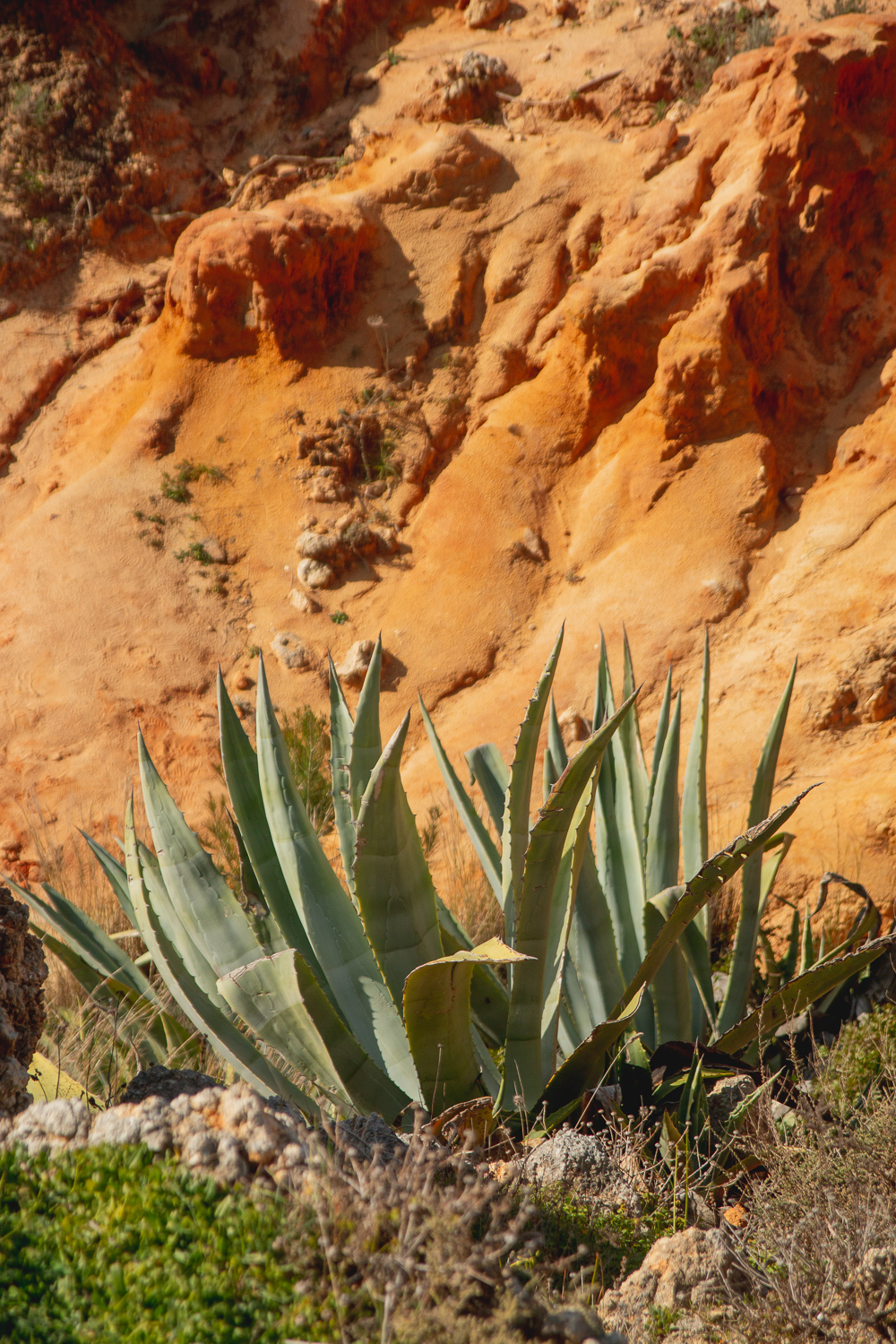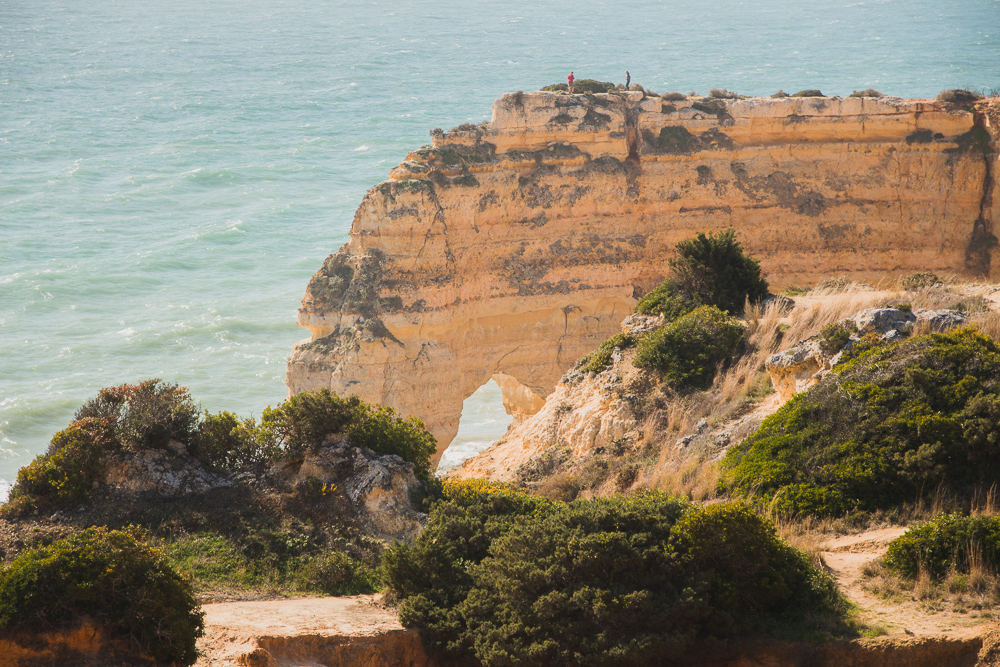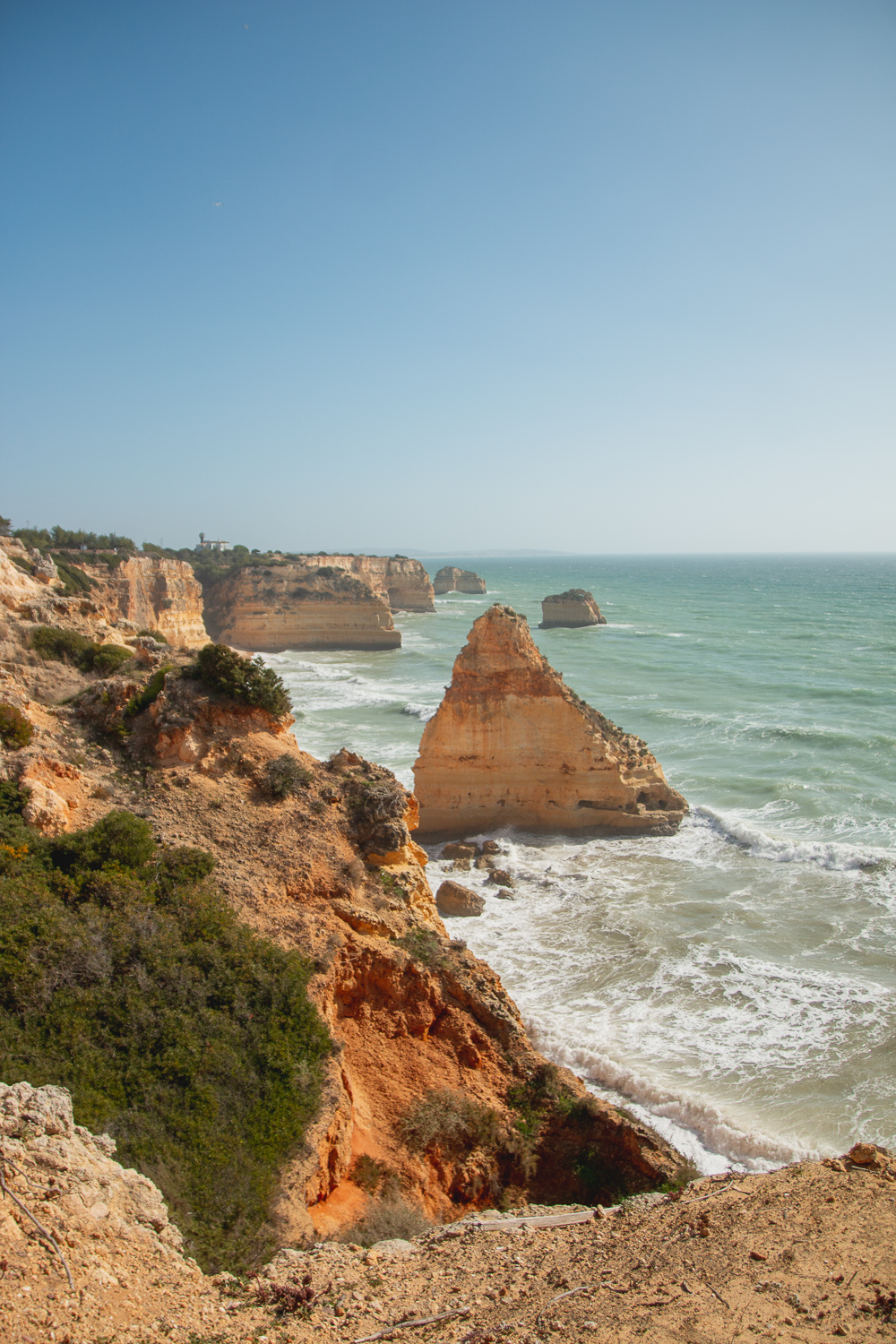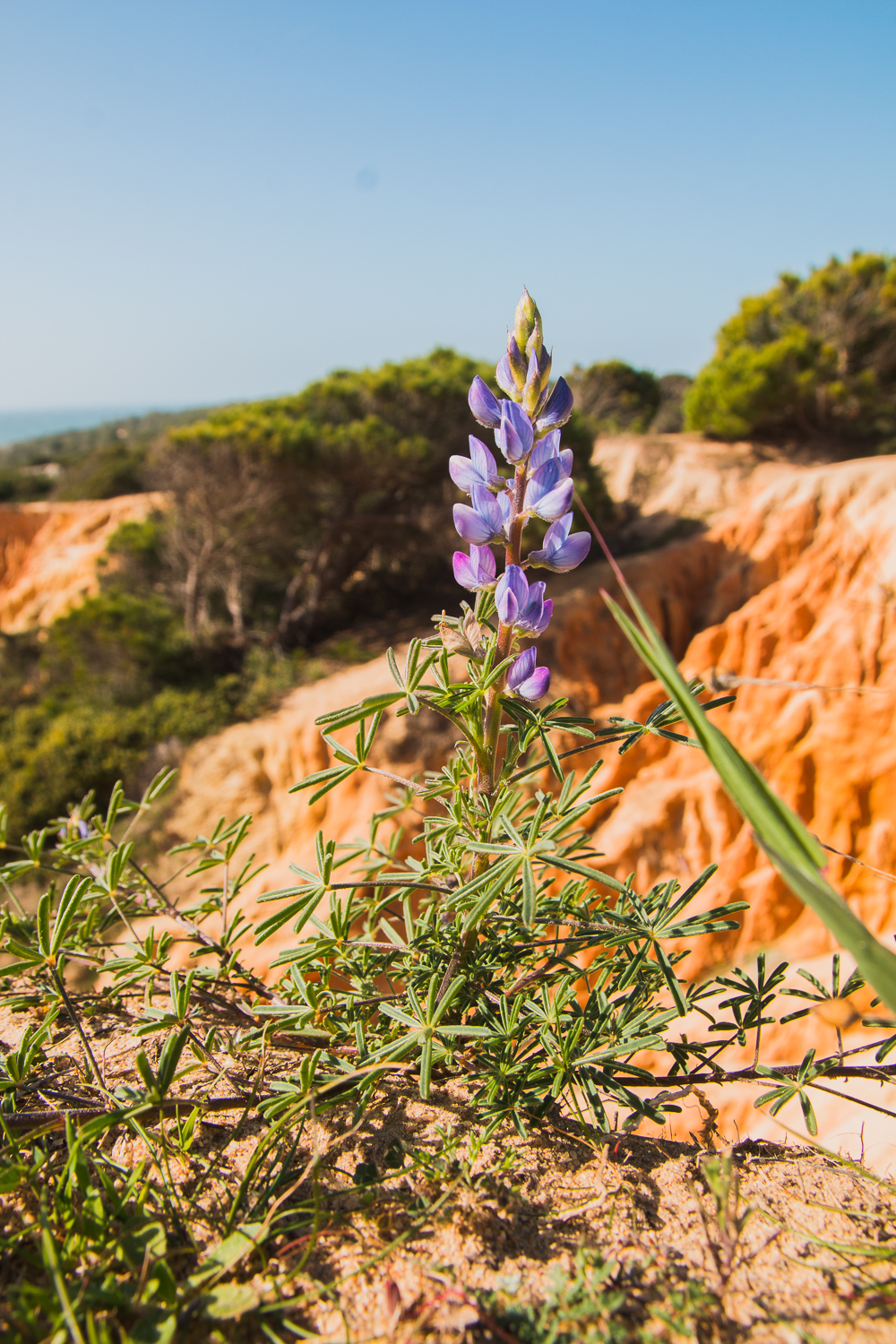 Praia da Marinha to Benagil Cave Hike
There's more to do at the beach than just sunbathe, and one of the things that I really wanted to do was to hike from Praia da Marinha to Benagil cave. We took a boat trip to the cave from Portimao the last time, but I thought it'd be good to see it from above too. There's a trail – The Seven Hanging Valleys Trail – which forms part of the hike between Praia da Marinha and Benagil Cave. The entire length of the trail is just over 7 miles, but there's an entrance point from the carpark at Praia da Marinha and from there to Benagil caves it's only a few kilometers walk. I think it took us about an hour and a half to do the entire thing, but we did stop a LOT for photos.
The majority of the trail is pathed, but there are a few bits where you might have to clamber over some rocks, so take suitable shoes! We saw people in heels and flip flops and they were struggling at parts.
The views along the cliffs are absolutely stunning, but we were a little dissapointed when we arrived at the hole of the Benagil Cave – you can't see a thing below into the cave! Obviously, there's a fence around the whole thing for safety and people were hopping the fence to take a look, but we didn't fancy that. It was a little dissapointing, but we still enjoyed the walk anyway and I'd recommend it, just not if your sole purpose is to get photos of the cave from above.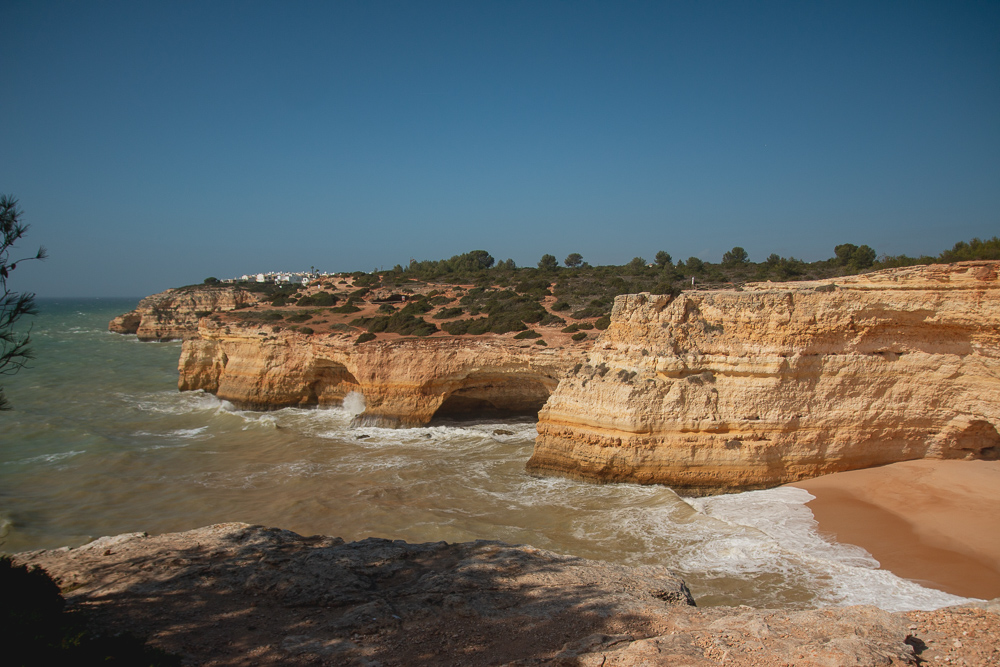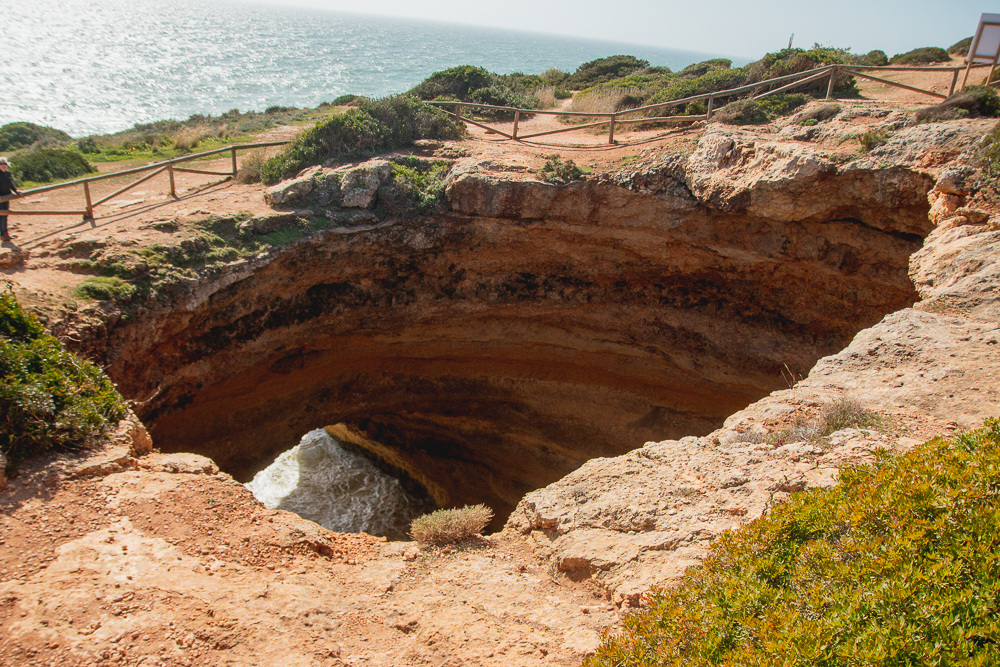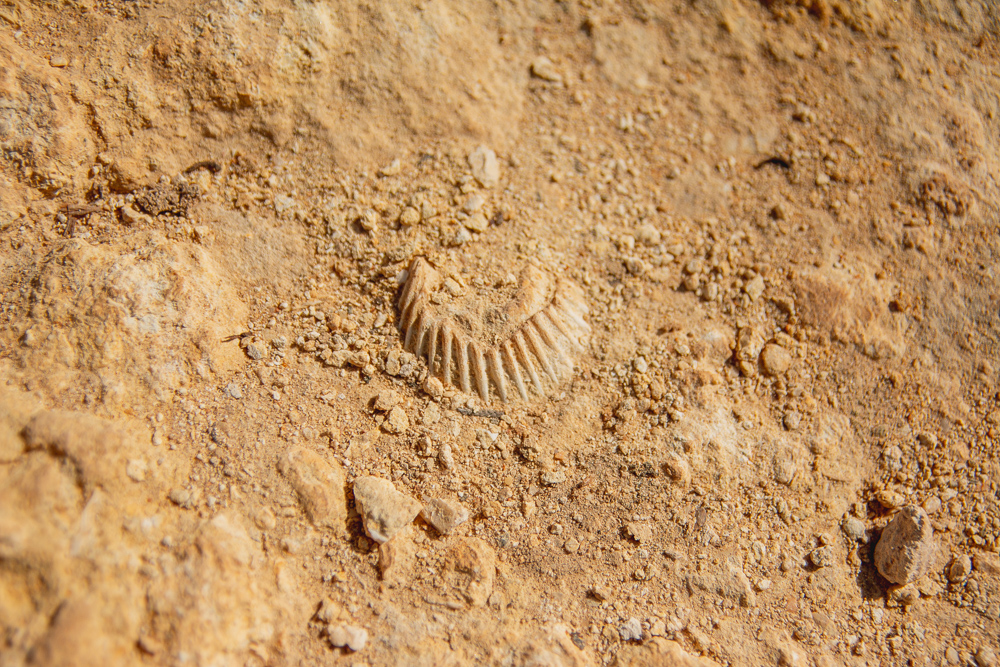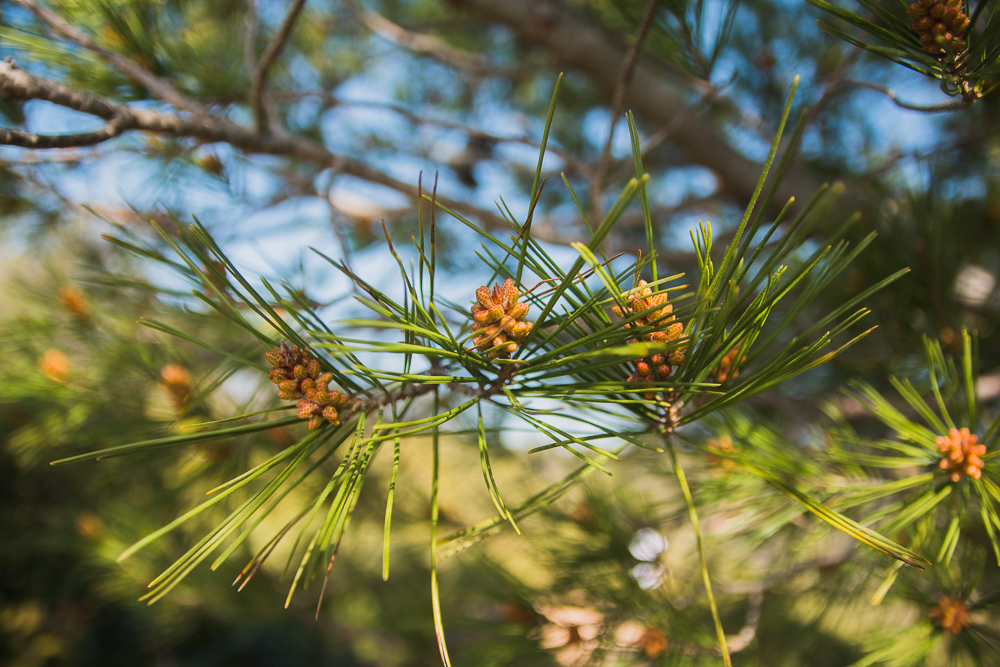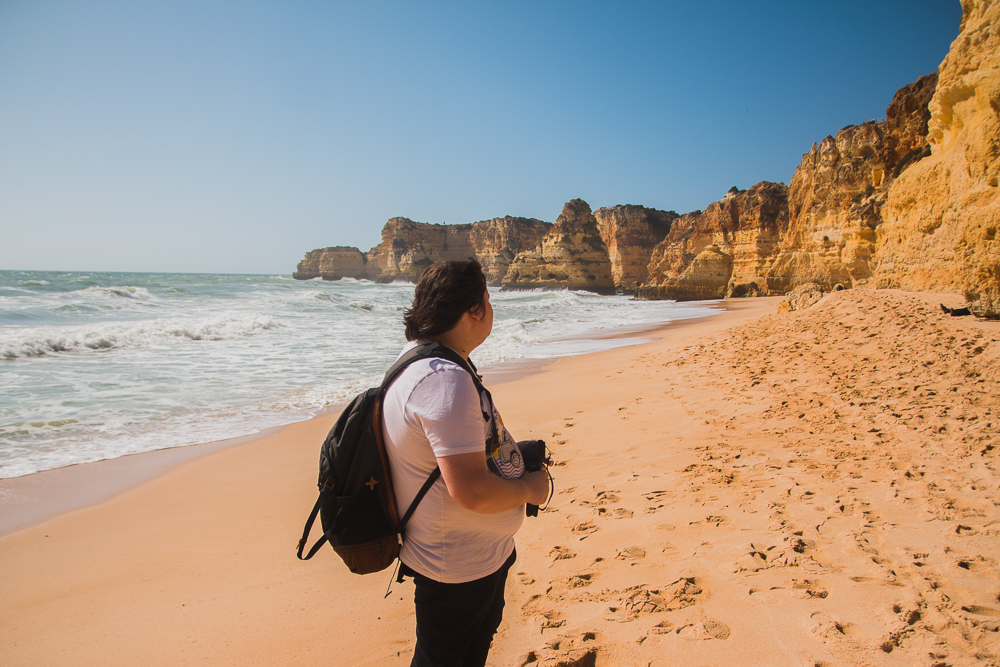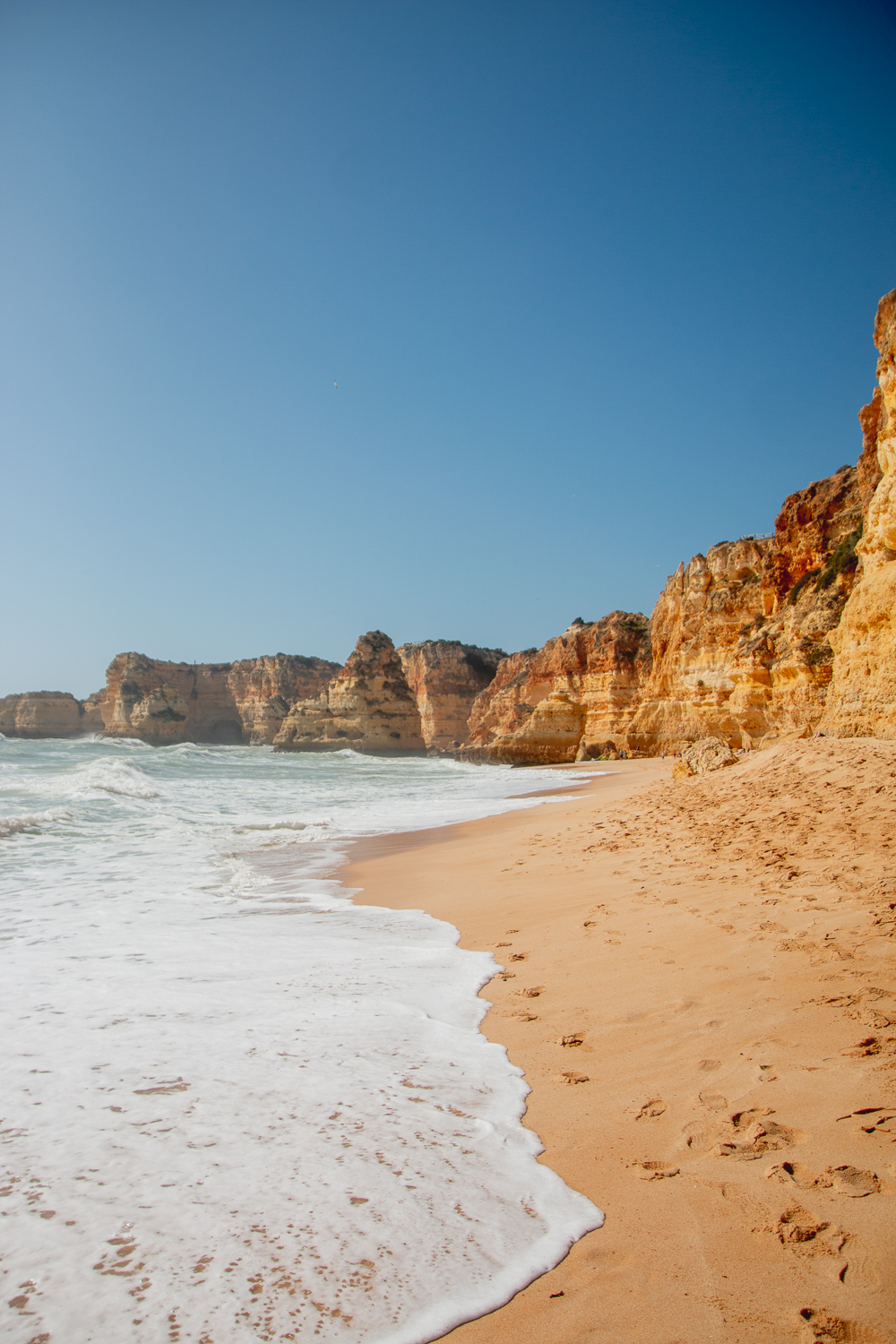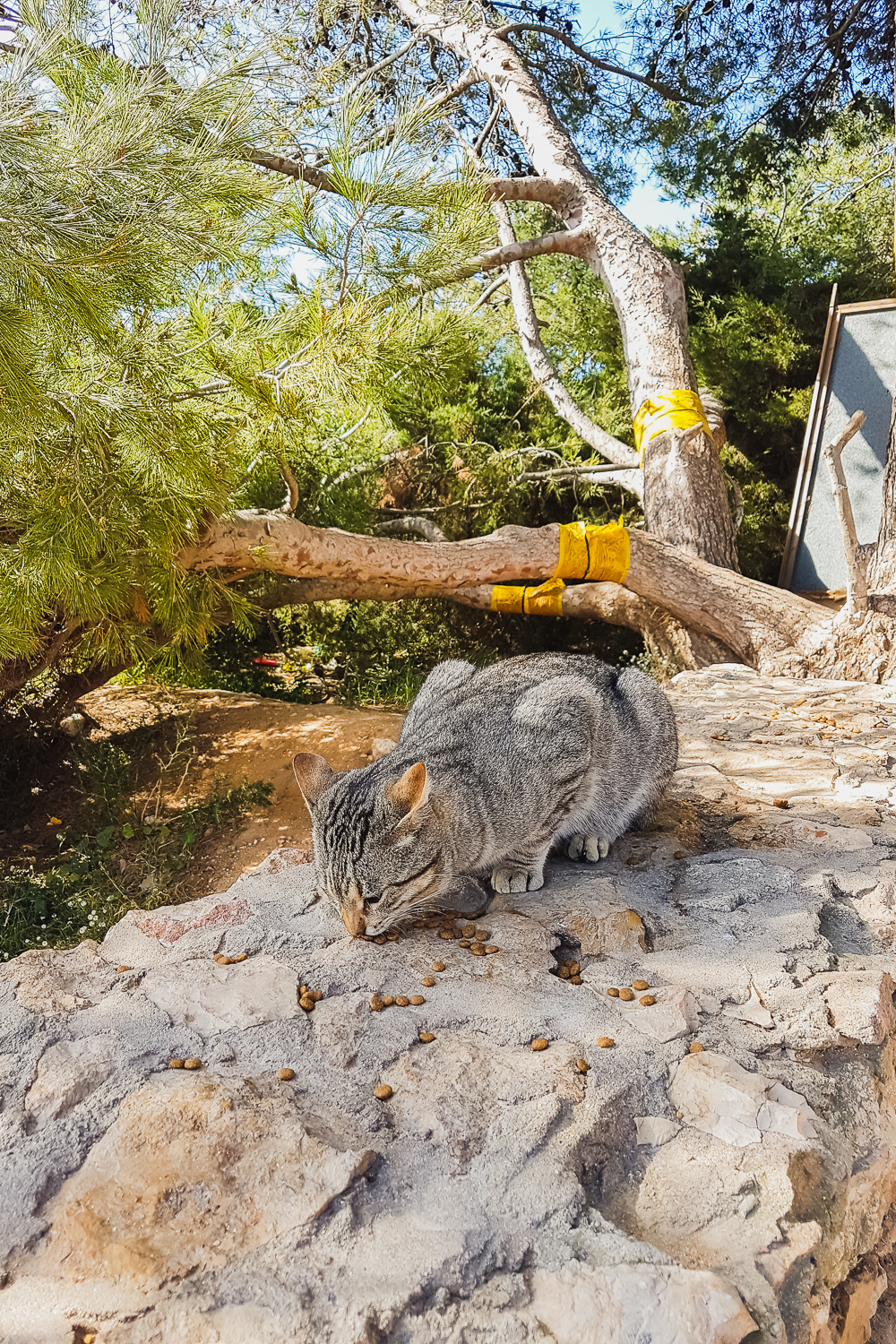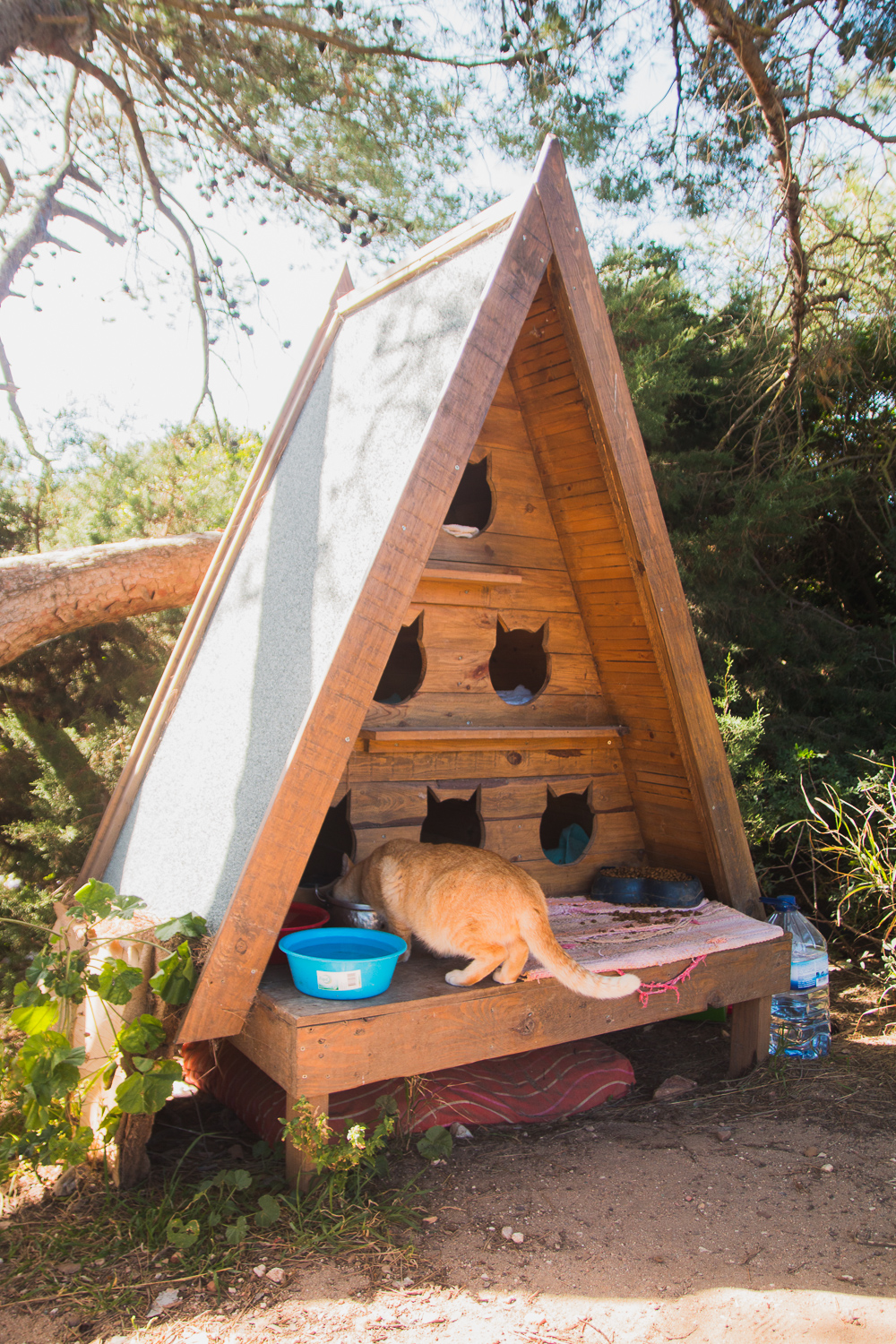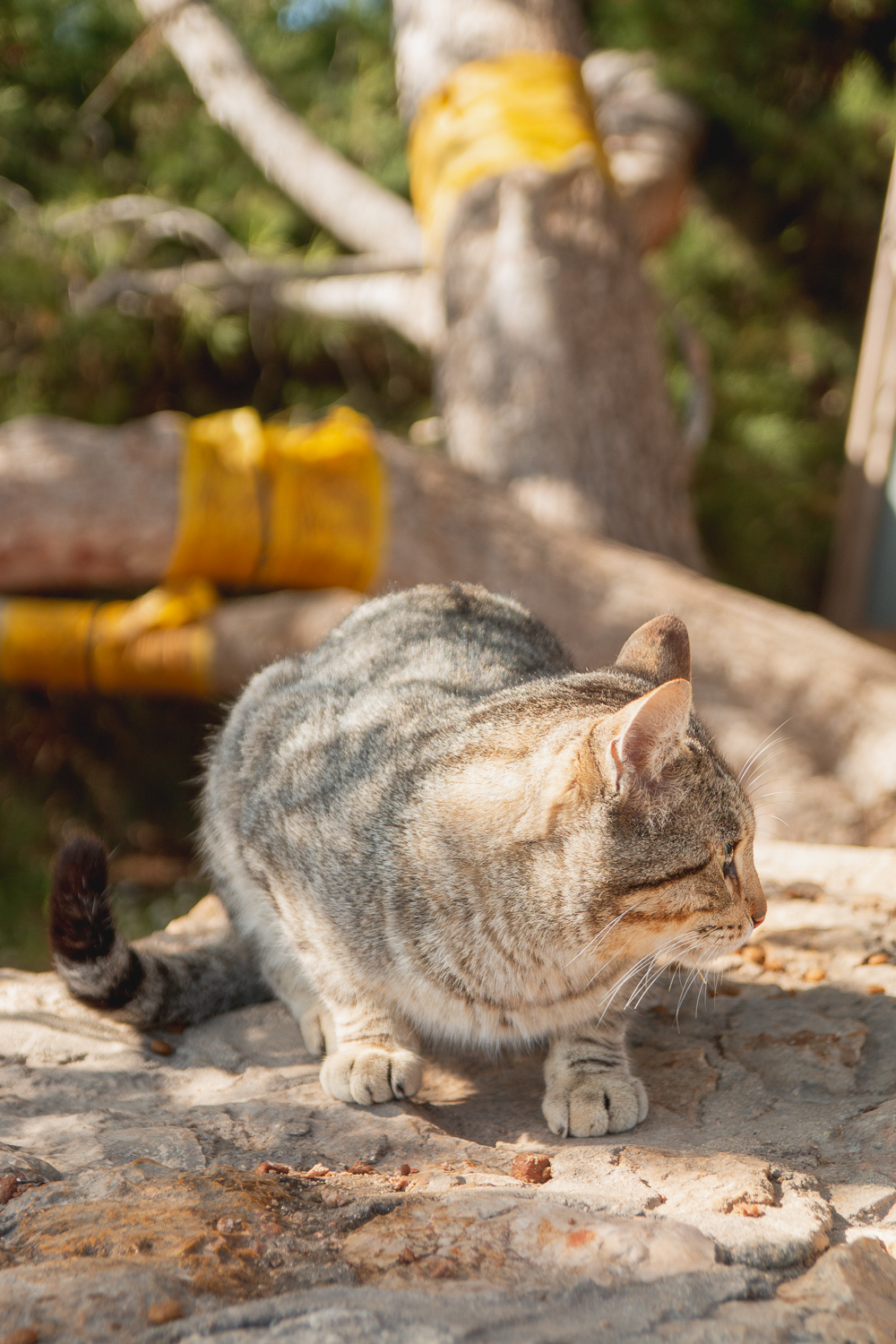 You can get down to the beach by heading back to the carpark and then going to the left (as you look out to the viewpoint, the opposite direction to the carpark entrance). There's a lot of steps to walk down, but they're all well paved. The beach is lovely with plenty of area for sunbathing if that's your thing, and a little beach restaurant at the bottom (open during the summer only). We sat and watched the waves for a while before heading back to the car in search of lunch.
When we first arrived at the car park earlier that morning, we found the cat colony that Nikki had told me about when she visited last year as she knows how much I love cats, but they were all out adventuring! There's a little hut in the trees at the edge of the carpark with plenty of beds for the cats, with food and water supplies and plenty of bowls for you to top up if needed. Luckily they had all gone home when we arrived back at the car and so Shane watched me for about 10 minutes excitedly running around the carpark trying to get shots of the cats. When I got back to the car, he just smiled and said "cats make you so happy". Yes! They do haha!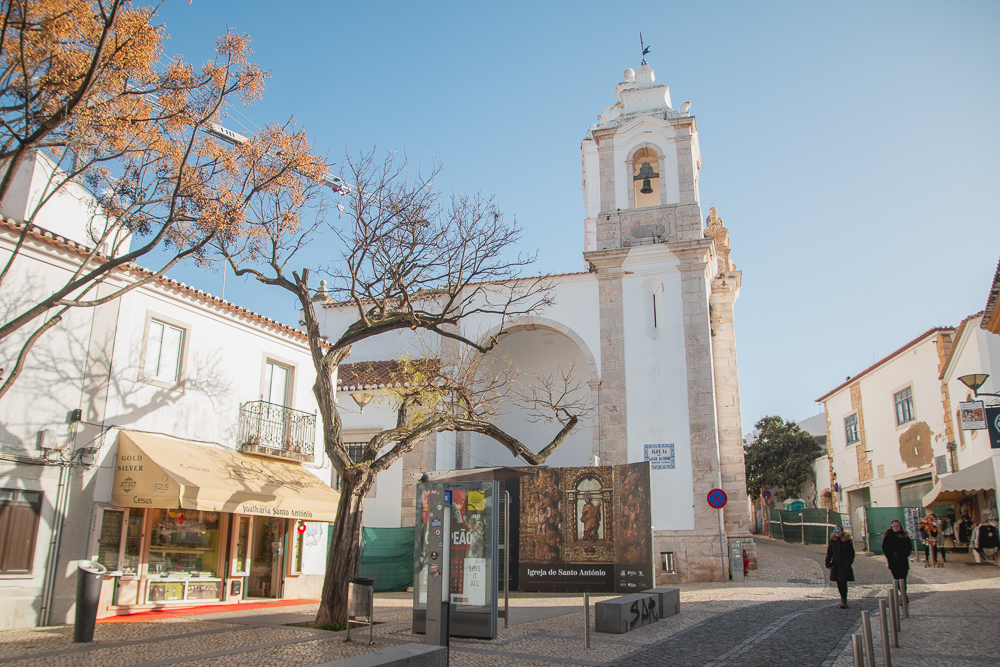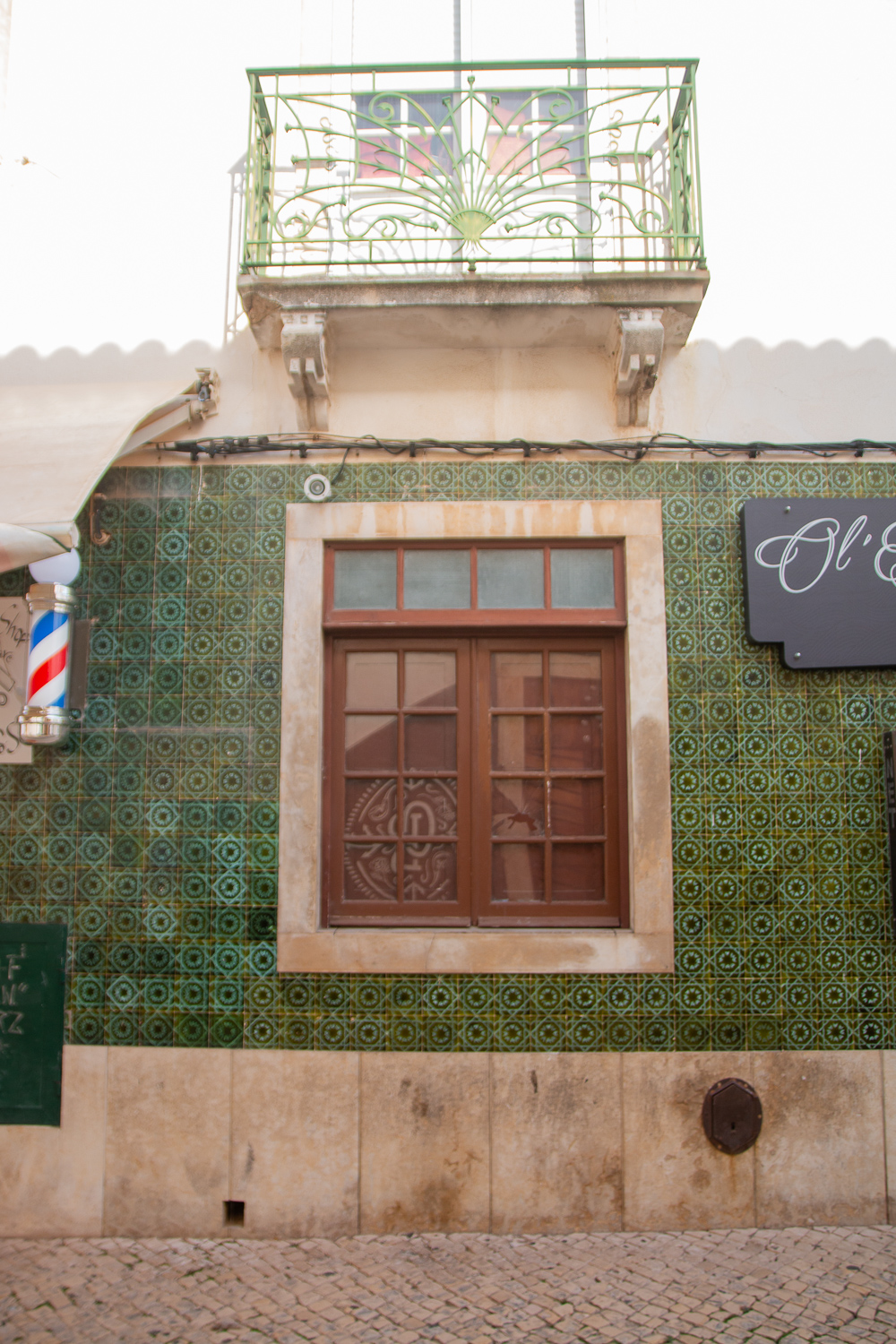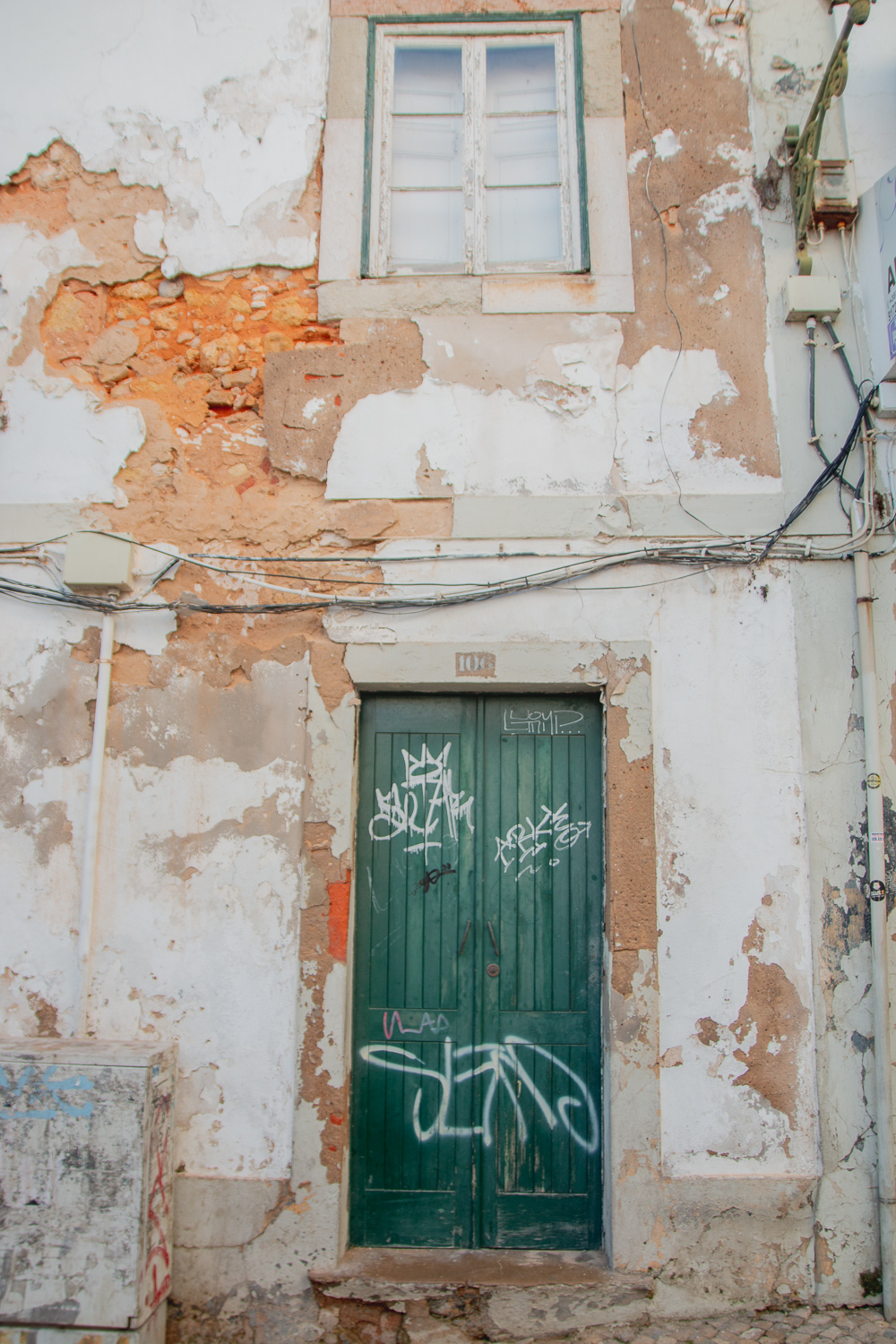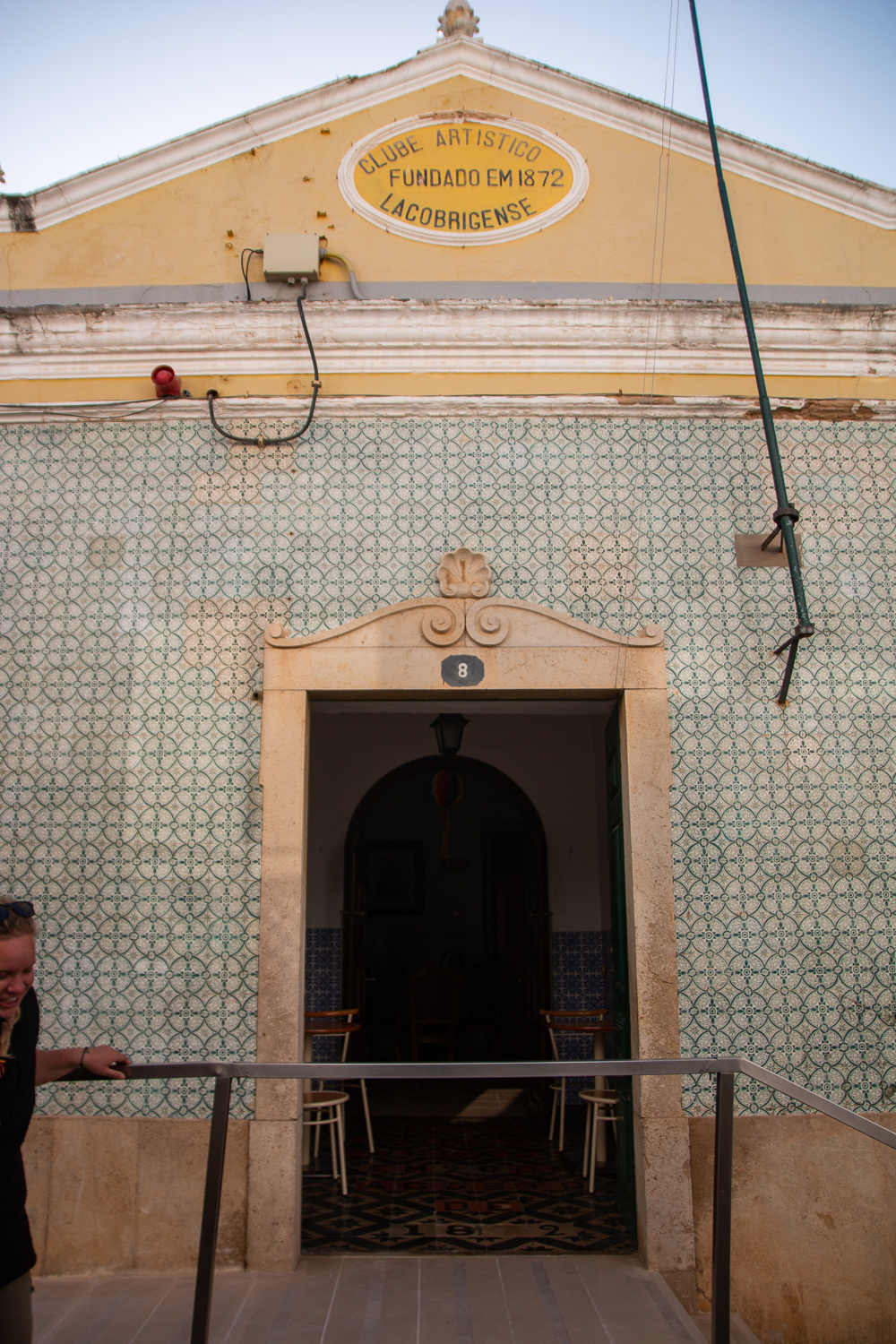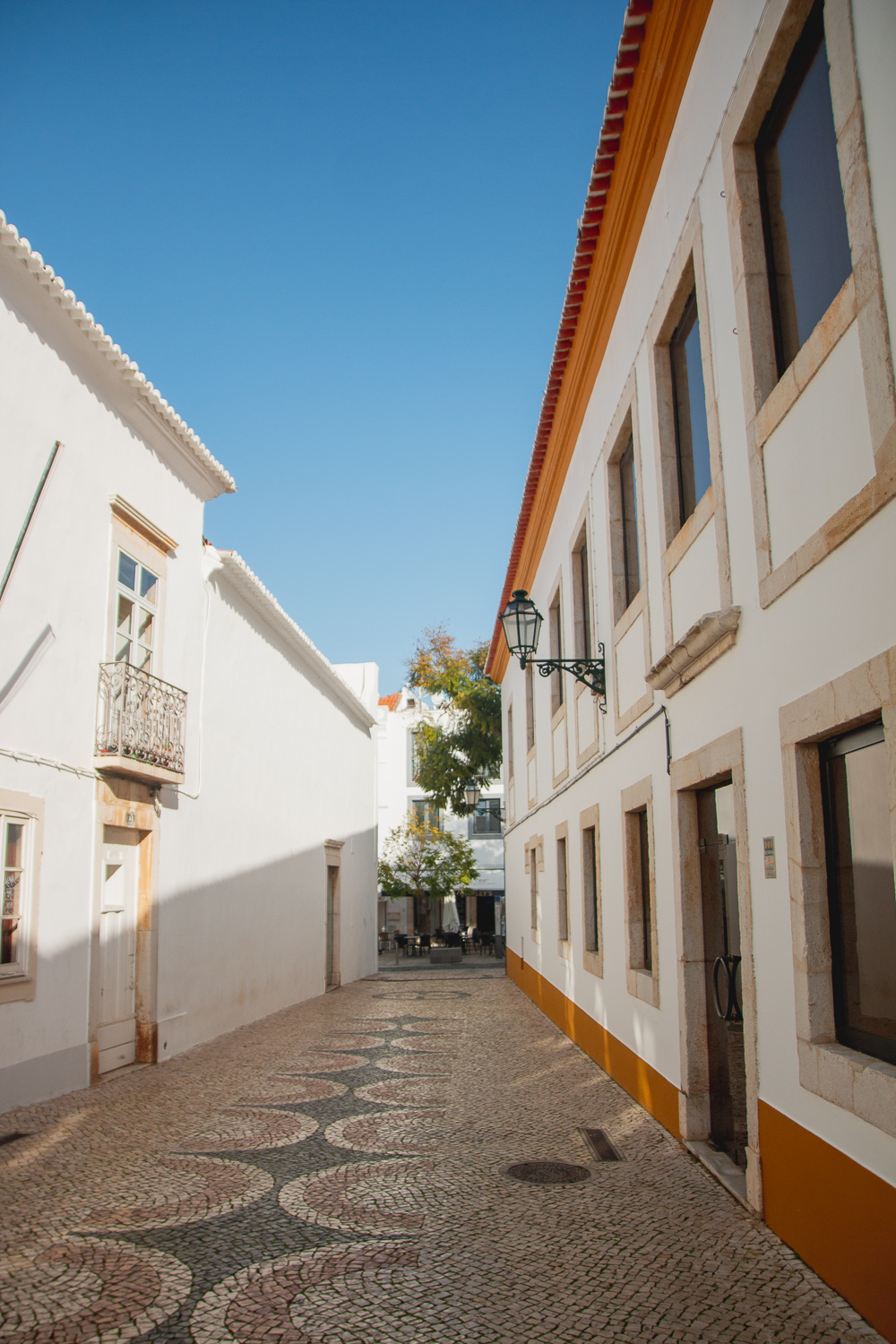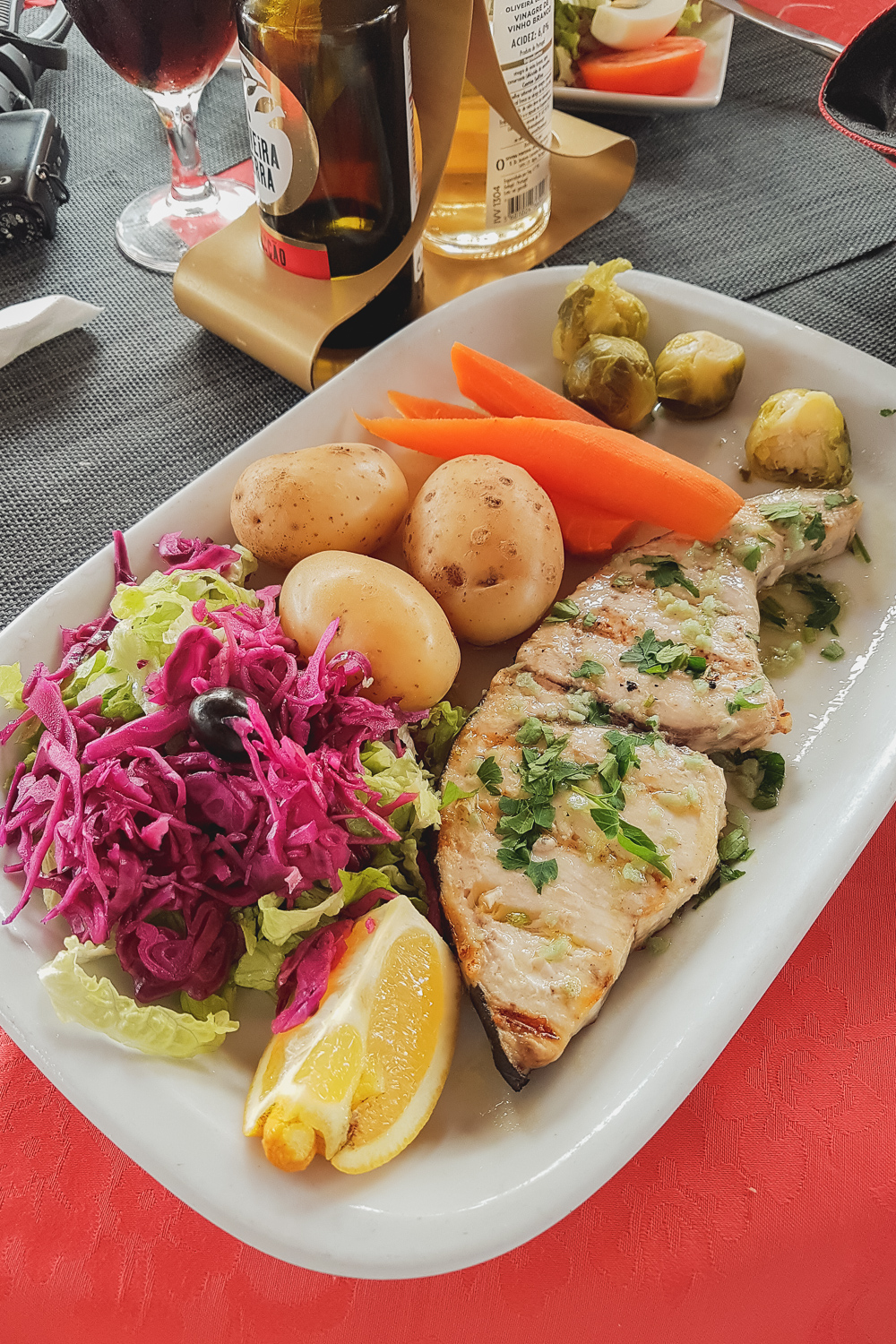 Lagos Old Town
The theme of the second day was beaches, so although not the closest town to head to for lunch, we drove over to Lagos as I wanted to see the famous beach with the bridge across it. But first, we went off in search of lunch. Just a note, most restaurants in the Algarve open twice throughout the day – once for lunch service usually between 12-3pm and then for dinner between 6/7-11pm, with only a few cafes and restaurants staying open the entire day. We struggled a LOT to find places that were still open. I don't know if this is any different during the summer, but in December + February, this was the case in all towns we visited.
We found somewhere that was open still in the heart of Lagos called Caravela and had the most amazing lunch – I ordered the swordfish and Shane ordered the Tuna Salad (which with drinks came to a an amazing £18) and he still hasn't stopped going on about how delicious it was to this day (almost a month later). It was really good! How the Portuguese cook their potatoes and vegetables is beyond me as they look so boring but have the most amazing flavour to them.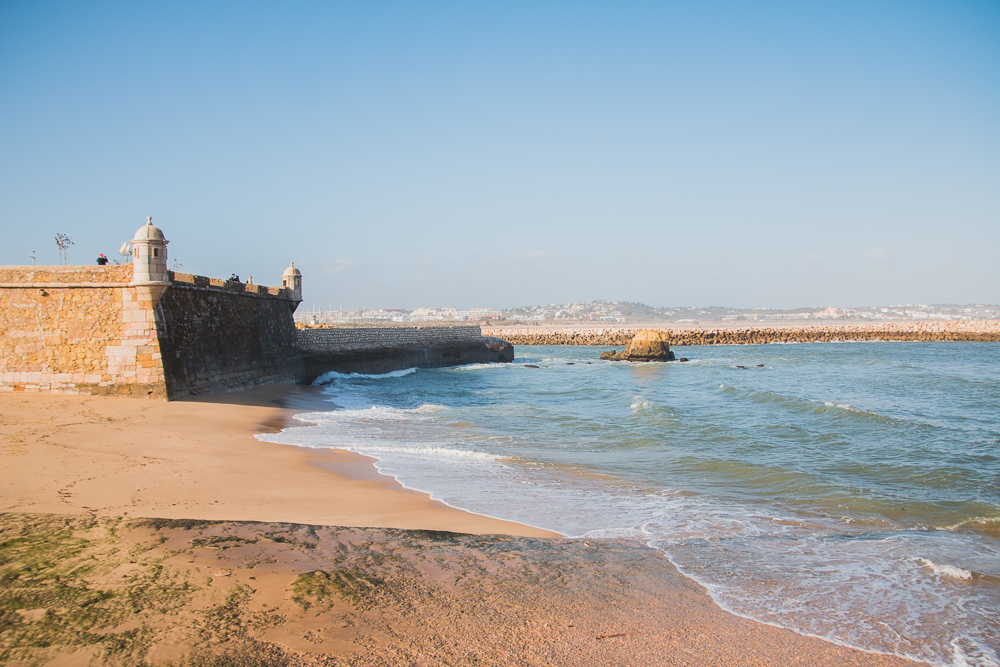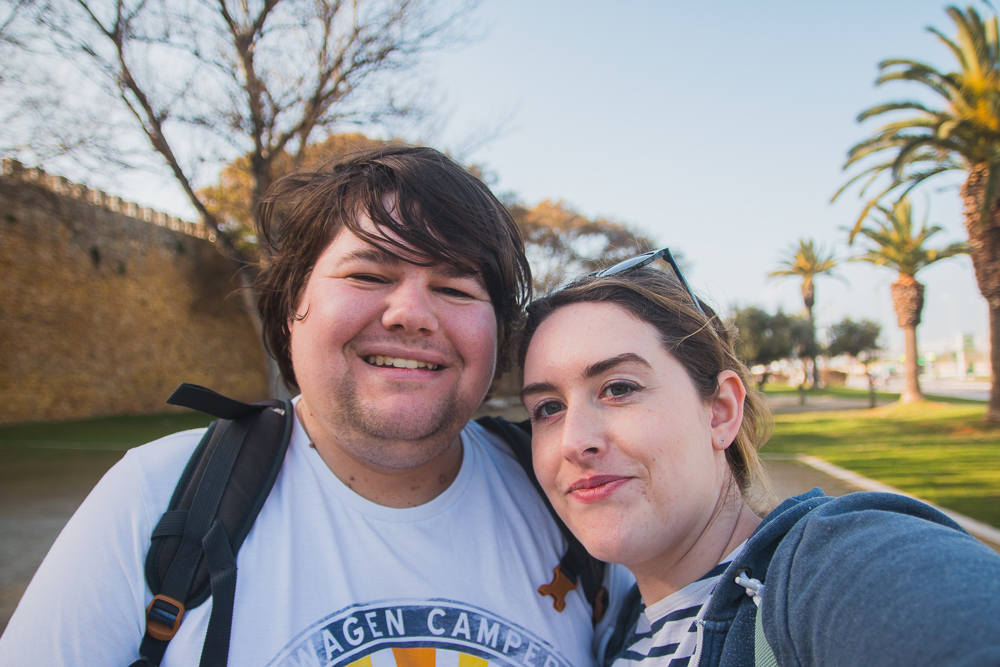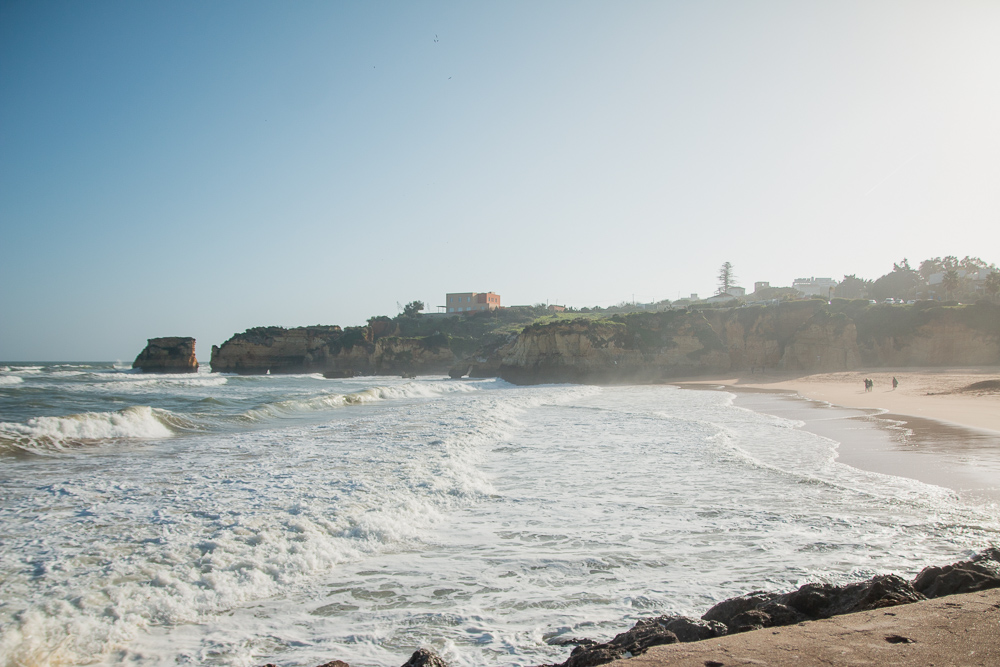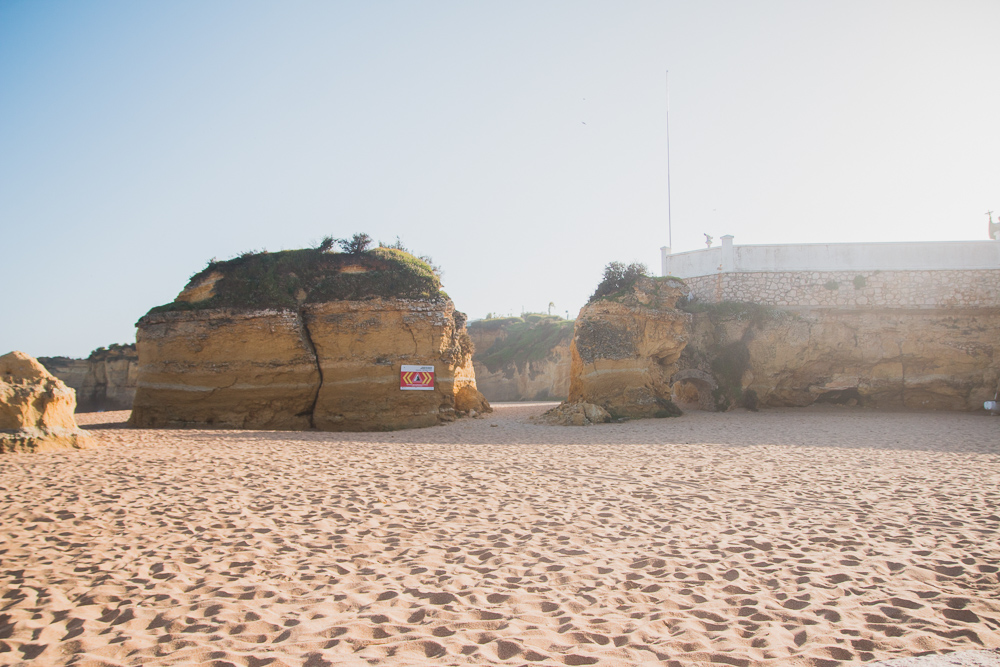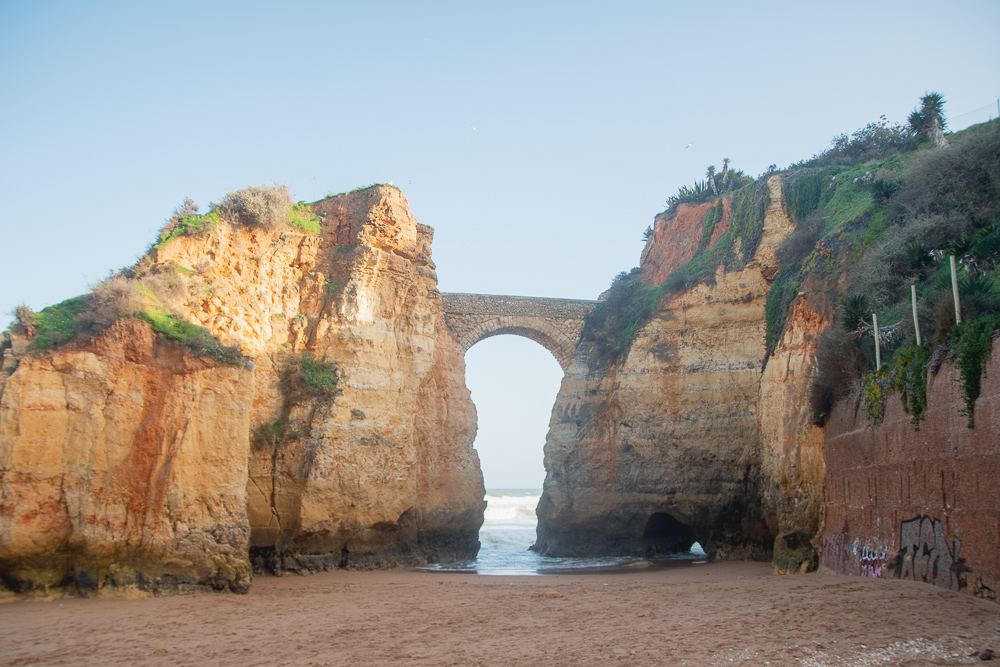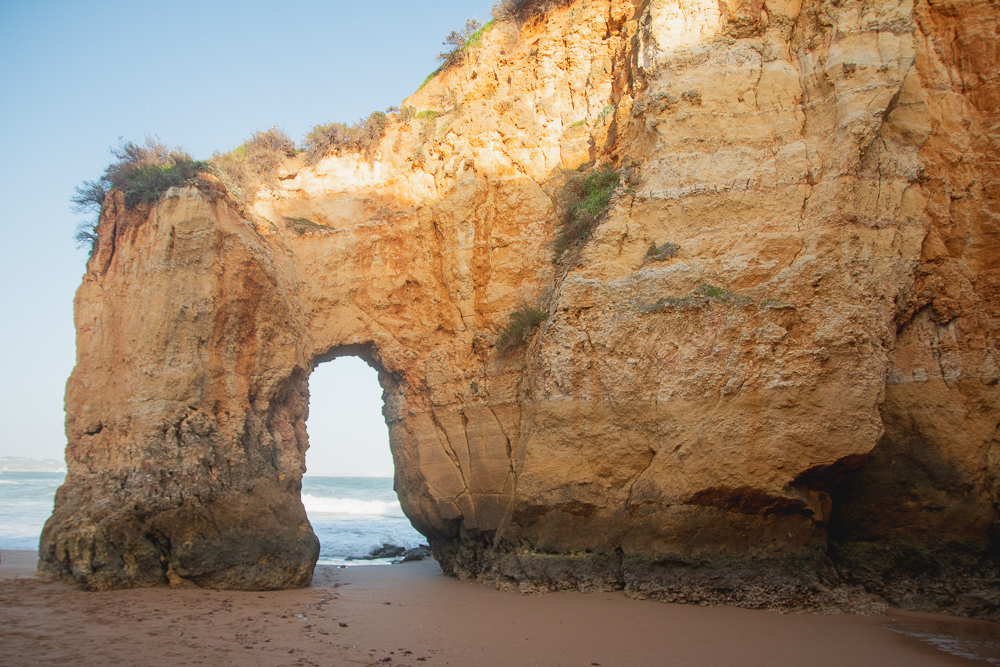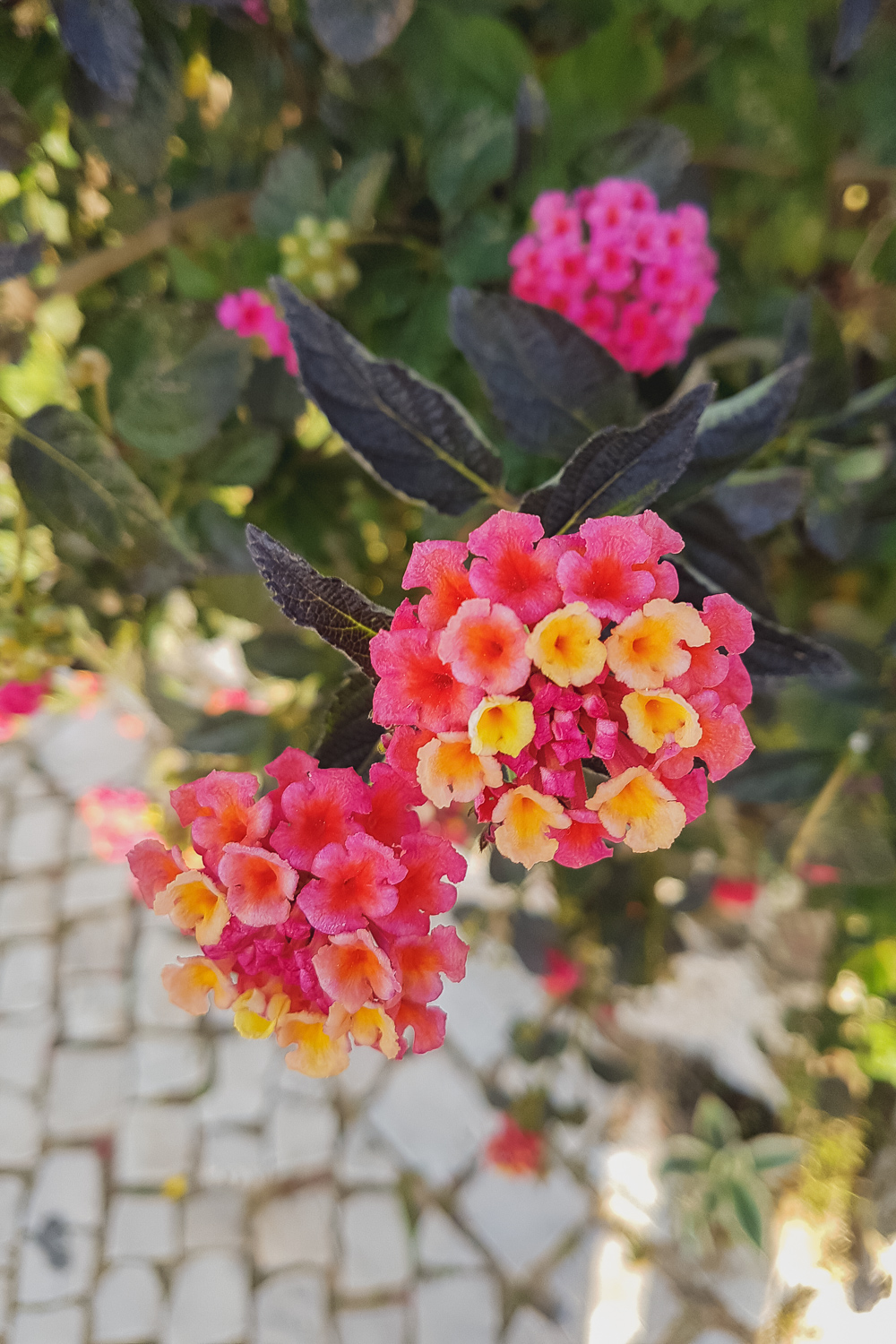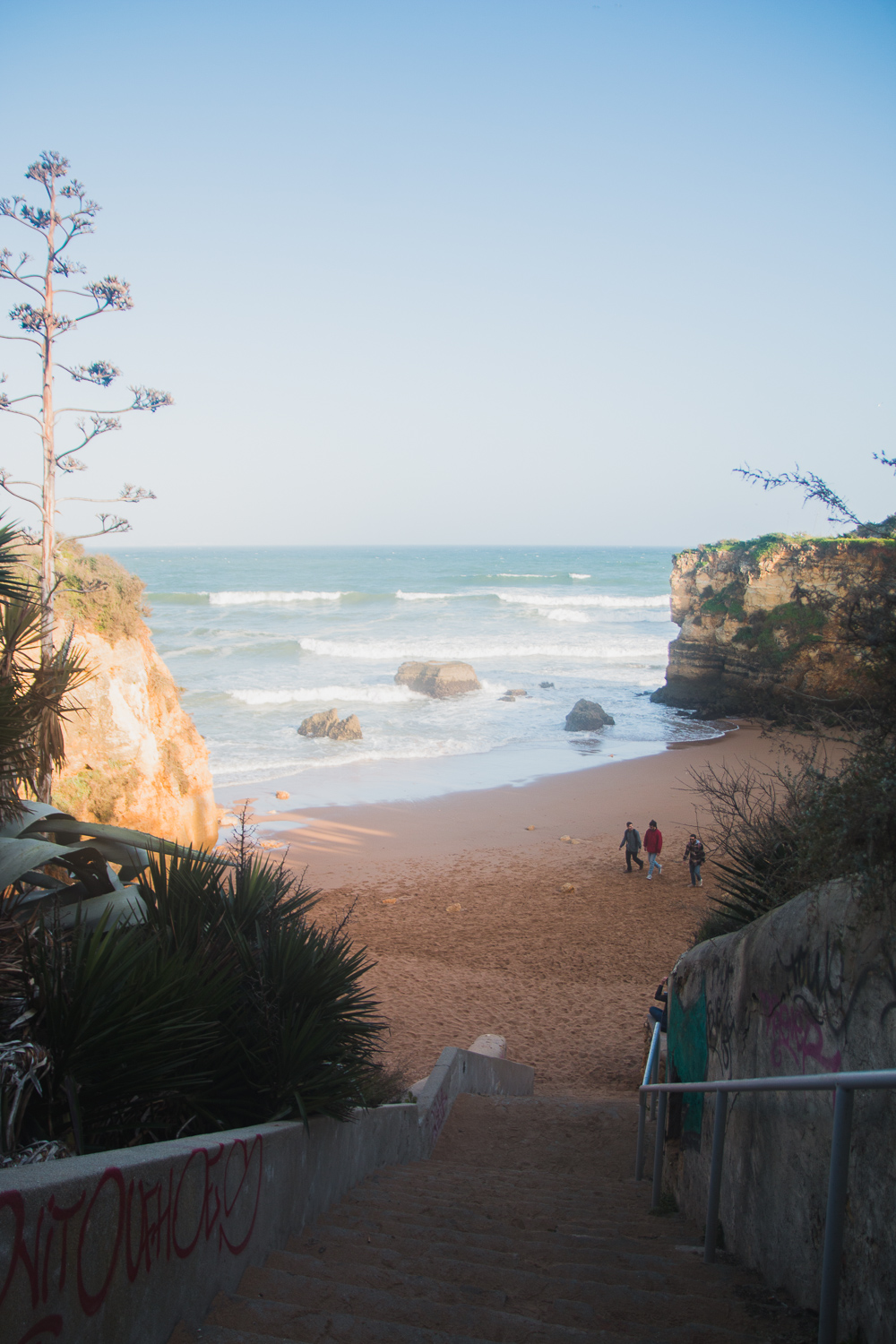 Lagos Beaches – Praia da Batata and Praia dos Estudantes
After wandering the Old Town of Lagos and discovering we were actually inside a huge walled town, we headed over to the beaches. Lagos has plenty of beaches to choose from with the most popular being Praia da Batata and Praia dos Estudantes. The two are linked by a series of tunnels through the rocks or you can walk along the pathway near the road and head down the steps.
Honestly, the two weren't my favourite beaches, but I think that's because they're located right in the town and so they're not so private in comparison to a lot of the Algarve beaches and there was quite a bit of graffiti on the rocks. We found the famous view of the bridge over the beach, but again, it wasn't as amazing as I thought it would have been, though I've heard it's a lot nicer at sunrise. After that, we were so worn out from all the walking that day that we headed back to our hotel* (affiliate link). If we had more time and energy we would have headed a bit further along the coast to Praia Dona Ana which looks amazing too!
Follow
Save
* This post contains some affiliate links at no extra cost to you, but I do make a small amount of commission on any purchases.